Sherwin Williams Shoji White
Shoji White by Sherwin Williams is one of the most popular white paint colors! This color is the perfect blend of grey and beige, while still giving you all the brightness you need.
In case you haven't noticed…not all white paint is created equal. There is what seems like an endless array of options, and it can make choosing white-colored paint for your home can be an extremely overwhelming task. Since white is often associated with feelings of newness and cleanliness, white paint has a way of brightening up any space and changing its entire vibe. 
White paint is produced by combining all other colors in the visible light spectrum, therefore, there are many different subtle variations of this seemingly simple color.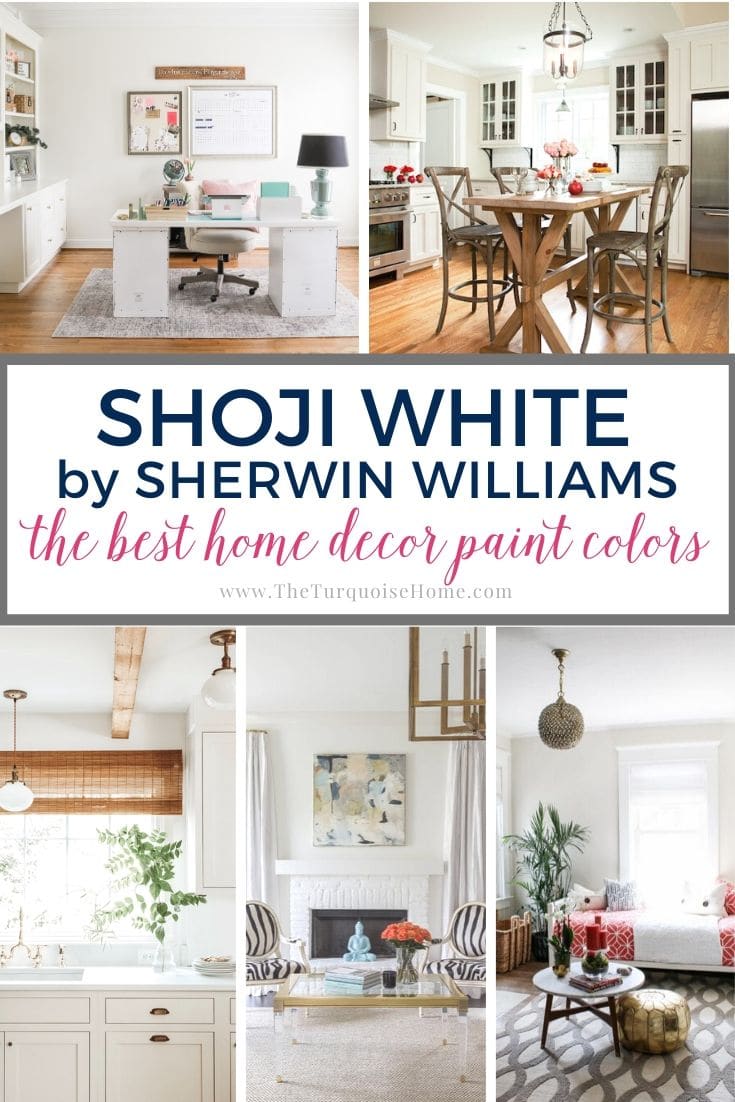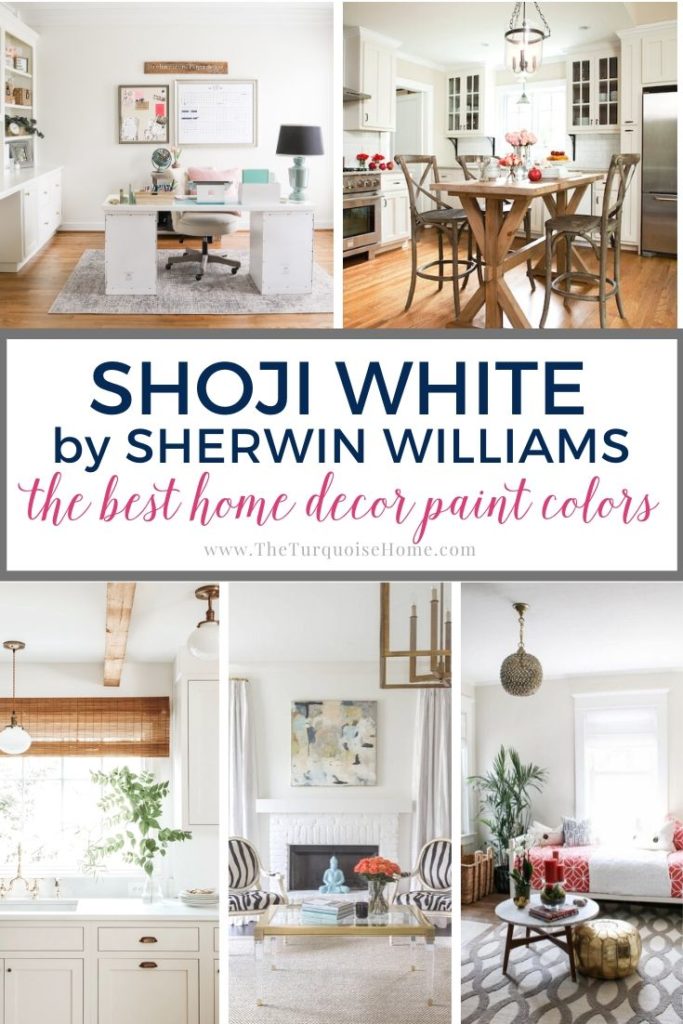 Shoji White by Sherwin Williams is a warm, creamy white. It's the perfect bright blend of grey and beige, but it's much lighter than the typical "greige." Depending on the light, it can take on a clean white appearance or a light bottle green tone.
This post contains affiliate links for your convenience. See my full disclosure policy here.
Tip: Use Real Paint Samples
Any time you are choosing a new paint color, you need to try out the real paint color in your home first!
The easiest and quickest way to do that is with Samplize! I solely use them for paint samples now. There's no mess, no leftover sample pots of paint. Plus, these no-mess, peel and stick rectangles made from real paint, are easy to move around the room and easy to save for future reference!
Sherwin Williams' Shoji White
Want a neutral-colored paint but don't want gray? Neutral white paint is a great choice. Due to not being too bright, it is able to be both warm and cool at the same time. Neutral whites are soft and quiet, giving your space a tranquil feel. Neutral whites also pair well with a variety of colors.
Shoji White by Sherwin Williams is a popular neutral color in the home decor world. In fact, its popularity comes from its diversity while still being a completely neutral color. This warm, creamy greige is incredibly cozy and bright. It also happens to work very well with different rooms and all kinds of lighting.
NOTE: If you're painting the room yourself, these tools will help tremendously. And this post will give you my best tips for painting a room in 5 easy steps.
Shoji White Undertones
This hue is a gorgeous off-white greige (more beige than gray) that will once in a while pick up a slightly green tone. It is the perfect warm white and looks beautiful with wood or metal finishes.
The ever so slight green undertones can help Shoji White achieve a cozy, warmer feel look when paired with earth tones. Depending on lighting in the room, it can take on a clean white appearance or can even look slightly taupe.
Take the time to sample it and view it in all types of light that will exist in that room because the variations can be very pronounced.
One method that I really like to use when choosing paint is poster board. Paint a white poster board with the paint color you're considering, and leave a white border around the edge. Then move it around within the space during different times of the day to see how the paint color changes in the different lighting.
Shoji White In My Office
I recently painted my new office Shoji White and I love that it's more saturated than a true white, so that it looks like a color. It has a clean, crisp look without being stark, which I'm so happy with!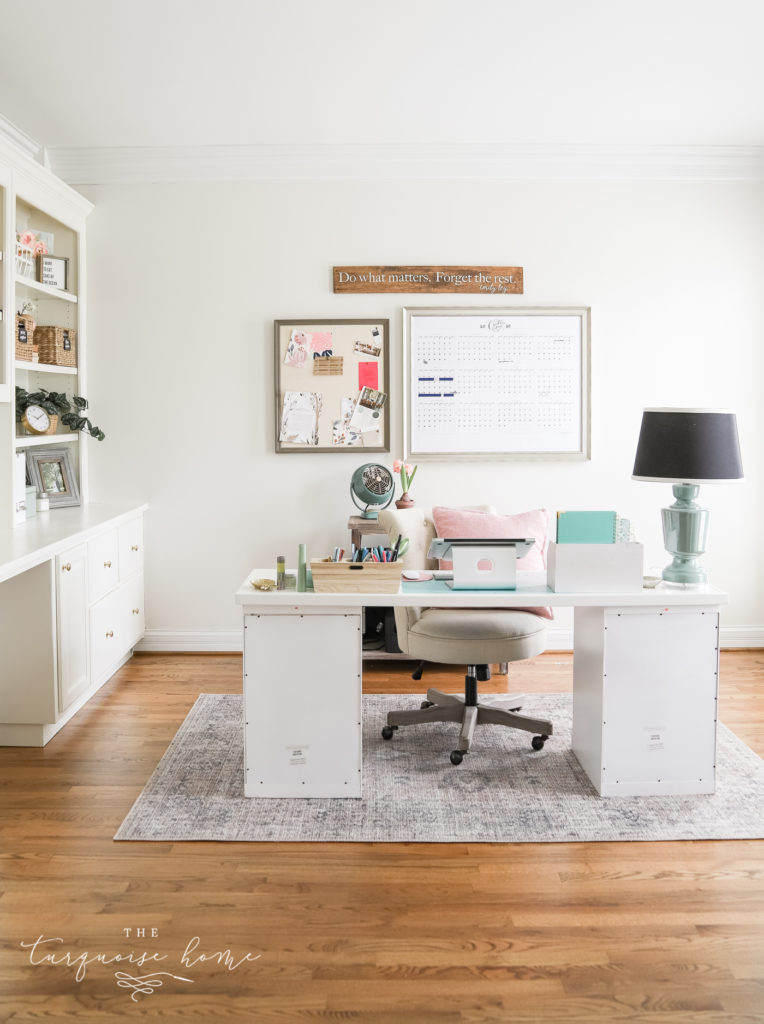 It was also the perfect wall color to marry my off-white built-in bookshelves with my true white trim.
Scrolling and click/tap to shop my office: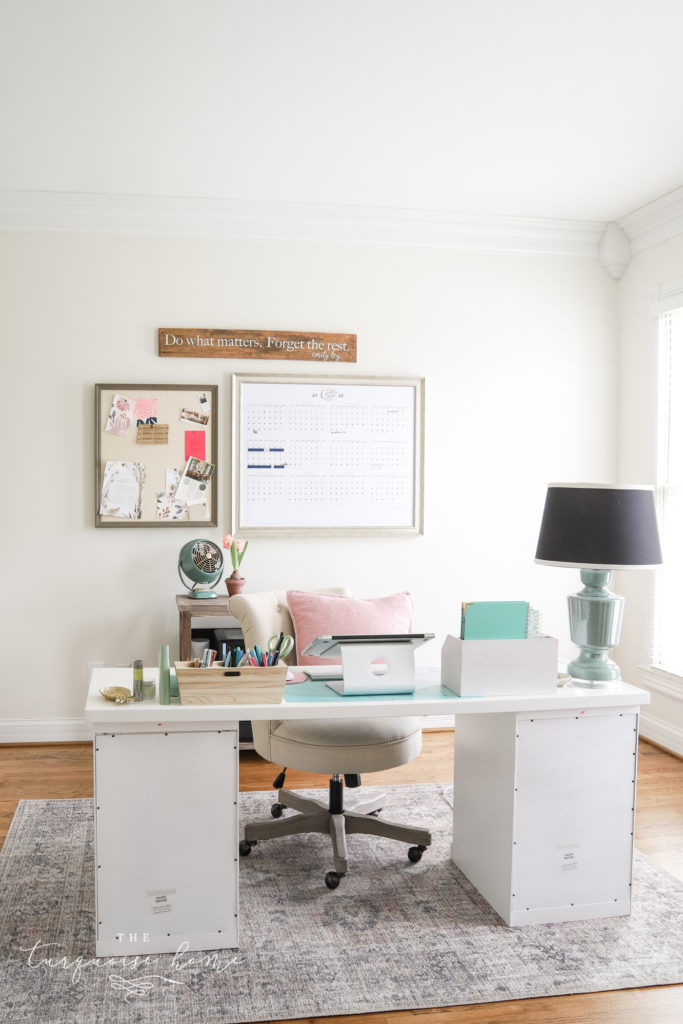 Coordinating Colors with Shoji White
Shoji White goes with practically anything, though it does pair with some shades better than others. Here are a few recommendations:
Pure White (SW 7005)
Fawn Brindle (SW 7640)
Perle Noir (SW 9154)
Worldly Gray (SW 7043)
Amazing Gray (SW 7044)
Intellectual Graw (SW 7045)
Porpoise (SW 7047)
Urbane Bronze (SW 7048)
Iron Ore (SW 7069)
Shoji White Examples in Rooms
Reading about undertones can be a bit confounding, so here some actual examples of this gorgeous Sherwin Williams light greige paint in some practical examples – real-life rooms.
Kitchens with Shoji White
The wood table, rustic chairs, and wood floors really bring out the warmth of this pretty color on the kitchen cabinets in this bright, cozy kitchen.
Shoji White, contrasted with light grey beam ceiling and much darker wood floors, brings warmth to this large open space.
Photo by JDB Selections – More kitchen ideas
What about kitchen cabinets? This gorgeous cabinetry shows off how Shoji White gives the right amount of warmth.
Bedrooms with Shoji White
This bedroom has bright lighting, showing the ever so slight contrast between Shoji White and a more pure white shade.
This bedroom highlights the beige side of Shoji White when pairing this wall color with darker grays and brighter whites.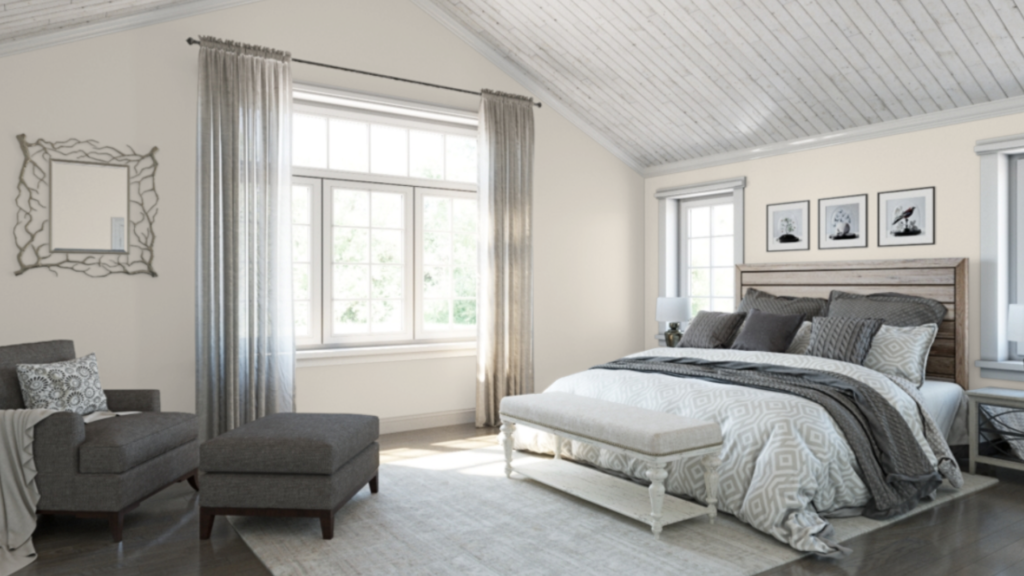 Shoji White Bathroom
Elegant yet comfortable when paired with dark accent pieces, use this color to create a warm, cozy feel even in this spacious bathroom.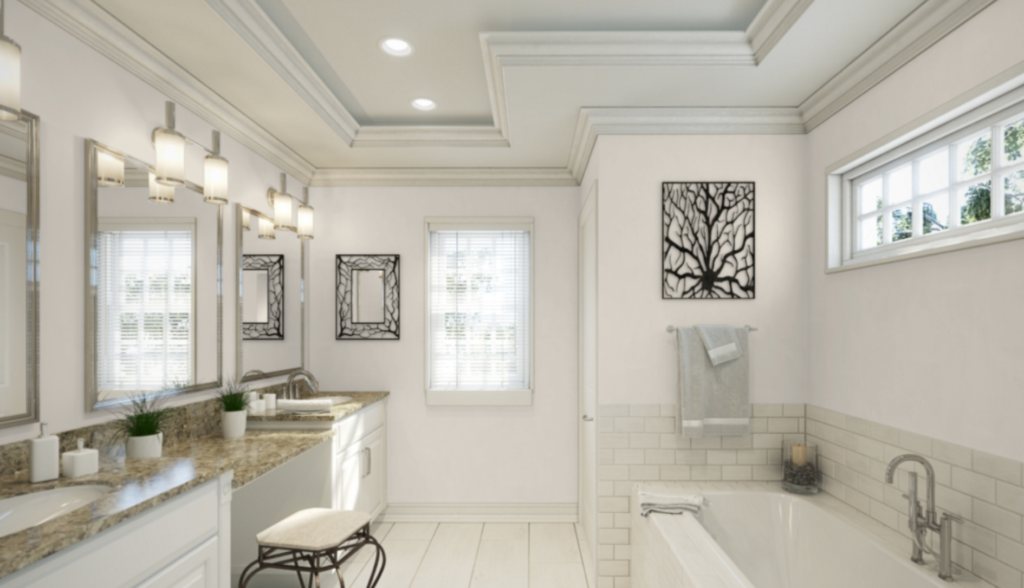 Living Rooms with Shoji White
This sitting area just off of the kitchen shows a nice, warm contrast between Shoji White walls and brighter white trim.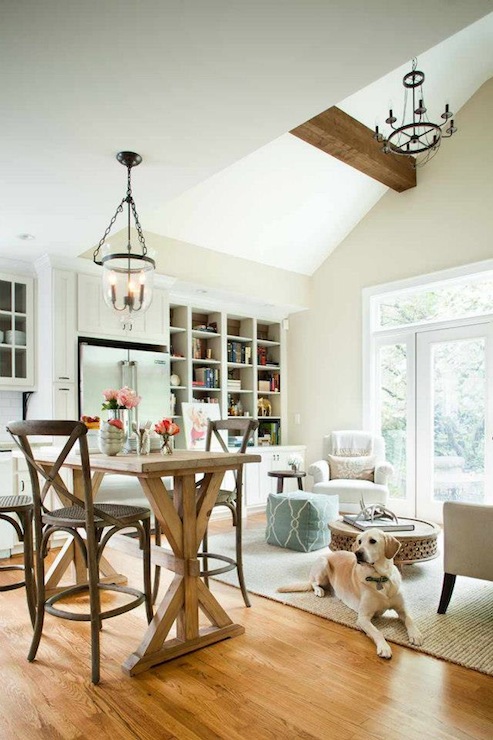 This formal living room reads more like a pure white than a bright greige thanks to the lighting.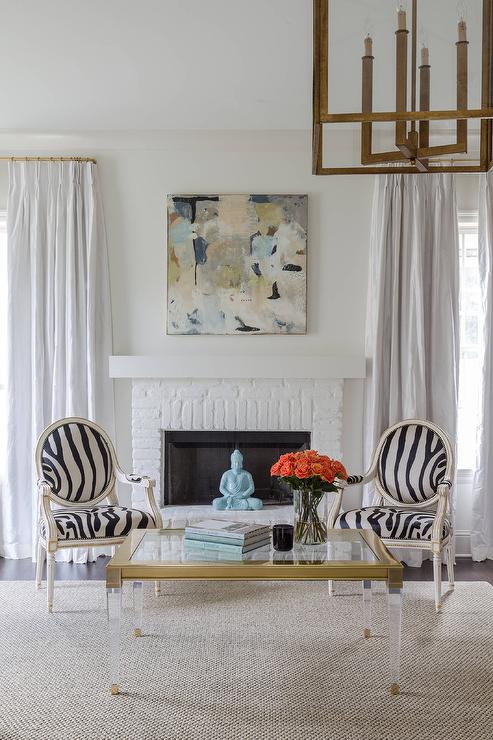 Shoji White Exterior Paint
This pretty shade from Sherwin Williams not only looks amazing inside but as exterior paint really makes a home "pop". Here are a couple of examples to show you what I mean.
Look how bright but comfortable! This house is gorgeous painted in Shoji White.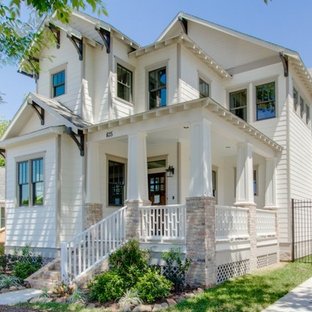 Shoji White makes the perfect complement when paired with these slightly darker greige stones on the exterior of this house.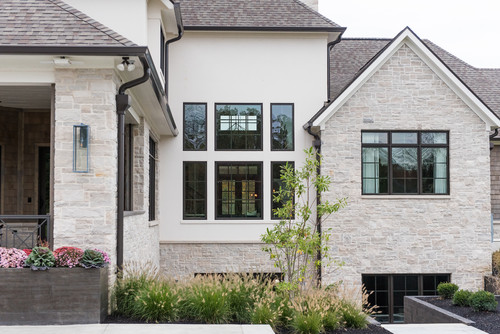 Photo by Whittney Parkinson Design – Search exterior home design ideas
Now that you've had a chance to look at how well this gorgeous white shade looks in so many different settings, I highly recommend you find a space to paint (and enjoy) this warm, beautiful color.
Don't forget to check out these other fantastic paint colors!
Tips for Painting a Room Yourself
I've gathered some of the best tools for painting a room yourself. First of all, you'll want to check out this post I wrote: Painting a Room in 5 Easy Steps. These tools are the top tools I use when painting my own rooms, which is how they get painted 95% of the time!
Paint Brush – These paint brushes are a little more expensive than your basic brush, but they're worth it! I've used these brushes for more than a decade and if you wash them out well after each use, they will last for years.
Painter's Tape – a MUST have for taping off edges. You'll need to tape off all edges if you don't have a steady hand.
Drop Cloths – a must have if you don't have any laying around the house already.
Paint Cup – Sure you could use any old cup, but I've come to swear by this one. The magnetic piece holds your brush cleanly in place when you need to take a break. And it fits my hand perfectly, keeping it from cramping.
Roller Tray – I've found the only paint tray I'll ever use again. The magnetic piece is great for holding the roller in place. And the liners are a luxury, but I won't paint without them because it makes clean up a breeze!
More Posts You Will Love: