What is farmhouse style? In short, farmhouse style home decor focuses on functionality and simplicity. Putting together a modern spin on it can add a clean, fresh take to the classic farmhouse look. It's time to embrace old and new alike – and here's how.
I don't know about you but "farmhouse style" has been a buzzword in the style and decor community for the past several years. As someone who has personally loved and embraced this type of home decor, it is fun to see it have it's time in the spotlight! However, there seems to be some confusion about what farmhouse style actually is—and I'm here to share my thoughts on it!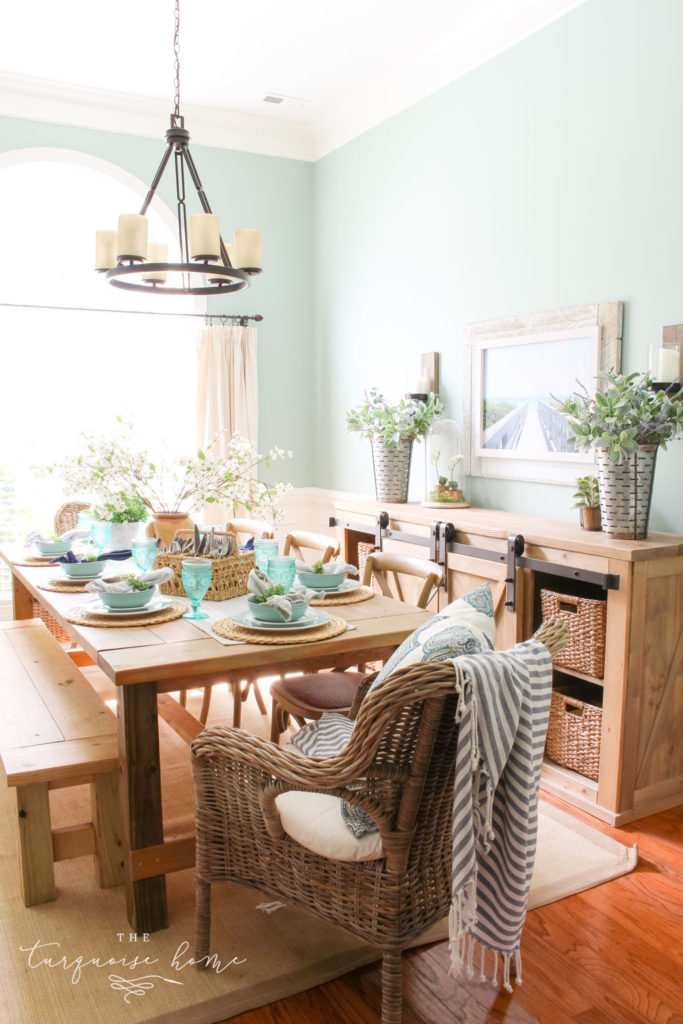 I will say, too, that while farmhouse style has lost some popularity ground to modern style, you can incorporate whatever style you love into your home, regardless of trends.
Truth is, I've been a long-time lover of farmhouse decor long before it was trending, and will be for years after. And while my new home lends itself to a cape cod/traditional vibe, I still have a lot of farmhouse influence in my style.
If you've ever struggled to know your decorating style, you can discover how to find your decorating style here!
What Is Farmhouse Style?
Let's chat about farmhouse style in the historic sense first. If you want to get technical, the term "farmhouse" doesn't actually necessarily refer to a decorating style for your home. The origin of the term was to describe functionality – the farmhouse was the building (or house) built for the family living on and tending a farm.
Since families would either build the homes themselves or help each other build on their own properties, the design was very basic but functional and often determined by materials found in the local geography.
Over time, the style changed and adapted to fit the area and the time period! Through all of these changes, the traits that remained the same about farmhouses were modest and practical.
After a while, "farmhouse style" started to become a huge home decor trend. And I'm here for it!
My grandfather is a real farmer in every sense of the word. He and my grandmother live in an actual farm house on a working farm. And while their home looks nothing like Hobby Lobby, it has those casual elements that we all know and love.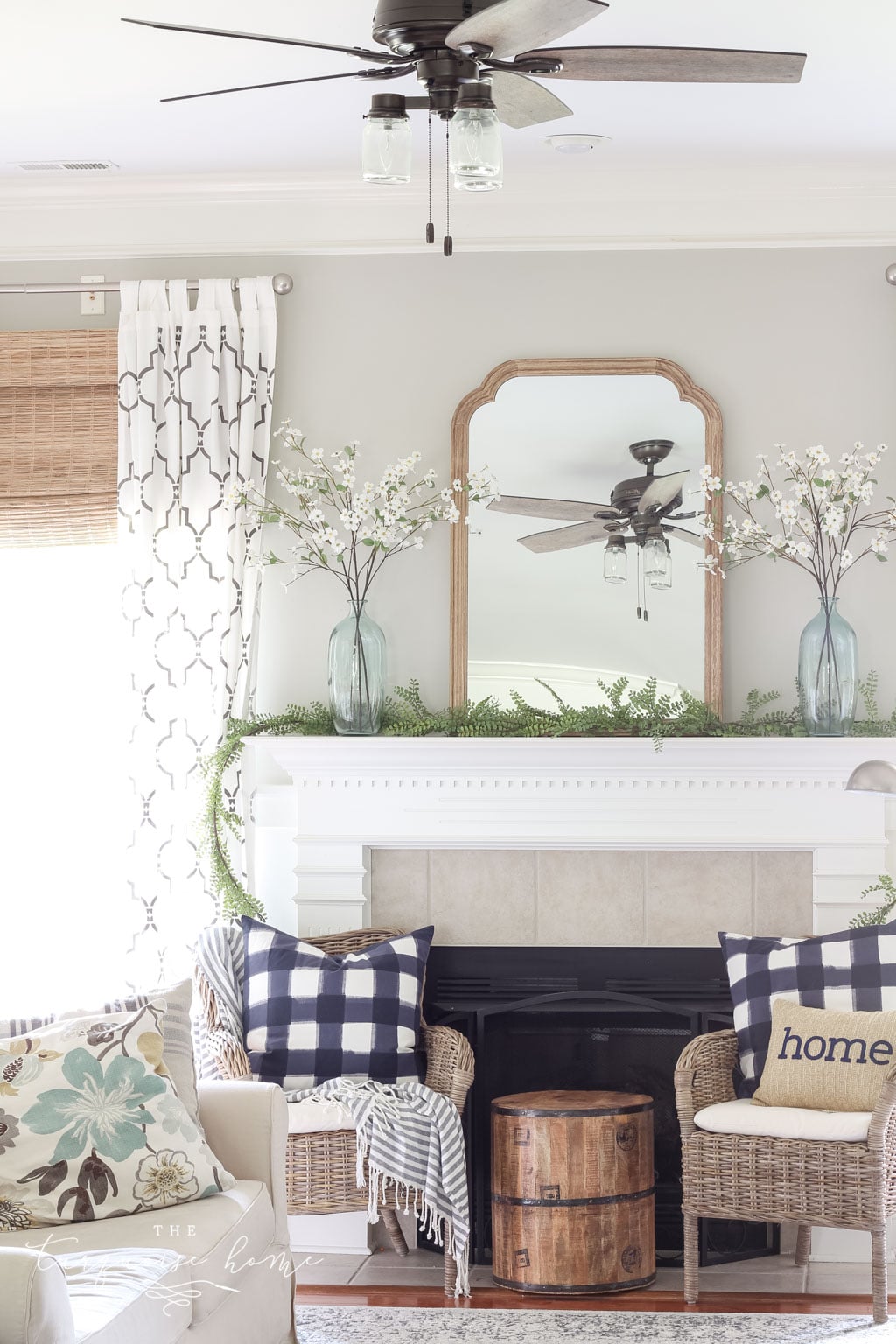 FREE BONUS!
5 Secrets Every Home
Decorator Knows
… to transform your home into your dream home!
Important Elements Of Farmhouse Style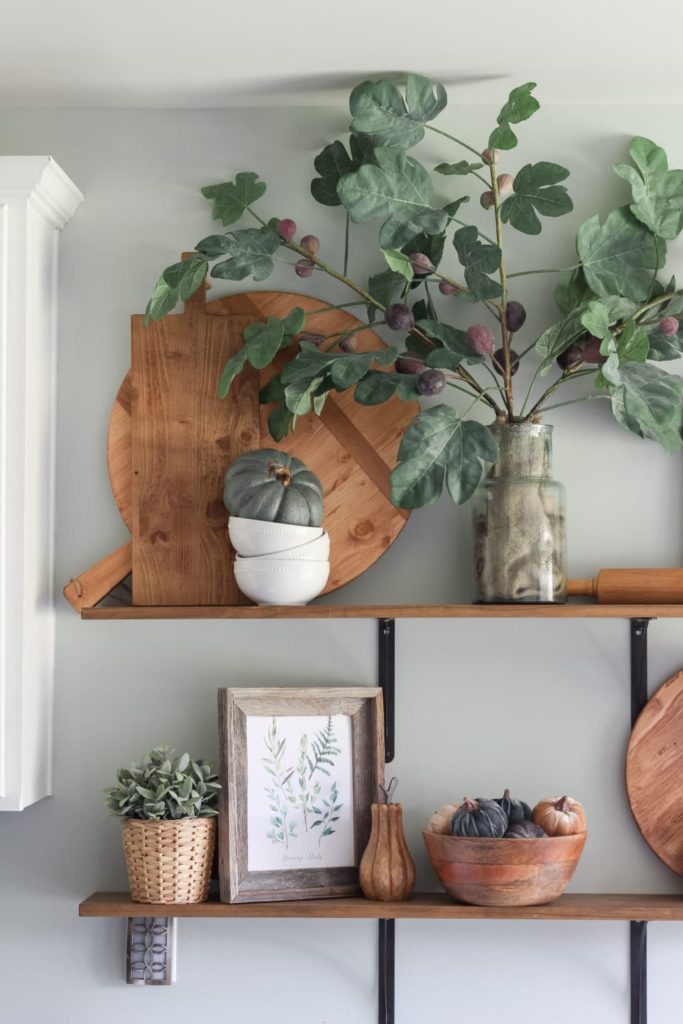 There's one big reason why the classic farmhouse style has appealed to people as an option for their interior decor – the rustic style makes people feel at home.
Trust me, I know. Over the years, I have started to implement this style here and there until I realized how much I truly loved the look. Remember – everything about this style is modest and functional which works out great when you have children running around.
With it being much more simplistic, you can even DIY a lot of the decor yourself which can help if you are on a budget. Like my farmhouse table that I built for about $100!
If you are intrigued, here are some of the common traits you will find when using a classic farmhouse style:
Wood was a plentiful building material and could be found everywhere within the farmhouse: in the walls, floors and even exposed wood beams
Vintage furniture and farmhouse lighting – nothing too delicate to use; if it looks worn, it's even better
Wrought iron accent pieces
Use of colors and fabrics to add depth and visual interest
Classic Farmhouse vs. Modern Farmhouse Style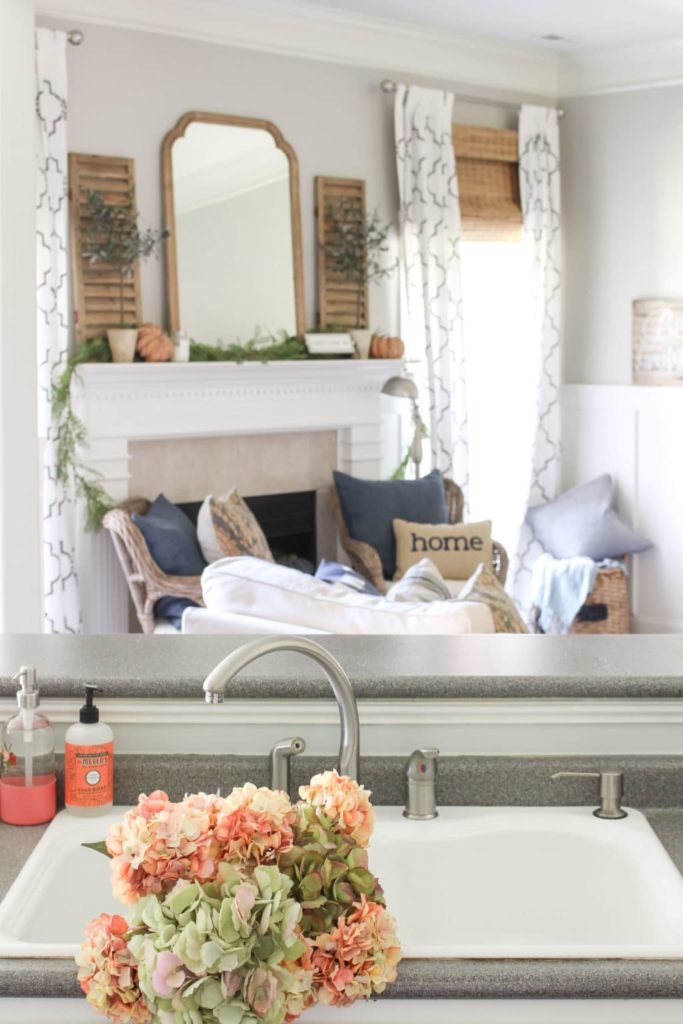 Now that you know more about classic farmhouse style, have you heard about modern farmhouse too?
In the last several years, an interior decor style called "modern farmhouse" has become very popular thanks to shows like HGTV's Fixer Upper.
This style takes the classic farmhouse, a country-living type of look, and adds clean, contemporary lines to create a light, fresh take on warmth and simplicity.
When blending function and texture in a comfortable, modern yet relaxed farmhouse style, the goal is to go slightly less rustic by using current design trends and marrying them with neutral color schemes and simplicity.
Important Elements Of Modern Farmhouse Style Decor
Fusing classic farmhouse style with contemporary design sounds way more complicated than it actually is! Here are some basic design elements of the popular modern farmhouse style:
Functionality – Pieces of furniture (like these barstools) and accessories should be comfortable and used regularly. Nothing should look (or be) too precious to use.
Natural Elements – Use natural materials whenever possible; natural, distressed wood, natural stone and natural fibers such as cotton (like in bedding) or wicker are common.
Industrial Metals – Blend natural (modern) woods with industrial metals, such as lighting fixtures, to create a very natural, rustic space
Neutral Color Palette – The use of warm neutral colors, such as cream, greige, beige, and grays blend well with the wood and other natural materials to create a clean yet cozy feel
Simplicity – Minimalism is key to accomplishing this look. You want a cozy but uncluttered space. Remember, less is more
Farmhouse Style Homes: How To Create The Look
If you love both styles and want to use both of them, it's totally possible! Blend the old and the new together to create an interior in your home that is beautiful and comfortable.
Here are some tips for creating that look you are wanting to achieve within your own space.
Practicality
Here, functionality meets with minimalism to provide the perfect amount of pieces in your home for comfortability while still looking simple and clean. Modern farmhouse style favors the belief that "less is more".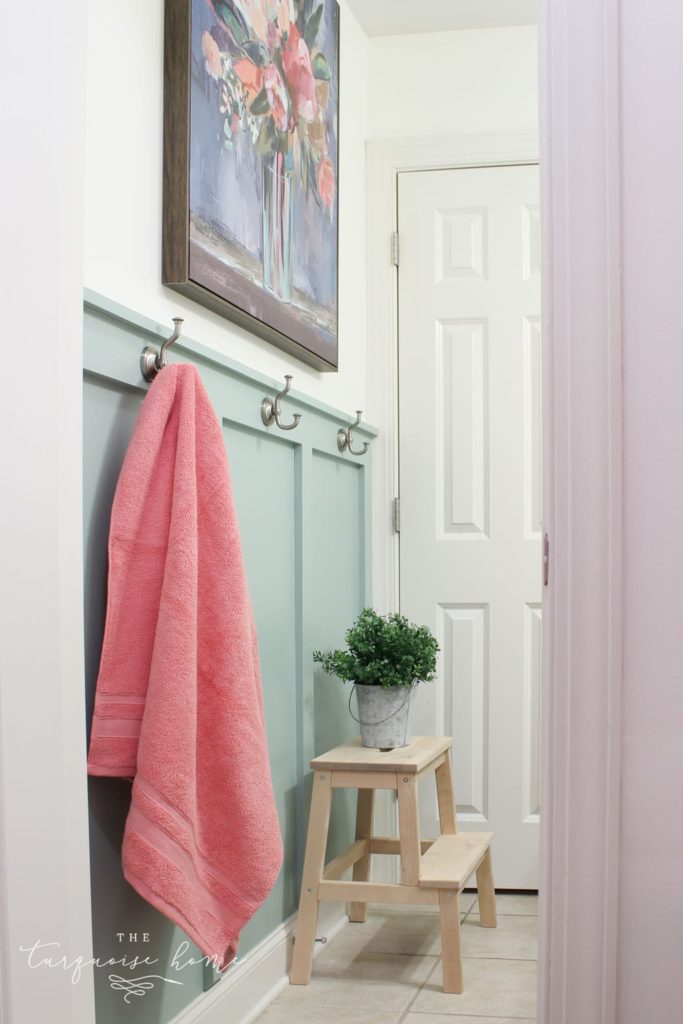 Take a look at this collection of bathrooms for example. By adding in some open shelving and a towel hook bar, you can actually create more space in the bathroom while keeping it clutter-free!
Use The Right Materials
Modern farmhouse style centers around natural, fundamental materials. So, a farmhouse kitchen might balance pieces like painted wood kitchen cabinets and industrial, metal knobs with natural stone countertops and a large farmhouse sink to pull the whole look together.
In the bedroom, you can blend wood furniture with comfy farmhouse-style cotton bedding and a nice neutral rug on top of wood floors.
Add An Industrial Look
As weird as it may sound, adding some industrial pieces you would find on a working farm is very common!
Examples would include elements such as wrought iron light fixtures, hanging barn doors, chic rustic ceiling fans and accessories, and more. It's possible to come up with a farmhouse accent and lighting fixtures that are highly functional and still stay on budget.
Use Neutral Colors
This is one of my favorite parts! Have fun playing with color contrasts through the use of woods and dark, industrial metal accents (light fixtures, doorknobs, and other accent pieces) with light neutral paint and furniture to create that ultimate cozy feel.
For example, in the family room, you may pair wide plank wood floors with a cozy neutral rug, a wood-burning stove, a wood mantle, and walls painted in Benjamin Moore White Dove. Bonus points if you have beautiful reclaimed wood beams in the ceiling!
Natural Fibers
My biggest piece of advice: embrace the natural elements. Try to avoid materials such as plastic in favor of organically occurring materials such as wood, hemp, cotton, linen and more.
When decorating your home, use textures and some color to add depth and interest to your decor. You can do this on both your furniture and your mantle or even on the shelving!
Create Your Dream Farmhouse Look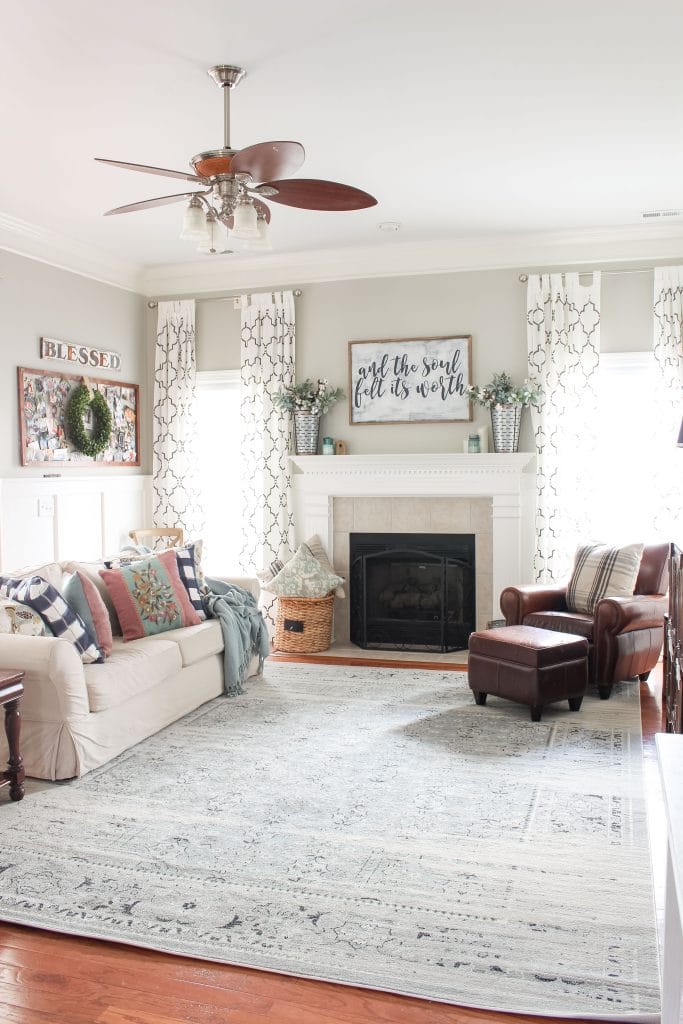 If you love the modern farmhouse look, embrace the style in your own home through the use of some of these elements to create a comfortable, beautiful space.
You won't regret it!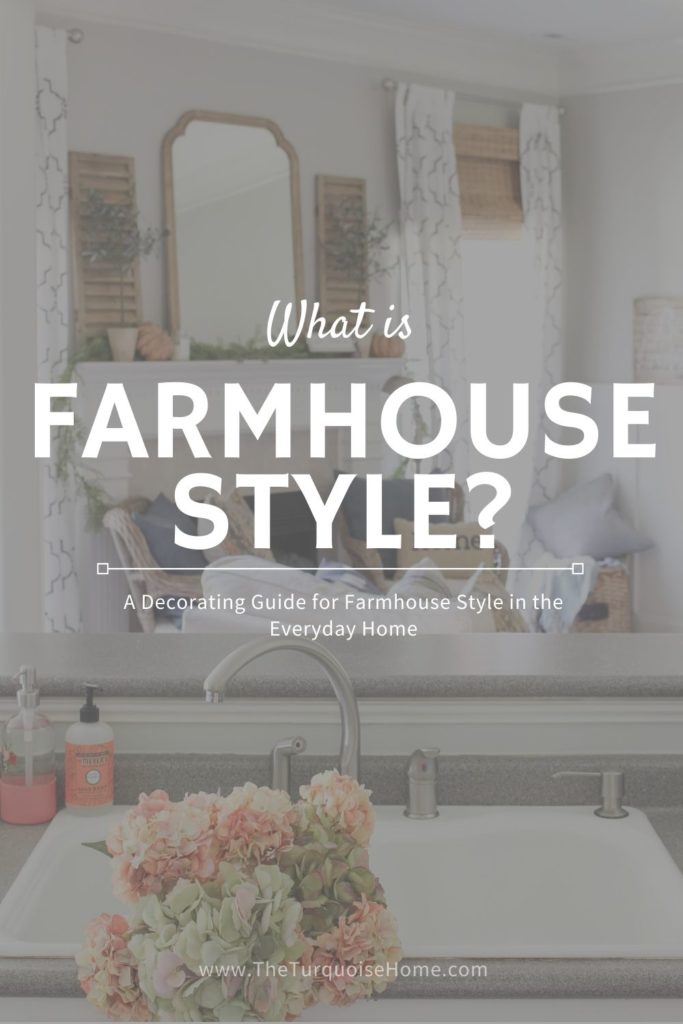 MORE POSTS YOU WILL LOVE:
Get Instant Access to my Guide to Customize Your Home on a Budget
Grab your FREE guide for 10 Ways to Customize Your Home on a Budget: simple projects to transform your home from builder beige to a home with character and charm!