Winter Favorites Free Printables
These winter favorites embody this time of year, so I put them all together in this Winter Favorites Free Printable – just for you! Yay!!
I love to stay home this time of year and just enjoy being a homebody. So, my favorite things about winter are the cozy sweaters and the fuzzy boots, the piping hot cups of peppermint mocha or the toasty mittens and wool hat.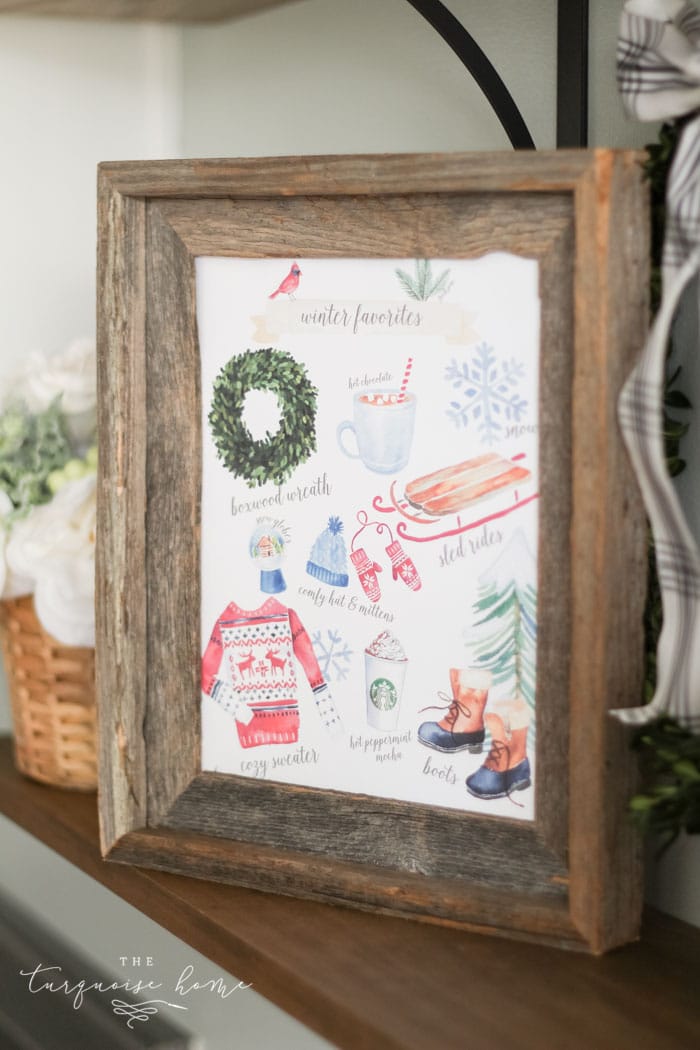 I have recently received a few requests for me to make some free winter printables. I think one lady wrote and said that she's taken the Christmas printables down, and doesn't have anything to fill it with!
I have some pretty printables about love in my VIP Printable Library that will work for Valentine's Day, but the days between Christmas and Valentine's have been sorely neglected!
So this week I set out to remedy the situation.
I am not the first person to come up with a winter favorites free printable, but I love them so much I had to make my own! I scoured the stock graphics out there and pulled my favorite watercolor images together to create this first printable. I'm just giddy at how it turned out!
Once I start making printables it's hard for me to stop, so I also made some coordinating printables to go with the winter favorites.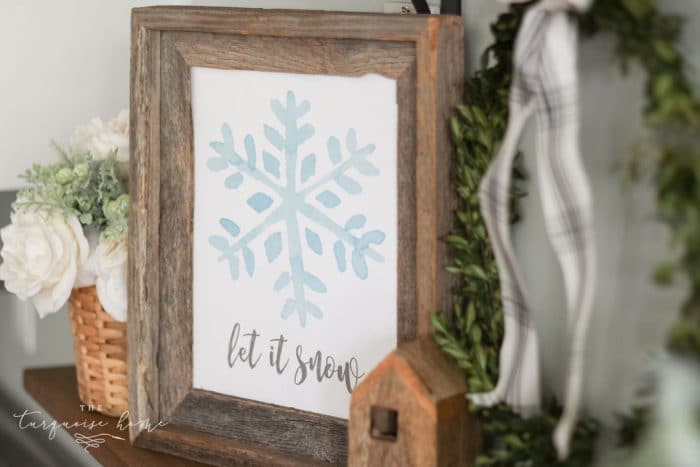 Since my girls are always begging to me to make it snow (lol), I loved the idea of a "Let it Snow" printable. It's simple, but I love the pretty watercolor snowflake.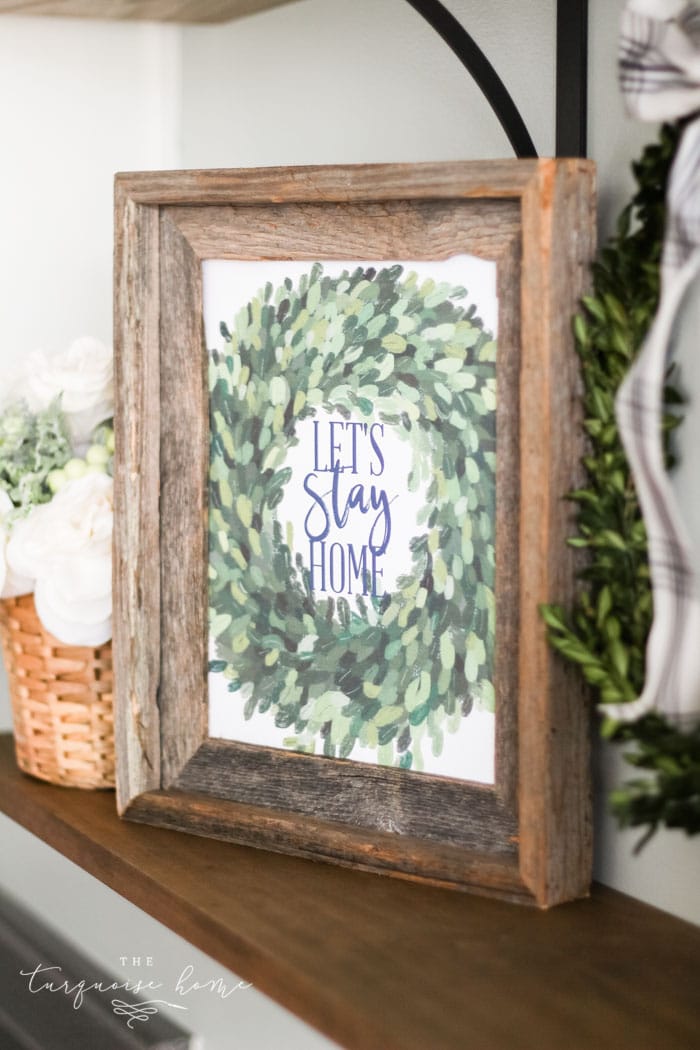 And then the boxwood wreath printable encompasses my truest feelings about this season. I would love nothing more than to just stay home and work on decluttering or some small indoor DIY projects. It's the perfect time to be cozied up under a warm blanket catching up on your favorite shows.
Speaking of shows, though, I need some good recommendations for cuddling up under the blankets. We have Netflix and Hulu, but we just aren't into any shows right now (except for "This Is Us," of course). So, send me your favorites and we'll pick one to start watching. I'm leaning toward "The Crown" but I'm not sure how much my husband would get into that one, so I'm still open to other suggestions. 😊
I hope you enjoy these fun winter printables! I think you could even do them in a gallery wall with the 3 of them side-by-side with the winter favorites in the middle.
This post contains affiliate links for your convenience. See my full disclosure policy here.
Tips for Printing Free Printables
I recommend printing any printables on good quality card stock paper. This will help them last longer and you won't be able to see through them. They will just look better – trust me!
And I love having a nice color printer at home. I bought this wireless color printer YEARS ago and LOVE it! I print stuff almost every day and the ink lasts for 6 months! (And the ink is cheaper and lasts longer than my old color printer. Yay!!) If you need a color printer at a smaller price point, I've heard good things about this one.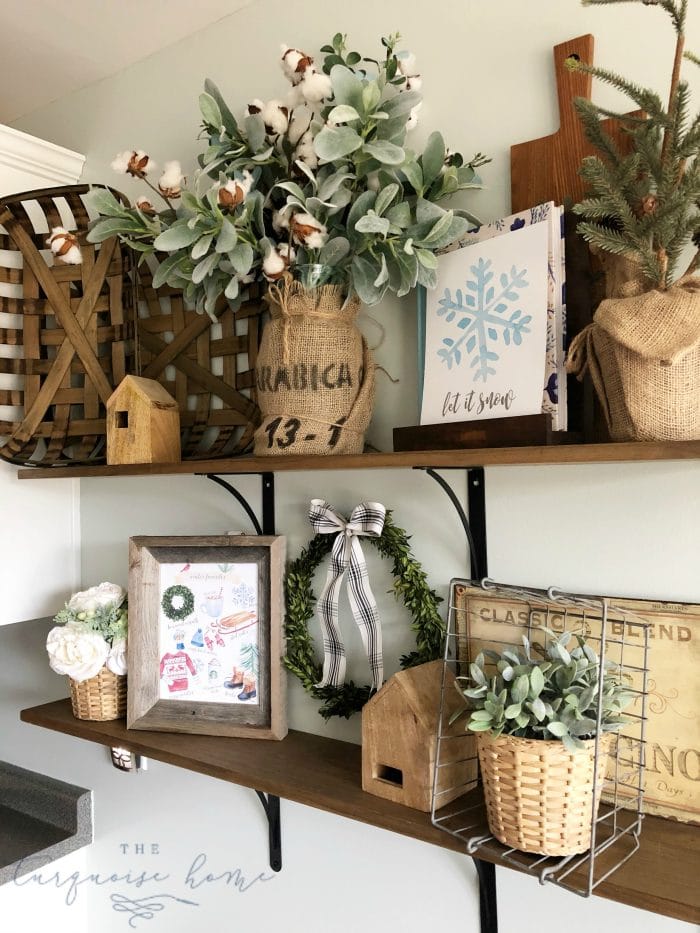 I ended up putting the Winter Favorites and Let It Snow on my open shelves and the Let's Stay Home printable is in my entry way. I needed something to fill the void that was left when I took down my O Holy Night art.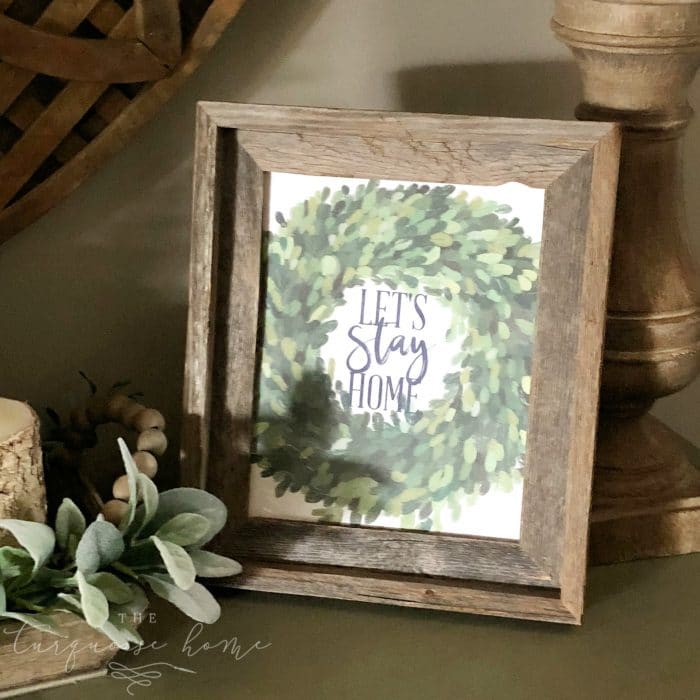 Enjoy these!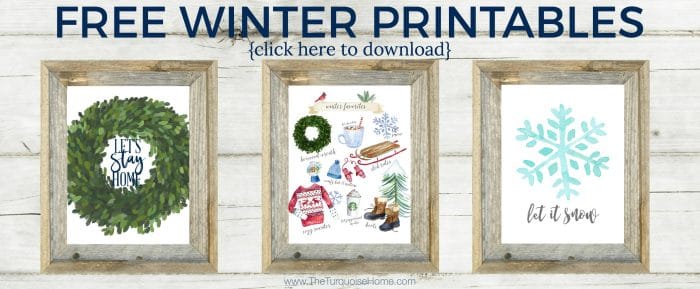 If you can't see the above image, then just click here to get access to the winter favorites free printables.
More Posts You Will Love:
SaveSaveSaveSaveSaveSaveSaveSaveSaveSaveSaveSaveSaveSave