Do you have a young elementary-aged boy to buy a gift for? Maybe it's your own son, your nephew, grandson or just a friend, we've got you covered with some of the year's most popular toys as well as surest hits! Be sure to check out our complete list of Gift Guides to help buy gifts for everyone on your list!
If you're new here, then you probably don't know that I am not a boy mom. So, I'm not qualified at all to write this post. Ha! So why are we here? Well, my lovely assistant has an elementary-aged son and she's filled in her favorite gifts to give her son and his friends!
This post contains affiliate links for your convenience. See my full disclosure policy here.
The Best Gifts for Elementary-Aged Boys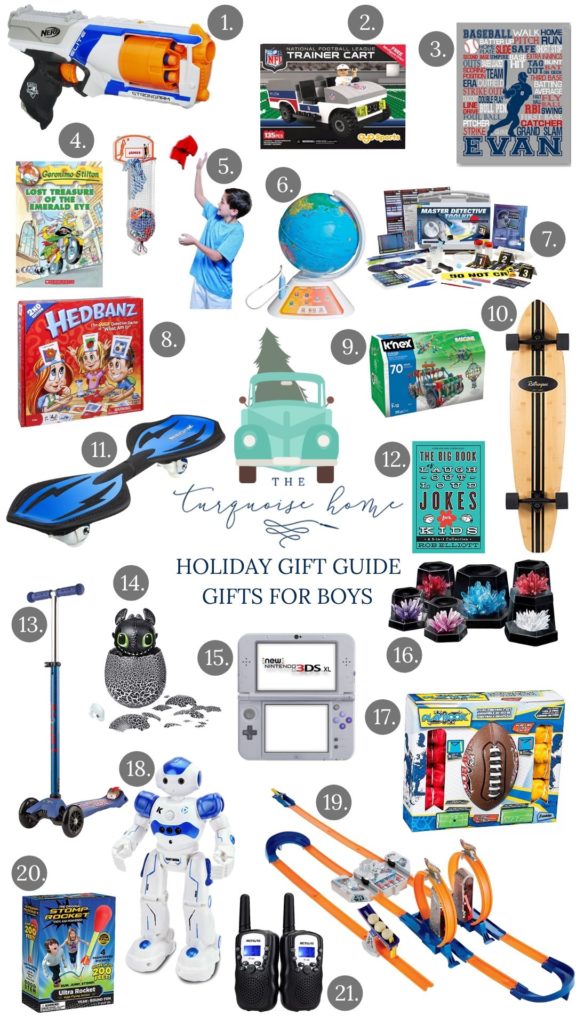 Nerf N-Strike Elite – a perfect, classic boy gift! And a great gift for nephew or friend. Under $15! Although I heard a mom recently say that she started pushing up her boys' bedtimes by 10 minutes every nerf bullet she found laying around the house. So if you want to get this gift, but have nightmares of nerf bullets everywhere, there you go! Problem solved. 😉
Football Building Blocks – Football and building blocks? What's not to love??
Customize Baseball Wall Art – For the boy who has his room decked out in baseball trophies, this sign will encourage him to keep playing the game!
Geronimo Stilton Books – Fun books with great art about a lively and adventurous mouse named Geronimo Stilton. Great for Boys or any elementary age readers!
Hamper Hoops – What boy doesn't want to shoot 3 pointers while picking up his room? Just don't be surprised if something other than clothes ends up in the laundry! 😂
Smart Globe Discovery – appeal to the adventurers in every boy with this cool learning globe! And new for 2017, use the Oregon Scientific SmartGlobe AR app to bring the globe to life with animals and dinosaurs! Super cool!
Kids Detective Set – This detective kids is perfect for the boy who loves an investigation or a good mystery! And bonus – it'll keep them busy for hours! (You're welcome, moms.)
HedBanz Game – My daughter thinks this game is so fun and loves to play it with her friends, both girls and boys. So it's a great game for keeping them occupied for a while and not looking at screens! Although there is an app version called "Heads Up!" for your phone and we saw people playing this in line at Disney all the time. A great way to pass the time in the car or in lines! See more Family Game Gift Ideas HERE.
K'nex Model Building Set – Kids who love problem-solving will love this toy building set!
Longboard – super cool and durable longboard for the adventure enthusiast.
Razor RipStik – The cooler cousin of the skateboard, allows you to experience a board that is a cross between a snowboard and a skateboard. Skate in style!
The Big Book of Laugh-out-Loud Jokes – Everyone will find this trio of classic joke books a riot!
3-Wheeled Scooter – My girls have ridden these scooters for years and still love them as much today as the day they got them. A classic gift for any boy or girl! It's super helpful for learning balance as well, as you use your body weight to turn it.
Hatching Toothless – These hatching toys are all the rage.
Nintendo Switch Lite – The newest version in the Nintendo Switch System. It's the perfect size for on-the-go gaming!
Growing Crystals Experiment Set – Challenge your child with this STEM kit for growing crystals right in your own home. We've given these to several boys for gifts and they love them! My 9-year-old daughter loves them too!
Flag Football Set – This isn't just any old football to throw around in the backyard, this has the plays stitched in the back of the pigskin. A friend's son plays footballs and he looooves this football. Him and his friends spend hours playing outside!
Robot – Use your hand or remote to control this super cool robot! You'll be the coolest aunt ever!
Hot Wheels Track Builder – Get ready for hours of loud fun racing and doing stunts. This is a part of the Hot Wheels track builder system, which allows your boys to design, create and customize their own race and stunt challenges!
Stomp Rocket – Experience hours of fun with this stomp launcher and refill pack!
Walkie-Talkies – Every boy needs a set of walkie-talkies!
Happy Shopping! Is there a gift for a boy that I left off? Share it in the comments below!

MORE POSTS YOU WILL LOVE:
SaveSaveSaveSaveSaveSaveSaveSaveSaveSave