Welcome to my traditional & cozy Christmas living room full of plaid accents! I'm loving all of the plaid decor this year and I just had to incorporate it into my Christmas home decor.
It's so fun to decorate for Christmas for the second year in this home. Last year was a huge learning curve figuring out how our old decor worked in this house. And buying stuff to fill in the rest. I had to buy a new tree for this room last year, so it was fun to just be able to pull it out of the attic this year.
I try to figure out some kind of theme for my home each holiday season. Last year I started falling in love with red and green plaid decor when I bought my bedroom duvet set. Then that lead to me buying some plaid picture frames … and well it was all over then!
I fell in love with this plaid tartan ribbon and just knew it would be the perfect ribbon for my tree this year. We spend so much time in the living room as a family. It's so cozy with the navy walls and our big sectional sofa.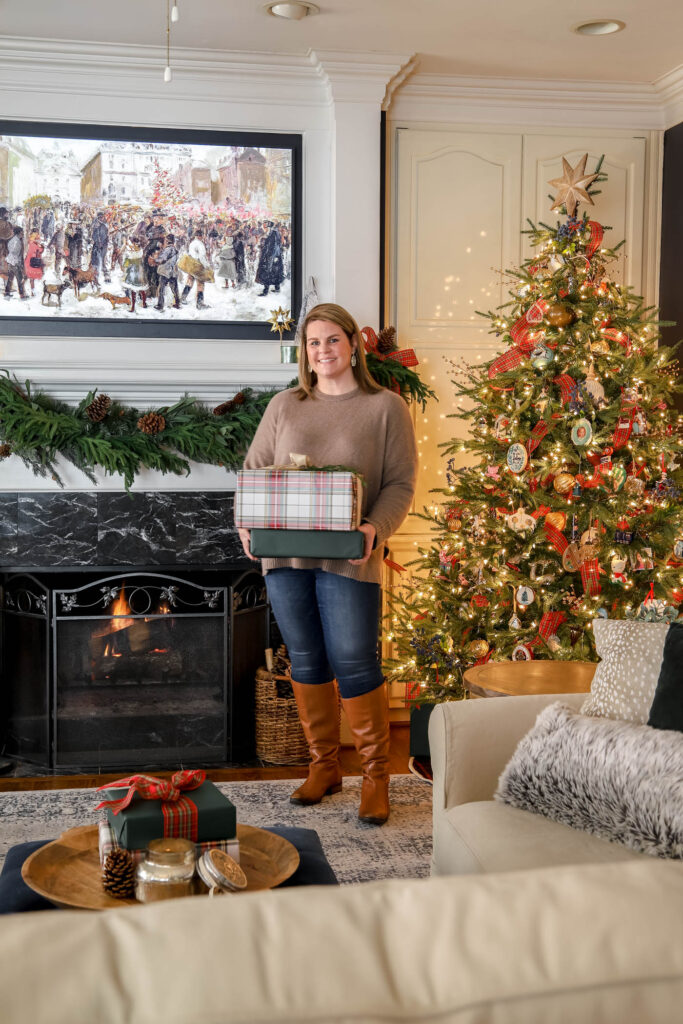 LIVING ROOM SOURCES: Christmas Tree | Red Tartan Plaid Ribbon | Plaid Wrapping Paper | Green Wrapping Paper | Frame TV | Frame TV Christmas Art | Antelope Pillow Covers | Round Wooden Tray | Fire Wood Basket | Mantel Greenery (already sold out) | Sectional Sofa (Fabric: Twill, Color: Parchment) | My Jeans | My Boots | My Sweater
The plaid ribbon in our living room gives me all the traditional, cozy lodge vibes. And so I got to thinking about how I would decorate the tree in this cozy theme I had going on.
And I'll let you in on a little secret: most years I will decorate the main tree however I want, snap pictures for the blog, and then let the girls bring out all of our sentimental ornaments. And we'll have our personalized tree up in the living room through the holidays.
But this year, I decided the nostalgic Christmas ornaments and the cozy tartan plaid ribbon went hand in hand, so we dressed it all up in our favorite personal ornaments. I also included some of my favorite ornaments that I use each year, like my golden deer and these gold mercury glass ornaments that I got last year.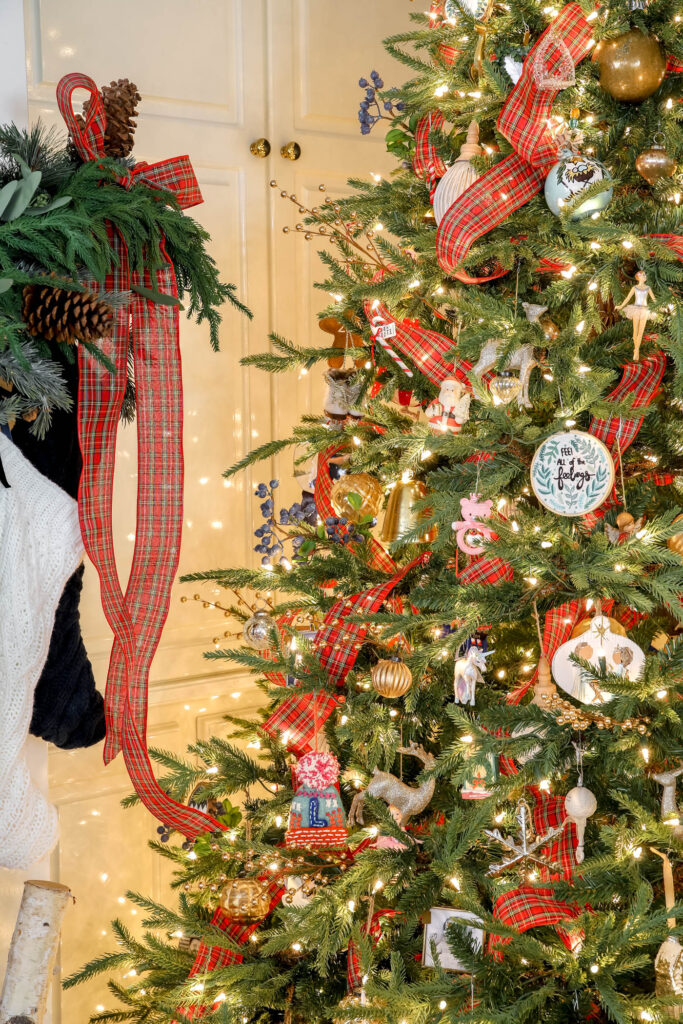 I added some blue and gold berry stems to make it look a little more dressed up. But I'm loving the casual, dressed down vibe. Then I just went with the plaid vibe throughout the rest of the room!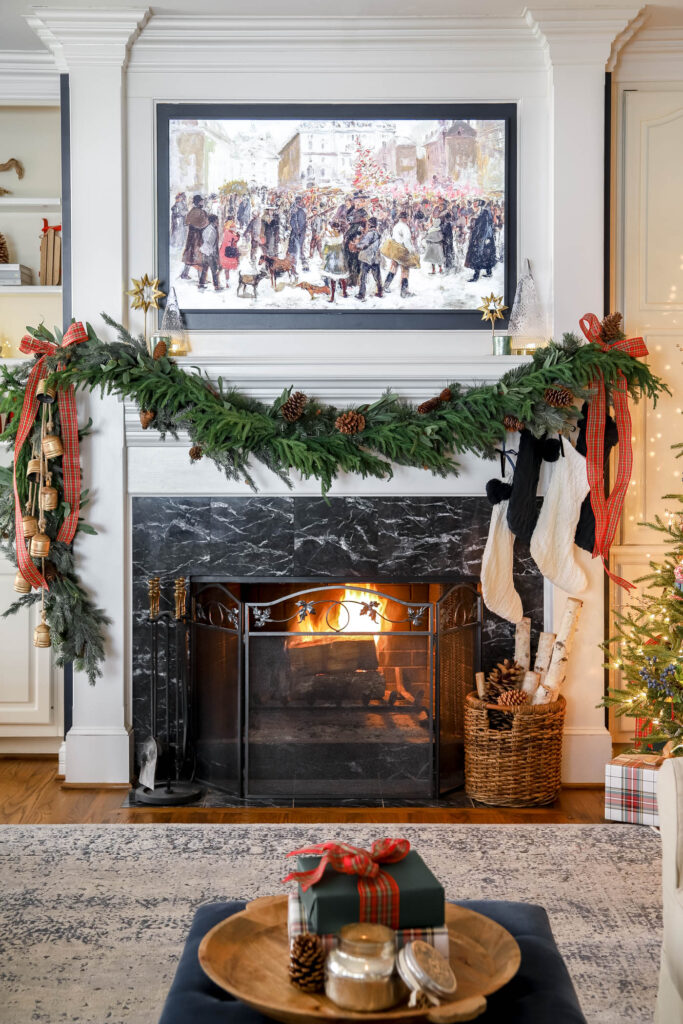 MANTEL SOURCES: Christmas Tree | Red Tartan Plaid Ribbon | Plaid Wrapping Paper | Green Wrapping Paper | Frame TV | Frame TV Christmas Art | Round Wooden Tray | Fire Wood Basket | Birch Logs | Mantel Greenery (already sold out) | Vintage-Inspired Rug | Hanging Bells | White Stockings (navy stockings no longer sold) | Fair Isle Glass Trees (similar) | Brass Star Figurine (small here) | Storage Ottoman
I added the plaid Christmas decor ribbon to the mantel greenery in the form of bows. Adding a bow always makes everything more festive!
If you want to know how I hang the greenery on the mantel, see that post here. I did mostly the same thing this year, except that I hung it asymmetrically to the left side. And I hung a couple of brass hanging bells to the left side, too.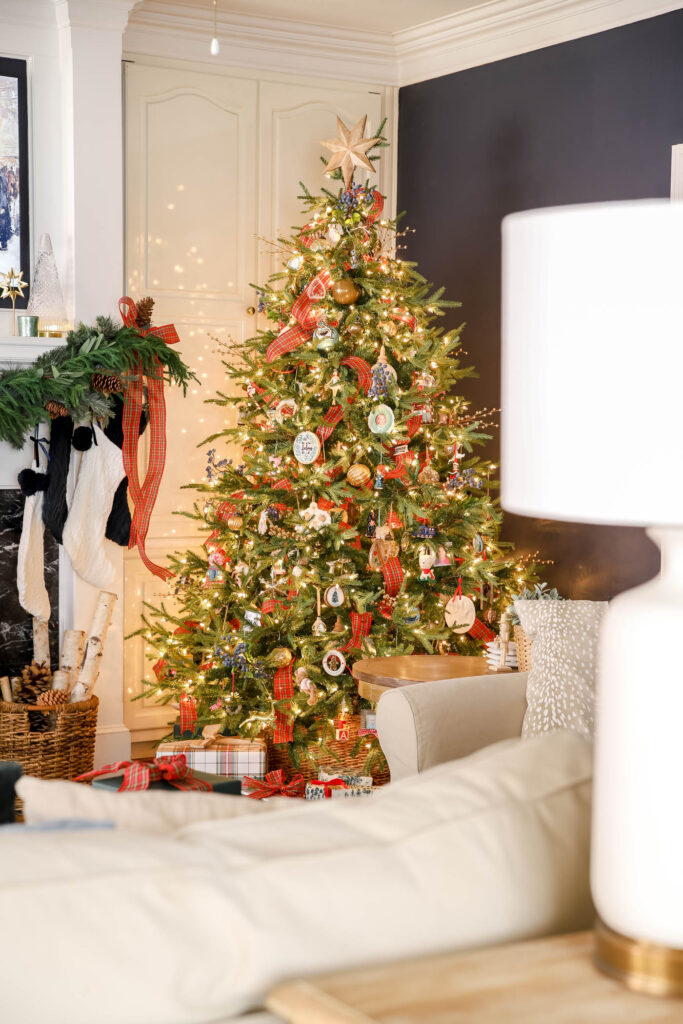 I finally changed out the old galvanized farmhouse bucket next to my fireplace for a woven basket for my birch logs. It was time to say goodbye to some of that last bit of farmhouse decor from the old house.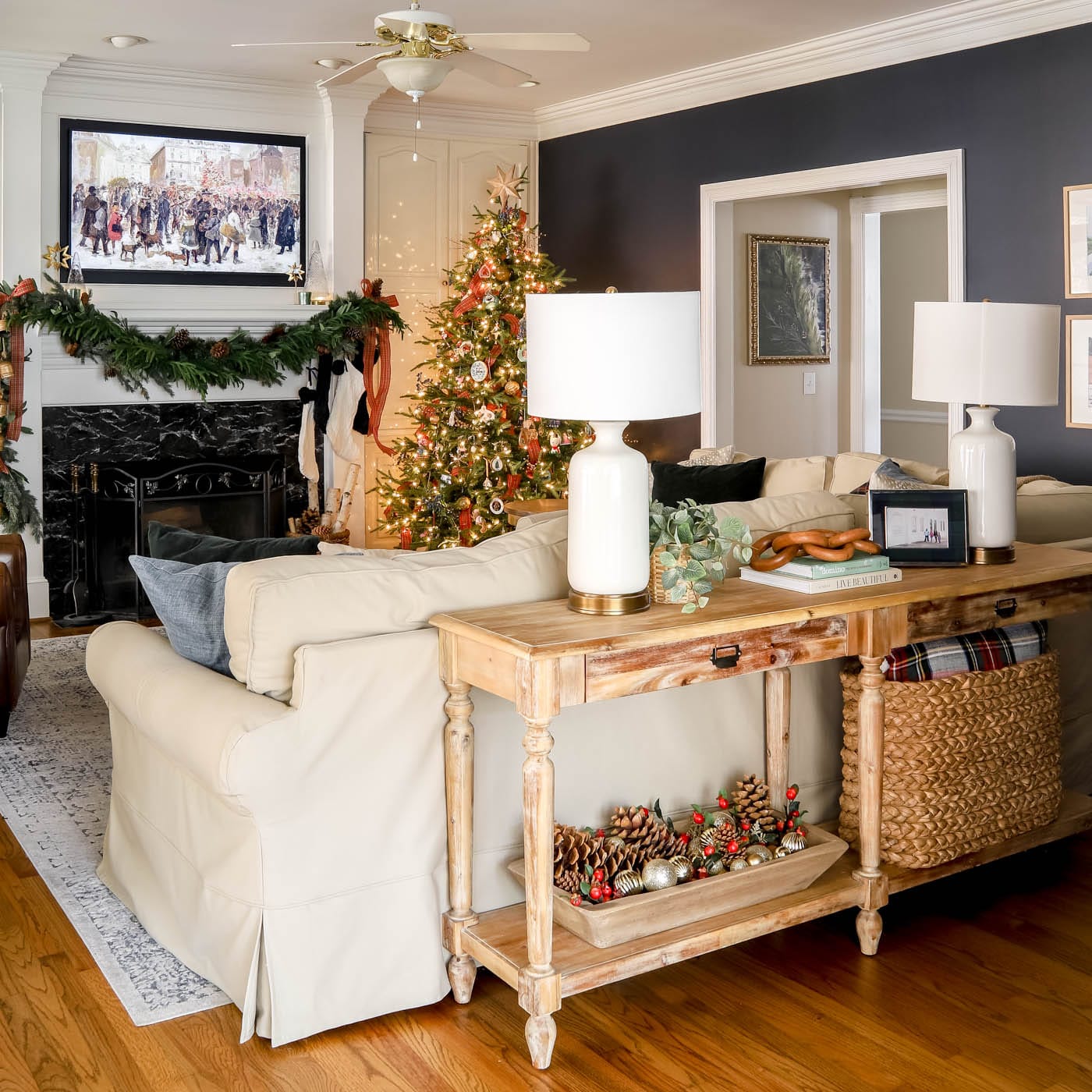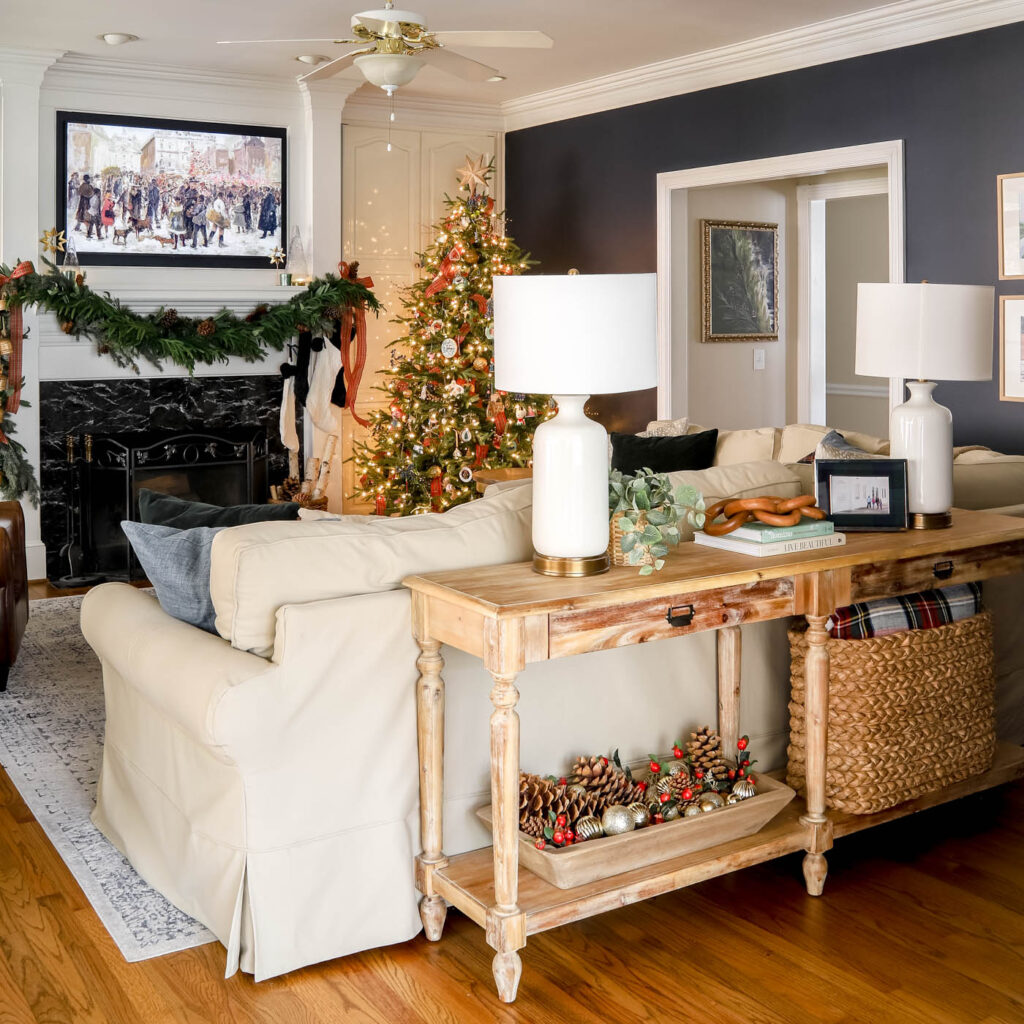 The above view is the one we see when we walk in the door every day, and it's a favorite for sure! I changed out one of my console baskets for a large dough bowl filled with pine cones, gold ornaments and pomegranate stems.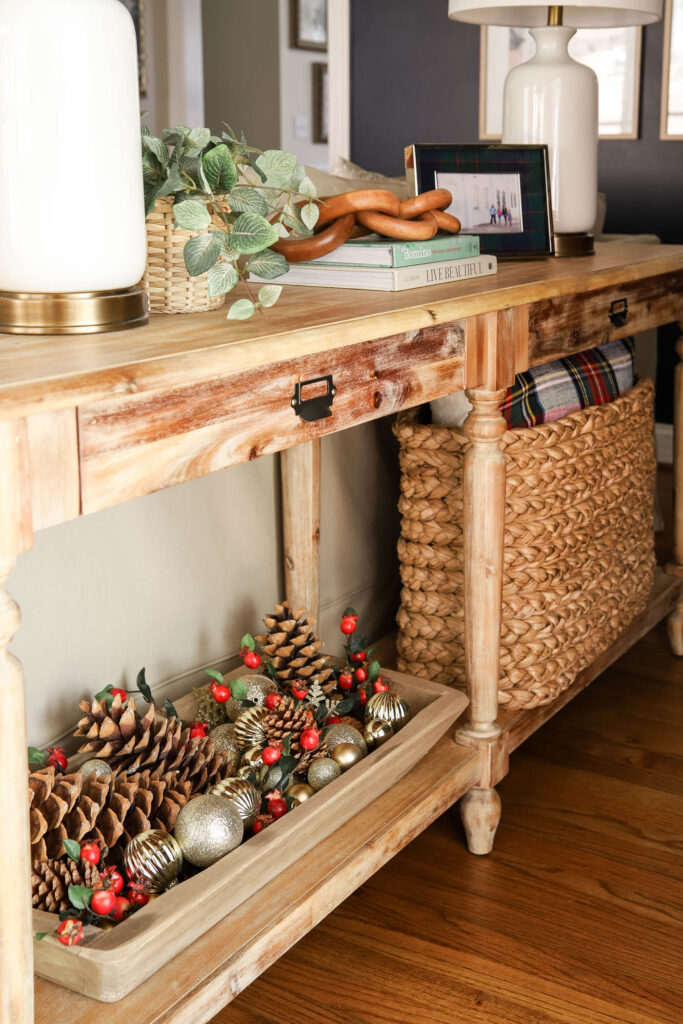 CONSOLE TABLE SOURCES: Console Table | White & Bass Lamps | Console Basket | Plaid & Sherpa Pillow Cover | Pillow Insert | Dough Bowl (local shop) | Wood Chain Decor | Domino Coffee Table Book | Live Beautiful Coffee Table Book | Plaid Picture Frame (similar)
I love the peek-a-boo plaid coming out of the top of my console basket next to it. It's currently one of my favorite plaid pillows with sherpa on the back side. It's so cozy! Another plaid detail can be found in the picture frame.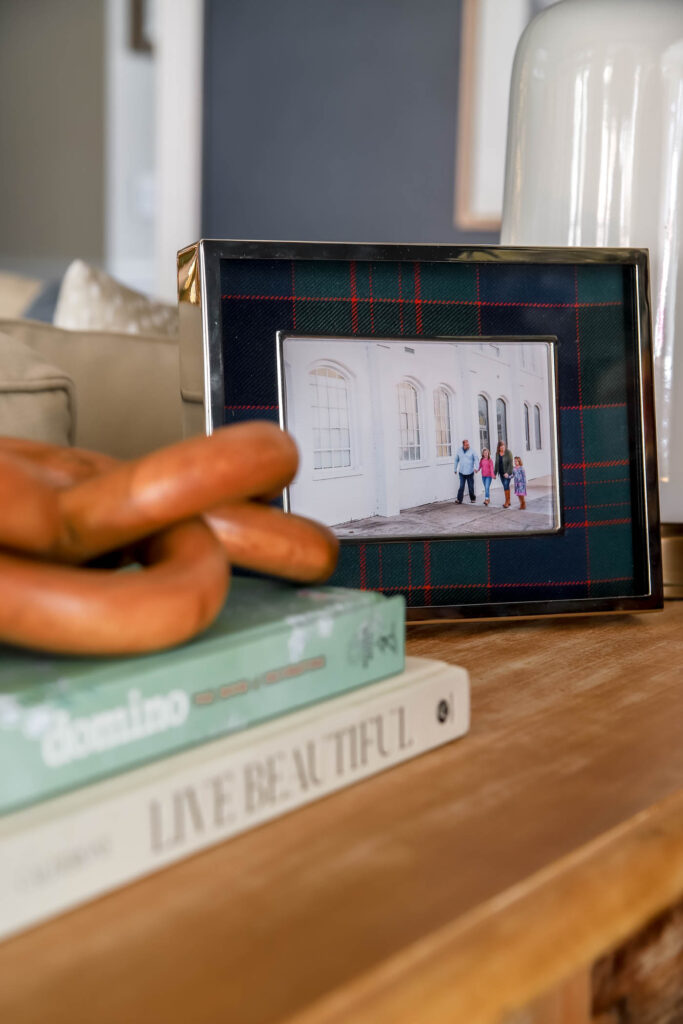 Did you happen to spot my new art in the photo of the console table above? I have wanted a piece of art to go in the alcove between our living room and entry way for some time now. I had something there as a place holder until I found the right piece.
And when I saw this Berries in Snow Abstract art, I knew it was the one! It will work there through at least March 1. It coordinates so well between our Hale Navy living room and green powder room around the corner.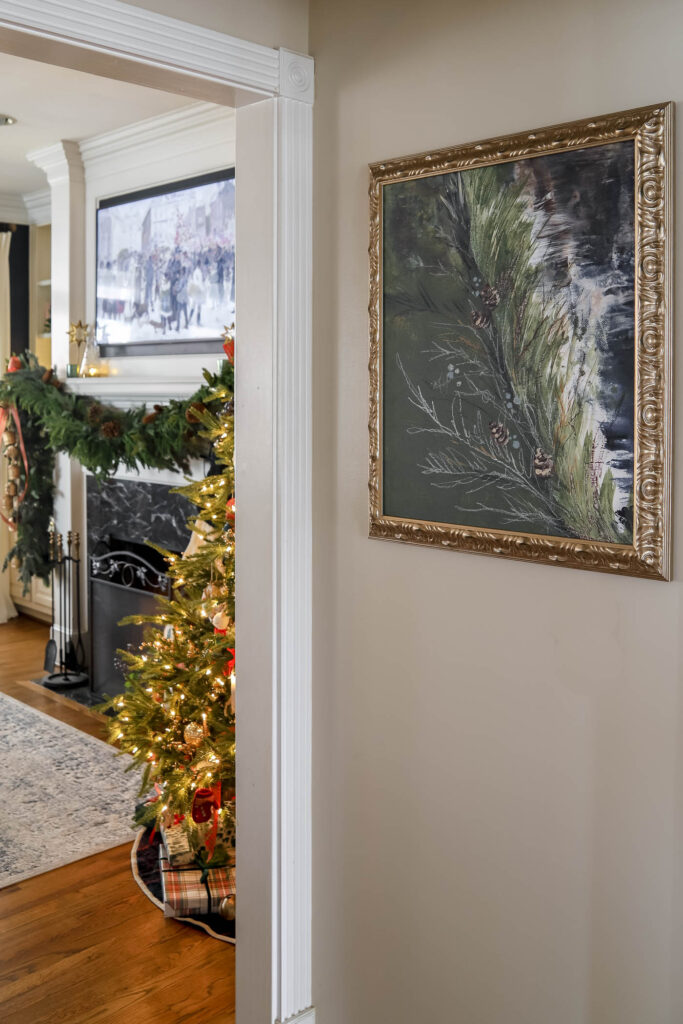 I'll find something else to replace it after the winter, but I'm in love. It's so beautiful. I wish the photo did it justice, but sadly it does not.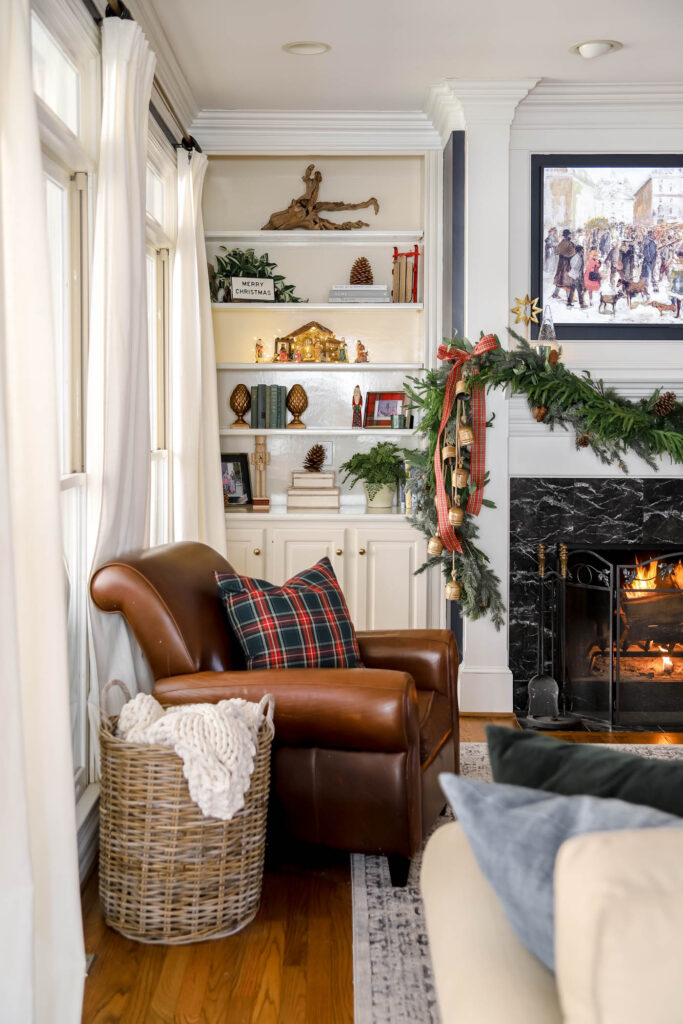 My bookshelves are always fun to decorate! I put my $15 Walmart nativity scene on one of the shelves and I love it there with some twinkly fairy lights. Everything else is mostly there throughout the year. I just swapped out my beachy frames for my plaid frames and added a reversible Merry Christmas sign.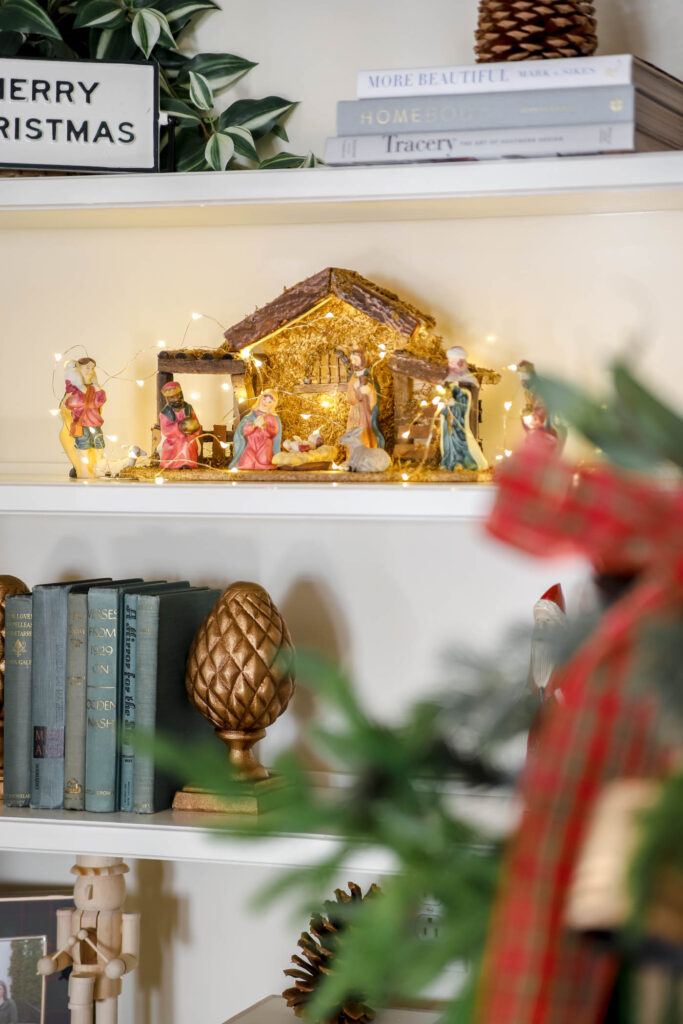 Peek-a-boo, I see an old Santa, too!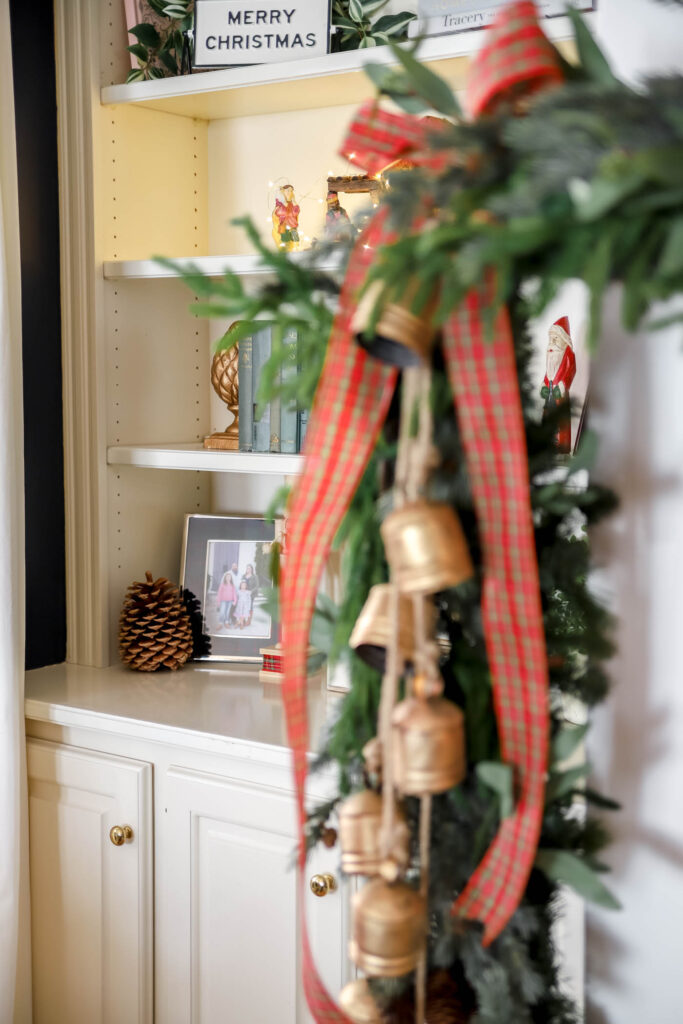 BOOKSHELF SOURCES: Plaid Frames (2021 version) | Storage Boxes (similar) | Faux Fern | Unpainted Nutcracker | Merry Christmas Sign | Green Books | Pinecone Bookends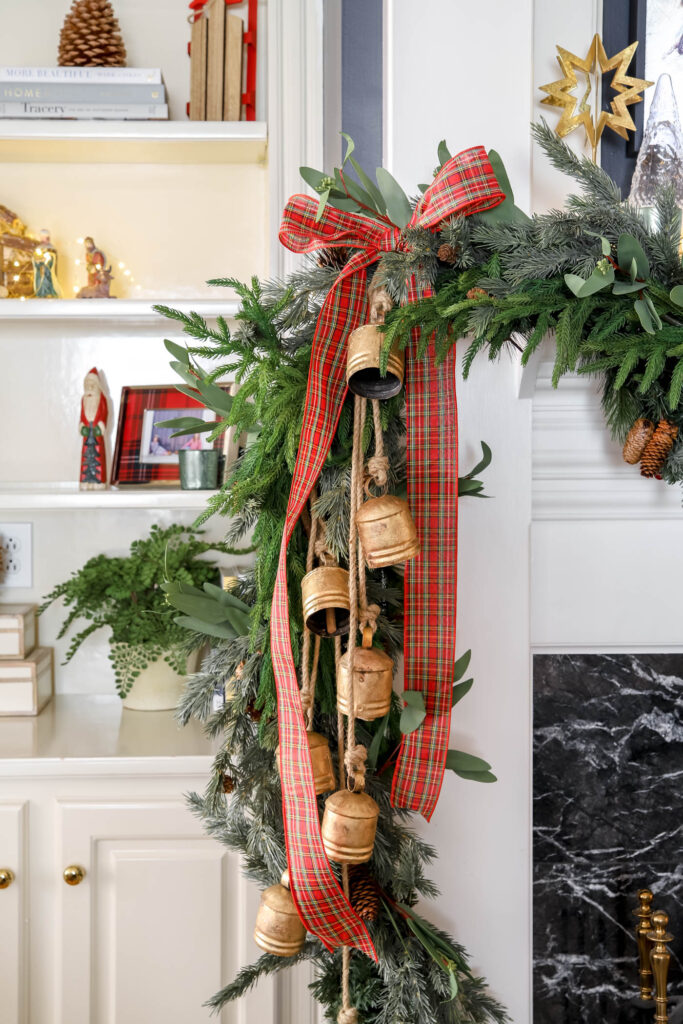 I'm loving the plaid Christmas decor touches on the mantel and throughout the room.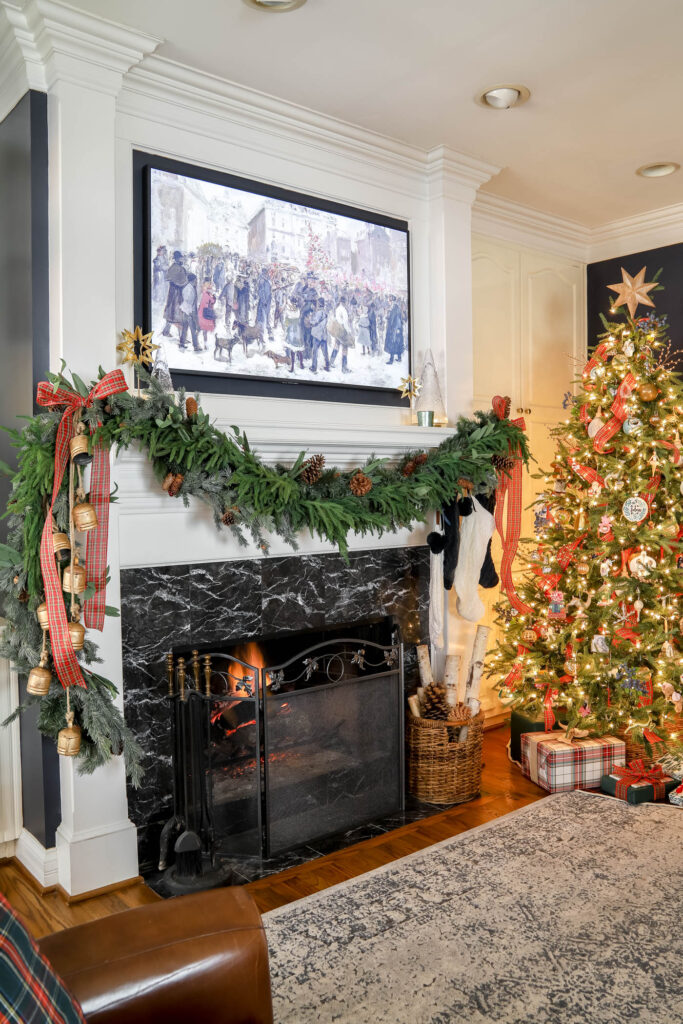 I also changed the base of my tree this year. I know it's hard to see, but I put one of my tree collars under the tree that looks like a basket. It's from last year and no longer sold. And I layered it over a plaid tree skirt I've had for a few years. I love it, even when it's covered by presents. ☺️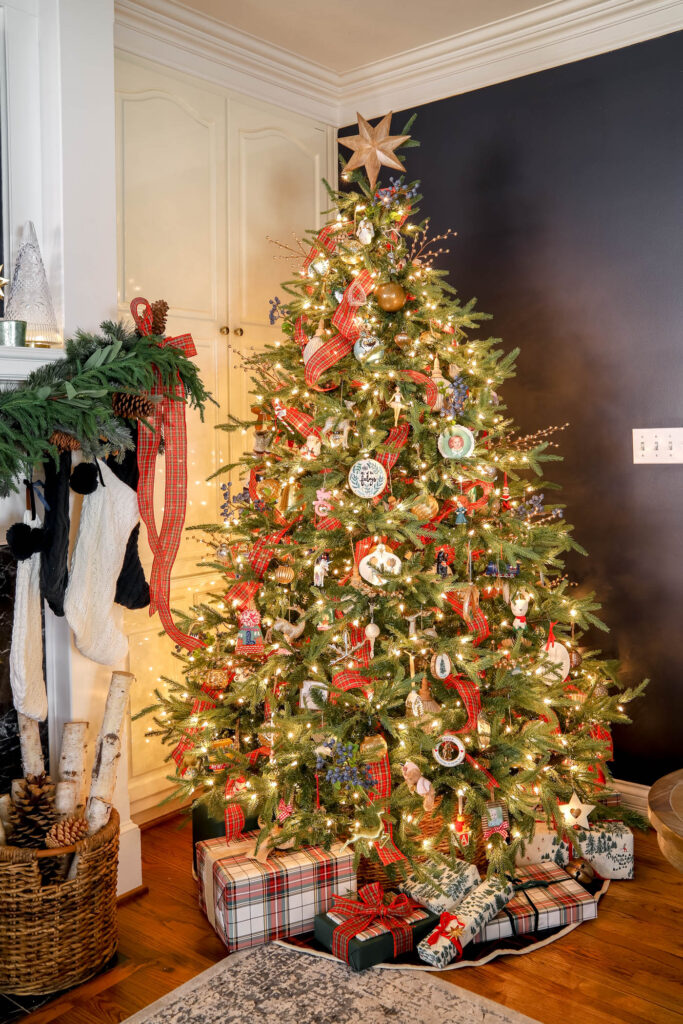 The final view of the living room to see is from the bookshelves looking at the sectional sofa. I layered my old plaid pillows with some new green velvet pillows. And in the back, I just kept it simple with some faux trees next to my mirror.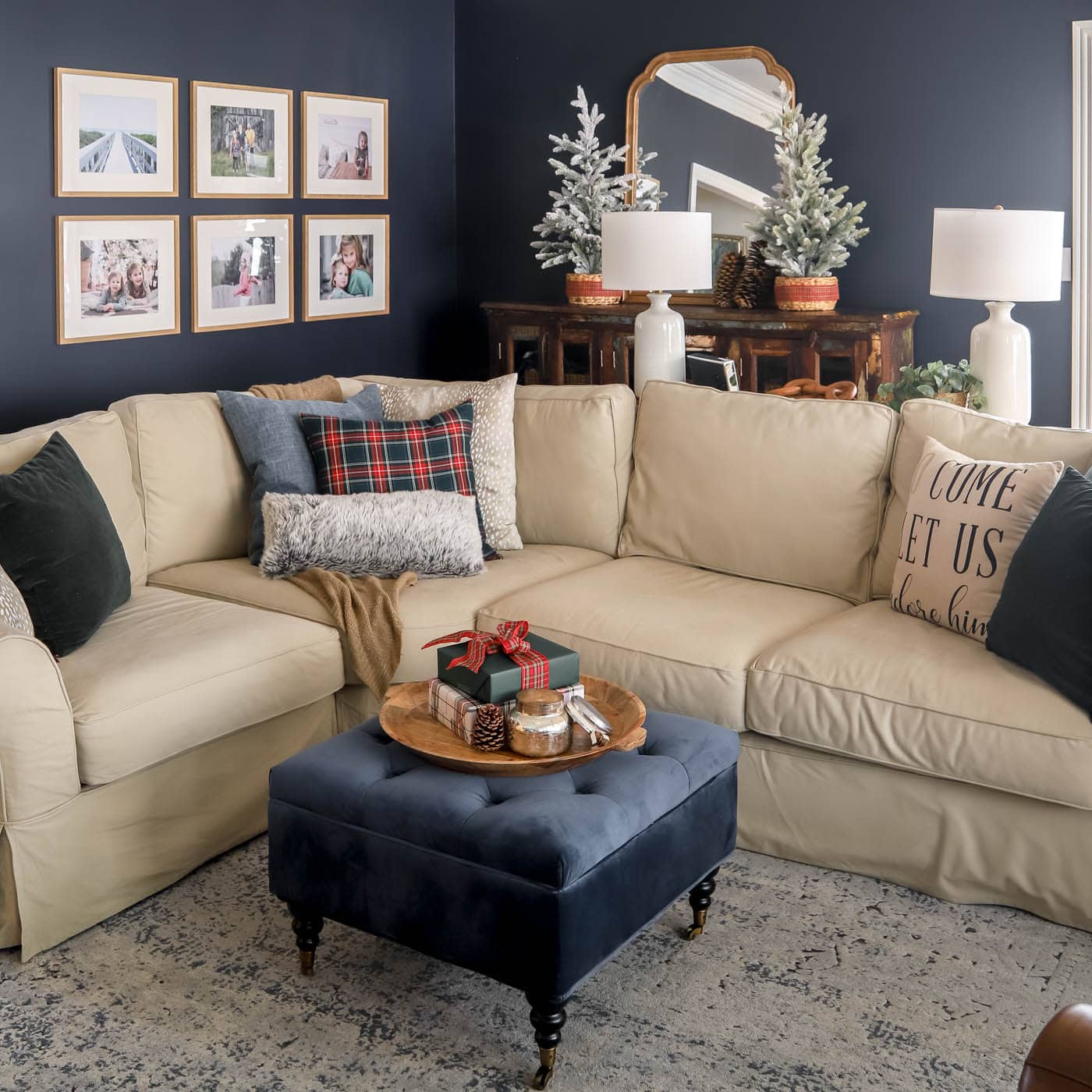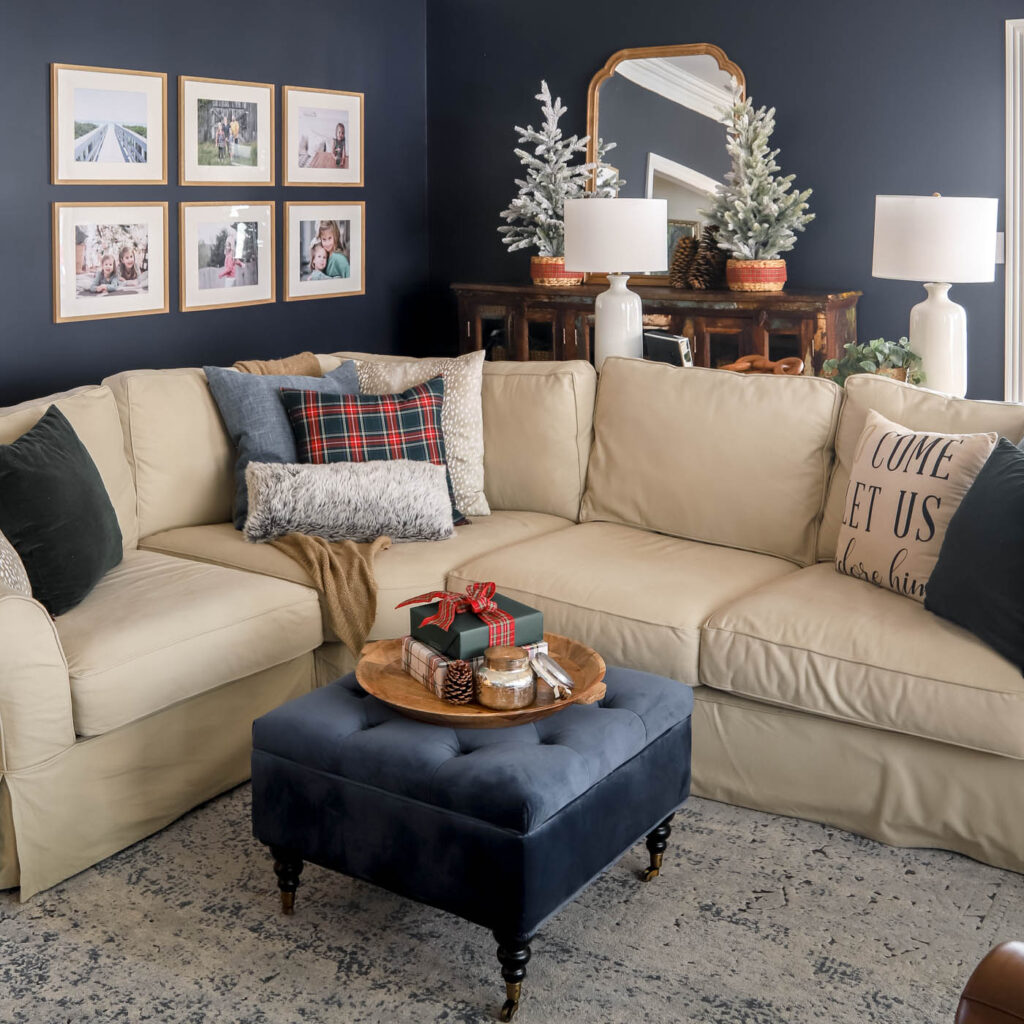 LIVING ROOM SOURCES: Red Tartan Plaid Ribbon | Plaid Wrapping Paper | Antelope Pillow Covers | Midnight Blue Pillow Covers | Plaid Pillow Covers | Green Velvet Pillow Covers | Round Wooden Tray | Sectional Sofa (Fabric: Twill, Color: Parchment) | Picture Frames (similar) | Wall Mirror | Tabletop Trees in Woven Baskets | White & Bass Lamps | Storage Ottoman
We got an ottoman this year that doubles as storage. I believe it's sold out in this blue color, but still available in a gray color.
It's perfect for putting a tray with a some decor along with our remote control.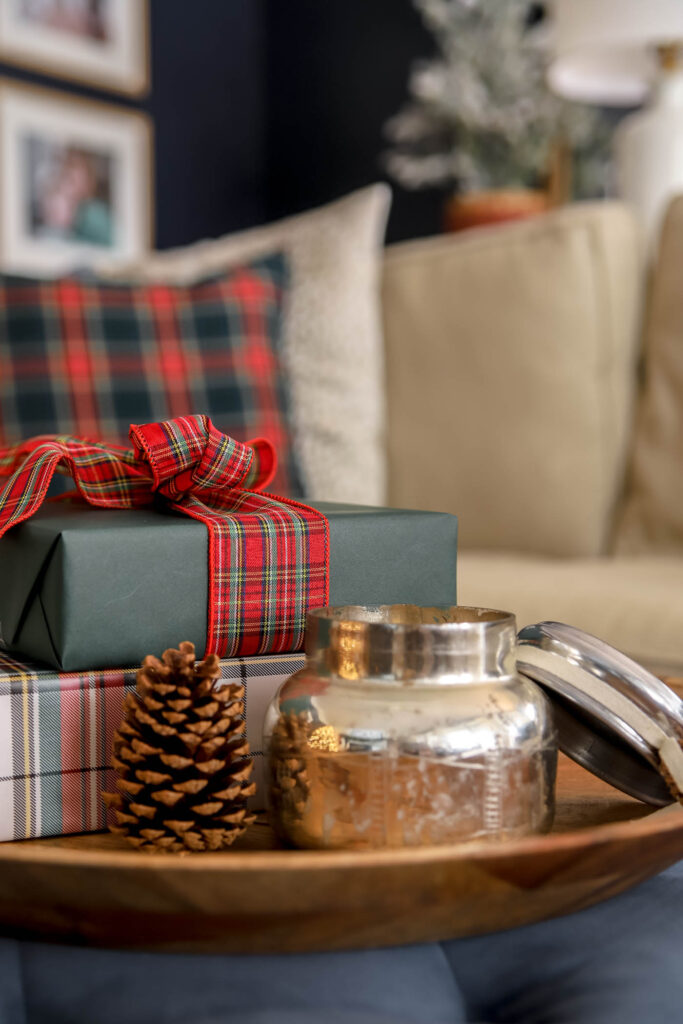 I always get to a point in decorating for Christmas where I doubt my ability to pull it together. Or I question whether I will even like what I'm doing. I usually have to decorate a little at a time and let inspiration strike over the course of a couple of weeks.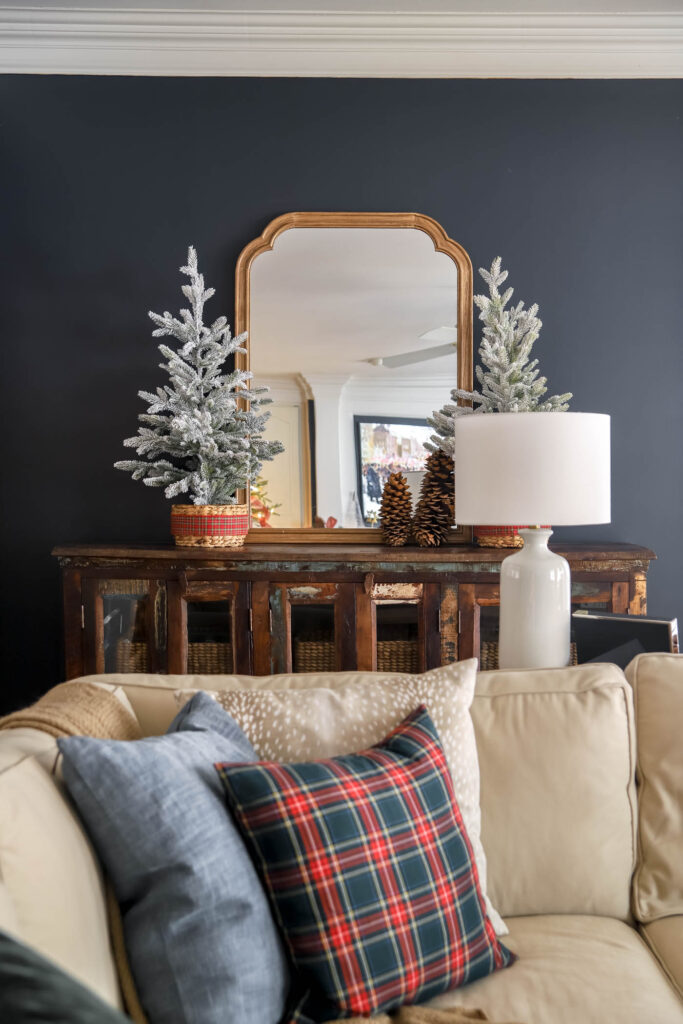 I had major doubts that my plaid Christmas decor this year would work, and I even undecorated the tree when I tried another ribbon first. But I'm so glad I stuck with my tartan plaid vision. I'm so happy that we used the family ornaments for a homey, cozy feel.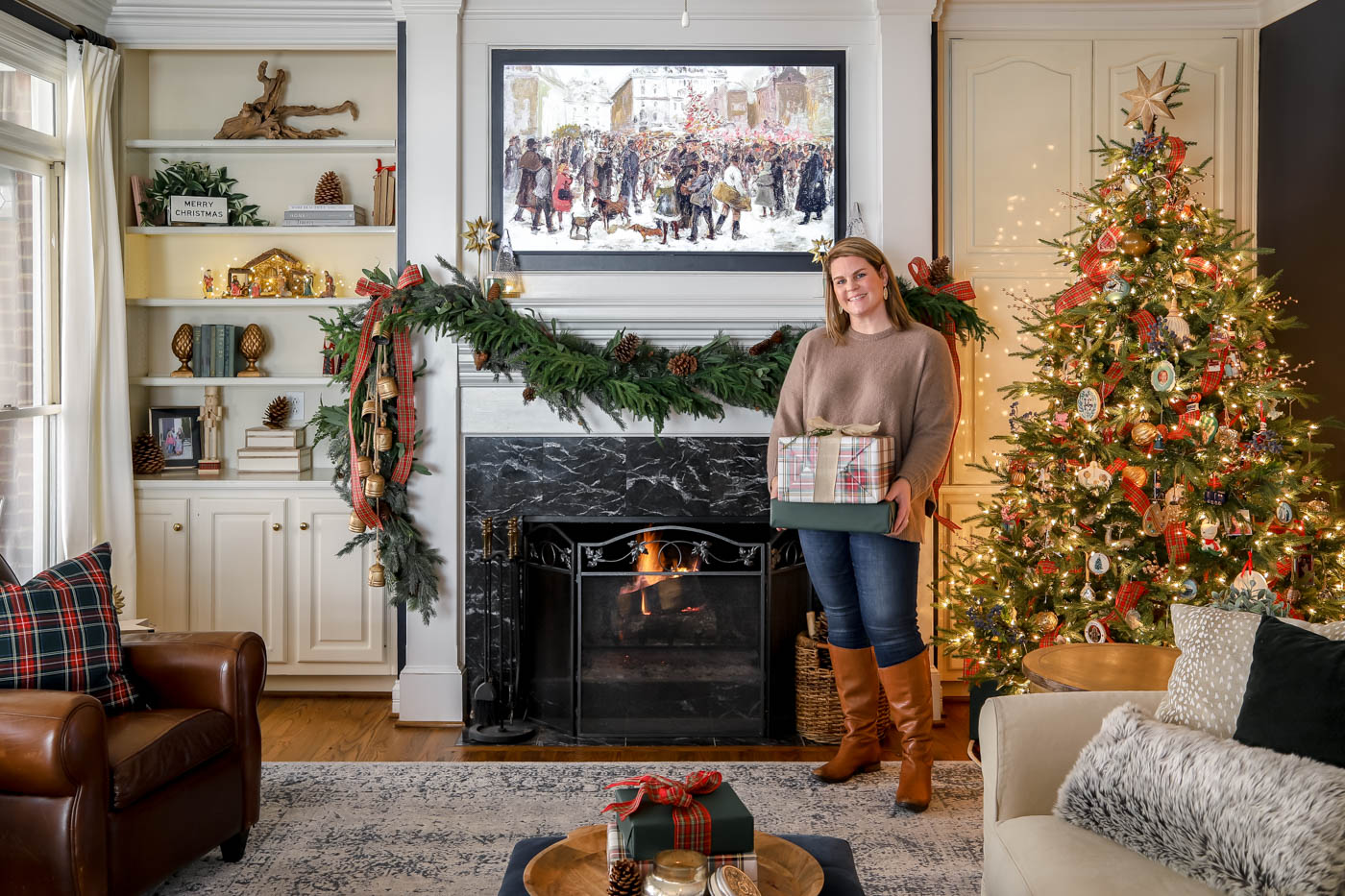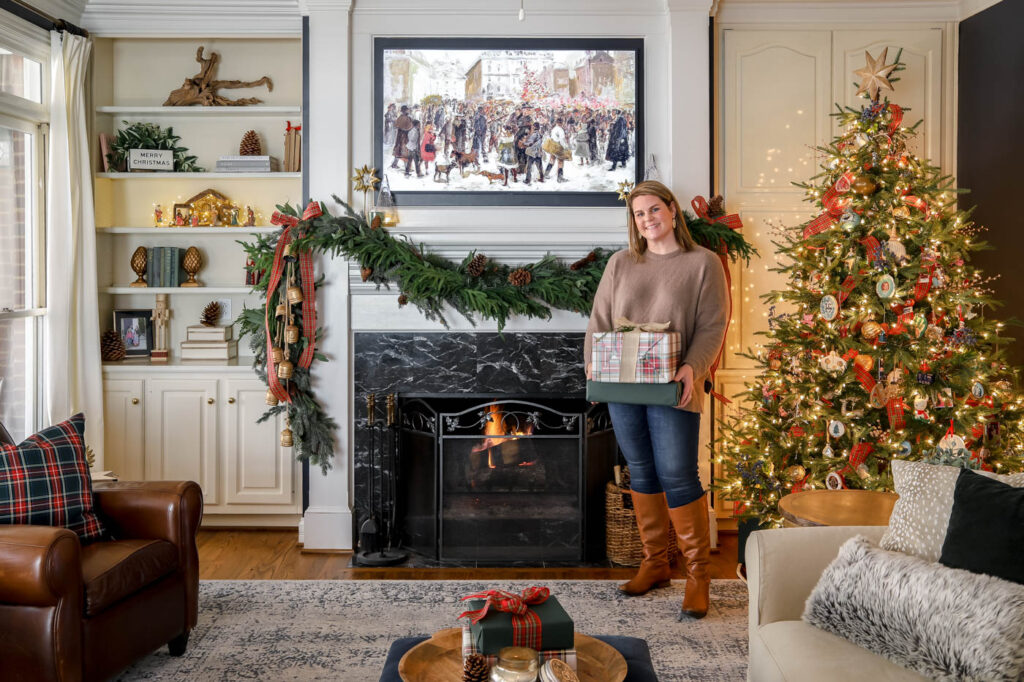 It's always fun when a vision for a space comes together and we get to enjoy it over the next month as we anticipate the big day!
I always have so much fun sharing these different holiday looks with you. And I'm thankful you are here to enjoy it with me! Blessings to you and your family this Christmas season!
xo, Laura
See my Christmas Trees from past years:
MORE POSTS YOU WILL LOVE: