My Haint Blue Porch Ceiling
A haint blue porch ceiling is as southern as pecan pie. The light blue painted ceilings are not only beautiful, but have a history of keeping away "haints" and bugs! It's a winner in my book!
As long as I've been a Southern homeowner, I've wanted a haint blue porch ceiling. My favorite color on a ceiling of my porch? Sign me up, please!
If you're not from the south or familiar with southern culture, then you may be asking yourself, what in the world is a haint blue ceiling?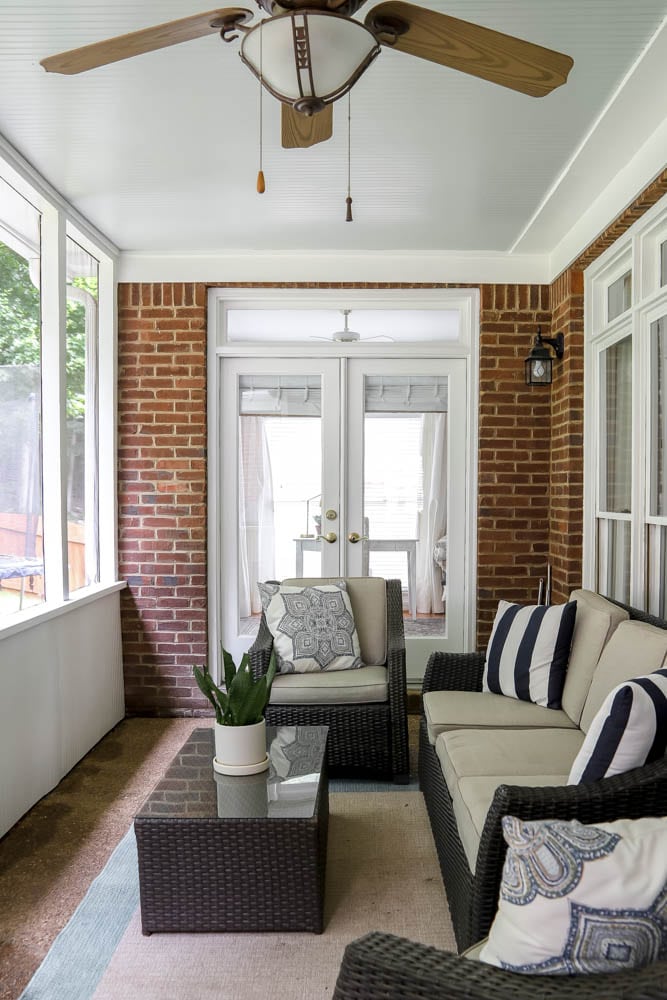 Well, a little background, if you would like to know… The blue color was known in early Gullah tradition to ward off "haints" or evil spirits.
I'm in no way superstitious, so I'm just doing it for the pretty color and traditions. But it's also been said to be an insect repellant and keep spiders off the ceiling, since they will be tricked to think it's the blue sky. Whether or not a spider's intelligence is in question, I'm not sure.
This post contains affiliate links for your convenience. See my full disclosure policy.
Click/Tap the Images Below to Shop my Patio:

I found the perfect opportunity to finally get my blue porch ceiling when the painters were here a couple months ago painting our outside trim and shutters.
All of the trim on the outside was a light yellow color. And all of the shutters were hunter green. This meant the porch was all yellow too. Just not my vibe!
See how my porch looked before it was painted…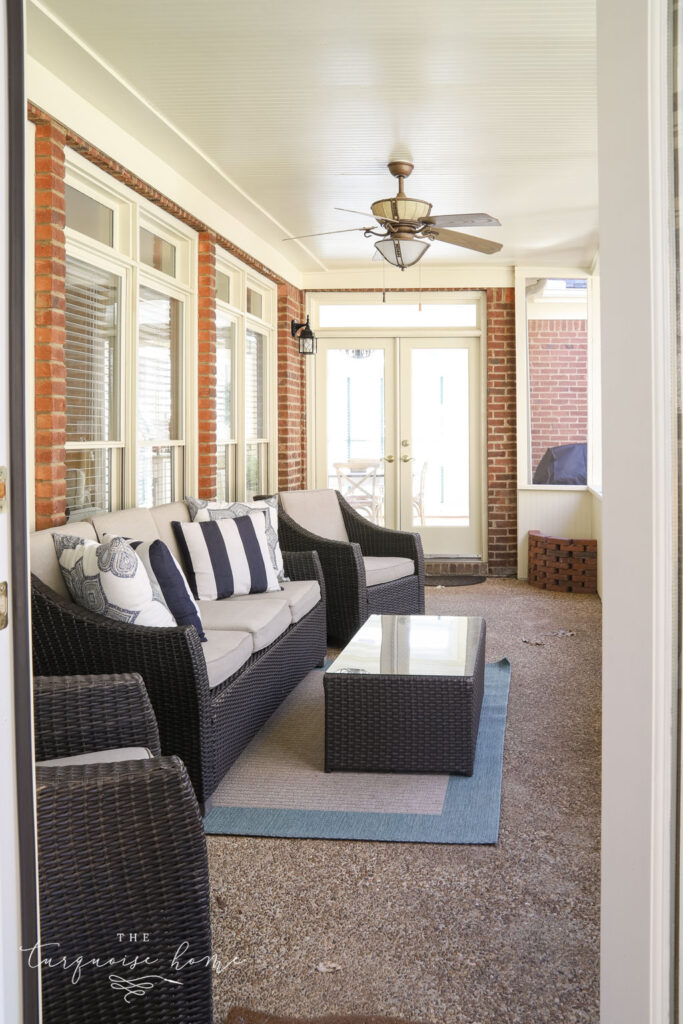 And I know it's hard to tell how yellow it truly was, but it was definitely a yellow.
I picked Benjamin Moore Simply White for the walls and window trim, the same as the trim on the rest of my house.
Ahhh! It's just so crisp and clean, and looks great with my existing furniture. I don't even hate the fan now that the ceiling isn't yellow!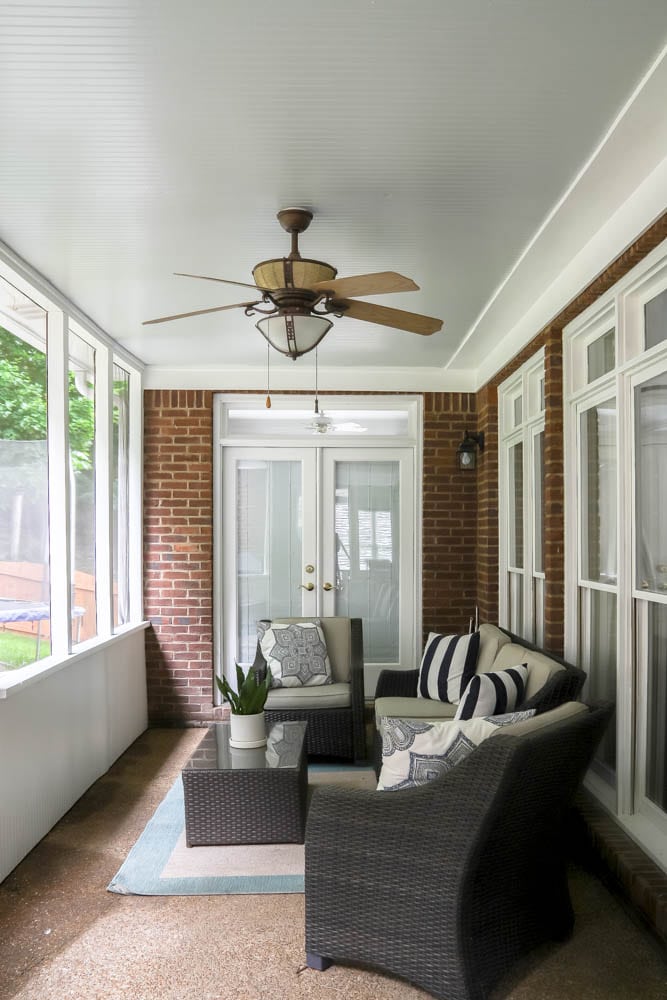 I chose Sea Salt by Sherwin Williams for the paint on th ceilings. First, I love the color and secondly, I had the paint already! Win!! I also love the beadboard ceiling, so southern and traditional!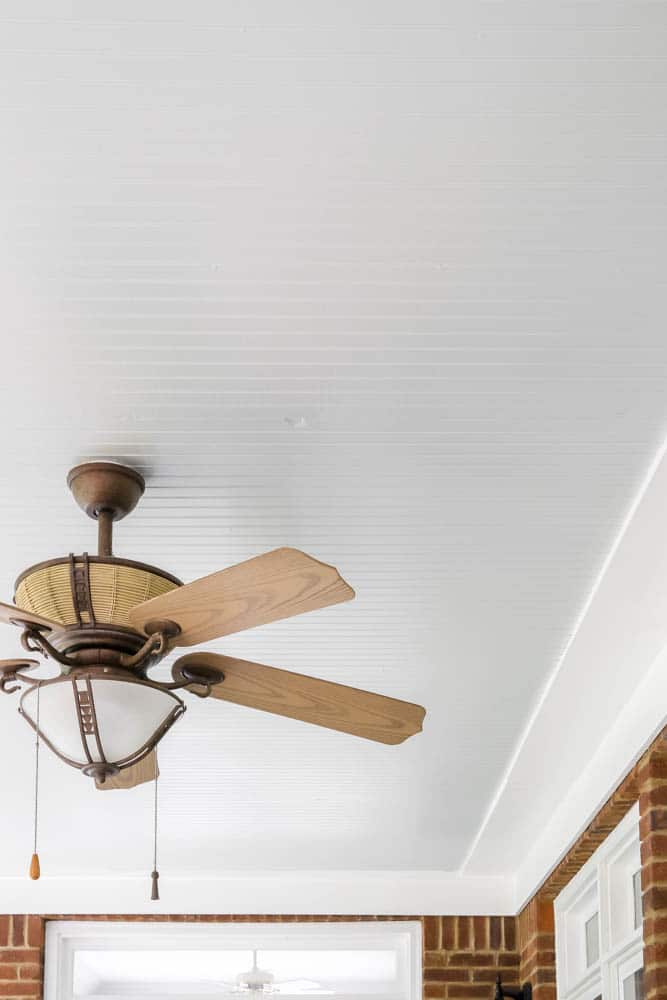 And I know it's hard to even tell the ceilings are blue in some of these pictures, but my Sea Salt Sherwin Williams haint blue porch ceiling is exactly what I wanted! Our living room is on the other side of this wall of windows. And I didn't want to have a super blue cast in the living room. We already have navy walls in there, so that's enough blue!
What Paint Colors to Use for a Haint Blue Ceiling?
If you want a more pronounced blue, I would look into something darker. Another popular color for haint blue ceilings is Palladian Blue by Benjamin Moore. I even did a comparison of Sea Salt vs. Palladian Blue when I was painting my kitchen in my last house. I ultimately preferred Sea Salt for my kitchen, but either one would be a beautiful haint blue color!
Some other paint colors I've seen used for haint blue ceilings are:
Rainwashed by Sherwin Williams
Pool Blue by Sherwin Williams
Atmospheric by Sherwin Williams
Topsail by Sherwin Williams
Wythe Blue by Benjamin Moore
Woodlawn Blue by Benjamin Moore
---
Now that the paint is what I want, it's time to think about how I want to use and furnish the porch.
This furniture is 8 years old and still in great condition! Shout out to the Target patio furniture! 🙌🏻 They no longer sell this exact set, but their Halsted Patio Furniture is similar. So, we're OK to keep this furniture until we figure out exactly what we want to do out here.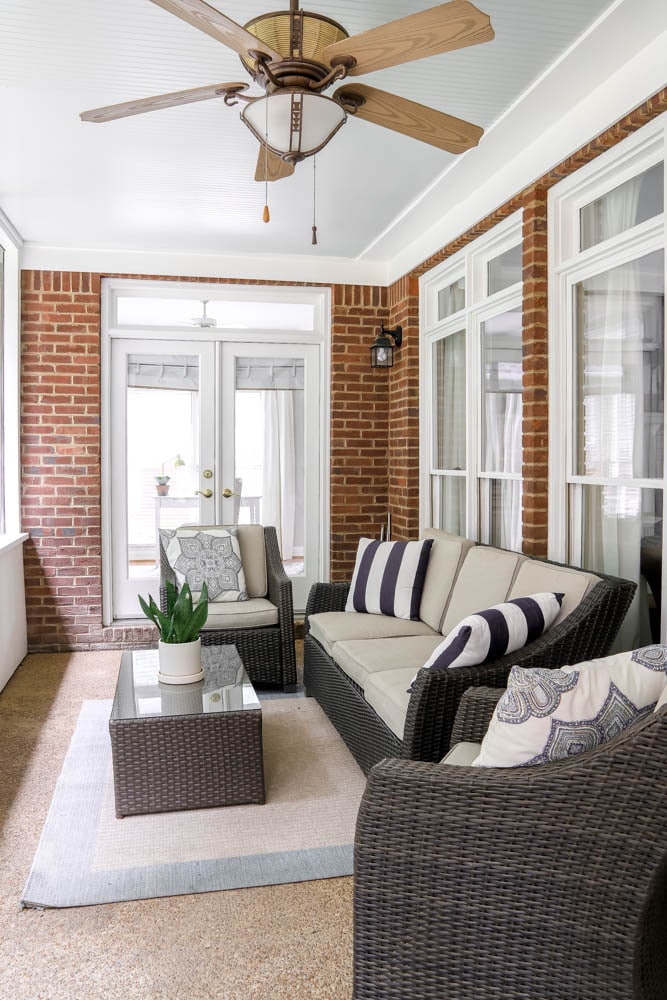 Click/Tap the Images Below to Shop My Patio:

I have dreams of a bed swing and a few club chairs that rock. And then maybe a small bistro table for eating? It's hard to figure it out since it's such a long and narrow patio.
And these pictures don't show the full length of the patio as I'm standing in it to take the pictures. I love, though, that it's a private screened-in patio that has doors on either side to our kitchen on one side and our master bedroom on the other.
The view above is looking into our bedroom where we currently have a desk set up from virtual school. I hope to create a lounge area in there, too, over the next year!
I keep telling myself that each baby step is another step toward getting the house where we want – little by little.
MORE POSTS YOU WILL LOVE: