My kitchen is now painted Sea Salt! Yay!! It's been a few months since I painted the kitchen cabinets Simply White (Benjamin Moore) and decided that the old color was too dark.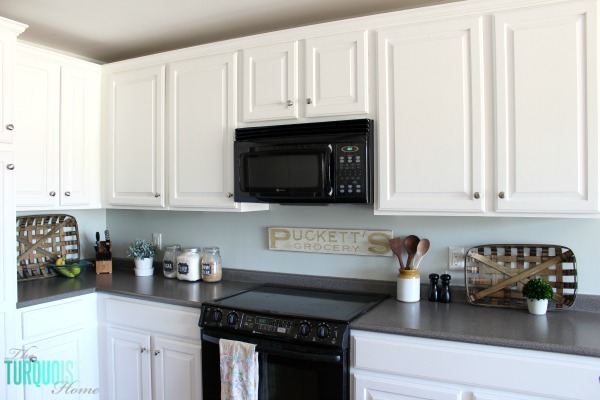 Here's the old color after I painted the cabinets: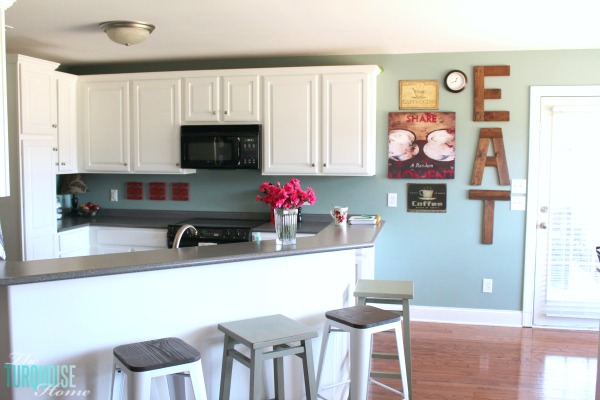 I looked at many different light blue/green paint colors and narrowed it down to these two:
Sea Salt (Sherwin Williams) … and …
Palladian Blue (Benjamin Moore)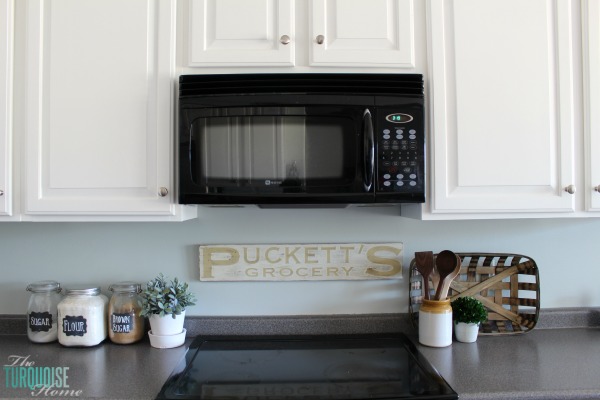 I shared a few weeks ago how to make sure you choose the right paint color the first time. I'm so thankful that I did this exercise because if not, I would have chosen the wrong color. This way, I picked the right color the first time and I love it!!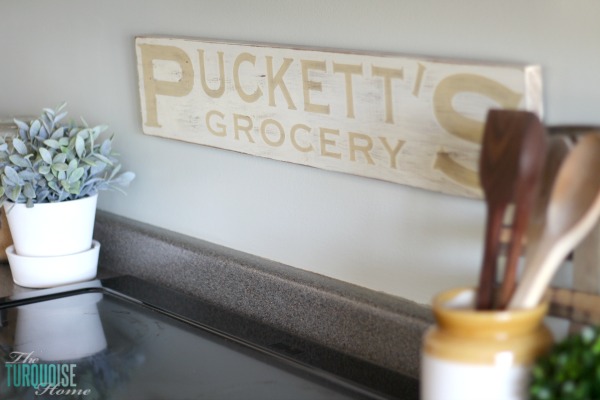 Puckett's Grocery Sign Tutorial HERE
My mom came to help me last week while Coach was off for Spring Break and could watch the kids. We knocked it out in 1 day. Woohoo! (Thanks Mom!)

I love how light and bright the new color makes the kitchen.
OK, so here's the fun part.
I've been wanting to change my counter tops since we moved into this house. Originally the walls were beige and the cabinets were a honey oak color and the dark gray counter tops just didn't work.
They seemed so out of place.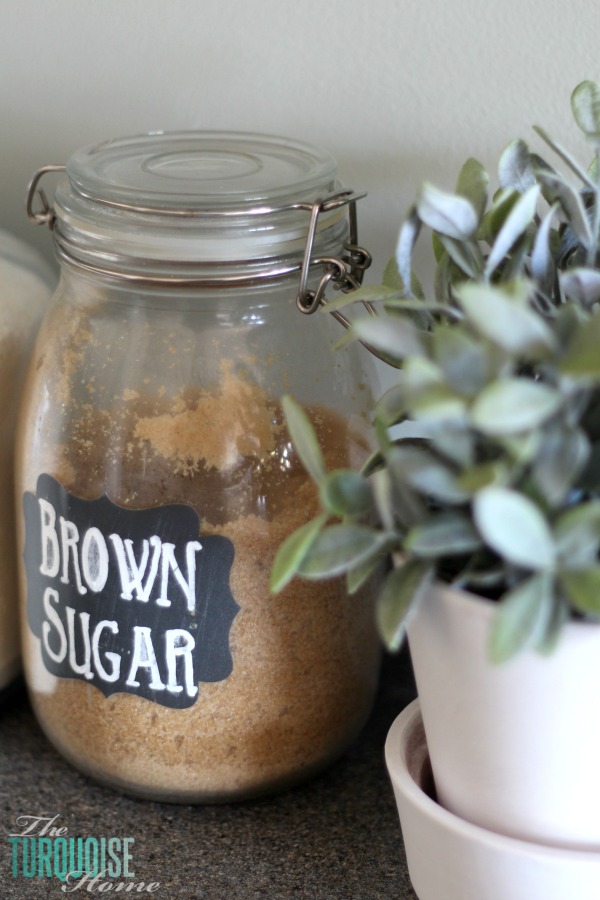 Then we had blue/green walls and oak cabinets with gray counter tops. Once we painted the cabinets white, they were OK.
Now that the walls are Sea Salt, I almost like them … a lot!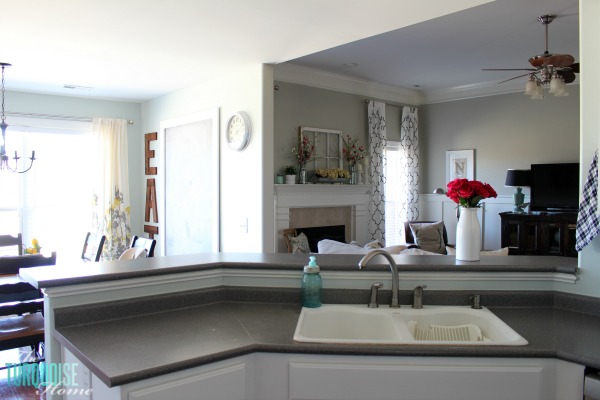 Farmhouse Fresh Spring Mantel Tour HERE
I'm thinking about keeping them for the time being.
Sure they are laminate and not in the best shape, but until we have the money to replace them along with get a new sink and faucet, I think we'll just leave them for now.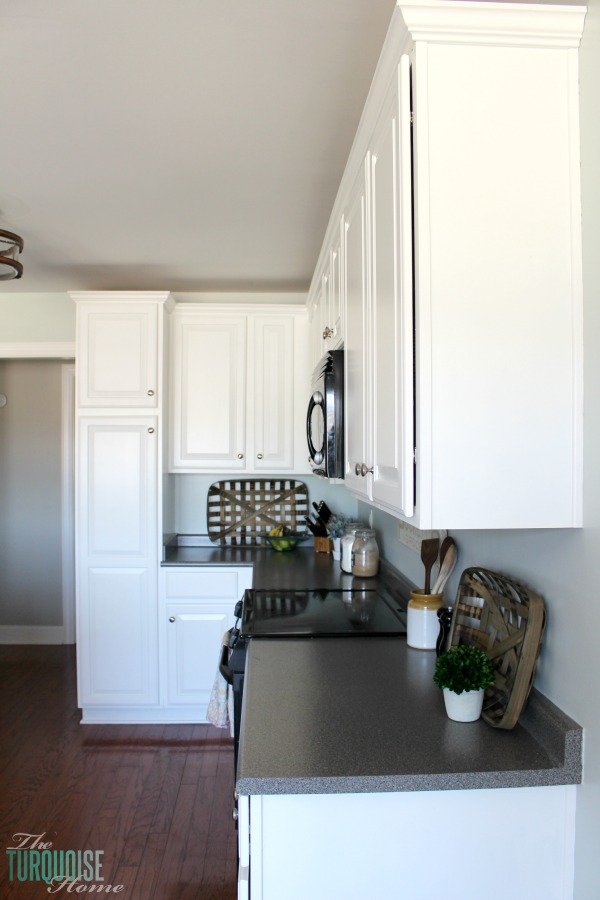 OK, so here's where I need your help. I've always wanted a white subway tile backsplash. Here are my options:
Do the subway tile now with the current counter tops, even though I will eventually get rid of the small back splash attached to the current counter tops. This will leave a space between the subway tile and new counter tops. And that means I would have to go back later and finish the back splash.
Wait to do the subway tile until I have the counters of my dreams. And enjoy the Sea Salt on the walls above the counter tops until then.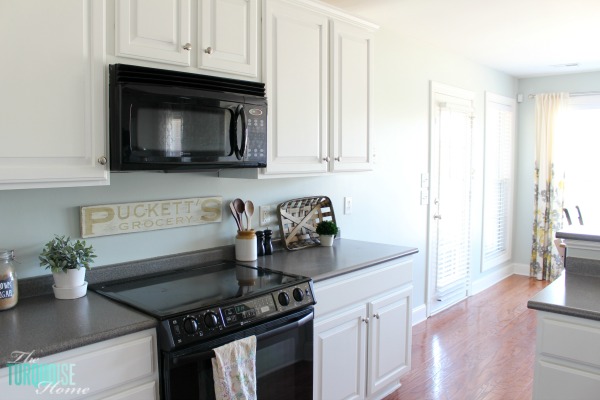 So, let me know in the comments which choice you would make. I know which one I'm leaning toward now, but I'd love to know your opinion. Your opinions have swayed me in the past!
Until I decide, I'll be enjoying the new wall color back there.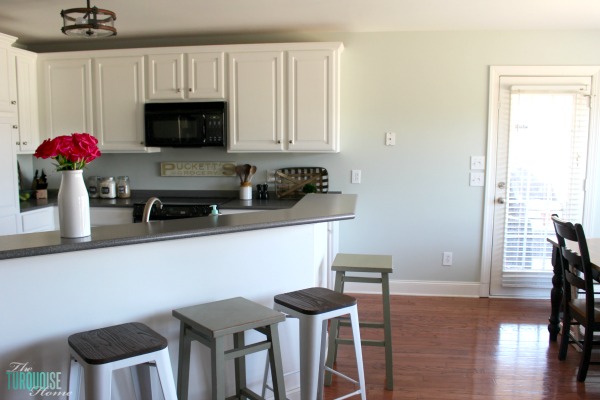 I still have a few more updates up my sleeve. And I'm not sure that the old curtains still work with the new color. I will keep my eyes open for something else. This post contains affiliate links for your convenience. See my full disclosure policy here.
One new addition since the walls were painted is this cute clock with a galvanized finish from Target. It's not really metal, but plastic with a galvanized finish. I love it! I'll be adding a few more things to that wall and then calling it complete.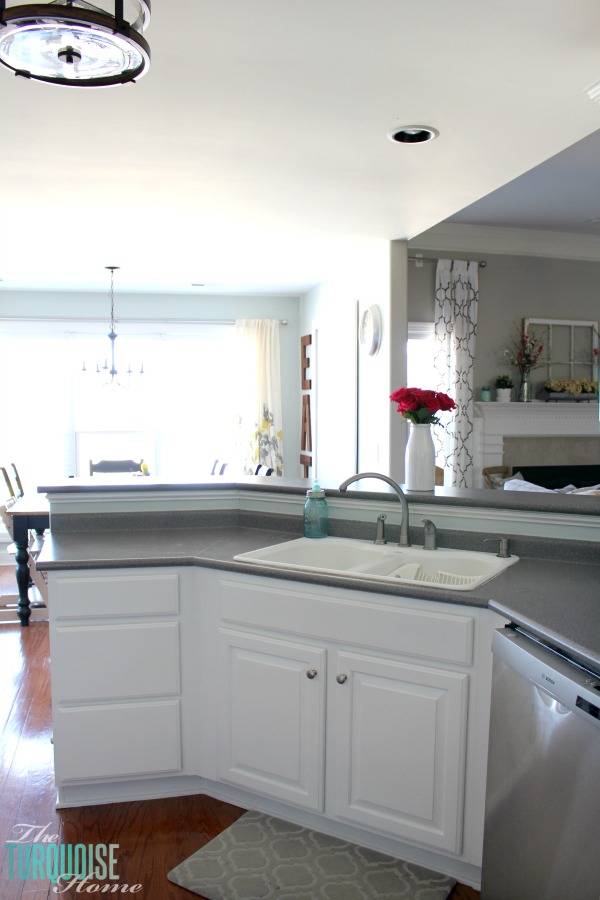 I also want to refinish the table and chairs, but I'm probably going to need my mom to come back and help me with that project. It may be one I tackle this summer while Coach is out of school.

More Posts You Will Love: