A whole house color palette sets the backdrop for your home, which takes the guess work out of decorating and makes your decorating choices effortless. Yay for having a plan and not feeling like you're winging it!
Choosing a whole house color palette for your home, from the painted walls to the throw pillows, can seem daunting. I know I get countless e-mails and comments from sweet readers asking how to choose the right colors.
This post contains affiliate links for your convenience. See my full disclosure policy here.
Where to start when they feel overwhelmed and how they don't have the first clue about pulling a home together. And don't even get me started on the paint section of the hardware store.
How do you even begin to choose a paint selection for your whole home while standing there staring at eleventy bajillion colors that don't even really look like that once they are painted on your walls!?!
NOTE: If you're painting the room yourself, these tools will help tremendously. And this post will give you my best tips for painting a room in 5 easy steps.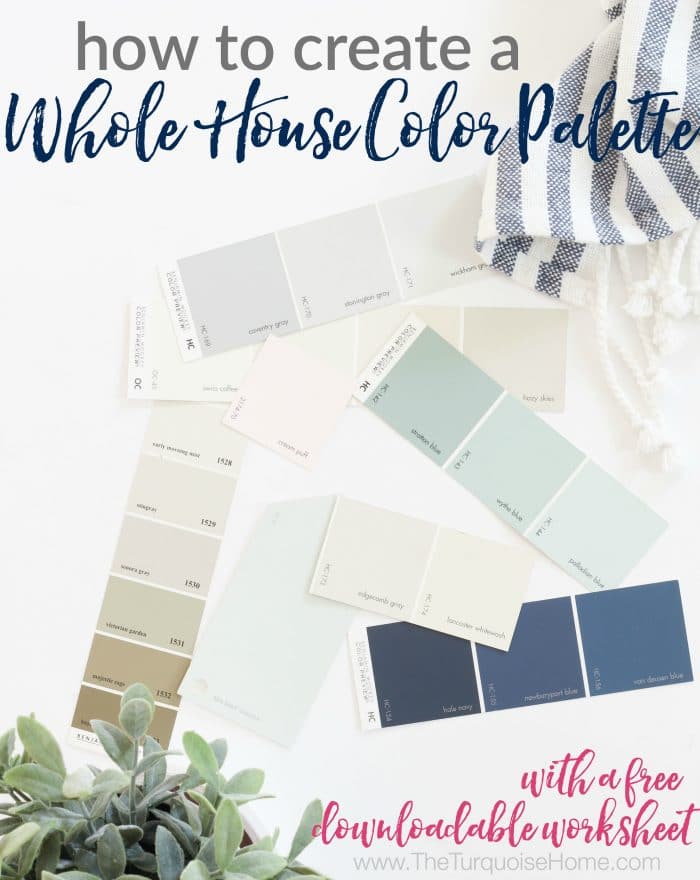 Just the other day I had one reader ask if you could use one paint color for the whole house? I'll give you a hint – you can! These are all questions that I had when I started the process of decorating two homes that we've owned so far.
Both of them came to me as a blank slate, and let's just say that I learned quite a few lessons from the first house. 😉 As I sat and stared at the current home we live in, I decided that I was going to create a color palette that kept things simple and straightforward. I wanted to create a plan for my home that allowed me to:
Make easy design choices about the paint colors on my walls and the decor I bought at the store.
Never second-guess the decisions that I make the first time. It turns out that deciding on a select few colors now prevents confusion down the road.
Quickly walk through a store and confidently know what items will and will not work in my home. Less impulse purchases and wasted trips to the store is always a win in my book!
And … create a home that flows well together, yet doesn't look matchy-matchy.
If you want the same things for your home, then let's jump in! I've created a worksheet for you to keep track of all these colors RIGHT HERE.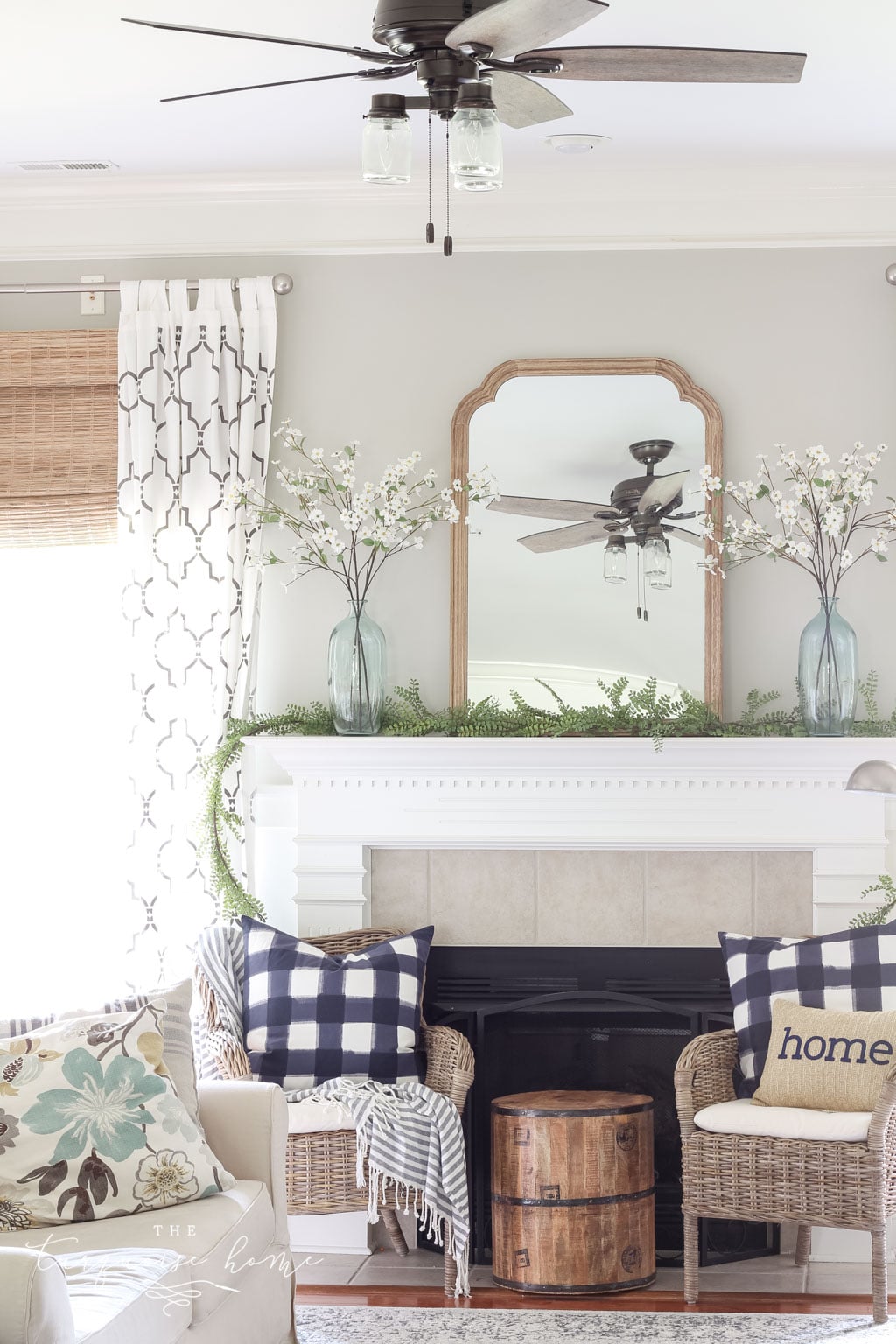 FREE BONUS!
5 Secrets Every Home
Decorator Knows
… to transform your home into your dream home!
How to Choose a Whole House Color Palette
This doesn't just include your walls, but your floors, furnishings, accents and more!
1. Get Inspired. We're going to find inspiration for possible color combinations by looking at what we've already chosen surrounding us. What are your favorite colors? Look around your home and see if there is a color pattern that you love already. Look over your Pinterest account and see if you have pinned a lot of one color. And lastly, take a peek in your closet. Do you tend to wear all neutrals or lots of color? Narrow your inspiration down to 2-3 favorite colors from those sources.
2. Choose Your Mood. I like to think of my home as it relates to the season and when I feel the most comfortable in my home. These are some attributes you can relate to as it comes to seasons, mood and color.
Spring – open, creative, clean, on-trend, contemporary, friendly and simple

Colors: light, bright and clear. Pastels like yellows and lime green.

Summer – elegant, graceful, balanced, efficient, romantic, luxurious, abstract, casual

Colors: cool, delicate and muted. Lavender, mint, navy and greens.

Autumn – passionate, warm, earthy, organic, comfortable, family-centered, historical

Colors: warm, intense and muted. Burnt umber, pale straw, reds and browns.

Winter – strong, dynamic, focused, luxurious, glamorous, decisive, uncompromising

Cool, strong, intense and clear. Ice blues, metallics, neons and blacks.
I don't want to get too far into the psychology of color, but these moods will help guide you as you think of how you want colors to play nicely together in your home. And you can definitely overlap between seasons, but you'll find yourself being pulled to one or the other.
3. Use the Color Wheel to your advantage.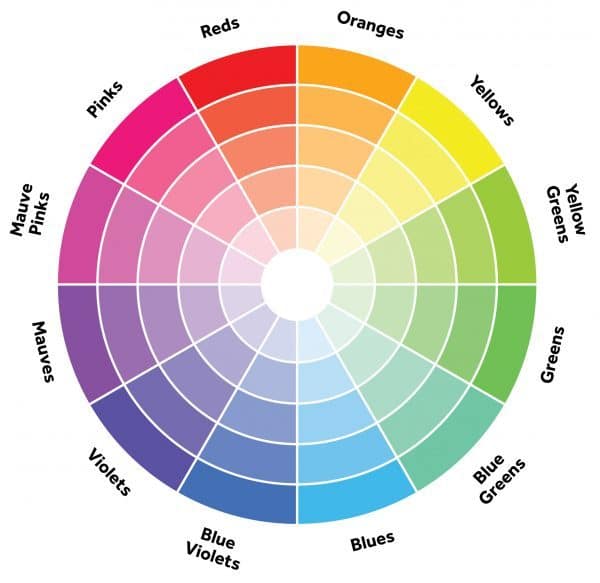 Colors that are next to one another on the wheel are called analogous and create a harmonious, casual and relaxing atmosphere (perfect for a bedroom). I use a lot of blues and greens in my home and mix them frequently. This creates the casual feel I'm going for!
Colors that are opposite of each other on the color wheel are called complementary colors. They will create a dramatic, colorful atmosphere in your home. I love to use pops of pink with my blue/green colors. It's a complementary color and looks fabulous in small doses, at least for me who loves color!
If you want to do a monochromatic palette in your home, that is perfectly fine, too! Grab your favorite color and use various tones of it around the house. This answers the question of my sweet reader above who wanted to know if she could use the same paint color in the whole house. Absolutely! Just use different shades of it and it will look so good!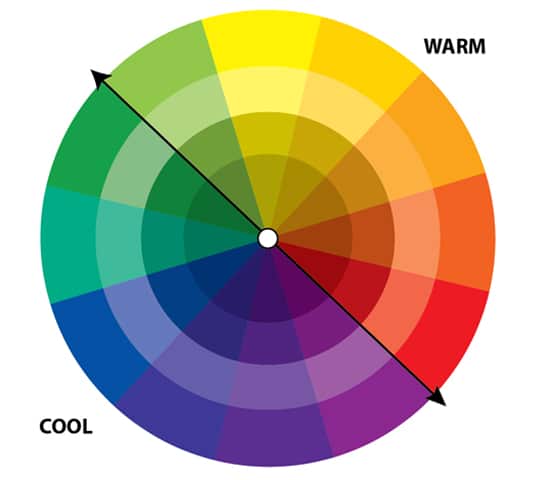 It's also good to know your warm and cool colors. And know that most neutrals will pull a warm or cool undertone, so it's important to remember this distinction.
Warm colors will lend to a happy, fun and energetic vibe. They tend to exert themselves into the space, sometimes making rooms appear smaller than they are.
Cool colors lend themselves to a calming, soothing and relaxing vibe. And they tend to give the feeling of more expanse, so the rooms will feel larger.
You can choose one or the other, or mix the two colors to give both calming and happy feelings in a space. I personally favor cool colors like blues and greens, but I like to add pops of pink and yellow for fun and energy!
4. Consider what colors you already have in your home. Take a look at your flooring, cabinet and countertop colors. Are you dealing with wood floors with warm or cool undertones?
Are your cabinets a warm wood or a cool color? Do your countertops work well with browns or grays or do they have hints of both? Are you super lucky and they are very neutral cabinets and countertops that will go with whatever? (Yay!)
Here's a big one that many people forget to consider. Is your trim a pure white or is it an off-white color? If it's not pure white, then you're going to want to choose warmer colors for your walls so that your trim doesn't look dirty. Or just be prepared as to how it may look and that you may need to paint it your new default white color.
Many times we don't choose these fixed colors in our home, so we have to consider them when choosing our whole house color palette. For example, my floors are wood with a red undertone. I've actually chosen to complement my floors by bringing in cool tones in my walls and decor.
Just be aware of the colors already there and make a conscious decision to consider them in your color scheme.
Alright! Let's Get to Work.
5. Choose Your White (aka Your First Neutral). This is not hard, but you will want to keep a few things in mind. First, not all whites are created equal, but don't let that alarm you. This color will be your trim color, insides of closet color and maybe some cabinetry and wall colors, too. You will almost always want the trim in your home to be the same color (semi-gloss finish, always!), so just paint it all one color and call it a day!
When choosing a white color, think about the colors you already have in your home. If your floors are warm and you're going for a complementary color scheme, then you'll want to choose a cool, crisp white.
If your home has blue cabinets and you want to choose a monochromatic palette, then you'll also want a cool white. See what I'm saying? If red is your favorite color and you want a monochromatic palette, then you'll choose a warm white. I personally love and use Simply White by Benjamin Moore.
It is a very clean white (although it looks very warm on the swatch below). I've written about my tips for choosing the right paint color the first time before because, as you can see below, the color on the online swatch is not necessarily the color on the walls!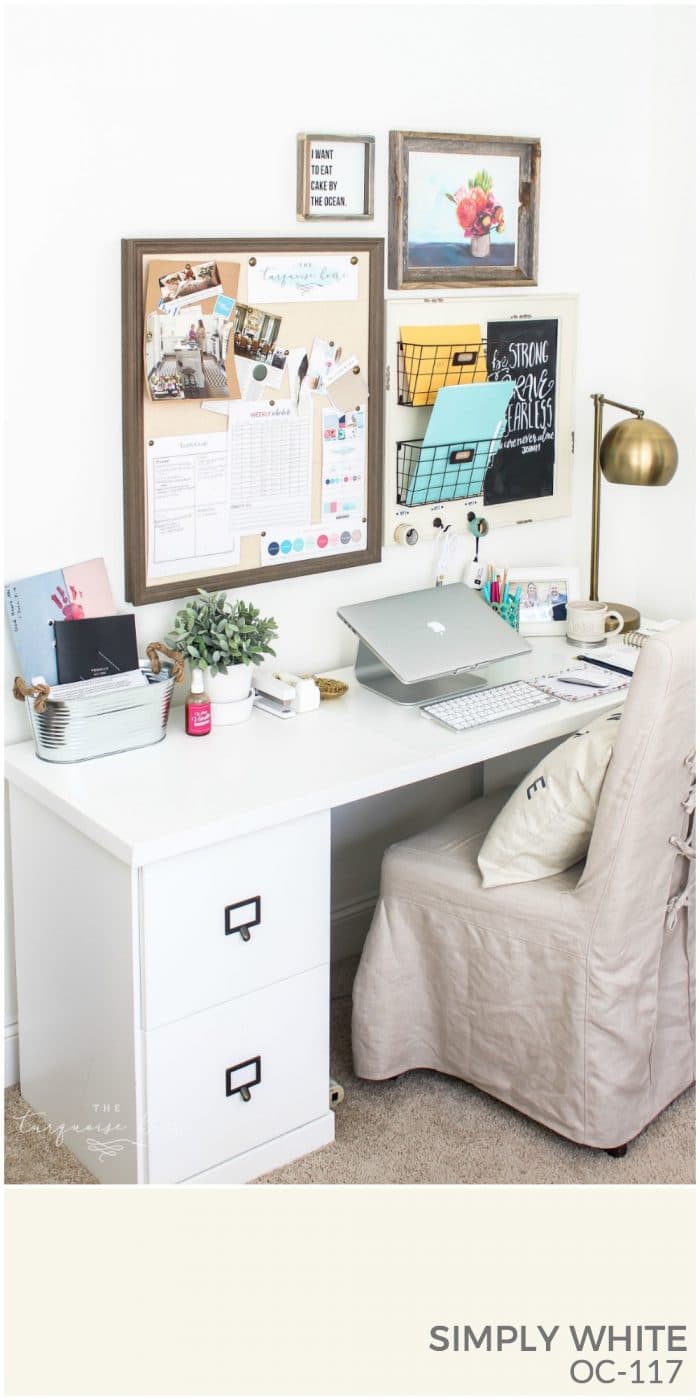 More photos of the Simply White Office
Insider tip: You can paint a room white and it can be the same color as your trim. A semi-gloss white trim and a flat white wall paint will read differently. So, they will look different even though they are the same color!
6. Choose a main neutral! (your second neutral) When choosing a neutral color, most people will choose a gray, beige or white color. But you don't have to stick to those colors. It just needs to be a lighter color that plays well with other colors.
First you'll want to decide if you want a cool (gray, blue, green or purple) color or a warm (red, orange, yellow or brown) color. This will all depend on your existing colors and if you want to go with a harmonious (analogous), complementary (opposite), or monochromatic palette.
If you're like me and have a mix of cool (lots of blues and greens) and warm (orangey floors and dark brown wood) colors in your home, you may want to choose a transitional color for your neutral.
These colors have a near perfect 50/50 balance of warm and cool undertones and work well in almost all rooms and all lighting situations.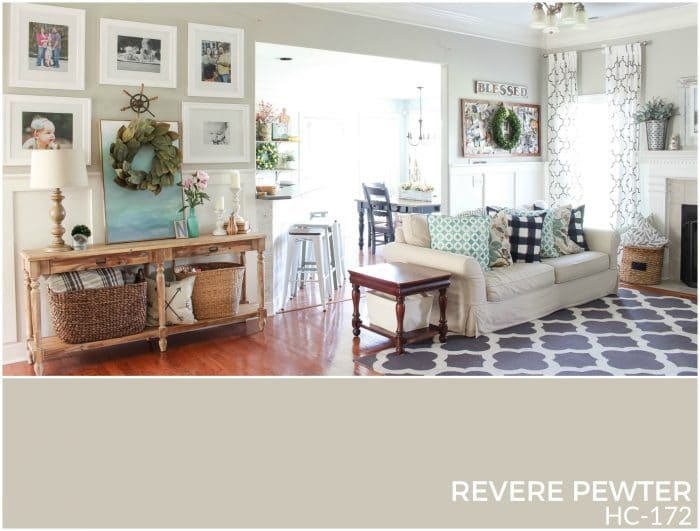 I chose a wonderful transitional color for my main neutral: Benjamin Moore's Revere Pewter. You've probably heard about it, because it's quite popular – and for good reason. It looks good in many different situations! Other popular transitional neutrals are (click on the names to read my in-depth spotlights of each color):
Beach Glass (Benjamin Moore)
Edgecomb Gray (Benjamin Moore)
Shaker Beige (Benjamin Moore)
As always, you'll want to try any and all colors on your walls before committing to them. Colors look different in every room depending on other colors, lighting, the direction of the room and more! See how I chose the perfect gray paint for my wall here!
7. Choose a Pop of Color. Remember when I told you to look at your favorite colors on Pinterest and in your closet? That's where this comes into play. This is where you will incorporate that color! This color will play out on walls and accessories throughout your home and you probably already have a lot of it to choose from!
And this color doesn't have to be bright. It can be black or another neutral if you are going for the monochromatic palette. For me, I chose turquoise as my main color. Nobody is surprised, right? Ha!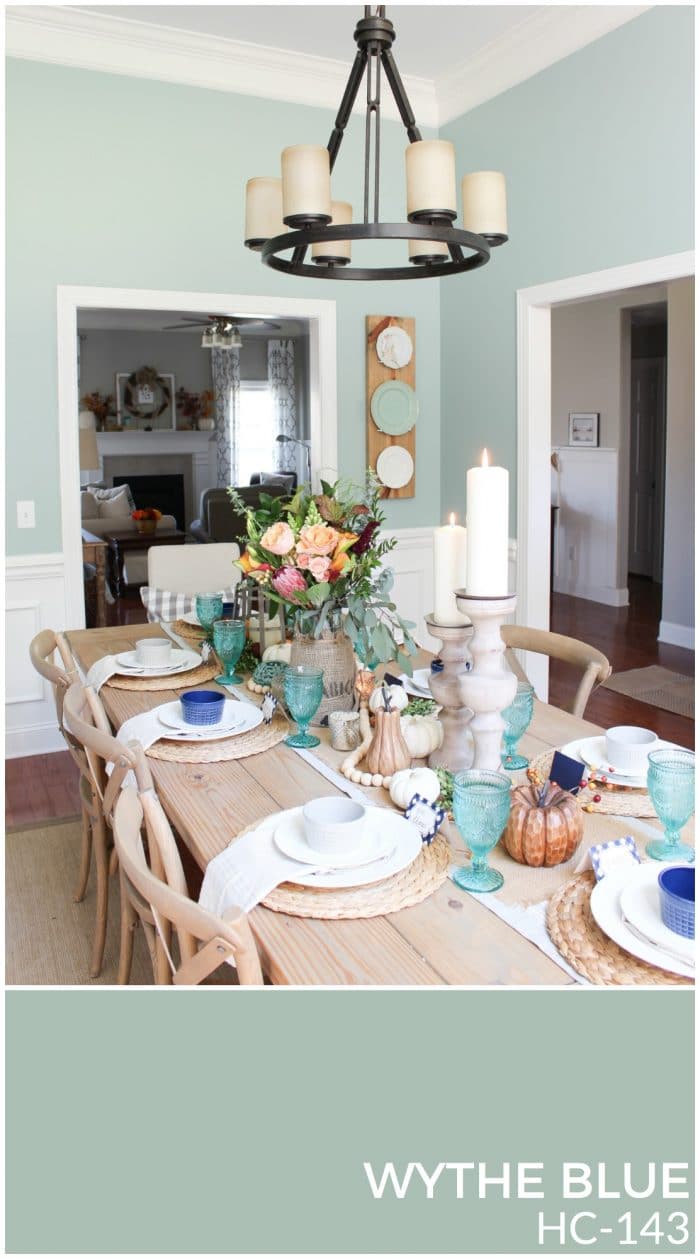 I chose Wythe Blue (by Benjamin Moore) as my blue/green paint color, and this hue takes on a different role in each room of my house. It is the wall color in my dining room, and many of the accessories throughout my home. I toned it down quite a bit and painted my kitchen walls a very light blue/green color (Sea Salt by Sherwin Williams).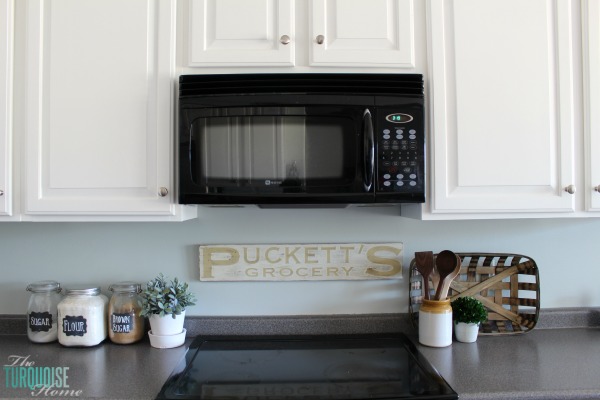 And whenever my HOA approves it, I'll paint my front door Wythe Blue, too. It's my main jam and I've loved it for a long time. This was a no-brainer choice for me and I bet you have one of those colors, too!
8. Choose a Secondary Color. This can be a bold color that plays well with your first color. You can either choose a harmonious color (next door on the color wheel) or a complementary color (opposite your first color on the color wheel).
You will use this color in small doses, either on the walls in separated rooms, on an accent wall or maybe a door color.
I chose Hale Navy by Benjamin Moore as my secondary color. I painted the insides of my doors Hale Navy and use navy throughout my home in my decor.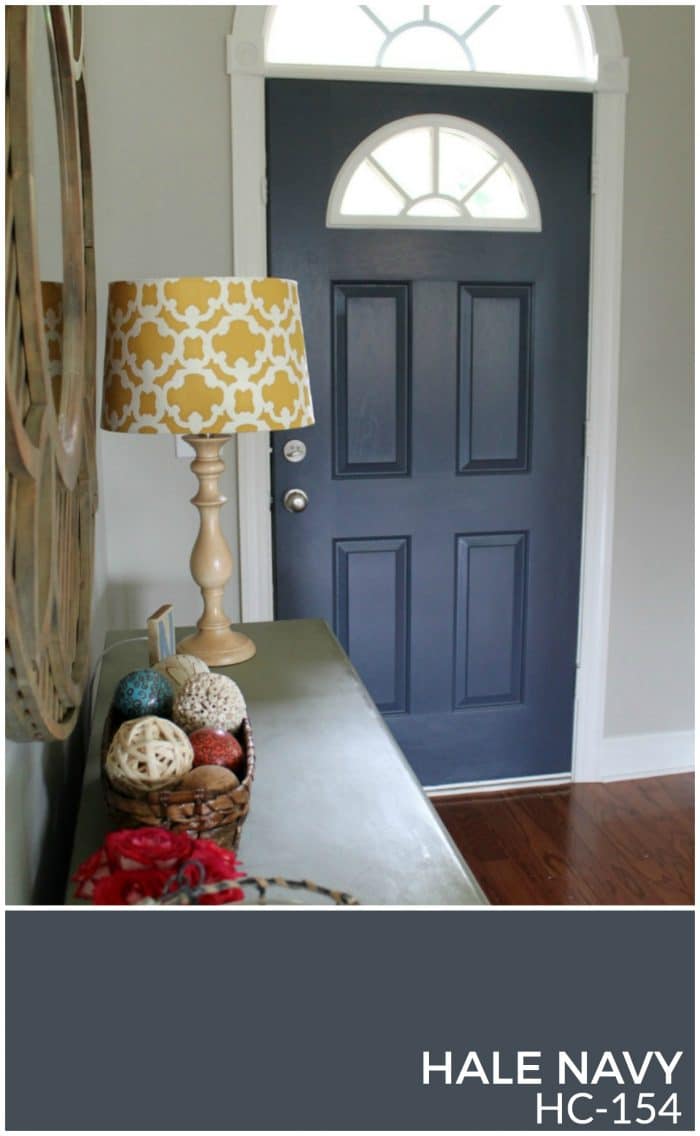 9. Choose an Accent Color. Again, you'll want to consider the color wheel when choosing this color. If I were being honest, I actually have a few accent colors that I like to use, but my main accent color that I just LOVE is bright pink!
I love to use this pop of color in my flowers and a few small doses around my house. Not too much, but it's definitely there.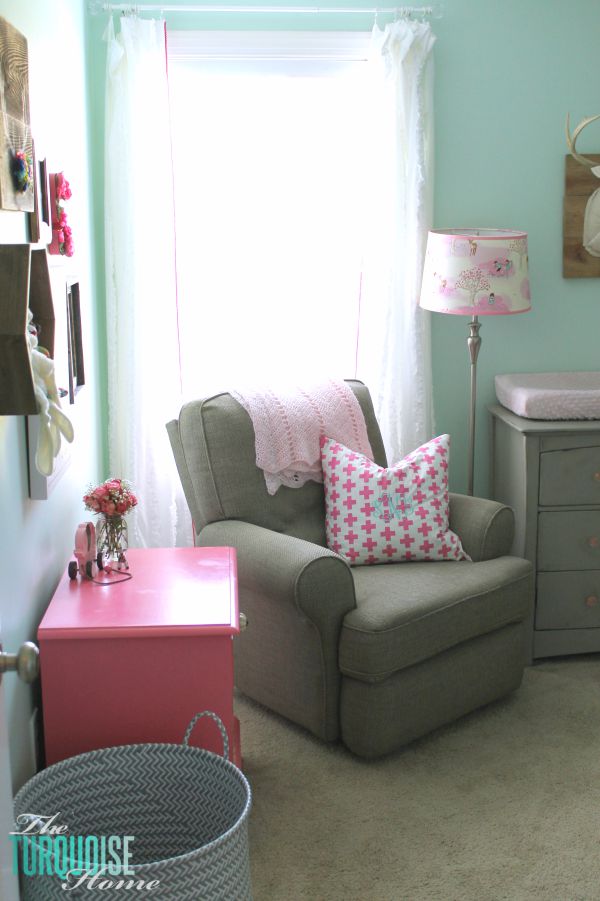 You'll find more doses of this color in my daughters' rooms. And I toned it down a lot to paint my oldest daughter's room a very pale shade of pink (Cream Puff by Benjamin Moore). I also will use greens (in my greenery) and sometimes will use yellow (especially in the summer and fall).
10. Pull it all Together! Once you've nailed down all of your colors, you'll want to either create a collage with them or make one on a poster board. I made a collage in PicMonkey as a reminder for myself.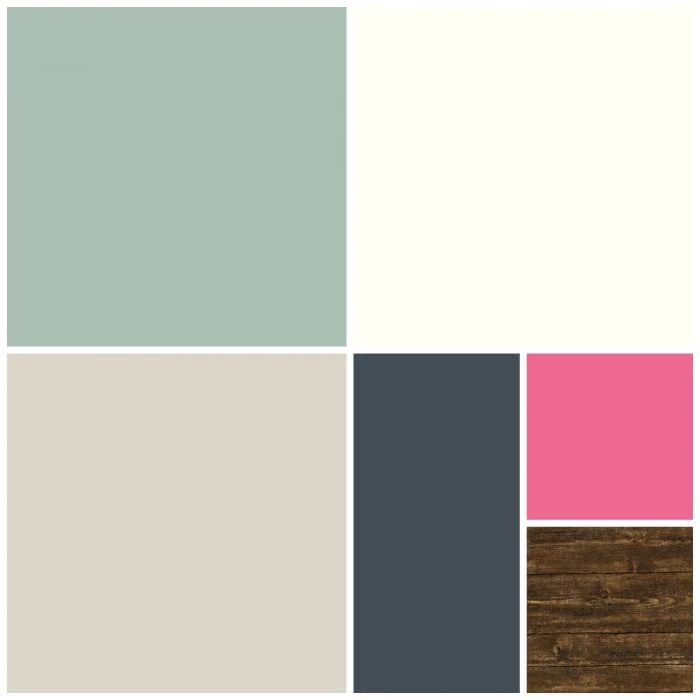 This helps you see the colors all together and gives you a visual when you're picking things out. I highly recommend creating a small binder where you can see this color palette printed out.
You can also add any paint swatches that you use and fabric swatches to your binder and take it with you when you're going to pick out decor or new fabrics.
Incorporate Your Color Palette Throughout Your Home
You may be asking yourself now what? You have your colors, but how do you actually transfer those colors to your walls, furniture and accessories.
You're obviously going to use the white on the trim and insides of closets. And you'll want to paint the main living space and any open areas surrounding it your default neutral color.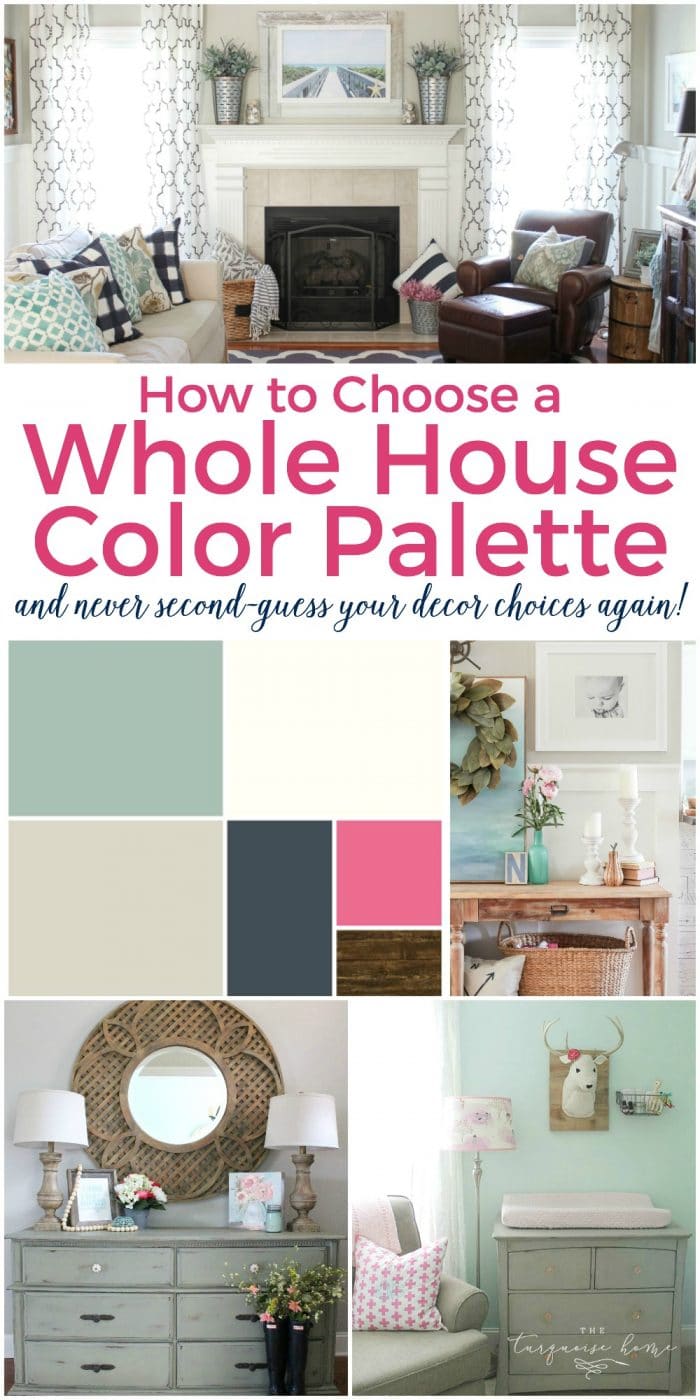 But you may not want to start painting every single space, but rather look for fabrics or textiles that use your colors and then decide which color would look best on the walls.
I highly recommend creating a vision for each space with your color palette in mind, like I did for my daughter's woodland nursery. You may want to start with an art print in your room, like I did.
You don't have to stick with the saturated hues in your can choose different shades or tones of your color palette for different rooms.
For example, our master bedroom is a lighter blue, but doesn't look green at all. It's a shade of the navy color in my palette. My older daughter's room is a very soft pink, a shade of the bright pink in my palette.

The post about my paint colors is actually a great way to segue into my next point.
Encouragement for Choosing Your Colors
Kudos to you for making it this far!! 😊 Seriously, you deserve a pat on the back! Don't be discouraged if you don't get this all nailed down perfectly in one day.
I've changed a few things since the "my paint colors" post and that's fine. You'll find new colors that you fall in love with. Or you'll paint your kitchen cabinets, like I did, and decide the old color wasn't working anymore.
You may get new flooring or countertops or remodel your home and things just flow differently. It's OK to go slow and make quality decisions that you will love for a long time!
Feel free to ask me any questions you have in the comments below or e-mail me at Laura @ theturquoisehome . com.
Free Whole Home Color Palette Worksheet
If you would like an easy worksheet to help you discover your colors and remember them in one spot, I've made a little worksheet for you that goes along with each of these steps!
Click here to download the Worksheet!

Enjoy!
SaveSave
Get Instant Access to my Guide to Customize Your Home on a Budget
Grab your FREE guide for 10 Ways to Customize Your Home on a Budget: simple projects to transform your home from builder beige to a home with character and charm!