I love a quick project that is not only pretty, but helps keep me organized. So, I whipped up this simple DIY chalk and eraser holder in about 30 minutes with 3 items, 2 of which I already had on hand. Whoop! This project literally cost me $1.50 out of pocket that day. What!? Isn't is the cutest???
OK, so a little back story. I've had my huge chalkboard in my kitchen for 3 years and ever since I put it up I've had to walk through the kitchen into my laundry room to get my chalk and eraser. So, it's been on my wish list for a long time to create some chalk storage. I've seen other people mostly use hanging baskets or or upside down drawer pulls, but I wanted something a little different.

I can also be incredibly indecisive. That may be why it took me 3 years to decide on a silly little chalk storage! 😉
I've seen the mason jars and hose clamp systems all over the place, so I just decided to take a scrap piece of wood, fasten a hose clamp to it, slide in a mason jar and add a little shelf. And voila! I've got myself a holder for my chalk and eraser that is not only pretty, but functional and makes my life easier. Win, win, win!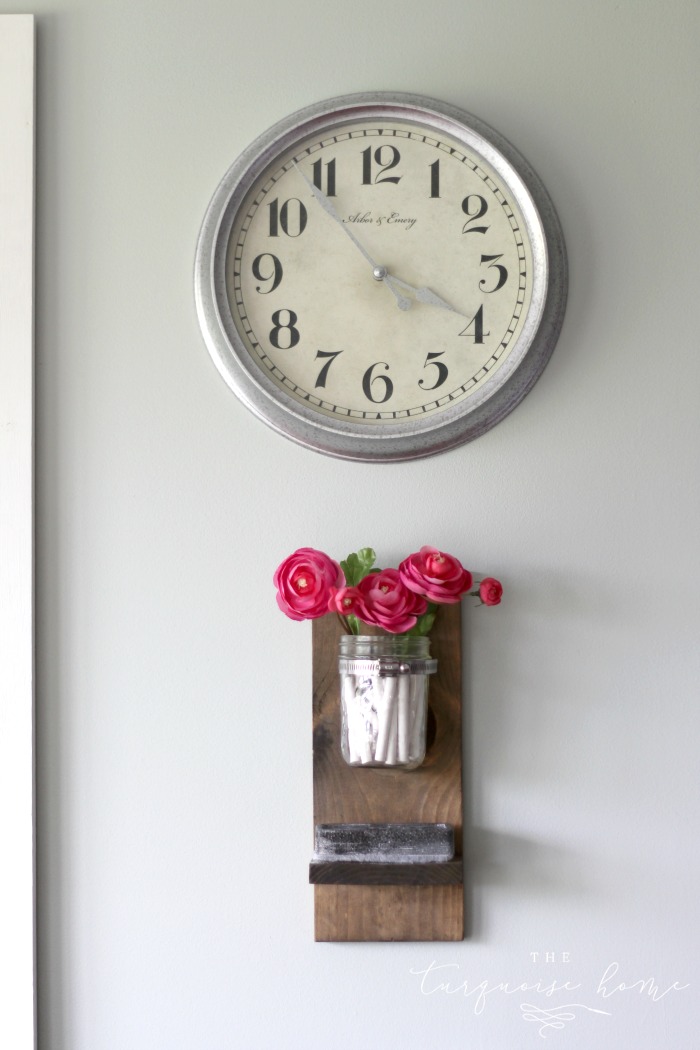 I also love the fact that since I've had chalk and eraser out, Miss A, who is going into kindergarten this fall, is now using the board to practice her ABC's on it all of the time!
You see, the giant chalkboard (full tutorial here) sits right next to our kitchen table. I wanted it to be right there in the kitchen because I had a vision to use it as a teaching tool. At times I've used it for our weekly Bible verse or for pretty little sayings, but I really want it to be a learning tool for my children as they grow up. I absolutely LOVE that by having the chalk more accessible, she's using it more often.
Tools you will need for a DIY Chalk and Eraser Holder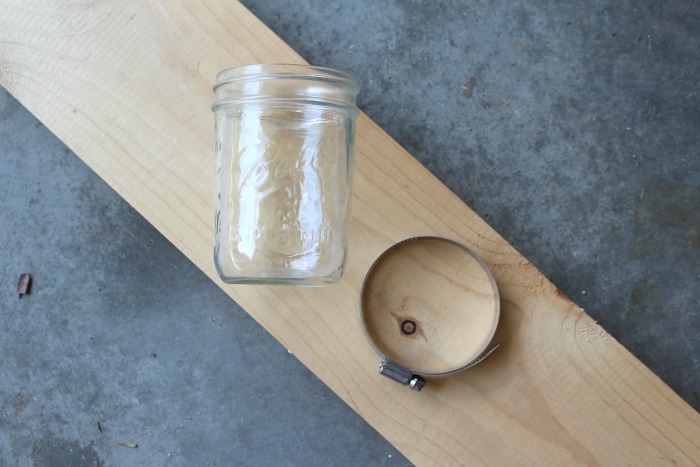 Hose clamp that is large enough to go around your mason jar (can be found in the pipe section of your home improvement store)
1 x 6 board at least 17 inches long (I grabbed this from my scrap pile.)
Saw (I use this miter saw. A simple circular saw or hand saw would work fine as well.)
Sander —>>> this is the one I have
Stain (I used a combination of Minwax's weathered gray and dark walnut.)
Kreg Jig —>>> I couldn't live without this tool!
Steps to Build a DIY Chalk and Eraser Holder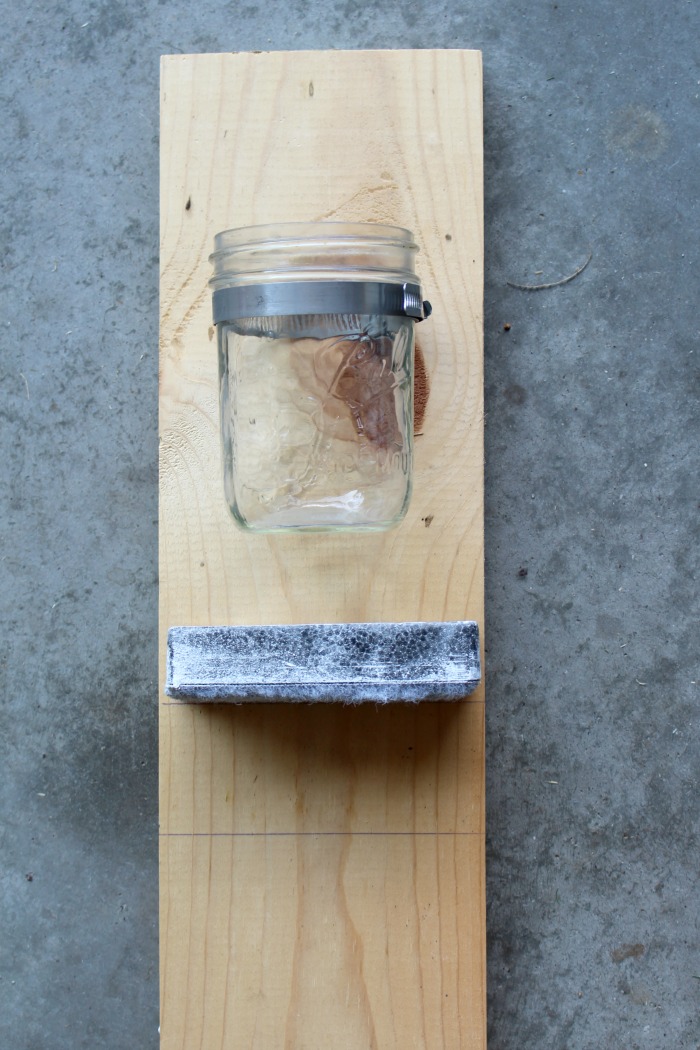 Step #1: Measure your board. I put my mason jar and eraser on the 1×6 board to see where I wanted to cut my boards for the back and the shelf. I cut one piece at 13.5 inches and the shelf piece was cut at 2.75 inches.
Step #2: Cut the board at the marked spots. Super simple! I used a miter saw, but you could use a circular saw. Or if you don't already have a saw, a hand saw and miter box would be the cheapest option and totally could use one for this project!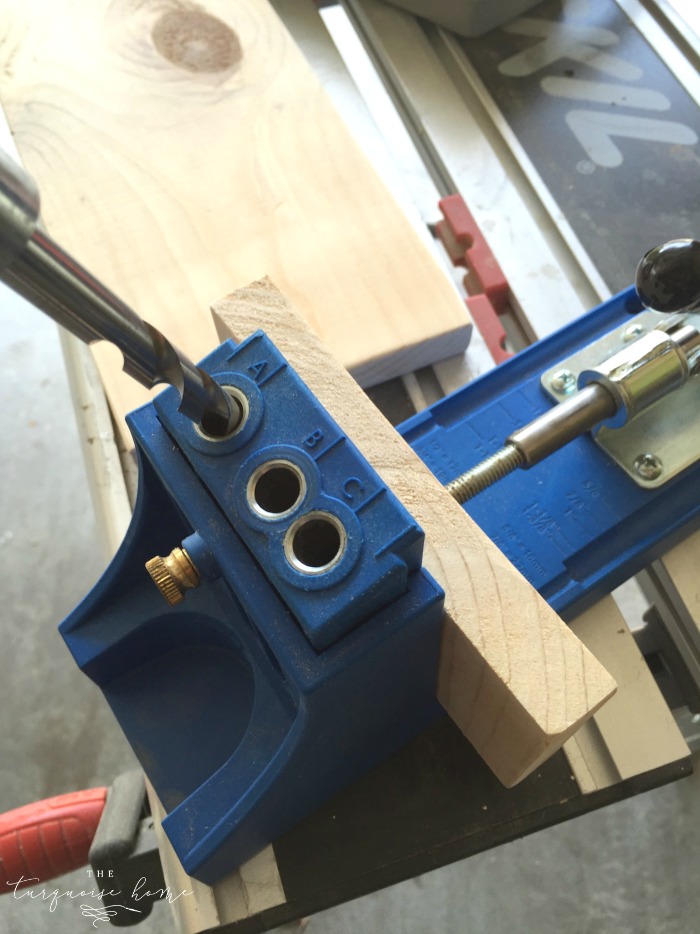 Step #3: Attach the little shelf using the Kreg Jig. I puffy heart LOVE my Kreg Jig. And if you are ever planning on building anything, you will need one of these. It attached this little shelf directly to the board and it's so sturdy. That little shelf ain't going anywhere!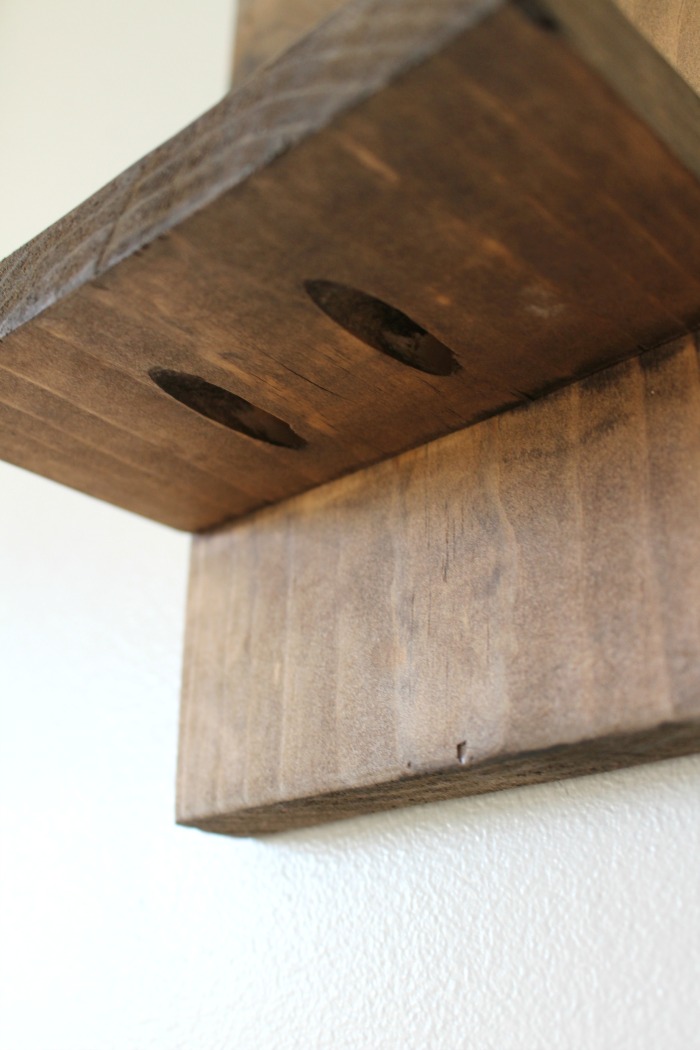 Here's the underneath side of the shelf after it's completed. The screws drill into those two holes underneath the shelf, directly into the back board. You can hardly see them and it's very solid.
Step #4: Stain the boards. My new favorite stain combo is putting 1 coat of Minwax's weathered oak stain on first. I normally let it dry the full time as directed on the can, but I was impatient this day and I put the second stain on right after the first. I don't recommend doing that, but it worked out OK, I guess. 🙂 My second stain is Minwax's dark walnut. I don't leave in on there but for a few seconds and then wipe the stain off. I don't want it to be too dark! You can add a top coat here, but I didn't.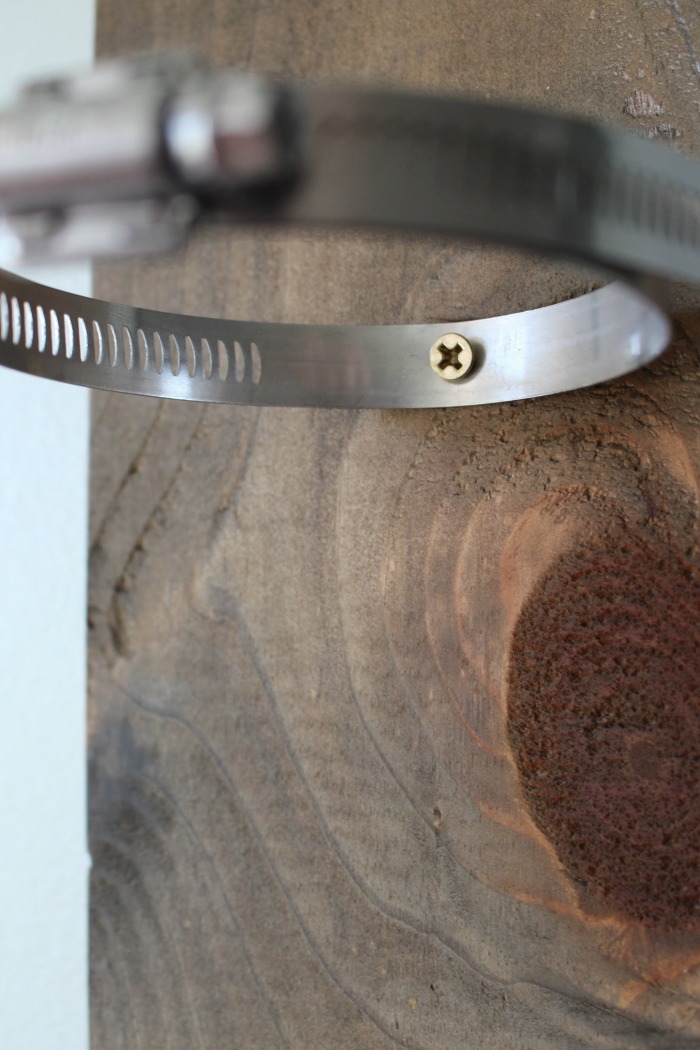 Step #5: Attach hose clamp to the board. Using your mason jar as a guide, figure out exactly where you want your hose clamp to go and mark the spot. Tighten the clamp down on the mason jar to where you can slide the mason jar out the top, but it will sit comfortably in the clamp without falling through. Then, using a drill bit, drill a hole through the back of the clamp. Screw the clamp to the board in the marked spot.
Step #6: Hang on the wall. I used a couple of small sawtooth picture hangers on the back and hung it up!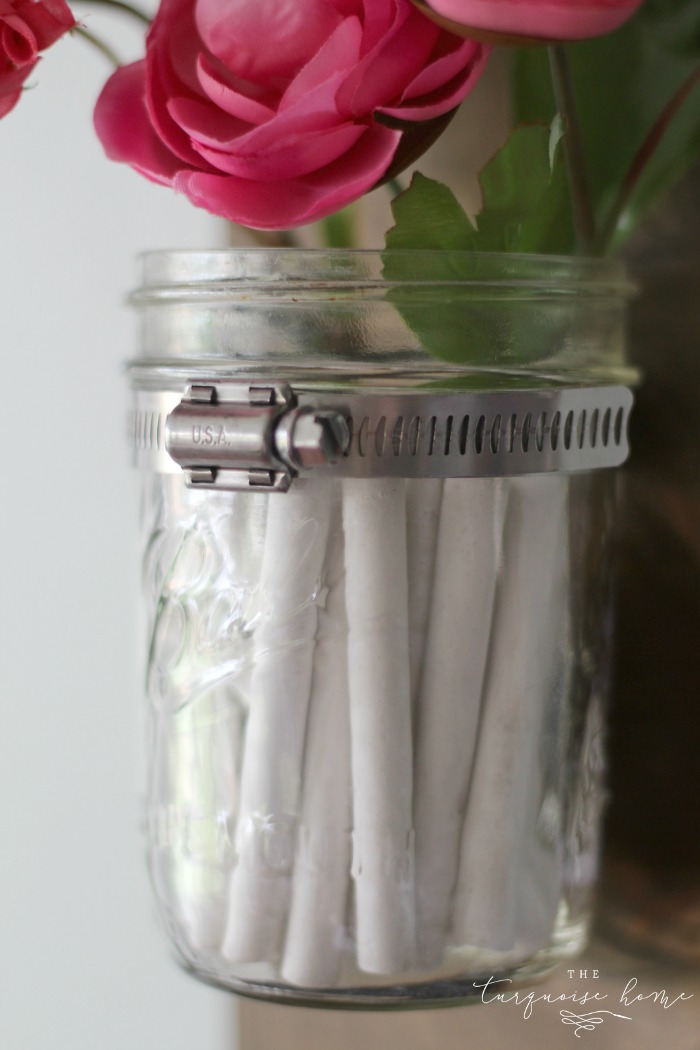 Step #7: Add your mason jar and chalk + eraser and you're in business!
I added a few faux flowers to the jar because it needed a little pop of color. And I think it just makes it all the more adorable!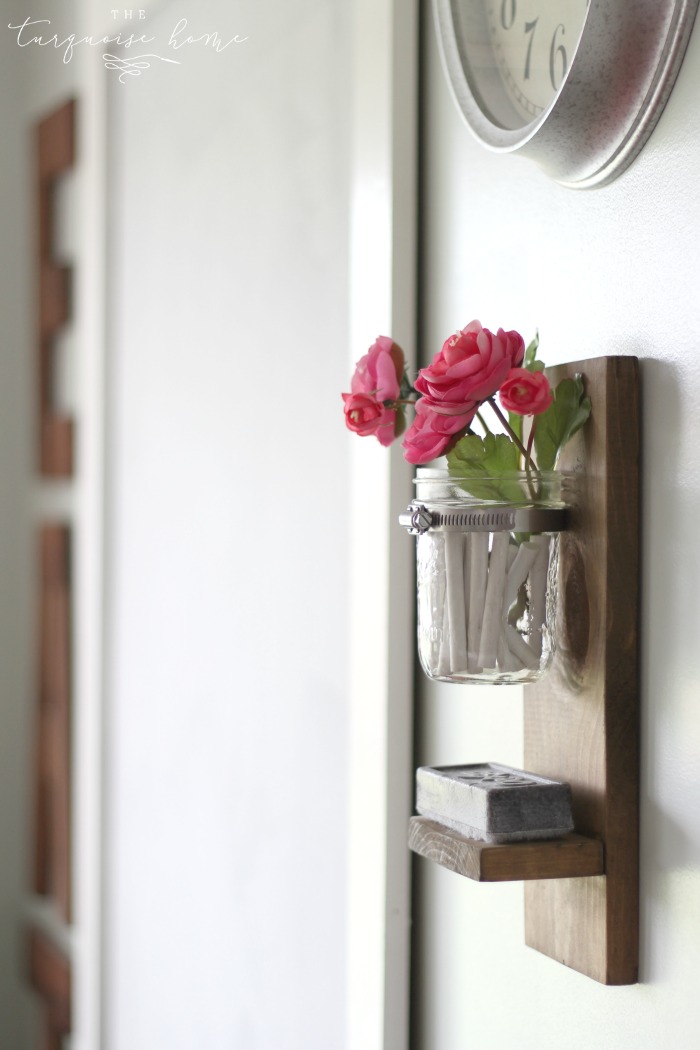 It's the perfect little thing to fill this space on the wall under my new clock from Target. I had been trying to figure out what needed to go in that spot as well as some storage and I'm so glad I figured it out – finally!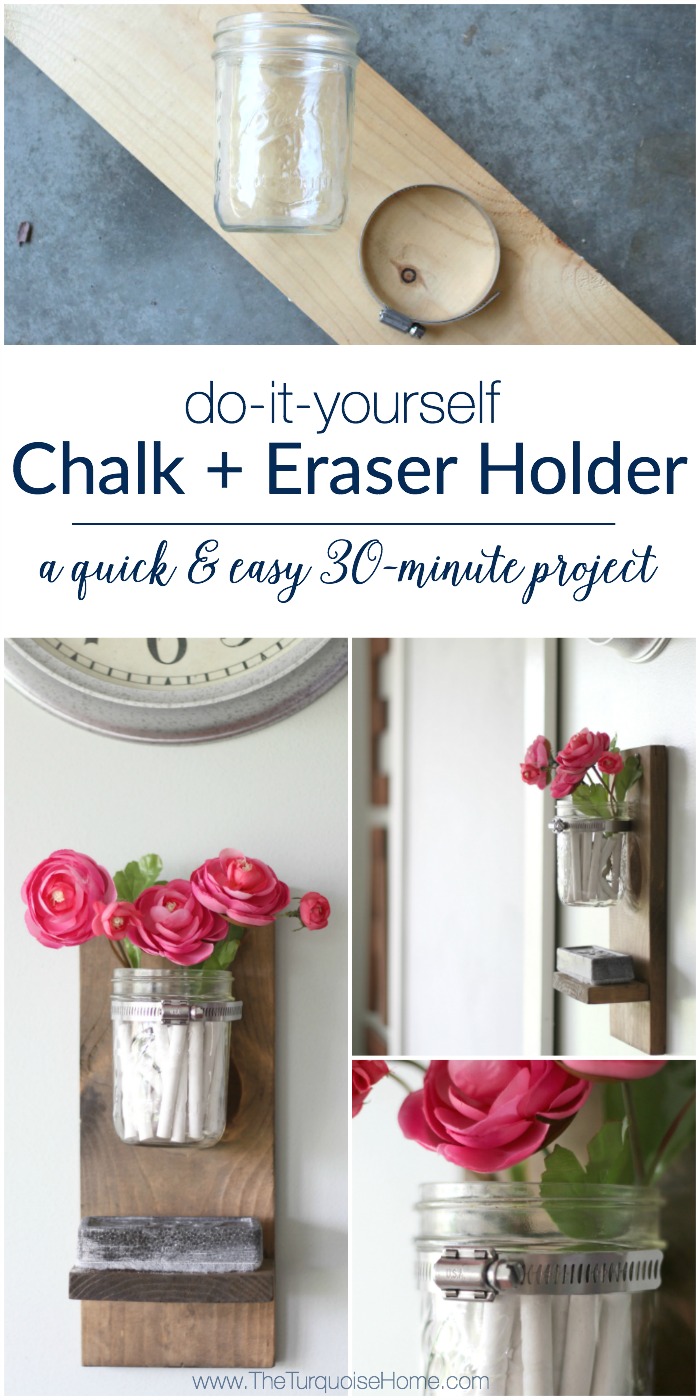 Now, I can finish a couple more details and reveal the new chalkboard wall! I switched things all around when I changed out my "EAT" letters and added my farmhouse shelves after I painted the kitchen Sea Salt. Ha!!
Decorating around here is like "when you give a mouse a cookie" or decorating dominos as I call it sometimes. One thing leads to another and someday, many years later, you look up and a space is finally done. Well, no space is ever completely done, but this one is getting very close to being done for now!
Have a wonderful day!!