I am so excited about this project because I've been wanting one of these since I saw in Jess's kitchen over on Home Made Lovely back in October. I love her huge chalkboard and have wanted one ever since. Isn't her house the cutest thing??
Well, fast forward to later on in the fall when a friend and I were out shopping at the neighborhood-wide yard sale and I bought a can of chalkboard paint for $2. Yay!
I then got semi-serious about my project and went hunting for a tutorial. I found this one.
If I hadn't read really carefully, I would have missed that Jess's chalkboard is actually magnetic, too! What an awesome idea. And did you know they sell magnetic primer at your local hardware store? Well, they do and you just paint it under the chalk board paint and it will be magnetic. This was an awesome discovery for me because I don't have a magnetic refrigerator. So, I thought this would be the perfect solution for Miss A's magnetic letters and numbers without a home. It didn't quite work out as I'd planned though. Keep reading …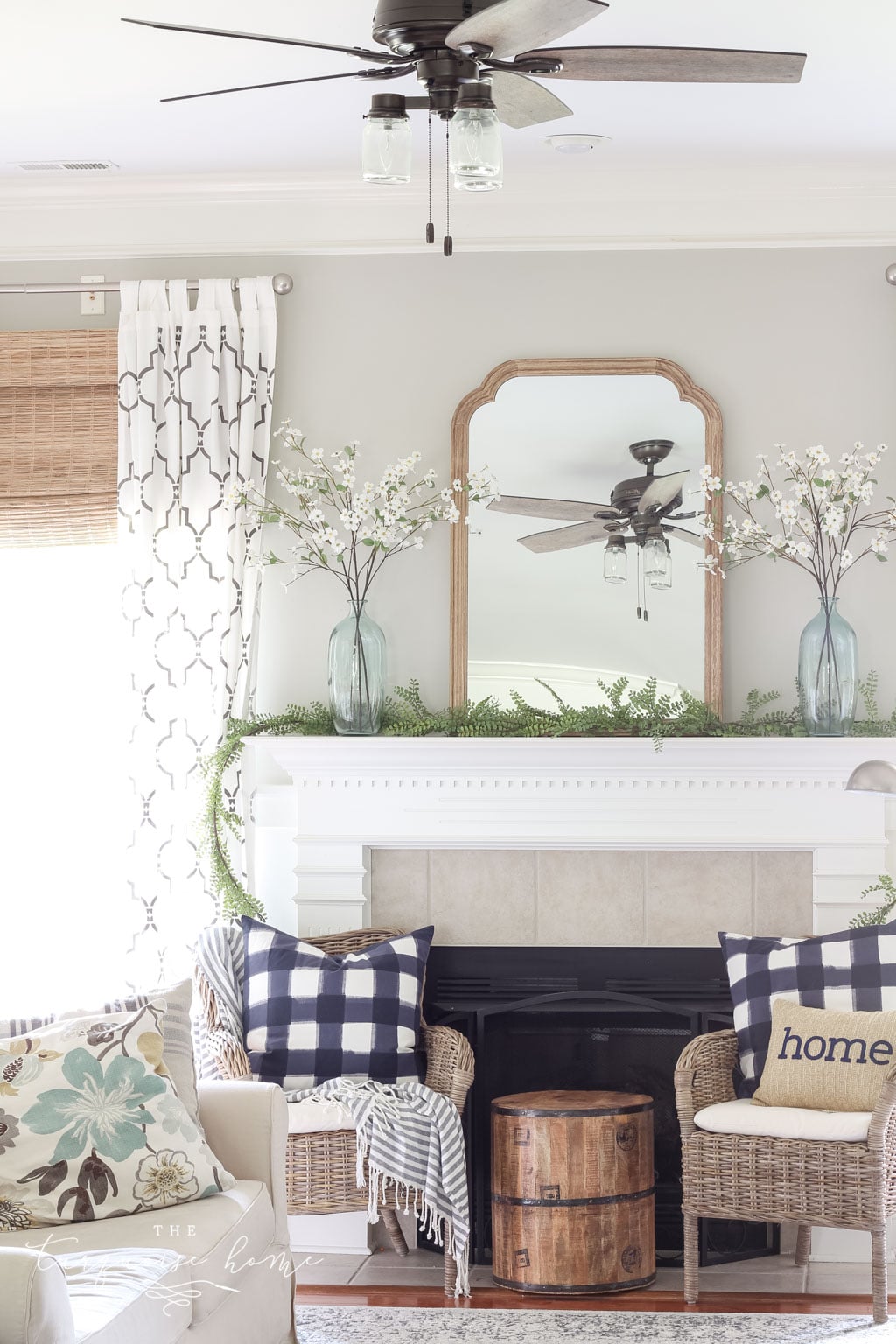 FREE BONUS!
5 Secrets Every Home
Decorator Knows
… to transform your home into your dream home!
OK, these are the supplies I used:
– 4 x 6 Masonite/hardboard in 1/8 inch thickness from Home Depot. (I had them cut two feet off of a 4 x 8 board. They did this for free.)
– Rustoleum magnetic primer (or any other primer if you don't want it to be magnetic)
– chalk board paint
– 1 – 1×4 at 8 feet long (I had HD cut this into two 4 foot pieces so it would fit in my van easier.)
– 2 – 1×4 at 6 feet long (or you can use any type of moulding for the frame)
– chalk
– 2 D-ring hangers
– 1/2 inch screws
– nails
– level
– circular saw
– paint for the frame
– wall anchors for hanging it on the wall
This is the way I had the wall decorated before. It's just screaming for a huge piece of art or a chalkboard, don't ya think? I wouldn't want to let a huge wall like that go to waste.
I brought the hardboard in and nailed it to the wall. I thought it would be easier to paint it on the wall than crawling around on the floor. I did that enough while stenciling my curtains. Ha! And I just taped newspaper behind the board to protect the wall.
I was super excited about the magnetic paint primer. I had read online reviews that said to stir it really well before and during painting. This will make sure the magnetic qualities are mixed throughout the paint.
So I stirred it very well, and painted four thin coats. I used every last drop of this paint in hopes that the magnets would stick well.
But when it was dry, my smaller magnets did not stick at all. They just slid down the board. Boo. But it does hold larger magnets. I'll have to buy some pretty large magnets if I want to hold anything on the board. Bummer. So, unless you really, really want a somewhat magnetic board, then I'd skip it and just use regular primer.
Once the primer dried, I waited four hours and then painted two coats of chalk paint. I had to wait 24 more hours before I could season the chalkboard.
To season or cure the chalkboard, you'll need to rub the side of a piece of chalk all over the board the first time you use it. Otherwise the first thing you write on the board will stay permanently. Trust me … it's a messy job. I think everything in my kitchen was covered in a fine layer of dust.
And we interrupt this tutorial for a dose of cuteness. While I was taking pictures of the chalkboard, she was sitting in her chair saying "cheese." So, I had to snap a few pics of my girl. She's getting so big! (I hate that the window is behind her and her face is so dark. Oh well.)
Once I'd finished seasoning the chalkboard, I pulled it off the wall. (I had only tacked it up there with a couple of nails on the top. And it pulled off easily). I brought it out to the cold garage to measure the trim. The 6 foot pieces worked perfectly on the sides. I didn't have to touch them.
And I just had to cut a few inches off of the 4 foot pieces using my circular saw. I didn't do miter cuts since my saw is still out of commission.
(Side note: Although I finally called Skil the other day and new parts for my saw should arrive any day now. Skil was so easy to work with and replaced the broken parts with no hassle. Awesome customer service! And no, I'm not paid to say that, just a happy customer.)
Once I had the frame cut to the right size, I brought the four pieces into the house to paint them. It was too cold outside! And I painted them with some old white trim paint I had on hand.
I used push pins to hold the boards off of the table a little bit. It kept them from sticking to the paper while the paint dried.
Once the boards were dried, I placed them un-painted side up on the floor.
And I put the chalkboard on top. I used screws to screw the chalkboard into the frame.
And I screwed two D-ring hangers into the back in order to hang it on the wall.
And there you have it, folks! My very own, giant magnetic chalkboard. I'm so glad it's finally done.
It cost me about $50 for everything. (The magnetic primer was $20, so if you don't use that, it brings the price down quite a bit. And I only paid $2 for the chalk board paint at a yard sale.)
I quickly wrote one of my favorite verses on the board. I need to work on my handwriting and I plan to change it up quite a bit with some prettier writing. I'll have to spend some time learning chalk board calligraphy. 🙂 The possibilities are limitless and I can't wait to use it in so many different ways.

SaveSave