DIY Dry Erase Wall Calendar
Make your own DIY dry erase calendar with a glass picture frame, free yearly calendar printable and this super easy step-by-step tutorial! Get organized for such a simple DIY project!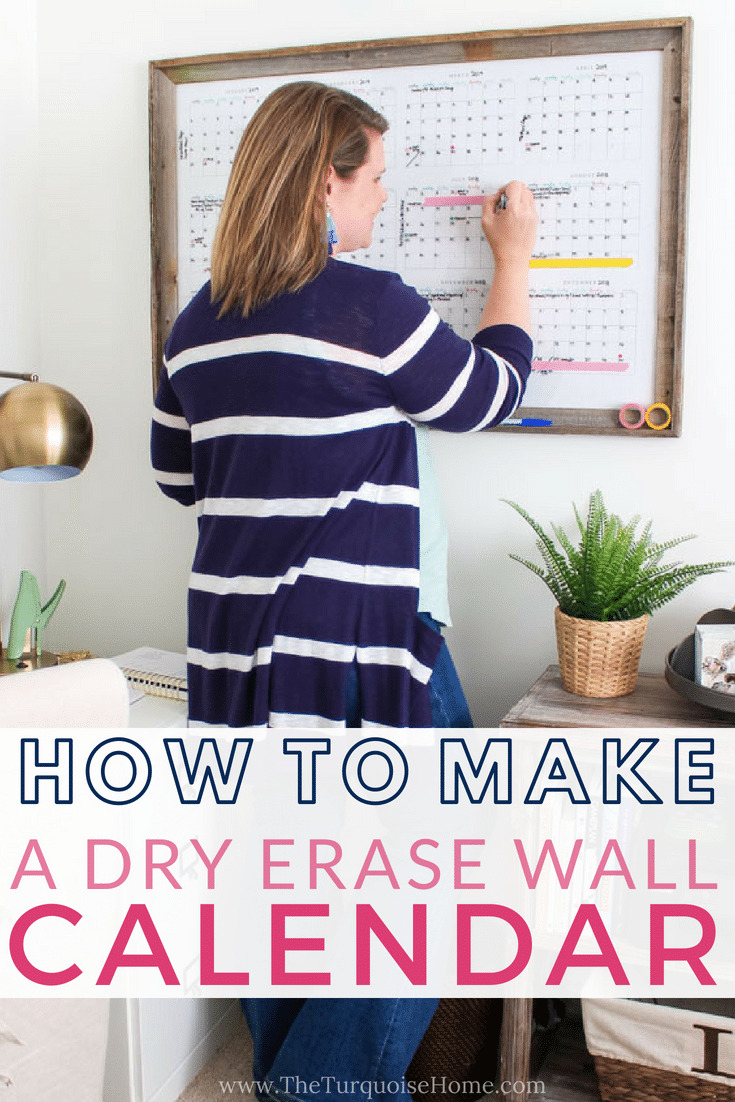 I'm nothing if not a planner and calendar junkie. I love them! I have a planner where I keep all of the major details for my life and work, and also my daily schedule and daily to-dos. It acts as my brain and I don't know what I'd do without it! (I use this planner.)
I also utilize the family calendar feature in my iCal on my iPhone for big events that my husband and I both need to have on our calendars. We use a fun photo calendar in the kitchen for use to just have a quick overview of the month. I have made mine from this company and my kids love pulling it down and looking at the fun pictures!)
Even with all of those calendars I still needed one that was dedicated just to work ideas, posts and events. In January I printed out 12 monthly calendars and taped them to the wall. But as the weather has gotten hotter here in the South, I started using my ceiling fan. The wind created by my fan was strong enough to knock my calendars off the wall.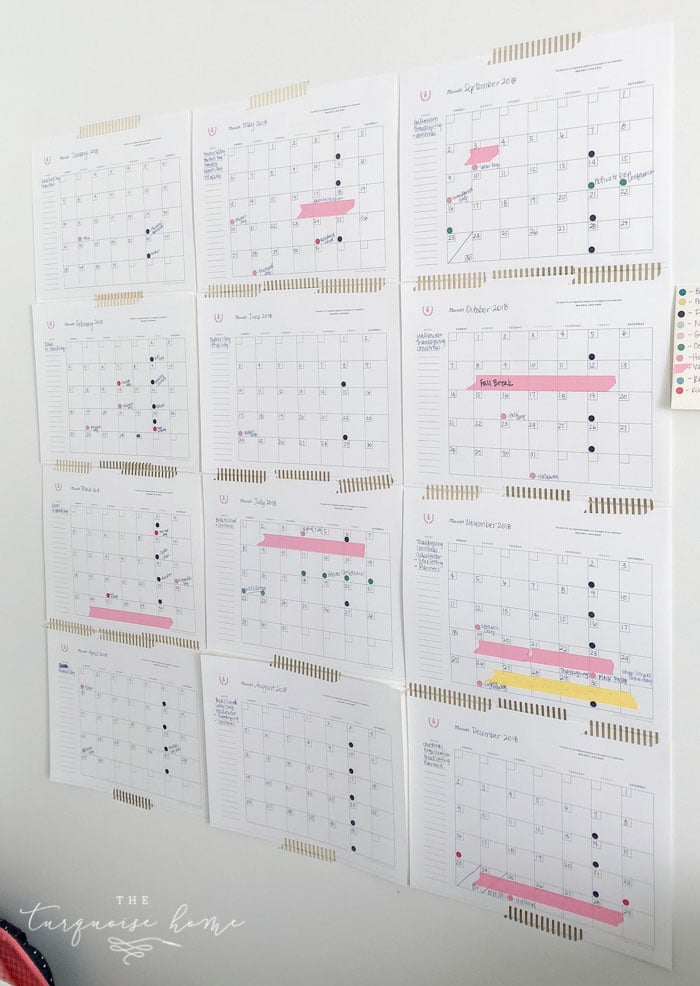 My paper yearly calendar solution – that ended up falling off the wall when I turned on the ceiling fan.
I've been eyeing some large dry erase yearly calendars, which were appealing not only because they would stay on the wall, but I liked the idea of being able to erase everything easily. And as we moved past one month, I could convert it to that month next year. For example, once we move past May 2018 I can erase it and change it to May 2019 and then I can plan on into the next 12 months and not have to wait until January when I print off new blank monthly calendar pages.
But I couldn't pull the trigger on the $200+ price tag! 😬😳
So, one day I was window shopping for some of these large dry erase calendars and considering buying one when I read the description, which said it was just a framed printable calendar with plexiglass. Light bulb moment!! I can make that for so much cheaper!
I've shared before about colored engineer prints, but I'll share quickly again. You can get something printed really large (2 feet x 3 feet) on printer paper for super cheap at Staples. Think $5-$6! They're called engineer prints because they are designed for architect drawings, building plans, etc. So the quality isn't high – you can easily crease it or it would be ruined if you got water on it, but if you are careful in transportation it'll work just fine! Just know you'll have to be careful.
Items You'll Need for DIY Dry Erase Wall Calendar
1. 24 x 36 Printable Yearly Calendar – (Find my free printable calendar at the end of the post. Print it out as an Engineer Print/Blueprint.)
2. 24 x 36 Frame
3. Plexiglass (optional – I tried this, but ended up using the glass that came with the frame)
4. Dry Erase Markers – these are the best fine tip markers that I've found!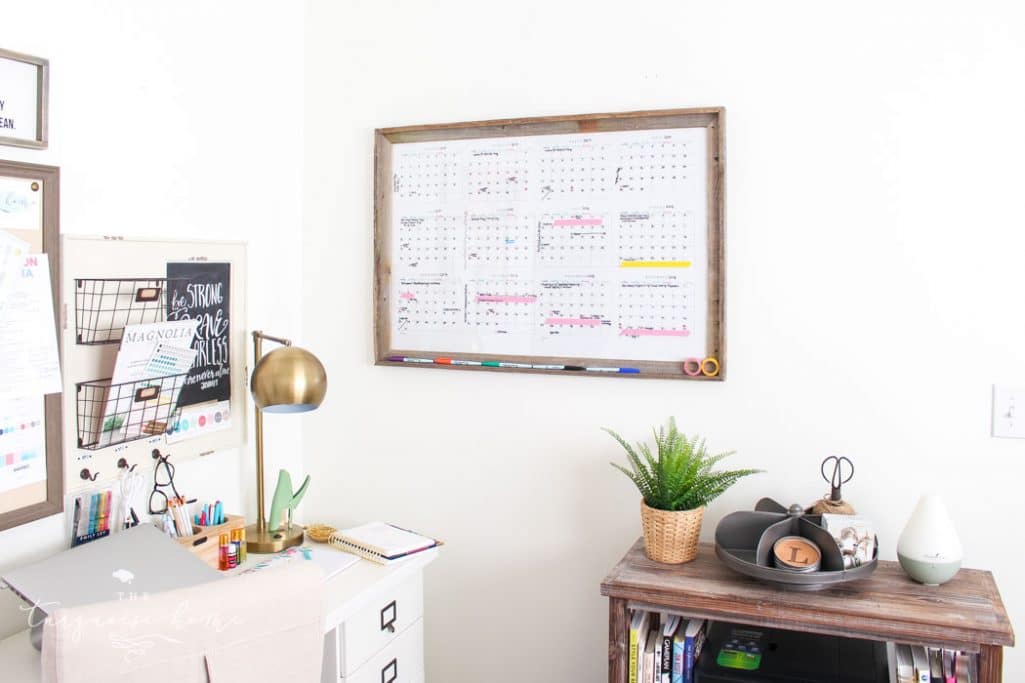 How to Make a DIY Dry Erase Wall Calendar
Step 1. Print off your calendar! I've shared my free calendar below, but if you have a digital file of a calendar that you'd like to use, then by all means use it! 😊 Go to Staples.com and order a color engineer print. You can do black and white for a couple dollars cheaper if you don't like color. 😉 You may have to size the image down to 2592 × 1728 pixels in order to fit on the page. I use PicMonkey to resize my images. (Don't worry if it warns "not for photo images" – we know the quality isn't high, but that's OK! Engineer prints are also known as blueprints.)
I did notice that Office Depot / Office Max also offers color engineer prints and there was a place to mark "fit to size" so you don't need to resize the file if you don't have a way to do that.
The quality is a little grainy on the engineer prints, but it will work fine for what we're doing! If you want something a little nicer, try the poster prints for about $30 per poster.
Step 2. Buy a frame and frame your engineer print! Easy peasy! This is the one I used, but you can use any one that you'd like. I like mine because the lip on the frame is a good place to keep my dry erase markers and washi tape.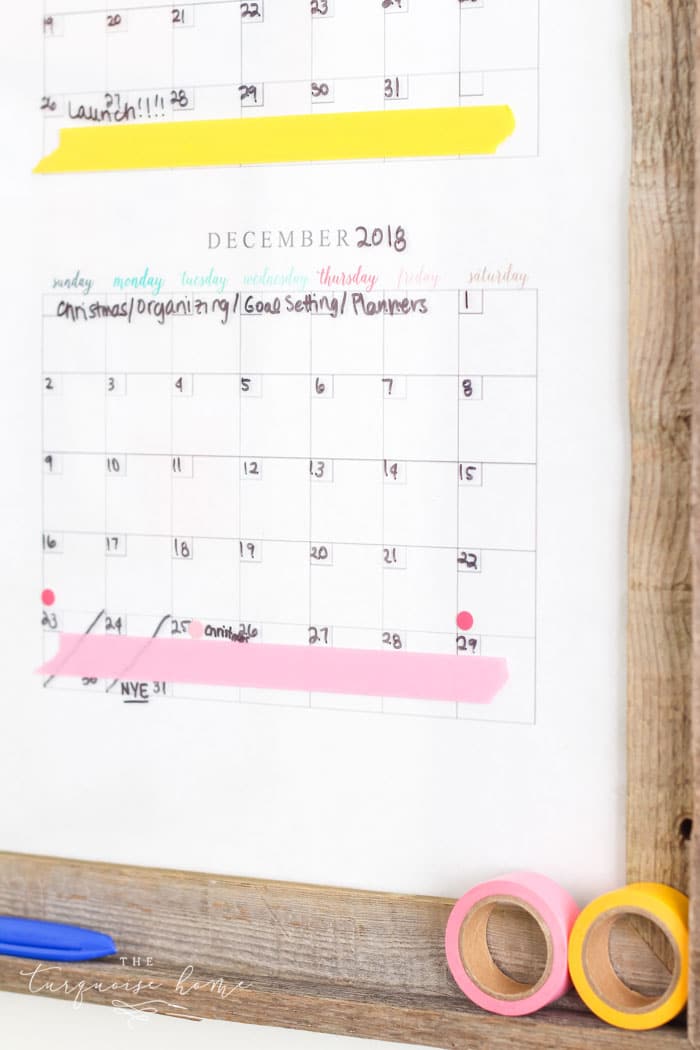 I did purchase a poster frame from Walmart and took the plexiglass out of the poster frame and put it in my frame. The only benefit I could find is that it made the whole thing lighter. But the plexiglass also bowed out and I didn't like that, so I went with the glass that came with my frame.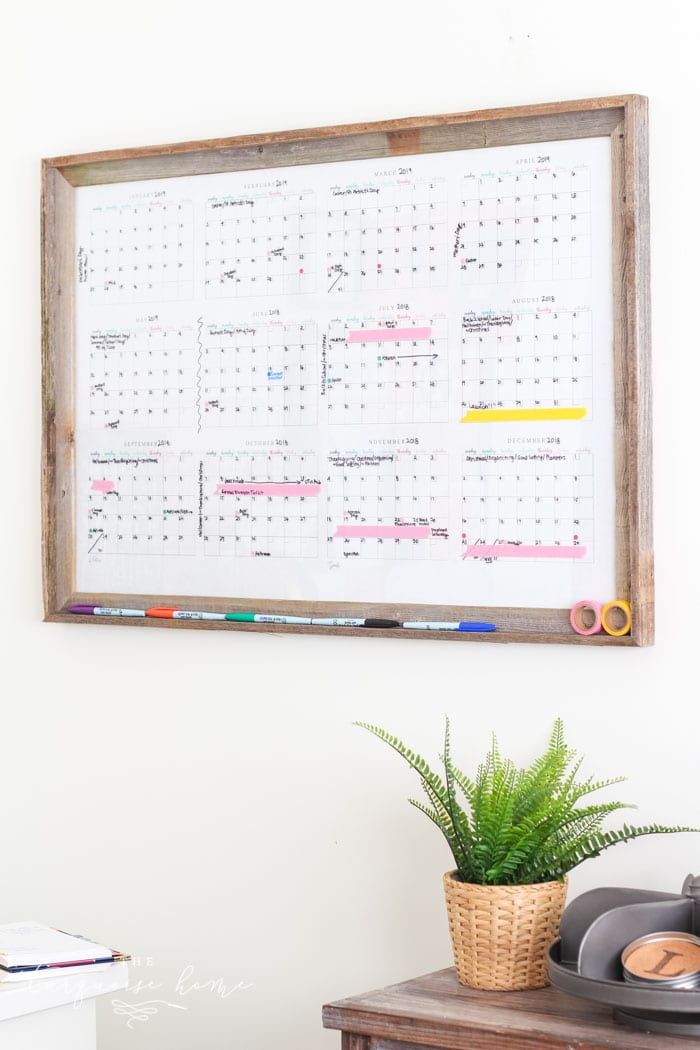 That's it! You now just need to start filling everything out and using your new calendar to keep you on track! I use mine for keeping track of the blog and any major events that will interfere with my work like vacations, holidays and conferences.
I love how well these markers work! The tip is fine enough to be able to see it clearly on this calendar as each day is a small-ish space. I also like that the ink doesn't easily erase. I can rub my hand over it after it dries and it won't smudge. You have to clean it off with a damp cloth.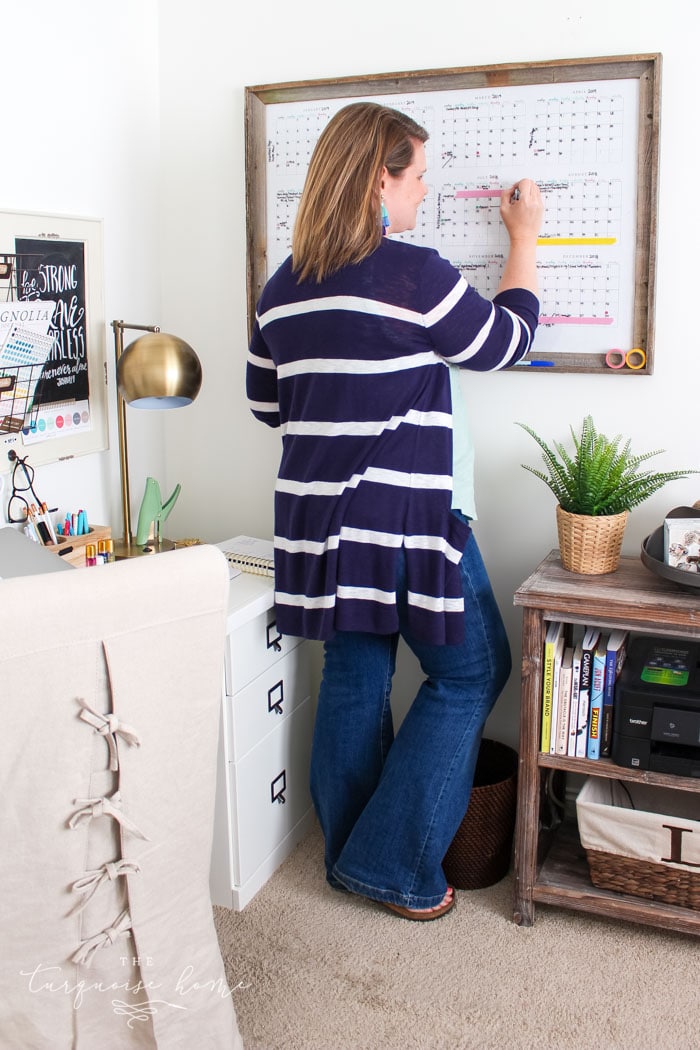 Free Printable Calendar Download
I've created a free printable yearly calendar that you can use for personal use only to make your own DIY dry erase wall calendar.

Enjoy!SaveSaveSaveSaveSaveSaveSaveSaveSaveSave