25+ Ways to Decorate Your Home on a Budget!
Quick and easy DIY home decor projects can help you love where you live on a budget! Here you'll find 25 ways to add an almost instant update to any space.
Back when I started this blog, our country was coming out of the Great Recession. People didn't have much money to spend on home decor, just like me! I had just lost my job and bought a new house with very little money to afford decorating or buying furniture to fill my new, larger home.
So, I learned how to do DIY home decor and how to create a home with very little money. While I've since made more money and was able to afford more expensive decor, I've never forgotten my budget-friendly DIY roots.


Creating a home you love should not be dependent on your budget, so let's get to work! These reasons are why I love DIY home decor!
25+ Ways to Decorate Your Home on a Budget
The first rule of DIY decorating is that you can always paint something! Paint can transform a room in a couple of hours for the price of a can of paint and a paint brush and roller. Find all of my paint color reviews and recommendations here.
2. Paint some Furniture.
If you don't want to paint a wall, then paint a piece of furniture, like a side table or chair! My favorite furniture paint it chalk-style paint. Get my full tutorial here.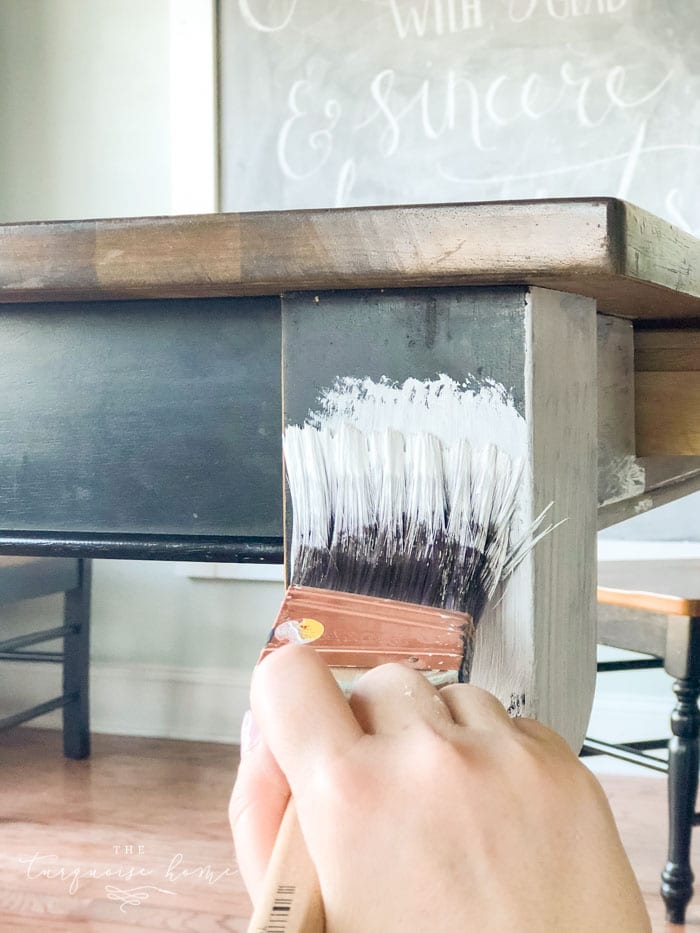 Adding art to a wall gives a home personality. When we moved into our new home, it didn't feel like ours until we put our pictures and art on the walls. Learn how high to hang a picture here. And get access to my free printable library here.
One of my most popular posts ever is my post about transforming the look of my girls' bathroom with vinyl floor stickers. They are so easy to order and use and much cheaper than replacing your flooring!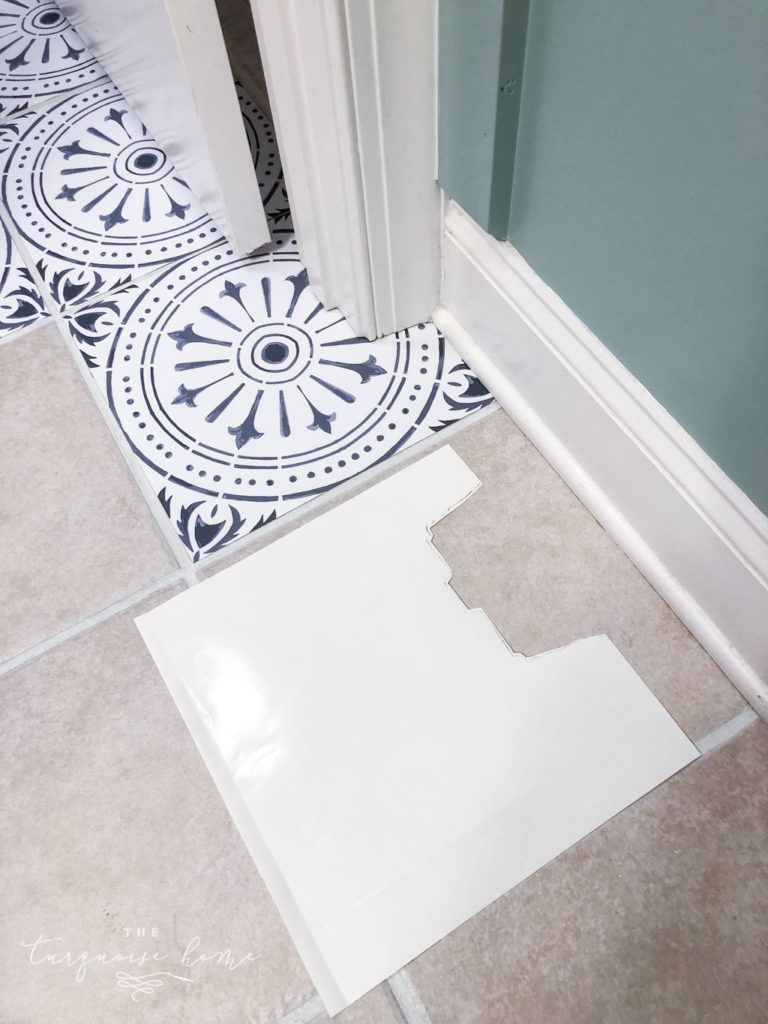 I've since used another kind of peel & stick vinyl floor tiles on my laundry room and I love them, too!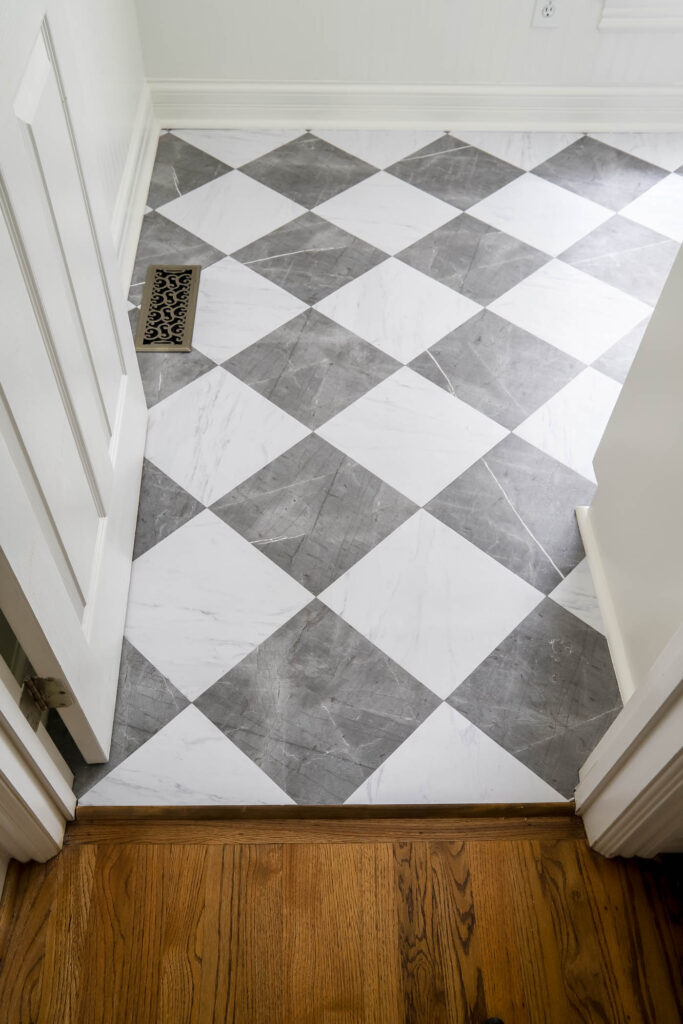 5. Make an Art Frame from Scrap Wood
Do you have leftover scrap wood lying around? Use it to frame out some wall art or frame a canvas! Your living room will love you for it.
This large piece of art was made with a photo I took, a canvas, some Mod Podge, scrap wood and leftover paint. A cheap way to display a photo I love!
A front door wreath is so welcoming and making one for your home is so easy and inexpensive! Try this burlap wreath, or my favorite: the lamb's ear and peony wreath.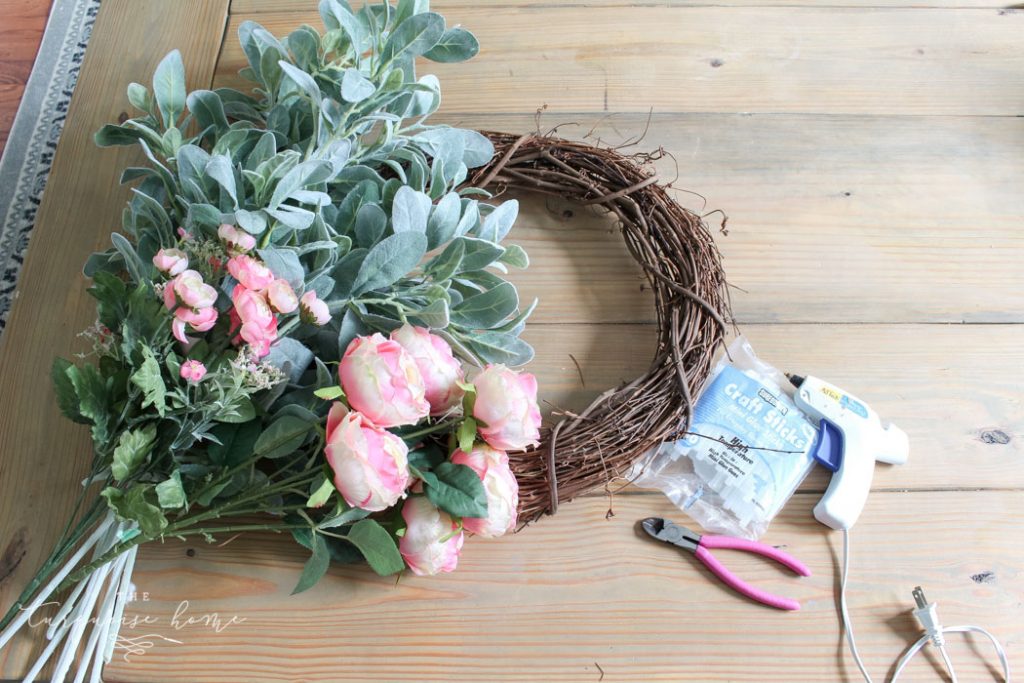 You can't truly love the home you have if it's filled with clutter. Make space for what you love and learn how to declutter a room in 5 easy steps!
I'm no electrician, but my husband and I have changed plenty of light fixtures in our homes.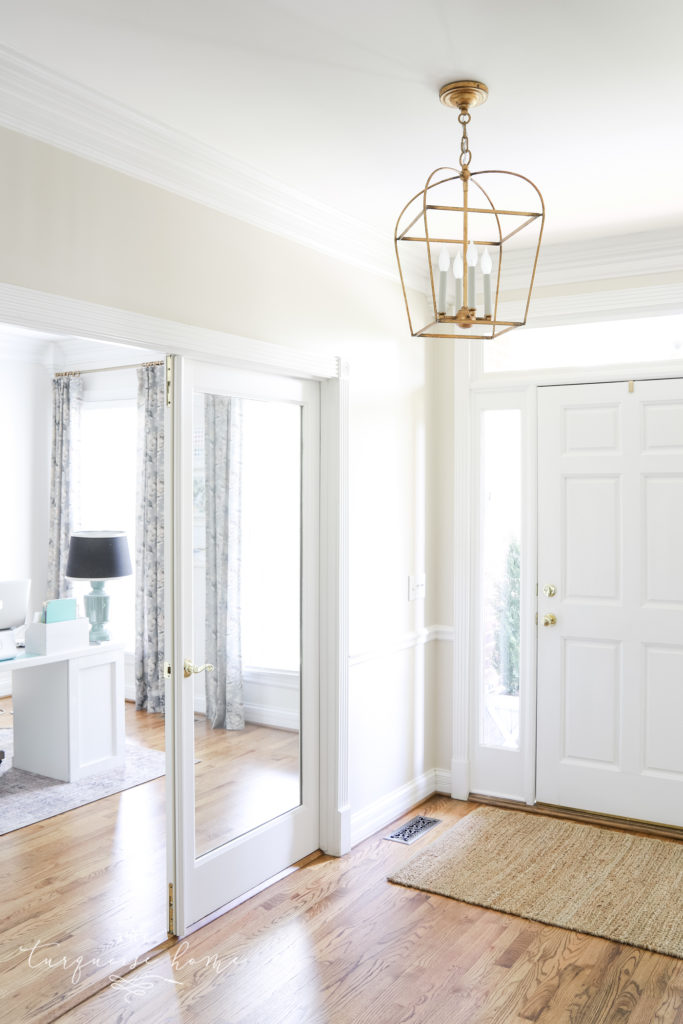 See my favorite light fixtures: Dining Room Chandeliers | Farmhouse Ceiling Fans | Bathroom Lighting | Modern Wall Sconces | Table Lamps | Flush Mount Lighting
9. Frame your bathroom mirror.
Framing out a builder-grade mirror is such an easy way to give your bathroom some personality with no demo and just a little cost.
10. Add some shelves.
These shelves in my kitchen cost less than $40 and it's one of my favorite spots to decorate in the whole house. So easy!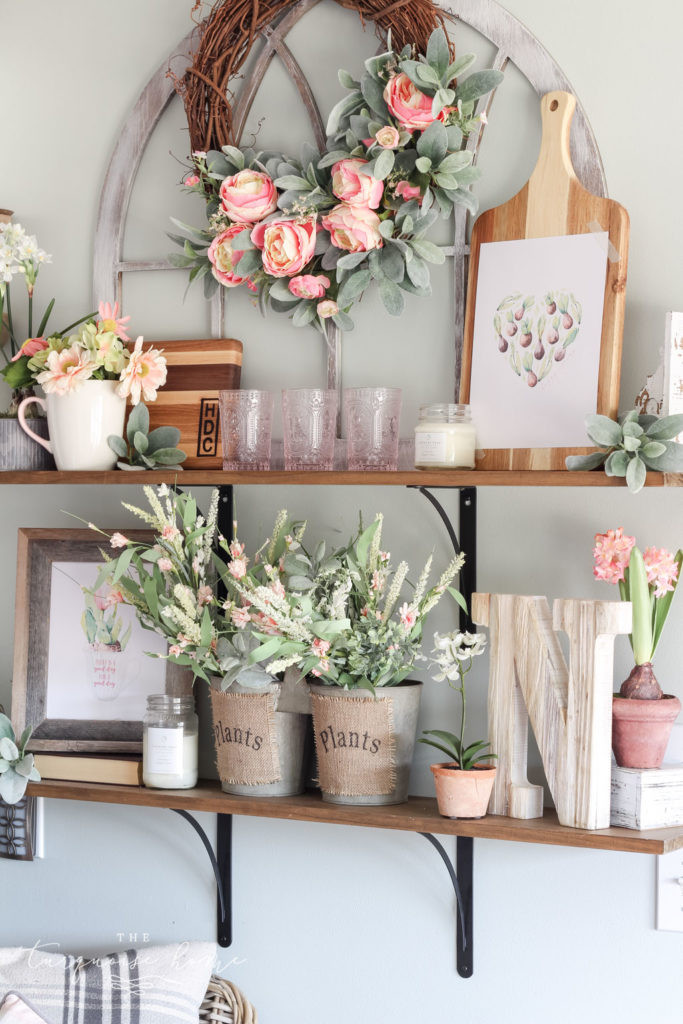 11. Re-decorate your shelves.
If you already have shelves, shop your home and redecorate your shelves for a free refresh!
12. Refresh Your Grout.
Update old grungy tile grout with some grout paint!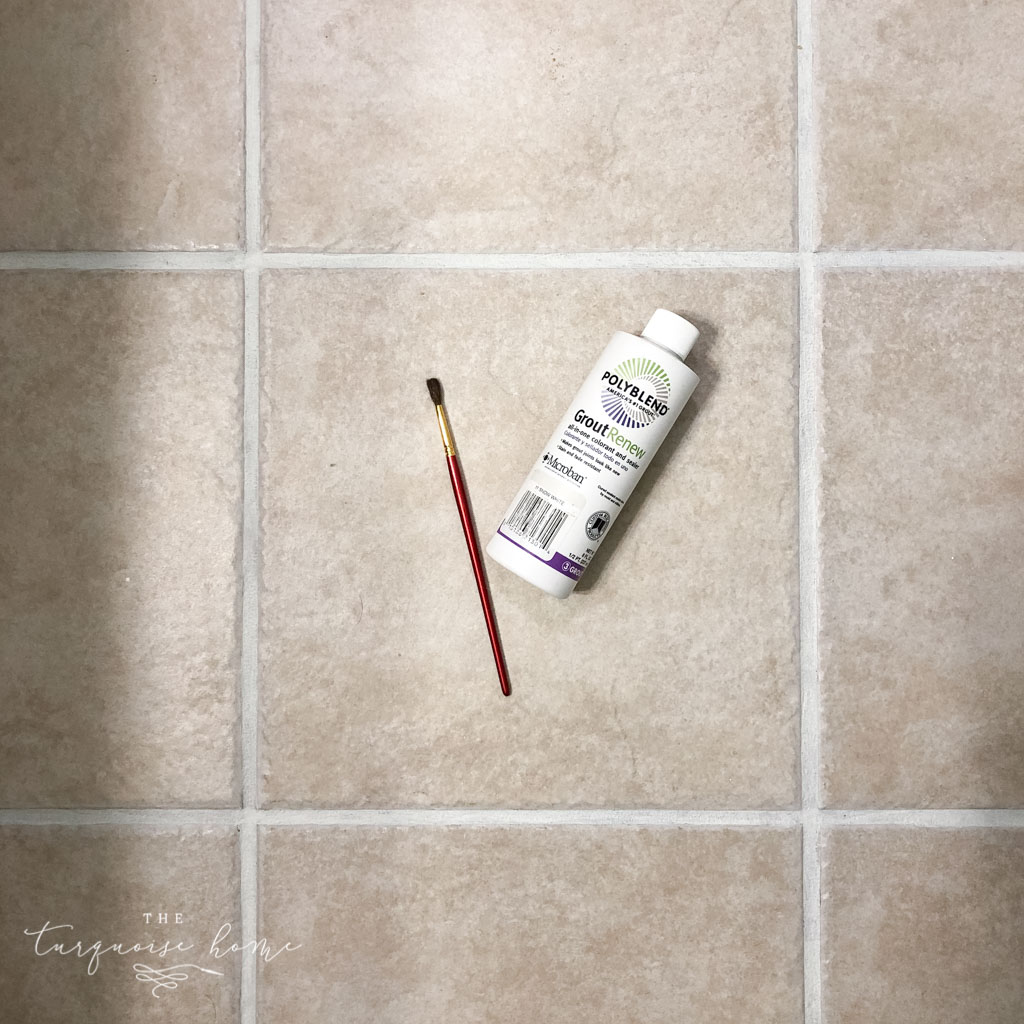 14. "Spring Clean" your home.
Deep cleaning your home is not always fun, but it's always rewarding! Grab my free printable checklist here.
I've done board and batten in two spaces in my home and have plans for more! It's a beautiful architectural detail that is a great DIY decor idea!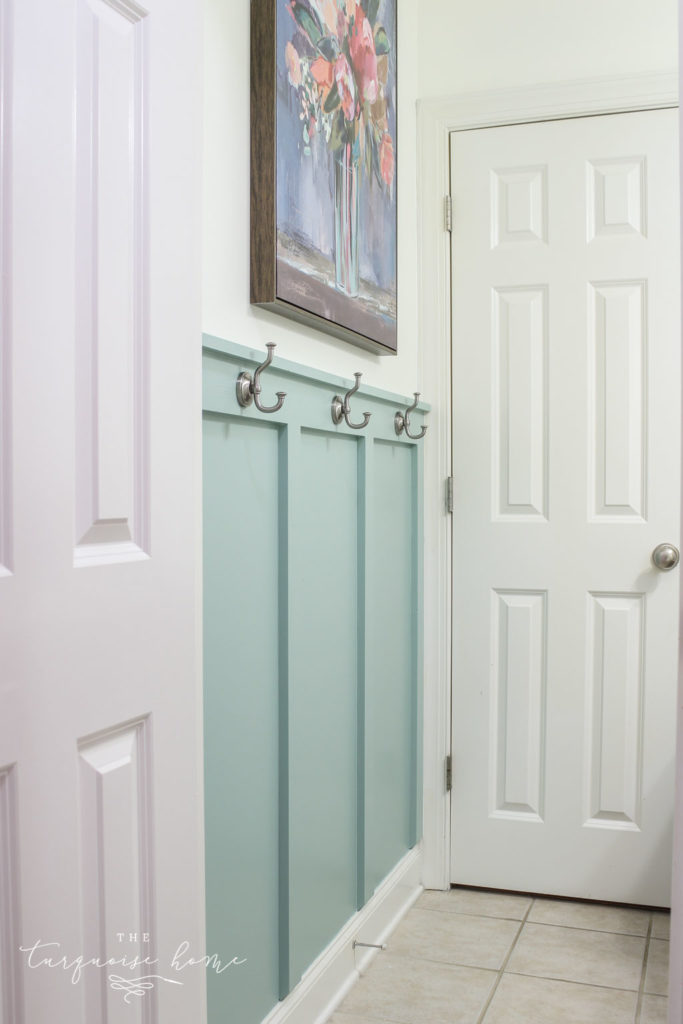 16. Create a Command Center.
Set up a command center in your home where all of the paperwork is sorted and the mail lands. You'll be amazed at what a cork board can do to help with your sanity, I promise!
17. Make a large wooden sign.
I love large art in my home, but it usually comes with a large price tag. But making a large wooden sign or piece of art is a great thing to DIY on a budget! This is one of my most popular DIY home decor ideas!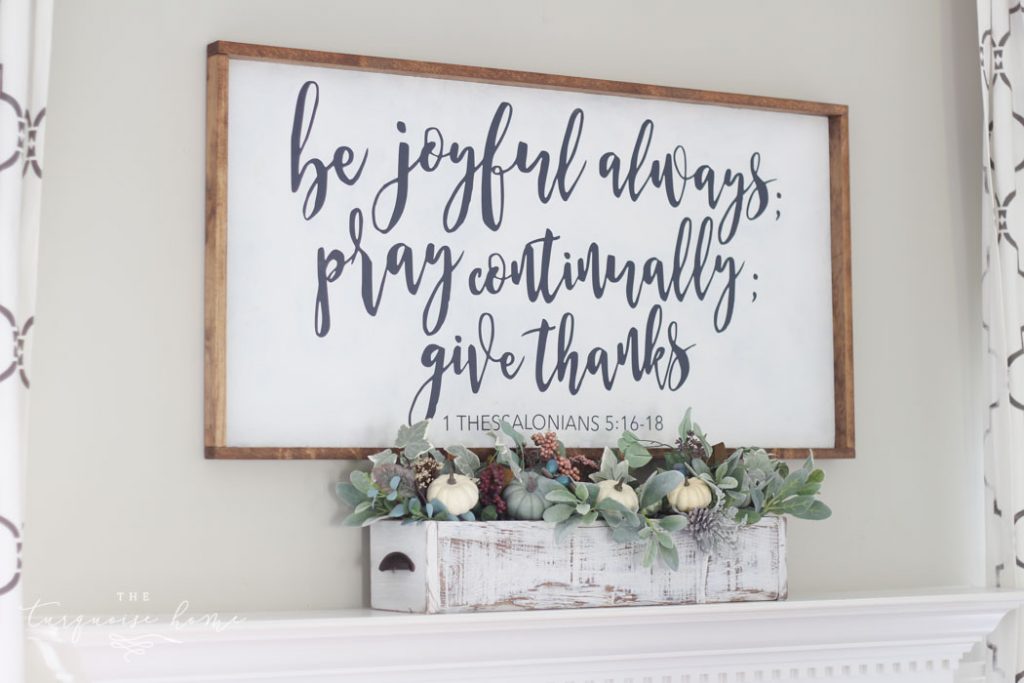 18. Make a Design Mood Board.
Are you planning a room makeover, but aren't sure exactly what pieces to put together? A design mood board will help you visualize the space (and make a budget) before you ever buy the first item!
19. Make a doormat.
It's so easy to stencil a cute DIY doormat. If you don't want to DIY one, I love these Fall Doormats, Spring Doormats and Summer Doormats!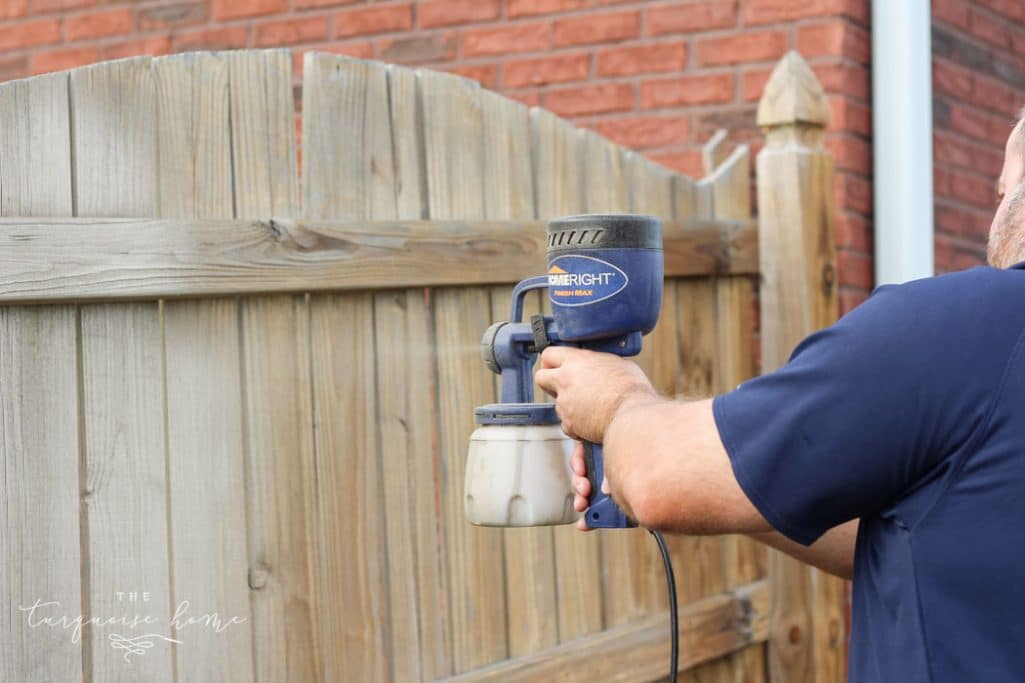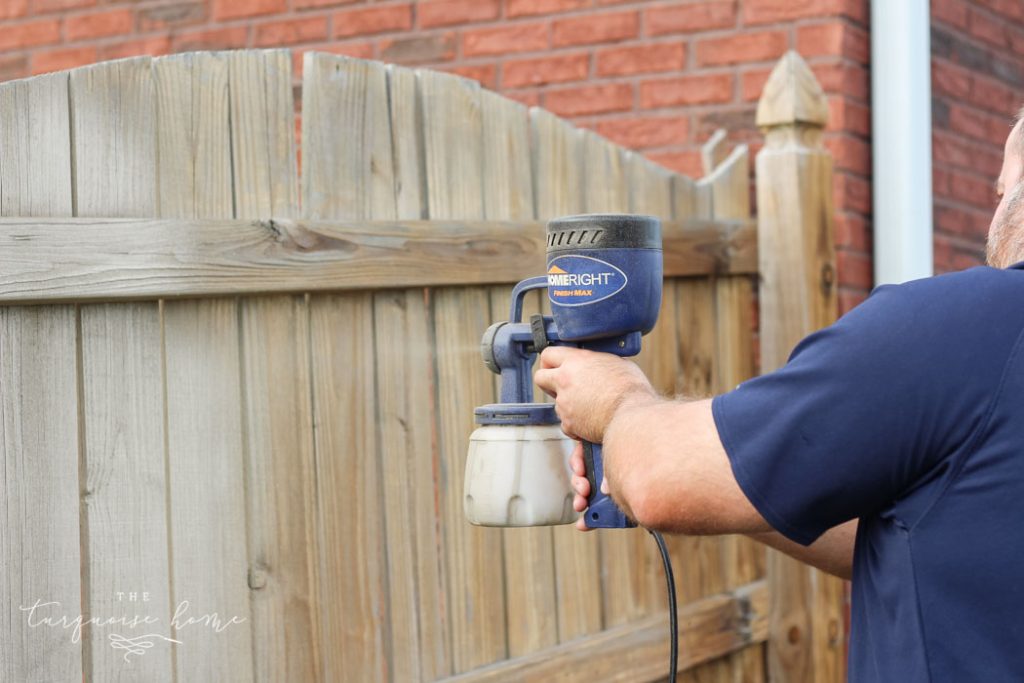 20. Paint your wood fence.
If the weather's nice where you are, take some time to freshen up your fence with paint! I love the tool we used a couple of years ago, which made repainting our fence a breeze! It's better and faster than spray paint!
21. Make a Throw Pillow.
Making a throw pillow is a super easy DIY if you can sew in a straight line. I've even used drop cloth and a stencil to make a fun throw pillow! It's a great step-by-step tutorial!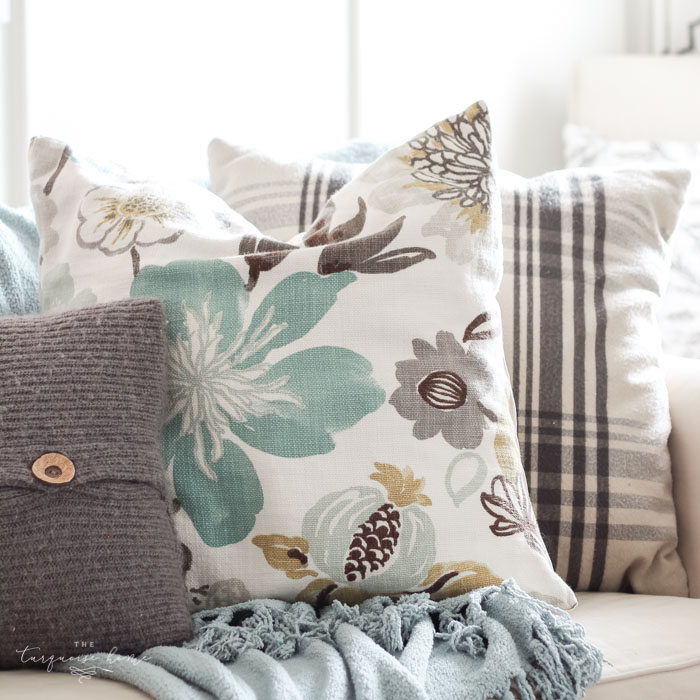 22. Build a Table.
It's not exactly a quick projects, but it's certainly budget-friendly. I made my farmhouse table for less than $100 in lumber. And it was one of my first DIY projects! If I can do it, you can too.
23. Paint your Patio.
Painting your patio is quick and easy way to freshen up your outdoor space. You could even paint stripes or use a stencil to add some decorative flair!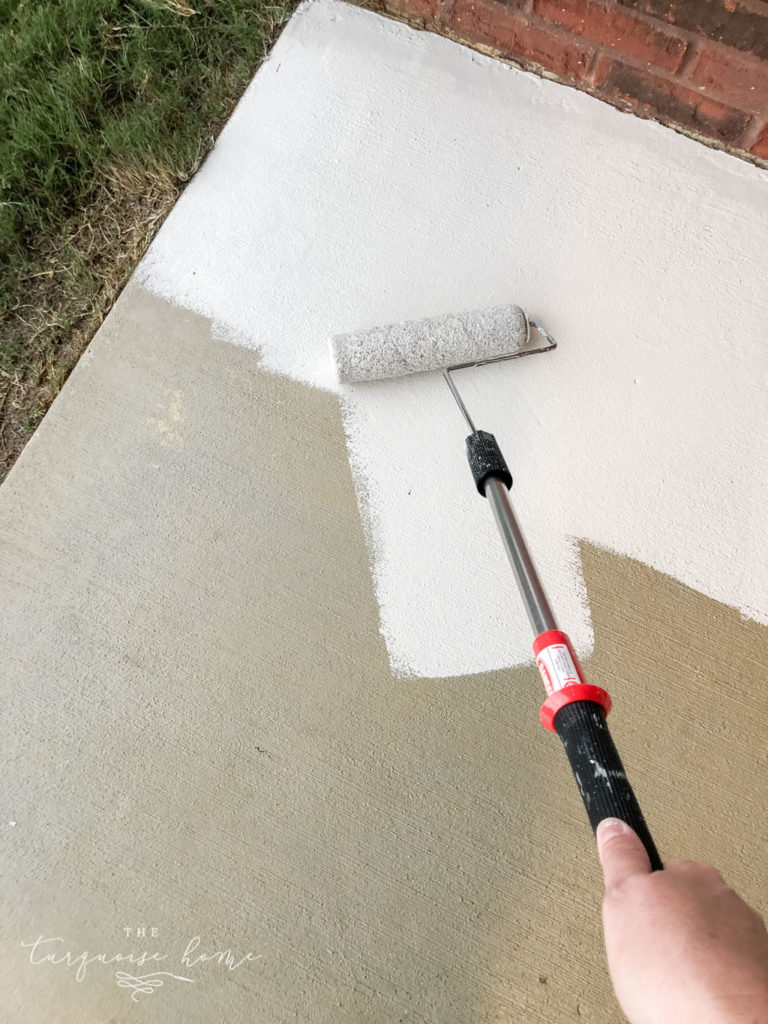 24. Organize your Linen Closet.
Find peace in an organized home for free by just organizing the linen closet!
25. Monogram Something.
There are so many ways to personalize your home with monograms.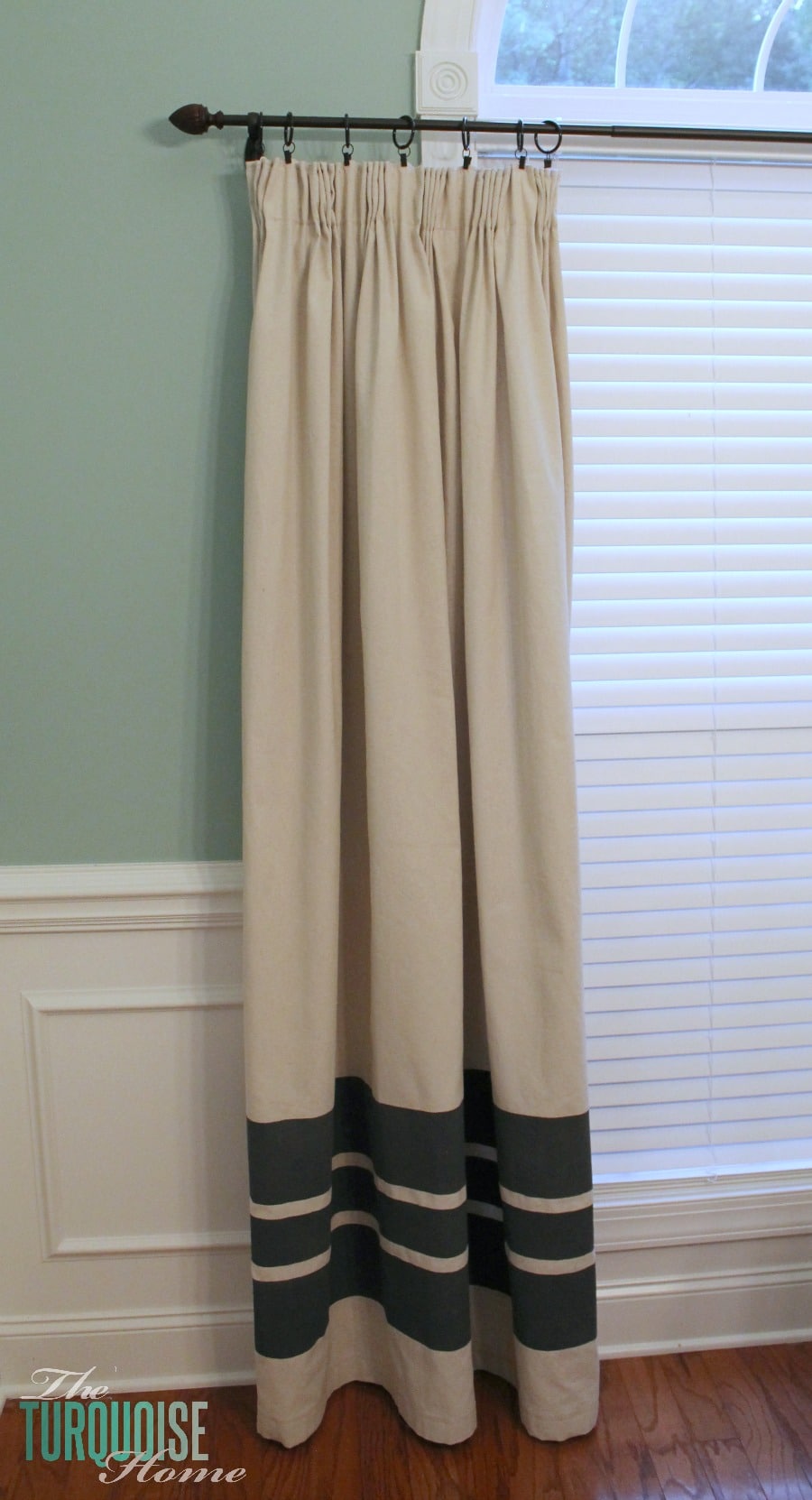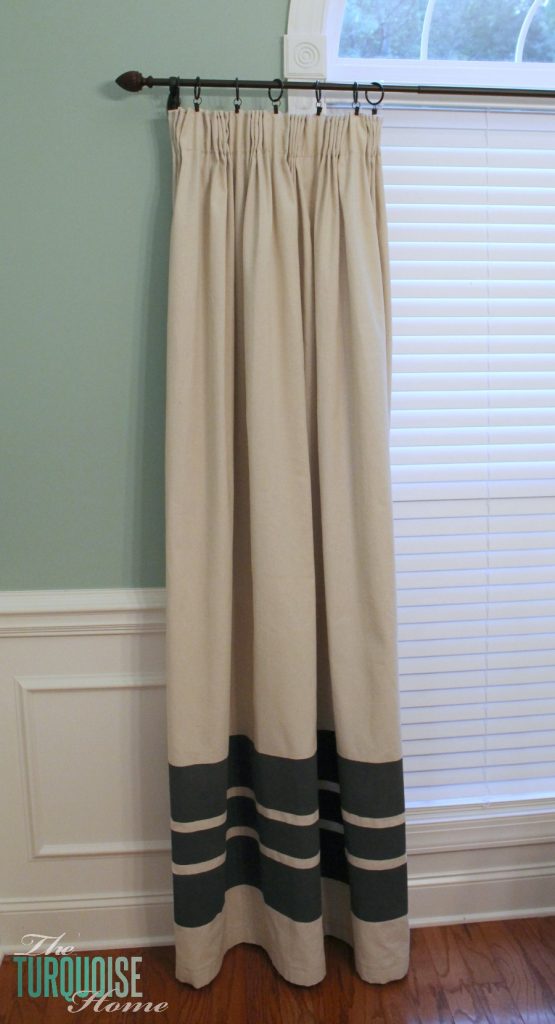 26. Make curtains from drop cloths.
What a super budget-friendly way to add texture to your rooms. Use drop cloths to make curtains. And if you want to be fancy, you can stencil some plain curtains or add stripes to them!
27. Add Picture Frame Trim to the Walls!
Add wall moulding or trim to your home is such a simple and inexpensive way to make your home beautiful!
I think those will get you started on improving your home on a budget! Happy homemaking!
MORE POSTS YOU WILL LOVE: