Thankfully, most of us only move a handful of times in our lives. These packing tips for moving will save your sanity and allow you to be much more prepared. If you ever moved and weren't organized, you know that it can be a disaster waiting to happen.
If you've been reading The Turquoise Home for the past few months, you know that we just moved!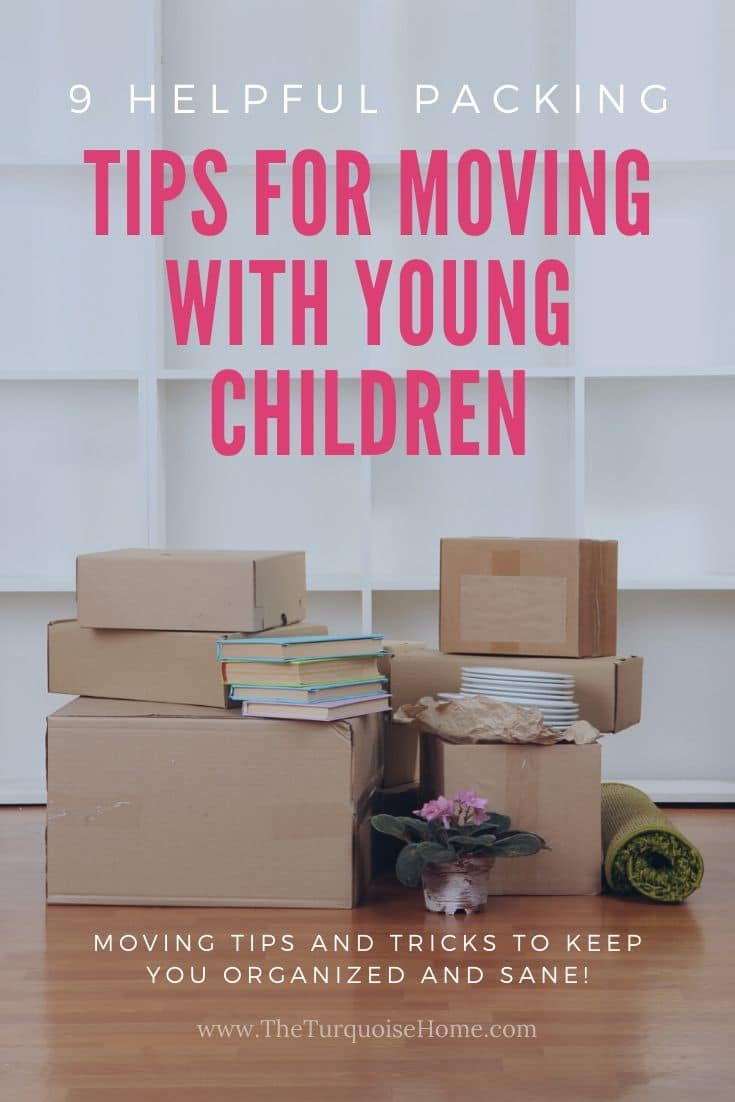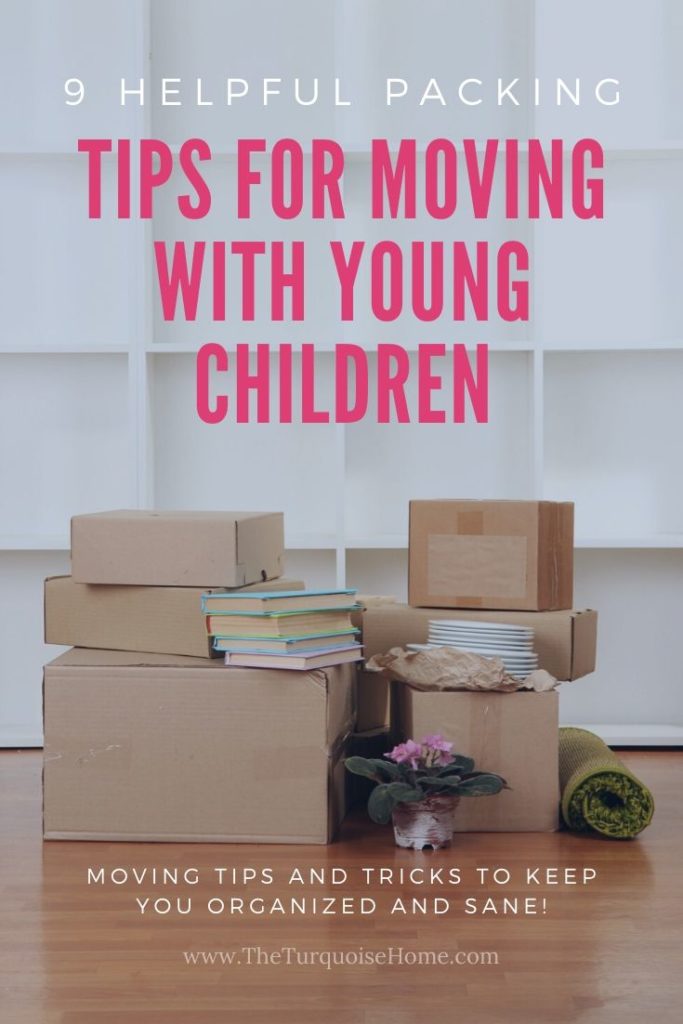 We are super excited to be in our new home, but needless to say moving (at the holidays nonetheless) made our lives hectic, busy and stressful at times. Being a mom with two young daughters plus working full-time on this blog & planning for the holidays, my workload was daunting and being organized seriously helped keep me sane (ish 🤪).
If you're anything like me, you love being super organized and giving everything it's own special place. Not only does this keep things prepared for the move itself, but it saves you time when you are looking for things too.
Helpful Packing Tips For Moving
Here are a few of my go-to packing tips for moving out that will leave you more than ready when it's time for your next big move!
1. Get Rid Of Clutter
The last thing you want to do is move extra stuff you haven't used in the past year from one place to another. If you don't use it anyway, what's the point?
Plus, moving is an excellent time for a fresh start! Even if you are moving across town, it's perfect timing to get everything clean and decluttered.
This is a wonderful thing to do before you ever list your current home for sale because it will allow the buyer to see your home, not your junk!
The first thing I would do is go through all of your drawers, closets, and cabinets as you are packing. If you find things that are broken, unused, or multiples, then don't hesitate to toss them or donate to your local charity if they are in good condition.
If there are items that can be sold, then you can sell them on Facebook Marketplace, your local Buy, Sell, Trade group, or even host a yard sale. You will be surprised by how much money you can make by selling things like clothes and toys.
Odds are, you will come across things you don't want to take the time to sell. That's okay, just donate instead. There are many shelters and thrift stores that will happily take gently used items off your hands.
Getting rid of unneeded and unwanted things is one of the most important moving tips because it will also save you lots of space on the moving truck, which equals time and money!
I wrote a whole series about decluttering, and how to declutter an entire room in 5 simple steps. So, check those out if you need some extra encouragement!
2. Work In Spurts
Have you ever taken a look and thought to yourself, "How in the world am I going to pack up this house? It's going to take forever!" I can definitely relate.
There is no reason why you need to pack the entire house in one day unless you are moving on a time crunch. It's a lot less stressful when you plan ahead and make a schedule where you do a little bit at a time. I recommend creating your packing schedule by room and by time.
Depending on your timeline, you could work for a little bit, do something else for a while, and then coming back to it. If you are trying to be a little more efficient, you could allow yourself 1-2 hours a day and just knock it all out at once. Surprisingly you can accomplish a ton when working really hard for 1 hour.
At the end of the day, do what's right for you and your family!
3. Work On One Room At A Time
Like mentioned before, you can set up your packing schedule by room so you can contain the chaos to one room at a time. It's not going to do you a ton of good to run around like a chicken with your head cut off working on one room for five minutes, then bouncing to the next.
Start with one room and do everything you can before moving on to the next room. You will feel a great sense of accomplishment when you get to mark a room done here and there!
4. Use Great Quality Boxes
I CANNOT STRESS THIS ENOUGH! (Sorry for yelling, but trust me on this one!) Yes, you could hit up your local grocery store for boxes, but often you get a jumbled mess, and you never have the right size boxes when you need them. Not to mention, some of them have some gross germs you don't really want near your things.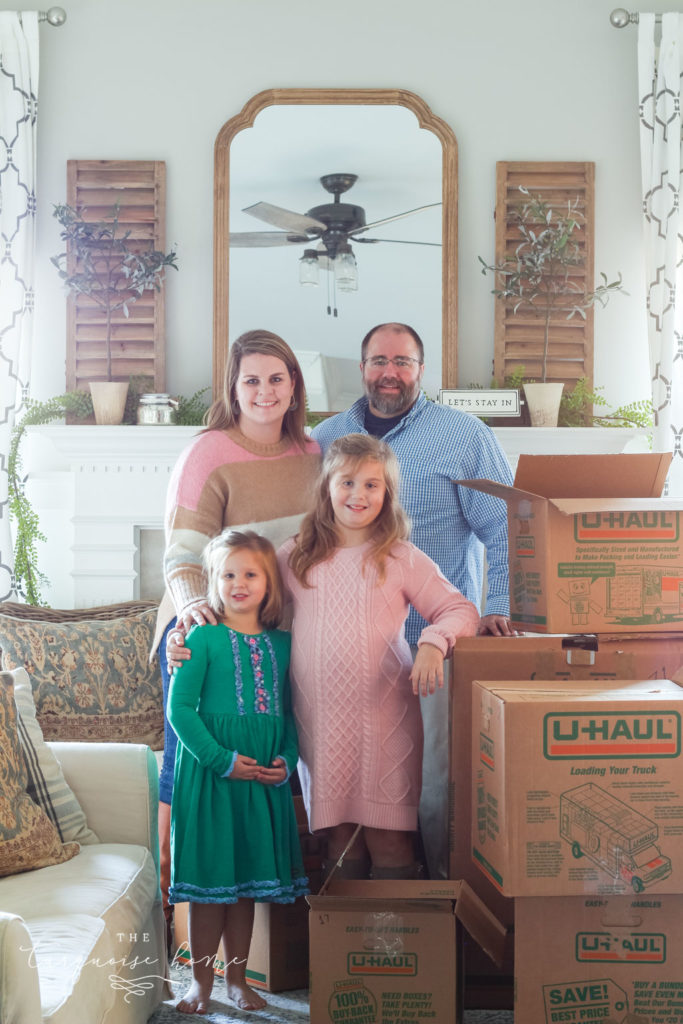 It's best to buy moving boxes (and packing tape) from your local moving supply company because they have a variety of sizes, sturdy and ready for labeling.
We used U-haul boxes for the majority of our move, then a few random other non-U-haul boxes. The stuff in the U-haul boxes were all fine, but we had numerous broken items in the other boxes. It's not worth it!!
Tip: If you can't afford good moving boxes, look on Facebook Marketplace or other local market sites and see if anyone is off-loading their moving boxes. We were able to get some from our friends and it was such a blessing! Good quality boxes can be used for multiple moves.
5. Use A Label System
To make the move between different homes as smooth as possible, I find the easiest labeling system to be a color-coding system. You can:
You can use your colored labels and assign them to each room to know where to place your boxes in your new home.
I would even take it a step further and label specifically what's in the box. This will save you the headache later on when you are looking for something in particular. (This is so worth it, because you WILL be looking for something after you moved and writing the contents on the boxes will be a lifesaver. TRUST me!!)
We did both of these things when we moved and it was so helpful!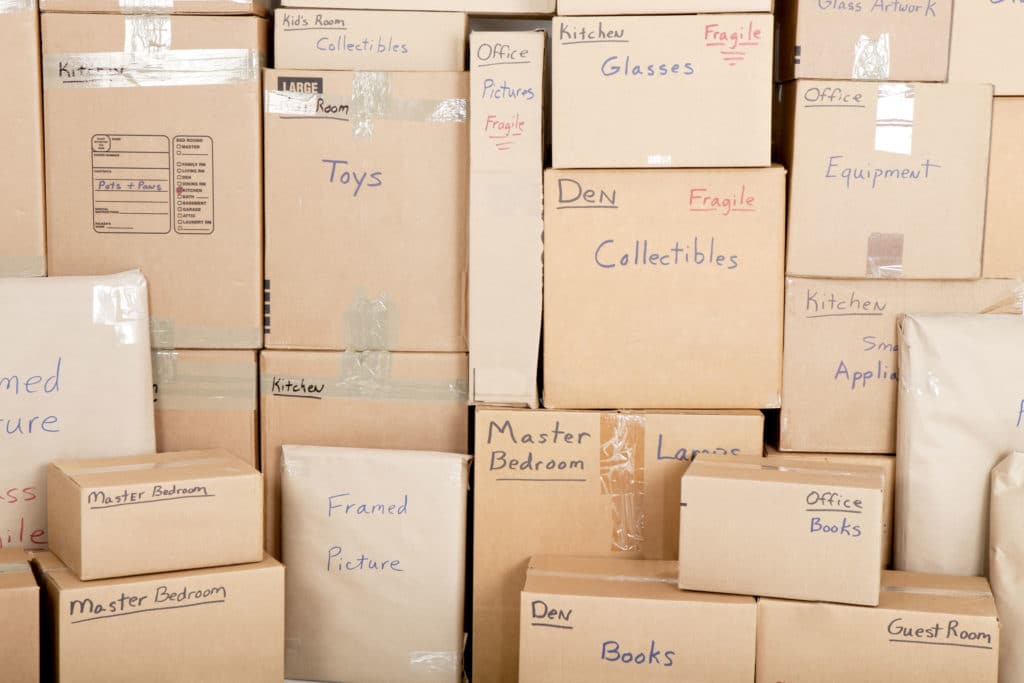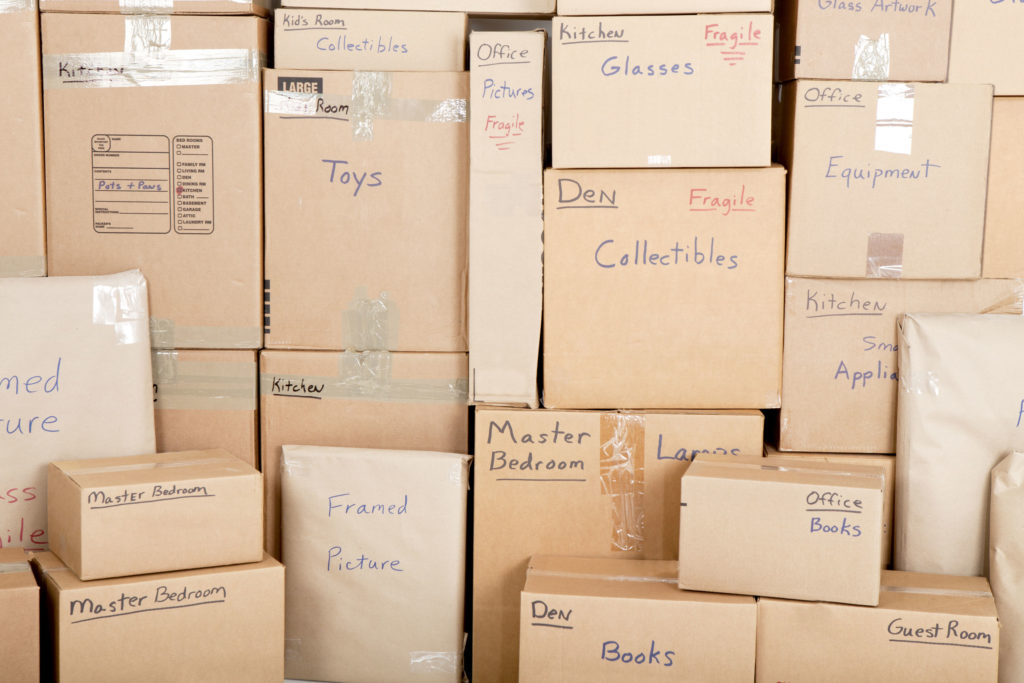 6. Use Baggies For Important Hardware
If you are taking apart furniture that has multiple screws and bolts, the biggest mistake you can make is not organizing them. Take a ziplock bag and immediately put all the pieces in there as you disassemble the piece of furniture. Label the bag what it's for and tape it to one of the parts to keep everything together.
If you have the installation instructions, be sure to toss those in the bag, too.
Moving Tip: Never mix hardware from multiple items in the same bag. Always keep things as separate as possible to make assembling your furniture easier when you are in your new home.
7. Wrap Breakables
To make sure none of your valuables or fragile items get destroyed in the move, I would recommend taking the time to individually wrap each breakable item. And use those nice sturdy boxes, too!
You can buy inexpensive bubble wrap, plastic wrap, corrugated cardboard or newspaper to use. Don't leave space in the box because otherwise, the breakables may shift and end up broken. Keep it all tightly in the box. It's a huge lifesaver when it comes to packing!
8. Leave Out The Essentials
Keep a container or box that is just for the essentials you need on a daily basis leading up to your move date.
I had a box just for taking with us to the hotel that I kept separate and put in our car to go with us to the new house.
Some of the items I left out out are:
Toilet paper
Toothbrushes
Medicine
A roll or two of paper towels
Garbage bags
Box cutter (for using when you get to the new house and need to unbox everything!)
My daughters' favorite toys, books & Kindle fires (with the chargers).
A cup or mug for each member of the family
Laundry soap (I didn't do this and wish I had. I ended up buying a new bottle because I couldn't find it in our boxes quickly enough.)
Dish soap
Clothes for a few days
Any essentials or anything else you may need quickly
We even packed our coffee maker in the car, because we knew we would need it ASAP. 😉
Make sure to keep that box in a place that you can easily access when needed!
I would also recommend buying items like paper plates and plastic cutlery to have when you move because you will be so busy unpacking that you won't have time to wash dishes.
9. Hire Someone to Watch Your Kids on Moving Day
Moving is so stressful and it will require your full attention. We were thankful that we had friends and family available to help us with childcare while we moved, but I would have hired someone if they weren't available.
We were able to send our kids to my parents' house while we were moving out of our house. And my mother-in-law and friends helped us with the kids while we were moving into the new house.
Whether you have help or have to hire someone, I highly recommend setting that up way in advance. My kids were with me for about 15 minutes while the movers were unloading the moving truck at the new house and it was pretty stressful to have them under foot.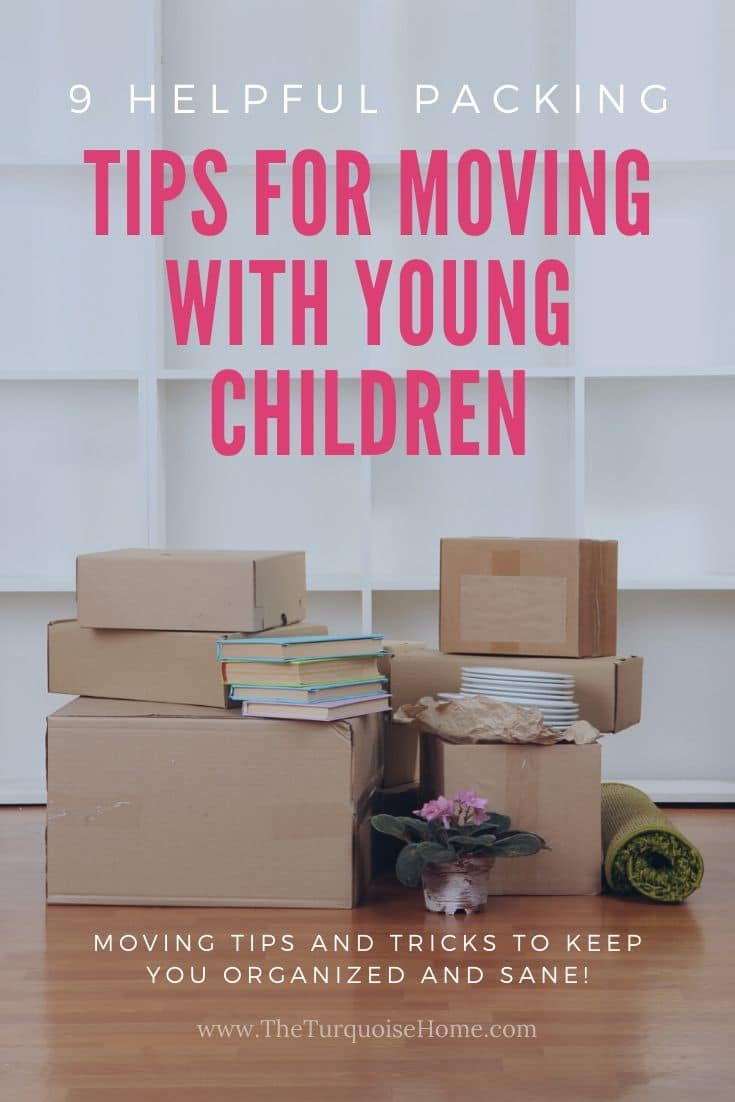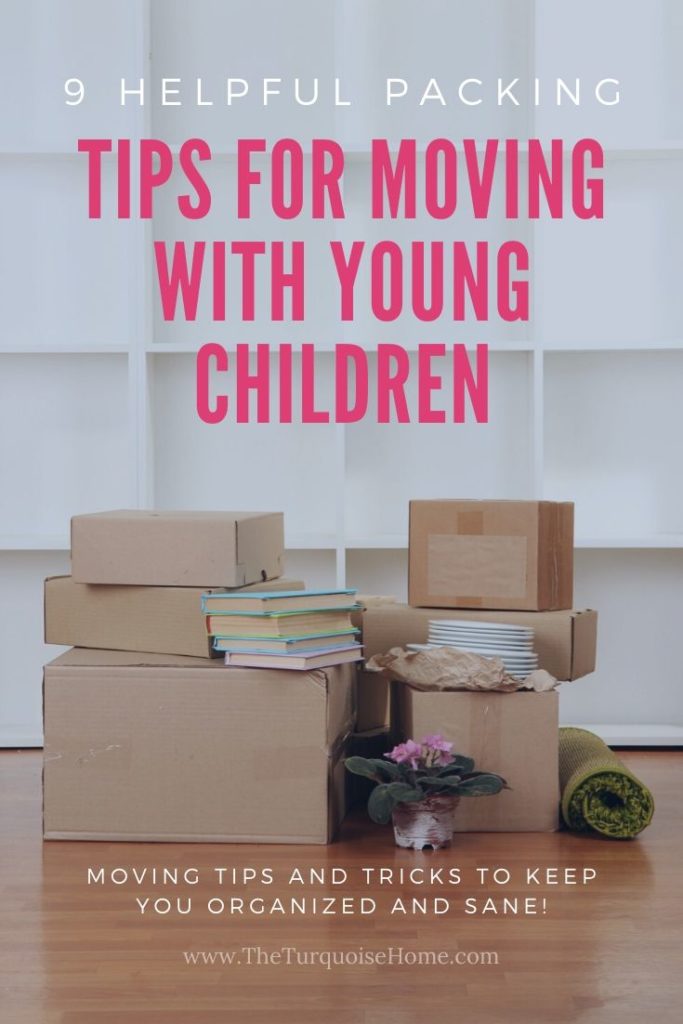 These moving tips and tricks may seem like more work, but doing this will keep your moving process in order and help you declutter your belongings. It's still a stressful process, but these tips for moving out will help make the switch to your new home so much smoother.
MORE POSTS YOU WILL LOVE:
Get Instant Access to my Guide to Customize Your Home on a Budget
Grab your FREE guide for 10 Ways to Customize Your Home on a Budget: simple projects to transform your home from builder beige to a home with character and charm!