Gray Owl by Benjamin Moore is a soft neutral gray paint color. It's a beautiful choice for those who want a light feeling in the room without using white. It makes a nice backdrop for white accent pieces to stand out, creating a clean feeling while warming the room.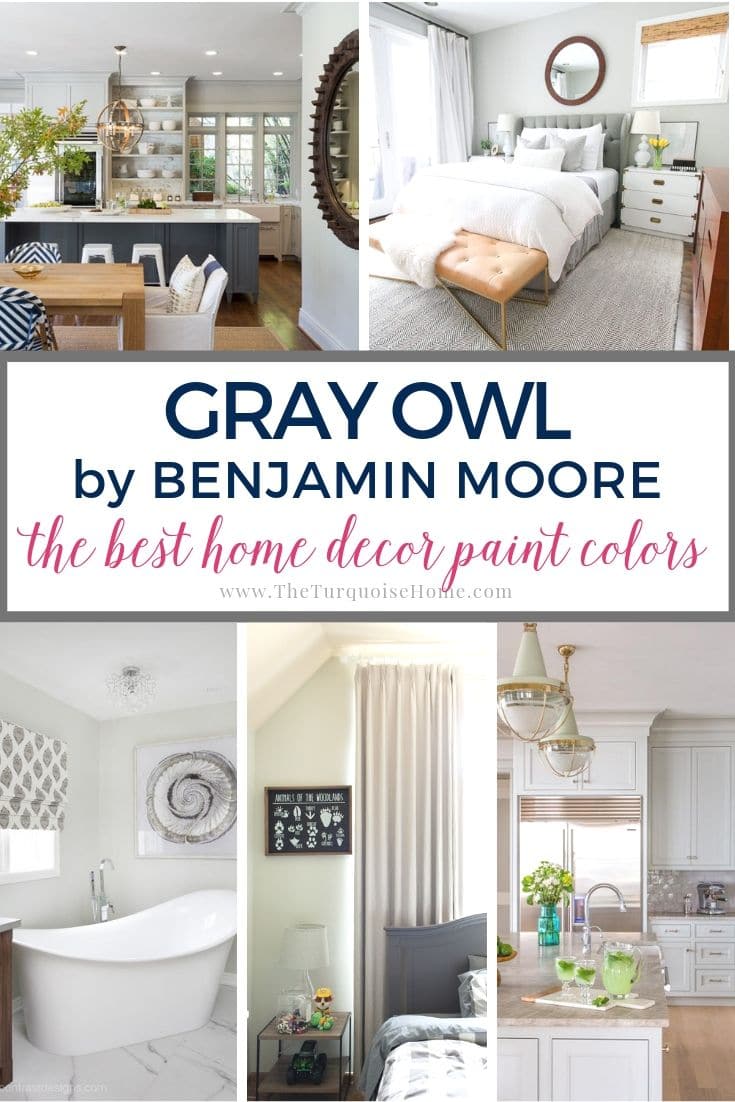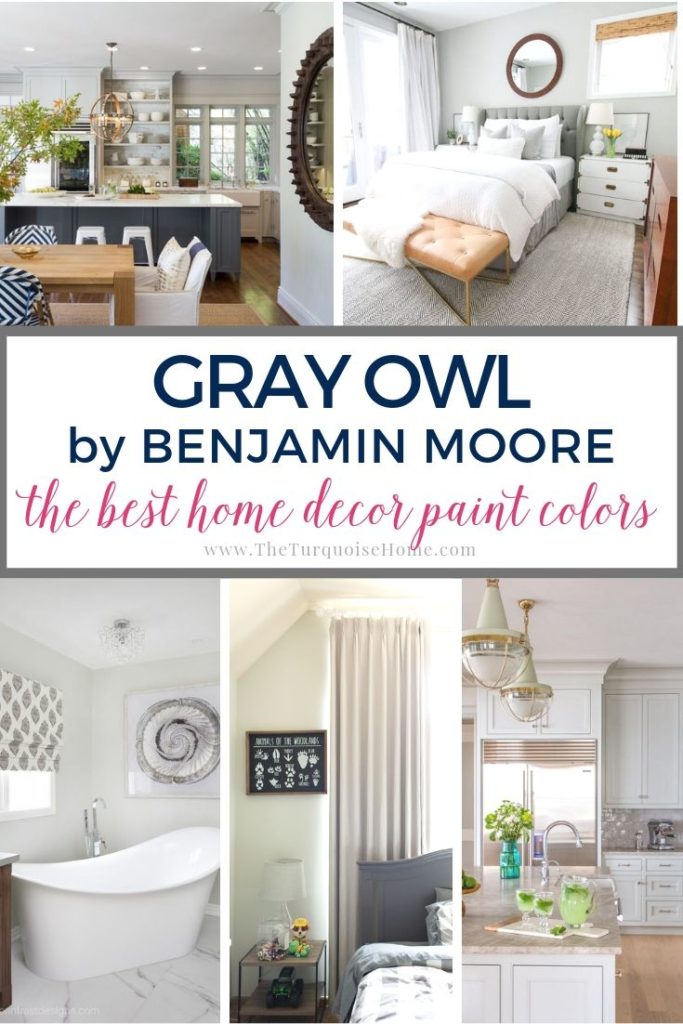 This post contains affiliate links for your convenience. See my full disclosure policy here.
Tip: Use Real Paint Samples
Any time you are choosing a new paint color, you need to try out the real paint color in your home first!
The easiest and quickest way to do that is with Samplize! I solely use them for paint samples now. There's no mess, no leftover sample pots of paint. Plus, these no-mess, peel and stick rectangles made from real paint, are easy to move around the room and easy to save for future reference!
Benjamin Moore's Gray Owl
BM Gray Owl is certainly a popular color in the home decor world. In fact, according to a recent poll, it's the second most popular gray, right behind Revere Pewter.
Its popularity comes from the slight depth it gives while still being a truly neutral paint color. This warm, creamy gray is extremely liveable and works in a wide variety of rooms and lighting situations.
NOTE: If you're painting the room yourself, these tools will help tremendously. And this post will give you my best tips for painting a room in 5 easy steps.
Gray Owl Undertones
Compared to similar grays, Gray Owl has undertones of green, whereas others will usually have blue or brown undertones.
In lighting that brings out those blue shades, Gray Owl will look like more of a crisp neutral. Lots of natural light and blue accents in the rugs or furniture will highlight the blue even further.
In contrast, the green undertones can help Gray Owl achieve a cozy, warmer feel look if paired with earth tones. When paired with a darker gray, you'll see the green stand out without being muddy.
It is worth noting that Gray Owl can shift drastically between the green and blue undertones based on available lighting as well. One hallway could have three variants; green undertones, blue undertones, and a light gray, all on the same walls depending on how the light hits!
Make sure you sample it and view it with all types of light that will play with it in that room because the variations can be quite dramatic. I prefer to paint a white poster board with the paint color, leaving a white border around the edge. Then move it around the space during different parts of the day to see how the light plays with the paint color.
Coordinating Colors
As it is a neutral shade, Gray Owl coordinates well with a wide variety of colors. For an earthy feel, pair it with Tea (2091-10) and Smoky Ash (986) from Benjamin Moore. Tea is a ruddy brown while Smoky Ash is a brown with gray undertones. Gray Owl will be more green in rooms with these colors.
Another trio with this classic gray color from Benjamin Moore is Silver Spring (2120-50) and Appalachian Brown (2115-10). Appalachian Brown is a rich, deep, true brown and Silver Spring is a metallic gray that has no brown undertones. Similar to the first set, this set will also bring out the green in Gray Owl. Gray owl helps this trio feel neat and clean.
Pairings that will bring out the blue undertones include Anew Gray, as well as Burnt Ember and Peacock. Hale Navy and Edgecomb Gray sandwich Gray Owl in the middle of a lighter gray and a dark blue and also bring out blue undertones.
Gray Owl Examples in Rooms
I know reading about undertones can be a bit confusing, so let's take a look at some actual examples of this pretty Benjamin Moore gray paint shade in some rooms.
Kitchens with Gray Owl
Light wood with white trim in this kitchen with Gray Owl cabinets shows how light can play off this color. This image from Main Street Kitchens at Botellos shows how in the back, the blue undertones are brought out in the darker light. In the forefront on the island, Gray Owl takes on a pure gray.
Notice how Gray Owl warms and cools this room simultaneously—pretty cool, right?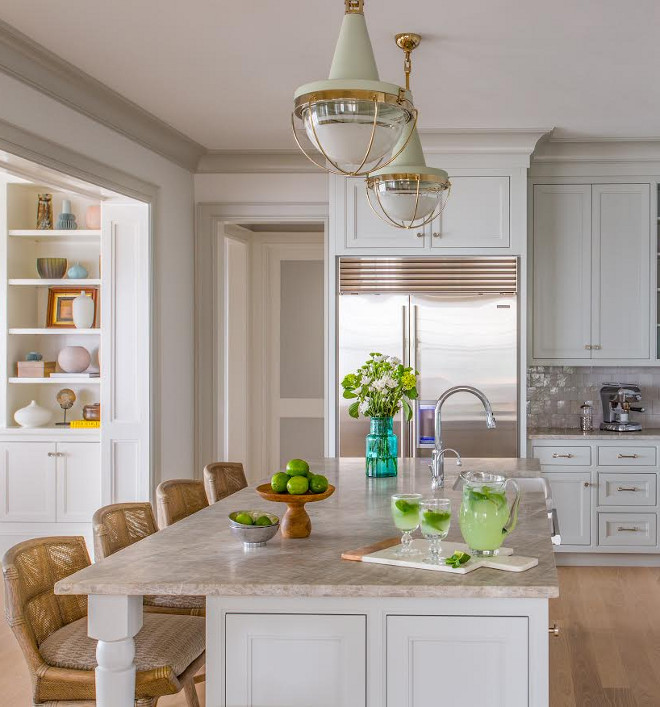 The open layout of this Gray Owl kitchen helps us see Gray Owl with multiple undertones in this design from Heydt Designs.
In the back on the cabinets, Gray Owl takes on blue undertones, though this may change throughout the day. On the wall to the right, the green undertones are present. This may be from the greenery playing off of it from outside.
The dark gray island helps Gray Owl recede into its undertones. With dark gray on the island and white on the ceiling being the bookends, Gray Owl shows its chameleon nature.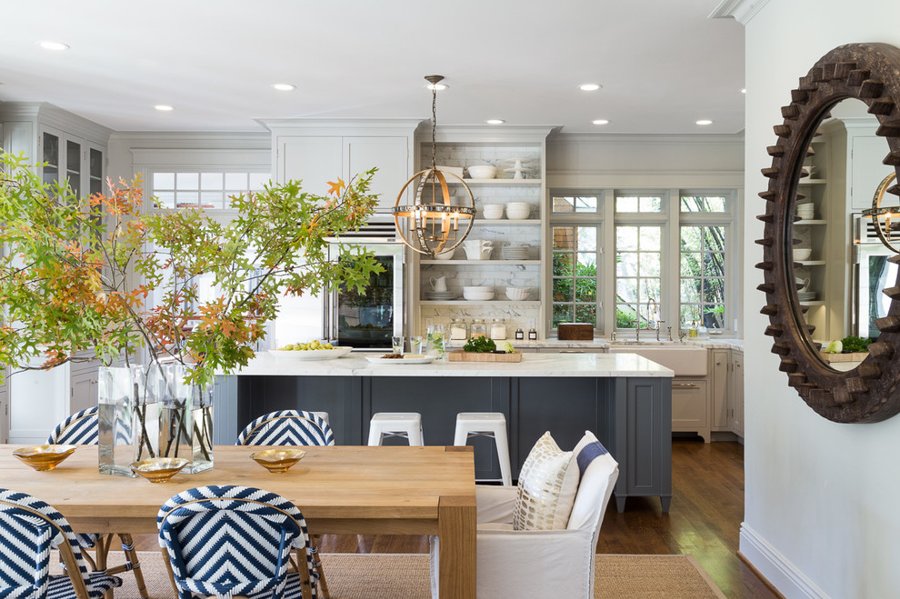 Bedrooms with Gray Owl
This bedroom shows Gray Owl in its truest form. This gray color with green undertones matches the swatch almost exactly. DIY Playbook shows how Gray Owl warms this room significantly and ties the wood and gray furniture together.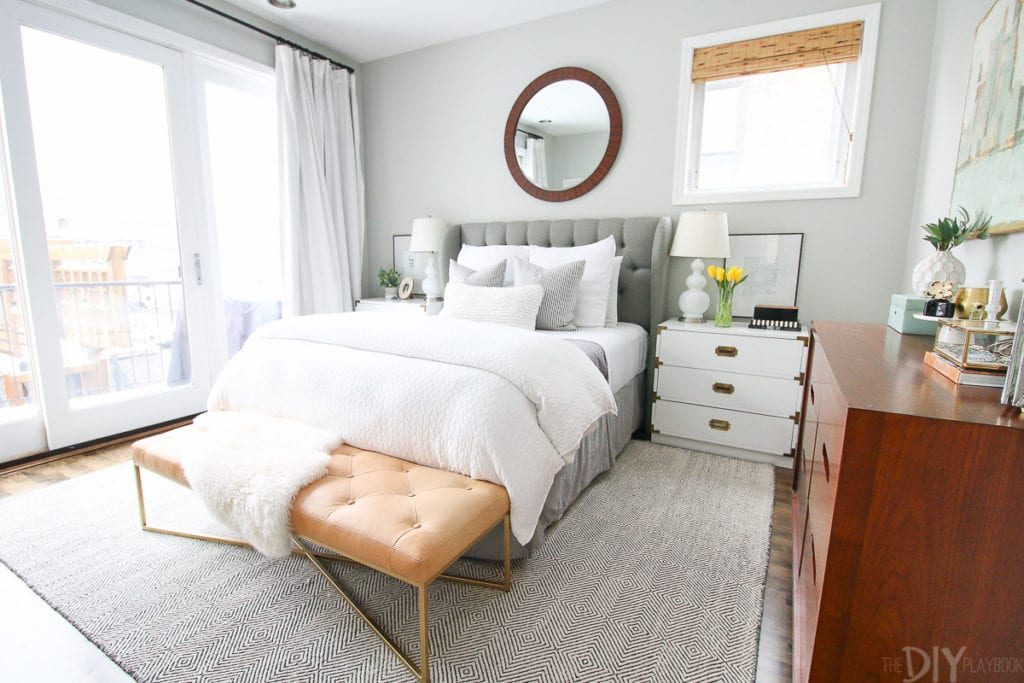 This next bedroom with Gray Owl makes Gray Owl look like it's a light green or blue. The room designed by Sengersen shows how gray is forced out of it by the use of dark gray bedding and headboard, as well as true gray curtains. This contrast really pulls out those green undertones. You can see that it gets more green the further from the light it is.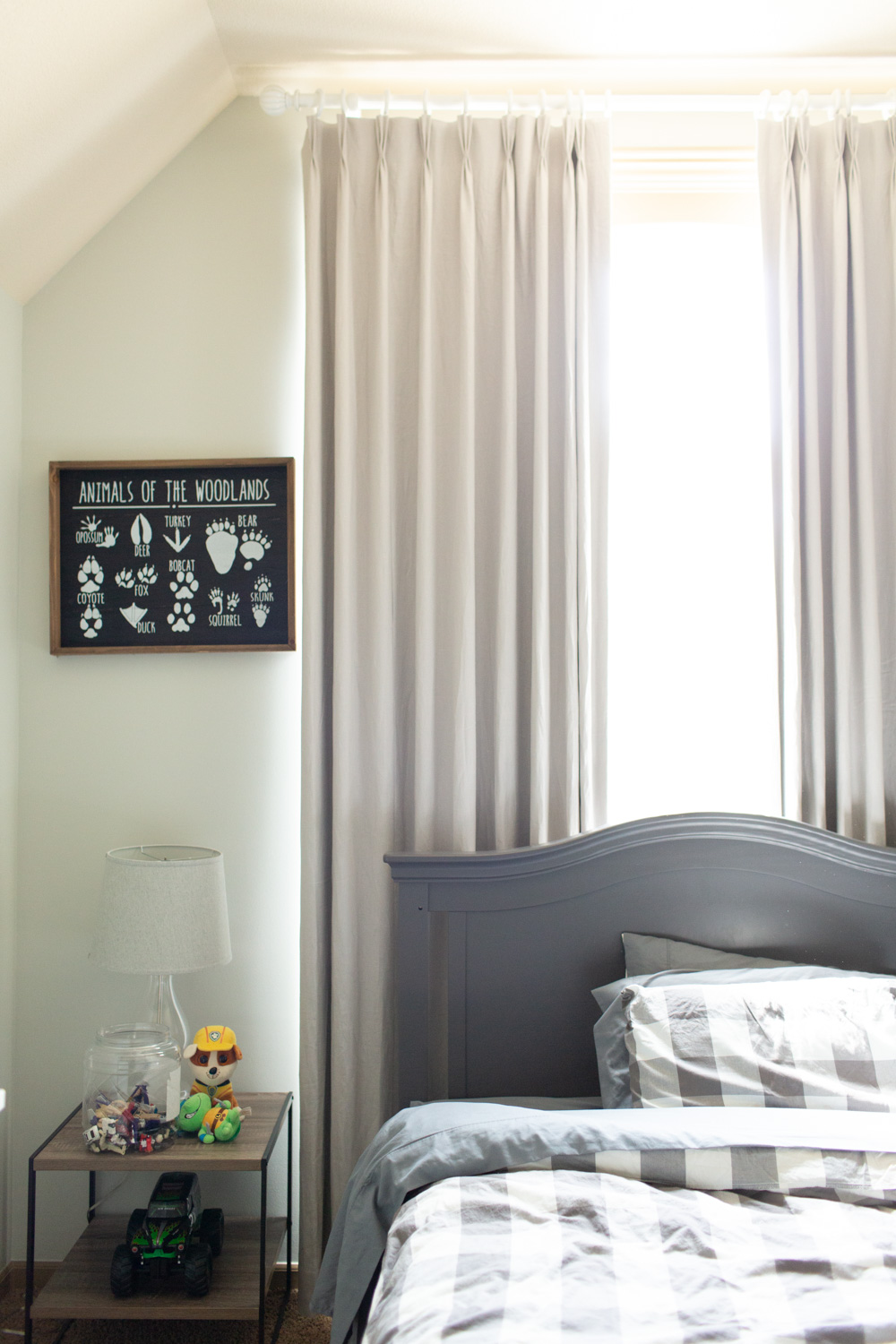 Bathrooms with Gray Owl
Similar to the first bedroom above, this bathroom with Gray Owl is very true to the color. Claire Jeffords uses Gray Owl to provide a warm background for the white fixtures with its green undertones. Gray Owl shows its gray color here, not being forced to exaggerate its undertones.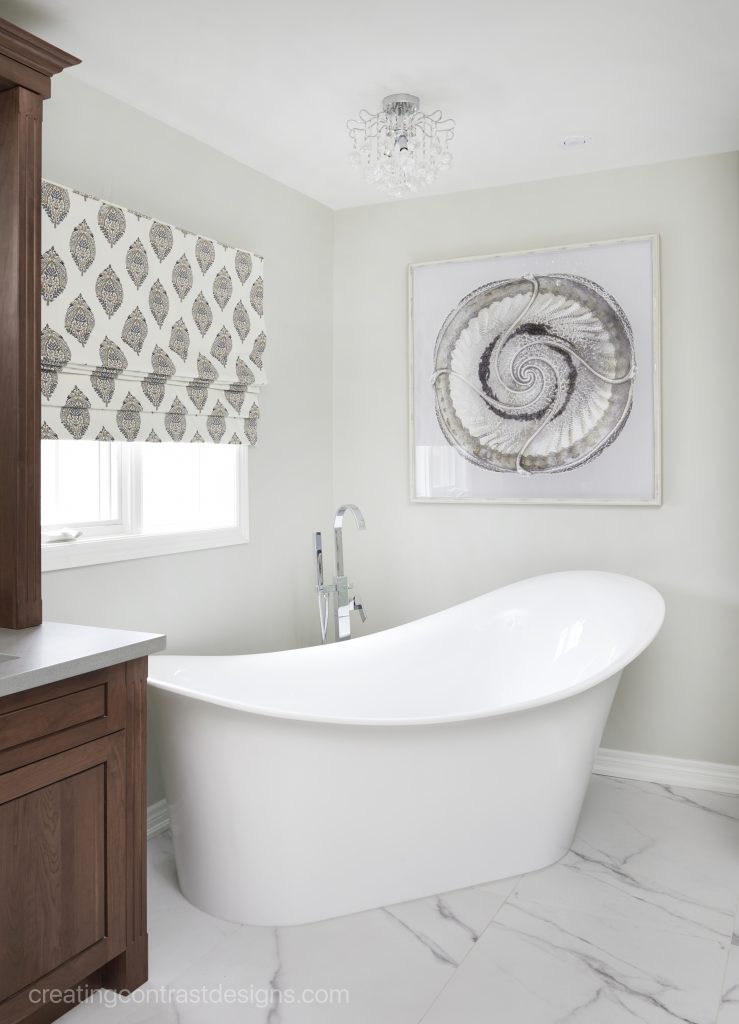 This bathroom with Gray Owl is similar to the one above but has a slightly darker feel. This has less of a green undertone thanks to the darker gray and the navy blue on the tiles. Gray Owl helps this bathroom feel more open and buttoned up.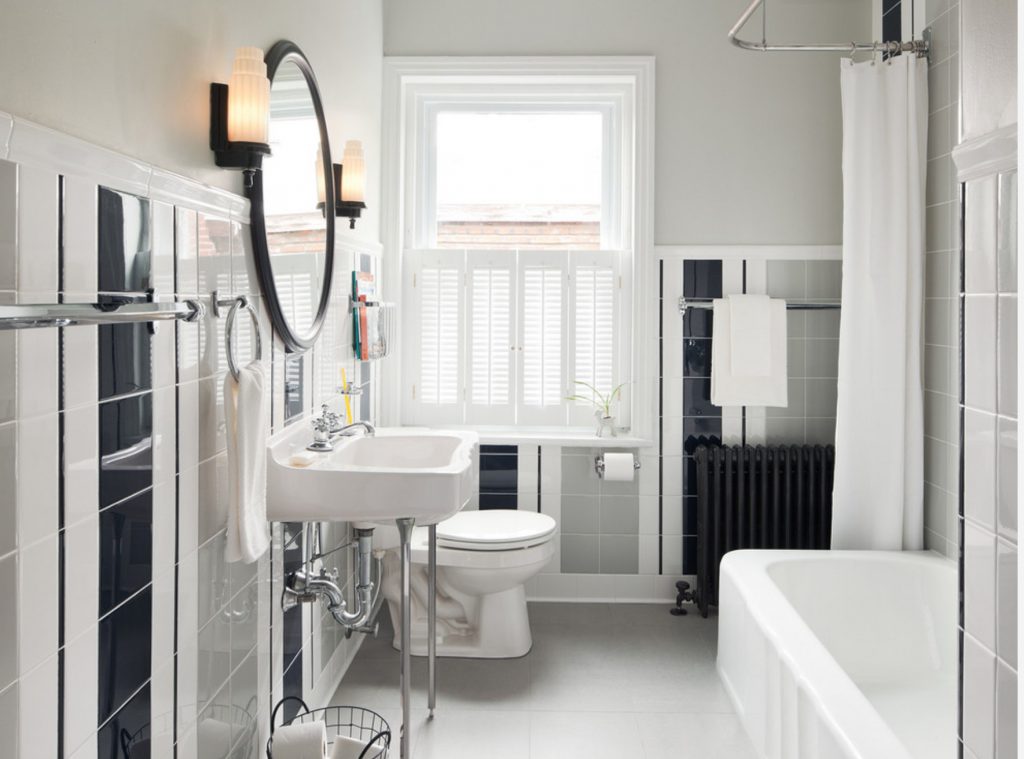 Living and Dining Rooms with Gray Owl
This living room with Gray Owl may look like it has blue undertones to some and green undertones to others. It is not heavily swayed one way or the other based on lighting and accents in the room.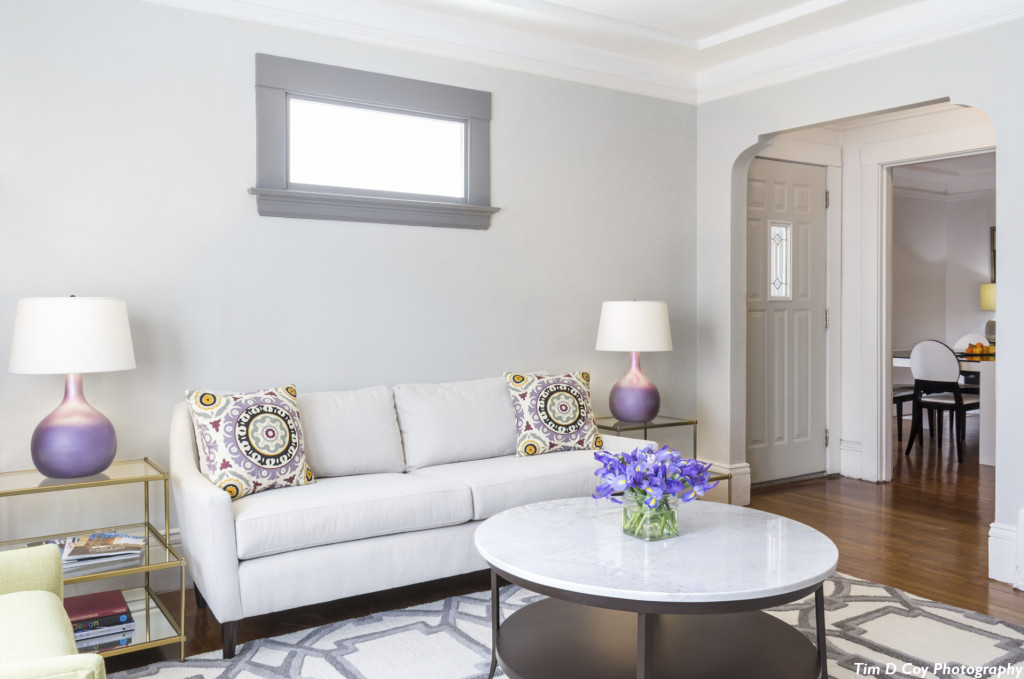 This Gray Owl dining room from The Essence of Home is a darker vision of Gray Owl than we've seen so far. With more light, it would likely pull green undertones, but in this photo is it reading as a true gray.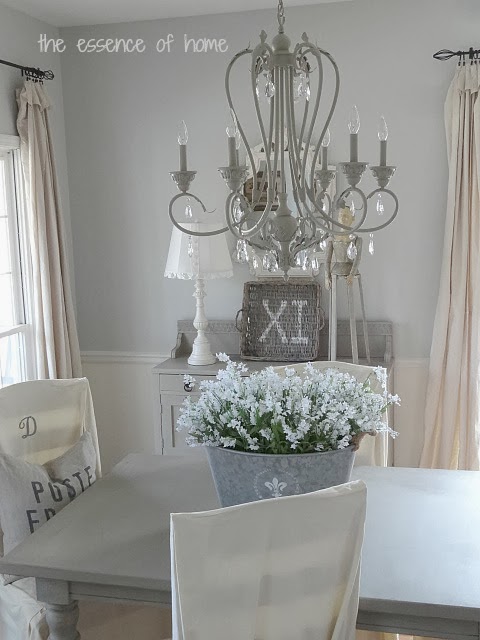 Now that you've had a chance to look at these pretty rooms and get a feel for how the paint looks in different settings, are you tempted to run out and grab a sample or two to try out? I know I am!
Don't forget to check out these other fantastic paint colors!
Tips for Painting a Room Yourself
I've gathered some of the best tools for painting a room yourself. First of all, you'll want to check out this post I wrote: Painting a Room in 5 Easy Steps. These tools are the top tools I use when painting my own rooms, which is how they get painted 95% of the time!
Paint Brush – These paint brushes are a little more expensive than your basic brush, but they're worth it! I've used these brushes for more than a decade and if you wash them out well after each use, they will last for years.
Painter's Tape – a MUST have for taping off edges. You'll need to tape off all edges if you don't have a steady hand.
Drop Cloths – a must have if you don't have any laying around the house already.
Paint cup – Sure you could use any old cup, but I've come to swear by this one. The magnetic piece holds your brush cleanly in place when you need to take a break. And it fits my hand perfectly, keeping it from cramping.
Roller Tray – I've found the only paint tray I'll ever use again. The magnetic piece is great for holding the roller in place. And the liners are a luxury, but I won't paint without them because it makes clean up a breeze!
More Paint Colors You Will Love: