6 Easy Purse Organization Ideas
Learn how to keep your purse organized once and for all! These simple purse organization ideas will make it easy to find everything you need.
Welcome Day 8 of the 30 Days to Less of a Hot Mess Challenge! We're decluttering, reorganizing and taking a breath of fresh air to create a home we love. If this is your first time at the challenge, you may want to start here at the beginning.
A woman's purse is her command center when away from home, so it's like any other room or drawer in that it needs to have a purpose, system and functional organization! When you can find things in your purse, it will make everyone's life better.
Today I'm sharing how I organize my purse for everyday use. This is a simple, medium sized leather bag that has lasted about 8 years. It's so great that I've bought it twice.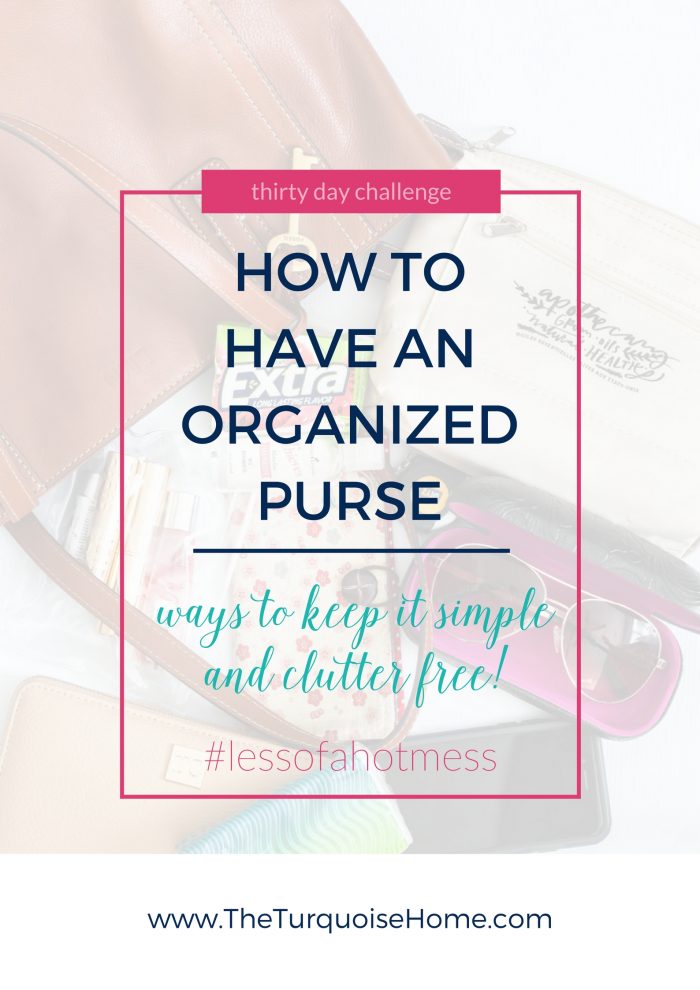 This post contains affiliate links for your convenience. See my full disclosure policy.
Also, I've found that one nice, versatile purse will carry you through most occasions and will last longer than less expensive purses. As I recently bought a new purse, I've switched over my things.
And in order to keep things organized, I've created a new system that is working so well, I thought I'd share it with you, too!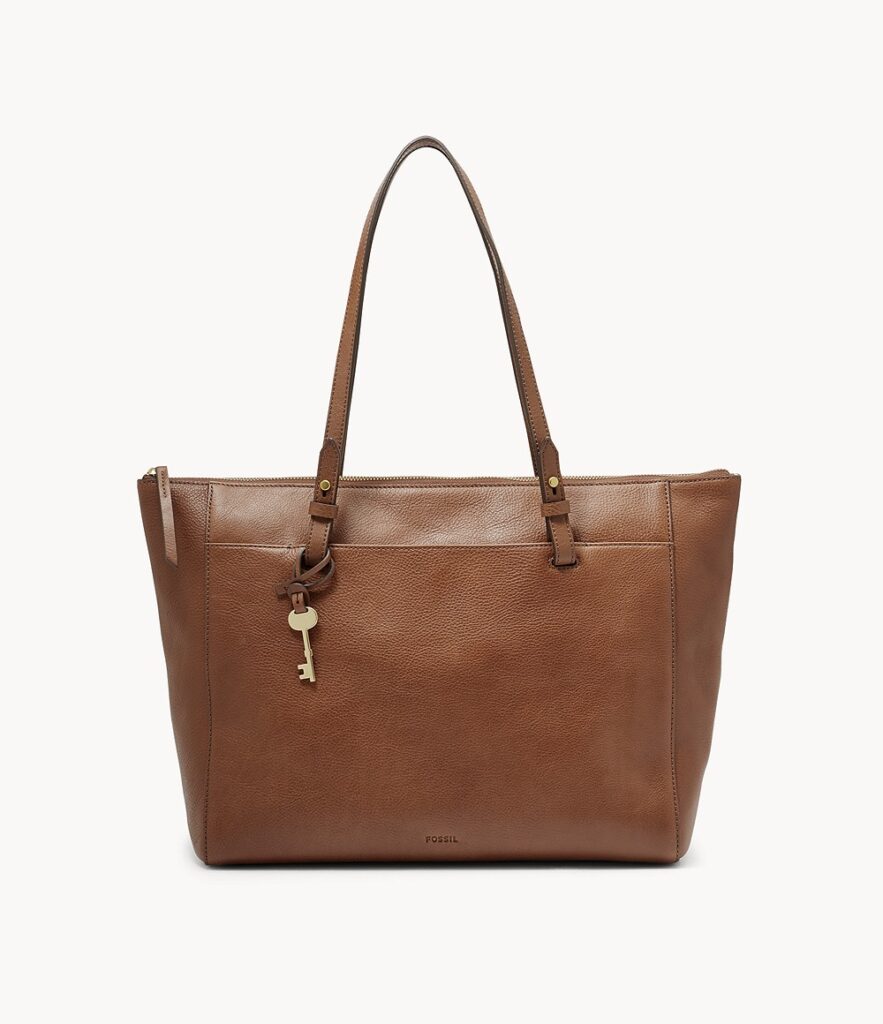 This is the purse I carry and will buy another one when this one wears out!
So, this is how I've organized my new purse and decluttered the unneeded stuff: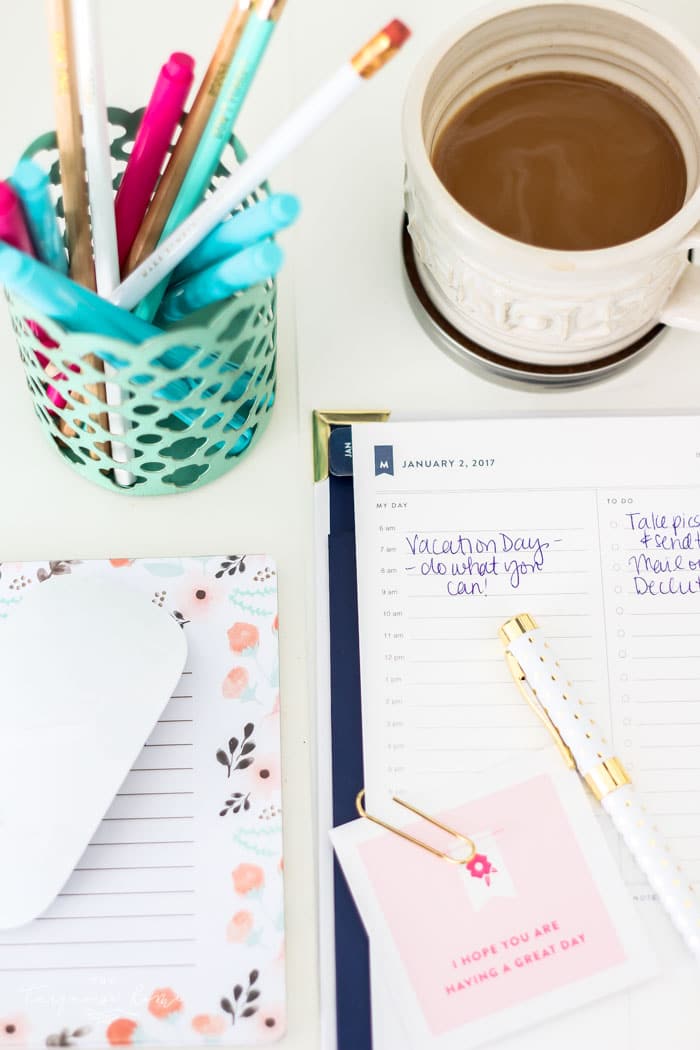 Tired of Feeling Overwhelmed?
Join the FREE 30-Day Decluttering Challenge & Find Peace in Your Home Again!
How to Keep Your Purse Organized
1. Dump Everything Out of your Purse.
All of the crumbs and paper scraps just need to come out. Maybe take everything of value out and then shake the rest out over the trash can. Or even take a small handheld vacuum and vacuum it out.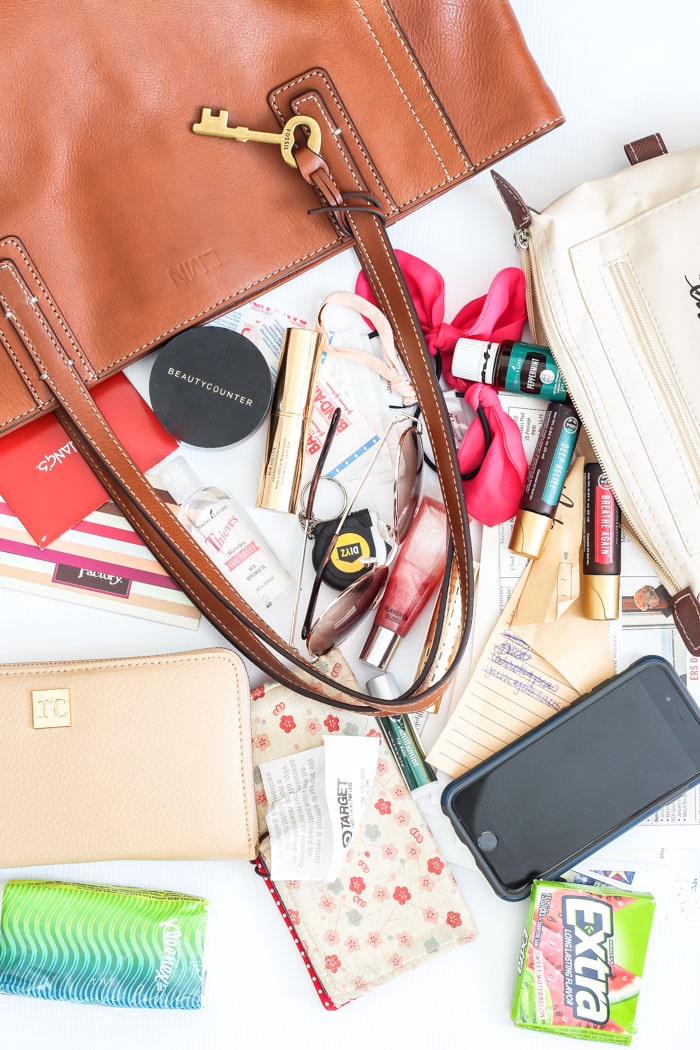 2. Throw away the Trash & Remove Unwanted Items.
I always have old shopping lists, kid papers, discarded mail and such in my purse. I think it procreates in there. 😂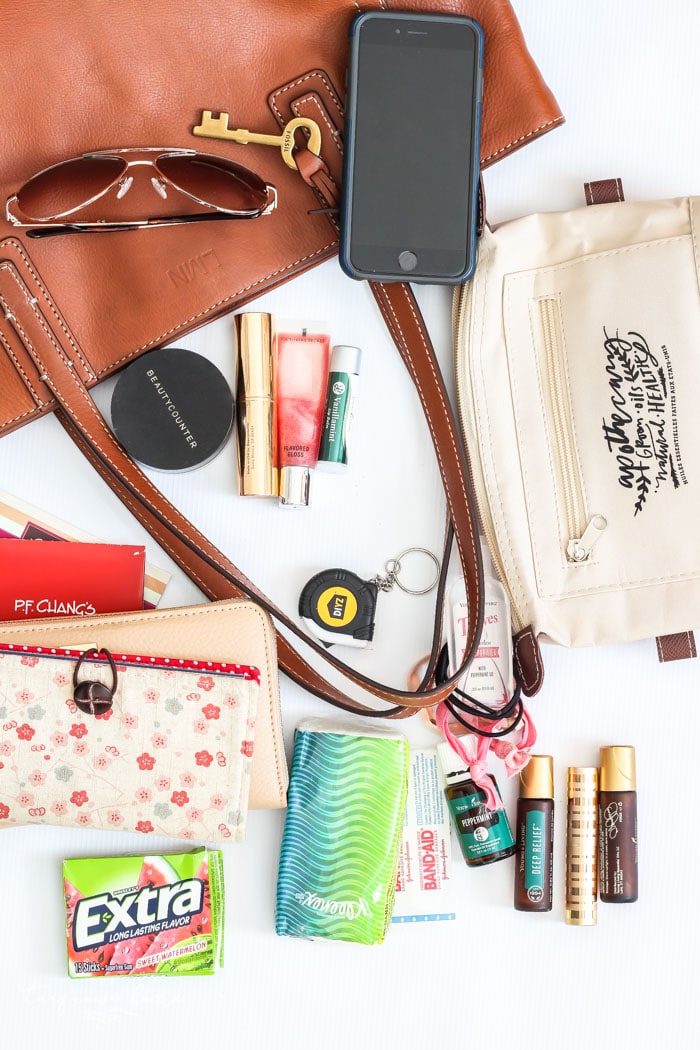 3. Corral Like Things.
A huge part of purse organization, or any organization really, is putting similar items together.
Hair ties and bandaids are just a natural pair, right? Lip gloss and lip sticks go together.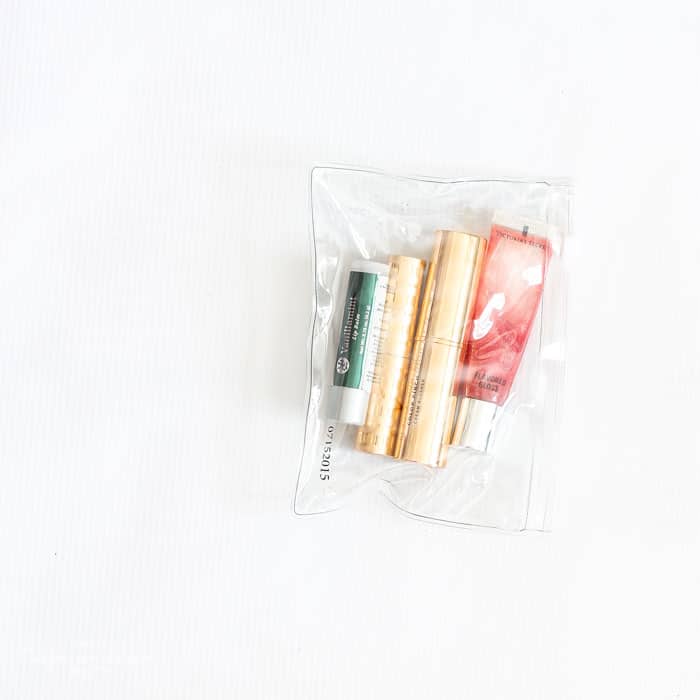 And gift cards should obviously be in your wallet. And yes, I keep a mini tape measure in my purse. I always need one when shopping for furniture or home decor items.
4. Put Like Things Together in Containers.
The wallet naturally holds money, debit cards, insurance cards, gift cards and receipts. You can also stash a few business cards in there just in case.
I also carry a separate check book holder because I carry two sets of checks with me (business and personal).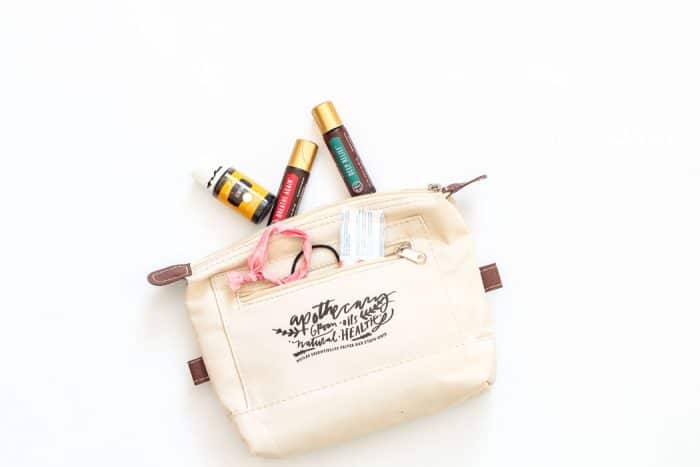 My essential oils are at home in this cute apothecary bag from Lindsay Letters. I stick my hair ties and bandaids in the front pocket. And my lip glosses go in a clear little pouch. No fishing around the bottom of the bag for a rogue lip sheer!
5. Put Gift Cards and Loose Change in Your Wallet.
This just makes sense.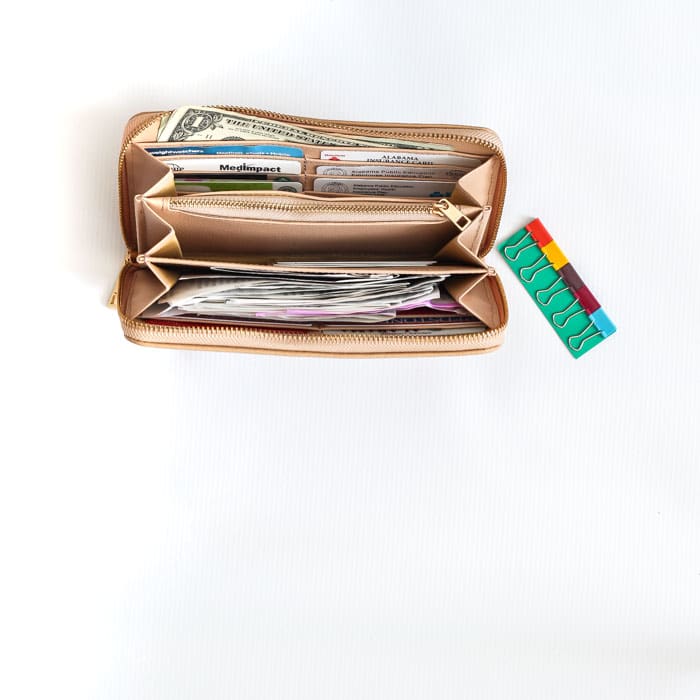 6. Use the Bag's Pockets.
I keep my hand sanitizer, gum and pens (not pictured) in the inner pockets of my bag. I'll sometimes throw an essential oil in there if I'm needing it frequently. My purse has a pocket on the outside which is perfect for my phone! I LOVE that!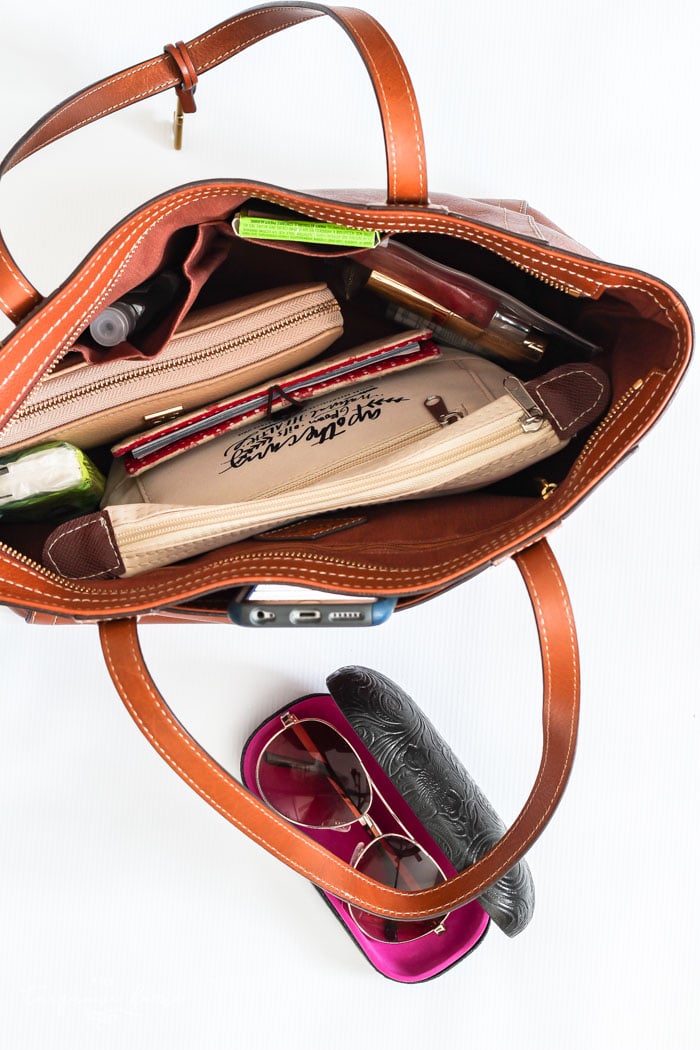 And that's all! Super simple and easy to keep things organized and neat, right where you can find them.
I've seen quite a few posts about purse organization that have a bajillion things listed to keep in your purse. First of all, I don't want my shoulder to fall off. So, I thought I'd share…
Some Things I Don't Keep in My Purse
Part of purse organization is taking items out that you don't really need!
Stain remover – I carried a stain remover pen in my purse for years and never once used it. I found that I just treat clothes when I get back home. If you feel the need to have something nearby that you use infrequently or in rare cases, maybe create a car kit with some on-the-go essentials that don't need to be in your purse.
My planner – what?! I know, you're probably shocked that I don't tote my planner around in my purse. But I am home most of the time, which means I have my planner on the desk or kitchen counter. On longer trips I'll throw my planner in my computer bag.
A separate receipt organizer – I just stick my receipts in my wallet and take them out when it gets a little crazy. They then go into my inbox in my office. No need for a separate container.
A separate budget planner or cash wallet system. I do my budgeting on-the-go (post here) and I keep my cash system in my new wallet, so it's all in one place!
Obviously no two lives are the exact same, so your purse needs will differ from mine. I just ask that you keep it as simple as possible.
Keep things simple and decluttered and you'll do fine. Enjoy your newly organized command center on-the-go!
Shop this post

The Messy Work: Dump your purse out and get to work! 😀
Let's see your newly organized purse! Tag your social media posts with #lessofahotmess so that everyone can be inspired by YOU!
Follow along on the 30 Days to Less of a Hot Mess Challenge! We're decluttering, reorganizing and taking a breath of fresh air to create a home we love. If this is your first time at the challenge, you may want to start here at the beginning.
In the mess with you, Laura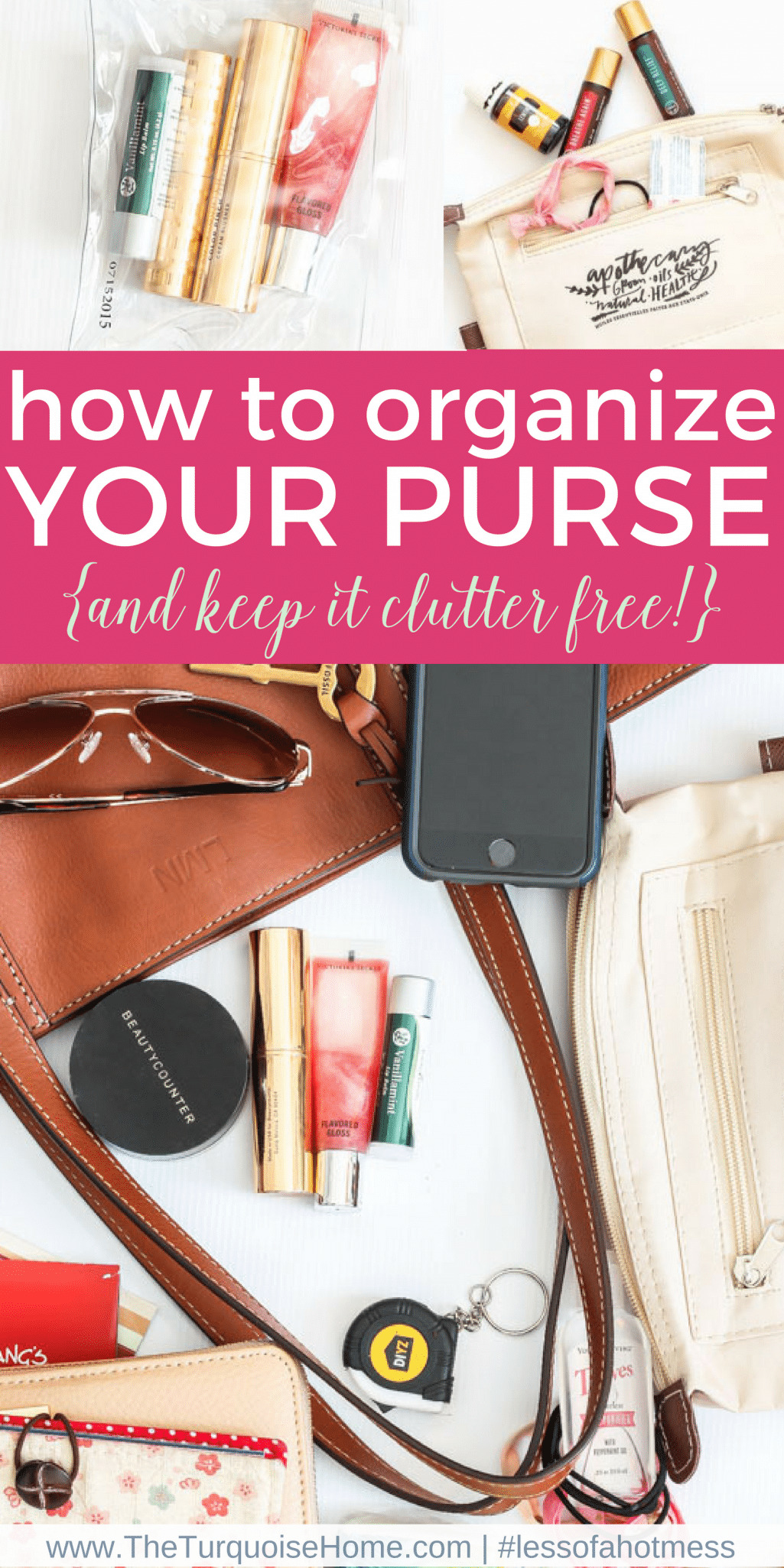 More Posts You Will Love: