I'm so excited to chat about one of my favorite paint colors EVER, Wythe Blue from Benjamin Moore! Spoiler alert – I like this shade so much it got a very prominent spot in one of my latest room makeovers. 😉 You can also see it immediately you walk into my home. After reading about the shade and looking at some of the photos, I'm convinced you'll love it too.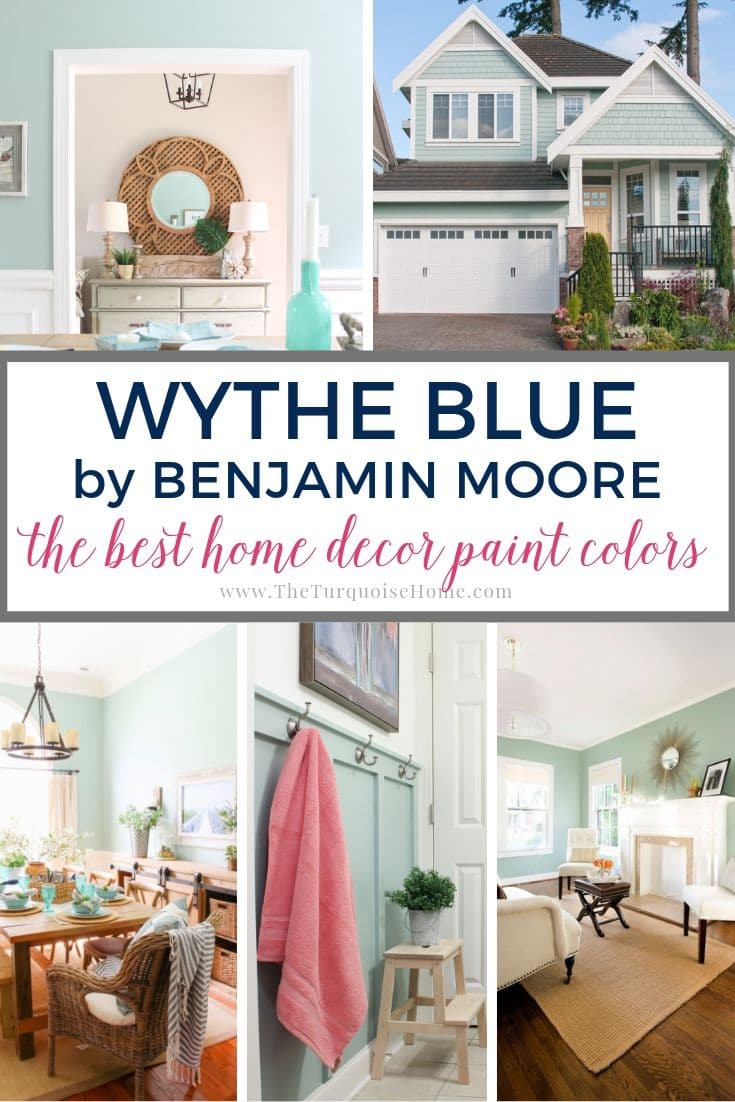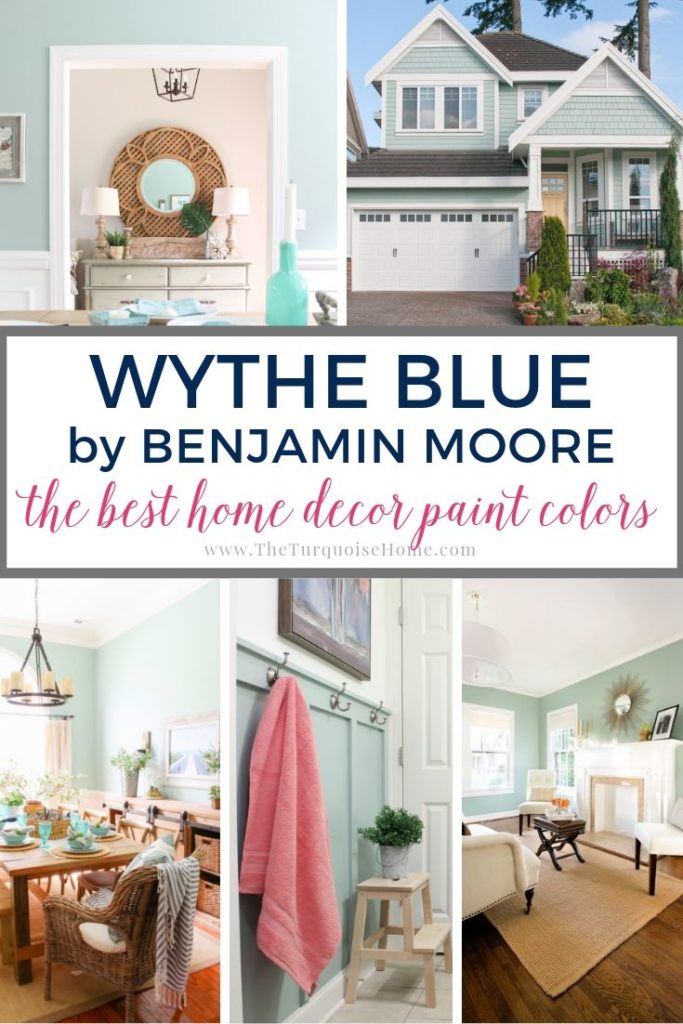 Wythe Blue was introduced in 1976 by Benjamin Moore as part of the Historic Color collection. This beautiful shade emulates a timeless appeal that can be found in both traditional and modern houses, along with historic ones. It was even voted BM's "color of the year" back in 2012:
Much more versatile than you may think, blue is truly a classic color. It has universal appeal, never goes out of style, and is overwhelmingly chosen as a color favorite across North America. It evokes the sea and sky, physically calms us, and symbolizes trust and commitment. Because of the influence that blue has in our world today, we have chosen Wythe Blue (HC-143) as Benjamin Moore's 2012 Color of the Year. It's a beautiful, calming hue that has an element of heritage and offers grounding rootedness, providing comfort and stability.

Benjamin Moore
Wythe Blue is a calm blue-green that can fill a room or be used as an accent paint to draw the eye. Here's everything you need to know about this pretty color, plus plenty of examples with the shade in real-life homes.
This post contains affiliate links for your convenience. See my full disclosure policy here.
NOTE: If you're painting the room yourself, these tools will help tremendously. And this post will give you my best tips for painting a room in 5 easy steps.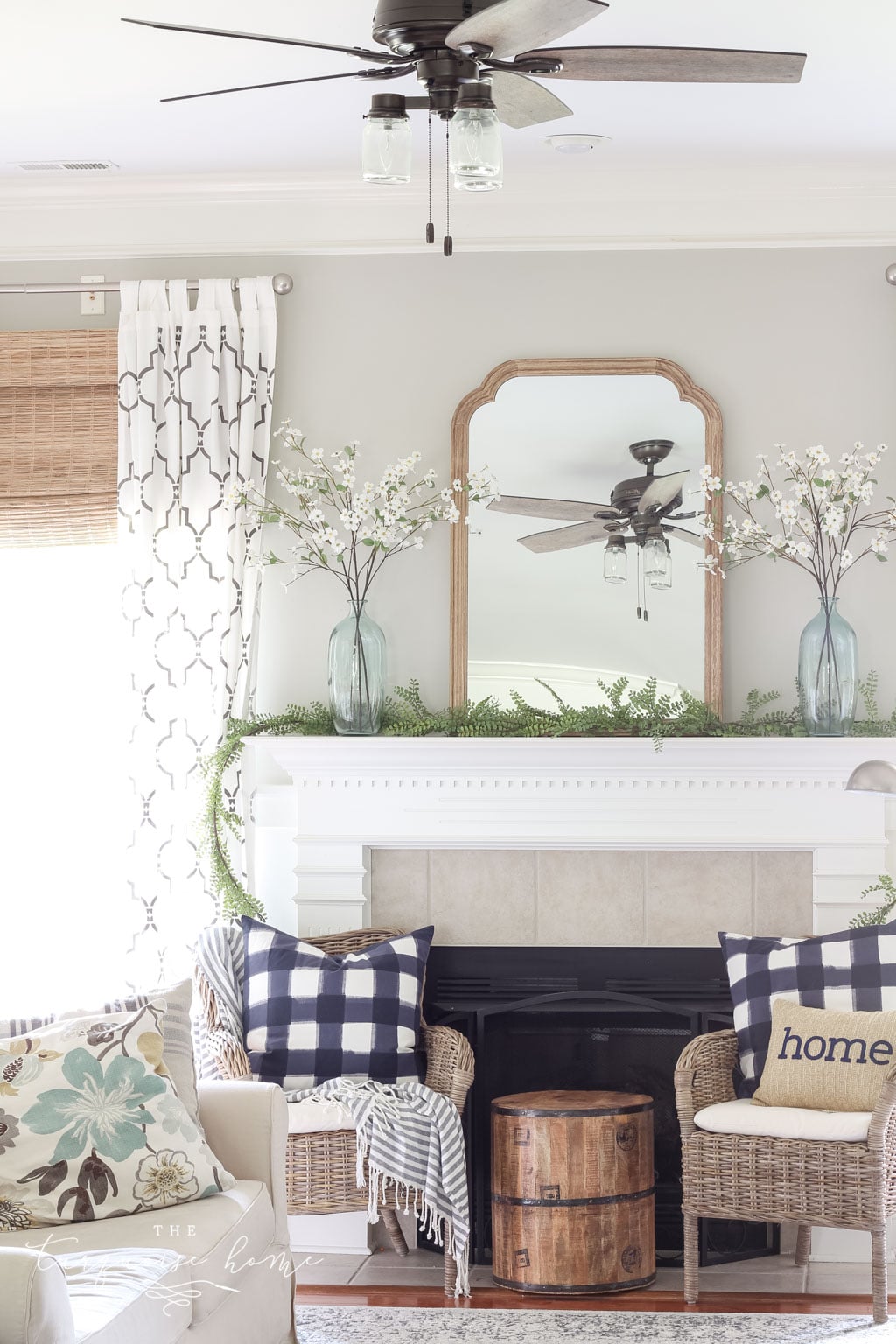 FREE BONUS!
5 Secrets Every Home
Decorator Knows
… to transform your home into your dream home!
Wythe Blue Undertones
If you look at a swatch, Benjamin Moore Wythe Blue has heavy gray and green influences. However, once the paint is applied to your walls, you'll see that the blue stands out significantly, with green or gray undertones being secondary, depending on the lighting and other accents.
Wythe Blue will pick up on gray accents and furniture in the room and reflect more gray undertones. Gray undertones will also be present if there is nothing in the room or if there isn't enough lighting that brings out the green.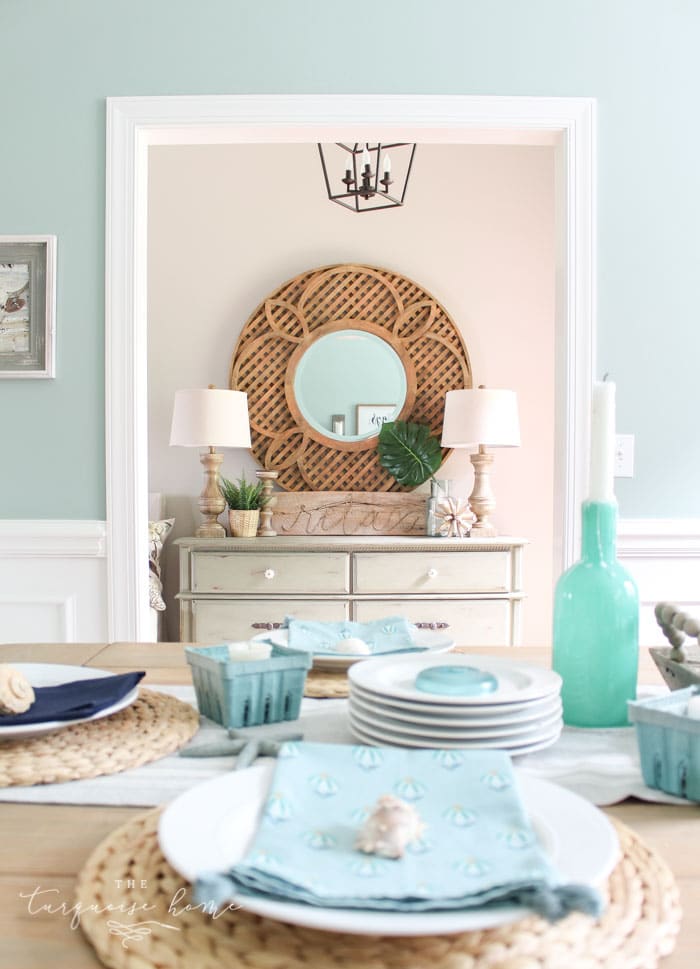 The green undertones of Wythe Blue will be present in west-facing rooms, where the more yellow natural light will bathe the walls. If you want those green undertones, you would need to have a set up such as white fixtures and flooring in a bathroom with greenery outside that will help draw out the green undertones. My dining room faces west, and this is why is looks very green!
Another way to see more green undertones is if you pair another light blue color with Wythe Blue. The lighter blue will generally draw out the green tones in Wythe Blue. Additionally, green will be more noticeable at night as the colors become richer.
Colors that go with Wythe Blue
Wythe Blue is a color that isn't too dark or too light. It lands right in the middle of the Light Reflective Value Index, which is a scale that measures from absolute black to pure white on a scale of 1 to 100. Thanks to a middle ranking in the LRV, Wythe Blue can pair well with most colors. Some suggestions to try from Benjamin Moore are:
Olivetint 519
Shaker Gray 1594
Van Buren Brown HC-70
Distant Gray 2124-70
Palladian Blue HC-144
Edgecomb Gray HC-173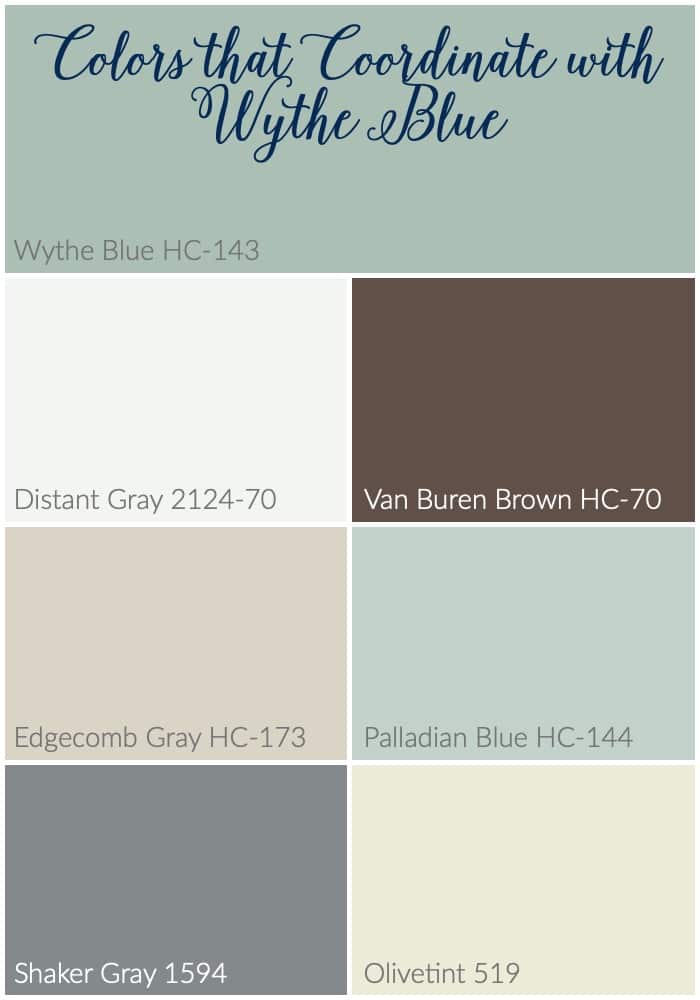 Additionally, Wythe Blue pairs well with most whites. You would be hard-pressed to find a regularly used decor paint that Wythe Blue doesn't work well with in some form or fashion. I used it with Simply White OC-117 in my bathroom and it looks great together!
This shade of blue can also work beautifully as an accent color. Brilliant reds pop in rooms styled with Wythe Blue. Yellows and greens complement each other even more than normal with Wythe Blue in the room. Believe it or not, tangerine can make a surprisingly vivid pairing with the shade as well.
Rooms with Wythe Blue
Wythe Blue is richer than other blues and can be used in many rooms throughout a home. It is jovial enough for kids rooms, formal enough for dining rooms, and neutral enough for exteriors. Here are some of my favorite examples from around the web.
Wythe Blue in Bedrooms
This first bedroom with Wythe Blue is crisp and clean. This photo from House of Turquoise shows how green undertones can be present without being overwhelming or muddy.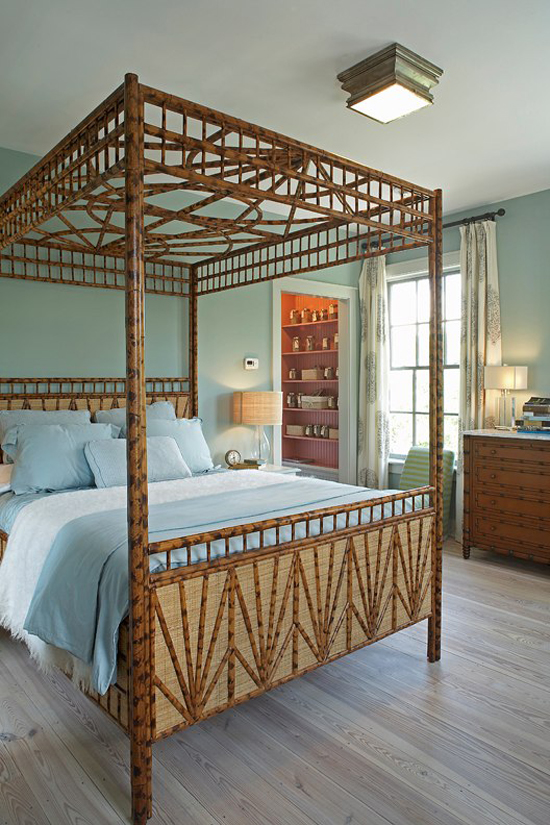 In contrast, this Wythe Blue bedroom shows a blend of blue and gray. Similarly, it is crisp and clean. However, the lack of yellow light helps minimize the green undertones you see above.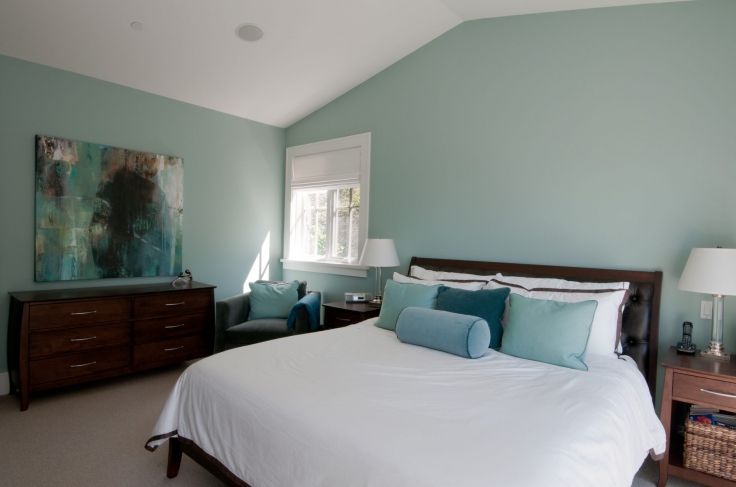 Bathrooms
I have a special affinity for a bathroom styled in Wythe Blue! In fact, it's the color I recently chose to use when I gave my girls' bathroom a makeover. How pretty is this board and batten? Every time I walk in this room, it brings me joy. Sappy, I know.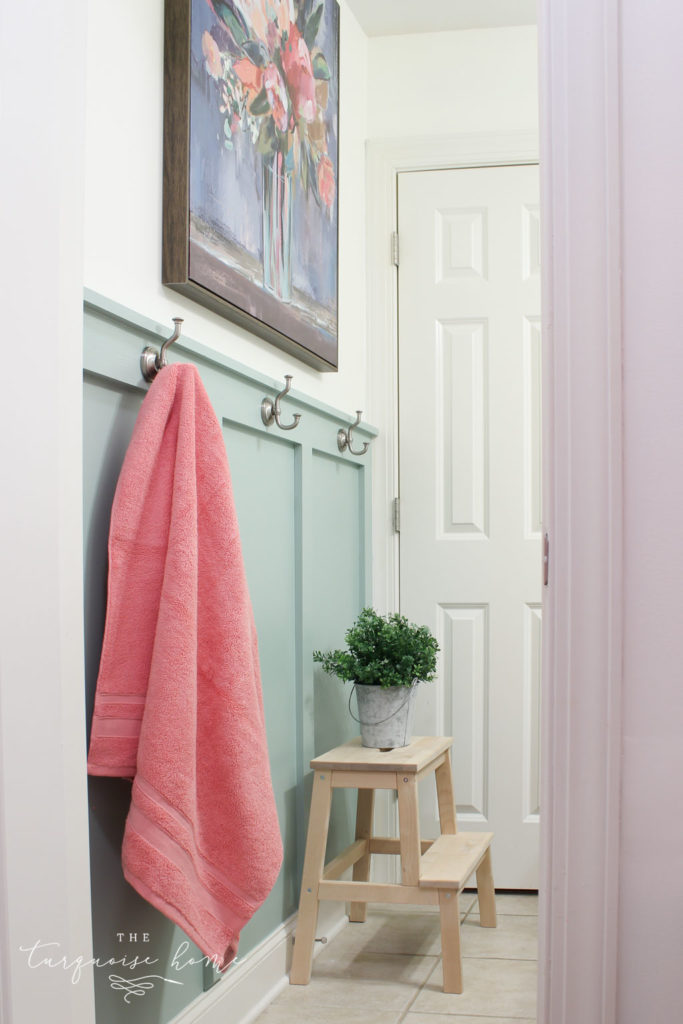 This bathroom shows Wythe Blue with gray undertones in a dark setting. This room was designed by Bella Casa Interiors, and you can tell how the paint shade moves from green to gray undertones based on where the light hits.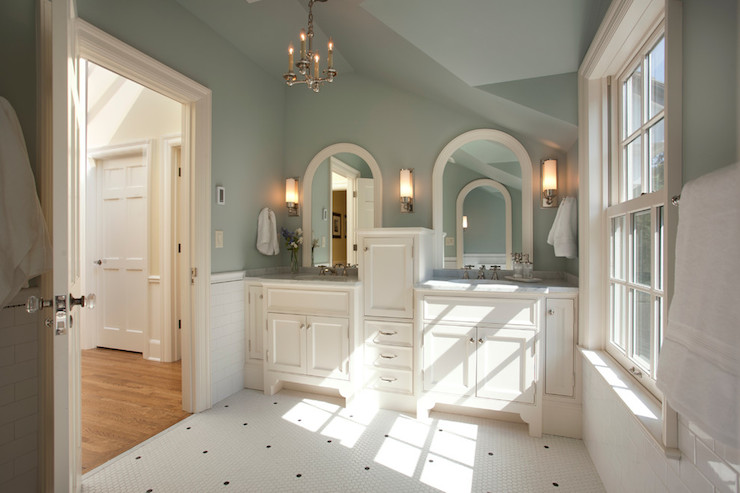 The green undertones definitely stand out in this dreamy spa-like Wythe Blue bathroom from the design team at Avenue B Development. Wythe Blue used as an accent in a room with darker lighting brings out the green, as you can see.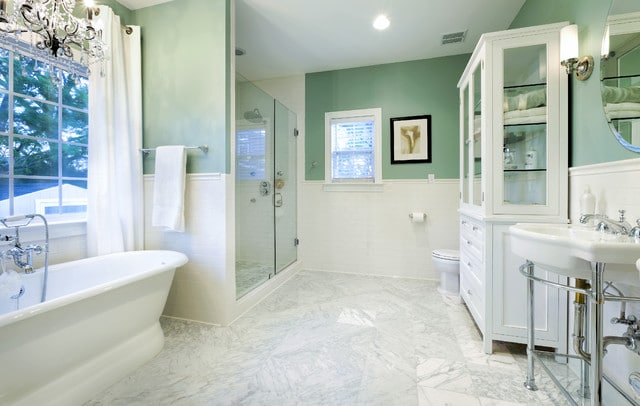 Kitchens with Wythe Blue
This kitchen has a lot going on. The bright red accents stand out against the white and gray fixtures and cabinets. What ties this House of Turquoise kitchen together is Wythe Blue. Used sparingly, it helps center your eye on specific areas of the kitchen. It's interesting to note that the shade works well with every other color in this room!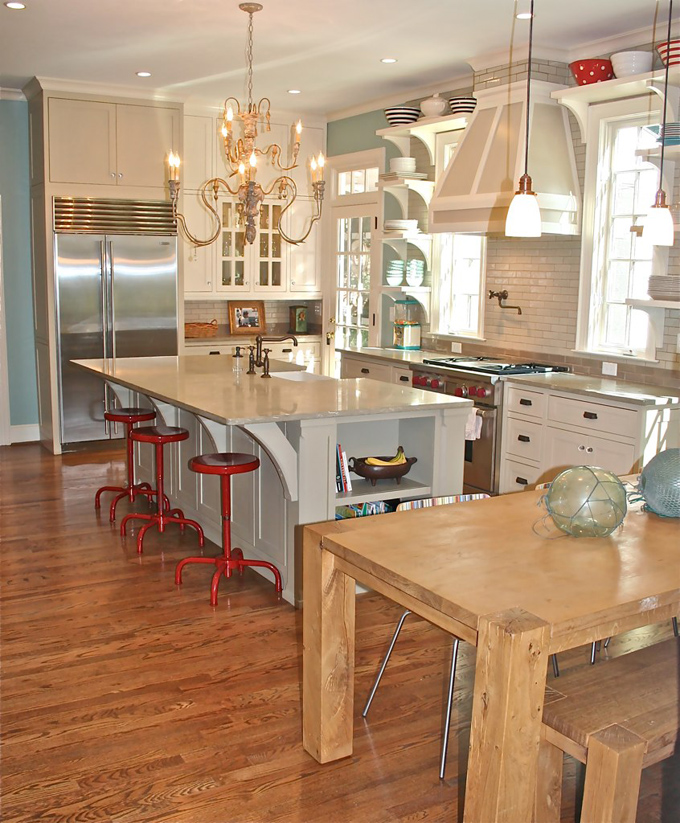 If you compare this kitchen with Wythe Blue with the one directly above, you'll see the versatility of this color and just how well it works with any style. It fits right in with this country home. The dark gray island makes the blue really pop.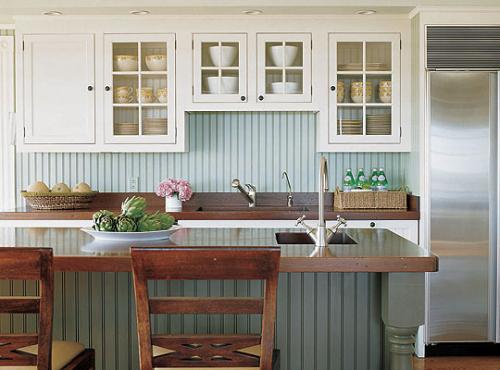 Living Rooms
This living room shows Wythe Blue in play a great mixture of blue, green, and gray. Studio Ten 25 did a great job using the soft light to help Wythe Blue feel neutral and even a little warm.
This Wythe Blue living room shows both green undertones, in the left-hand side, and a more blue tone in the center. This shows how light really plays on Wythe Blue.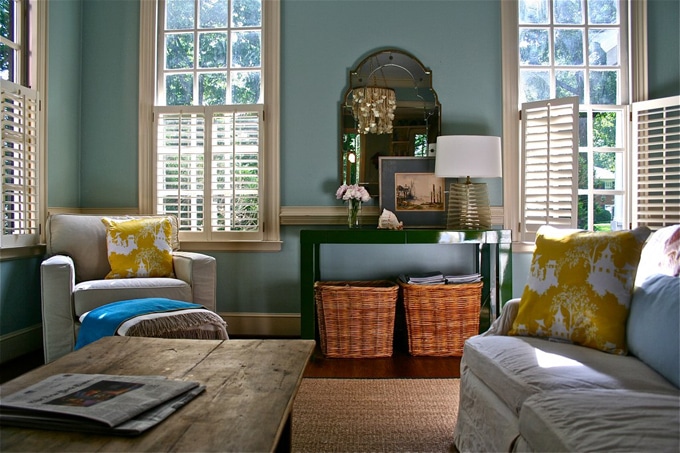 In contrast, this living room with Wythe Blue from The Decorologist is an airy green-blue. The natural light fills the room and helps the dark wood to bring the green out. Notice that it's not as crisp as some other rooms.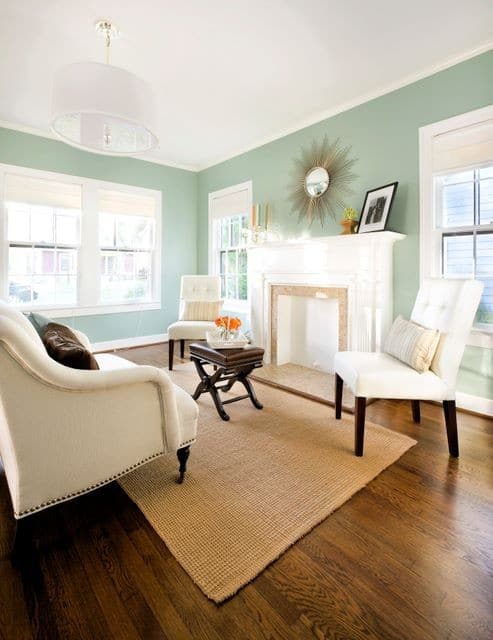 My Dining Room
My very own dining room is painted with this rich and soothing color, because I fell in love with it right around the time we moved into our home 7 years ago. Since my room faces west and has a lot of yellow/brown tones, it definitely pulls green. And I love it!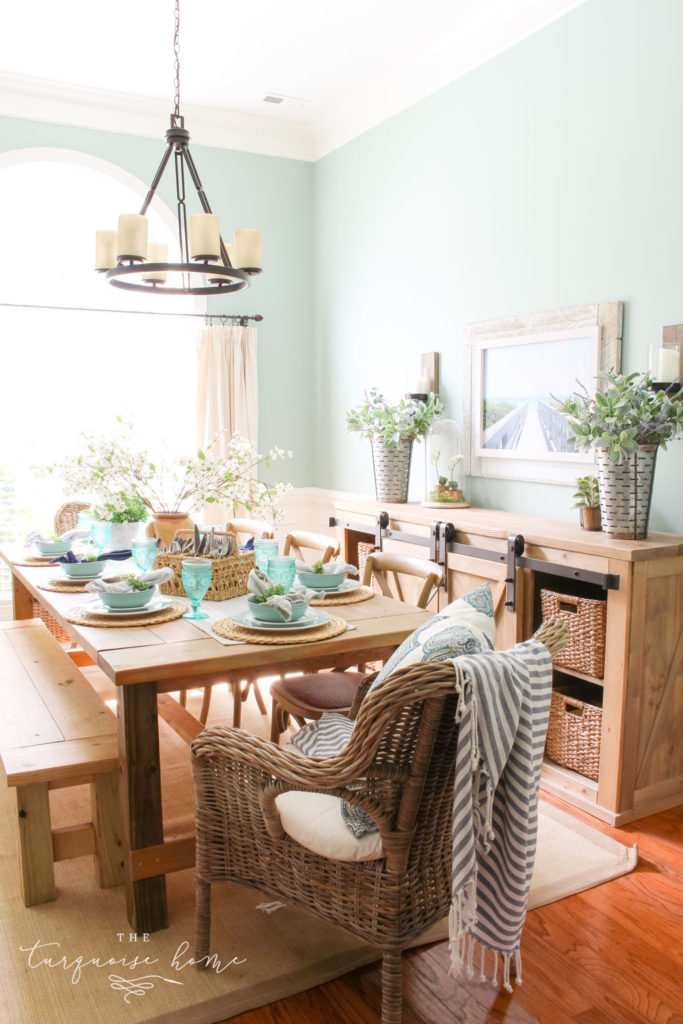 Exteriors with BM Wythe Blue
This is an excellent way to use a Wythe Blue exterior to make your house stand out. In this example from Warline Painting, the natural light creates a soft blue-green that is neutral enough to not be overwhelming.
If you just want a hint of Wythe Blue on your exterior, add a pop of personality by painting your door in the shade as Suburban Bees did. It is a welcoming, timeless color that will give each day a little pop of excitement. A door painted this color is what originally made me fall in love with it!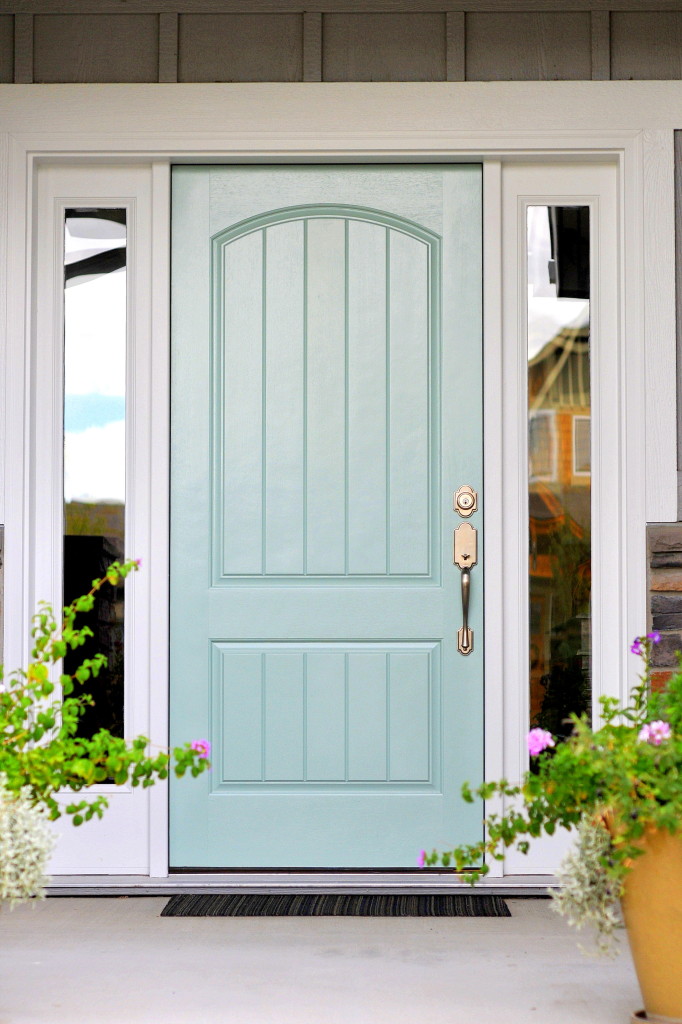 Are you convinced yet? Which room will you add Wythe Blue into? I'm partial to the bathroom, but the front doors in this hue will have my heart forever, too. 💗
Don't forget to check out these other fantastic paint colors!
Tools to Help to Paint a Room Yourself
I've gathered some of the best tools for painting a room yourself. First of all, you'll want to check out this post I wrote: Painting a Room in 5 Easy Steps. These tools are the top tools I use when painting my own rooms, which is how they get painted 95% of the time!
Paint Brush – These paint brushes are a little more expensive than your basic brush, but they're worth it! I've used these brushes for more than a decade and if you wash them out well after each use, they will last for years.
Painter's Tape – a MUST have for taping off edges. You'll need to tape off all edges if you don't have a steady hand.
Drop Cloths – a must have if you don't have any laying around the house already.
Paint cup – Sure you could use any old cup, but I've come to swear by this one. The magnetic piece holds your brush cleanly in place when you need to take a break. And it fits my hand perfectly, keeping it from cramping.
Roller Tray – I've found the only paint tray I'll ever use again. The magnetic piece is great for holding the roller in place. And the liners are a luxury, but I won't paint without them because it makes clean up a breeze!
MORE POSTS YOU WILL LOVE:
Get Instant Access to my Guide to Customize Your Home on a Budget
Grab your FREE guide for 10 Ways to Customize Your Home on a Budget: simple projects to transform your home from builder beige to a home with character and charm!