This Mason Jar Lid Pumpkin is such a cute craft idea and so easy to make, you'll be making some for all of your friends. Using just five basic supplies, this project takes about 30 minutes or less! Yay!!
My first mason jar lid pumpkin was made back in 2012 when these started appearing on the fall craft scene. We made them as a craft at a women's retreat and I promptly came home, set it on the media cabinet and admired its cuteness for the fall season. The picture I took in my fall home tour that year got major attention on Pinterest.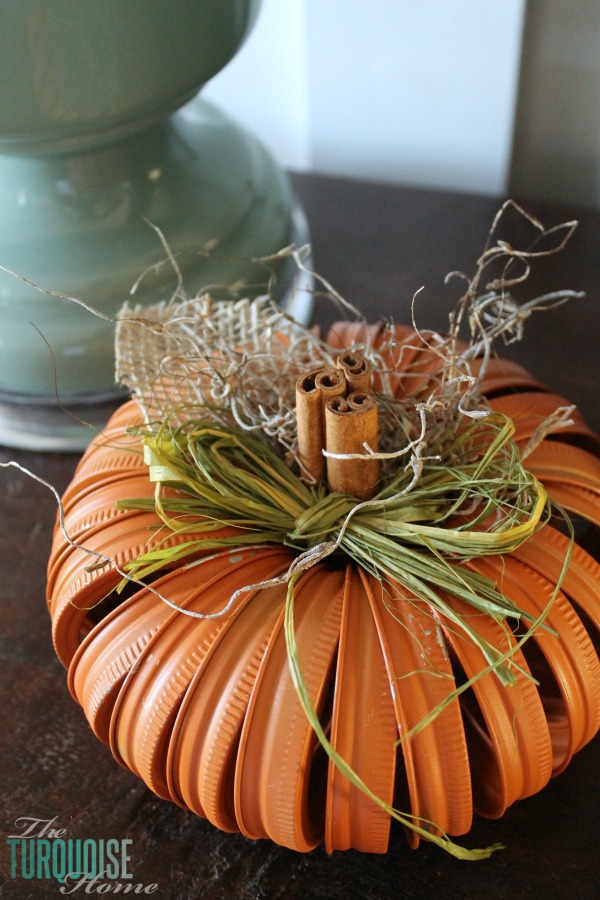 People loved it!!
I never got around to making a tutorial for it, like I promised. Well, not until now.
When I went to look for my orange mason jar lid pumpkin the other day, I came up empty handed. I must have decided to donate my cute lil' pumpkin to the local thrift store.
So, I decided to make a new one and share the super simple steps here. Seriously, it's almost silly to call this even a tutorial because it's just too easy.
But maybe that will inspire you to go purchase the supplies and make your own since it will take you less than 30 minutes – not counting drying time. But even that's not too long if you use the same paint that I used.
This post contains affiliate links for your convenience. See my full disclosure policy.
Supplies Needed for a Mason Jar Lid Pumpkin
1. 24 Mason Jar Lid Bands (wide mouth). You don't need the actual canning jar lids, just the lid bands. But I could only find the lids and bands together, so I now am the proud owner of 24 mason jar lid tops and I'm wondering what craft I could make with them! 😜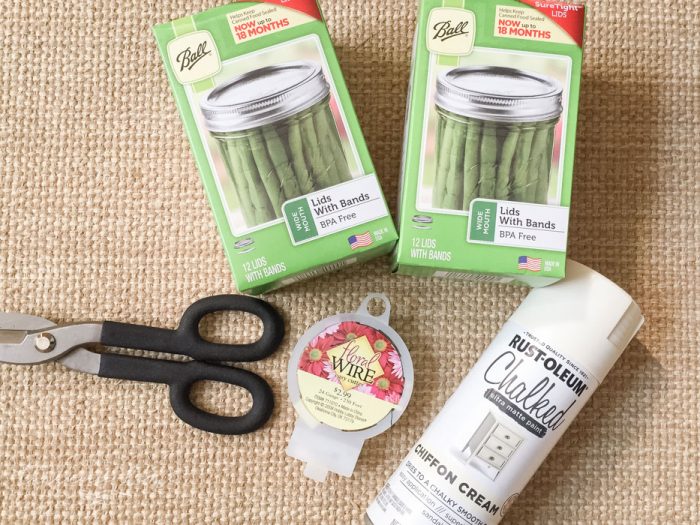 2. Floral wire and wire cutters
3. Spray paint in the color of your choice (optional). I chose Rustoleum's Chalked Paint (Chiffon Cream) that is super matte, because I wanted that look and just to try the paint. I LOVE it and will be using it on so many new projects to come. I'll share more about it in the steps!
4. Cinnamon Sticks – for the top "stem"
5. Glue Gun and Glue Sticks – to adhere the top "stem" to the "pumpkin"
6. Other finishing embellishments like leaves, moss and raffia are optional. See mine at the end to see what I did. Use your imagination and get creative!
Step-By-Step: How to Make a Mason Jar Lid Pumpkin
Step 1. Cut a piece of floral wire
Make the wire long enough to string 24 lids on it. I made mine a little extra long, but that works great when trying to tie it off.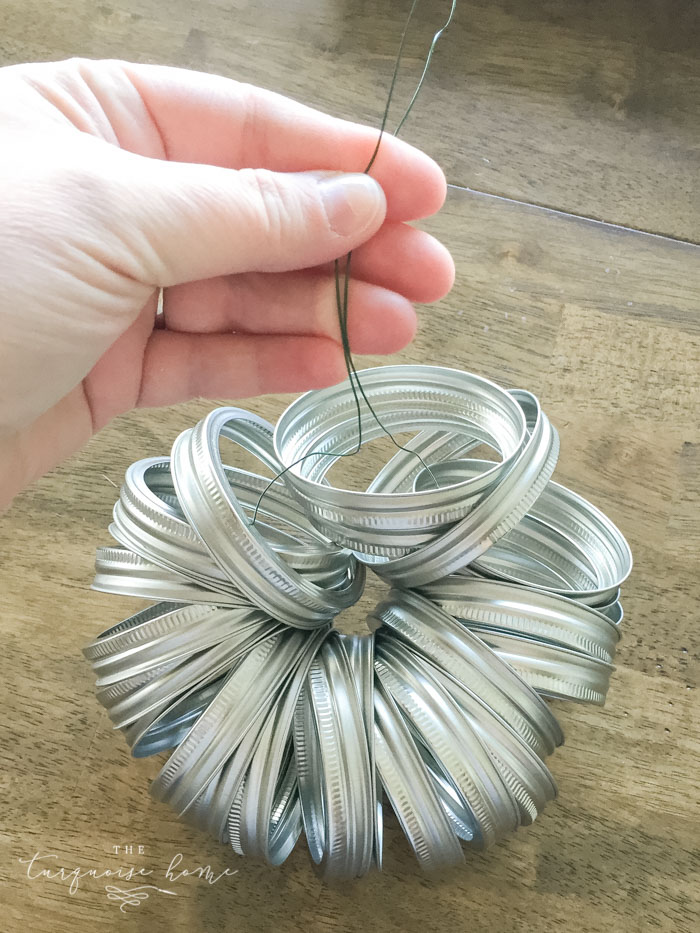 Step 2. String the jar rings onto the wire all facing the same direction.
Step 3. Tighten the wire in the middle of the bands as tight as you can.
This is honestly the hardest part. You want it to be tight enough that they don't look like a mason jar lid necklace. But leave enough room to put your cinnamon sticks in the middle as the pumpkin stem.
Step 4. Spray paint the lid bands the color of your choice.
Again, I chose Rustoleum's Chalked Paint spray paint in Chiffon Cream. It was the first time I had used a chalky paint in a spray paint form – and I'm obsessed!! I've already made a list of all the things I'm going to spray. Ha!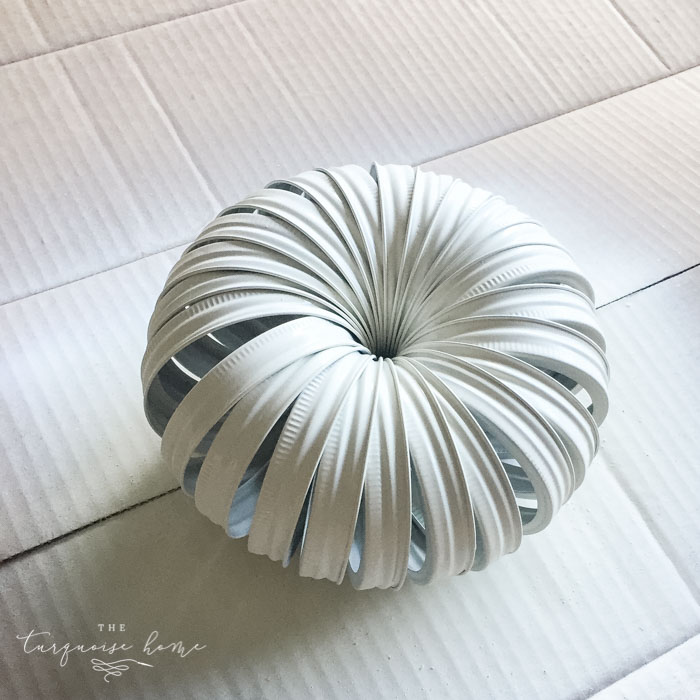 It goes on quick and thick. Then it dries pretty fast, too. Like in less than 30 minutes. This is awesome for an impatient girl like me. I painted 2 quick coats and that's all it needed. You can also distress it easily. LOVE it!
5. Now you're ready to add the "stem" and any pretty other embellishments you want!
The sky's the limit here. You can add jewels, paper, color, leaves in a variety of fabrics or styles – let your creativity go wild here.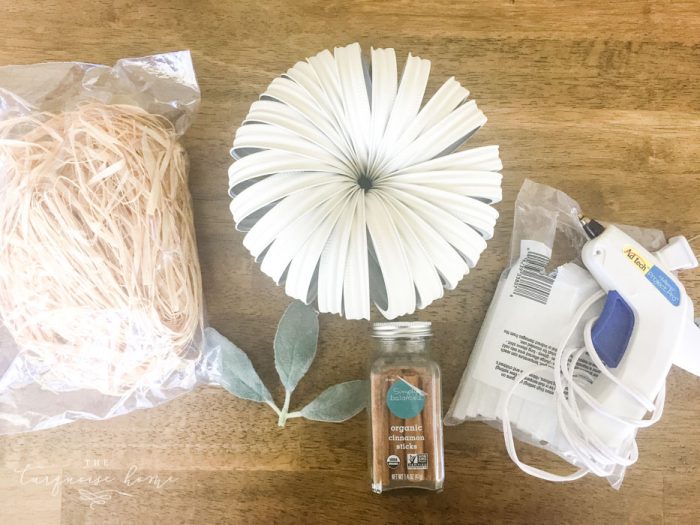 In my original mason jar pumpkin, I had some wiry grass stuff (that's the official name, for sure 😉) and a raffia bow along with a burlap leaf. These items were all provided by the coordinator of the craft night, so I got to use a little of my own creativity, but not much.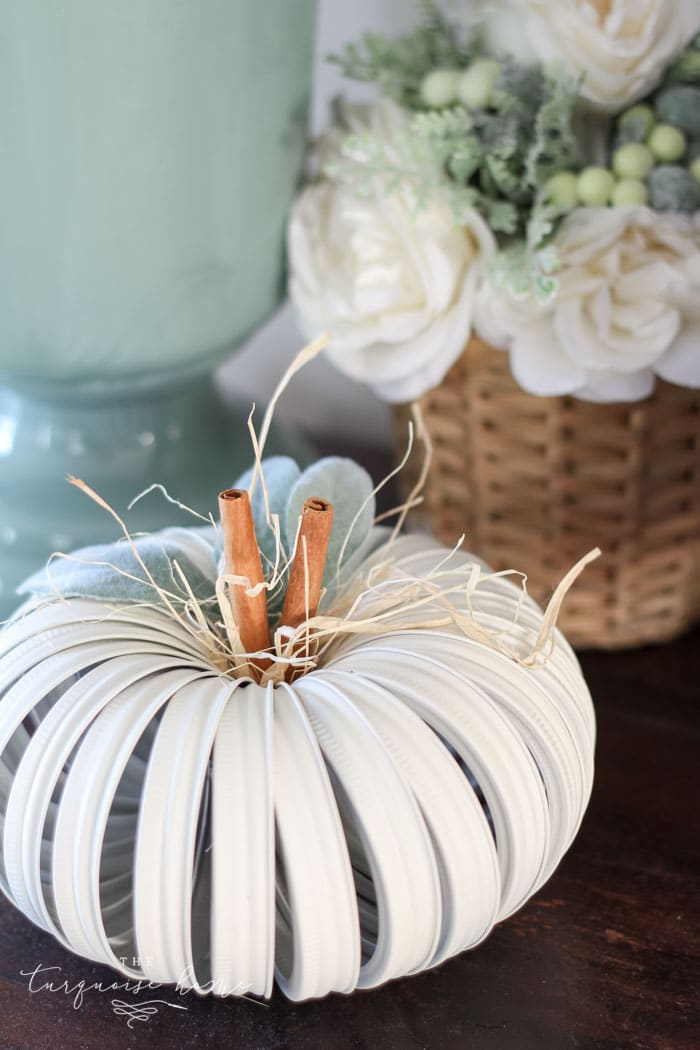 This time I decided to go with some skinny little raffia stuff and lamb's ear leaves for my cute lil' canning ring pumpkin. I considered doing a bow again and decided not to this time.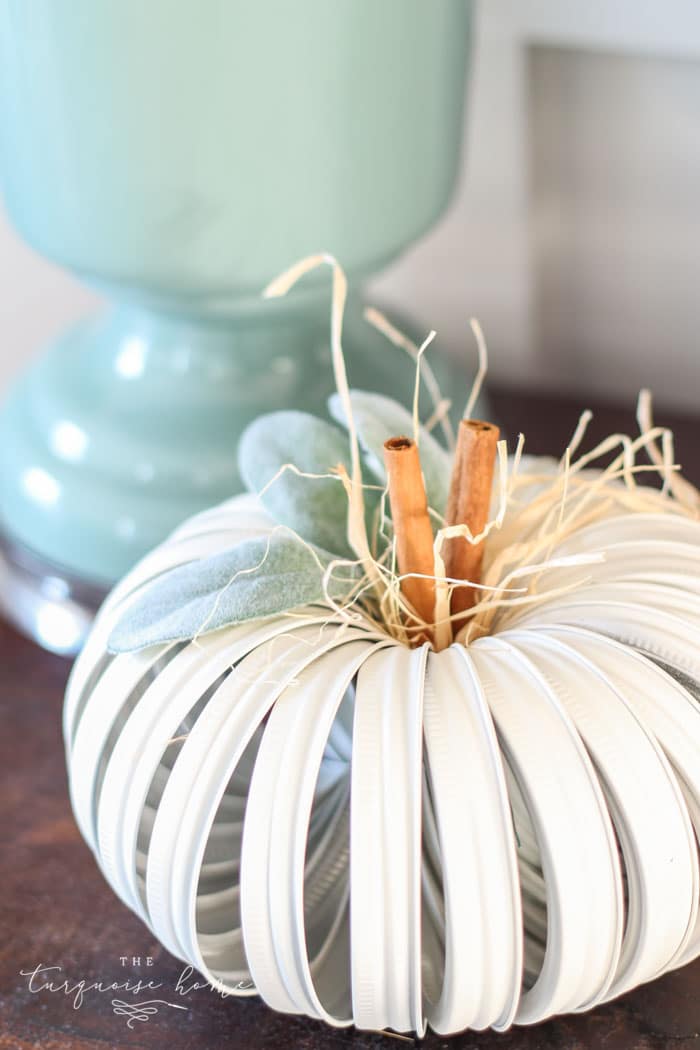 I used my hot glue gun to glue everything in place.
I love it! So much more neutral. And as you'll see in my upcoming fall decor posts, that I've gotten rid of almost all the orange in my fall home decor. Sometimes I just get the itch to change it all up! So, this new farmhouse-y, neutral pumpkin fits right in!
If you don't have time to make this cutie today, I hope you'll pin it for later…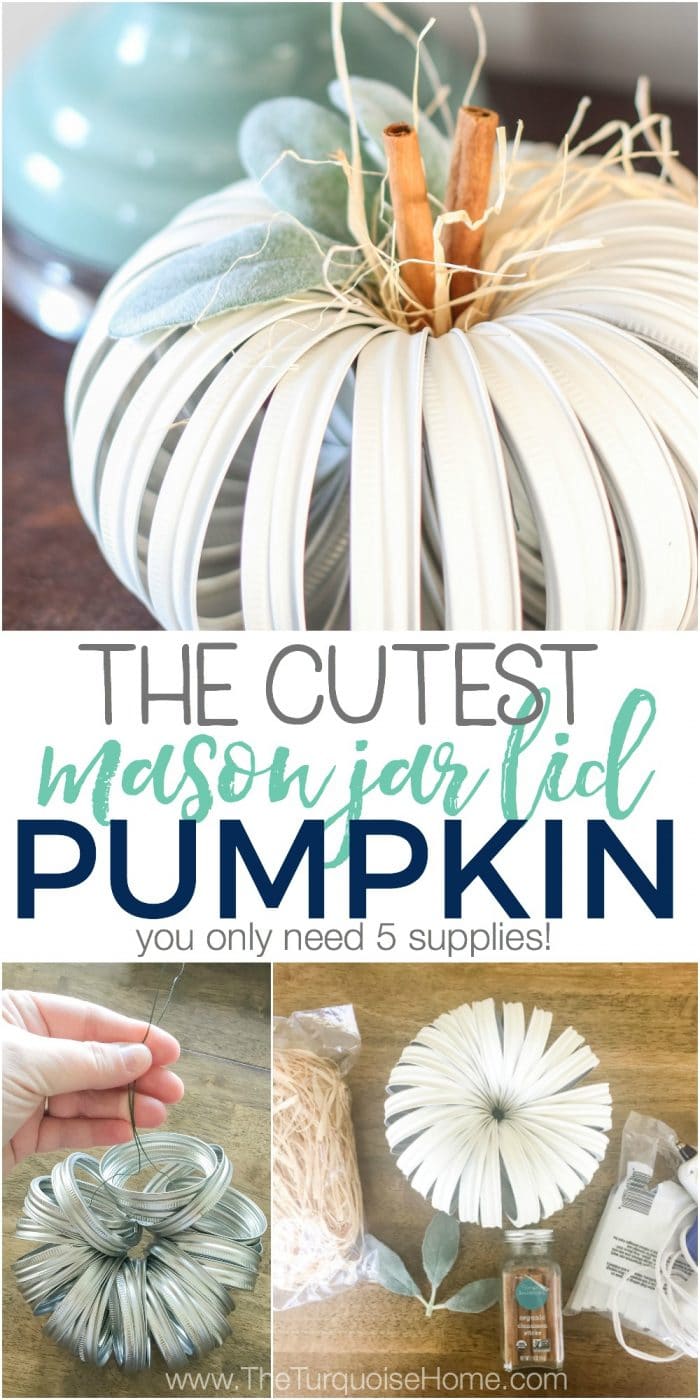 Or bookmark it on your web browser.
Either way, I hope you'll make one of these super easy, adorable mason jar lid pumpkins and show me how you did it! I'd love to see my inbox flooded with every variety of these things. (email me at [email protected])
OK, that's all. Go get your craft on!
MORE POSTS YOU WILL LOVE:
SaveSave
SaveSave
SaveSave
SaveSave
SaveSave
SaveSave
SaveSave