12 DIY Advent Calendars To Celebrate The Season
These DIY advent calendars help remind me, and my family to slow down and really savor the magic and wonder of this season. Christmas is such a meaningful, spiritual time that can easily burn out into commercialism, decor, and stress. I love crafting a DIY advent calendar along with my kids to keep our focus in the right space.
It's that time of year again when using an advent calendar to countdown to Christmas. These DIY advent calendars are a lovely way to enjoy the season with your kids and the entire family. It's even more special that you can easily make them together.

Yes, you can buy a million different advent calendars at the store, but none of them compare to something you can make yourself. It's a fun way to get involved with the countdown.
You will love seeing the look on everyone's faces when they see your completed project. Plus, you can reuse it year after year so you'll have it to enjoy for a long time.
11 DIY Advent Calendars To Celebrate The Season
You can make as straightforward or as elaborate advent calendars as you want to. I especially like pairing the advent with a special something, whether it be a family activity, treat, scripture, or small toy. Take a look at these ideas for inspiration.
DIY Snowy Christmas Tree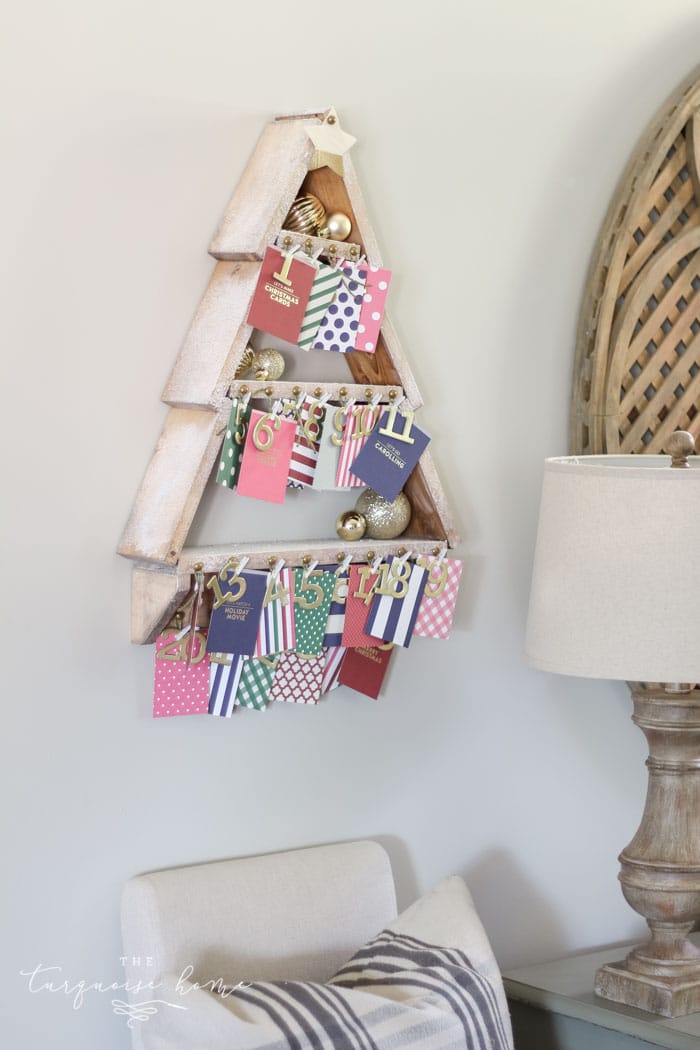 First up, my own advent calendar DIY! This one is easy to make. You will just need some basic supplies to replicate this simple, but rustic advent calendar.
Each day you open the card to see what's on the agenda for the day. It could be writing a letter to Santa or going Christmas caroling. The options are endless, so feel free to add in your own special touch.
DIY Wood Advent Calendar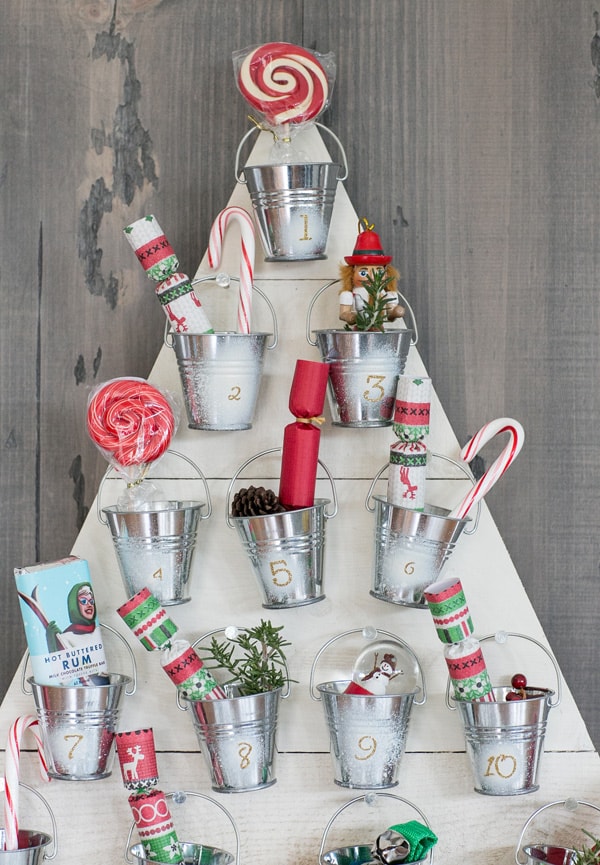 This wooden advent calendar is adorable and simple to make. The galvanized buckets are filled with little treasures for each day counting down to Christmas.
Not only will the kids love it, but it's also a beautiful way to decorate your home, too, just like Eden at Sugar & Charm did. Add your own personal touch like little messages or gifts that are inside jokes to your family. No matter how you go about it, be sure to have lots of fun.
DIY Box Advent Calendar On Canvas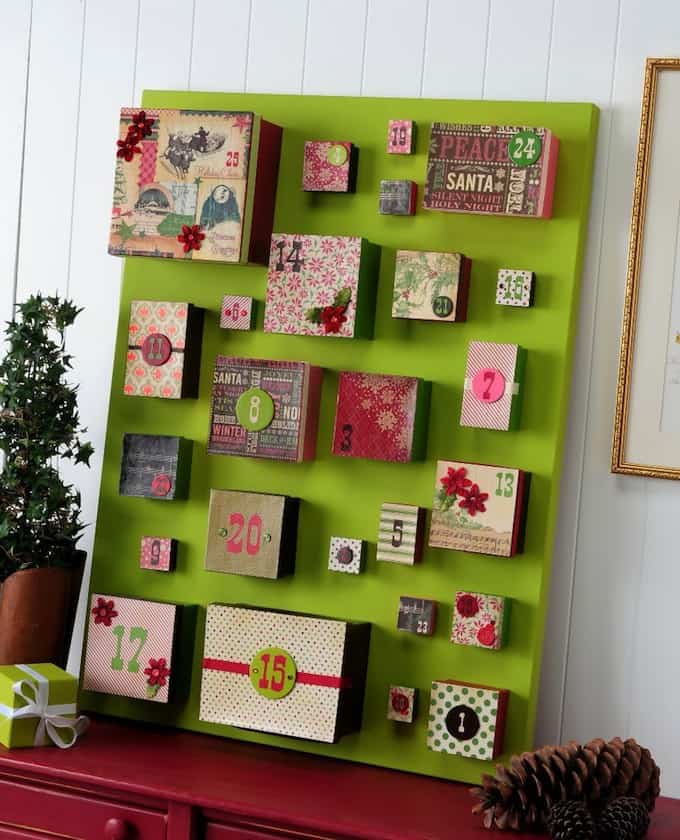 While I don't always go for traditional Christmas colors, this DIY advent calendar is adorable. It has some traditional colors, but they are more playful and updated.
Amy at Modge Podge Rocks used little cardboard boxes and attached them to a large canvas. She used lots of bright colors to go with the theme.
Star Garland Advent Calendar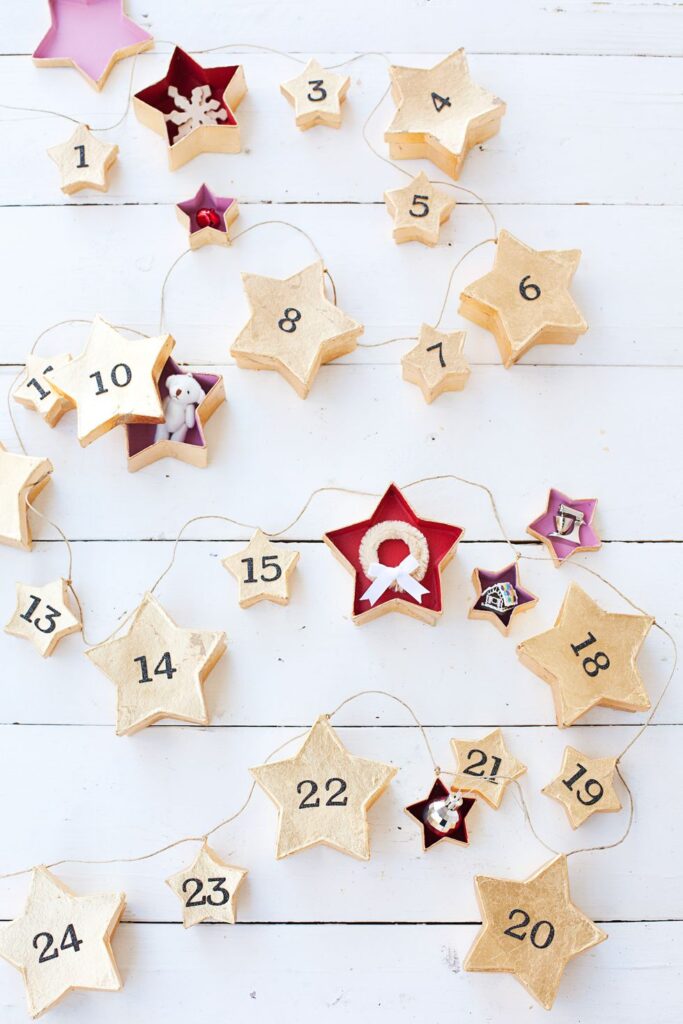 I love how A Beautiful Mess created this gorgeous star advent calendar garland. You'll just need some basic supplies and some gold leaf paper to make your own garland. I think this idea is so unique and playful. You can hang it on your mantle, on a ladder, or even on your wall. Each day you can put a simple little trinket or gift inside, and everyone will love it.
DIY Glam Advent Calendar
You can never have too much glam during the holidays. If it shimmers or sparkles, it's bound to be a hit. This delightful DIY advent calendar has enough shimmer and shine to go around and looks stunning too. Kimberly at Swoon Worthy opted to focus on using pinks and golds to create this amazing calendar. She outdid herself!
Chalkboard Advent Calendar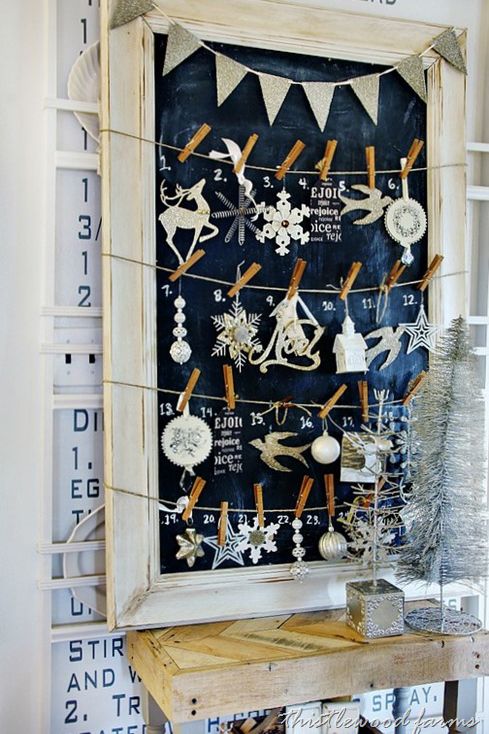 It's impossible not to fall head over heels in love with this beautiful chalkboard advent calendar. Karianne at Thistlewood Farms went above and beyond when she made this stunning advent calendar. She opted to decorate the calendar with a daily Christmas ornament, and it turned out perfectly.
DIY Mini Box Advent Calendar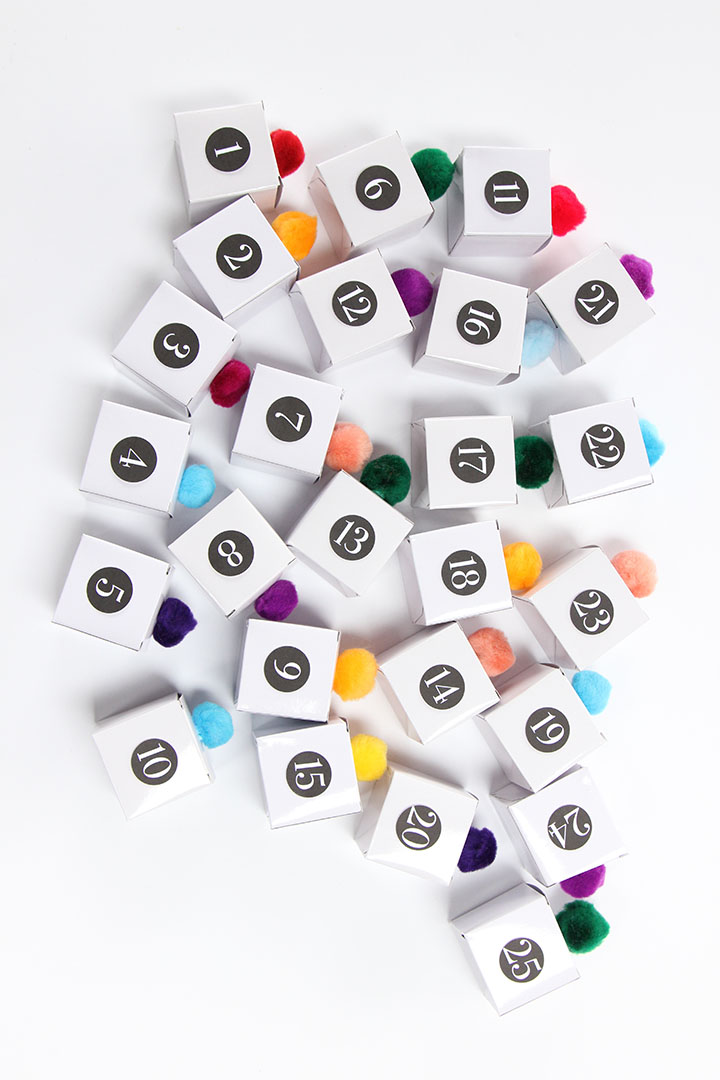 Alice & Lois made these adorable advent boxes with pom-poms on top. Each box has a number and a pom pom with a little trinket in it. They are so cute, and the kids will love them. This style is especially excellent if you love bright colors when it comes to decorating for Christmas.
DIY Paper Bag Advent Calendar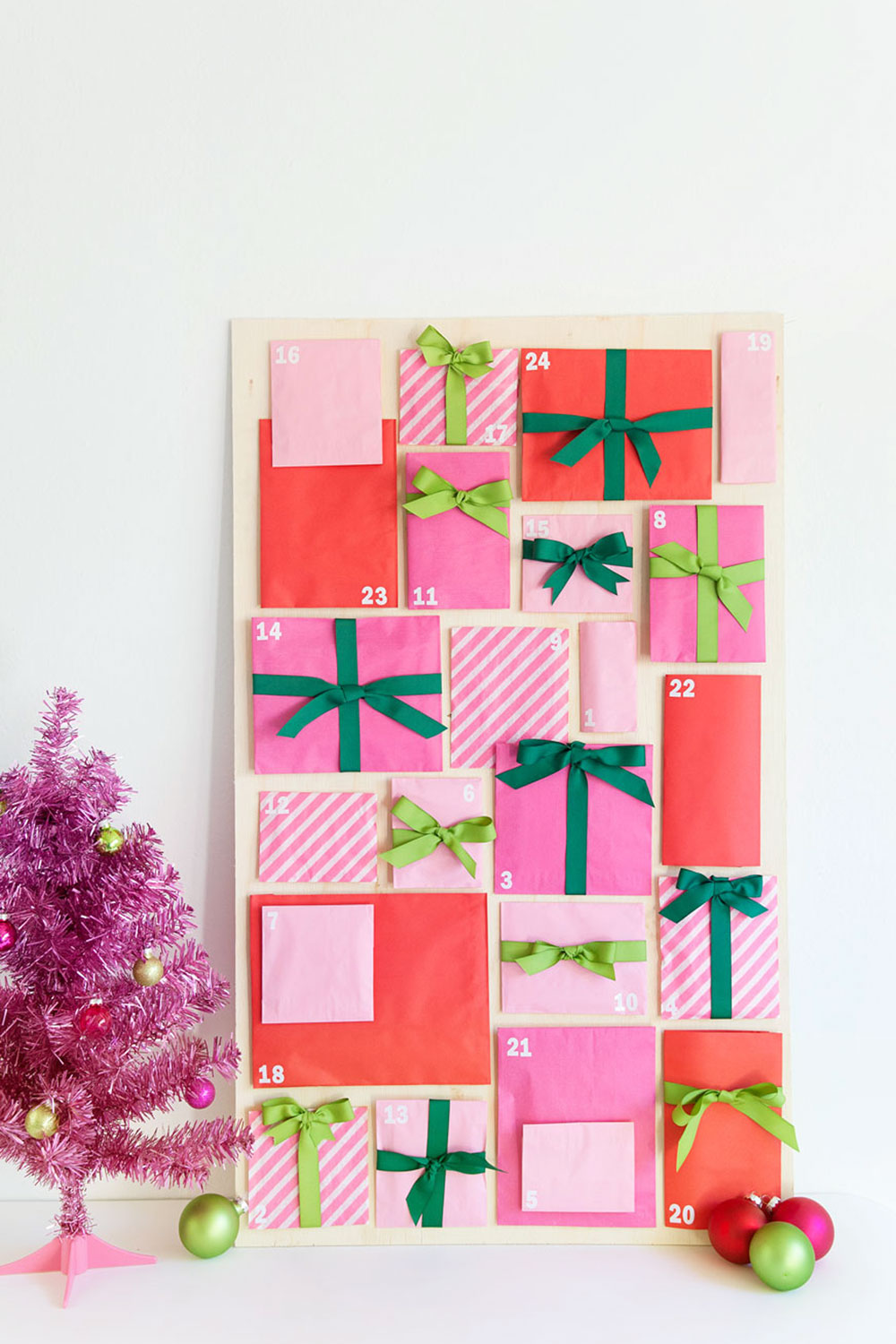 Tell Love And Party thought outside the box when they came up with this idea. Using paper gift bags to make this DIY advent calendar is verging on genius. Fill them with candy or other little Christmas souvenirs, and the kids will go wild for them. Plus, it looks so adorable, too, with its bright pinks and greens. This is a playful advent calendar that just screams FUN!
Colorful Printable Advent Calendar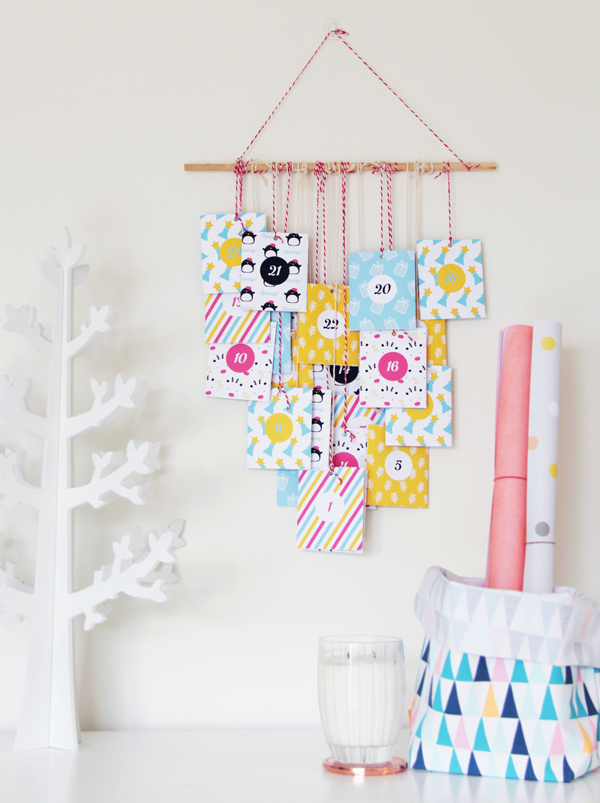 A Subtle Revelry made the prettiest DIY advent calendar that uses lots of vibrant colors. She also provides you with a printable download to help you get started on this project. You'll love how easy this one is to make and what an impact it has on your space.
Toilet Paper Tube Advent Calendar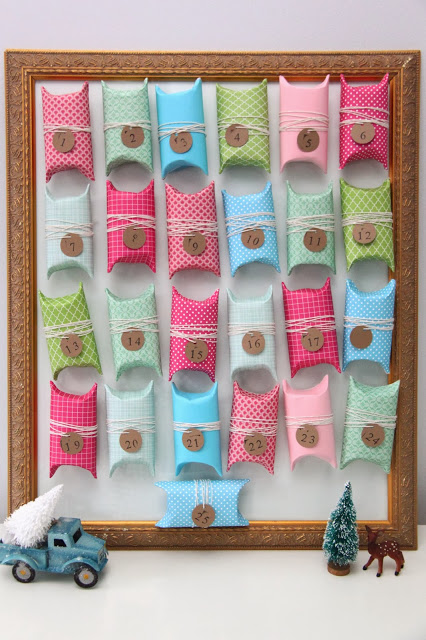 It's time to start saving those cardboard paper towel or toilet paper rolls so you can make your own advent calendar. It's always nice when you can use items you have around the house that would typically be tossed out.
Reusing items not only ends up looking fabulous, but it's also great on the environment too. Smashed Peas and Carrots did a terrific job on this advent calendar!
Faux Pallet Wood Advent Calendar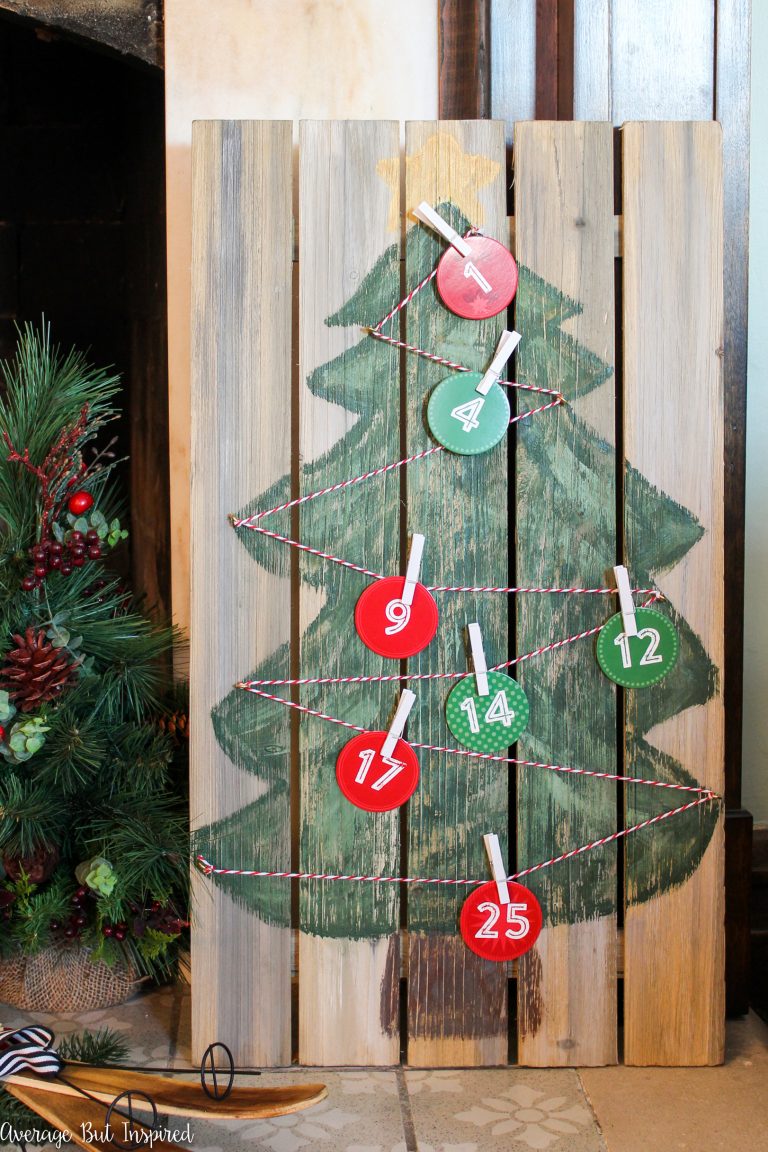 Average But Inspired got creative when making this faux pallet wood advent calendar. Sometimes it's hard to find pallet wood that's in decent shape, so making your own faux version is a great idea. She chose to paint an adorable Christmas tree on the wood, and it turned out beautiful.
Christmas Chalkboard Advent Calendar
A few years in a row–a few years back– I used cute little countdown cards hung up on my kitchen chalkboard. The one in the photo above was just a printable little countdown with an ornament to hang on the tree or a cookie cutter tied to each day.
The countdown below had little ideas under each number for getting into the holiday season. It was such a fun advent calendar that year and helped us check things off our Christmas bucket list!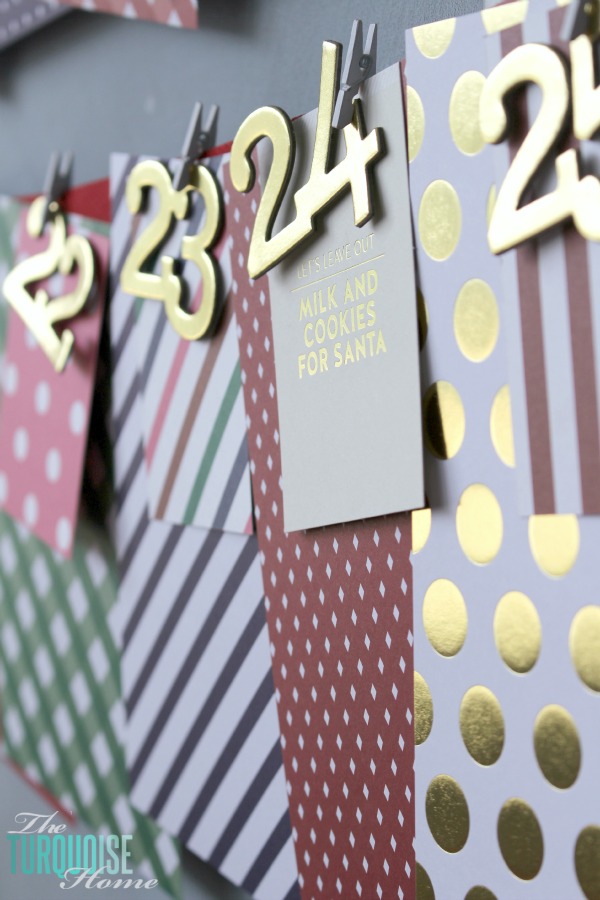 I hope these beautiful DIY advent calendars have inspired you to pull out your crafting gear and get to work! The end result is so worth it. ☺️
Cute Advent Calendars You Can Buy
I you don't have time to make your own, I took a quick look over the web and found some that caught my eye!

More Posts You Will Love: