50+ Things to Do When You're Bored at Home
Learn 50+ things to do at home when you are bored! From crafts to picking up an old hobby, you're sure to find an idea you love!
If you have ever found yourself feeling bored and stuck at home for a long stretch of time, you'll find this list to be super helpful for things to do to keep you occupied! Whether you've had a new baby or are recovering from an illness or caring for a loved one, those times of slowing down at home can be fruitful and even enjoyed!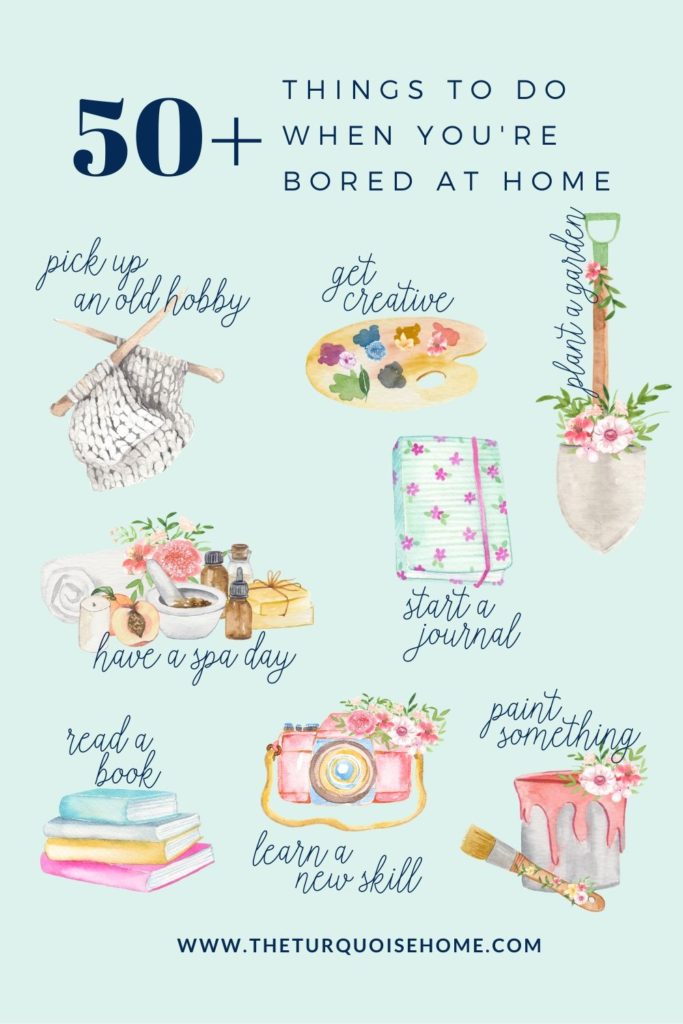 As someone who was homeschool as a child and has worked from home for more than a decade, I've spent a lot of time at home. And I've had to figure out how to entertain myself or keep myself occupied.
It's probably why I run a DIY home decorating blog – because I learned to do projects at home to keep myself entertained as a kid. It sure does come in handy, when I'm stuck at home and need to fill the time!
Feel free to share any other ideas you might have in the comments below!
This post contains affiliate links for your convenience. See my full disclosure policy here.
Things to do When You're Bored at Home
1. Paint something. I have a variety of paint resources for you:
And did you know? You can even order paint online if you're not able to get to the store! Benjamin Moore offers paint samples and paint gallons for shipping. So, you don't have to halt your painting projects if you're spending time at home and can't get to the store.
2. Decorate for the upcoming season. You'll find many seasonal decorating ideas here: Spring, Summer, Fall, Christmas, Winter.
3. Clean out your closet. I've shared my cleaning out the closet tips here.
4. Call or FaceTime friends and family. Call on the actual telephone, don't just text.
5. Start an exercise program online. Youtube videos like Cosmic Kids Yoga, Kidz Bop Kids or Go Noodle are great for kids. I personally love Suzanne Bowen Fitness. And the Peloton app is offering a 90 day free trial for their online workouts right now for Android and iPhone users.
6. Listen to a Podcast. My favorite light-hearted podcasts are The Popcast, Young House Love Has a Podcast and The Big Boo Cast.
7. Read a Book. I mostly read non-fiction, so this may or may not be your style, but my most recent favorites are:
Our Favorite Books for Kids:
8. Start a blog. What better way to pass the time than to share a gift or skill you have with the world? If you can cook, craft or really the sky's the limit – start sharing with your fellow man!
9. Wash your windows.
10. Plan a road trip or vacation for later in the year.
11. Create positive affirmations for yourself.
12. Learn a new skill. SkillShare.com is a wonderful place to learn new skills like photography, watercolors, calligraphy, creative writing, interior design and more!
13. Clean out under the sink.
14. Do a Bible Study.
15. Start a new TV series. Some funny, light-hearted shows we love are:
Friends
The Marvelous Mrs. Maisel (Amazon Prime)
Schitt's Creek
The Great British Baking Show
Gilmore Girls
Parks and Recreation
Anne with an E
Friday Night Lights (maybe not light-hearted, but definitely heart-warming)
16. Listen to a sermon. Our church has all of their previous sermons online. I highly recommend!
17. Clean out your fridge. Find tips for cleaning out and organizing your refrigerator HERE.
18. Make a craft.
19. Play a board game. See my recommendations for Family Board Games HERE.
20. Make a favorite recipe – or learn to make a new recipe!
21. Make a custom photo book. I recently used ChatBooks for the first time and was really impressed! I plan to make an album for each year!
22. Write letters to folks who are alone! My grandparents just moved to an assisted living facility and can't see anyone right now. We plan to write them and make them cards.
23. Teach someone a new skill. Use your free time to teach your kids something you've never had time to teach them before!
24. Reuse old candles to make new ones.
25. Make a bath bomb, then take a bubble bath.
More Things to Do When Bored at Home
26. Take a walk around the block.
27. Work on your taxes.
28. Have a FaceTime play date.
29. Have a dance party.
30. Color. Kids and grownup alike find coloring soothing. I personally love this adult coloring book and this one, too!
31. Paint a picture.
33. Wash your curtains
34. Journal. A gratitude journal is a wonderful habit to start; and bullet journals are very popular, too!
35. Organize the apps on your phone. Put all of the apps in one folder and delete any ones that you haven't used in a month.
36. Treat yourself to a face mask.
37. Paint your nails.
38. Rearrange your furniture. Make a room look completely new by just moving things around!
39. Write thank you cards you've been meaning to write.
40. Set some goals for the next year or few months. My favorite goal planner is the Power Sheets by Cultivate What Matters.
42. Plant a garden.
43. Dust your indoor plants.
44. Make an appointment you've been putting off.
45. Teach your dog a new trick.
46. Take a course of study or learn a new language.
47. Put together a puzzle.
48. Build a fort with the kids.
49. Have a picnic in the back yard.
50. Wash your makeup brushes.
51. Declutter and organize your pantry.
52. Listen to an audio book.
53. Watch a movie.
54. Make a bucket list of things to do while you're at home!
I hope this list was helpful! What would YOU add to the list? Share in the comments below.