Sherwin Williams Repose Gray
Repose Gray by Sherwin Williams is one of the most popular shades of gray for a very good reason: it works virtually everywhere. No matter the style of home, the lighting or the accents, Repose Gray makes it all look good.
Sherwin Williams Repose Gray
Repose gray is a very livable color that doesn't feel sterile or stark. It is a shade of slightly warm gray with very slight taupe undertones. While there is no such thing as a true gray-gray, this color comes pretty close! Just like all paint colors, it will look different in every room—but it truly works every single time.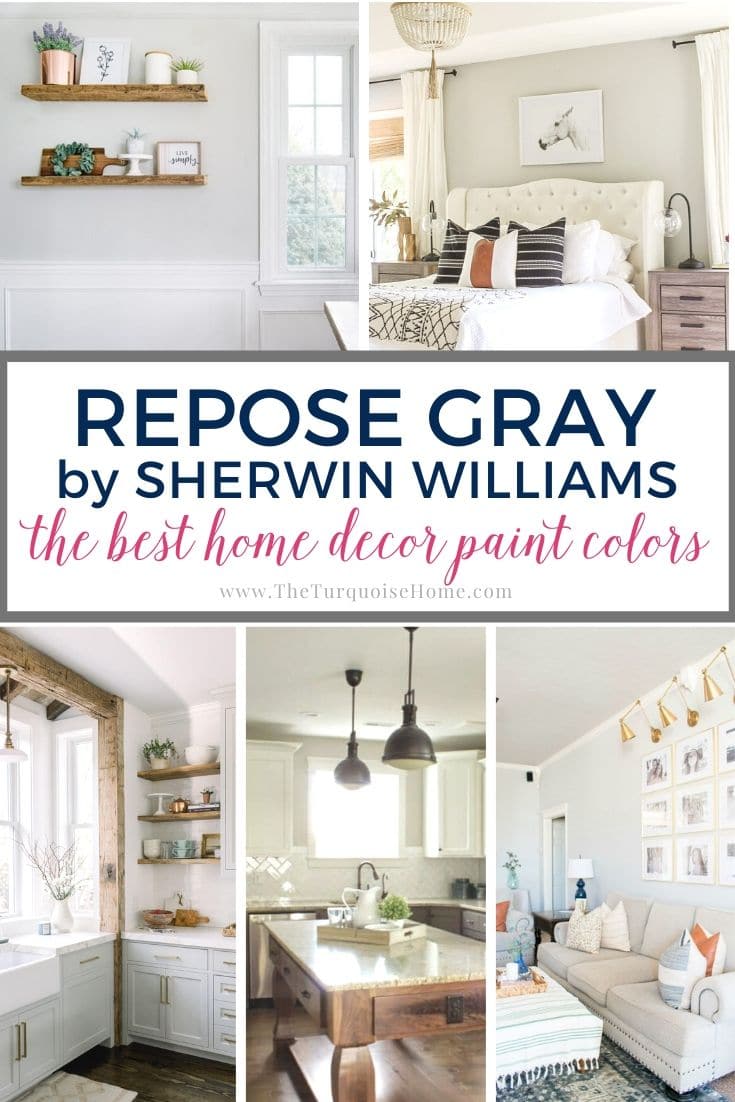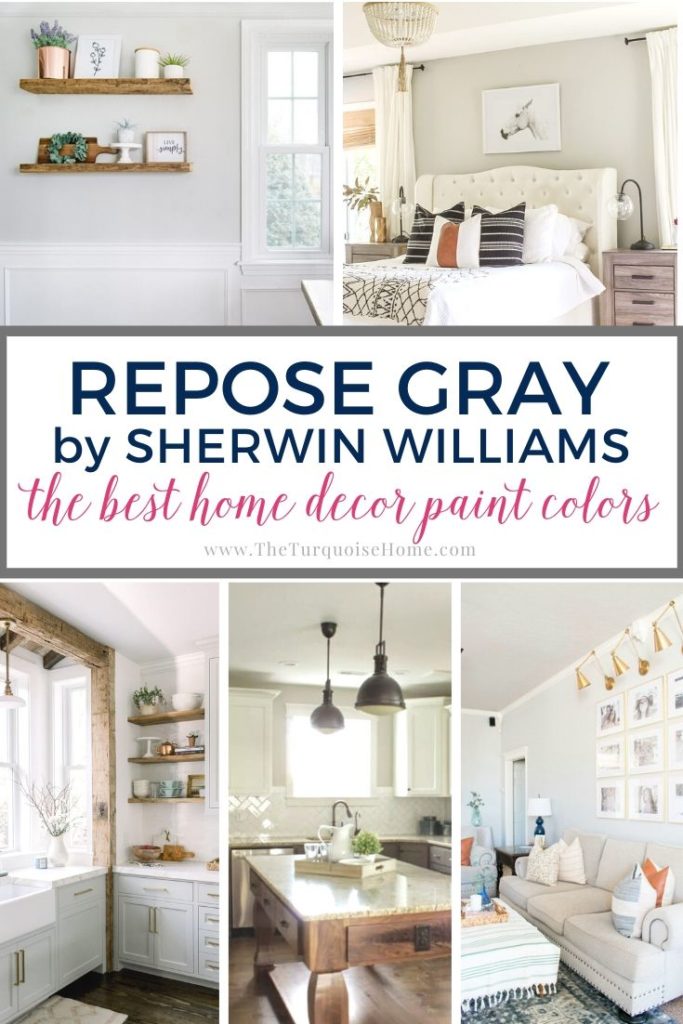 For example, in rooms that face North with lots of greenery (trees, shrubs, etc) outside, the paint will pick up that undertone and look very very slightly greenish-gray.
This post contains affiliate links for your convenience. See my full disclosure policy here.
Depending on the lighting, you may also pick up subtle purple undertones in the paint as well. It's the purple hue that gives repose gray paint that cozy, livable feel.
NOTE: If you're painting the room yourself, these tools will help tremendously. And this post will give you my best tips for painting a room in 5 easy steps.
Tip: Use Real Paint Samples
Any time you are choosing a new paint color, you need to try out the real paint color in your home first!
The easiest and quickest way to do that is with Samplize! I solely use them for paint samples now. There's no mess, no leftover sample pots of paint. Plus, these no-mess, peel and stick rectangles made from real paint, are easy to move around the room and easy to save for future reference!
What Colors Go with Repose Gray?
Almost every color imaginable will look just fine with Sherwin Williams Repose Gray. However, the company has these three colors specifically highlighted as coordinating colors:
Elder White SW 7014
Pavestone SW 7642
Coral Clay SW 9005
Repose Gray vs. Revere Pewter
I would say that Repose Gray and Revere Pewter are the top two home paint color choices for a gray/beige (or greige) interior. When someone is staging a home to sell, I always recommend one of these two colors for an all-over appealing look. And honestly, I still choose one of these paint colors for rooms in my home. They just work so well with both warm and cool color palettes.
Both colors are truly a great choice if you're looking for an all-over neutral color for your whole home color palette.
BUT they are not the same. Repose Gray definitely leans more gray than Revere Pewter. While Revere Pewter leans more greige with taupe undertones.
I painted our last living room in Revere Pewter and our current master bedroom is Revere Pewter.
Repose Gray Room Examples
Now for the fun part – let's see some Repose Gray in actual rooms! While there is no substitute for painting a swatch on your wall and seeing how it looks in your home, these rooms with Repose Gray will give you a good starting point.
Kitchens with Repose Gray
There are very few paint colors that can work as a wall paint, a trim paint or cabinet paint. Repose Gray, of course, is one of those rare unicorns.
This kitchen from Numbered Street Designs uses Repose Gray as a kitchen wall paint to make those white cabinets really pop. It's wrapped onto the ceiling as well, which I really like—it makes the entire room look warm and inviting.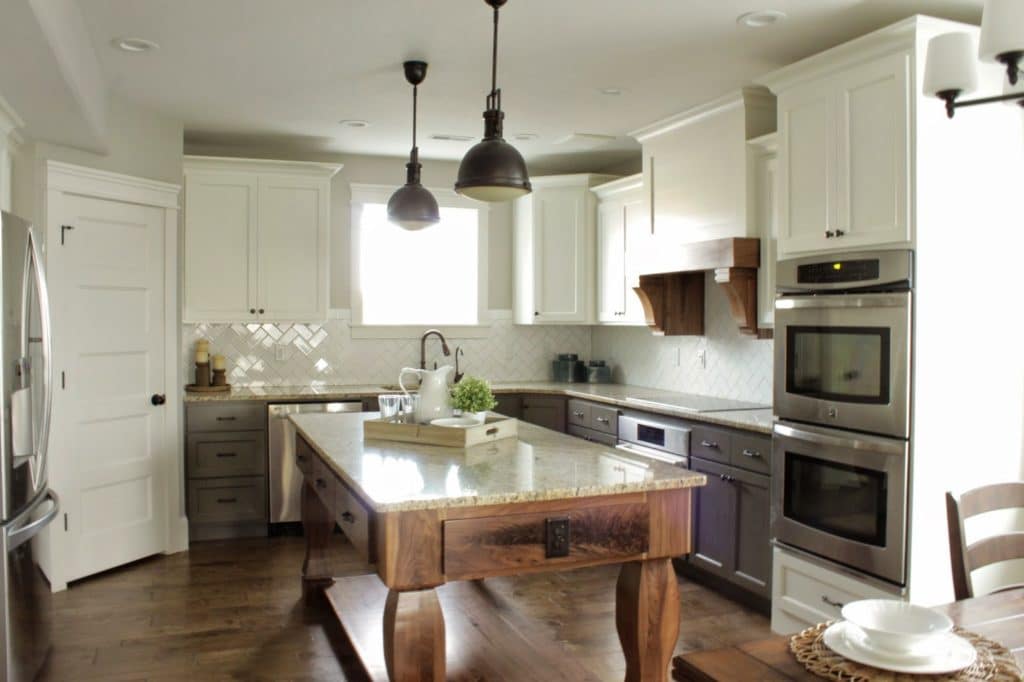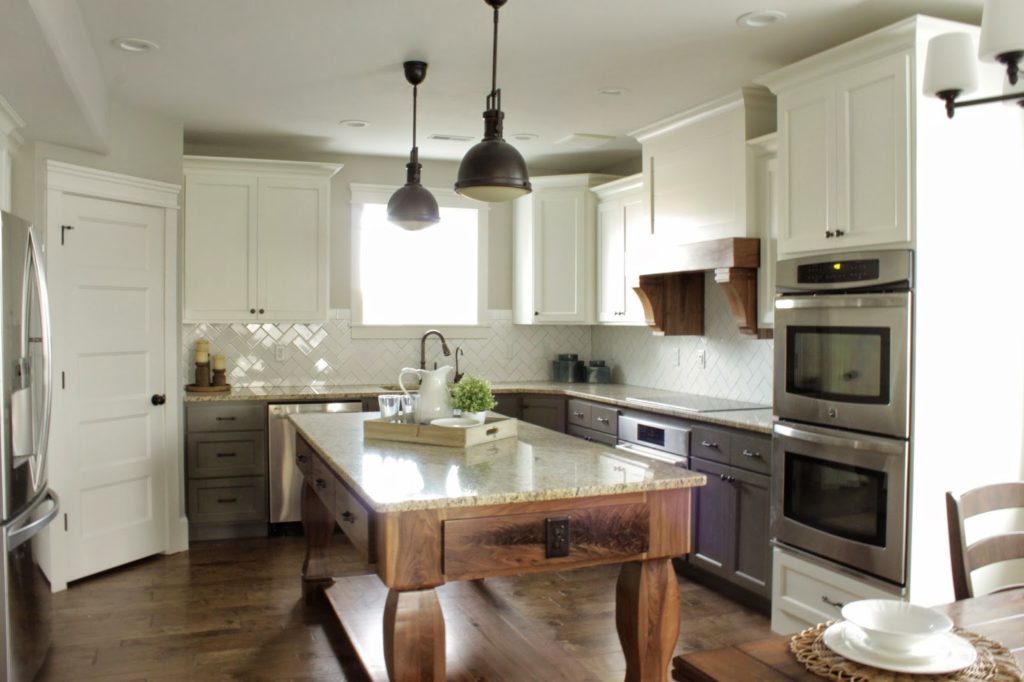 I have always loved Jenna Kate at Home's blog and her kitchen is no exception. You all know I'm a huge fan of open shelving in the kitchen, and I love how her wooden shelves pop against the Repose Gray background.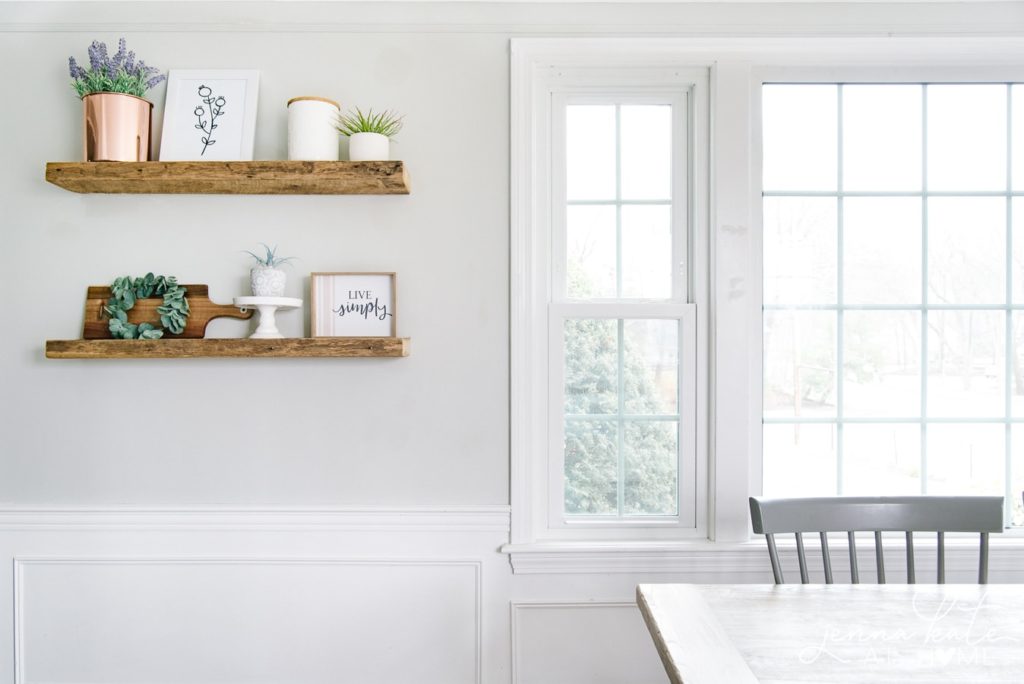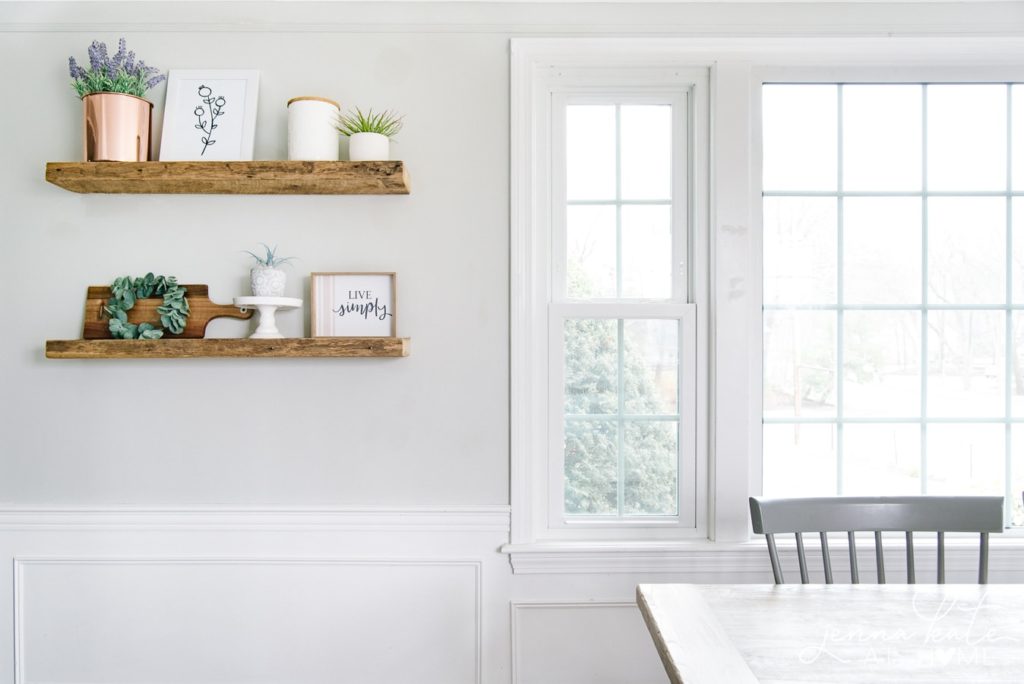 Now let's see Repose Gray kitchen cabinets! This kitchen from Finding Lovely is so incredible—I love the wood accents, those marble counters, and— of course, the Repose Gray cabinets. This color works so well with marble, so it should be on a list of top picks if you are doing a kitchen makeover with new counters.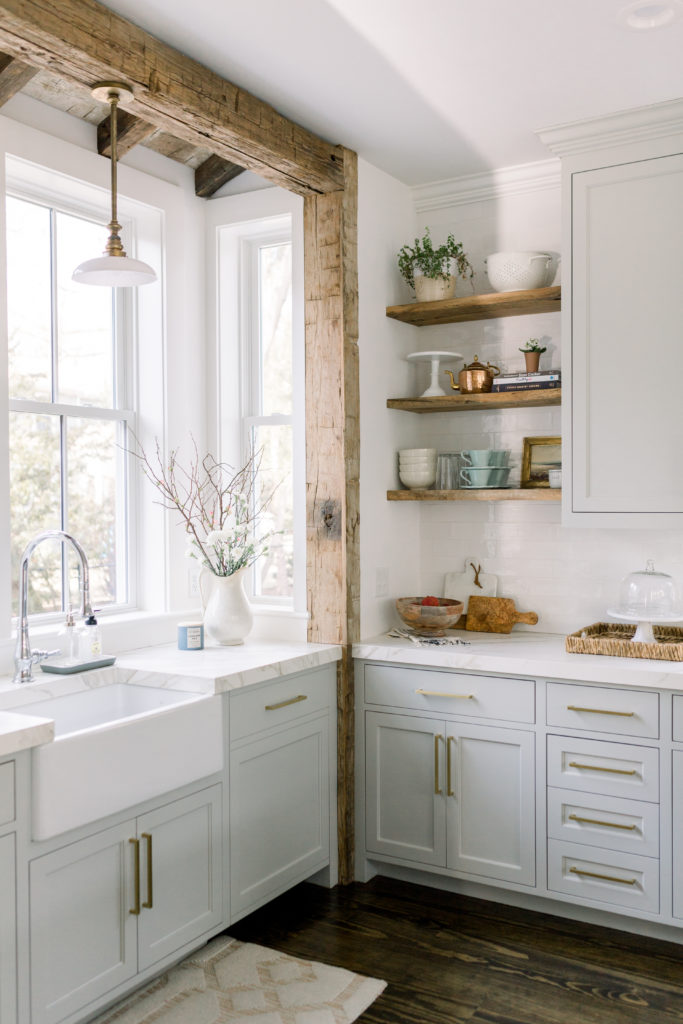 Here is one more example of how Repose Gray is the best gray for a kitchen. In this home from Architecture Digest, the kitchen walls are painted Repose Gray. It happens to look fantastic with the cabinet color, which is Eider White by Sherwin Williams, one of the coordinating colors listed above.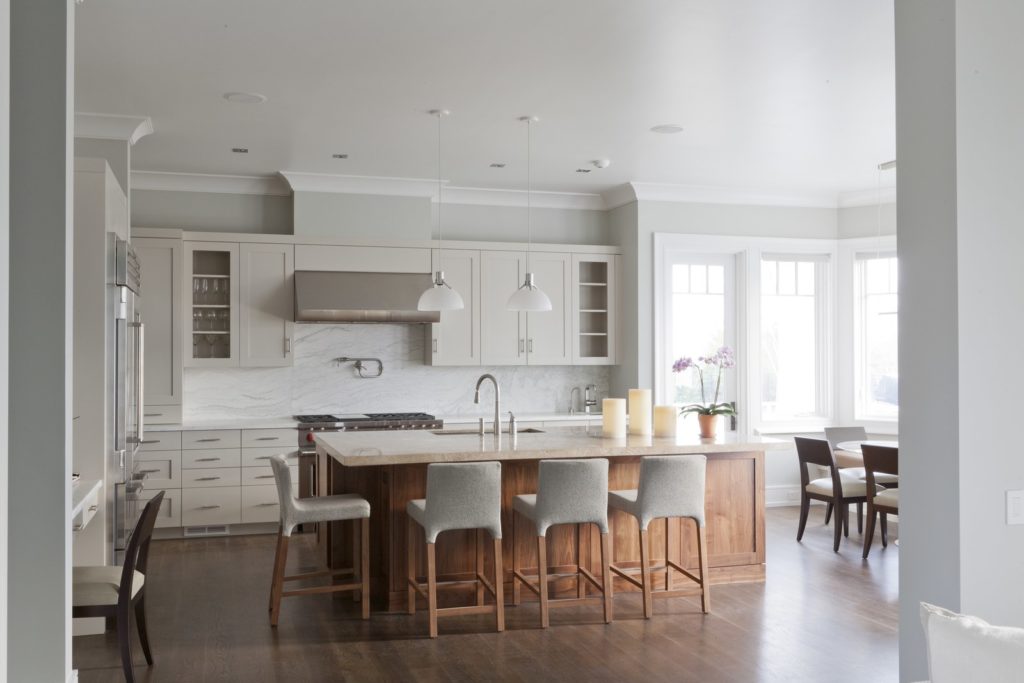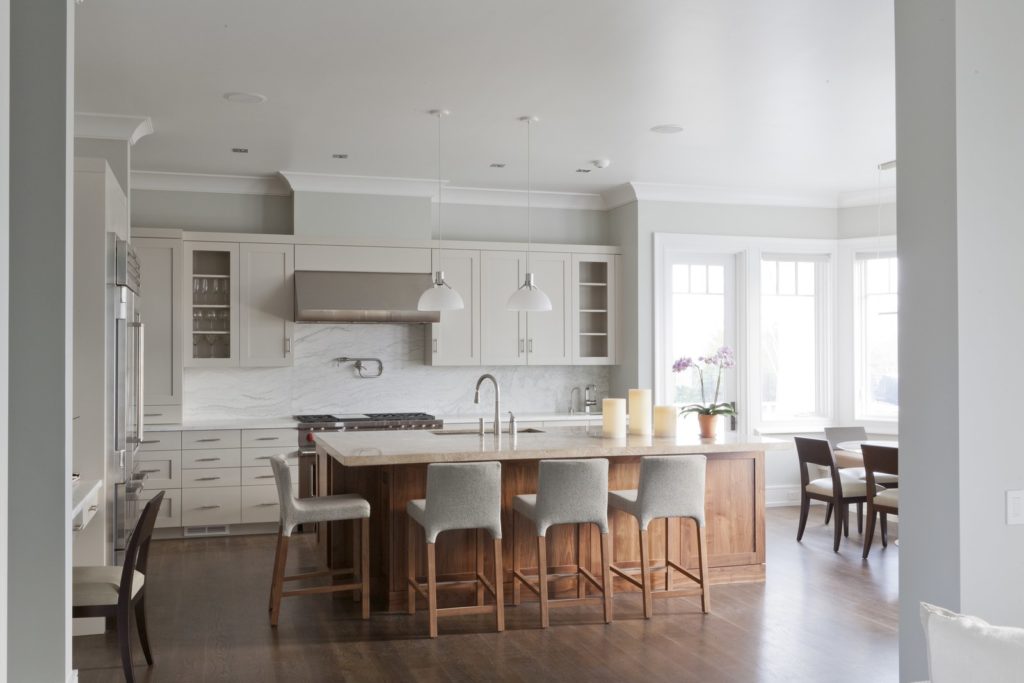 Repose Gray in Living Rooms
If you have an open floor plan and are looking for a whole-house color, Repose Gray is an excellent choice. It's airy enough to not make your home feel heavy, but also has enough hue to give visual interest.
Even if your living room isn't an open floor plan, Repose Gray still looks wonderful. In this room you can see a bit more of the green undertones we talked about earlier, but only just. It's still overall a soft gray. I don't see it paired with gold accents often, but I really like how Project Allen Designs put it all together.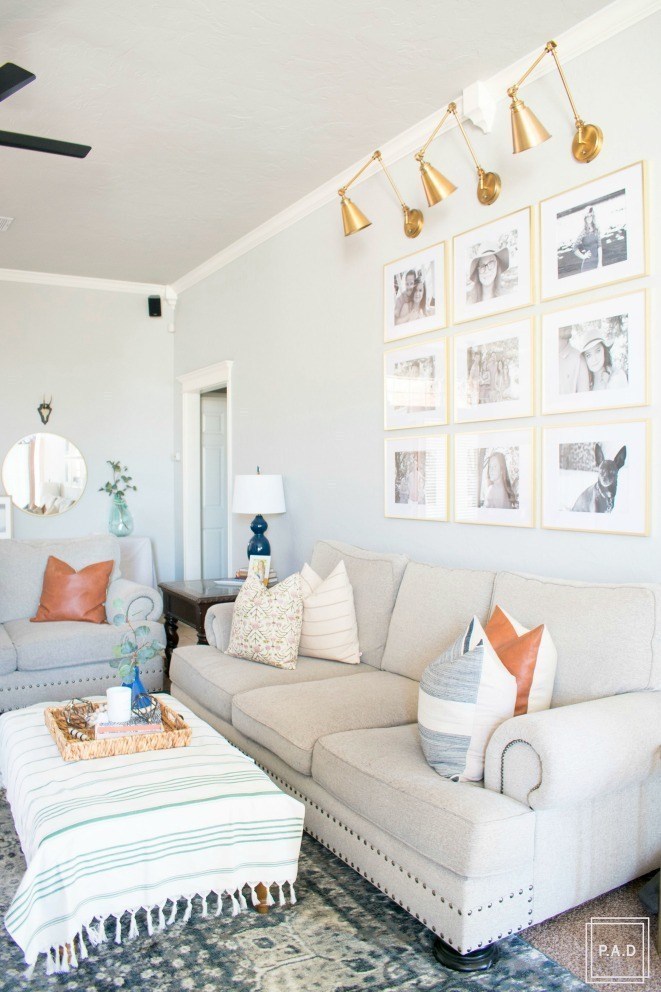 Repose Gray in Bedrooms
Of course, Repose Gray is one of those neutral paints that dreams are made of. You don't want anything too distracting or colorful in a room if you are planning on sleeping and resting there.
For example, this bedroom looks like the perfect spot to curl up and take a long nap. There are a lot of elements in this room from Designing Vibes that I really like—and Repose Gray serves as the perfect backdrop to it all.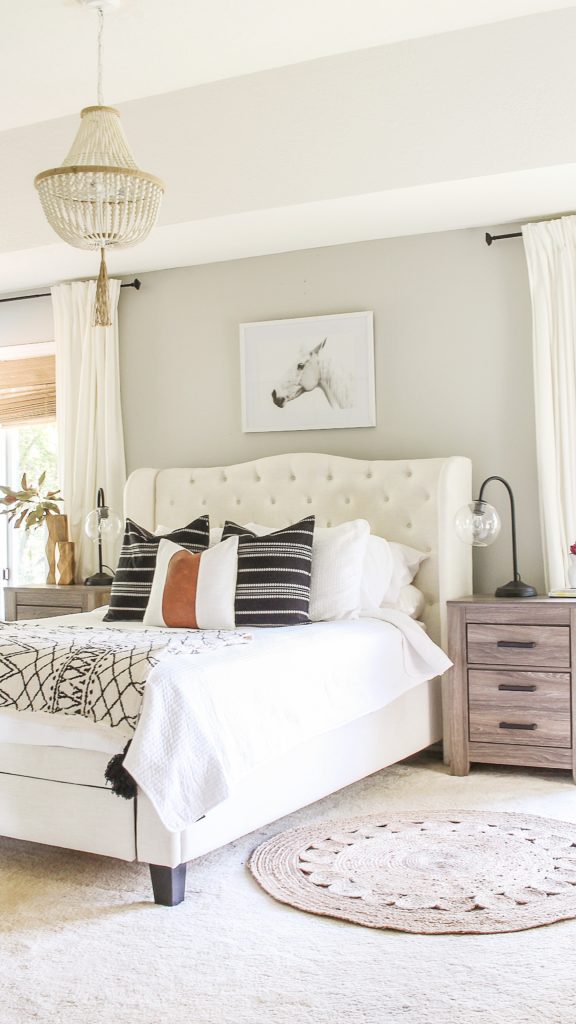 When I choose a paint color, I often look for one that allows me to play with accessories freely. The last thing I want is a color that I can only use baby blues or deep greens with. And this one is so versatile that you can choose any accent color that you want!
So, have I convinced you yet? Grab a can of Repose Gray and try out a swatch or two to see the magic for yourself.
More of the Best Home Decor Paint Colors:
Tips for Painting a Room Yourself
I've gathered some of the best tools for painting a room yourself. First of all, you'll want to check out this post I wrote: Painting a Room in 5 Easy Steps. These tools are the top tools I use when painting my own rooms, which is how they get painted 95% of the time!
Paint Brush – These paint brushes are a little more expensive than your basic brush, but they're worth it! I've used these brushes for more than a decade and if you wash them out well after each use, they will last for years.
Painter's Tape – a MUST have for taping off edges. You'll need to tape off all edges if you don't have a steady hand.
Drop Cloths – a must have if you don't have any laying around the house already.
Paint cup – Sure you could use any old cup, but I've come to swear by this one. The magnetic piece holds your brush cleanly in place when you need to take a break. And it fits my hand perfectly, keeping it from cramping.
Roller Tray – I've found the only paint tray I'll ever use again. The magnetic piece is great for holding the roller in place. And the liners are a luxury, but I won't paint without them because it makes clean up a breeze!
More Posts You Will Love: