Repose Gray by Sherwin Williams is one of the most popular shades of gray for a very good reason: it works virtually everywhere. No matter the style of home, the lighting or the accents, Repose Gray makes it all look good.
Sherwin Williams Repose Gray
Repose gray is a very livable color that doesn't feel sterile or stark. It is a shade of slightly warm gray with undertones of taupe. Just like all paint colors, it will look different in every room—but it truly works every single time.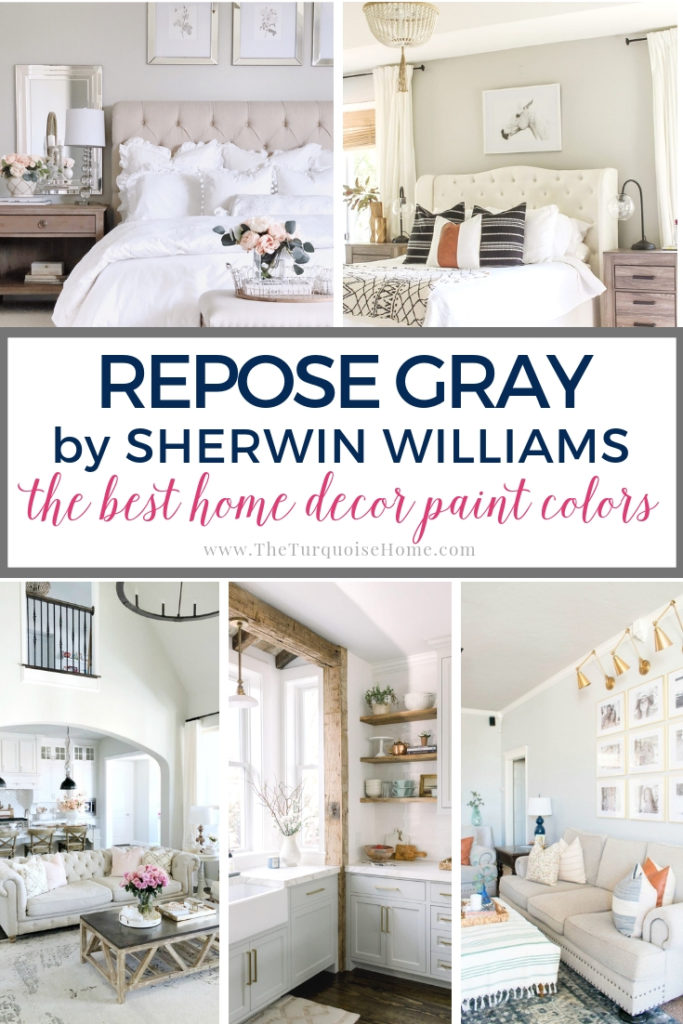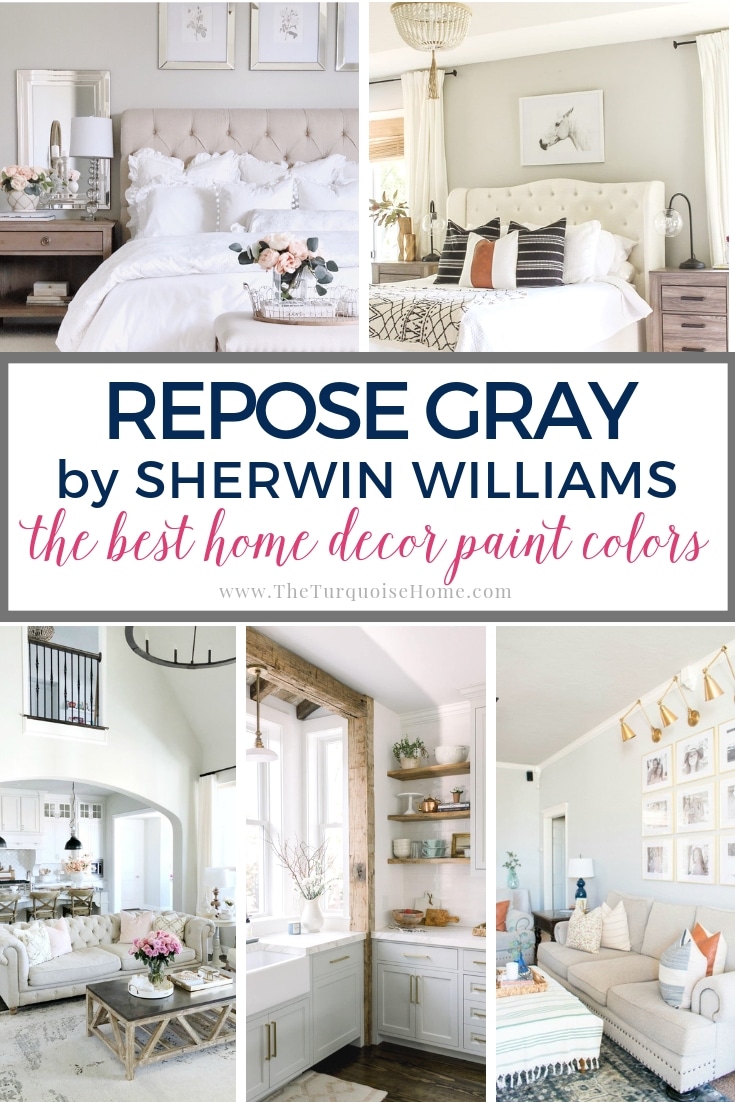 For example, in rooms that face North with lots of greenery (trees, shrubs, etc) outside, the paint will pick up that undertone and look very very slightly greenish-gray.
Depending on the lighting, you may also pick up subtle purple undertones in the paint as well. It's the purple hue that gives repose gray paint that cozy, livable feel.
What Colors Go with Repose Gray?
Almost every color imaginable will look just fine with Sherwin Williams Repose Gray. However, the company has these three colors specifically highlighted as coordinating colors:
Elder White SW 7014
Pavestone SW 7642
Coral Clay SW 9005
Repose Gray Room Examples
Now for the fun part – let's see some Repose Gray in actual rooms! While there is no substitute for painting a swatch on your wall and seeing how it looks in your home, these rooms with Repose Gray will give you a good starting point.
Kitchens with Repose Gray
There are very few paint colors that can work as a wall paint, a trim paint or cabinet paint. Repose Gray, of course, is one of those rare unicorns.
This kitchen from Numbered Street Designs uses Repose Gray as a kitchen wall paint to make those white cabinets really pop. It's wrapped onto the ceiling as well, which I really like—it makes the entire room look warm and inviting.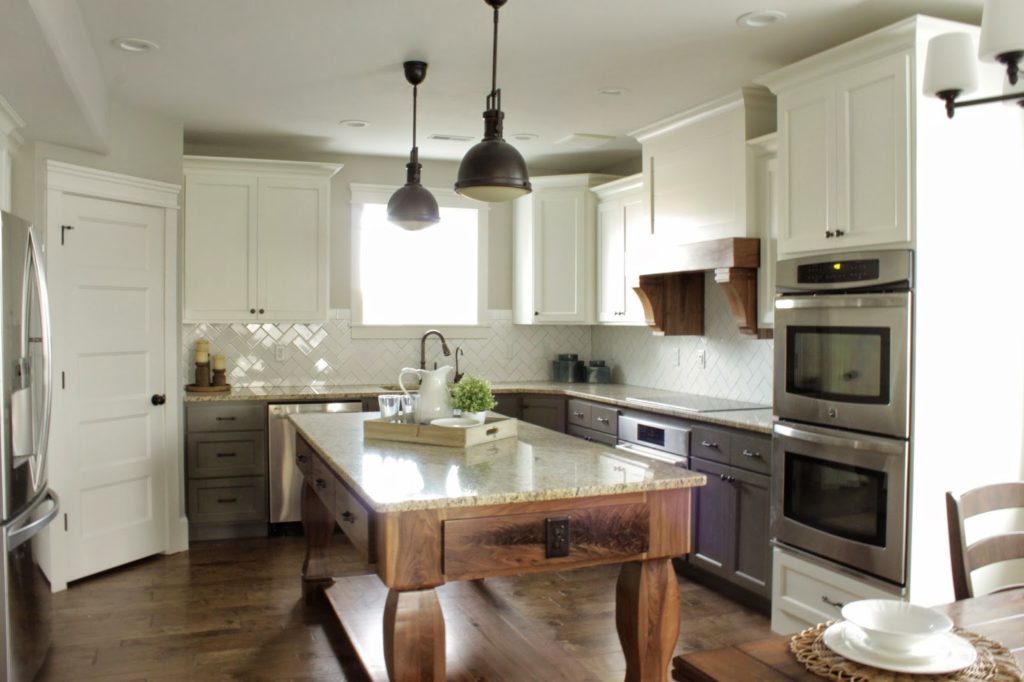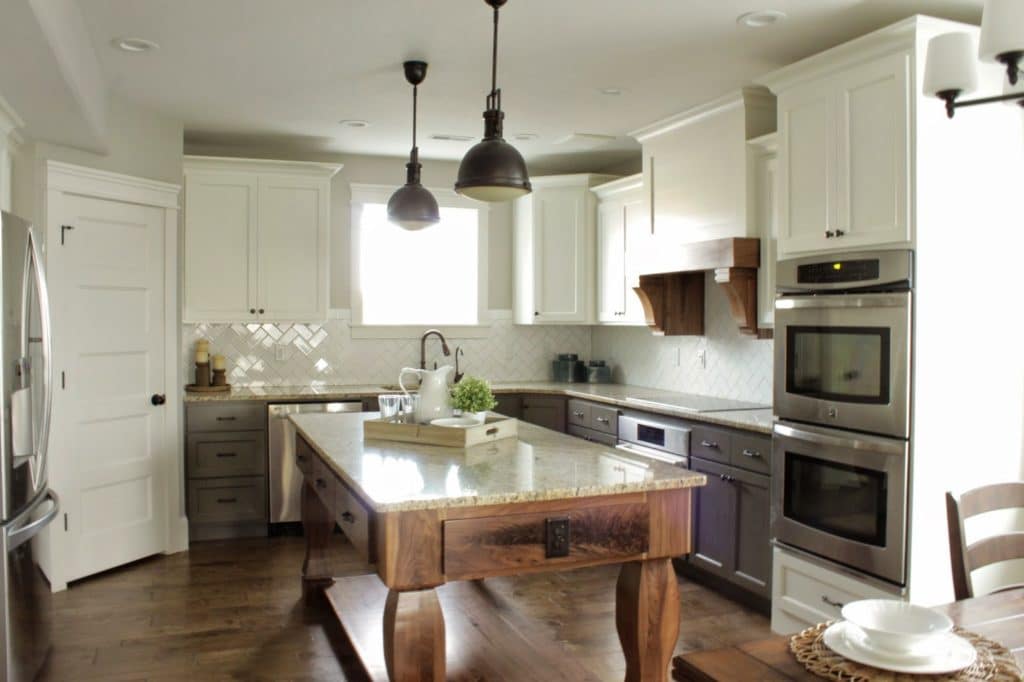 I have always loved Jenna Kate at Home's blog and her kitchen is no exception. You all know I'm a huge fan of open shelving in the kitchen, and I love how her wooden shelves pop against the Repose Gray background.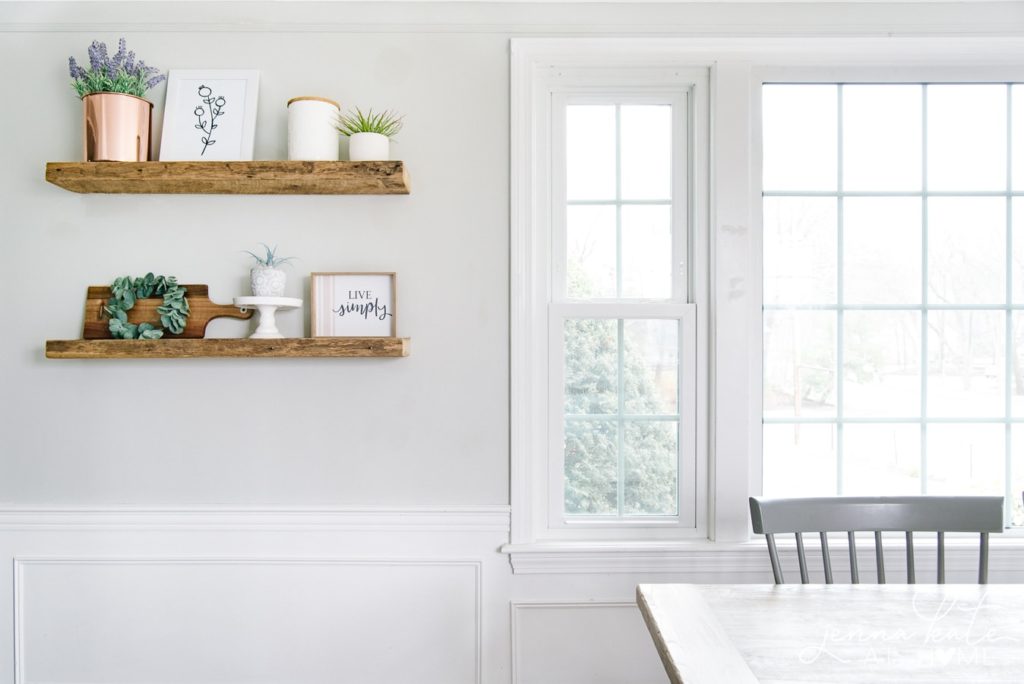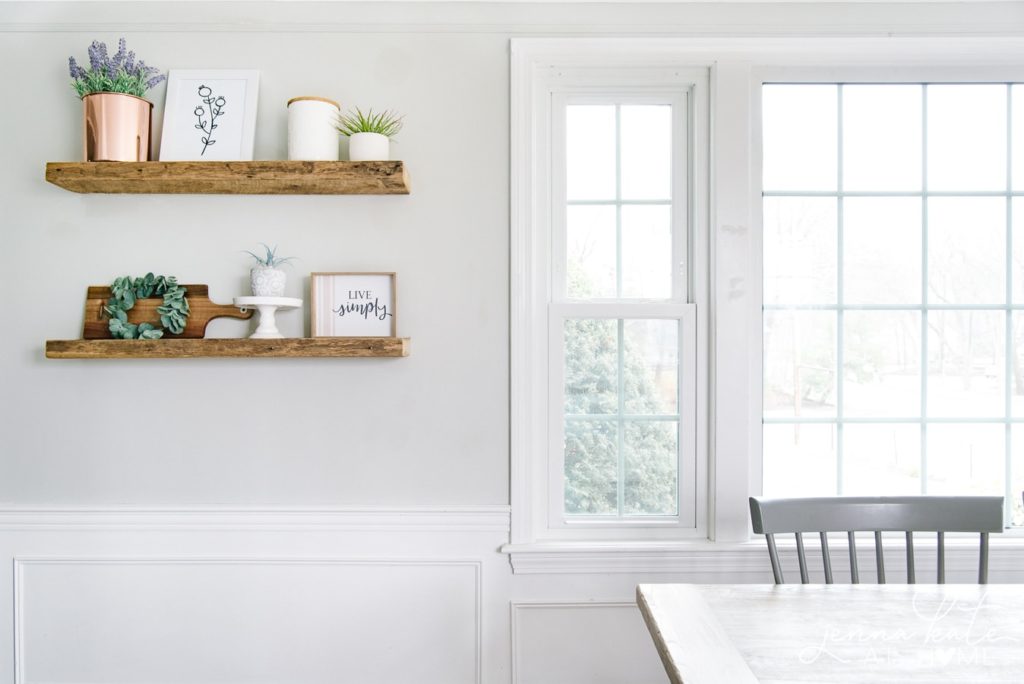 Now let's see Repose Gray kitchen cabinets! This kitchen from Finding Lovely is so incredible—I love the wood accents, those marble counters, and— of course, the Repose Gray cabinets. This color works so well with marble, so it should be on a list of top picks if you are doing a kitchen makeover with new counters.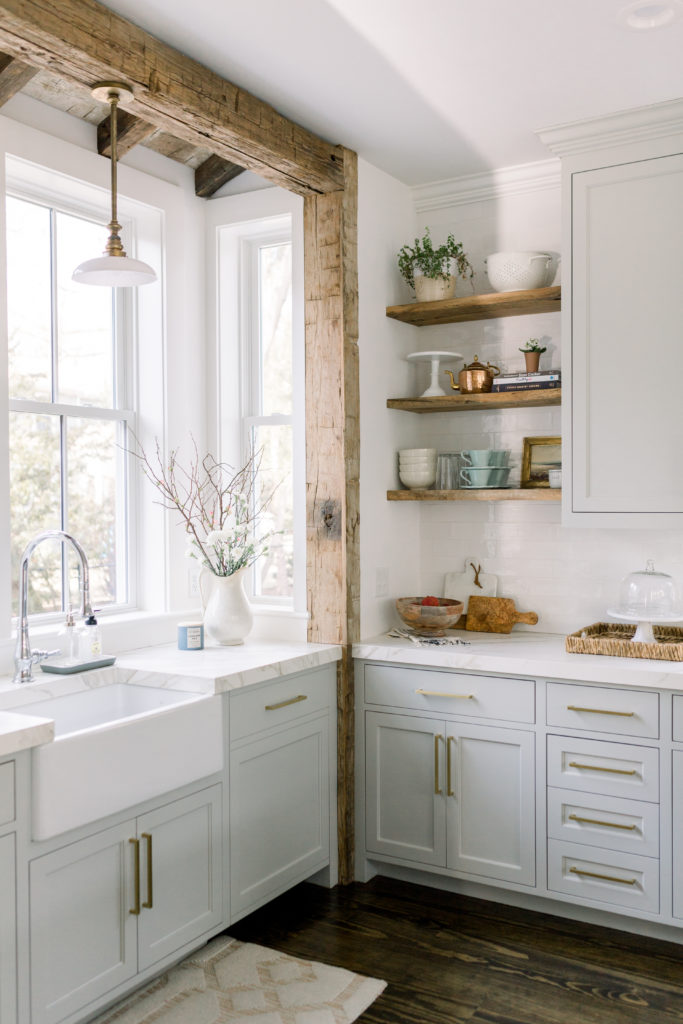 Here is one more example of how Repose Gray is the best gray for a kitchen. In this home from Architecture Digest, the kitchen walls are painted Repose Gray. It happens to look fantastic with the cabinet color, which is Eider White by Sherwin Williams, one of the coordinating colors listed above.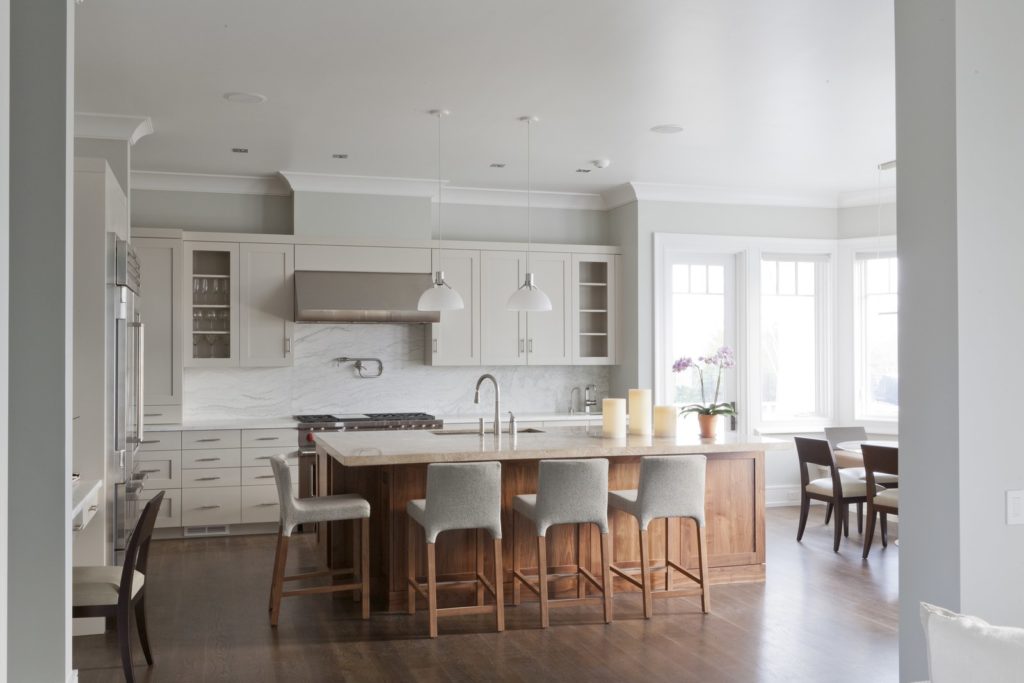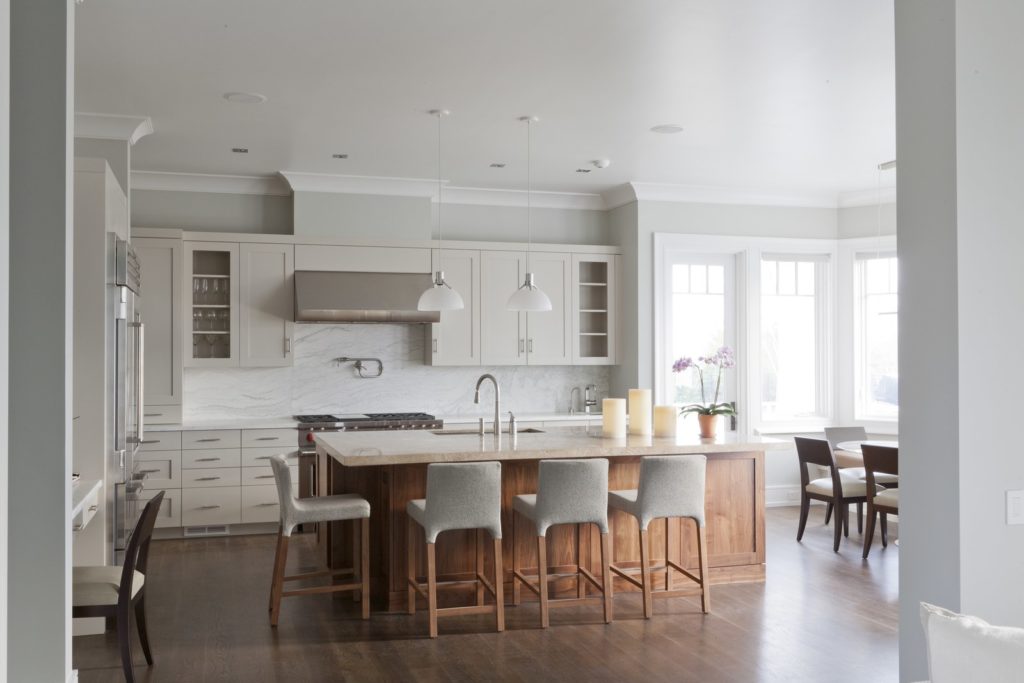 Repose Gray in Living Rooms
If you have an open floor plan and are looking for a whole-house color, Repose Gray is an excellent choice. It's airy enough to not make your home feel heavy, but also has enough hue to give visual interest.
One example of an open floor plan with whole-house Repose Gray is My Texas House. As you can see, her living room is open to the kitchen. The walls are all Repose Gray. She has a ton of natural light so the color looks quite soft and bright here which I like. Plus, those high ceilings- wow.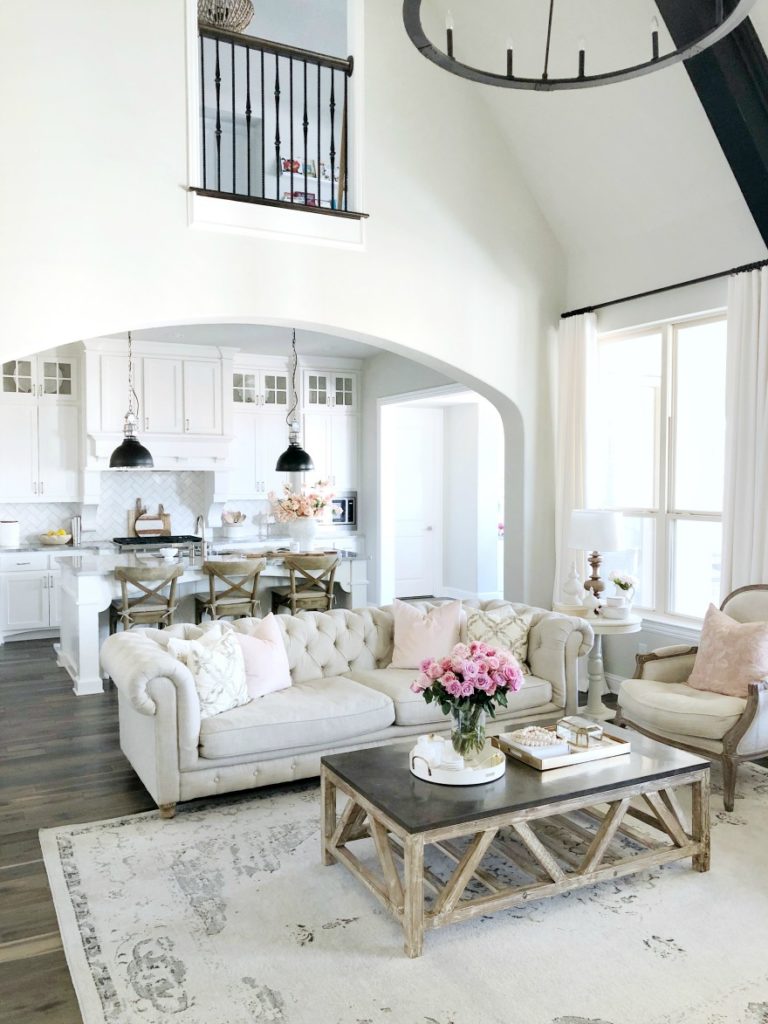 Even if your living room isn't as open, Repose Gray still looks wonderful. In this room you can see a bit more of the green undertones we talked about earlier, but only just. It's still overall a soft gray. I don't see it paired with gold accents often, but I really like how Project Allen Designs put it all together.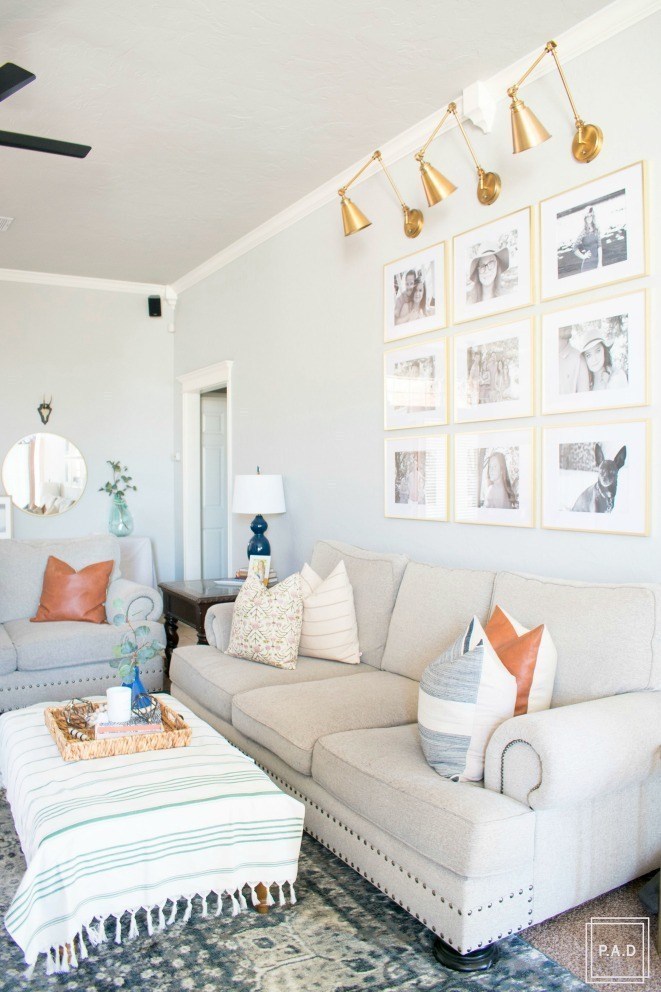 Repose Gray in Bedrooms
Of course, Repose Gray is one of those neutral paints that dreams are made of. You don't want anything too distracting or colorful in a room if you are planning on sleeping and resting there.
For example, this bedroom looks like the perfect spot to curl up and take a long nap. There are a lot of elements in this room from Designing Vibes that I really like—and Repose Gray serves as the perfect backdrop to it all.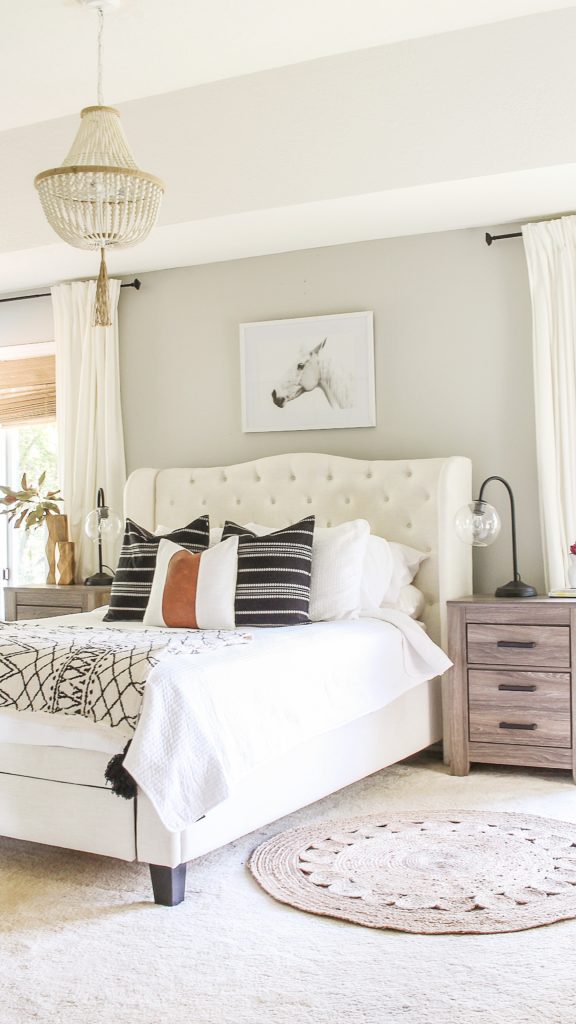 When I choose a paint color, I often look for one that allows me to play with accessories freely. The last thing I want is a color that I can only use baby blues or deep greens with. This bedroom with Repose Gray walls from My Texas Home shows just how versatile the paint is. It works with her softer style just as well as the modern styled bedroom above.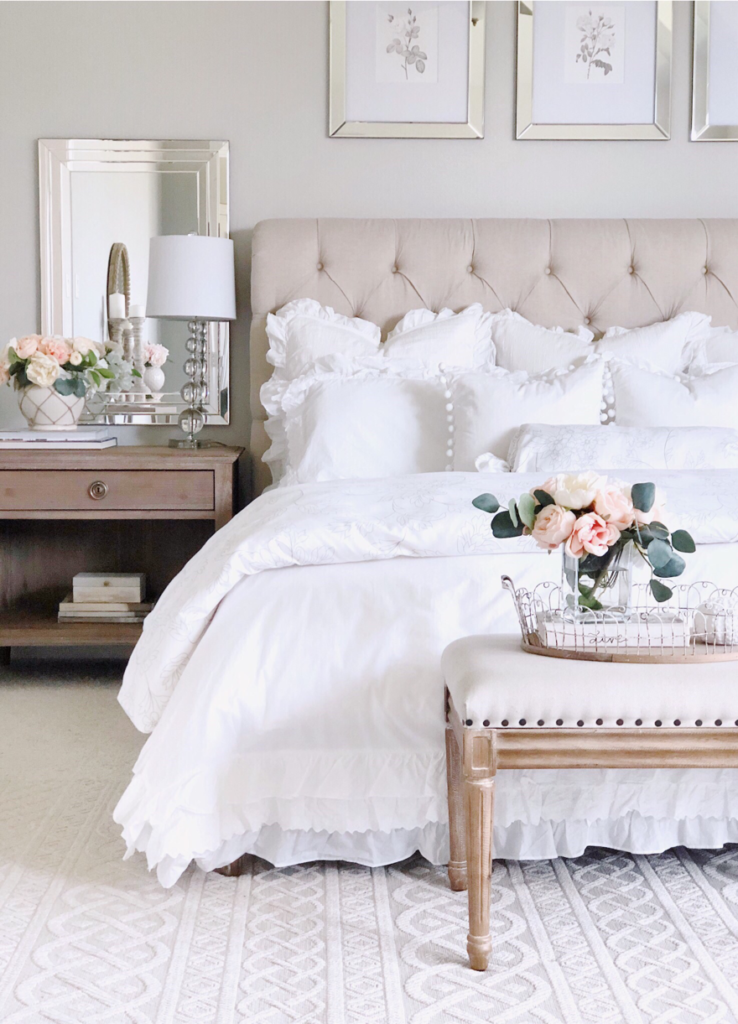 So, have I convinced you yet? Grab a can of Repose Gray and try out a swatch or two to see the magic for yourself.
More of the Best Home Decor Paint Colors:
MORE POSTS YOU WILL LOVE:
Get Instant Access to my Guide to Customize Your Home on a Budget
Grab your FREE guide for 10 Ways to Customize Your Home on a Budget: simple projects to transform your home from builder beige to a home with character and charm!