This shared girls bedroom vision board features a beautiful white, blush and blue green palette, with the perfect mix of pattern, florals and texture! It's a beautiful formula for a shared little girl's space that they can continue to grow into!
I recently shared in my "Home Goals 2020, part 2" post that I wanted to give my girls' room a makeover before the end of June. Well, I'm happy to say that we're well on our way to a makeover and it's high time I shared the vision for their shared space!
It's been a fairly smooth transition for them to move into the new house, but they miss their decorated old rooms. My oldest especially has been begging for me to paint the lime green walls.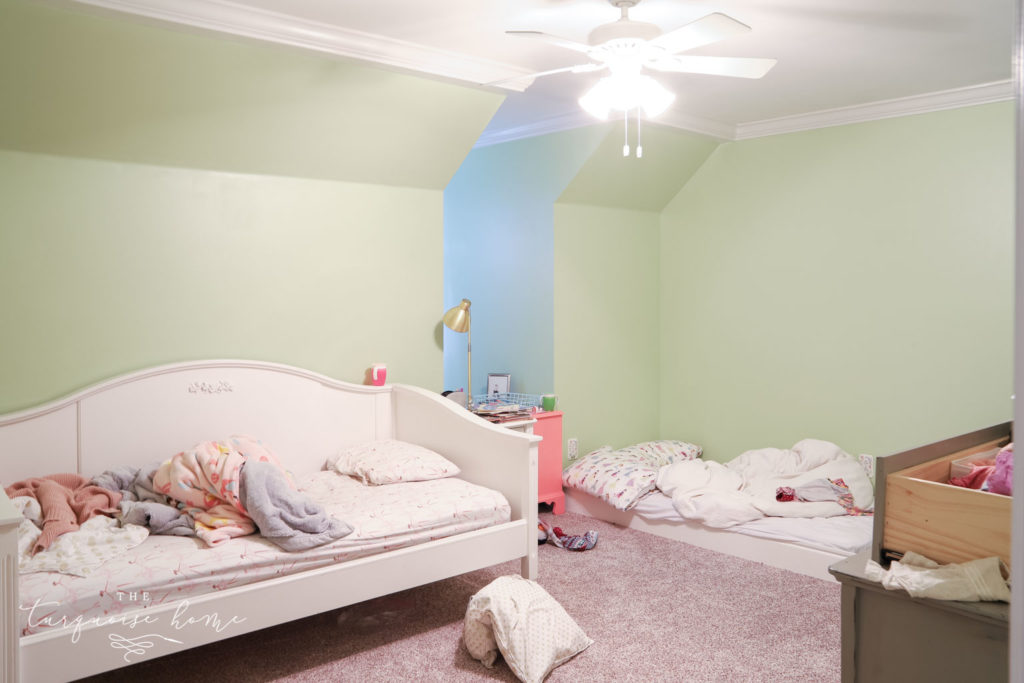 There are two bedrooms in our new house for the girls, but they decided to try sharing the room with the ensuite bathroom and using the other bedroom for a play room. I wanted to give it a few months trial before we committed to doing the shared room. And so far, so good!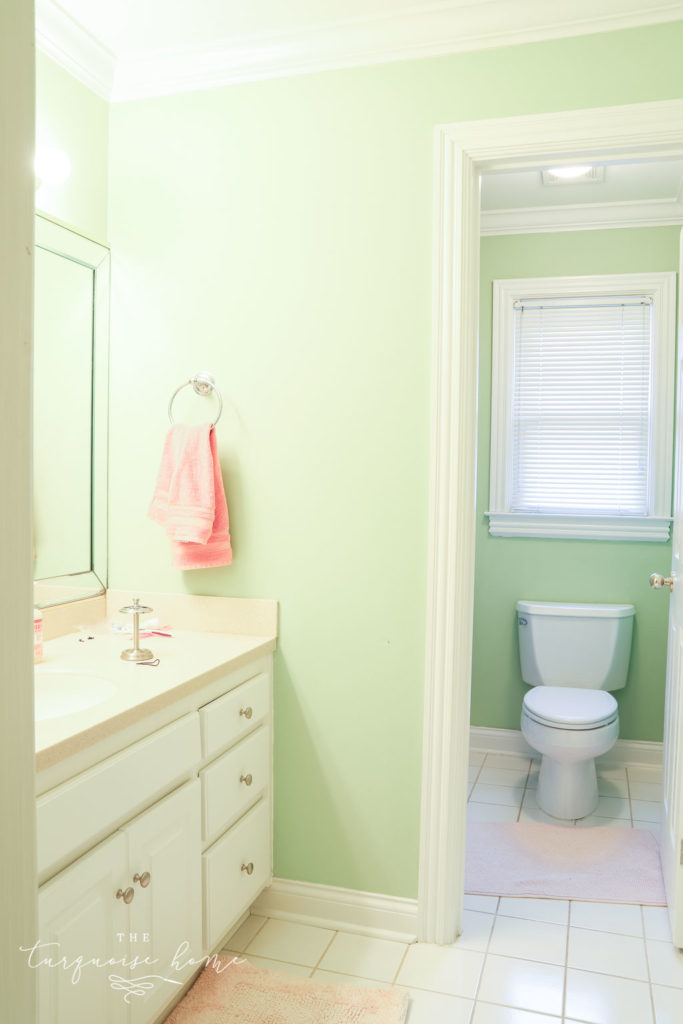 Even though we actually already have their new beds and I've already painted the walls this gorgeous blush/coral pink color, I wanted to share my vision for the space before I share any progress pics!
This post contains affiliate links for your convenience. See my full disclosure policy here.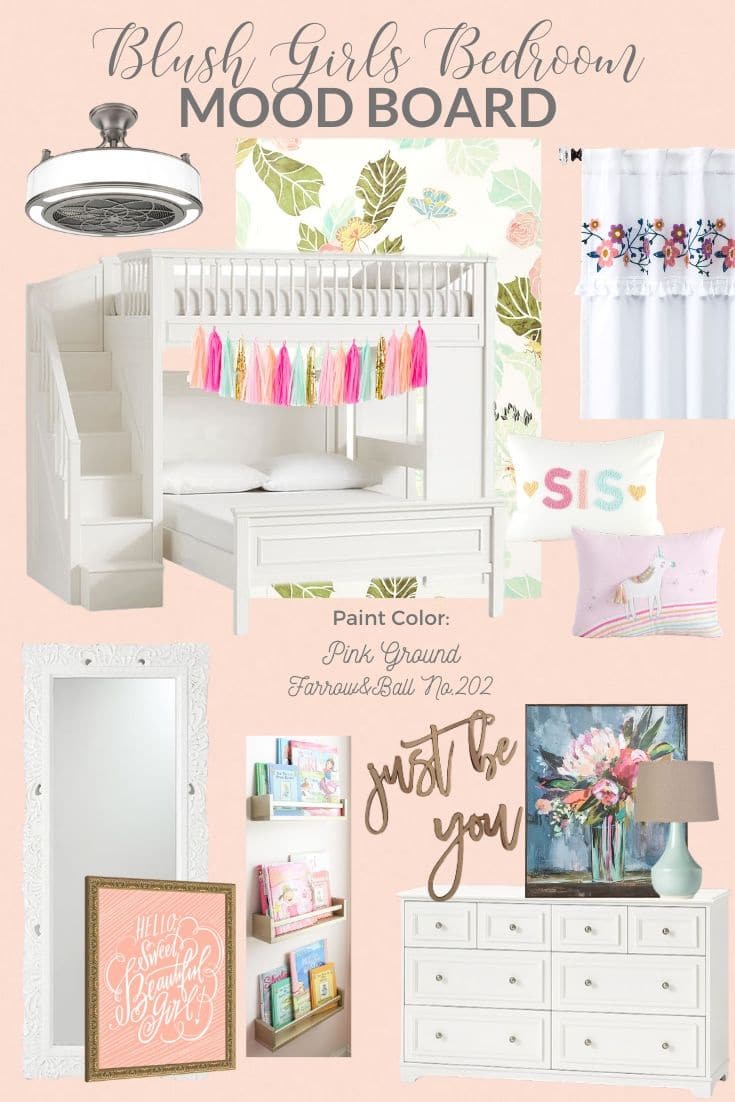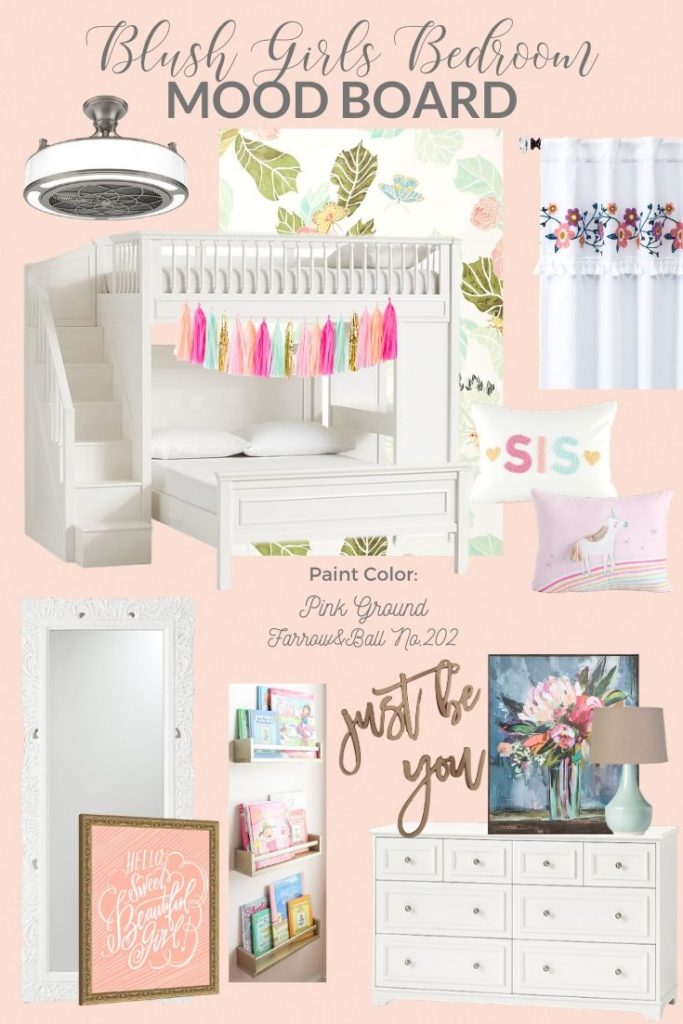 Click/Tap any of the images below to shop the girls bedroom:

The vision started with the beds and the wall color. I know it's normal to start with a wallpaper or a patterned rug first, but I knew I wanted this wall color and these beds. So, I started there!
I'm definitely going to be wallpapering their adjoining bathroom with the Watercolor Flora Wallpaper in the mood board, but I may also use it on an accent wall in their room.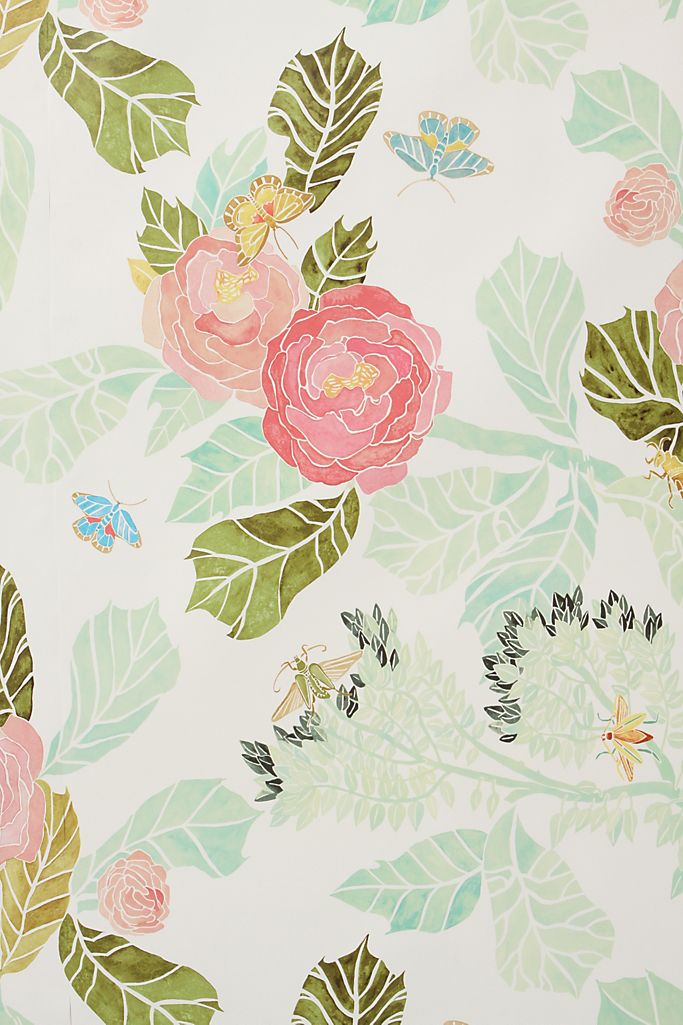 I hesitate to even use that wallpaper because it's so popular. I even tried to find something different, but I kept coming back to it because it's just perfect for a room for little girls.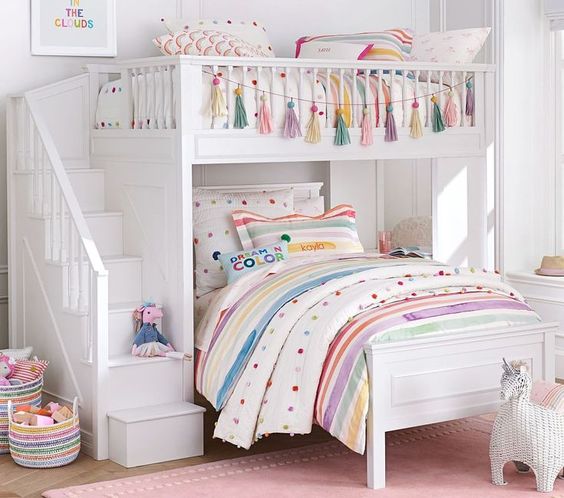 Paint the bedroom walls Pink Ground by Farrow and Ball – I got a sample of Pink Ground from Anthropologie and had it color matched at Lowe's. ☺️
Add an accent wall with wallpaper or stencil – still deciding, but will definitely be using the wallpaper in the adjoining bathroom.
Buy loft bed with full size bed below. (I've had my eye on this full loft bed over full bed for years!) – We got them this week and the girls LOVE them!
Buy new bedding – from Beddy's! I swore I would never get a loft bed or bunk beds without also getting Beddy's bedding. We have them already and we're in love! So easy for the girls to zip it up and no more wadded up sheets at the ends of their beds! (Use code TURQUOISE to get 15% off your order!)
Either buy new or get an old dresser and paint it white. I'm still waiting for the dresser I want to go on sale.
Reuse old decor for the walls. I'm using as much decor from their old bedrooms and bathroom as possible!
Hem the curtains.
Change out their ceiling fan for a fan without exposed blades. We had to put the loft bed close to the ceiling fan and we can't turn it on anymore, so I needed to find something that would work with the loft bed in place.
It's not much more than painting, getting their beds set up, wallpaper a wall and decorating, but since we've already finished half of that, I think I can be done by the end of this month. It already feels more like them, but I know it will feel so much more like their space once we get it spruced up!
Sources for the Girls Bedroom Makeover:
I can't wait to see it all come together really soon!
MORE POSTS YOU WILL LOVE:
Get Instant Access to my Guide to Customize Your Home on a Budget
Grab your FREE guide for 10 Ways to Customize Your Home on a Budget: simple projects to transform your home from builder beige to a home with character and charm!