Home Decor 101: How to Decorate End Tables
Sometimes, end tables tend to be an afterthought and can feel tough to style well. Never fear! These simple end table decor ideas will take your end tables from "drab" to "wow" quickly and easily!
Styling a home doesn't always come naturally. In fact, it can be a challenge even for the people who are gifted at styling and decorating.
My goal is to take the mystery and frustration out of decorating and share some decor tips that you can incorporate into a home you love to live in! I want you to have a home that's beautiful while also being very functional and comfortable. That's always the goal!
Sometimes an end table can be the finishing touch that a room needs. Kind of like my living room, where I needed something to fill the space in the corner of the room.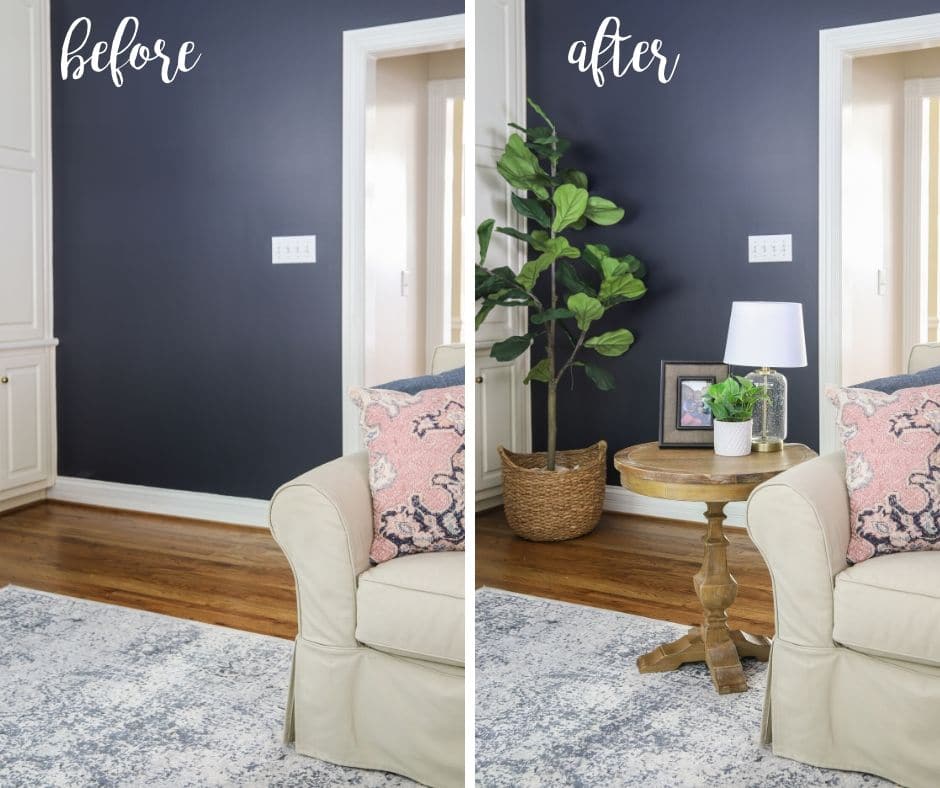 I also needed a lamp at the end of the sectional and a place to set a drink. It is perfect for both of those needs. See? Functional and comfortable! But how to make it look finished, pretty and flow cohesively with the rest of the room? Let's take a look.
Scroll & Click/Tap to Shop My Living Room Corner:

If you have ever wondered how to style your end tables, then this post is for you!
Are End Tables Out of Style?
My answer is a resounding no! How can they ever go out of style? People are always going to need a place to have their lamps so they can read or put down their coffee cups (at one point, I tried going without end tables – it wasn't pretty).
Instead of accent tables themselves going out of style, I think the real issue is that they aren't styled well.
Your end table needs to be a part of your decor. It needs to be an extension of and a part of the rest of your home. It also needs to show off who you are by utilizing interesting personal touches.
Hint: you can't just stack a few coasters on top of your end table and call it good. 😉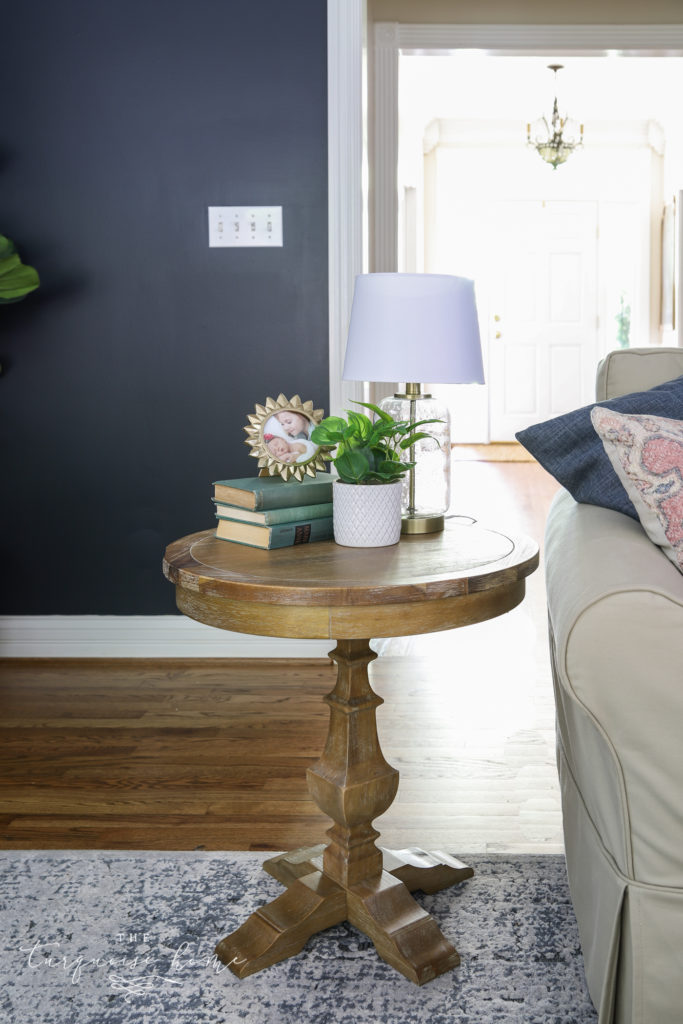 Scroll & Click/Tap to Shop My Living Room Corner:

What do You Put on End Tables?
There is definitely a bit of an art when it comes to styling end tables, and today's tips will help you take your end table decor from "boring" to "stylish" easier than you think!
Essentially, I think you can stick with a variation of these 5 things…
Lamp
Picture Frame
Greenery or Florals
Books
Coasters
That's it! Gather those items from around your home and let's get started with my top tips and ideas for how to arrange those items.
Top 5 End Table Decor Ideas
These ideas will help you to seamlessly blend practicality and elegance as well as help you find your own personal style for your end tables.
My biggest piece of advice would be to feel free to play around with your tables. Styling your tables isn't an exact science. It's a matter of utilizing these tips then stepping back and taking a look at what you have.
Related Post: Simple Formulas for Styling Bookshelf Decor
Tip #1: Simply Use Less
End tables aren't large pieces of furniture. In order to keep them from looking cluttered, it's important to operate by the "less is more" theory.
I recommend using 3-5 items on your end tables. The "group of 3s" rule works every time!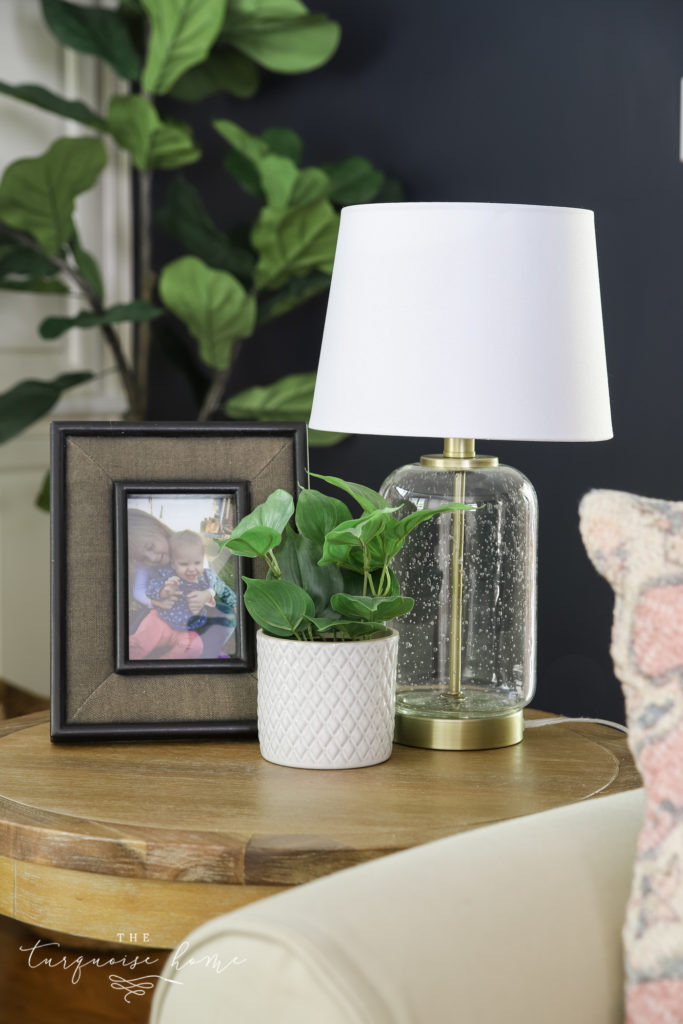 However, don't group more than 5 things on your end tables or your tables will look full and cluttered no matter how well you style them.
For example, take a look at how Emily Henderson styled the top of the table below. There are three elements there—a coffee cup, notepad, and greenery. It looks perfect as-is…anything else added to the top would look cluttered.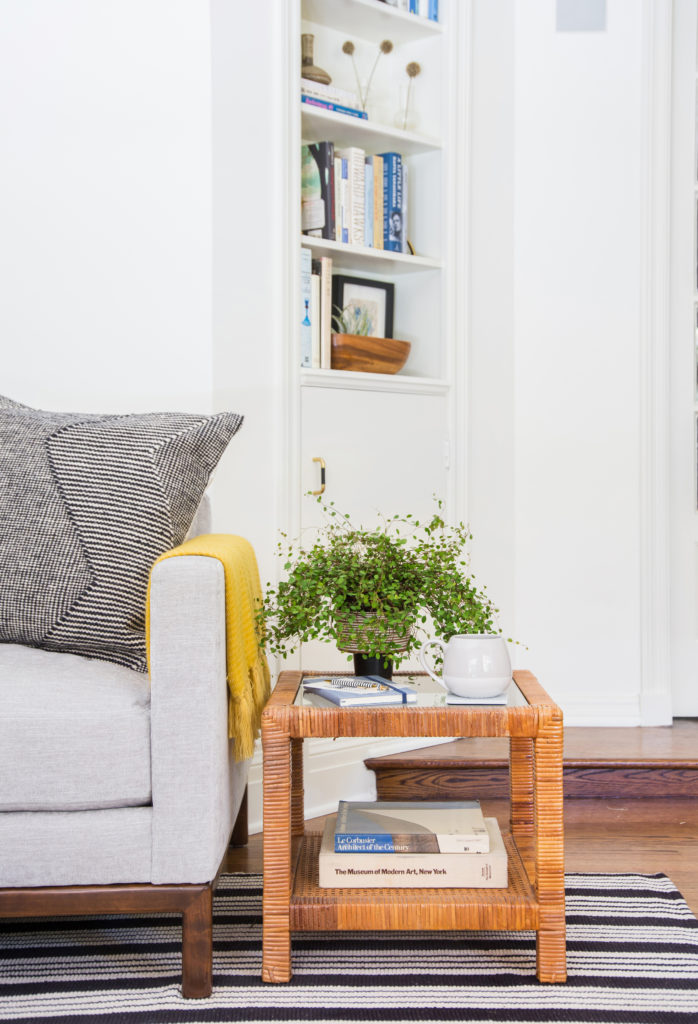 Tip #2: Add Florals or Greenery
This can be in the form of adding simple greenery or even flowers – living or faux. It doesn't really matter but what DOES matter is the sense of life that this green touch brings into the room.
I like how this table from Stone Gable made florals the focus of this end table. This pretty floral stems straight from her garden add a nice pop of color as well as some height.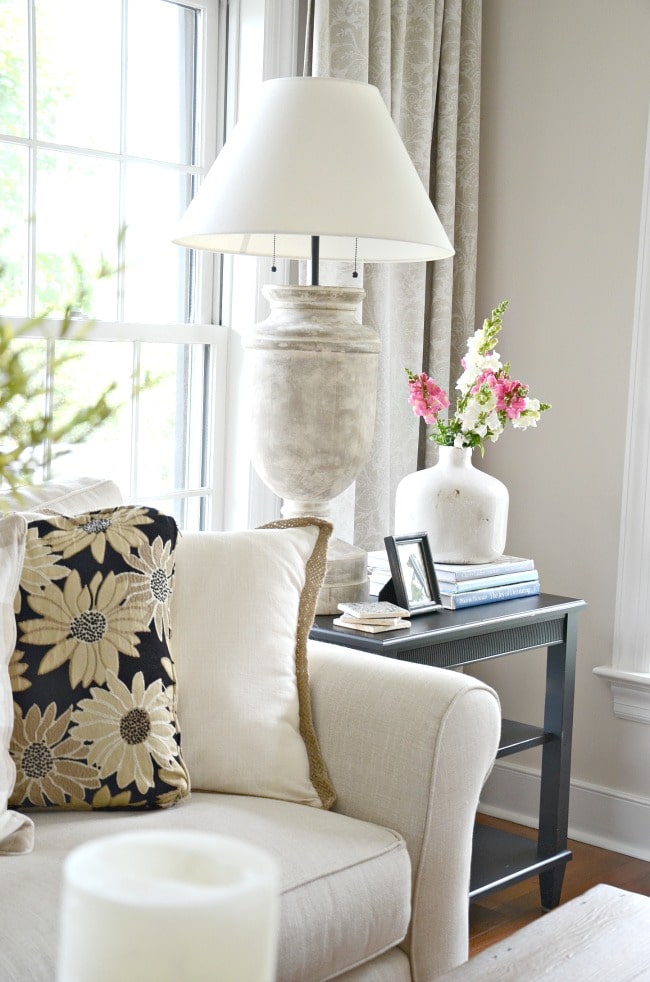 Tip #3: Personal Touches are Important
This could be a framed photograph or piece of art, a meaningful book, something that you made (such as a painted ceramic) or an object you picked up on a trip. This is a place to let your home tell your story – get whimsical or even just a little out of place.
A table looks personal, inviting, and intentionally styled when it has something meaningful to you on it. That piece might even become a topic of conversation when people come to visit!
For example, I styled my end table with both pretty and personal effects thanks to a lovely framed photo of my girls.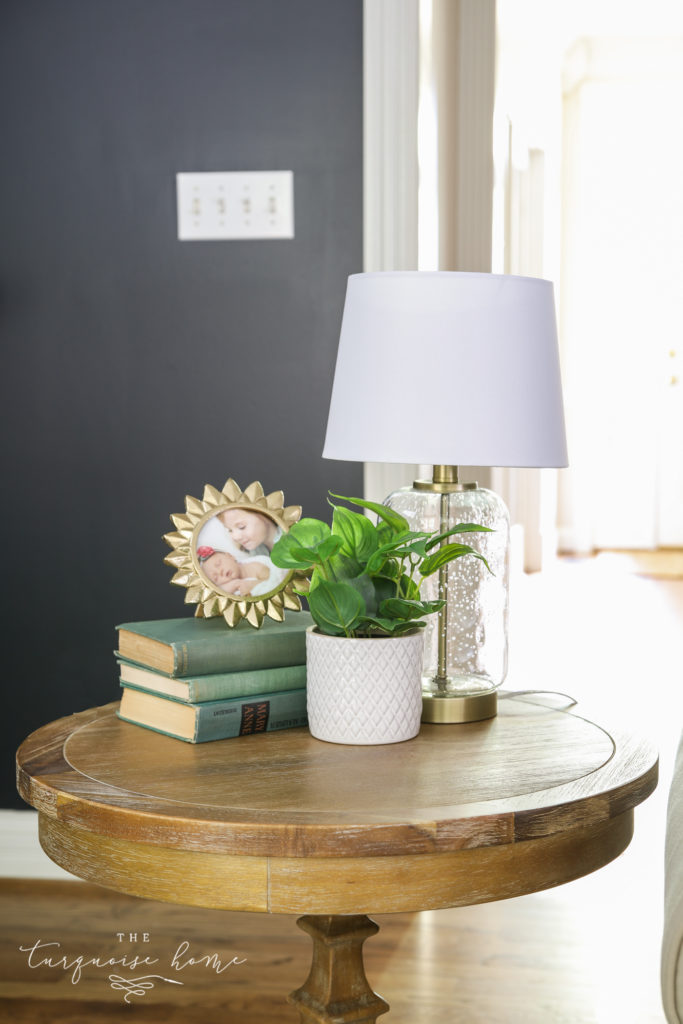 Tip #4: Add Varied Height
No only does a table lamp provide a nice reading light, but it adds height to your table decor. I honestly think my lamp is too small for my space, so I am hoping to get one a little larger! 😉
Use stacked books to add height to one item when you have two items that are about the same height. This staggered look will create visual interest with a "complete" look.
Tip #5: Embrace Symmetry
I love to decorate with symmetry and have an eye that naturally is drawn to symmetry. You just can't go wrong when you use symmetry. Ways you can employ symmetry can include things like:
Having a matching (or similar) end table on either side of a couch or sofa
Displaying the same number of items on each table (they don't need to be the exact same items on each table)
There you have it! Simple but practical tips for nailing your side table decor. Styling your end tables takes just a little thought and time, but overall it's way easier than most people make it out to be.
I hope these tips and tricks simplified the process and inspired you to take a stab at how to decorate end tables in a way that you love to look at each day – because that's what REALLY matters.
Favorite End Table Decor
If you need a few items to style your accent table, or even need an end table, I've gathered some of my favorite items from each category!
Scroll & Click/Tap to Shop Each Category
End Tables

Table Lamps

Books

Frames

Greenery or Florals

Coasters



MORE POSTS YOU WILL LOVE: