This navy living room is centered around an oversized sectional sofa, the perfect spot for the whole family to hang out. Navy walls with blue, pink and green accents and the perfect mix of natural wood tones gives it a traditional, coastal, cozy feel!
The living room was not the first room I had my eye on when it came to making over our new home. In fact, I don't even think it was on my radar. But because we spend soooo much time in there, it just kind of happened!
I'm pretty sure it's because as I sat and looked at the golden walls day in and day out, I couldn't wait a moment more to paint them something else. Something blue and bold, like Hale Navy. The huge wall of windows and the white built-ins and large door openings made this the perfect room for a bold paint color.
This post contains affiliate links for your convenience. See my full disclosure policy.
In case you need a reminder of where we started, this are the photos from the real estate listing. (You can see more "before" photos in my living room mood board post.)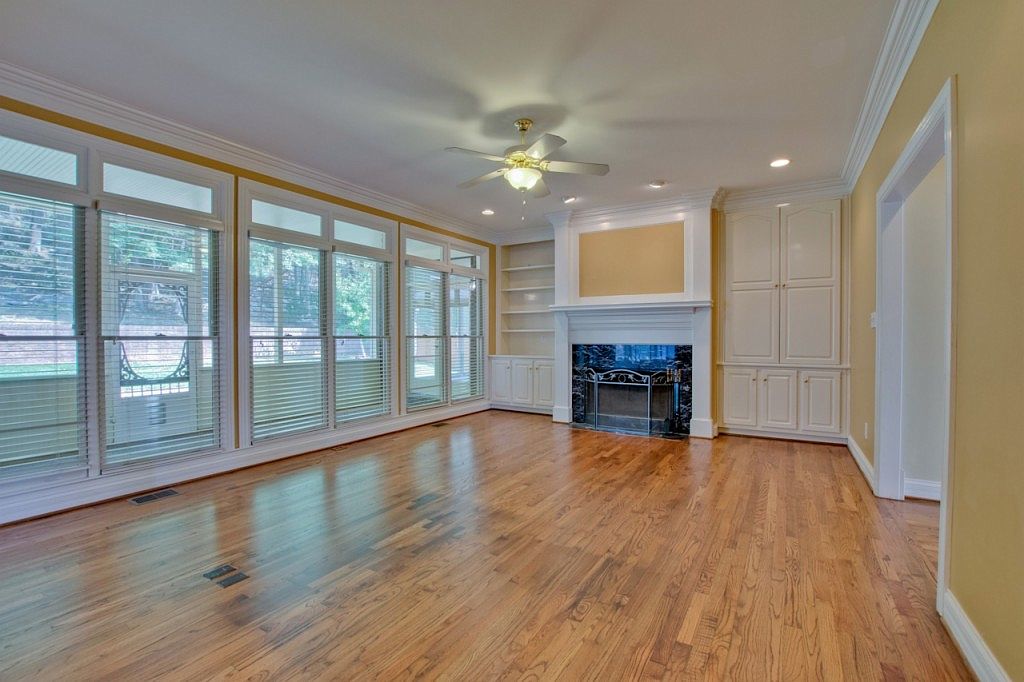 My original mood board for the living room included this list of to-dos for a Phase 1 makeover:
Then my to-do list for Phase 2, which I mostly haven't done yet, included these items. I went ahead and did the first two items because the room didn't feel complete without them. But the rest will have to wait for later down the road.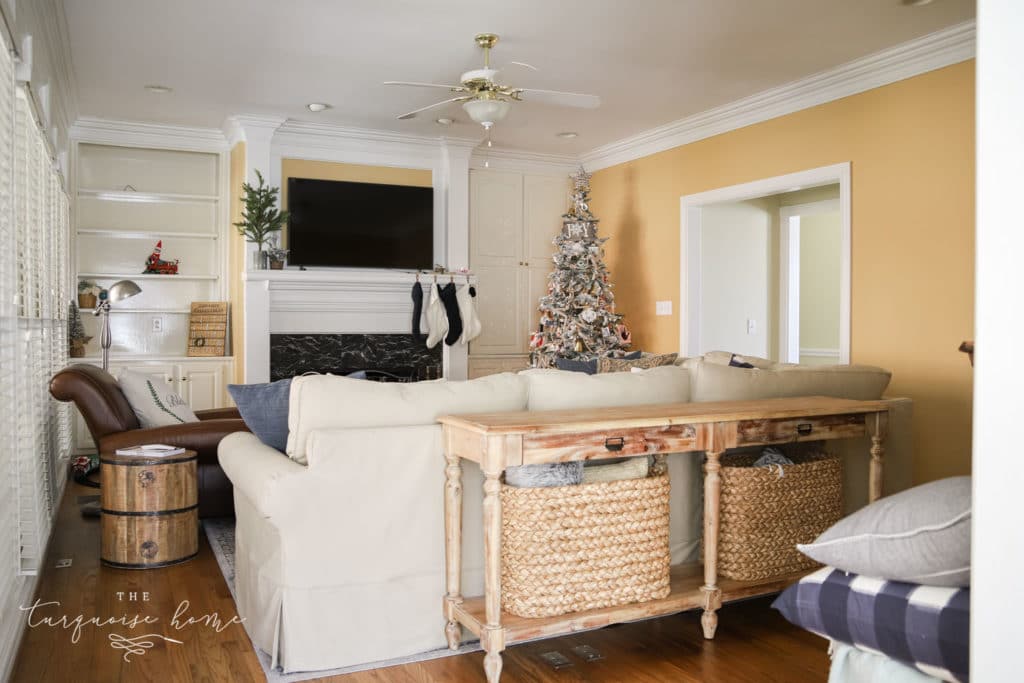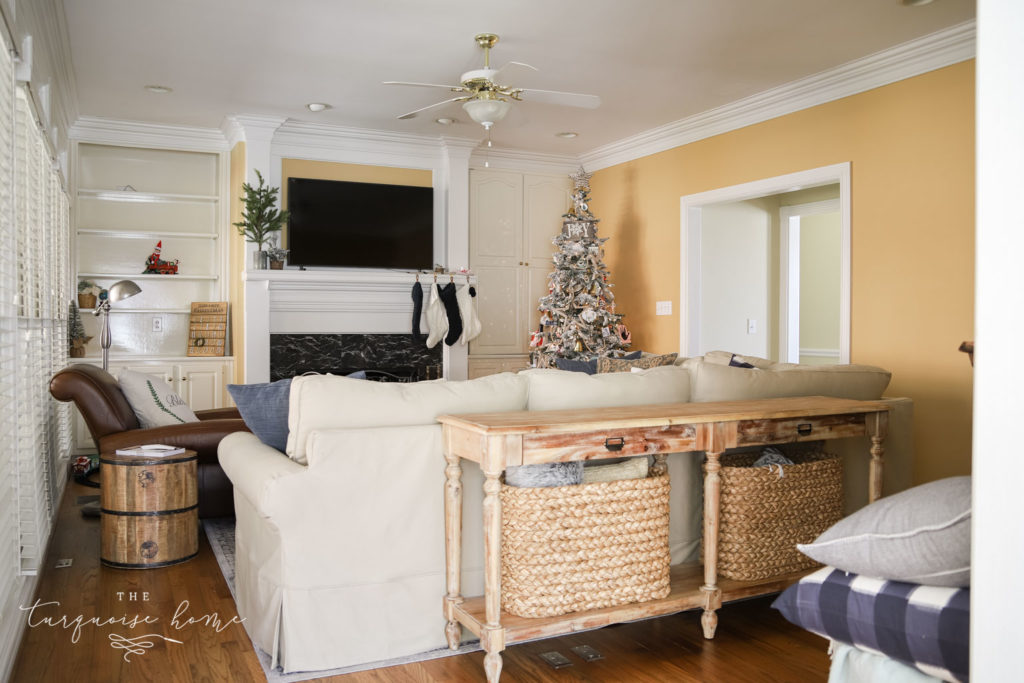 When we moved in back in December, we put up our furniture in here and this is what it looked like. We lucked out with the sectional sofa, which we purchased for our old house. Thankfully it fits perfectly here. (I measured to make sure when we looked at the house the first time.)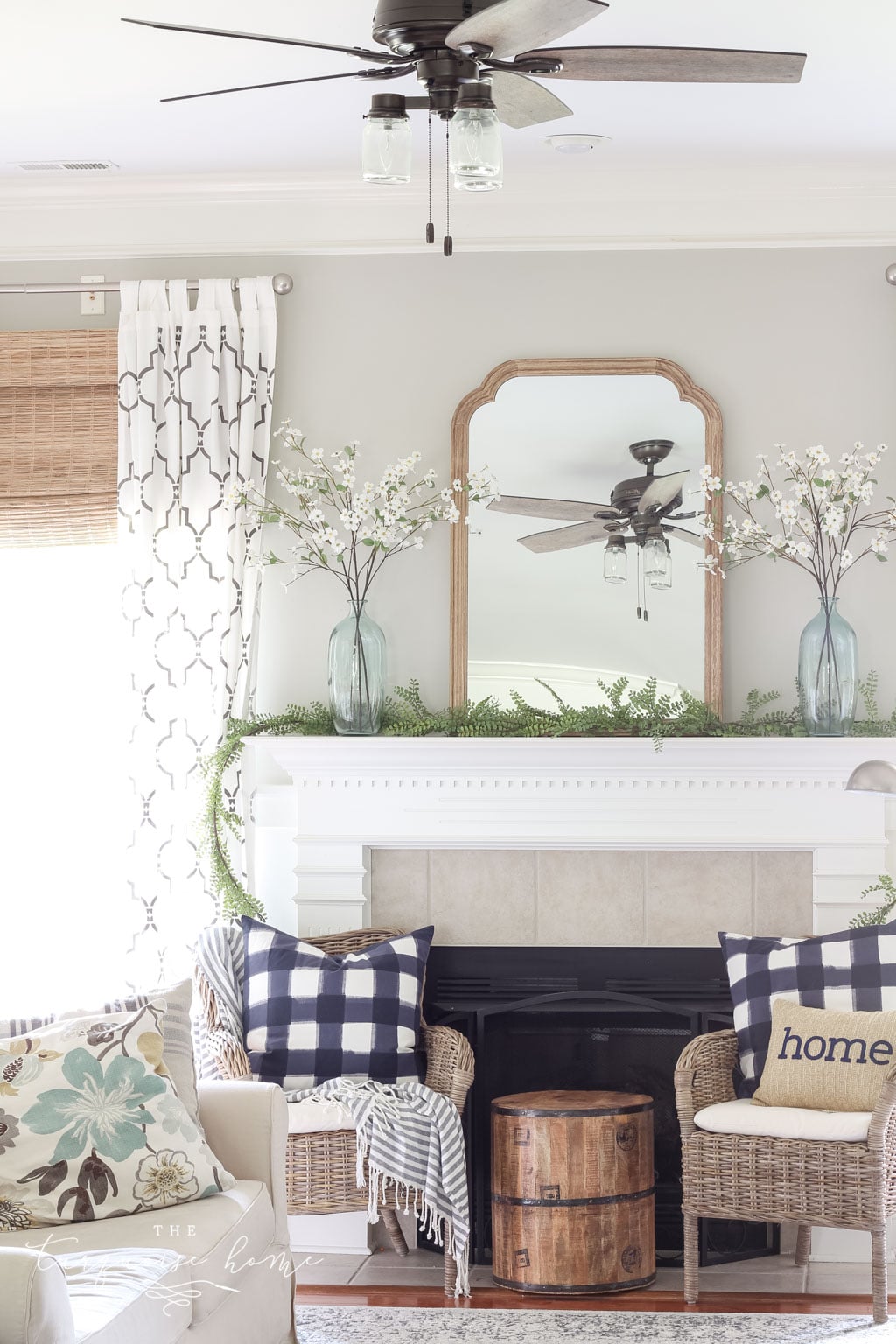 FREE BONUS!
5 Secrets Every Home
Decorator Knows
… to transform your home into your dream home!
After 6 months of tweaking and working on things a little bit at time, I present the finished living room makeover (phase 1):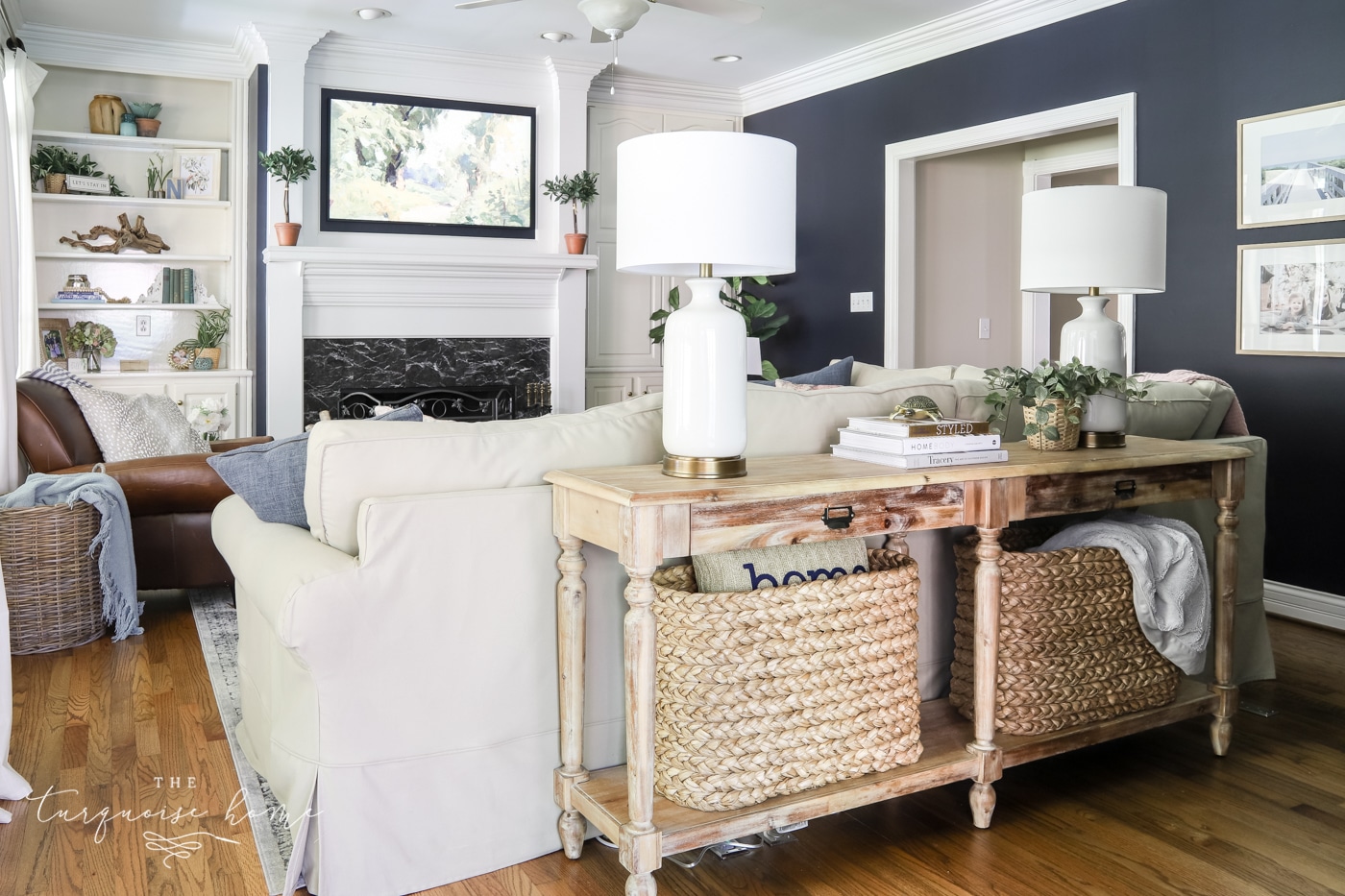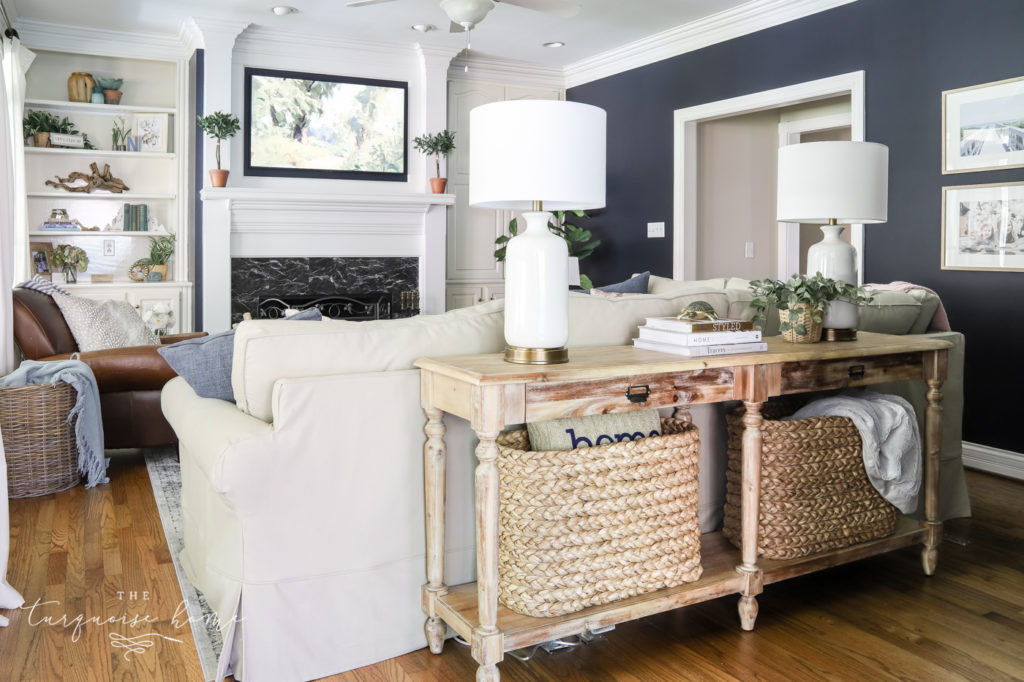 I'm so happy with how it turned out! I feel so at home in there, and even though the girls have their own TV hang out space upstairs, they prefer hanging out in here.
I'll be writing and review on our sectional sofa, soon, but bottom line: we love it! All four of us can all lounge on it and comfortably watch TV.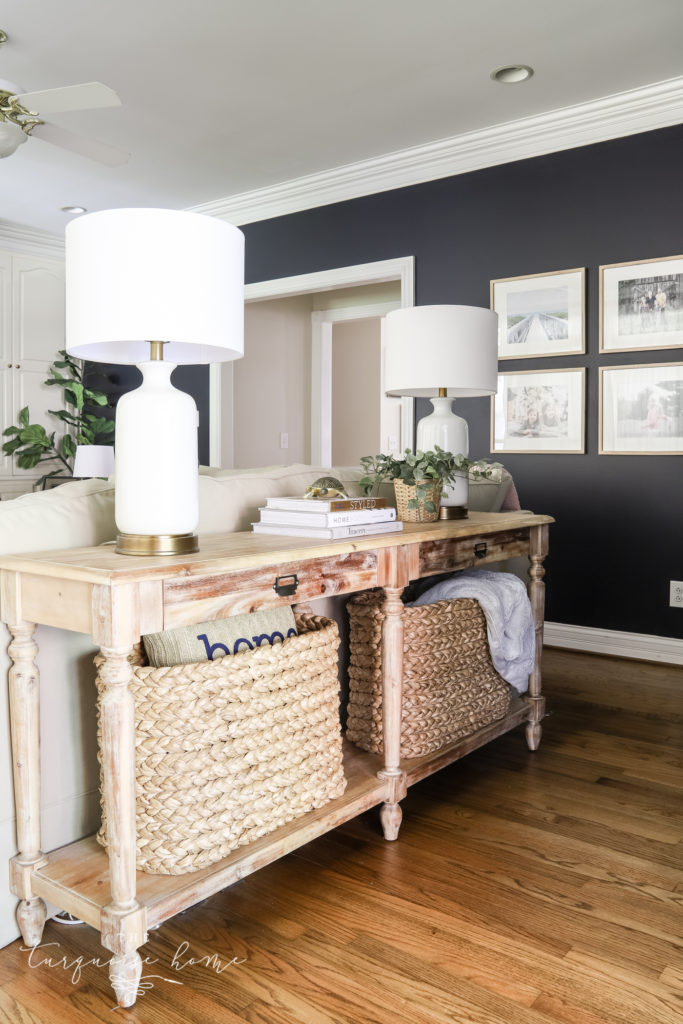 Click/Tap the images below to shop this space:

One of my favorite things in the room is the console table behind the sofa. I love this view from our kitchen, which is where we come into the house 99% of the time.
The white table lamps are one of my favorite purchases since we moved in and they give the perfect mood lighting at night. They even have USB plugs in the base of them, so it's easy for us to charge our phones while we're sitting on the couch.
And I always get questions about how we have them plugged in in the middle of the room. We lucked out with several electrical outlets in the floor. You can see the cords if you look closely under the left side of the console table.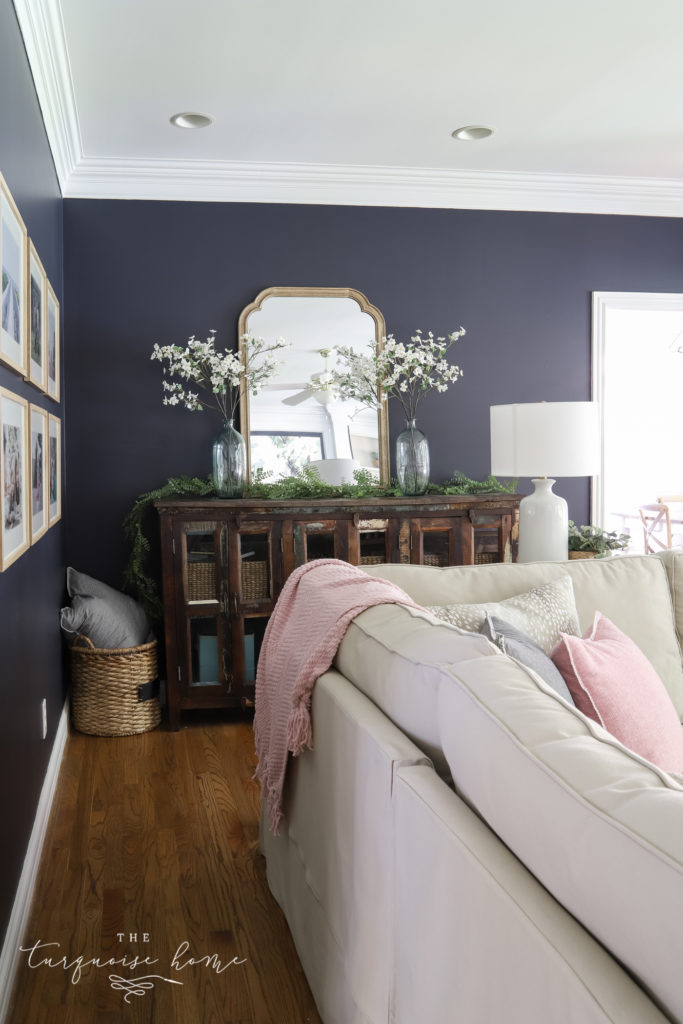 We reused the media console table from our old house in this corner. We could probably get rid of it and just leave the space empty, but I like how I can put my favorite mirror on it.
And it still holds all of our old DVDs photo albums. I think we could probably move all of that stuff to the cabinets next to the mantel, but we're going to leave it here for now.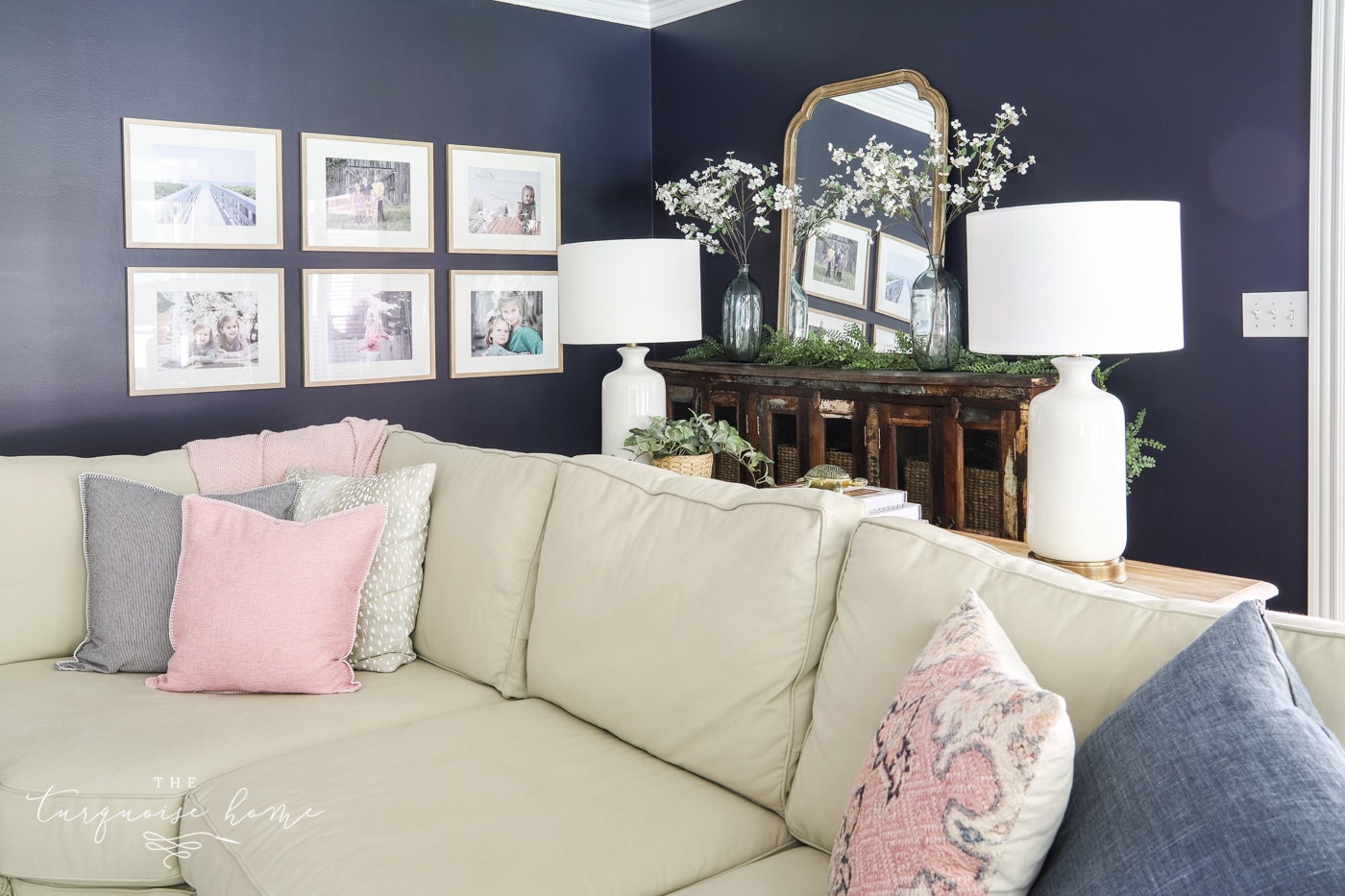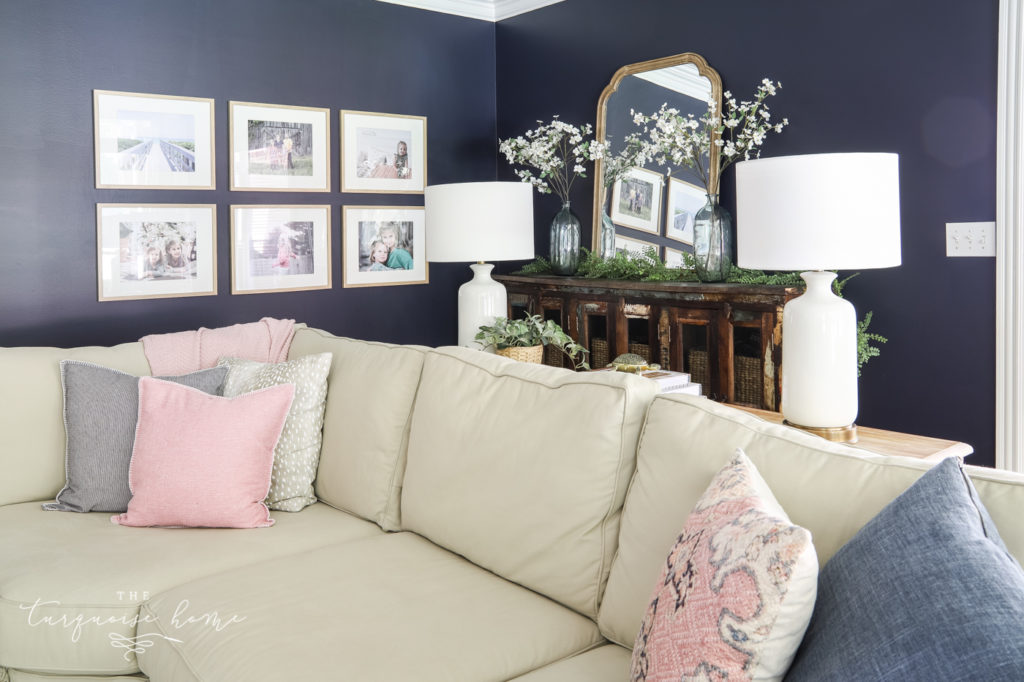 The gallery wall to the left is another favorite spot in the room. (Can they all be my favorite spots? Have I mentioned how much I love how this room turned out?!) I bought these gallery frames for our old house, but they worked perfectly in this spot. I love how the wood frames pop on the navy walls.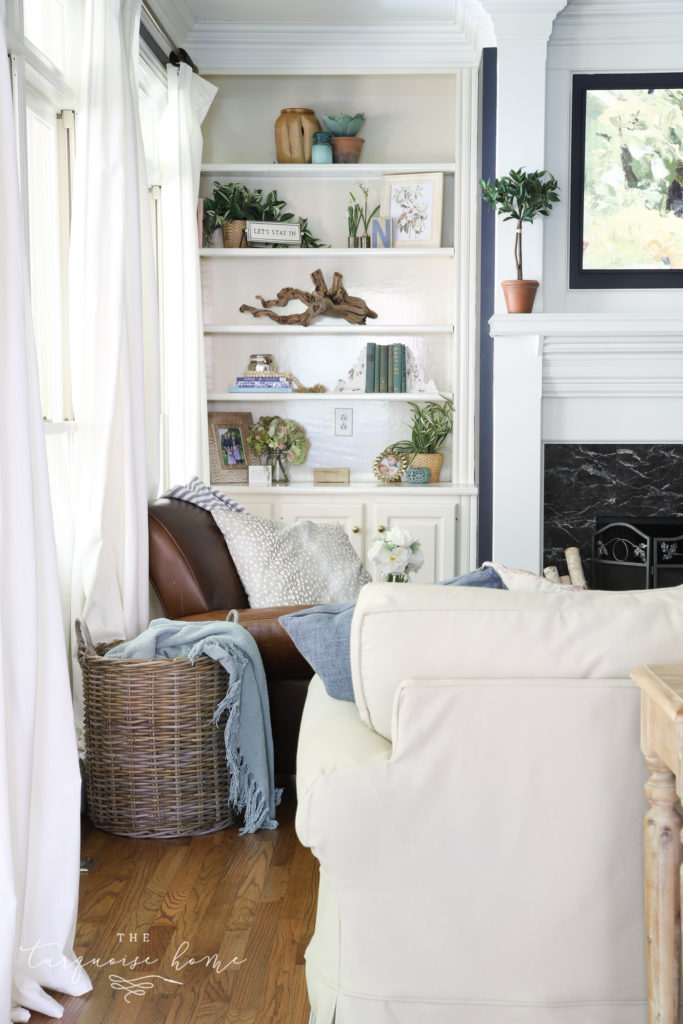 I also loved getting to decorate the built-in bookshelves. It makes me happy every time I love over there.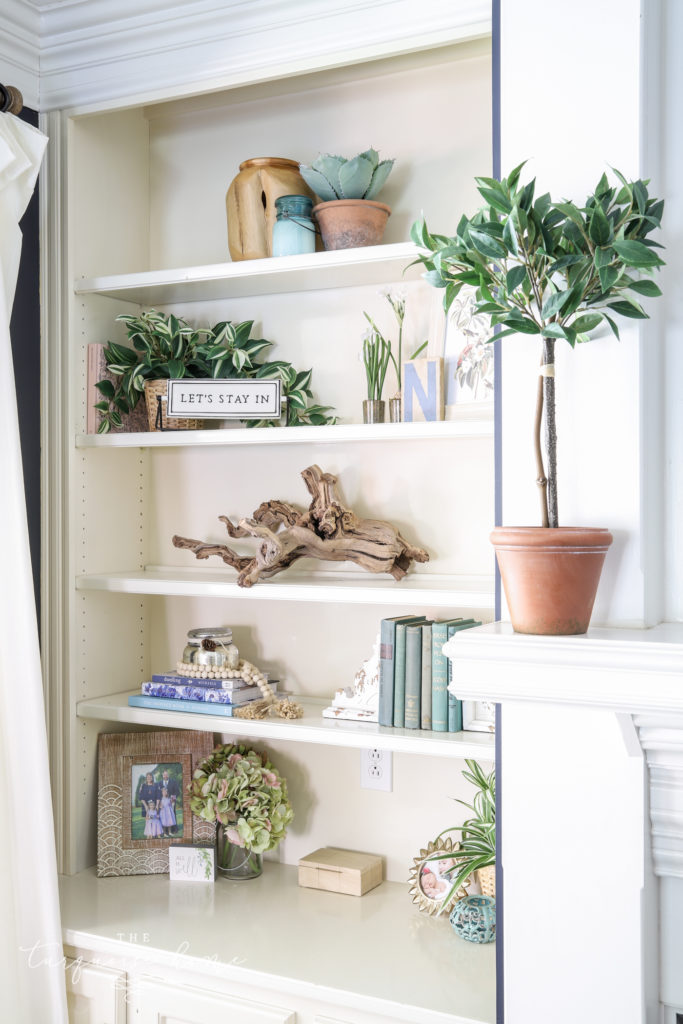 Click/Tap the images below to shop the bookshelves:

It truly is our favorite room in the house (for right now) and we use it every day. I'm so happy the sectional fit in here and that it works so well.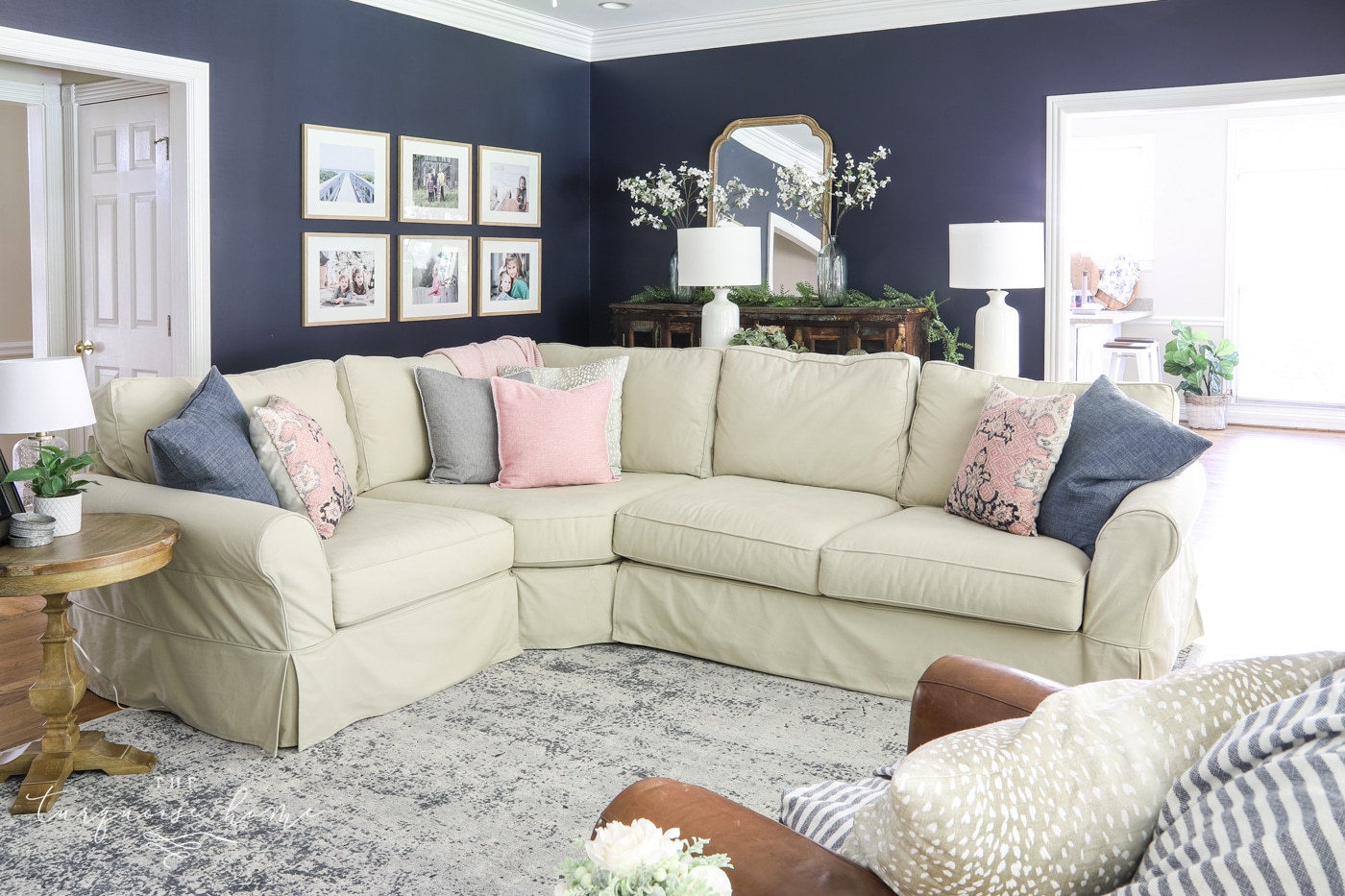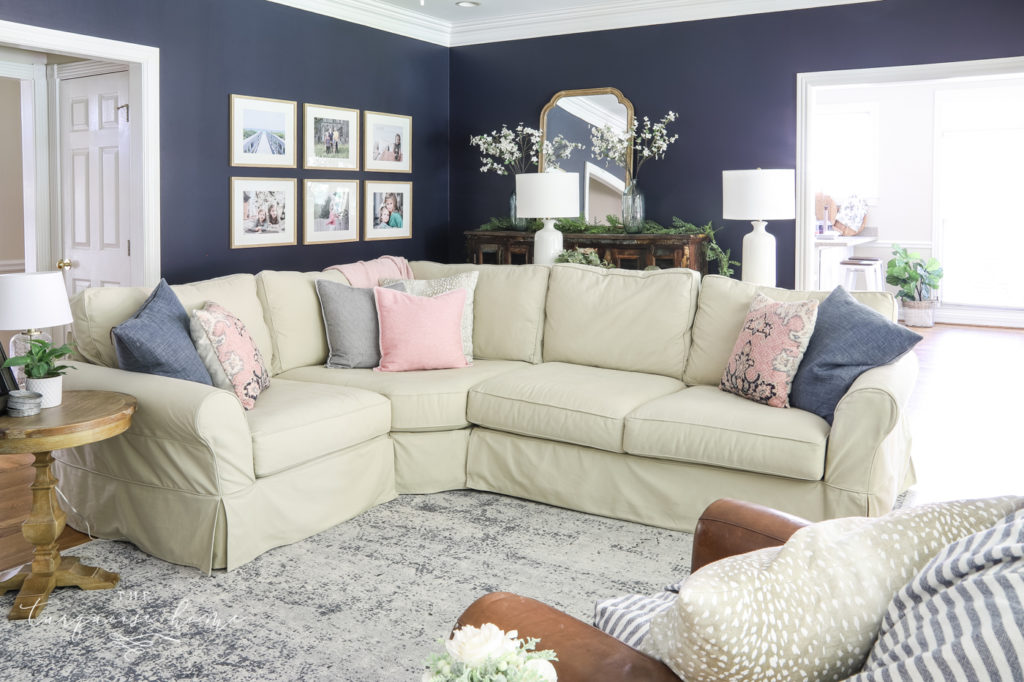 Click/Tap the images below to shop the room:

One of the views that I haven't shared much before is the view from our front door. It's definitely my least favorite view of the room, but I love that you get a direct view into our private backyard.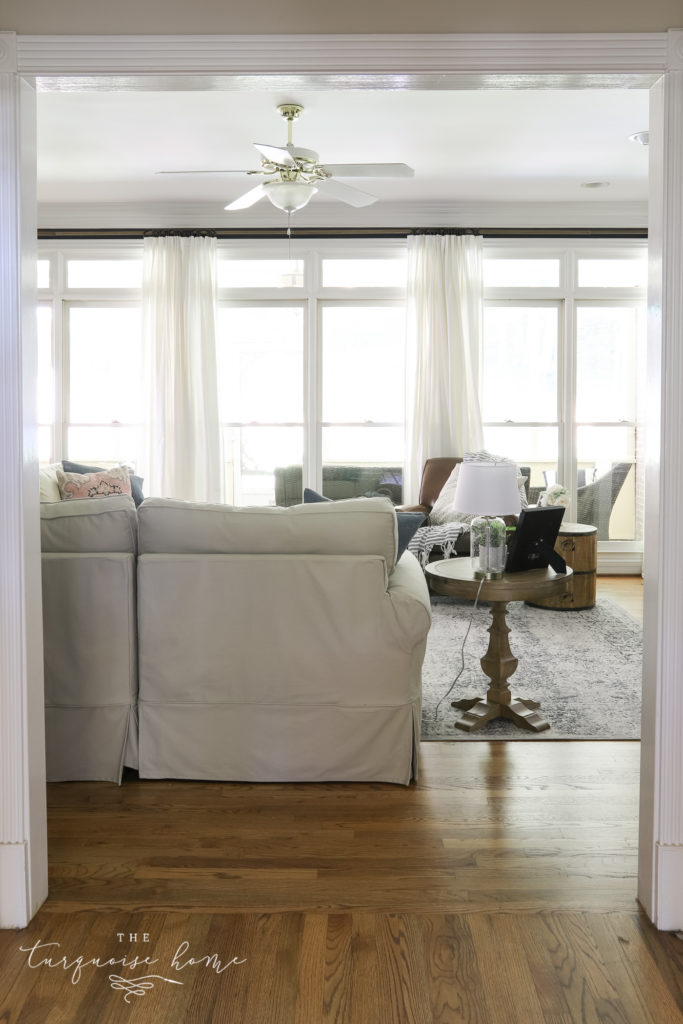 Removing the blinds helped to brighten up the room so much. And I love the texture and softness that the white curtains add.
While I lack the ability to take photos where you can see the backyard, it's a wooded private back yard. It has a screened in porch just beyond the windows, then the backyard and the woods.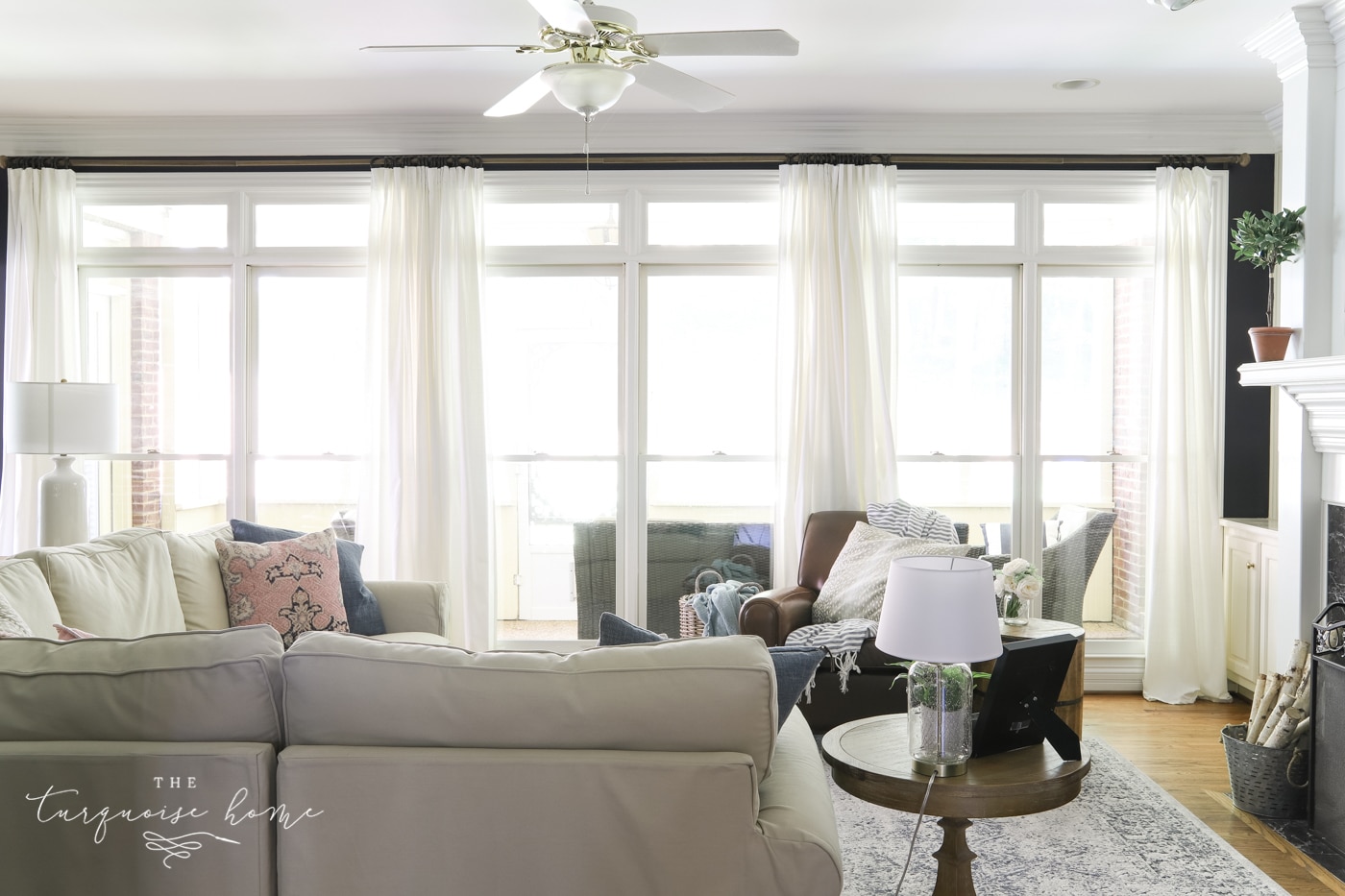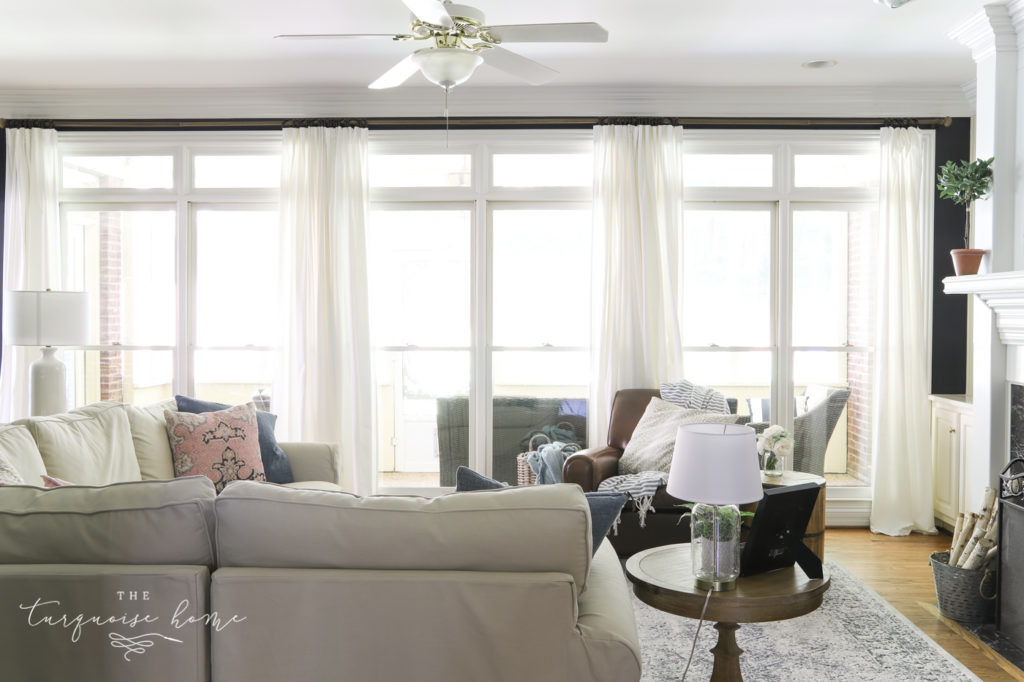 It's really a peaceful view from the sofa, so I love that I can sit on the couch and have the view of the lush, green grass and trees. Yet, another favorite thing about this room, even if this view of the room isn't my favorite. ☺️
I hope you enjoyed this tour of the living room makeover! I love that it's done and I can continue to decorate the other rooms in the house. The office and the girls' room are next up!
Living Room Sources: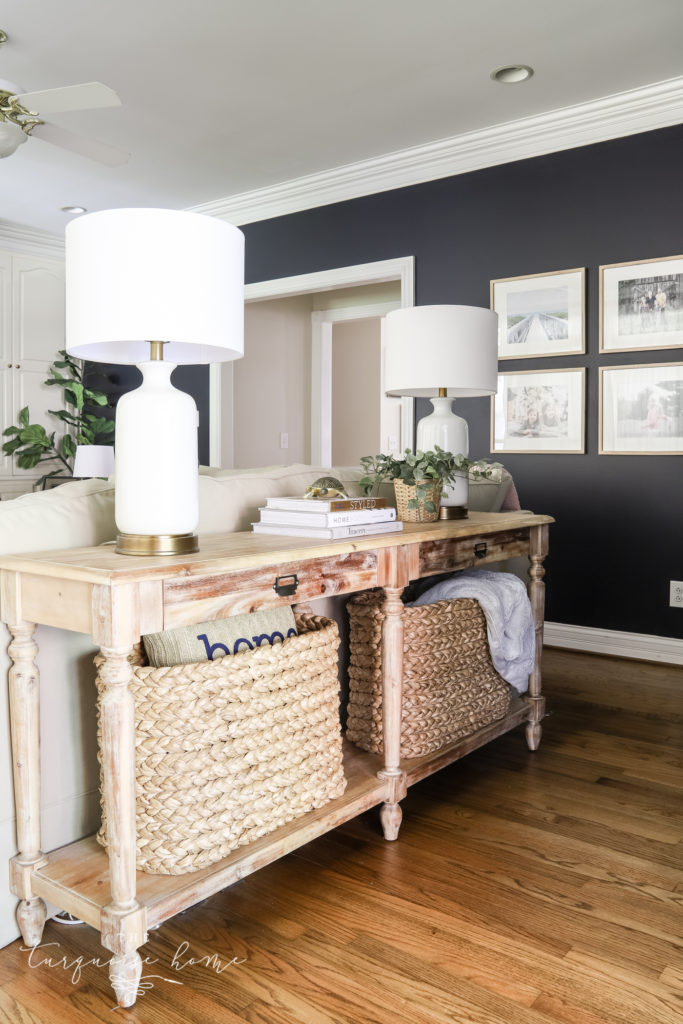 More Posts You Will Love:
Get Instant Access to my Guide to Customize Your Home on a Budget
Grab your FREE guide for 10 Ways to Customize Your Home on a Budget: simple projects to transform your home from builder beige to a home with character and charm!