Entryway storage ideas are essential for any busy family. Home entryways tend to be a one-stop drop for belongings, and tend to get messy in an instant, especially when space is limited. Here are 15 great entryway storage ideas for keeping small spaces organized.
Our New Entry Storage Solutions
Before we get into these awesome organization ideas. I thought I'd share about the entry points in my home and how I've optimized the spaces. Both of the doors that we enter and exit from my home have very limited wall space, but yet need a lot of functionality.
Our door between our kitchen and garage is the most used door in our house, so it needed to be able to handle the onslaught of shoes, backpacks, computers and papers that a family of 4 brings with it. And since the door opens directly into our eat-in kitchen, I had to get creative.
This post contains affiliate links for your convenience. See my full disclosure policy.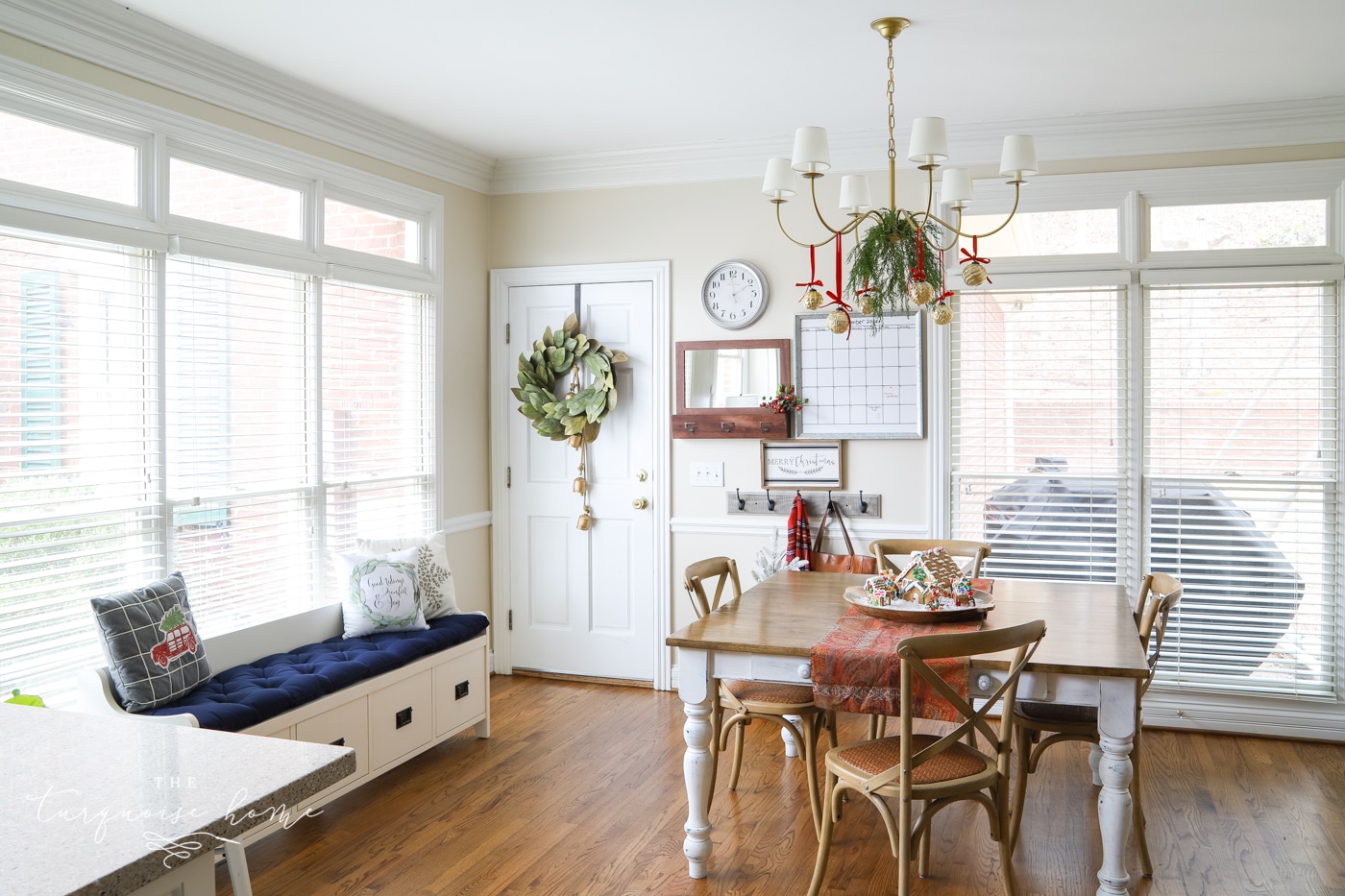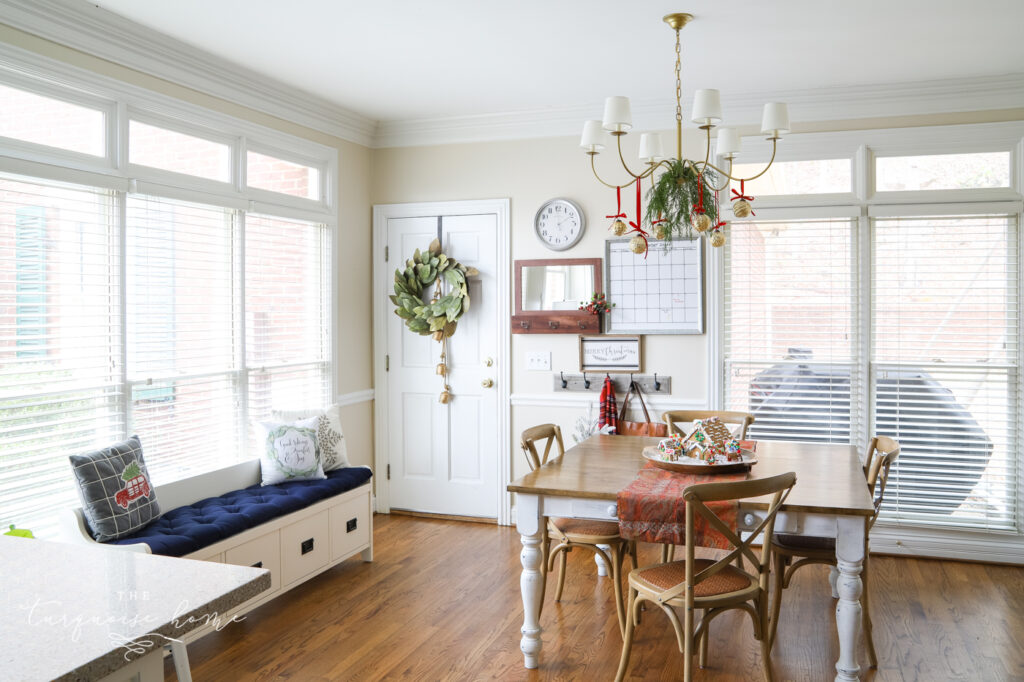 Click/Tap the images below to shop the space:

As you can see in the above picture, the room is full of windows. So a large piece of furniture is out of the question. But, I found a great bench with storage drawers to help with keeping shoes and socks nearby the door. It works great!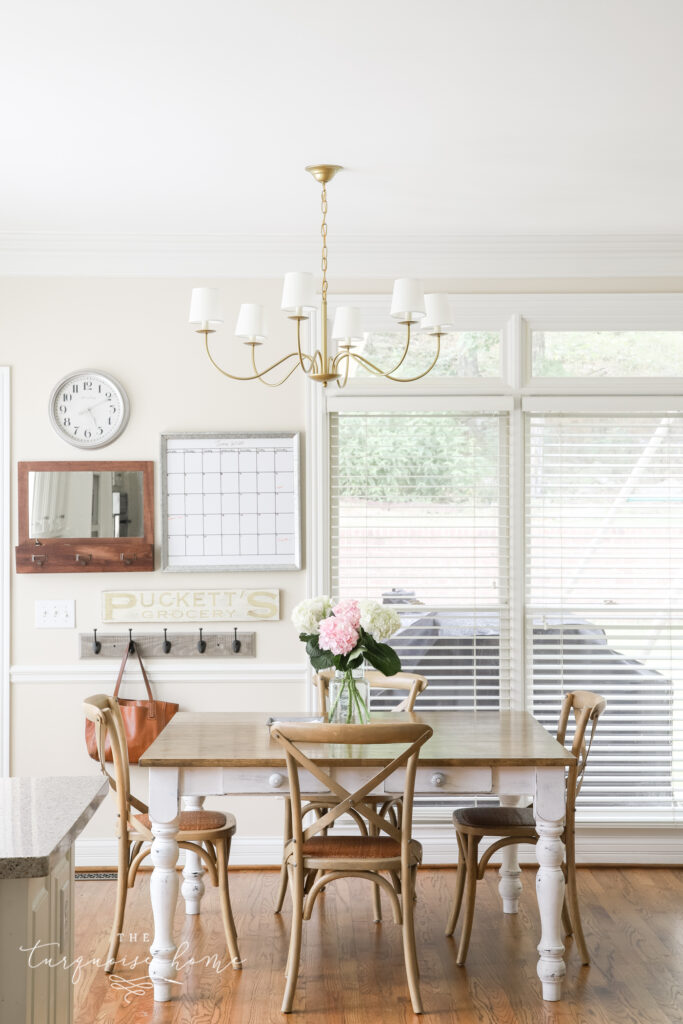 And then I added a small row of hooks to the little bit of wall space we do have. It's normally covered in jackets and back packs during the school year! The mirror and cubbies above the hooks are where we keep our keys and my husband puts his wallet and other items he carries in his pockets.
Then in our front entryway, we have a similar issue because we have large doorways leading into the dining room and my office. So, there's very little wall space. But I like to have a mirror next to any door we go in and out of.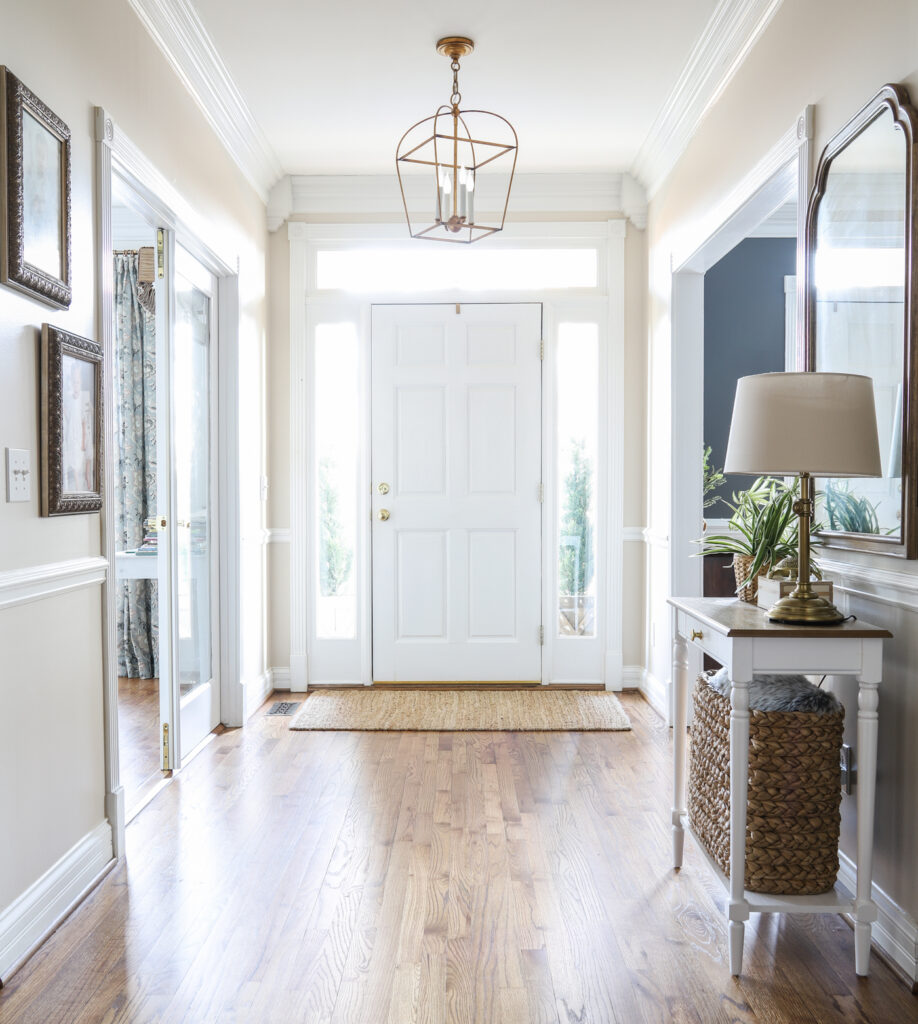 (Pardon the late afternoon pics that make some of the paint colors look off… the dining room paint color is Kendall Charcoal and looks much darker in person.)
And in the front entry space, I like to have a table for guests to place keys or a purse. And a lamp to keep the space lit, but not overly bright at night.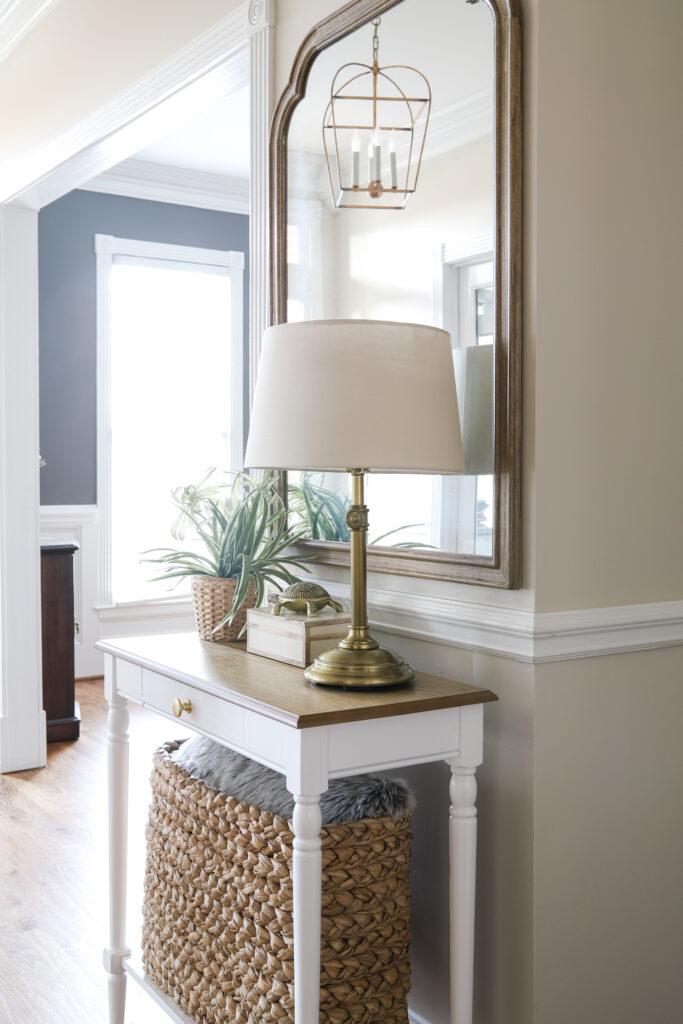 Click/Tap the images below to shop the space:

So, I found this perfectly sized console table for our little 32″ wide piece of wall. I wanted a table with a drawer and something that had an open space at the bottom for a basket. My favorite console table basket fits perfectly below it. I did change out the drawer knob that came with it with one of my favorite knobs!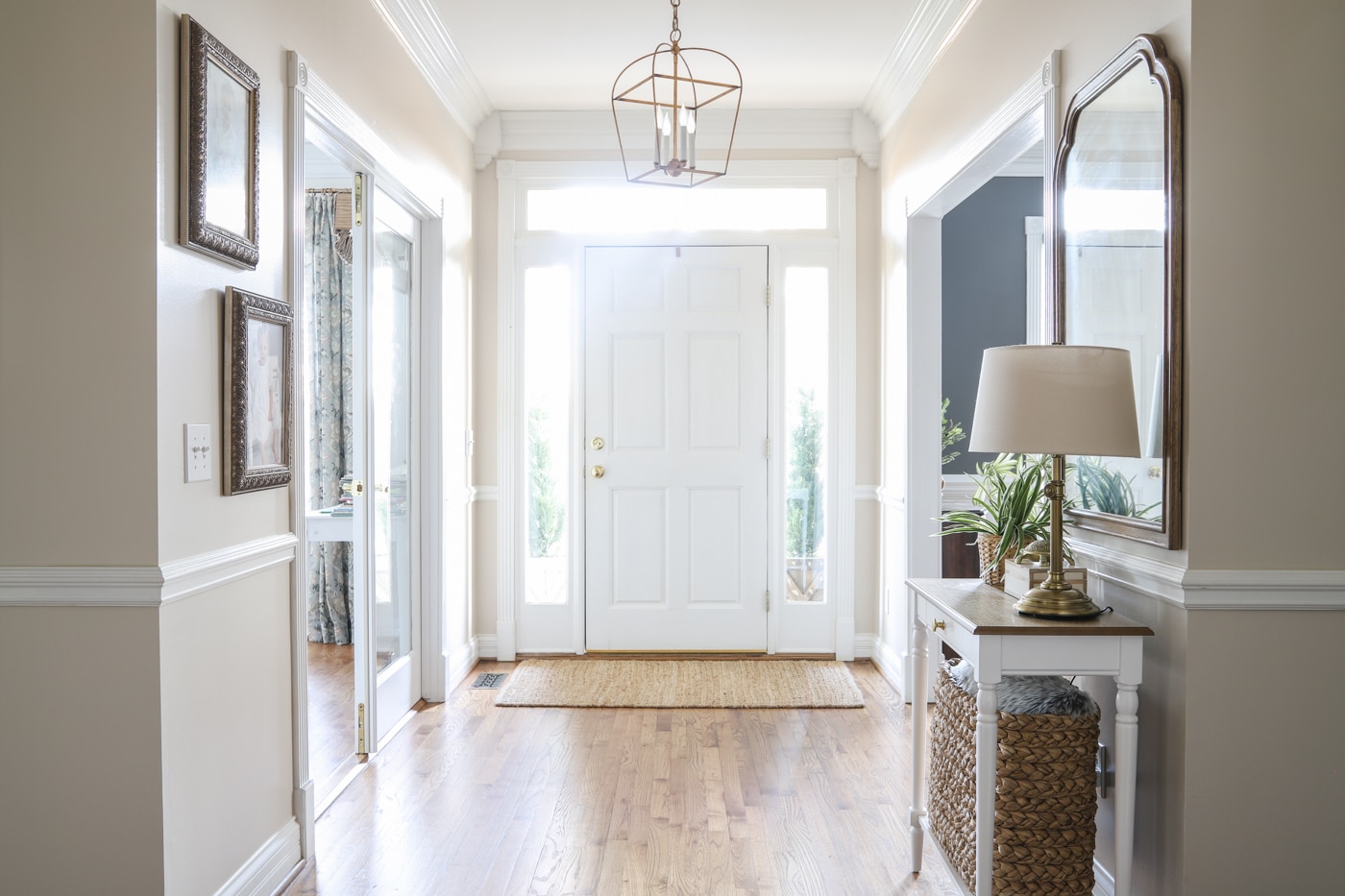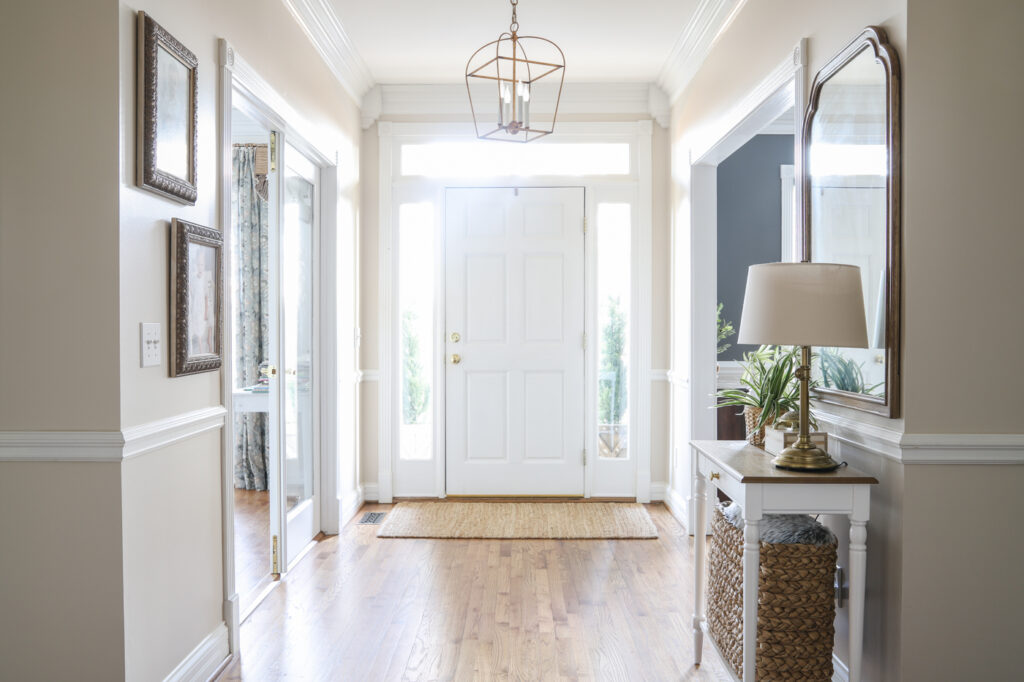 I wanted a lamp that was small, but not ceramic or glass. This is next to our hallway and is in a high traffic area, so I didn't want the lamp to be breakable in case it got accidentally knocked over. So far it hasn't even been bumped, but I think it's the perfect size lamp for this small table.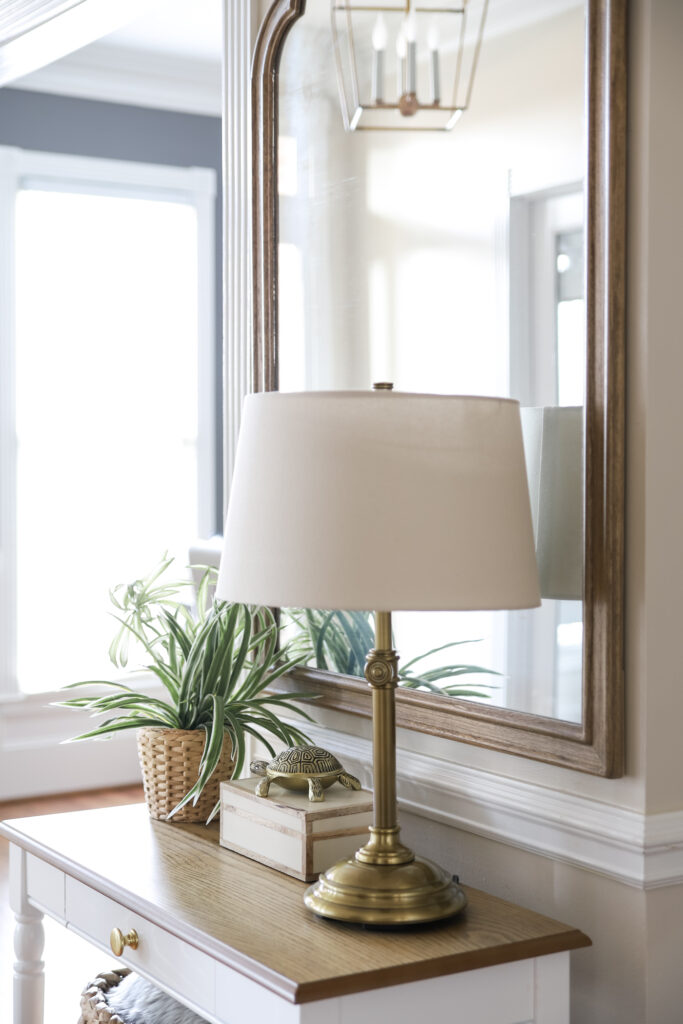 The only other thing I might need for this small entry space is some place for guests to hang their jackets. But I have a small coat closet nearby, so I might just direct them to that closet if needed and call this space done! 👏🏻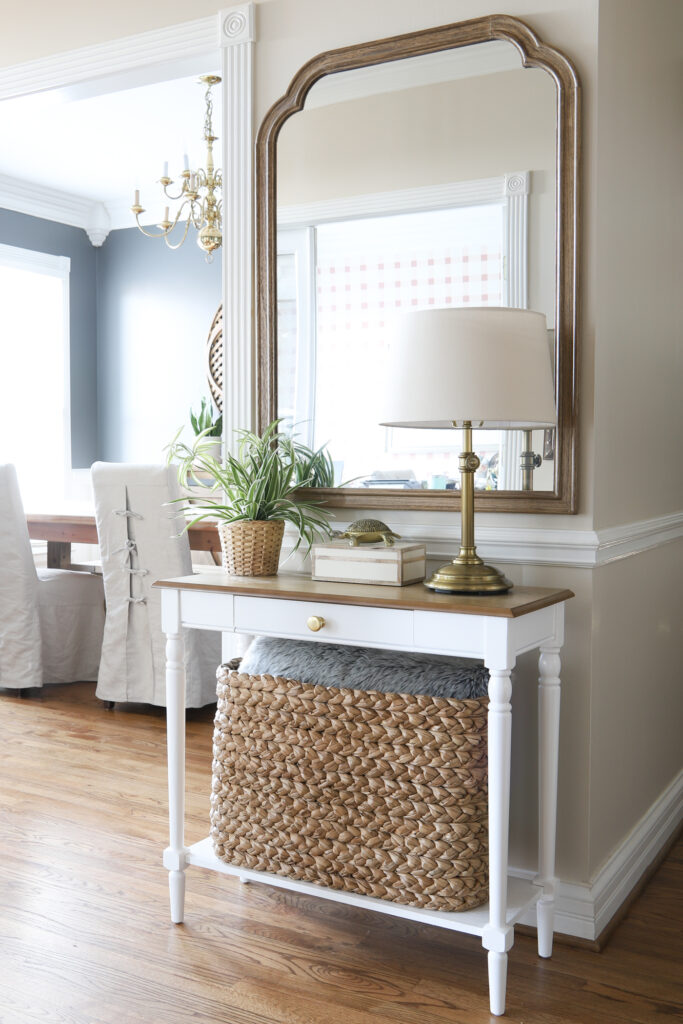 Click/Tap the images below to shop the space:

I love that I was able to create this little moment in the entryway, even though there's hardly any wall space. It makes me smile whenever I walk by. And I love how all of the pieces look together!
OK, now on to more entryway ideas for organizing small spaces!
Keeping Small Entryway Spaces Organized
An entryway is literally the first impression of a home's interior, and quite often the trickiest spot to keep tidy. This is where everything gets dumped after work, school and family outings: shoes, backpacks, keys, mail…you name it. Not everyone has the luxury of a mudroom or garage for stowing belongings. A lot of the time, entryway space is very limited. Here are 15 amazing entryway storage ideas for small spaces!


If you have limited space in your entryway, you may also feel limited in terms of what you can fit there. Fortunately, there are some excellent small space entryway ideas for every budget that can keep shoes and other belongings under control.
15 Small Entryway Storage Ideas
This idea is perfect if you literally don't have enough space for a piece of furniture like a console table or bench. Shoes are kept off the floor in an orderly and easily visible fashion, and the industrial-modern look is quite impressive, too.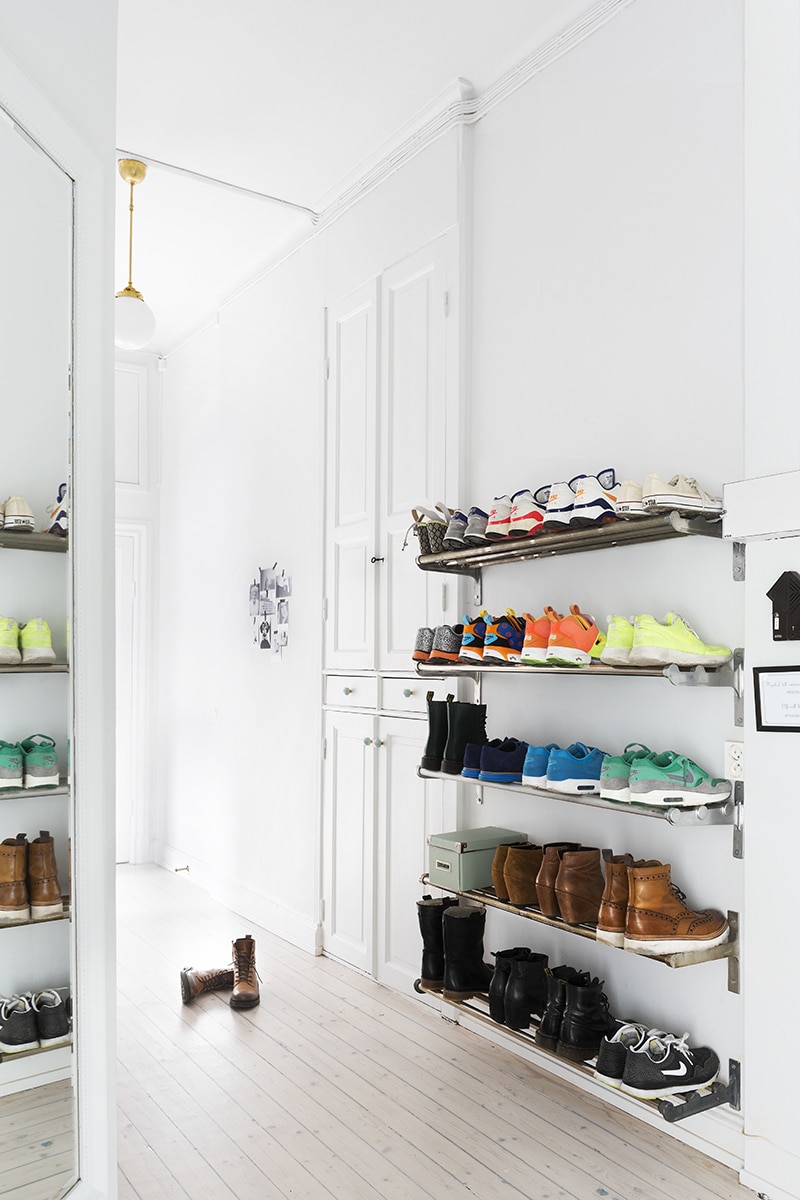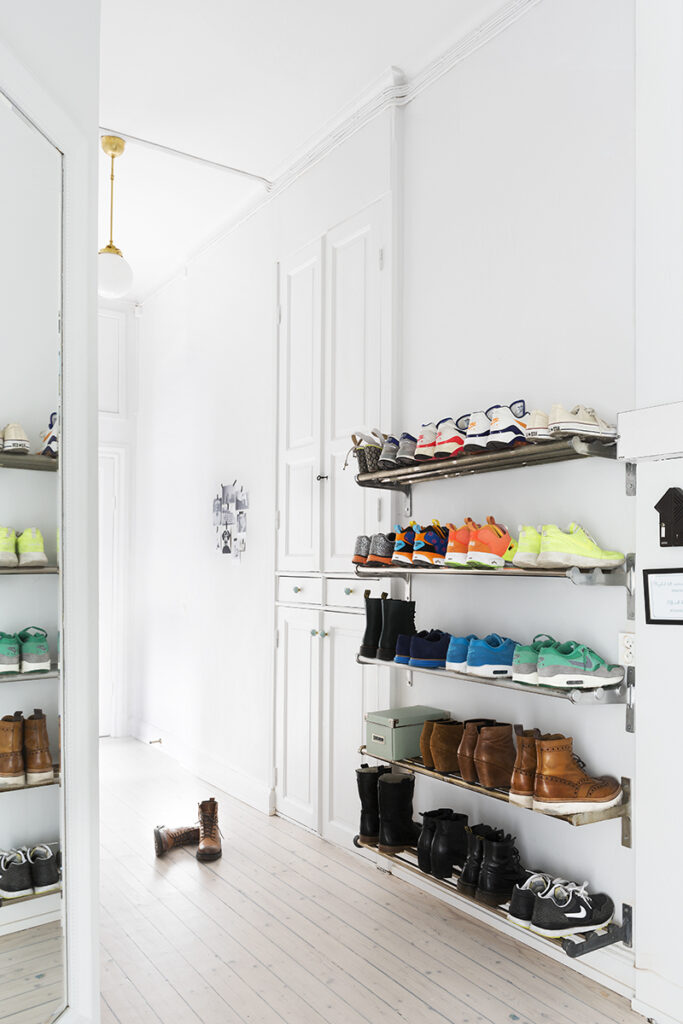 This is an amazing idea for keeping everyone's odds and ends separated, organized and out of sight. No more fighting over who-took-what, and everyone is in charge of their own belongings, no matter how unsightly. The cute hairpin bench is also super functional for putting on and removing shoes!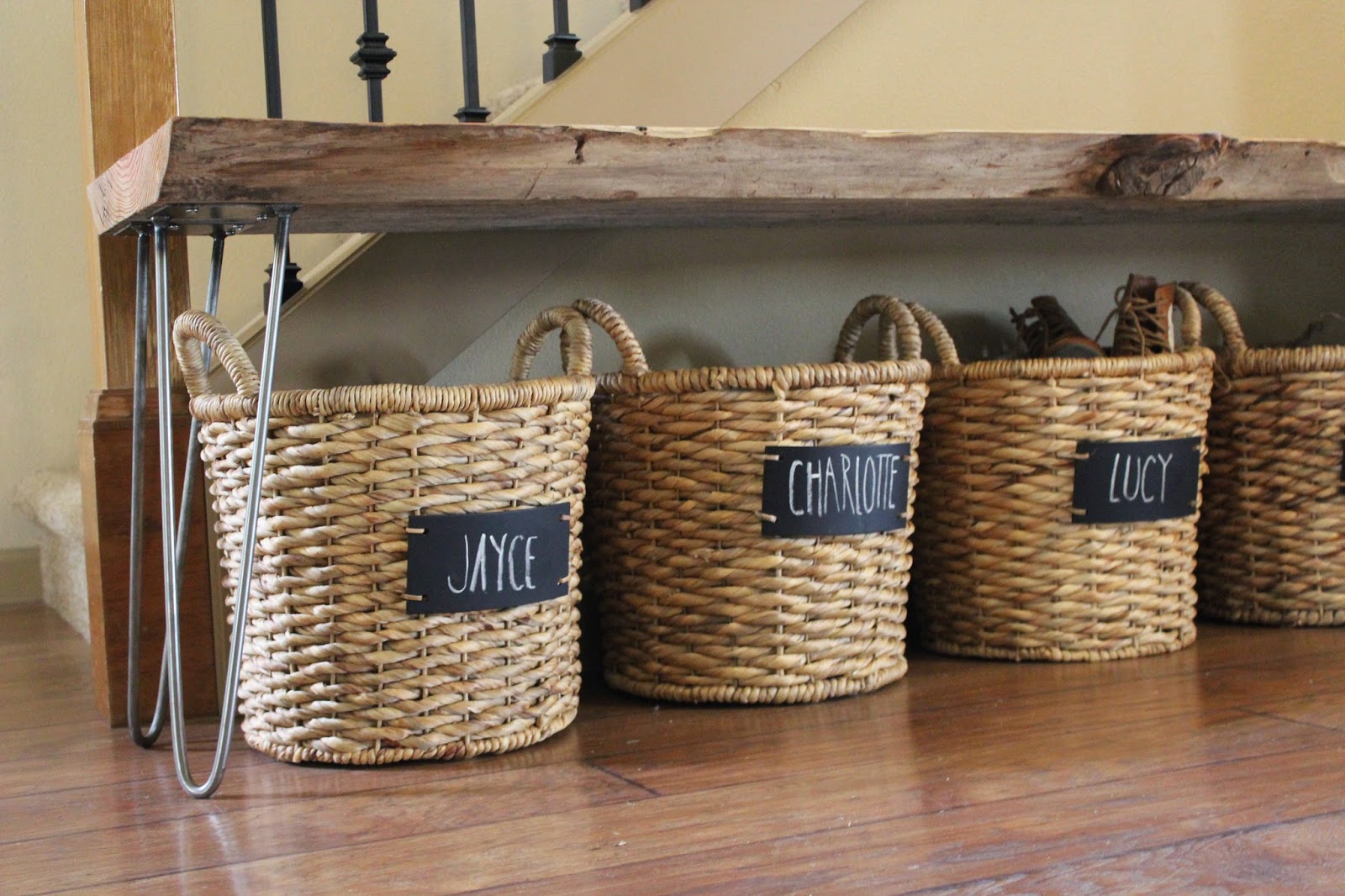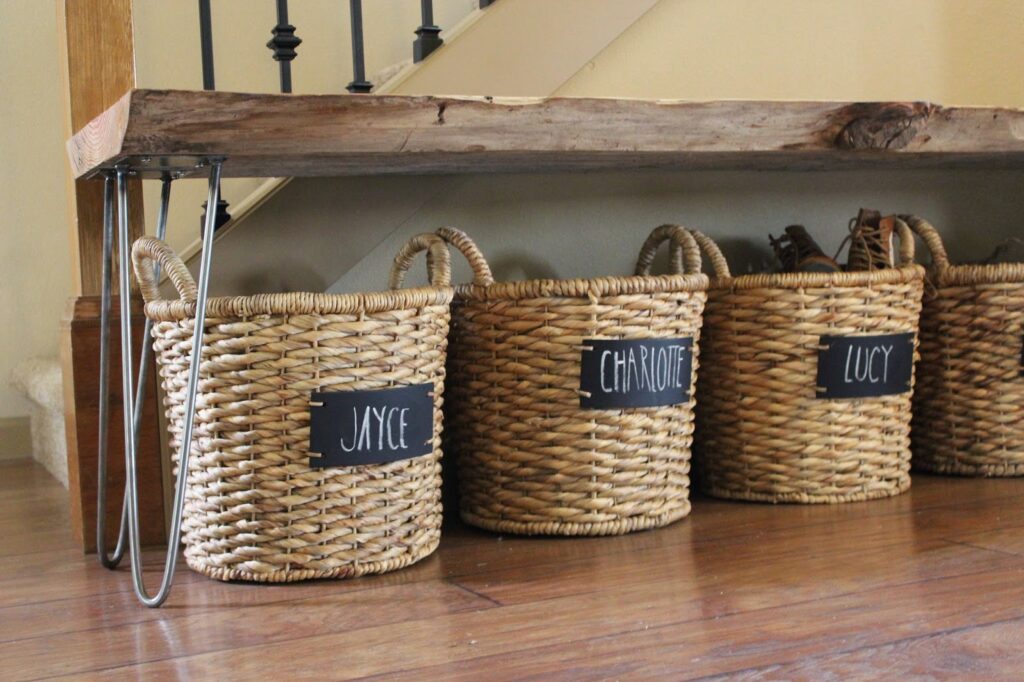 This entryway shoe storage idea is both charming and functional. It's easy to make, to boot! (Did ya catch that pun? 😜) Pair it with a narrow shelf and key hooks to keep your stuff corralled. Add an art piece and your entryway is sure to have your guests intrigued.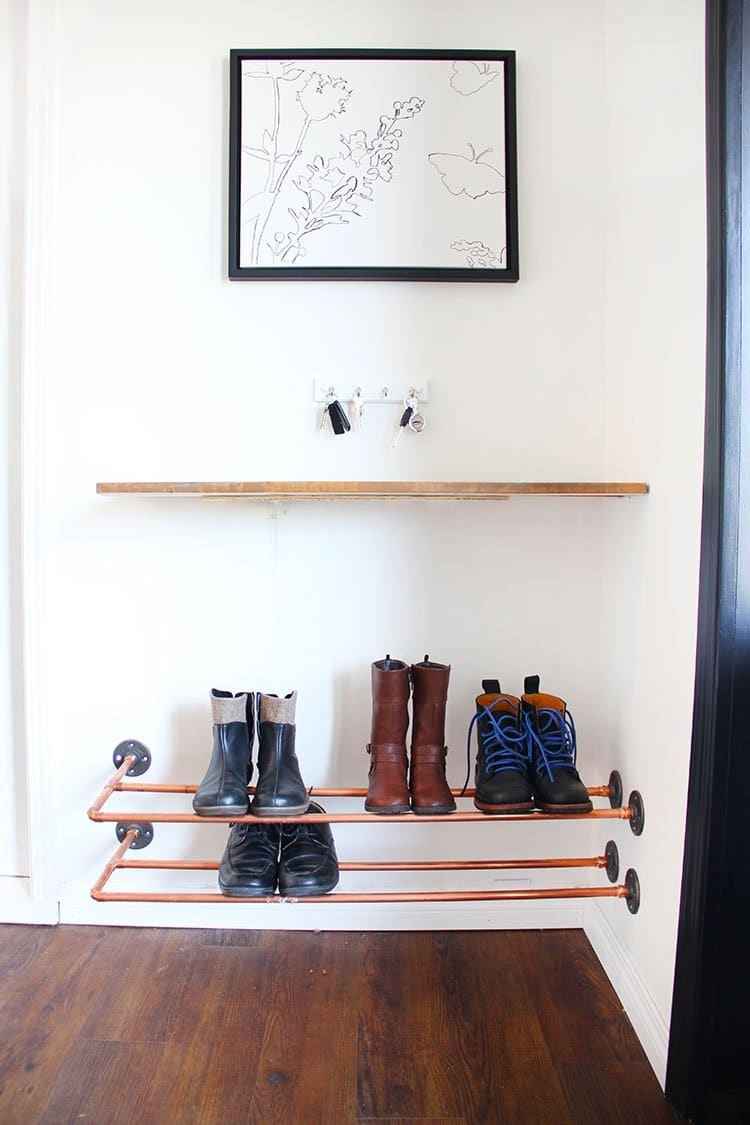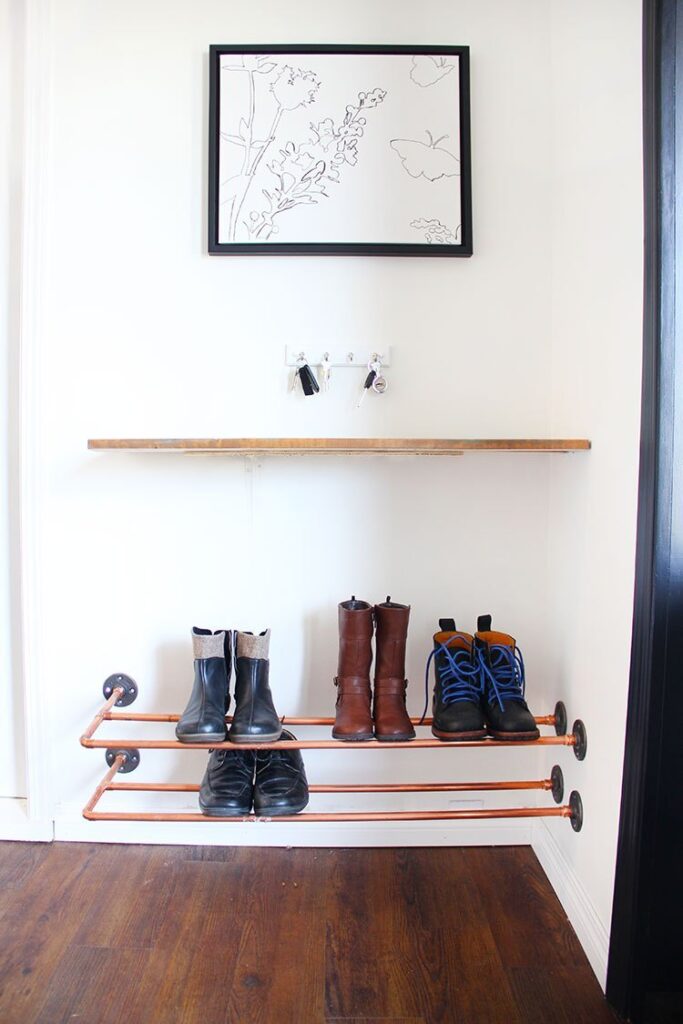 Who said functional can't be stylish? This stunning entryway storage idea allows you to keep all your bits and bobs hidden away in storage baskets and organized on shelves. And since everything is contained on the lower shelves, the top shelf is all yours to make pretty and land that great first impression. Add art, mirrors, plants, vases…anything you want that shows off your unique personal style.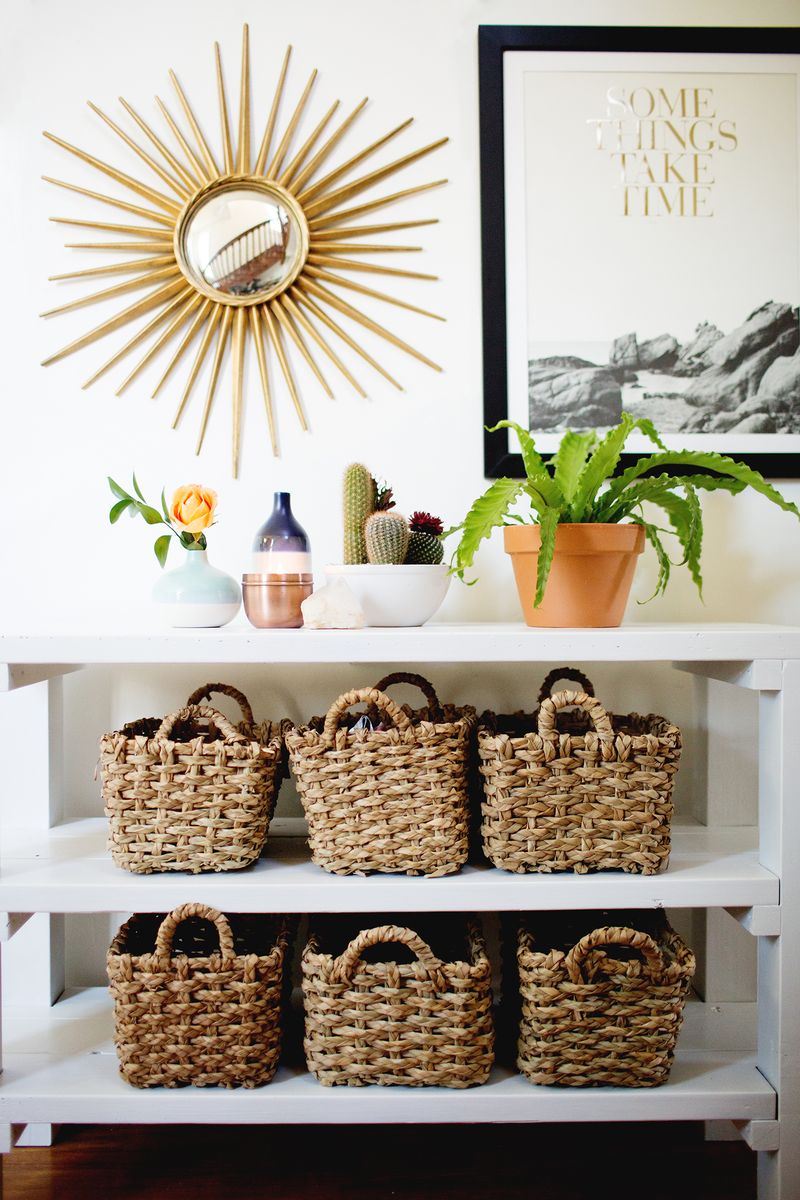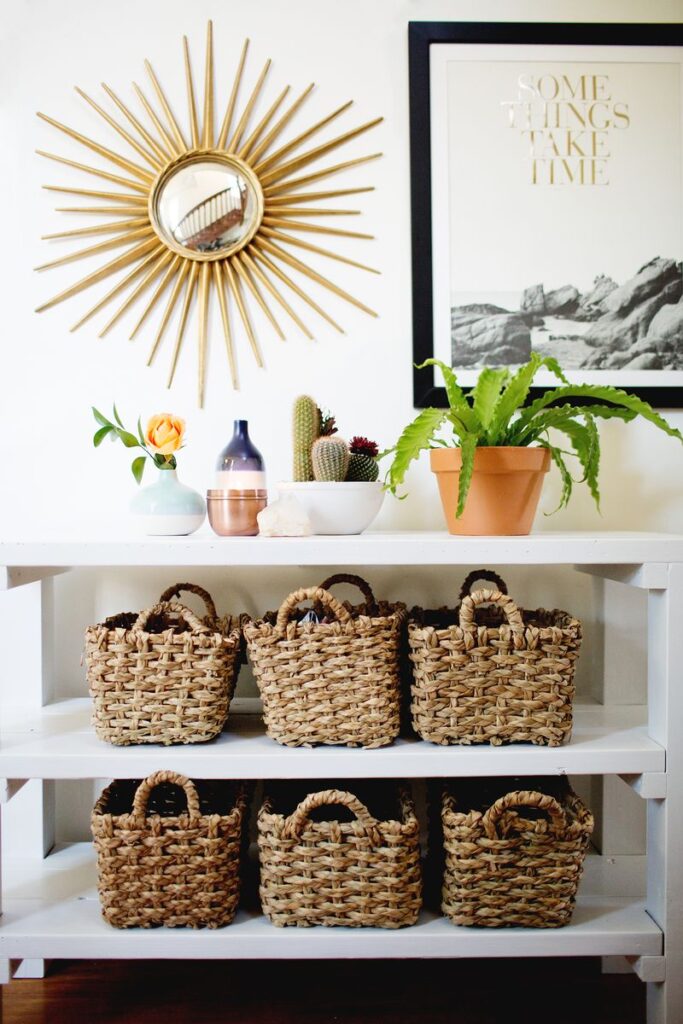 Combat your commitment phobia with this clever organizational solution. Let your imagination run wild with how you want to label each hook: by item, name, day of the week…the only limit is your imagination. Simply erase and start over if it's not working! Hooks are great for containing a plethora of necessities, and the shelf allows for styling or additional storage. Add a bench for full functionality.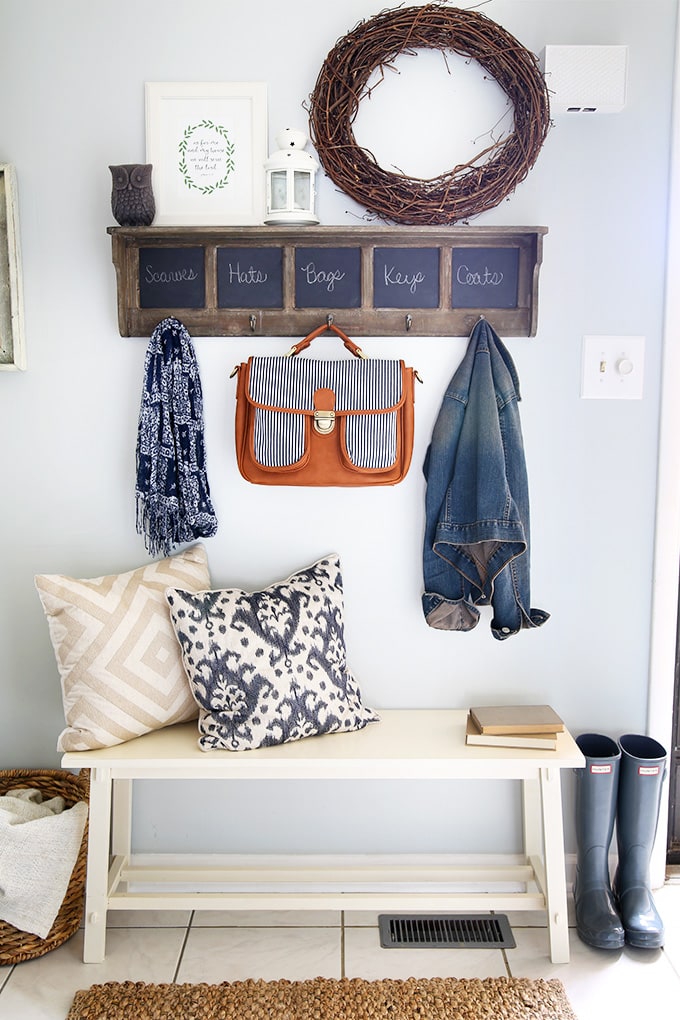 This is a similar idea to the chalkboard hooks, but the shelf and hooks with added bench combination works every time! This small entryway solution really maximizes storage space. The numbers help every family member keep track of their own belongings, and ensures everyone gets the same amount of space.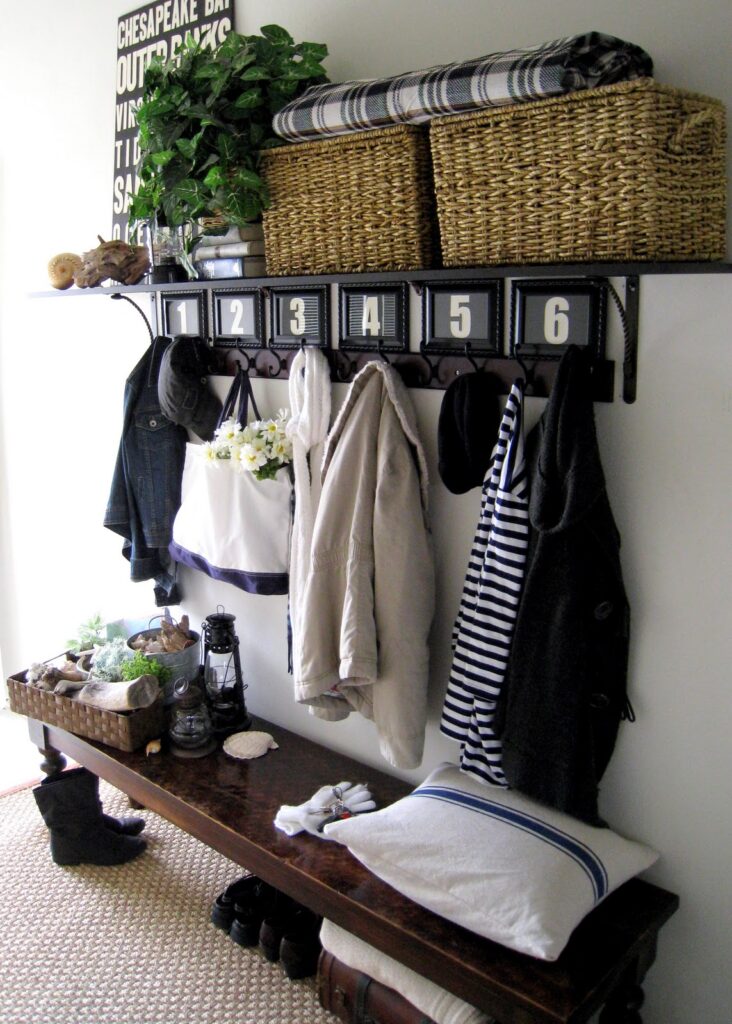 This inventive entryway storage idea is both quirky and chic! Shoes are neatly kept off the floor, and the added shelf allows for additional storage. I love the wire basket for keeping mail! Overall, the look is very sleek, streamlined and clean but still adds maximum functionality. Buy the wall-mounted shoe rack on Amazon.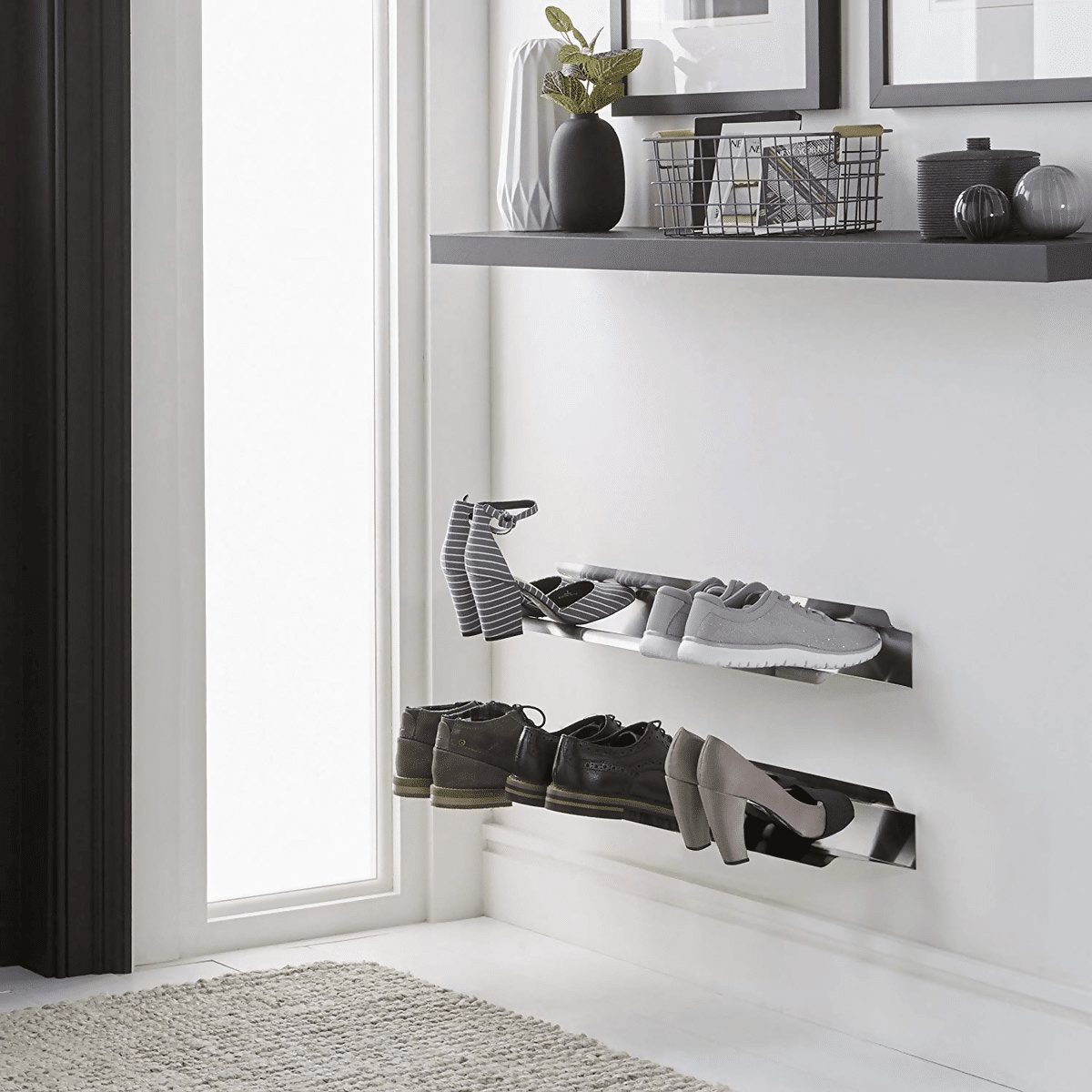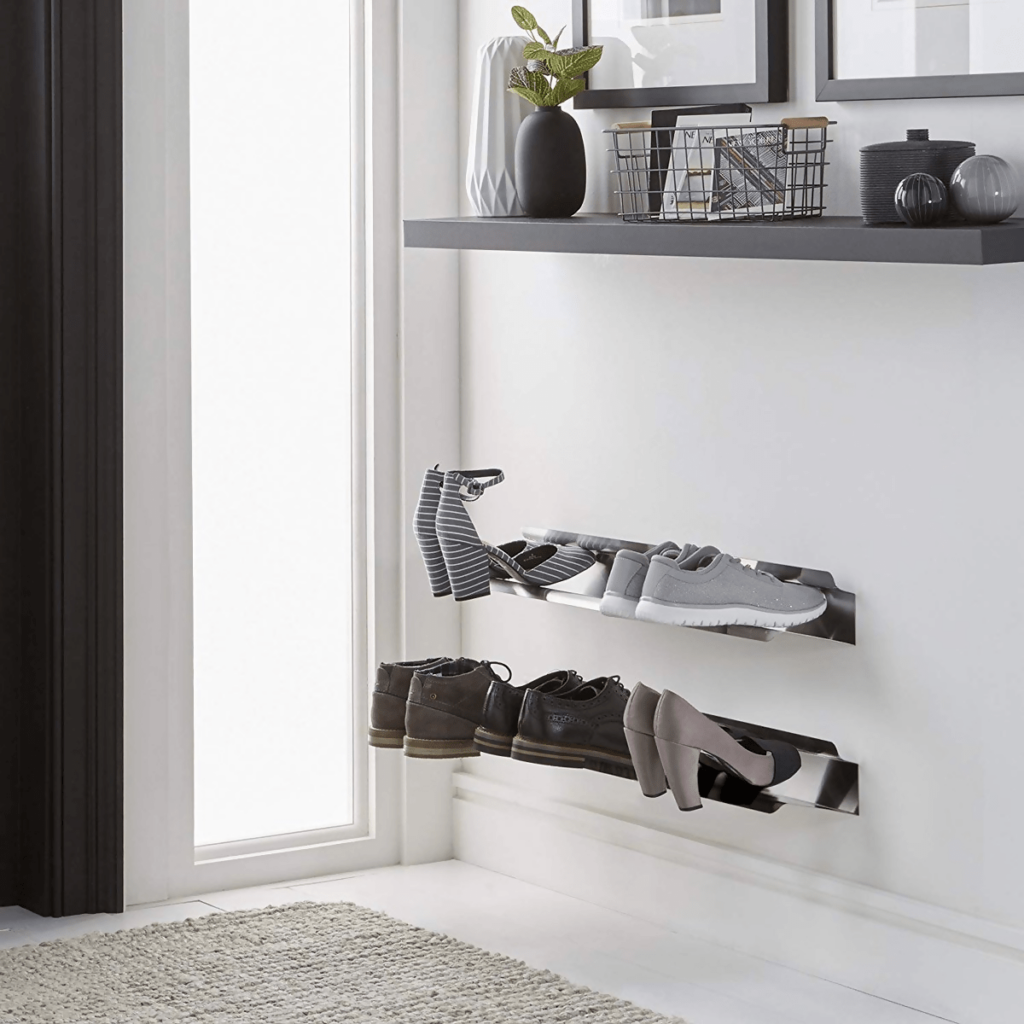 I love this cute, styled entryway storage idea because it's so simple, but really does the trick. The bench acts as a functional centerpiece, allowing for convenient seating. Shoes can be tucked neatly underneath as-is, or you can add baskets or bins for additional organization. The hooks off to the side provide a place to hang jackets and bags. Add a mirror and some greenery for some extra visual impact.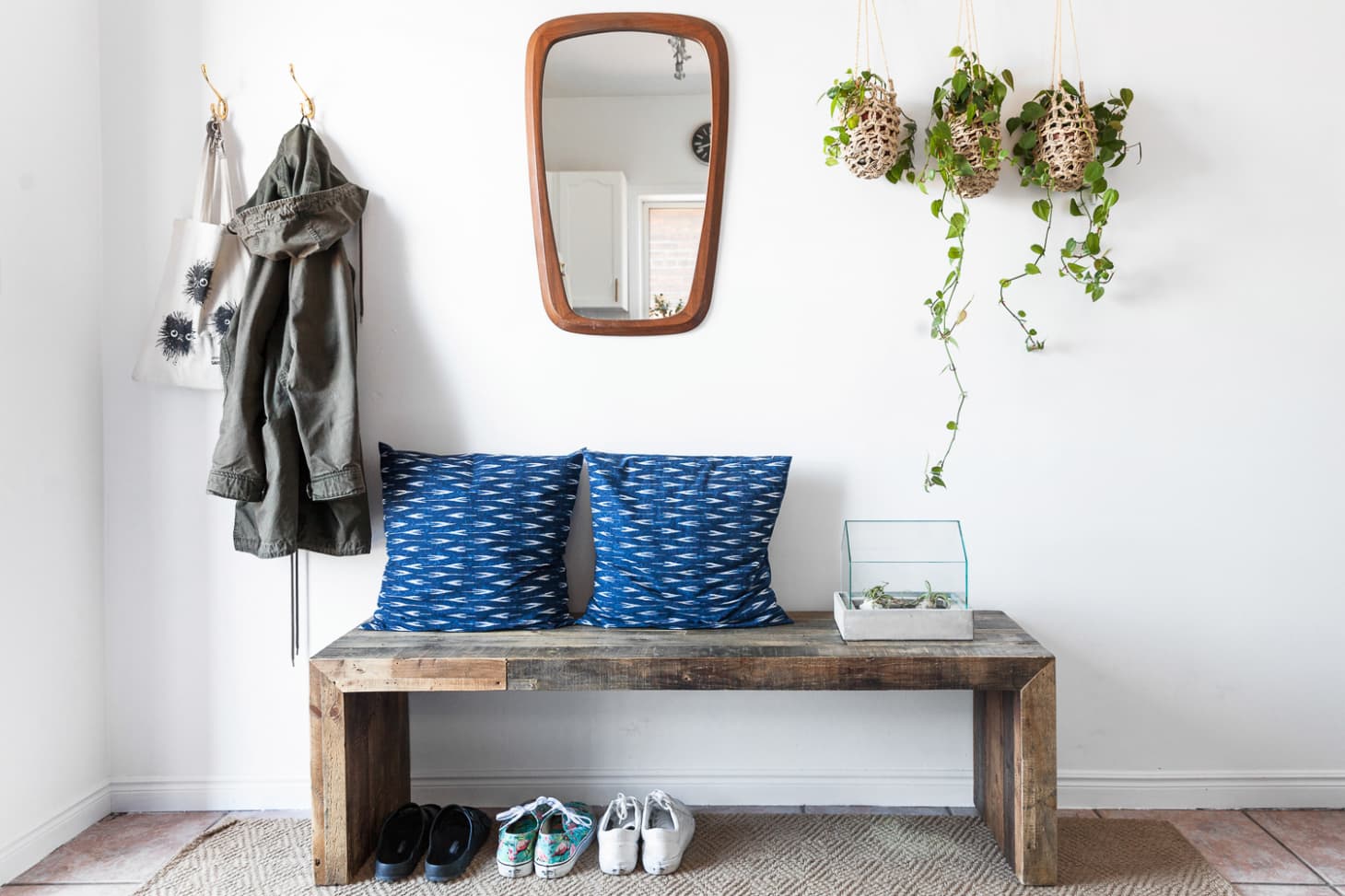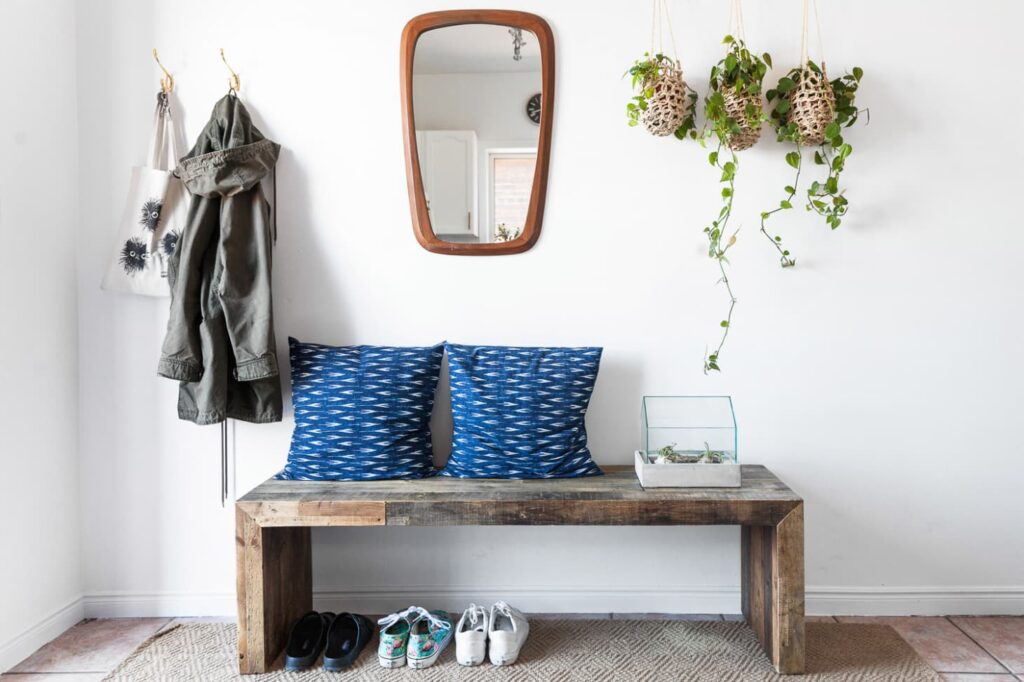 This inventive IKEA hack takes a sleek Hemnes shoe storage cabinet and adds some leather pulls for extra chic style. It's narrow so it fits nicely even in the smallest of entryway spaces, and looks great styled with a large round mirror and your favorite accessories.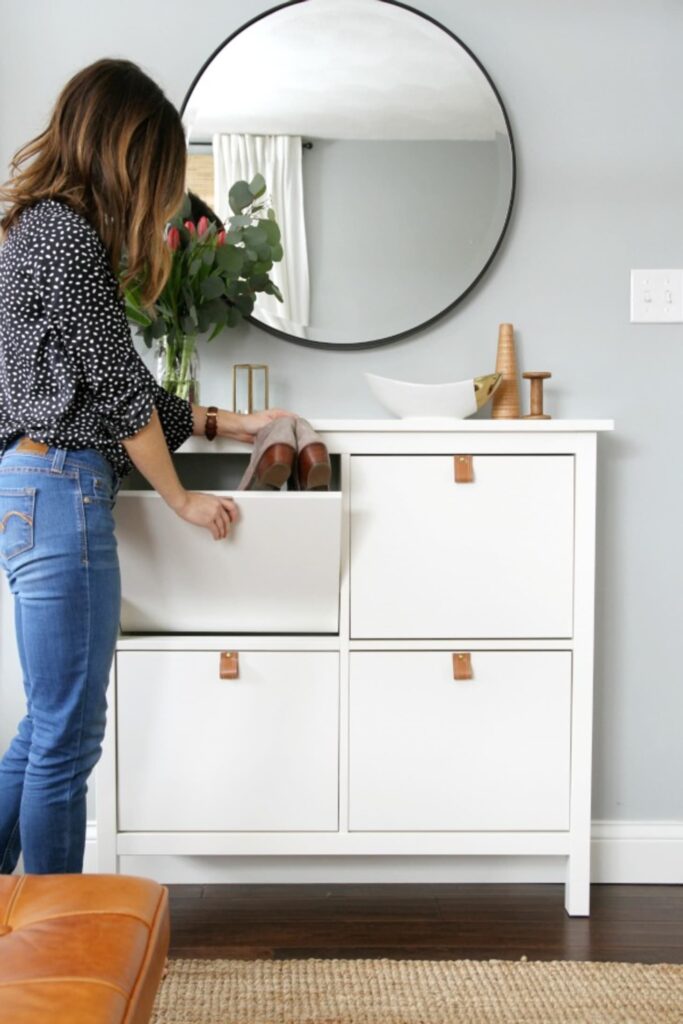 Pegboards have really made a comeback in recent years. Not only are they functional, but they bring a fun and trendy look to any space that needs some organizational help. This pretty turquoise pegboard, paired with some hooks and baskets makes a great multi-functional entryway unit. The best part is, all you need is a little bit of wall space.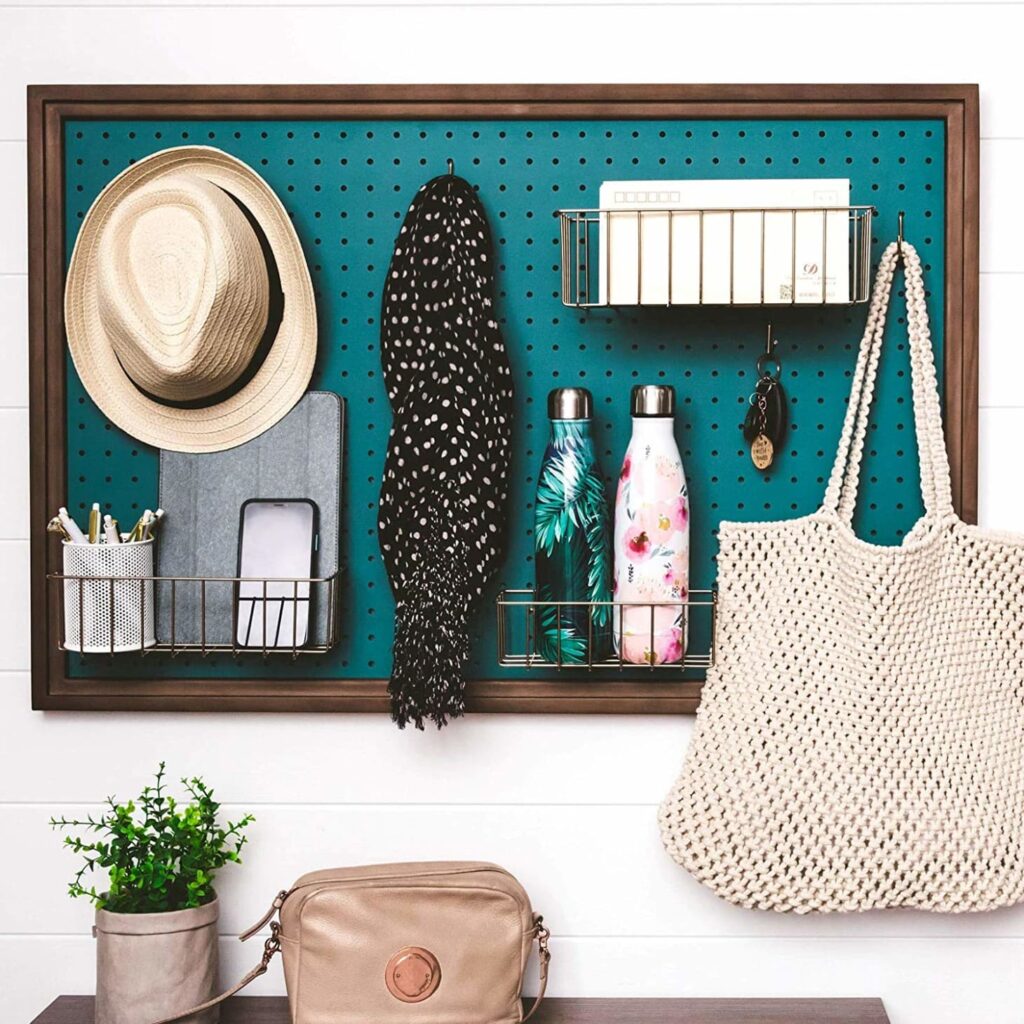 I'm astounded at how much organizational punch is packed into this modest entryway corner. Removing one door from this IKEA IVAR cabinet opens it up and shows off your prettiest baskets and bowls. Slip some wire baskets underneath, an umbrella holder and accordion hooks and you've got yourself a perfectly organized entryway.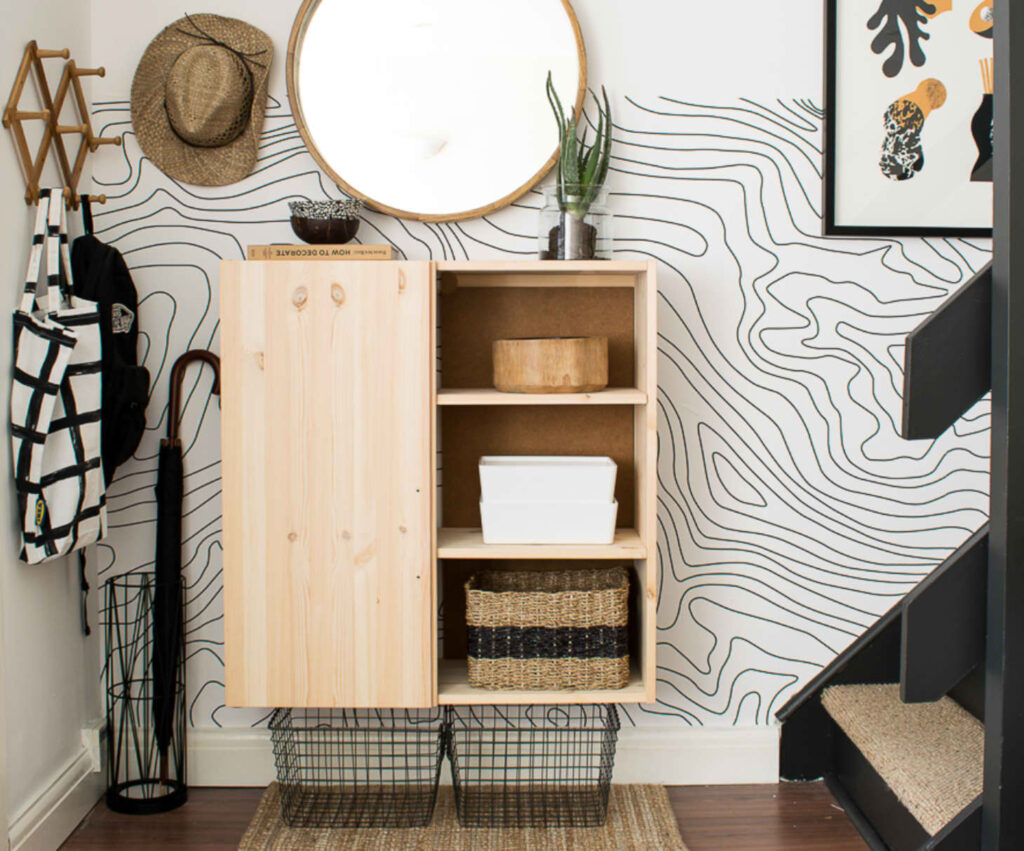 If you frequently find stray shoes strewn about the house, this stackable caddy is the solution for you. Each unit holds up to a dozen pairs of shoes (but can store just about anything in it), and you can stack as many units as you need. I also love it next to a matching white coat rack! You can buy the 12-pair shoe organizer at The Container Store.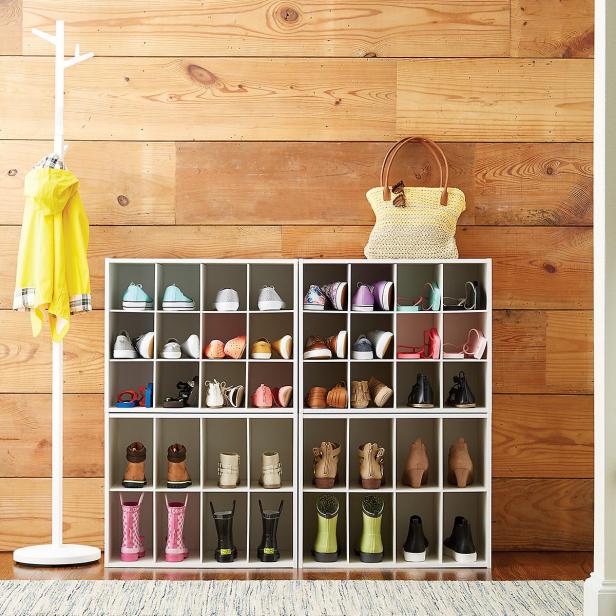 This FINTORP rail from IKEA is so cheap, and it's fully customizable to suit your needs. It's easy to install, and you can add hooks, baskets or caddies for mere dollars on the unit! The end result is clean, simple and organized. Also, how gorgeous is this wooden bench?
Last IKEA hack, I promise. This entryway storage idea was just too clever not to share. Mount Henje shelves sideways on a wall to create a minimalist mood board for your small entryway space. Add some tiny shelves for storing mail, sunglasses or keys, and hang all of your favorite things, like an adorable burro's tail succulent.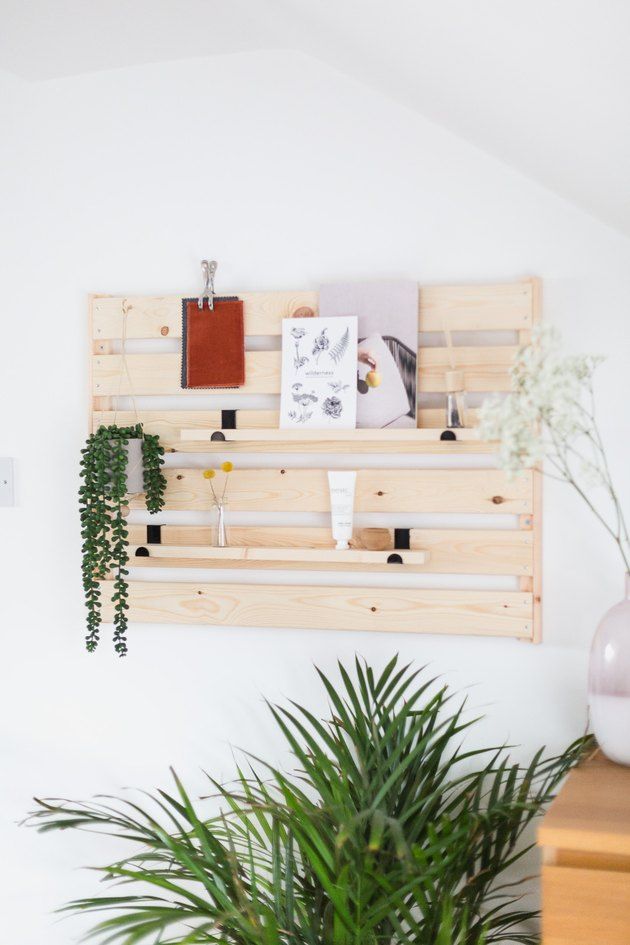 If DIY is not your thing, friend, I don't blame you. Not everyone has time for a get-your-hands-dirty project. Sometimes you just want to buy something that fits all your needs and get rolling before sundown. If that's you, check out this multi-purpose entryway storage solution. It has enough hooks for all your jackets and bags, built-in shoe storage and even a bench for sitting (or storing more things!). Here's a similar one from Wayfair. One and done.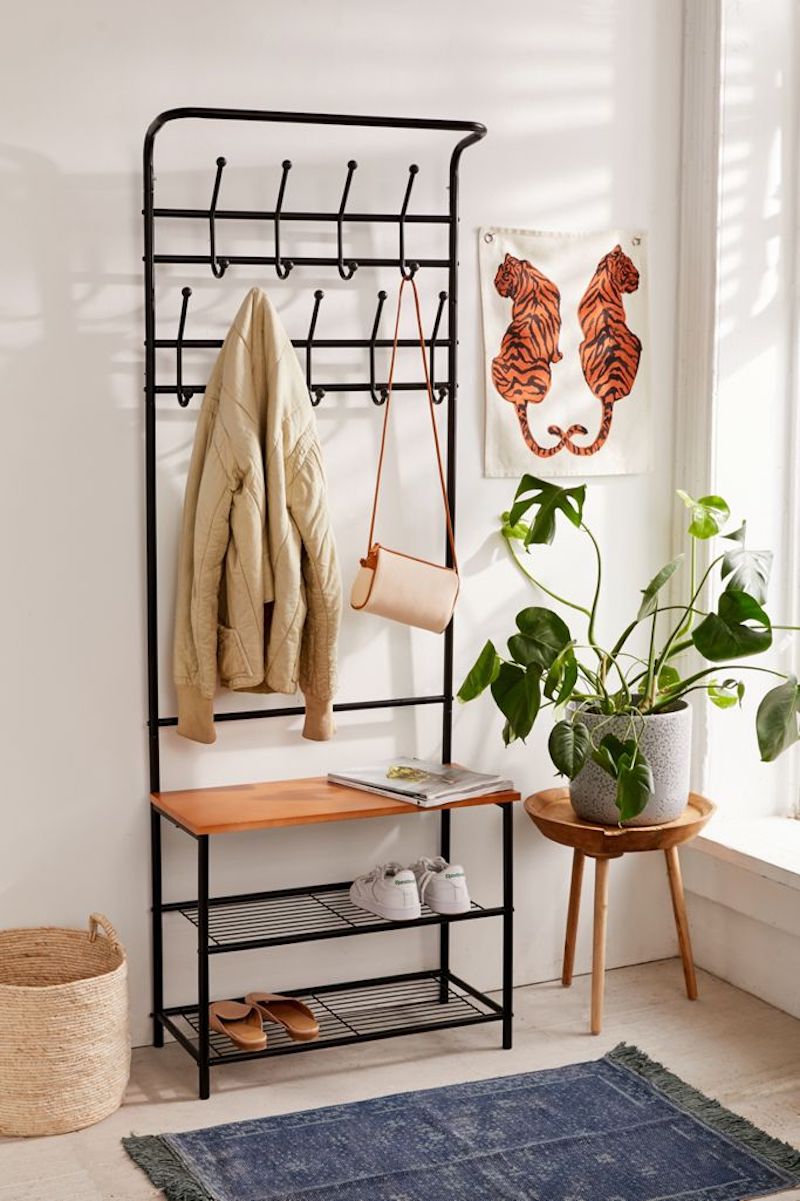 So there you are – 15 fun, functional and stylish entryway storage ideas to help you keep clutter under control. Which of these ideas is your favorite?
MORE POSTS YOU WILL LOVE: