20 Best Mudroom Ideas: Beautiful and Functional
Great mudroom ideas are essential for trying to organize all of the chaos that is backpacks, lunch boxes, papers and more! It's true that a well-thought-out mudroom is a game-changer in any home.
A good mud room or drop zone in the home can make or break the functionality of the home's entrance and exit points. Without a place to keep important information and everyday necessities, its hard to keep the rest of the home clean.
Yet, the mudroom is one of the first things you see when you walk into your home, so you want it to be beautiful, too. I've gathered some examples of beautiful, yet functional mudrooms that I hope inspire you to create your own!
This post contains affiliate links for your convenience. See my full disclosure policy.
My Mudroom Space
In my own eat-in kitchen space, I had to create a "mudroom" out of a tiny piece of wall and a wall of windows! There was so little space to work with, but I made it happen!
I added a row of hooks along with a mirror with cubbies and a wall calendar. It sits right in our eat-in kitchen, but it's the only wall space available near our back door that leads to our garage.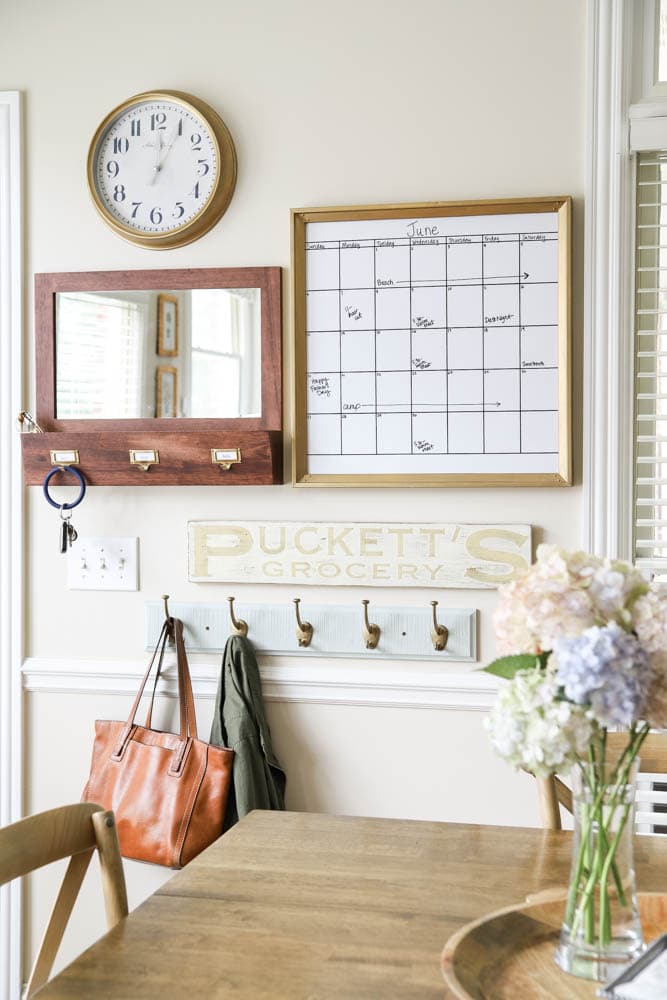 And then I added a storage bench with drawers under the wall-to-ceiling windows on the other wall. I would have loved to have more space for our "mudroom," but being creative has worked well, too!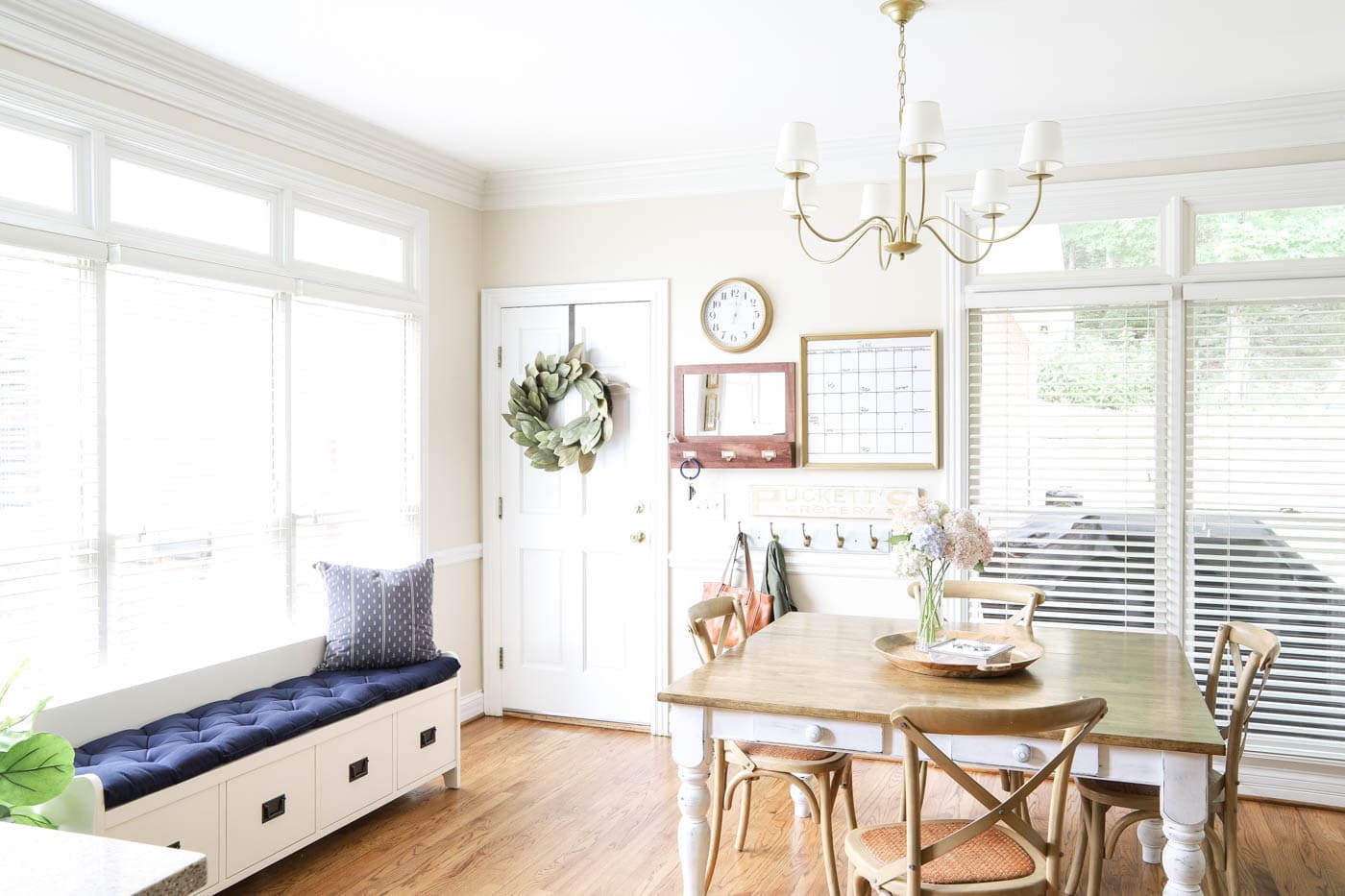 Time-Saving Tip
Don't make the mistake of storing shoes by the door, but keeping socks in bedrooms. Keep a bin of socks near the door and you'll save tons of time not running back and forth through the house when it's time to leave.
So whether you have a large space or small, there's some great ideas here to help you maximize your home!
You can't decorate a home well until it's been decluttered and organized. So, I love sharing new and simple ideas for keeping the home organized and running smoothly. How to Declutter a Room in 5 Steps is so good if you don't know where to start! And if you have a small entryway, these 15 Small Entryway Storage Ideas are great, too!
Use the drop down Table of Contents menu below to easily navigate this post. And be sure to pin these ideas for later, too!
Elements of a Mudroom
If you're looking to add a mudroom space or convert an existing room to a mudroom, look to include some of these elements.
Shoe Storage
Cubbies or Cabinets
Hooks
Seating area or Bench
Pet Supplies/Storage
Laundry Basket
Table for Drop Zone
Obviously not every space can include all of these elements. And a laundry basket might not work in the kitchen, but creativity can truly make anything possible.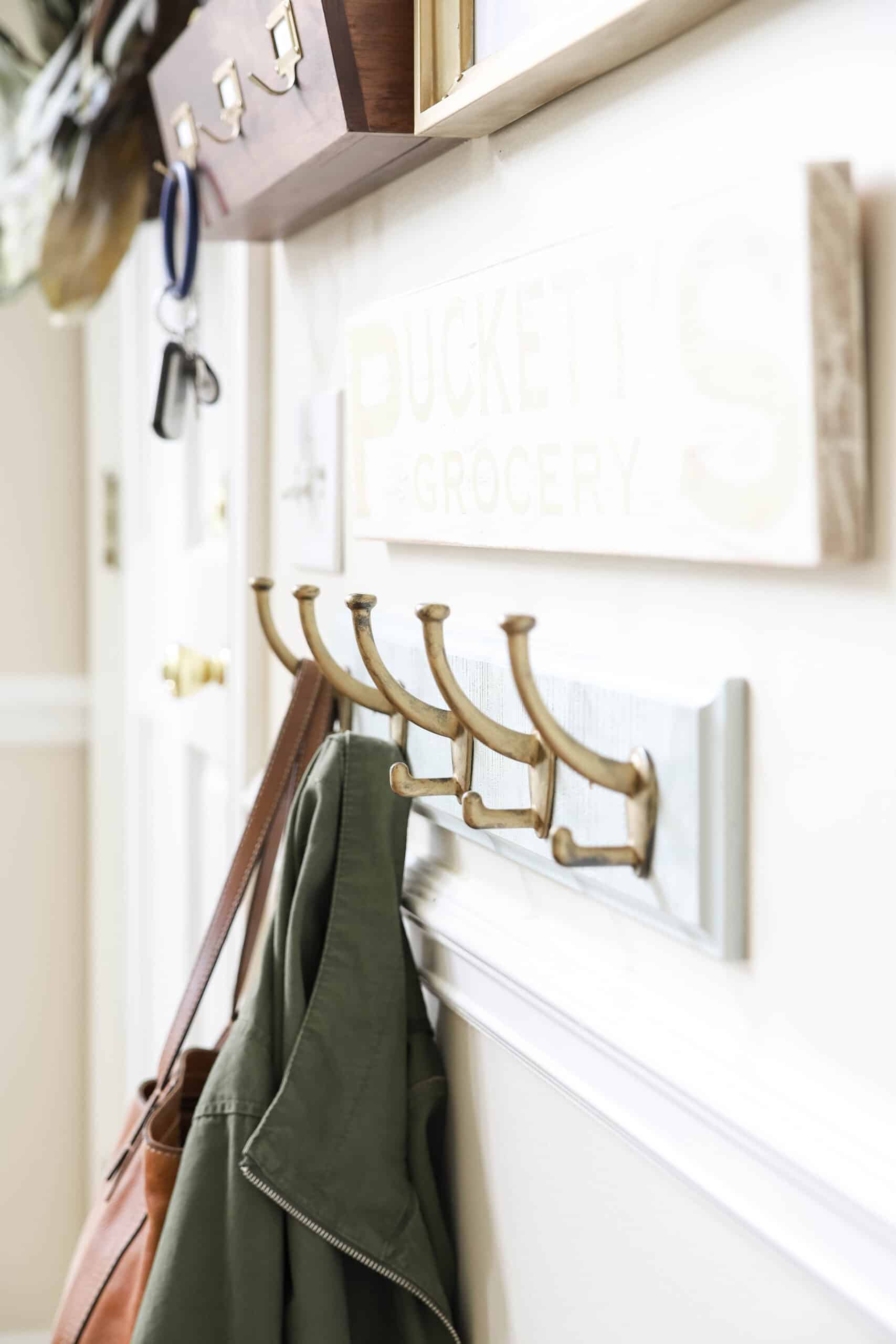 Winning Mudroom Combinations
There are so many ways to have a mudroom function for your home and family. Here are some of the most popular mudroom combinations to think through.
Mudroom + Gardening Combo
A sink in the mudroom can pull double-duty and be utilized for cleaning vegetables from the garden or watering plants.
A large sink and countertop are key elements for these activities. Add a pegboard with hooks or some type of storage for gardening tools and potting supplies.
Pantry + Mudroom Combination
If your mudroom is off of the kitchen, which it should be, designate a closet or shelves for extra pantry storage. Stock up when prices are low and you'll save so much money!
Entryway Mudroom Ideas
The most common use of a mudroom is an entrance to your home. In most cases, it's best to use a closed storage system so that you can hide the clutter from view. This will help keep the floors clean, too!
And if the mudroom is off the front door of your home, don't forget to add a hall tree, drop zone and quality rug for guests to use!
Work Station + Mudroom Space
In many new builds, the mudroom includes a desk for writing and paying bills. Add a computer for kids to do homework and a place for you to handle family business near the hub of the home.
Laundry + Mudroom Combination
Another popular room combo is the laundry room and mudroom space. This is so convenient for families who have athletes. It makes it so easy for dropping soiled jerseys, dirty socks and wet clothing directly into the hamper.
Pet Zone + Mudroom
Lastly, the pet zone is such a great idea to include in the mudroom. Usually the floors are durable and easy to clean up Buddy's dirty paw prints. If you have a new home, consider a built-in dog crate that looks like a piece of furniture. And don't forget the large sink or dog shower for easy bath time!
I've got examples of all of these below, so keep reading!
The Best Mudroom Ideas for Your Home
Enjoy these innovative and beautiful ideas for creating a mudroom or drop zone in your home!
1. Hide the Clutter with Glam Cabinets and Drawers
This gorgeous mudroom was a complete DIY job by The Southern Gail. She made all of the floor-to-ceiling cabinets and drawers, tiled the floors and added lattice to the ceiling. This room proves their can never be to much glam or storage!
The floors are even heated, perfect for their Michigan winters. This interior design mudroom beauty is the perfect combination of form and function!
2. Have a Cubby for Each Family Member
This gorgeous eclectic farmhouse mudroom is sure to be a show-stopper in any home! Not just functional, but beautiful, too! And every person in the family gets their own space to remove their shoes and hang up their coats and back packs.
The added photo gallery above the benches adds a homey, warm vibe to the space. And the baskets below the bench are perfect for hiding shoes and other unsightly items.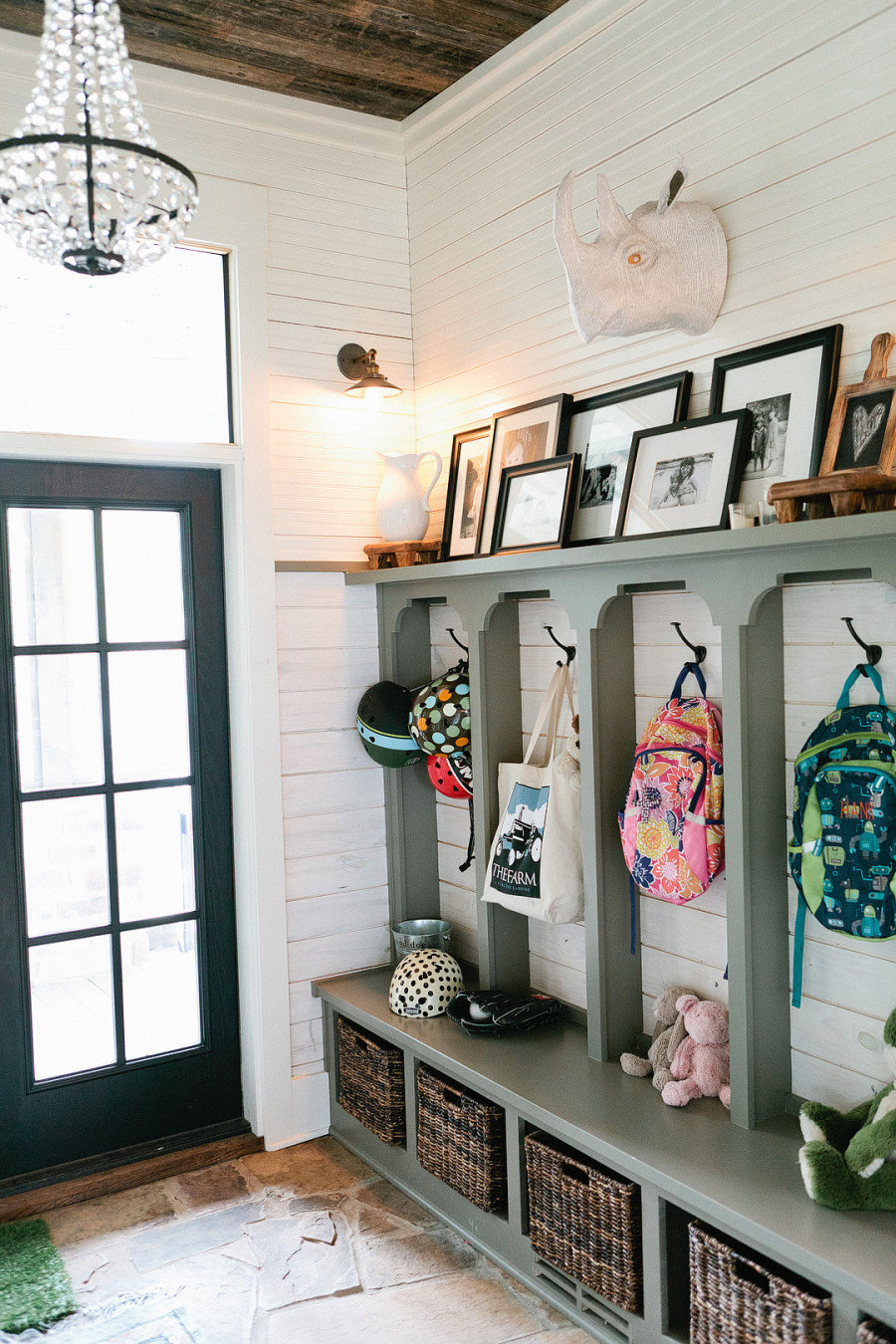 3. Add a Design Element to the Ceiling
Usually mud rooms are small spaces with lots of function, so why not add some visual interest to the ceiling? In the previous two photos, they have a treatment on the ceiling. And in the mudroom entrance below, JK Interior Living used a beautiful chandelier and painted the ceiling a deep blue hue!
It's a great way to make a design impact in a small space!
4. Install a Locker and Bench System
If you have a blank space that would be perfect for a mudroom zone, why not purchase a ready-made locker and bench system? Simple add a piece of furniture to a wide hallway for an easy and simple solution!
SHOP LOCKER & BENCH SYSTEMS

5. Combine a Mudroom with the Laundry Room
In many cases it makes sense to combine a laundry space with a mudroom. It's great for dropping off soiled clothes when you come in!
The slate tile floors are perfect to take the hit from dirty boots and messy shoes!
6. Turn a Hallway Entrance Into a Mudroom
Turn the hallway into a beautiful storage space that still matches the aesthetic of the home. I love the added rug for texture and pattern!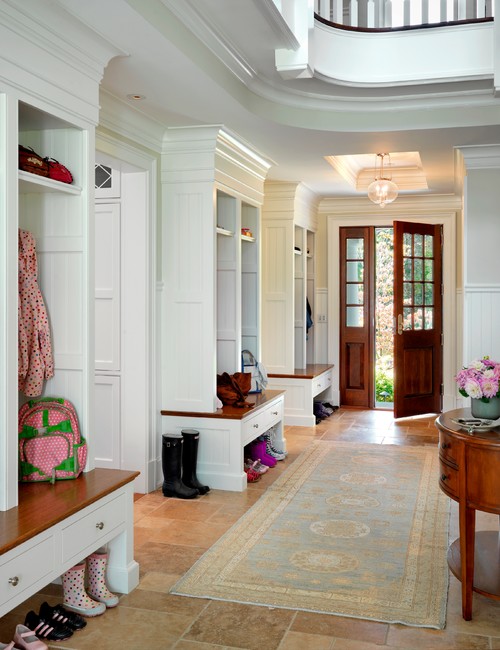 Photo by Jan Gleysteen Architects
7. Convert a Small Closet to a Drop Zone
Get the most impact for a small space by taming clutter with locker built-ins in a small space. And use a small closet space for a mini drop zone for mail and other entryway essentials!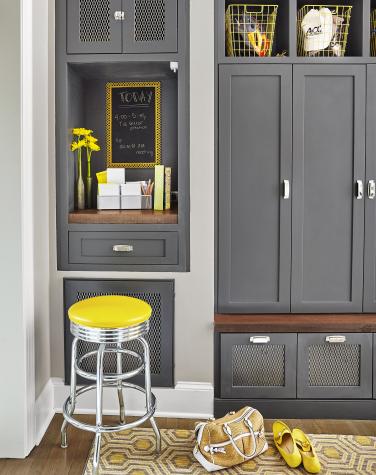 8. Add Color with Wallpaper
If you need to turn a space from drab to fab, add some wallpaper! This beautiful mudroom space from Bright Green Door got a beautiful, colorful transformation when she added some floral wallpaper.
Such a fun way to greet your family when they enter the home! And makes the mudroom feel like any other room in the house.
9. Add a Dutch Door for Functional Style
Not only are Dutch doors a great design choice, they are also practical for letting in a breeze or keeping a pet contained.
10. Add a Washing Station for Pets
If you can, combine a mudroom with a pet washing location. Whether it's a sink or a small hand held shower attachment, it would make washing your pets so easy!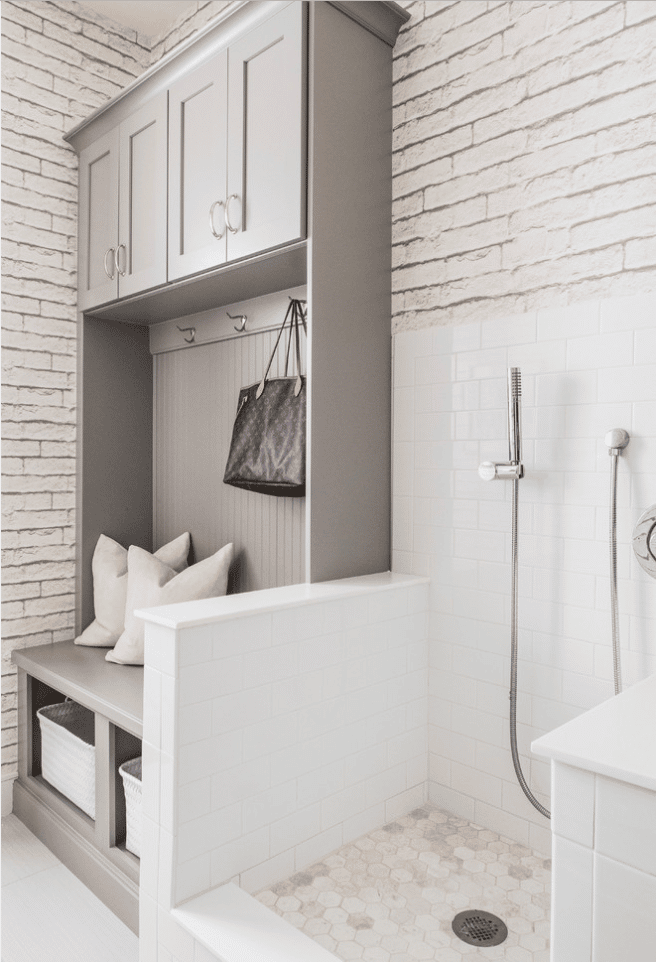 11. Hooks in a Nook
If you only have a small wall space, no problem! Turn a small wall nook into a place to hang backpacks or other loose items with these DIY plans.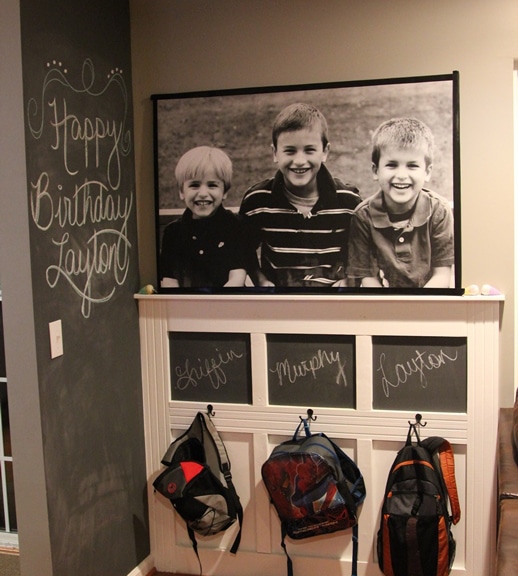 Add a chalkboard to the side with chalkboard paint for special messages and reminders!
12. Hall Closet Mudroom Idea
Use a small hall closet for your mudroom with these simple ideas. Add a bench seat with underneath storage, plus a rail with hooks!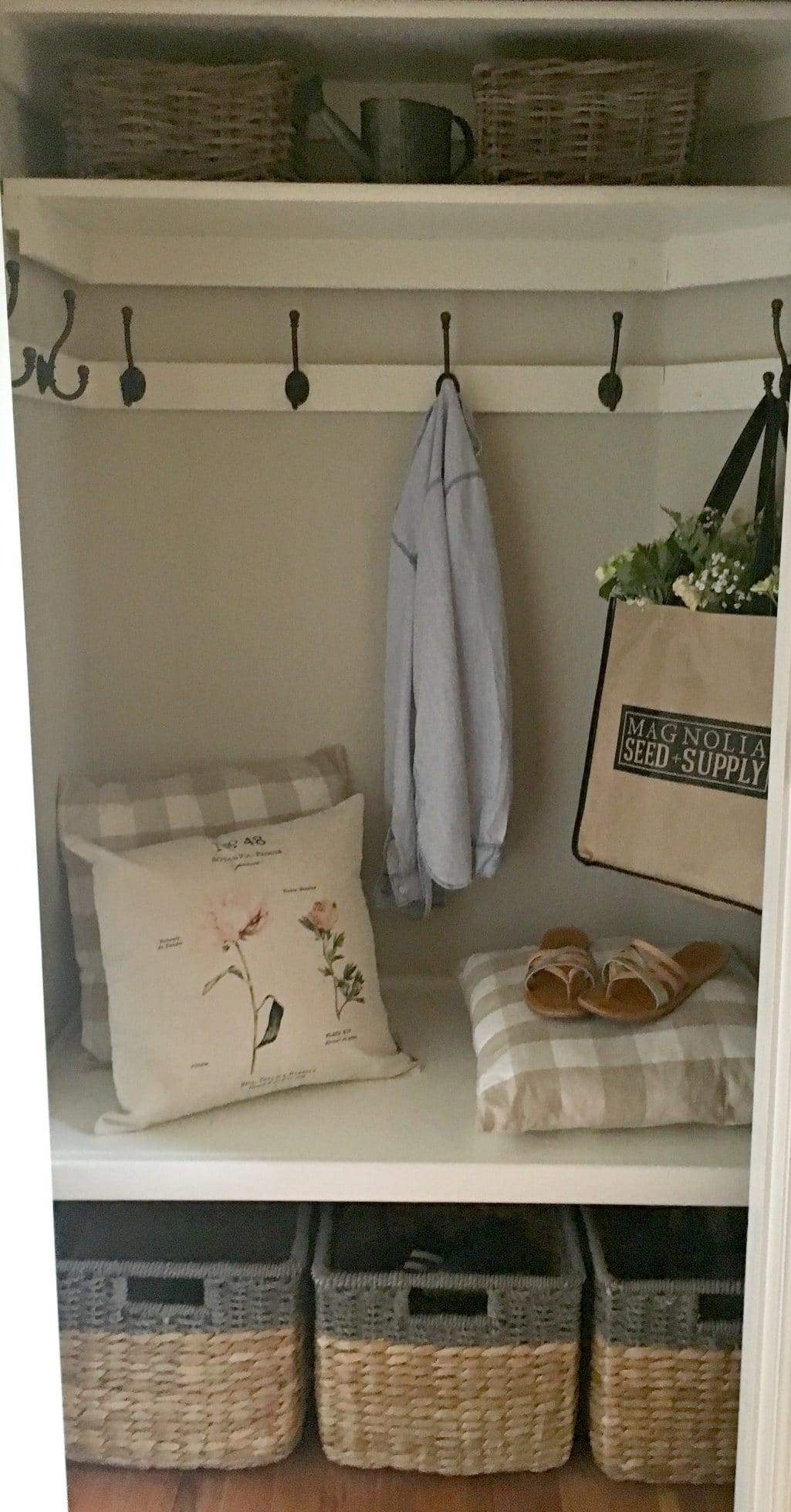 You can also add a shelf above the hooks for winter gear that is only needed seasonally.
13. Create a Garage Mudroom
No room in the house for a mudroom? No problem! Set it up in the garage!
I love how the outside feels like the inside with a painted door and kids' hanging artwork and feet art above the bins. This simple set up will cause a lot less stress once you walk in the door.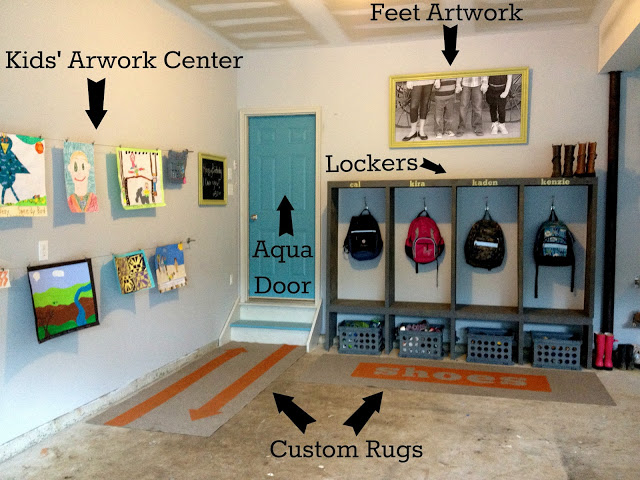 DIY Garage Mudroom from East Coast Creative
When the garage door dumps right out into the kitchen, build a hidden mudroom behind a wall of cabinets!
This custom cabinet wall looks like it's a part of their kitchen, but in fact, it holds the entirety of their mudroom!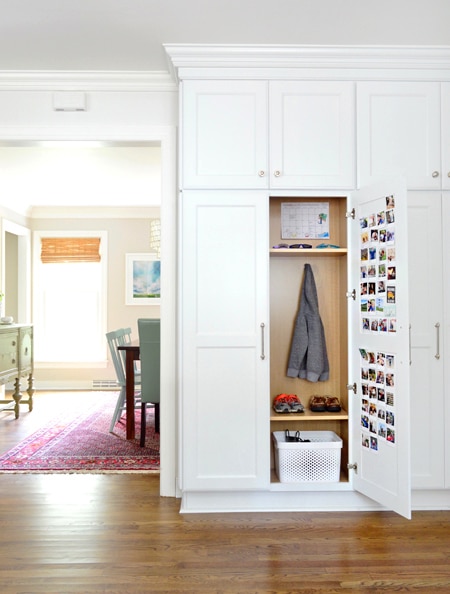 Hidden Mudroom from Young House Love
15. Hooks, Bench & Baskets!
Whip up a mudroom in no time flat with some hooks, a bench and baskets! The hooks are the perfect place to hang jackets, scarves or even sports equipment. And the boxes or baskets are perfect for storing hats, gloves and mittens!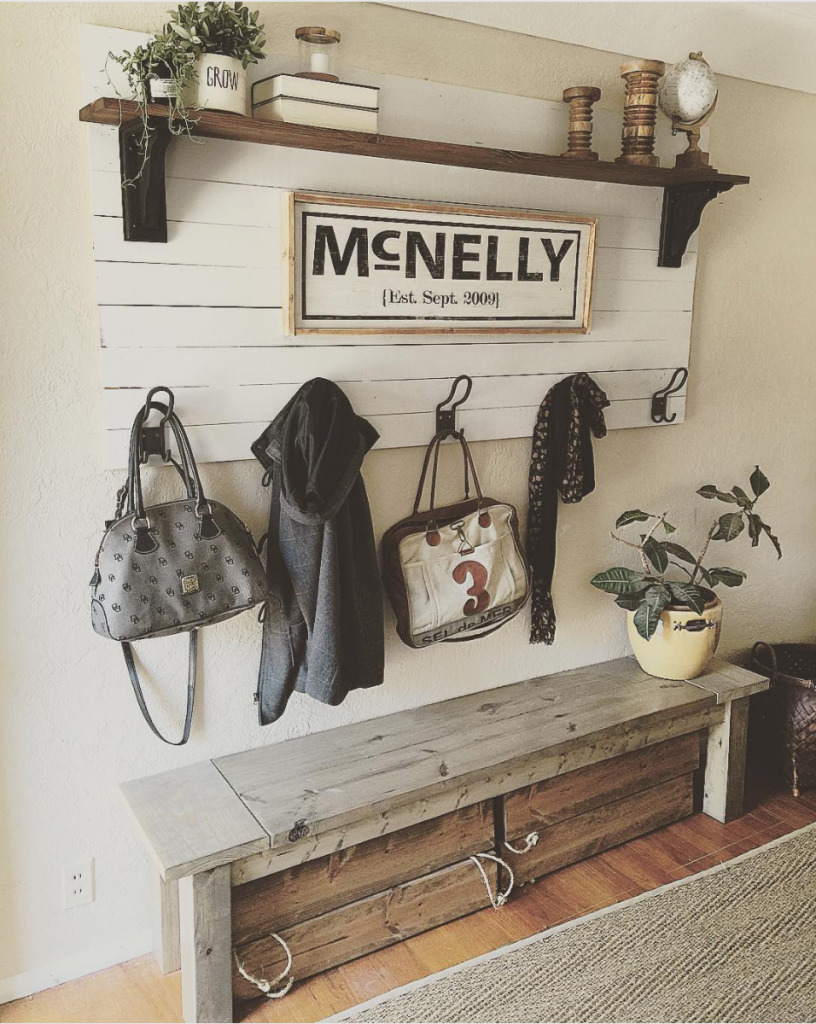 Simple Mudroom from McNelly Farmhouse Love
16. DIY Cubbies and Bench
If you're left with a blank space, but need storage, build your own! Build your own full-sized mudroom cubbies with built-in bench using these plans from Ana White!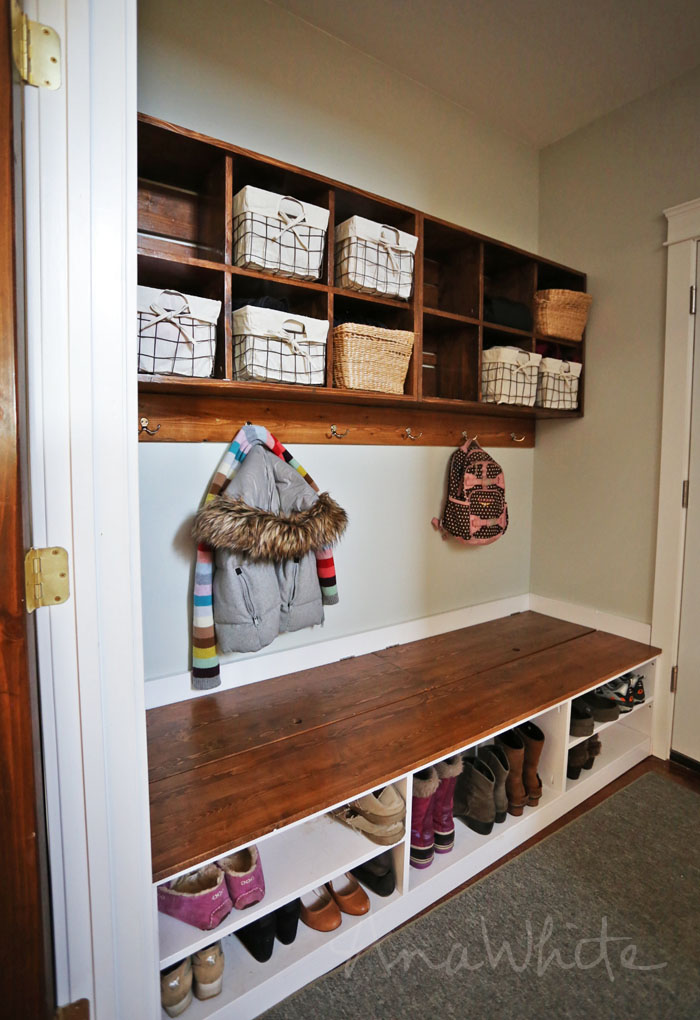 Cubby Wall DIY Plans from Ana White
17. Custom Accents with Paint and Fabric!
Customize your mudroom with fun accents like a painted stripe wall or a DIY upholstered cushion.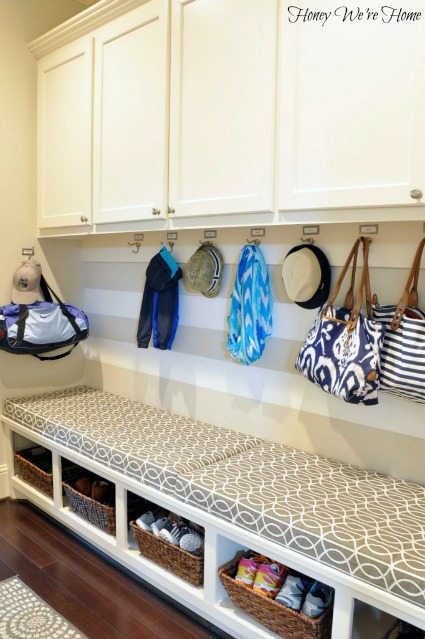 Striped Wall Mudroom from Honey We're Home
18. Corner Built-Ins
Create a huge impact with a small footprint by DIY-ing (that's a verb) this small "mudroom" bench with hooks and storage up top!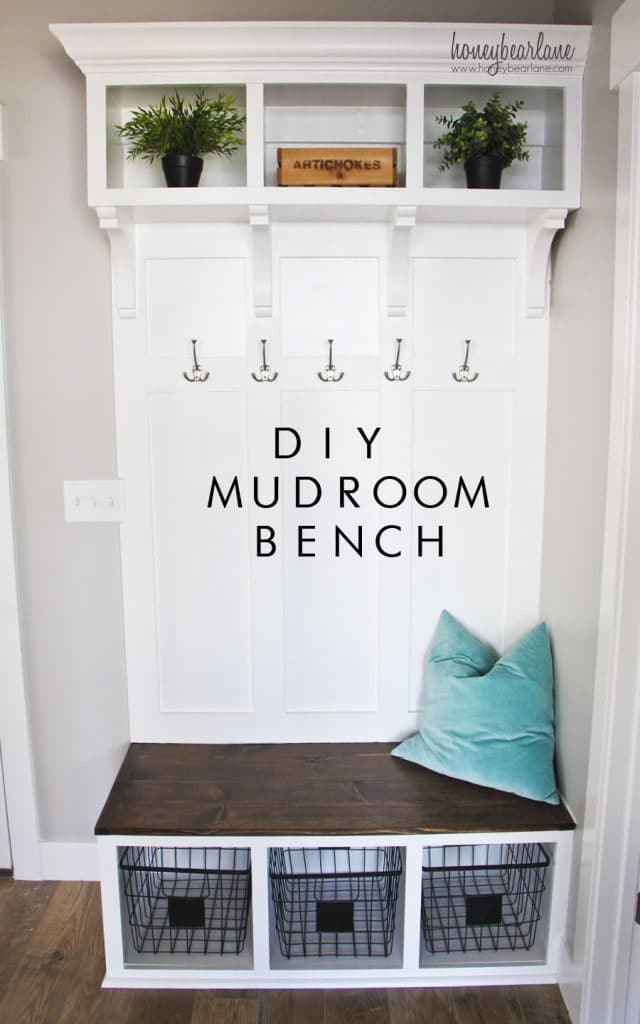 DIY Mudroom Bench from Honey Bear Lane
19. Use Weather-Proof Mudroom Flooring
This dreamy new construction mudroom has shiplap and beautiful benches with cushions for each cubby. But it also has ceramic tile that looks like wood! A durable flooring option like slate or ceramic tile is often the best solution for a mudroom.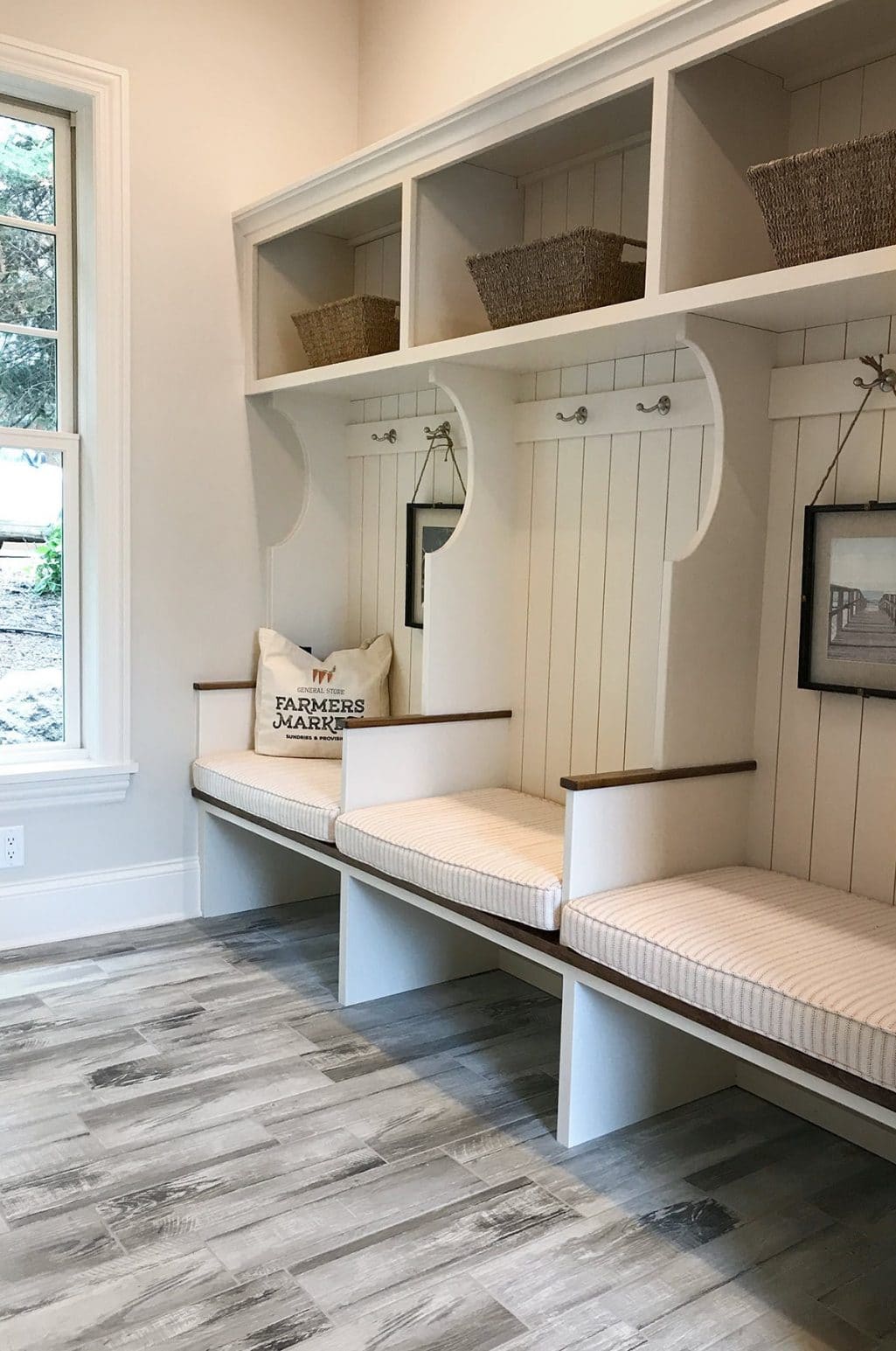 Final Thoughts
I hope these mud room ideas help you create a beautiful and functional mudroom space in your home. And if you're building a new home, I hope these ideas help you configure a mudroom design that will be perfect for your family's needs!
More Posts You Will Love: