The Best Home Decor Paint Colors: Kendall Charcoal
If you love to use dark-toned colors in your home and want to try something new, let me introduce you to one of my new favorite neutral colors – Benjamin Moore Kendall Charcoal! This paint color has a dark green-grey tint to it that seems to go with just about everything. That's it's the perfect dark neutral shade.
Starting from the exterior of your home all the way to some of the interior rooms, Kendall Charcoal (HC-166) tends to work well when paired with cream or taupe paint colors, lots of white trim or even accessorized with gold accent pieces.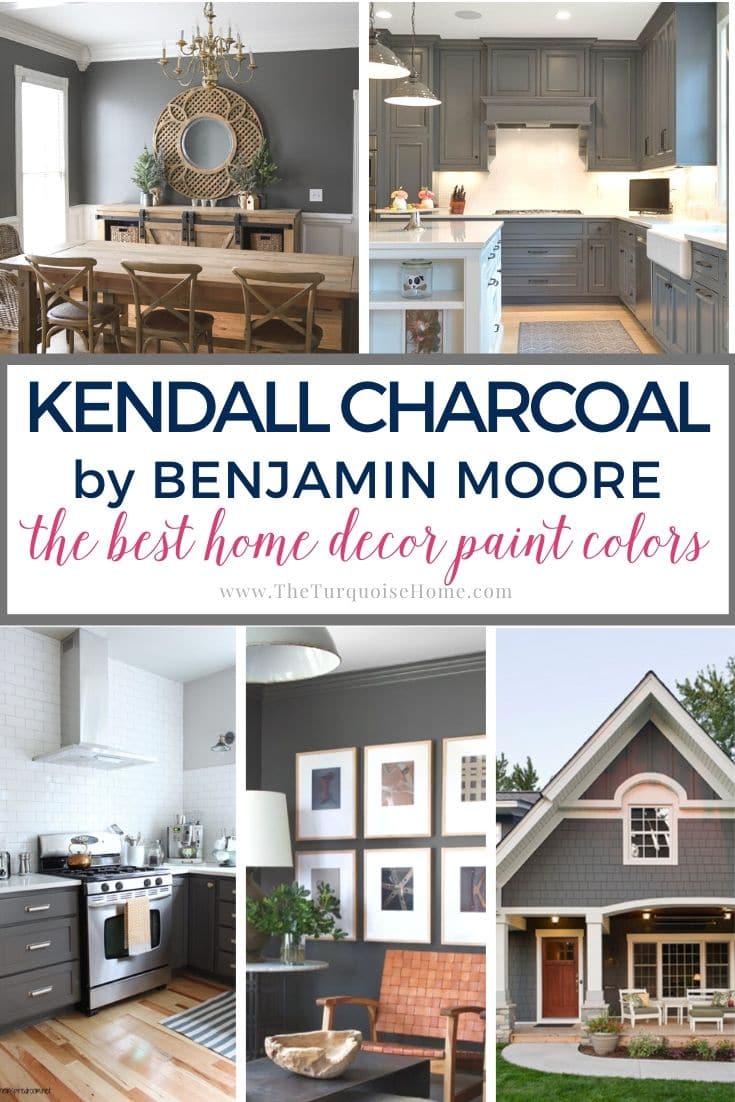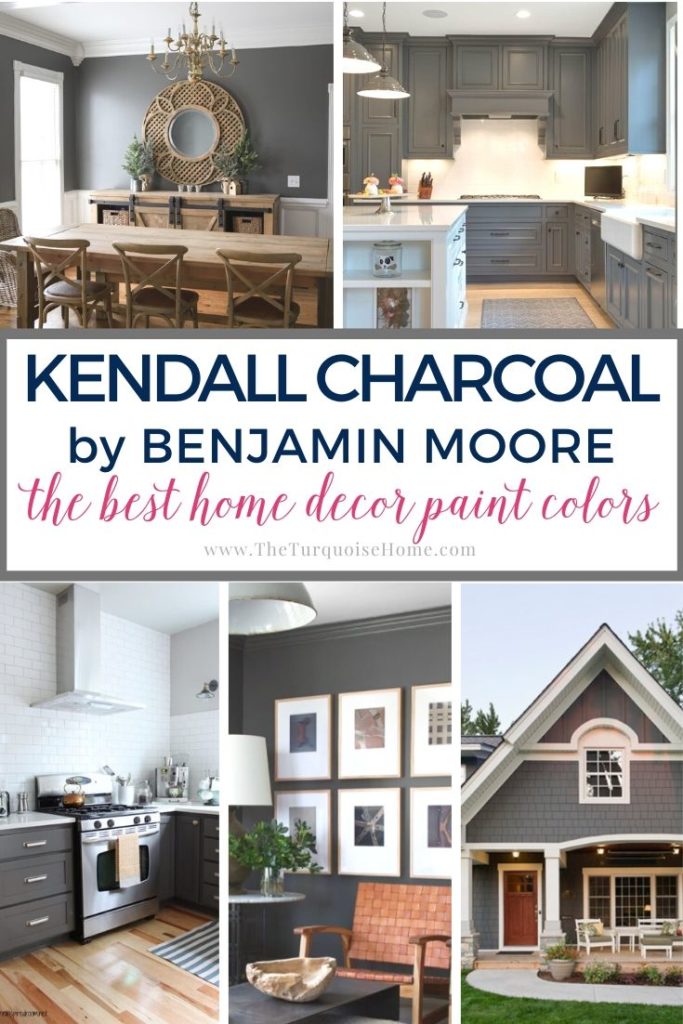 This post contains affiliate links for your convenience. See my full disclosure policy here.
This color looks gorgeous in all lighting and in all photos. It's seriously so beautiful!
NOTE: If you're painting the room yourself, these tools will help tremendously. And this post will give you my best tips for painting a room in 5 easy steps.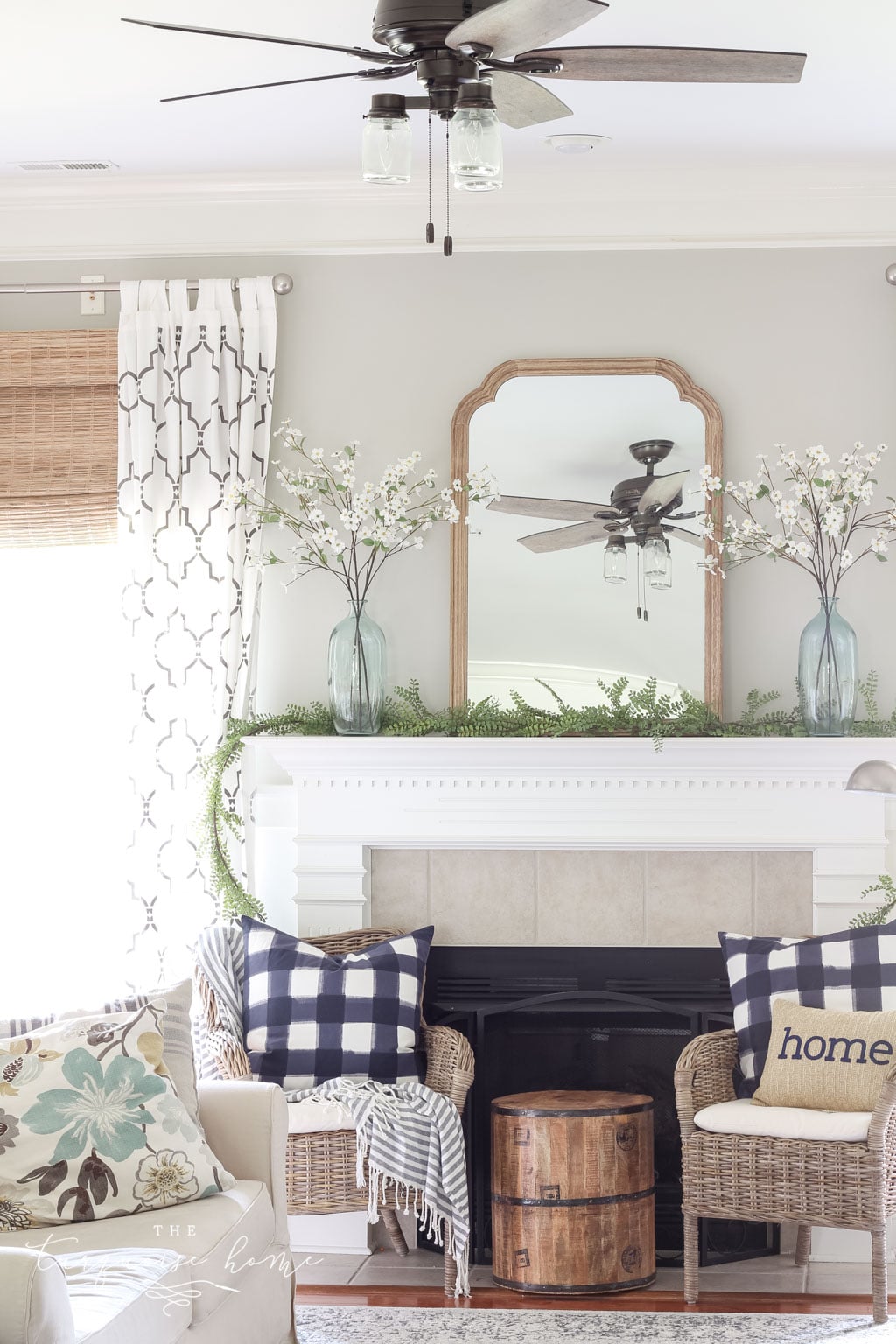 FREE BONUS!
5 Secrets Every Home
Decorator Knows
… to transform your home into your dream home!
What Colors Go With Kendall Charcoal?
There are so many colors that work fantastic with BM Kendall Charcoal. Here are just a few shades to try:
Benjamin Moore Whirlpool
BM Mascarpone
Benjamin Moore Solitude
Kendall Charcoal Undertones
Benjamin Moore Kendall Charcoal has such versatile and interesting grey-green undertones that it will change based on what you decorate around it.
This color seriously goes with just about everything, doesn't it? I am crazy about the undertones in this gorgeous dining room from Disheveled Delight. By simply decorating the table with greenery, you can see the dark greens in the side cabinet shine through.
My one piece of advice: Don't be afraid to use a dark color in a small space!
It even looks great in small spaces, or as an accent wall, which not all dark shades can. This luxurious color pops in such a gorgeous way with crisp white room accents and trim. I can't stop dreaming of an office like the one below, bathed in natural light.
What Colors Coordinate with Kendall Charcoal
Kendall Charcoal is a fabulous color trim work, an accent wall or to paint on stone or brick. It's great with other warm neutral white, beiges, greiges and taupes like Edgecomb Gray or Shoji White.
If you need a trim color to coordinate with Kendall Charcoal, look at colors like White Dove, Alabaster and Simply White. They will work well together!
Kendall Charcoal vs. Revere Pewter
Revere Pewter is much lighter than Kendall Charcoal, but still in the same color family: neutral gray with a green undertone. If you love Kendall Charcoal, but can't commit to a paint color that dark, try Revere Pewter!
Kendall Charcoal vs. Chelsea Gray
Chelsea Gray is another color in this neutral warm gray family with green undertones. And it's slightly lighter than Kendall Charcoal, thus being more versatile.
Kendall Charcoal vs. Grizzle Gray
If you love Kendall Charcoal, but don't love the green undertones, try Grizzle Gray. It's another dark gray color, but with blue undertones!
Kendall Charcoal In Different Rooms
In these photos, you will be able to see and get inspired on how to use Kendall Charcoal in multiple rooms on your home. This dark and versatile neutral color looks amazing on kitchen cabinets, front doors, walls, and even in mudrooms.
Check out all these lovely and inspiring home decor ideas that use Kendall Charcoal paint.
Kendall Charcoal Kitchen Cabinets
The dark undertones of Kendall Charcoal pair really well with cabinets as you can see in the following examples.
This shade is incredibly versatile and especially pretty on cabinets and doors. It also pairs well with light or medium stained wood as you can see in the kitchen from Revision LLC.
I really love the look of a rich gray and a light wood, whether it's on the floors or even in furniture. Just a little something to think about if you have oak in your house that isn't going anywhere at any time soon.
This amazing mudroom from Decor Pad features dark gray cabinets painted with Benjamin Moore Kendall Charcoal. There are a bunch of different patterns and colors going on here, but somehow they all go together!
Hello, two-toned beauty! If you don't want to commit to cabinets entirely in this dark color, you can always just do half of them.
If you still want light colors but love an accent color, use the kitchen below as inspiration.
The back kitchen island from Mia Mia Mine was painted Kendall Charcoal before being topped with gorgeous quartz waterfall countertops. The perimeter cabinetry is painted in Sherwin Williams Pure White, which makes the charcoal island really pop!
This is a gorgeous kitchen (thanks to The Inspired Room) that has these beautiful cabinets painted Benjamin Moore Kendall Charcoal!
The cabinets pair with perfectly with nickel hardware and Caesarstone white countertops. The striped rug is a nice choice as it helps accent those cabinet undertones! I love pulling the colors from the cabinets into the rug, which unifies the room in a subtle but effective way.
Kendall Charcoal in Interior Rooms
This masculine gray den shown on Decor Pad features eye-catching gray prism cabinets positioned on either side of a door. The entire room's walls are painted in Benjamin Moore Kendall Charcoal, and the results are very dramatic.
This entire room screams modern elegance. While it isn't exactly my style I am really drawn to this image—something about it just pulls you in.
My own dining room boasts upper walls painted in our favorite new charcoal gray, which contrasts beautifully against the white lower half.
This modern farmhouse dining room also features an original 90's brass chandelier that actually works surprisingly well with this wall color. And check out my favorite gorgeous mirror, too! If only Pottery Barn still carried it! But I've gathered similar round statement mirrors in this post.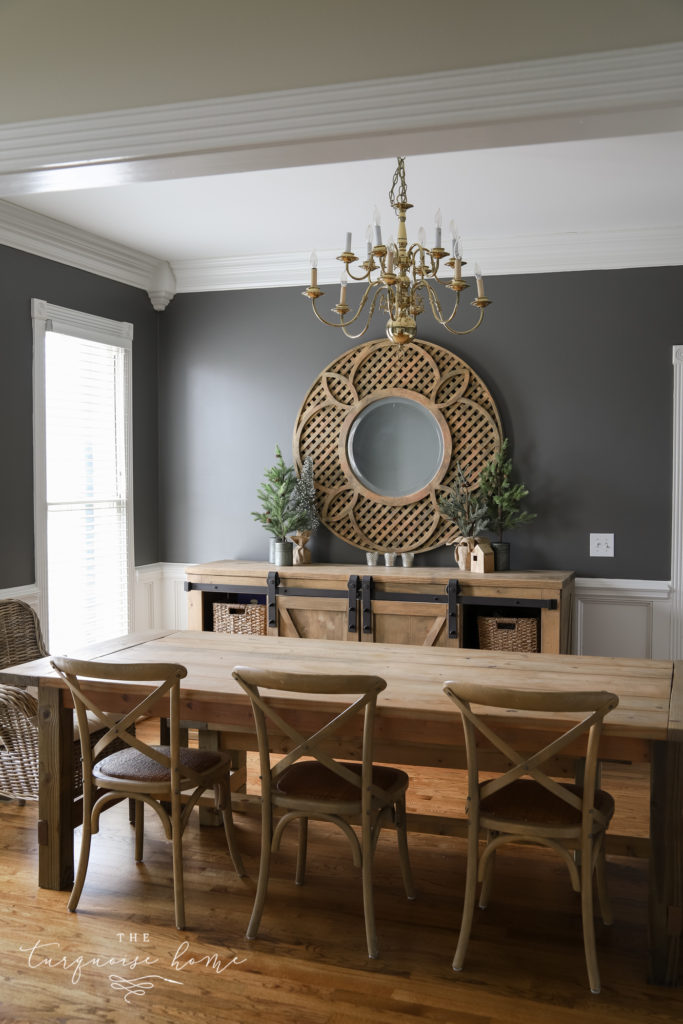 I plan on bringing in pops of color for each season, starting with pinks and whites for spring! And I'm excited to make this masculine wall color look feminine with floral accents and pretty accessories.
Kendall Charcoal Exterior
When I told you this color is versatile, I wasn't kidding! It looks perfect as an exterior color too. Since this is a lovely neutral tone, you can repaint your front or back door with it just like The Inspired Room.
It will look perfect with any accents that you put around it, including house plants and cute rugs.
When you paint the outside of your house, use bright white accents like Interiors by Color did. This will give your home the eye-catching curb appeal that you want.
I just love how this color goes so well with the natural stone in the pillars and how it also unifies the furniture and lawn decor too.
BM Kendall Charcoal doesn't just go with stone. It can make brick accents pop too! In fact, I think the dark grey color on the exterior of the home shared by Kelly Bernier Designs makes the red colors pop even more.
Plus, the dark grey allows the white trim to have center stage. This is a wonderful way to show off your unique roofline!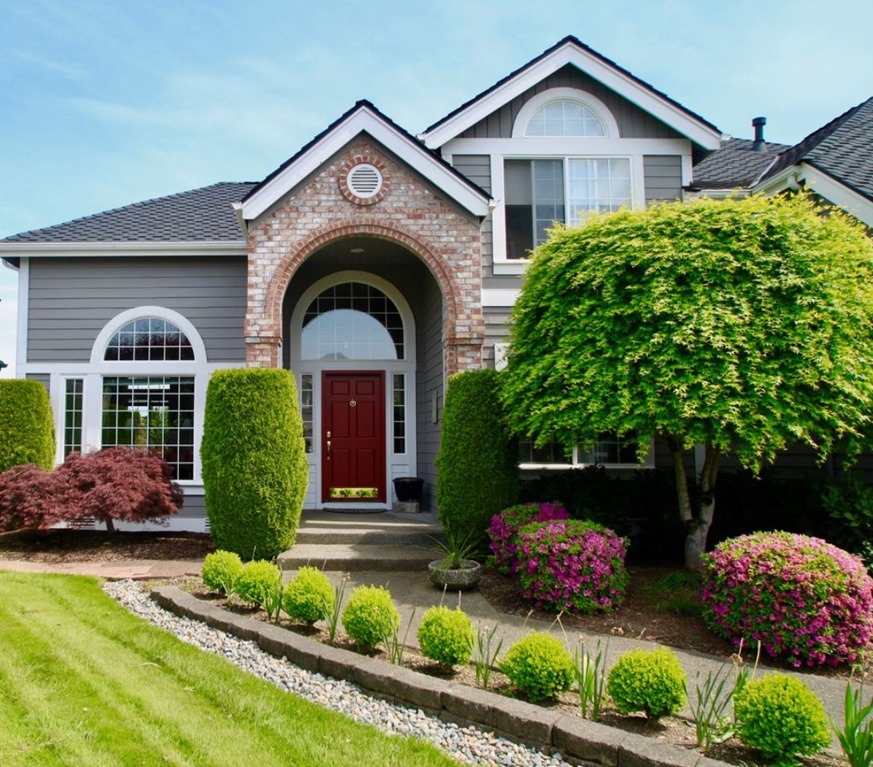 Kendall Charcoal – The Perfect Neutral
The best thing about Benjamin Moore Kendall Charcoal is that it goes in almost every room – inside and outside! It pairs with any accent color. If you have ever been tempted to try a darker shade, this is a safe color to start with.
Check Out Some More Of The Best Home Decor Paint Colors
If you love this Kendall Charcoal color, check out some of these other home paint colors from the Benjamin Moore Collection:
Tips for Painting a Room Yourself
I've gathered some of the best tools for painting a room yourself. First of all, you'll want to check out this post I wrote: Painting a Room in 5 Easy Steps. These tools are the top tools I use when painting my own rooms, which is how they get painted 95% of the time!
Paint Brush – These paint brushes are a little more expensive than your basic brush, but they're worth it! I've used these brushes for more than a decade and if you wash them out well after each use, they will last for years.
Painter's Tape – a MUST have for taping off edges. You'll need to tape off all edges if you don't have a steady hand.
Drop Cloths – a must have if you don't have any laying around the house already.
Paint cup – Sure you could use any old cup, but I've come to swear by this one. The magnetic piece holds your brush cleanly in place when you need to take a break. And it fits my hand perfectly, keeping it from cramping.
Roller Tray – I've found the only paint tray I'll ever use again. The magnetic piece is great for holding the roller in place. And the liners are a luxury, but I won't paint without them because it makes clean up a breeze!
MORE POSTS YOU WILL LOVE: