How to Choose the Best Entryway Rug in 2023
Choosing an entry way rug can be both fun and functional. Here are some tips to help you choose the right one for your home that can handle a lot of foot traffic and look beautiful, too!
An entry way rug is not only pretty, it is practical, too! It makes a first impression, yet also keeps your home clean and tidy! So let's take a look at some of the best entry way rugs for your home.
This post contains affiliate links for your convenience. See my full disclosure policy.
I've had this beautiful, neutral heather jute/chennille rug in front of the door since we moved into our home a few years ago. I adore it!
It checks all of the boxes for me: beautiful, good texture, works well with my decor, easy to clean, and keeps dirt from being tracked through my home!
How to Choose An Entryway Rug
There are seven criteria to consider when selecting an area rug for the entryway. These are not the same type of rugs you would shop for a living room or bedroom, or even a door mat, so it's helpful to think through these options, to know what you're looking for!
1. Size of the Rug
Measure your entryway space to determine the right size rug for your space. Make sure the rug is large enough to cover the high traffic areas and prevent dirt and debris from being tracked into the rest of your home.
The most common entry way size is a 3'x5′ rug. But it will obviously depend on the size if your entryway! See below for more help with choosing the right rug size.
2. Rug Material
Choose a material that is durable and can withstand wear and tear. Sisal, jute, and coir are popular natural fiber options, while nylon and polyester are popular synthetic fiber options.
Wool rugs are another popular option because wool is beautiful, durable, comfortable and grime-resistant. Just know that the price tag will be higher than rugs made with synthetic materials.
I personally prefer a natural materials rug because the looks, feel and price are all great!
3. Color
Consider choosing a color that hides dirt and stains, as entrances tend to be high-traffic areas that can quickly become dirty. Neutral colors like beige, grey, and brown are good options. But patterns can hide dirt as well, so don't shy away from a pretty color!
4. Pattern
Choose a pattern that complements your decor and personal style. If your entryway is a neutral color, consider adding a patterned rug for visual interest.
5. Texture
Choose a rug with a texture that feels good underfoot and provides traction to prevent slips and falls. Warmth, comfort and safety are the goals here!
Consider the pile height, as well. Pile is the thickness of the rug. A low-pile rug or a flatweave rug with a non-slip pad underneath are good options.
And yet, make sure the rug has some structure. If it's too thin, the rug will shift and move as you walk across it.
Psst… I'll share several options for keeping your rug in place below!
6. Maintenance
Consider how easy the rug is to clean and maintain. Regular vacuuming and spot cleaning may be necessary to keep the rug looking its best.
I've vacuumed my jute/chenille rug weekly for the 3 years I've had it. It's never had a stain or needed to be spot cleaned. I LOVE it for easy maintenance.
7. Placement
Knowing where your rug will go, will determine what you will choose. So, do you want the rug to be placed right in front of the front door? Or do you want it to float in the middle of the room? Either way, use painter's tape on the floor to tape out the exact size before clicking the purchase button.
Considering all of these factors will help you select a beautiful rug for your home and have peace of mind when you hit the order button!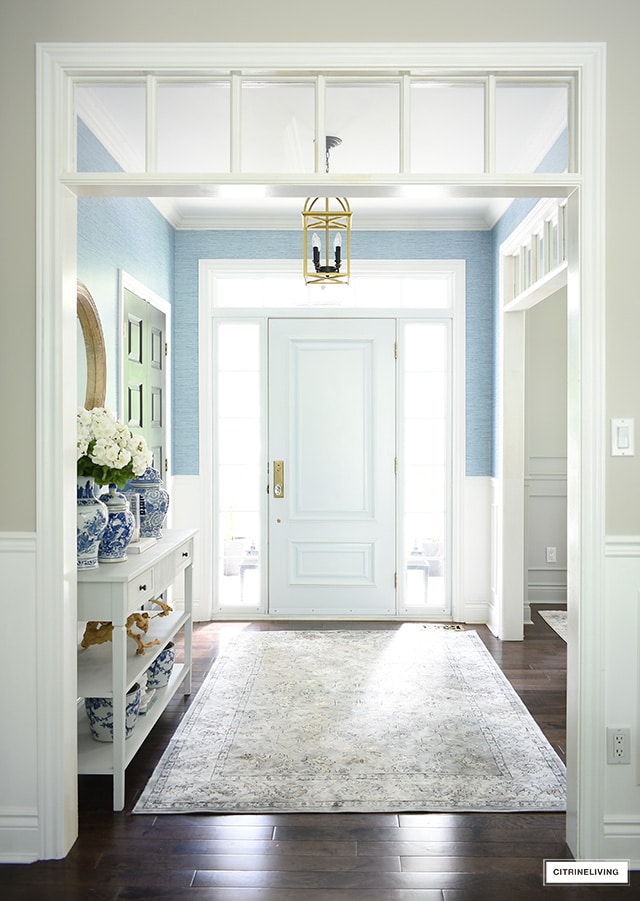 How to Keep An Entry way Rug in Place
It's important to keep your entry way rug from slipping and sliding on the floor. Not only would it be a tripping hazard, but nobody wants a wonky front at the door.
One of the simplest ways to keep a rug in place is by using a rug pad. A rug pad is a non-slip mat that you can place under your rug. It will help keep the rug from slipping and sliding on the floor.
Make sure to measure the dimensions of your rug and choose a pad that is slightly smaller to ensure it won't show under the rug. Or just cut the edges back if it's too wide.
Just be careful not to use a super thick rug, or else is could make the rug too tall and cause guests to trip.
2. Double-Sided Tape or Rug Tape
You can also use double-sided tape to keep your rug in place. They have some specifically made for rugs and it's very heavy duty and not supposed to hurt your floors. I have used it before and it's pretty good, but does eventually need to be replaced. It can leave sticky residue behind.
These corner rug grippers are a new technology that I've just discovered. Essentially they are a sticker for the corner of your rug, made with a "vacuum technology" design. You simply adhere them them to the rug corners and they suction to the floor, without using adhesive on the floor! It's wild, and my favorite way to keep a rug in place. 
Bonus: it keeps the corners of the rug down, too!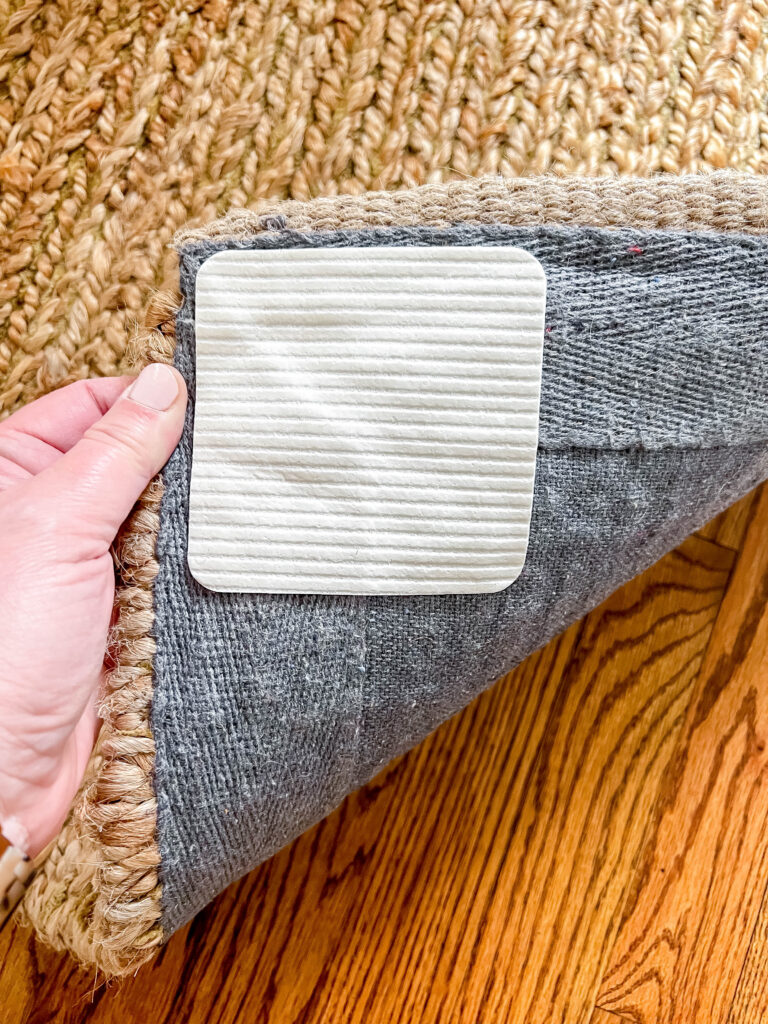 These are the top three ways to keep an entryway rug in place. Try out these tips and ideas to see which one works best for you and your home.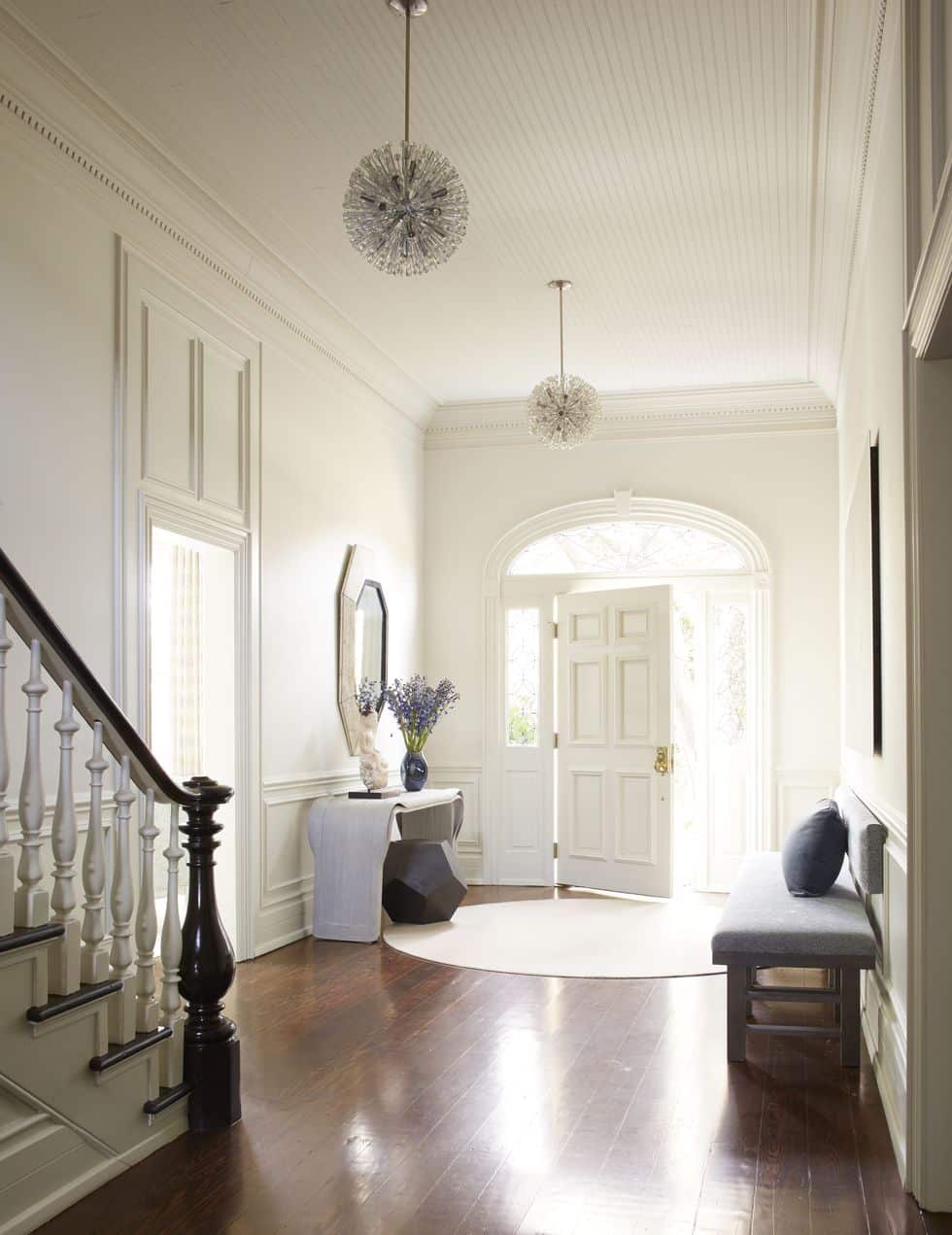 Here are some general guidelines to follow when selecting the right size rug for your entryway.
1. Measure the Space
Measure the length and width of the entryway to determine the maximum size rug that will fit comfortably in the space. Be sure to also measure any doorways or other obstacles that the rug will need to fit around.
2. Leave space around the edges
It's important to leave at least 4 inches of space between the rug and the walls to create a balanced look. This will also help prevent tripping hazards.
3. Consider Furniture Layout
If you have furniture in your entryway, such as a console table or bench, make sure the rug is large enough to accommodate it. A good rule of thumb is to have at least the front two legs of the furniture sitting on the rug.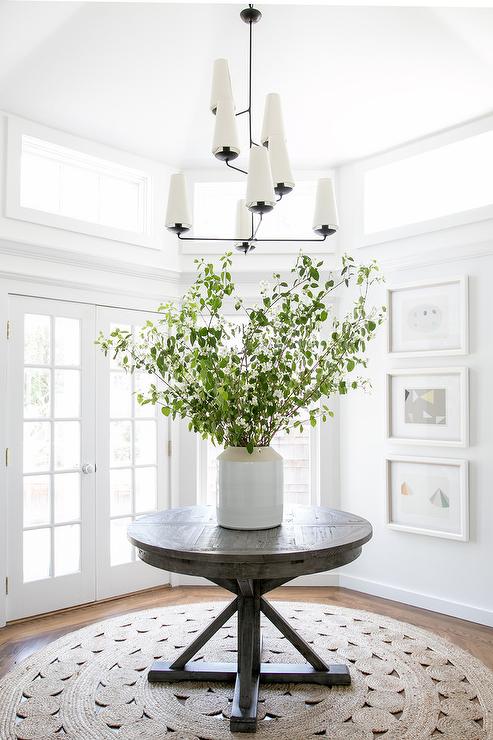 4. Choose a Rug Shape
Entryway rugs come in various shapes, including rectangular, oval, and round. Choose a shape that complements the shape of your entryway and furniture layout. If you have a larger space with room for a round table in the middle, then by all means choose a round rug!
If you have a square room, choose a square rug. Do you want to just have a rug at the door? choose a smaller, rectangular doormat-type rug for visitors to wipe their feet before entering.
A large entryway might be big enough for a small, round table in the center with a round rug underneath! A more narrow entryway may need a long runner rug instead.
Take these all into consideration when choosing the right rug size for your foyer.
5. Don't Skimp on Quality
Entryways are high traffic areas, so it's important to choose an entry way rug made from durable, high-quality materials that can withstand daily wear and tear.
---
Overall, the size of your entry way rug will depend on the dimensions of your space and the furniture layout. Be sure to measure carefully and choose a rug that is both functional and aesthetically pleasing.
Final Thoughts
Ultimately, the choice of an entry way rug will depend on your personal preferences and the style of your home. Take some time to consider these factors before making a purchase, and you'll be sure to find a rug that both looks great and functions well in your entryway.
More Posts You Will Love: