Organized Arts & Crafts Storage Ideas
Learn how to organize an arts & crafts storage cabinet in 6 easy steps and less than an hour! And reap the rewards for years to come!
Do you ever have a cabinet that is a mess, but you close the doors and move on? For years??
This is where I was with our kid's art cabinet in our kitchen. Yes, it might be a weird place for an arts and crafts storage cabinet, but let me back up.
When we moved in, we had more kitchen cabinet space than we knew what to do with. And the girls are always writing letters, drawings and doing craft projects at the kitchen table. So, it made sense to put some basic art supplies in the kitchen.
But after a couple of years, it was a mountain of a mess and I knew I needed to address the problem area. Every time we opened the doors I was afraid it would all come tumbling out!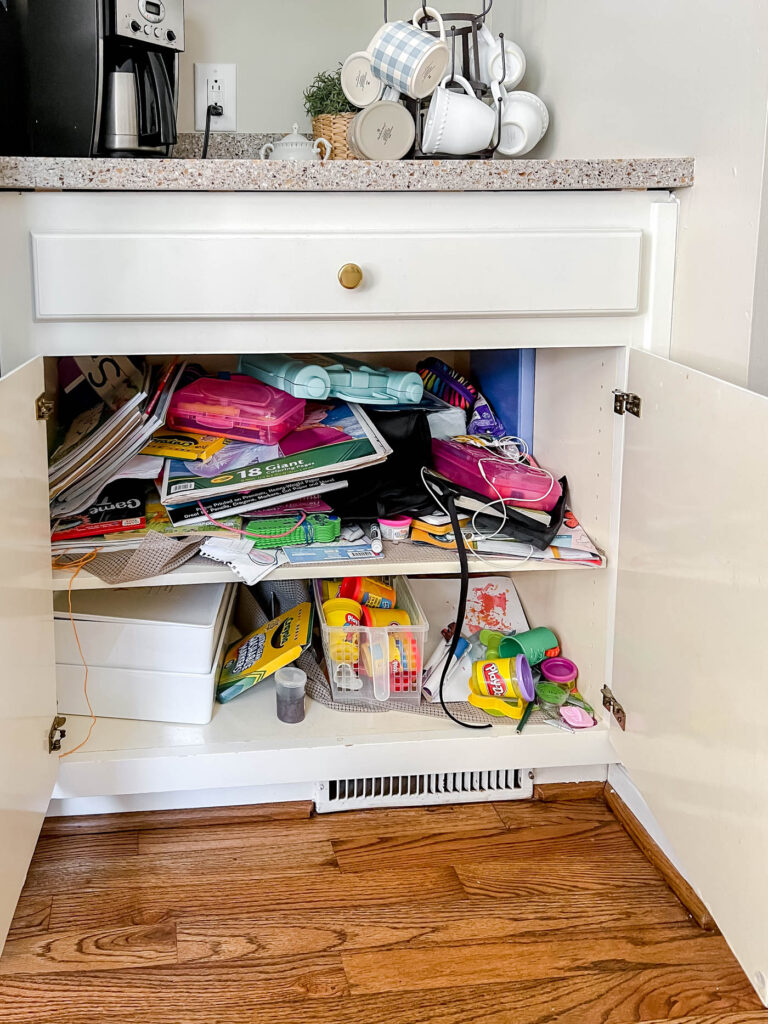 This post contains affiliate links for your convenience. See my full disclosure policy.
Tips for Organizing Cabinets:
When I'm starting a small organization project, I like to remember a few tips:
1. Keep Categories Simple
I like to have the simplest system possible. We use our cabinet for notebooks, coloring books, games, headphones, play dough, utensils (organized within 1 bin).
I don't try to get specific, so it can fluctuate with our needs. The categories are not super rigid.
2. Make it easier to return items than get them out!
If it's easy to put things way, ie: an open box to drop them in, things will be a whole lot more likely to be picked up.
This one simple tip is life-changing, I tell ya!
3. Use Clear Bins
When storage is already behind a door, I like to use clear bins. In my pantry that is open almost 24/7, I wanted closed baskets for storage. But in an art cabinet where I'll only see the contents when I'm looking for art supplies, I'd much rather have clear storage containers to be able to see what's inside!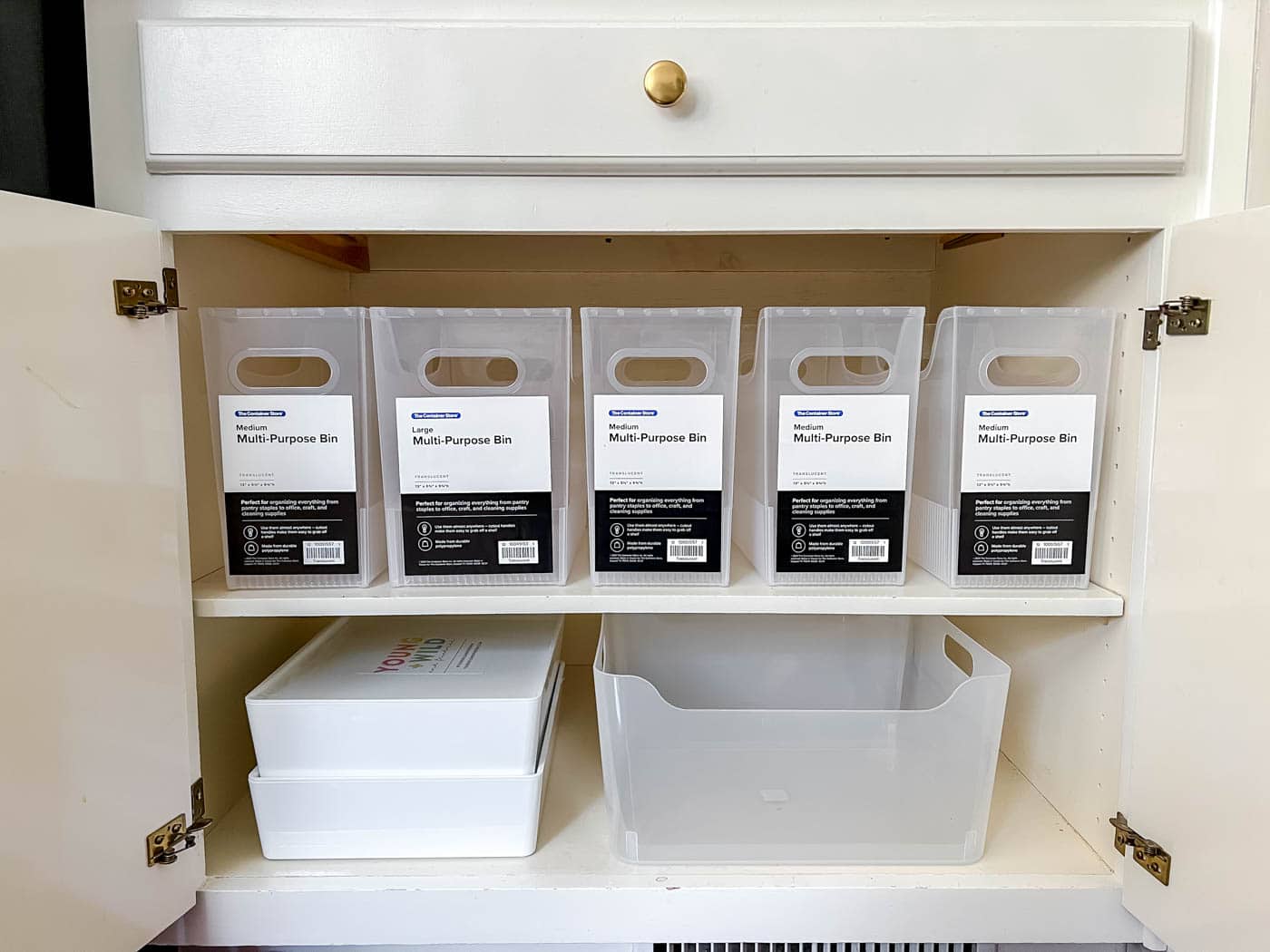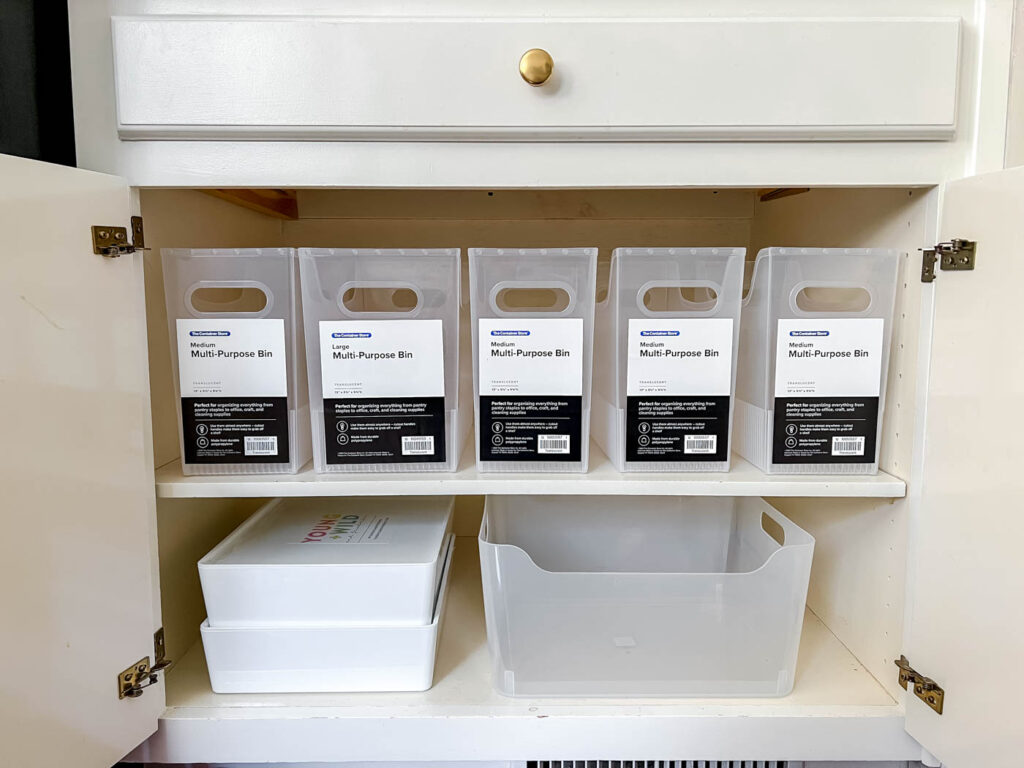 Shop Favorite Arts & Craft Organization Pieces:

---
I knew how we used the cabinet. We mostly had books, papers, games, play dough, markers and crayons in there. So, I brainstormed what kind of containers would be best for books/notebooks and corralling markers, pencils, etc.
Always check the measurements of your cabinet before ordering to make sure the bins will fit.
I found these awesome multi-purpose bins with handles that would allow me to stand up the notebooks and still fit in my cabinet. I loved that they had handles – easy to carry to the table and easy to pull out to drop things in them.
And then for the bottom shelf, I found these clear storage bins, also with handles, that were perfect for stacks of paper and our utensils. I had to put the second bin behind the first, but it'll hold construction paper and plain paper.
It's so much easier to clean up!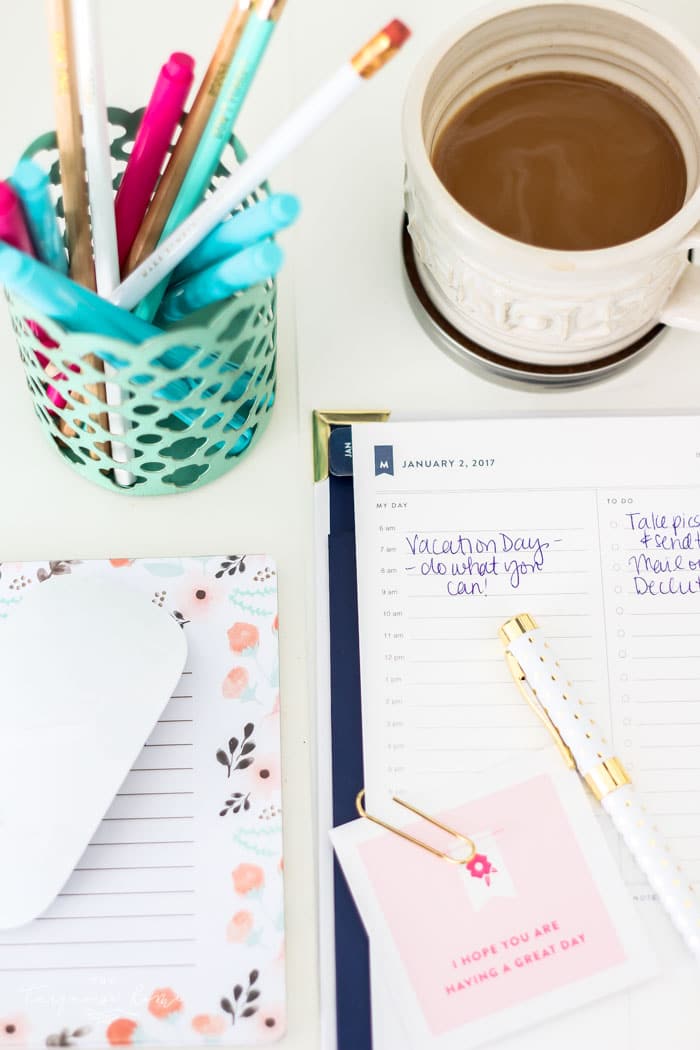 Tired of Feeling Overwhelmed?
Join the FREE 30-Day Decluttering Challenge & Find Peace in Your Home Again!
Steps for Organizing Any Cabinet
As always, when organizing a space, I like to do these steps:
pull everything out of the space
sort into similar piles
throw trash away
clean the surfaces of the cabinet
organize everything into bins
label!
The whole process took me about 45 minutes and I couldn't wait to show my daughters when they got home from school. They loved it! (My oldest said it was a crafter's dream come true. Win for Mom!!)
And already it's been easier to clean up the kitchen table for dinner now that we have a place for everything and it's easy to put things away.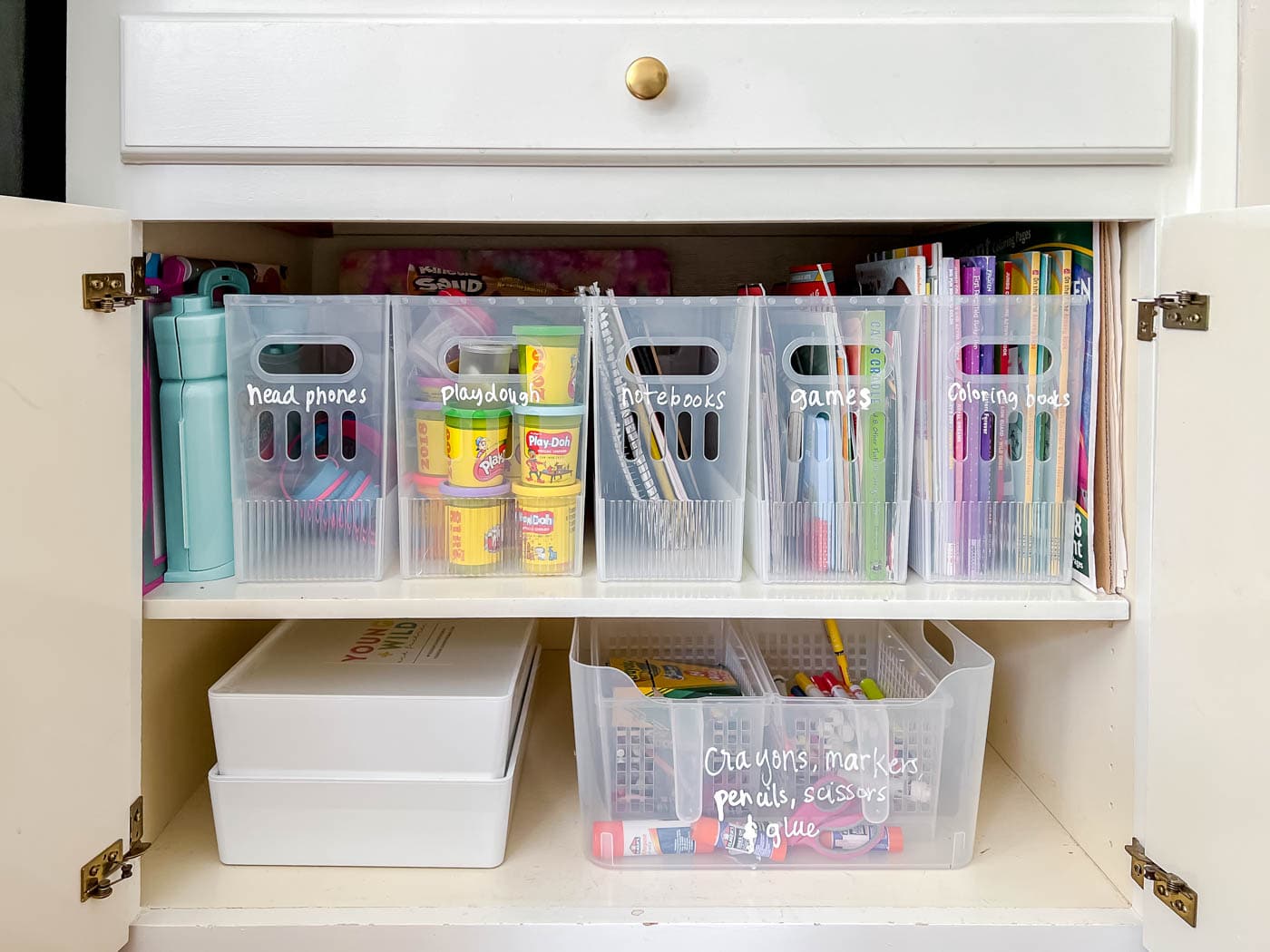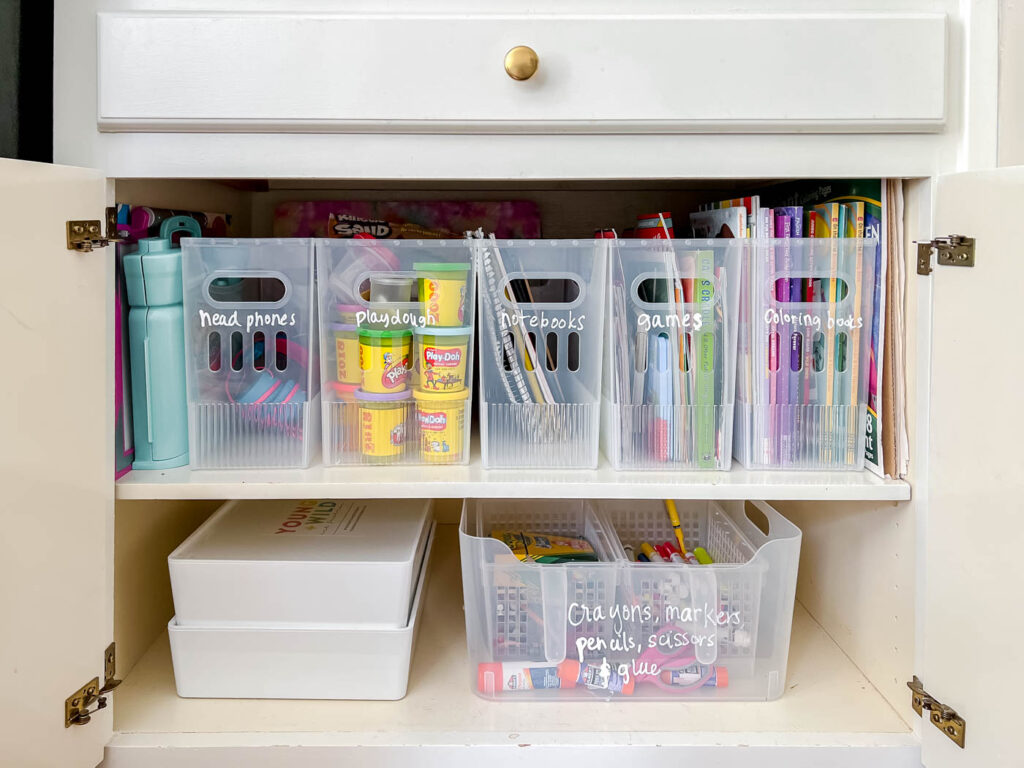 Those two boxes on the bottom left are our sensory kits from Young, Wild & Friedman.
I'm waiting on a new power cord for my label maker, but in the meantime, I wrote on the bins with my chalk marker. I can just wipe it off when I make the labels, but until then it helps everyone in the family know where to put things!
Labels are great for taking the guess work out of cleaning up.
And I know we're going to keep it organized because every space that I've taken the time to truly organize and label, like our pantry and garage, has stayed that way with minimal effort.
I hope these arts and craft storage ideas inspire you to get one space in your home organized! I promise it will make you feel like you accomplished so much and you will reap the rewards for years to come!
More Posts You Will Love: