Enjoy this 2020 tour of my traditional Christmas kitchen with pops of gold, red and green for the holidays! And grab my 3-step easy decorating formula for Christmas decoration ideas in your own kitchen!
I'm soooo excited to share my kitchen all decorated for Christmas this year! Since the kitchen is the heart of the home, it's always fun to add some holiday decorations in here! There are so many fun ways to decorate the kitchen for Christmas without making it too cluttered!
This post was originally share in December 2020 and has been updated! This post contains affiliate links for your convenience. See my full disclosure policy.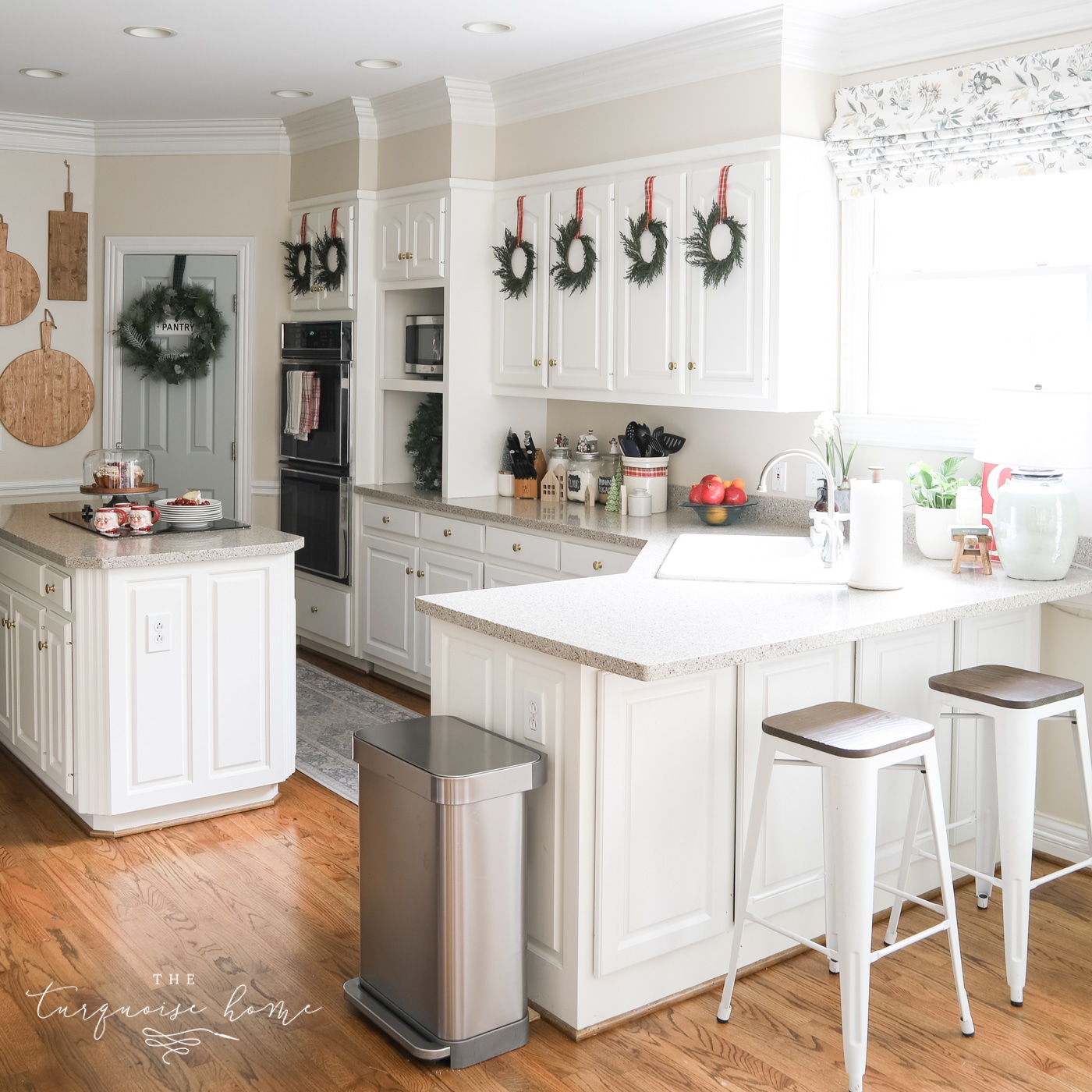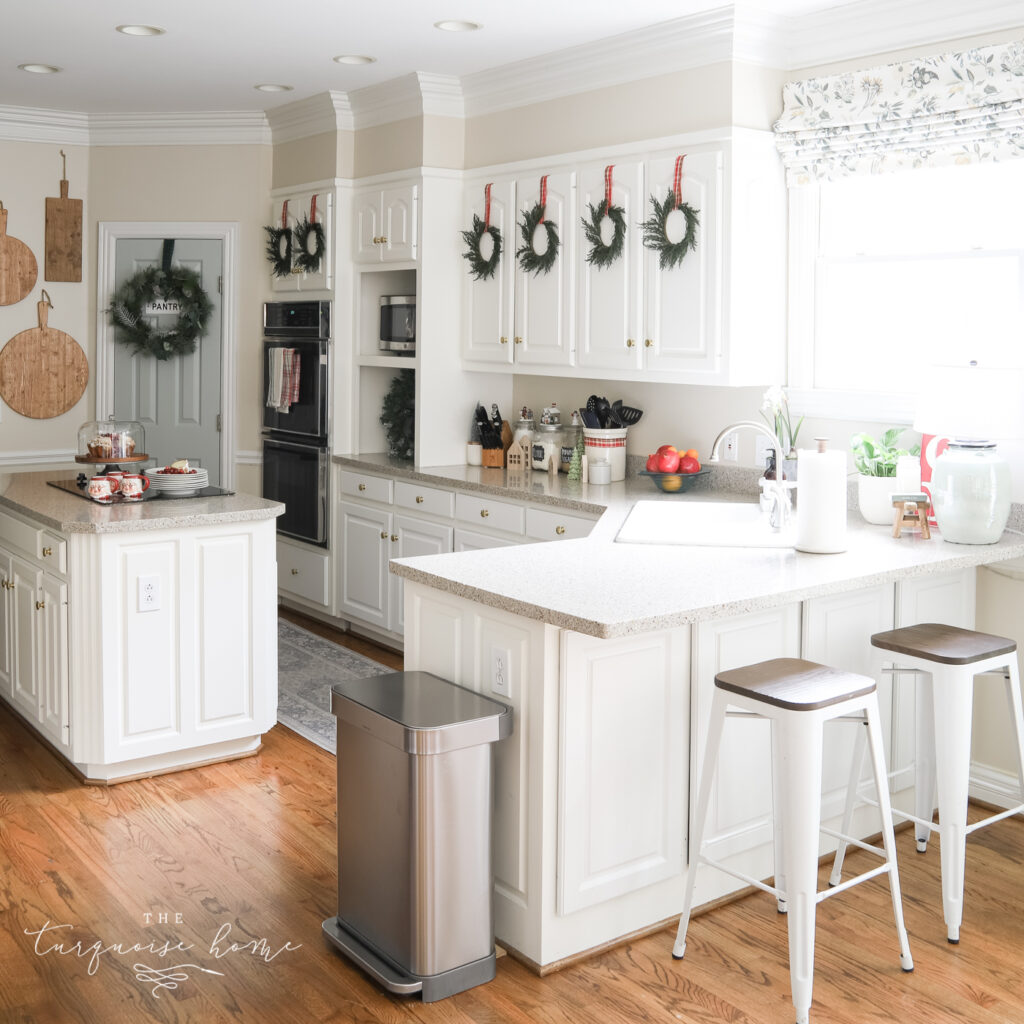 I really wanted to finish my kitchen makeover and share it before I decorated it for Christmas, but then I realized I wasn't even close to being ready to share the final reveal.
So, I decided to decorate it and in the process of sharing it, you're going to see some fun new additions that I haven't shared yet! It'll be the half-done makeover reveal AND a Christmas tour. Sound good?? I'm excited!!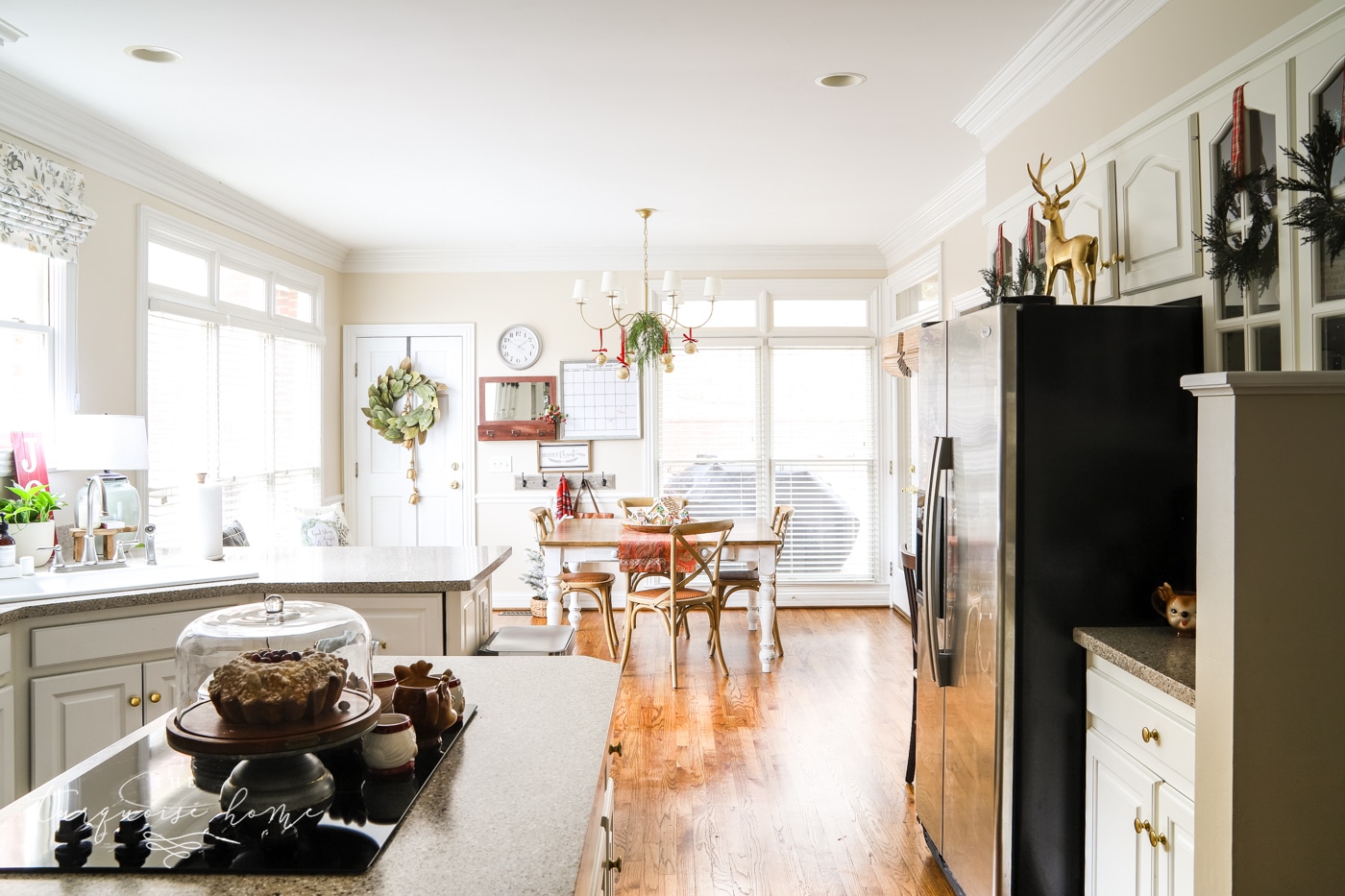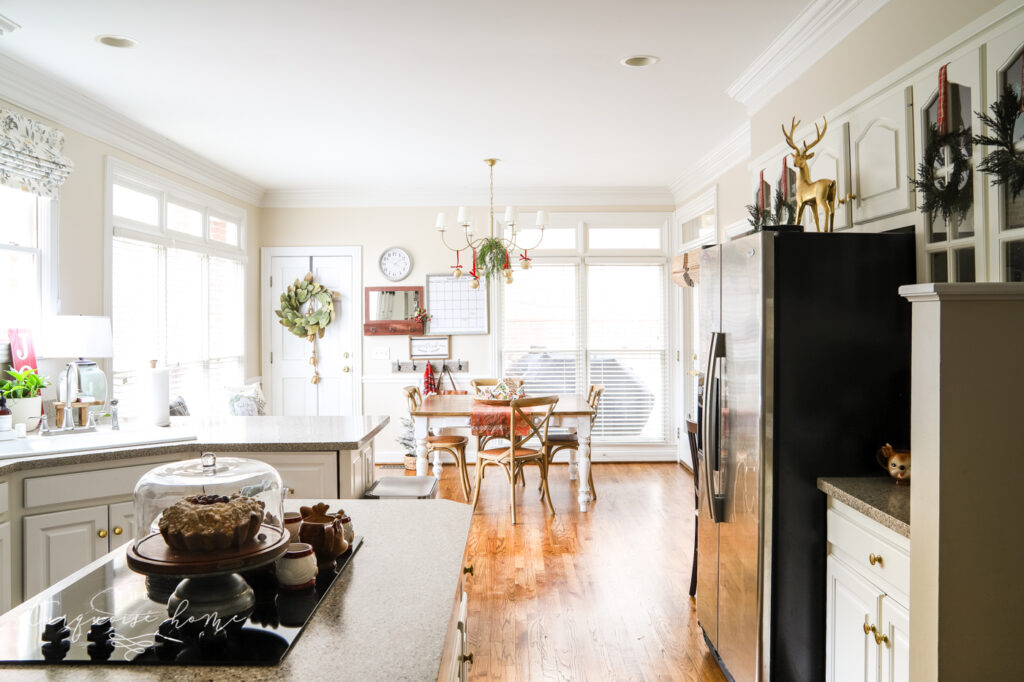 First, let's just talk about the fact that the size of this kitchen compared to my old one made all of my normal decor seem very minimal. This room has stumped me more than any other room this season as far as decorating goes. And it's taken me over a month to find the right combination.
Click/Tap the Images Below to Shop My Kitchen Staples:

I started out by doing my normal blue/green Christmas plaid and all of the greenery I love. But it just got lost in this kitchen. So, I started adding in pops of red. And it felt so much more cheerful!
But in figuring it out, I also found a really simple formula for adding Christmas decor to your kitchen. So, I hope these help you as much as they've helped me!
Three Easy Steps to Decorating a Christmas Kitchen
1. Add Greenery
Garland on the Stair Banister
First up is my stair banister! I've never had a banister to decorate before and so I didn't have any greenery or garland for this spot. By the time I realized that I needed some more garland, they were sold out everywhere!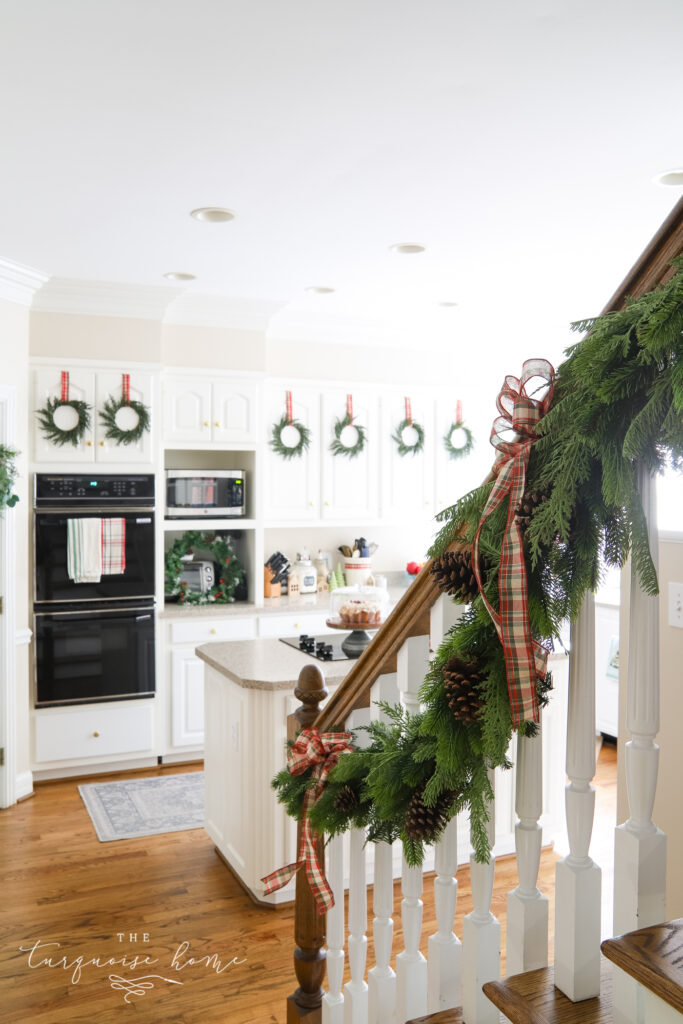 Thankfully, I found some at a local store that I LOVE. I layered it over a cheap garland that I already had and added the red plaid bows. I think I'll make it even beefier (is that a word?!) next time, but I love the simple vibe it's giving me this year.
Update: I found this beautiful faux garland to add to the banister this year and it already looks 100% better!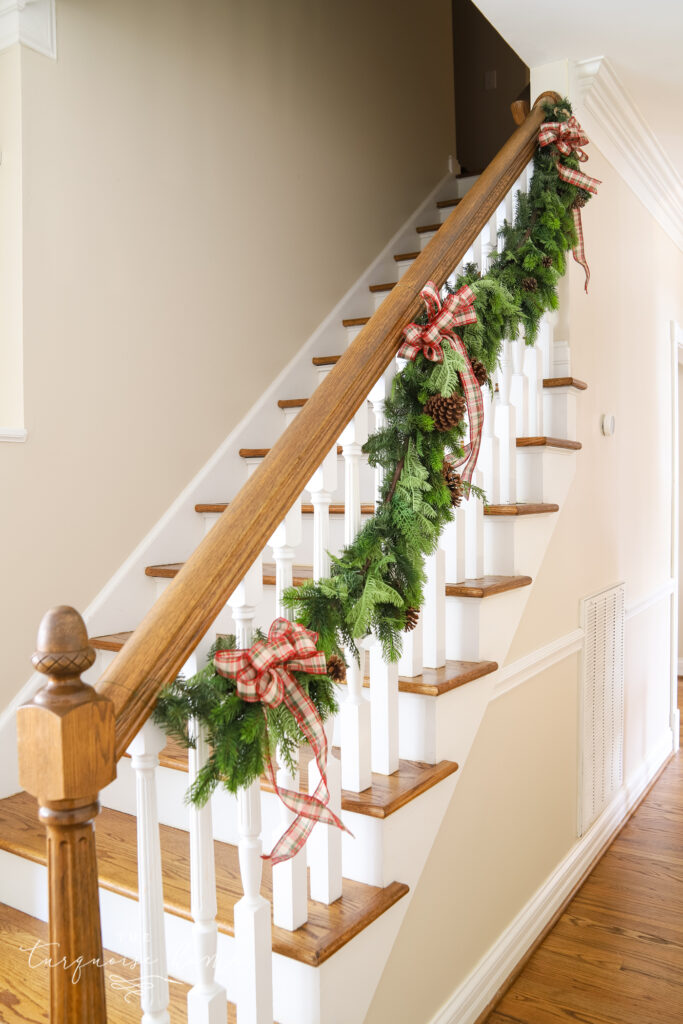 I used some of the same techniques I shared in my mantel garland tutorial post. Basically I tied the cheap garland to the banister with floral wire, then used the bendy branches to "grab" on to the nicer garland. And then I attached the bows with floral wire to the garland.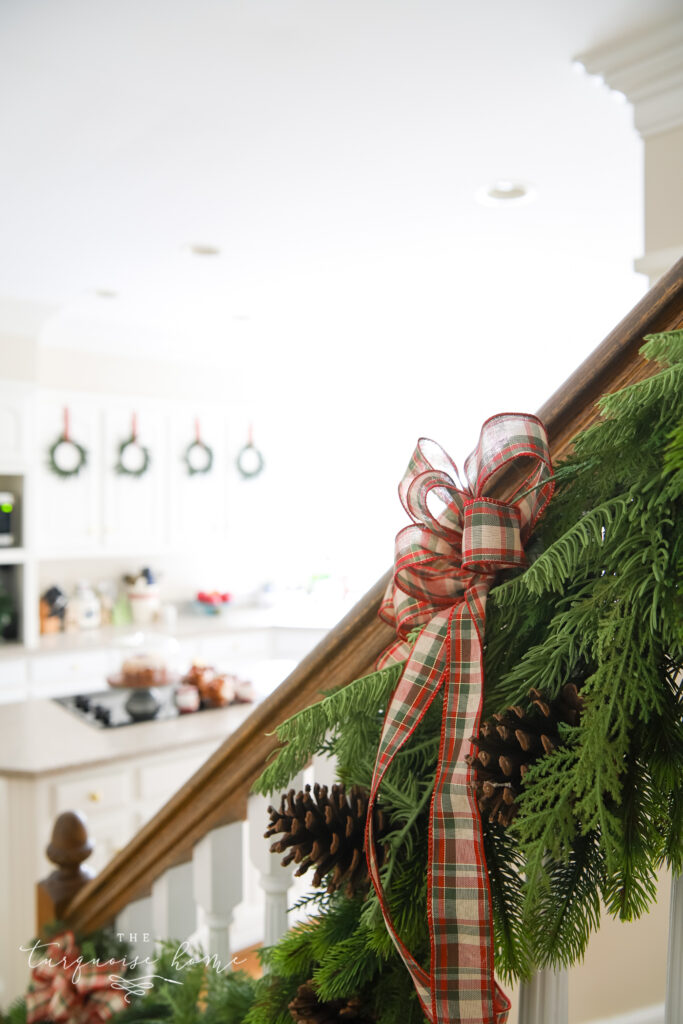 Christmas Wreaths on the Cabinets
Moving on into the kitchen, I hung up some simple wreaths I found at the dollar bins at Target with some red plaid ribbon. I've had that ribbon for probably 8 years, so I don't have a link. But any pretty ribbon would do!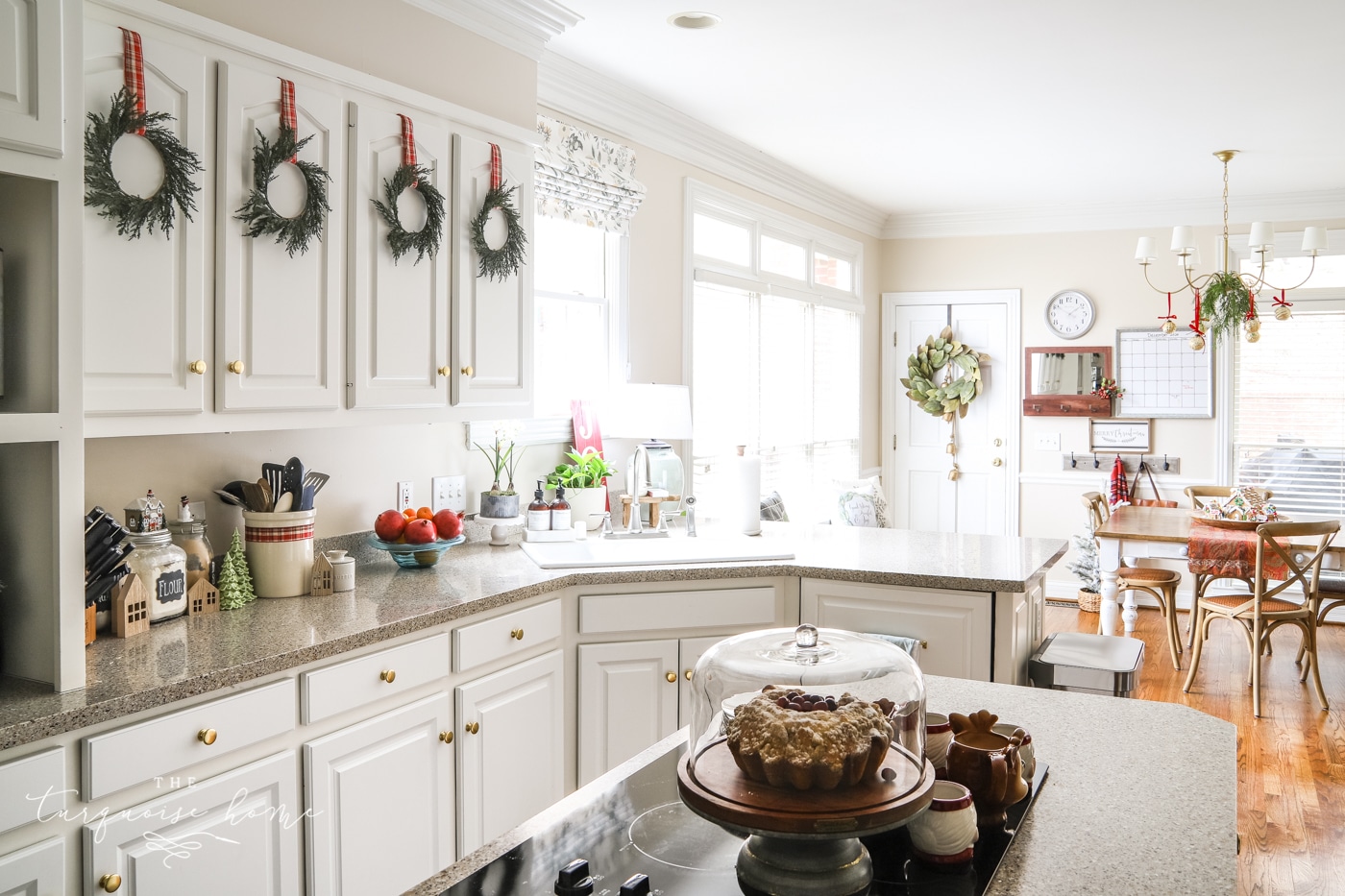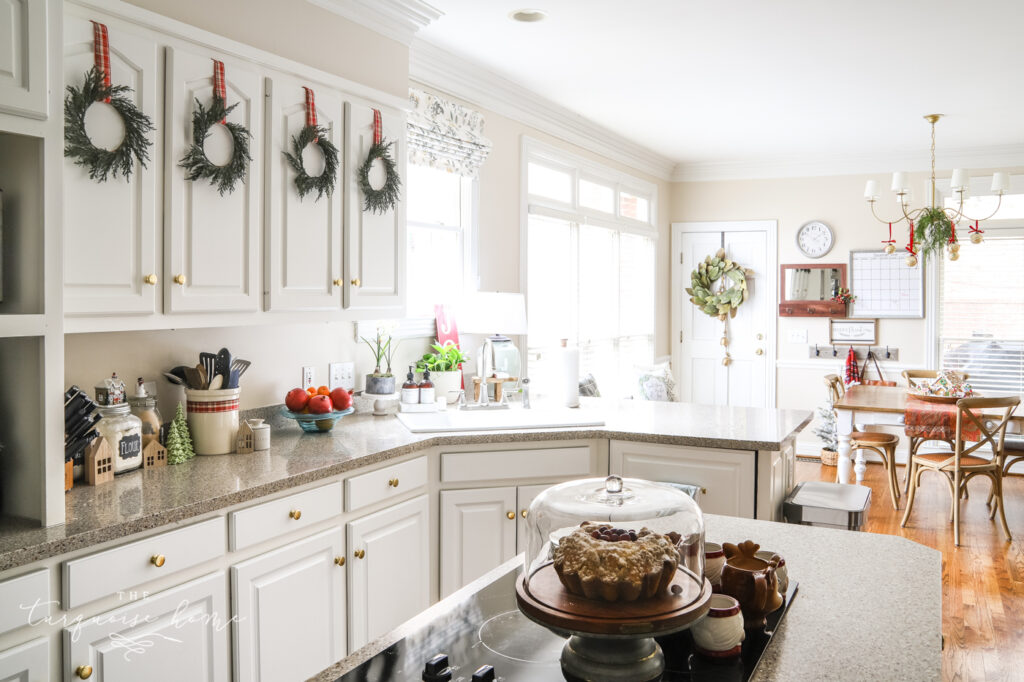 In the past I've hung up my wreaths on the cabinets with scotch tape. 😂 But this year I got fancy and hung them with command hooks. I cut a small slit in the ribbon and hooked them on the hooks. Voila!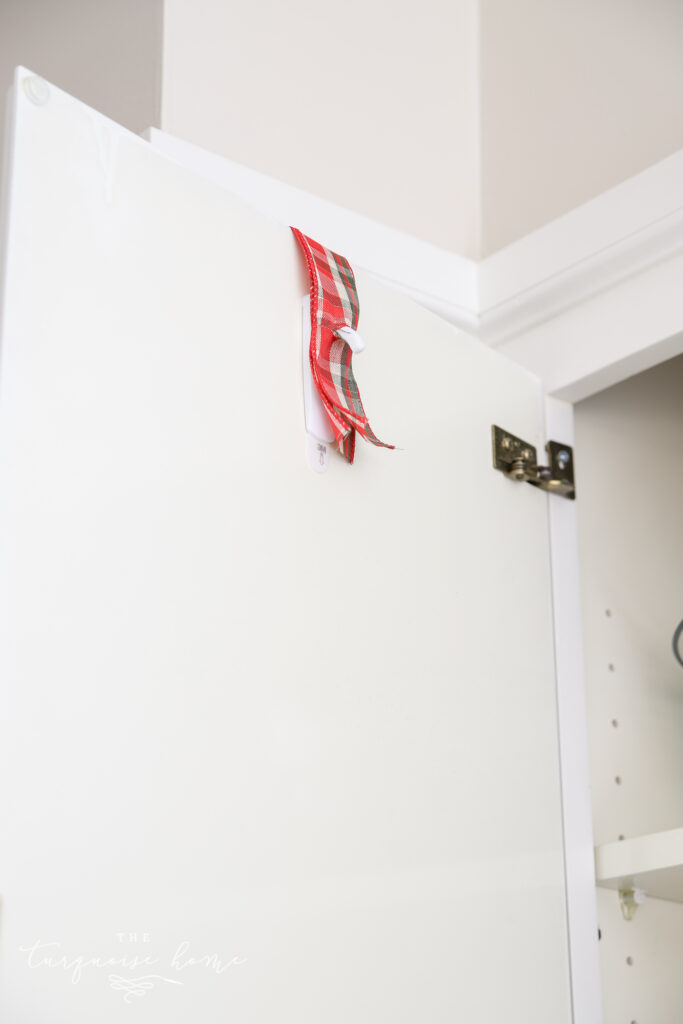 I'm seriously thinking about leaving the command hooks up all year long. Do you think they will damage the cabinets if I just leave them up forever?! ☺️
2. Change out Everyday Items for Christmas Items
After I decorated the stairs and added the wreaths, I changed out our everyday items with Christmas items. For example, our kitchen towels get changed out for Christmas towels. I usually pick some up every year.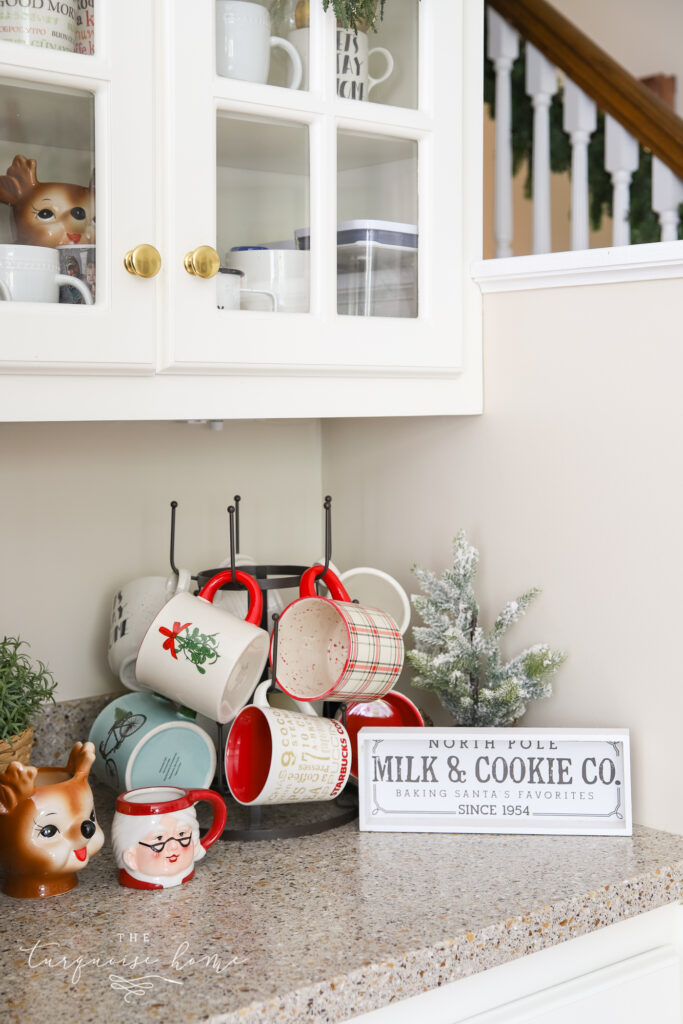 And then I LOVE to change out our regular mugs for Christmas mugs. It's just so fun!
Tap the images below to shop Christmas mugs and dish towels:


It's also a perfect time to change out any art or wall signs. I took down the Puckett's sign that normally hangs near our back door and exchanged it with a "Merry Christmas" sign. And I changed out some of the art frames in the corner of my living room with some printable winter/Christmas landscape art.
See my Christmas Printable Collections HERE!
And then you might notice that we got a new bench in front of the windows by the back door. I changed out the pillows for some Christmas pillows.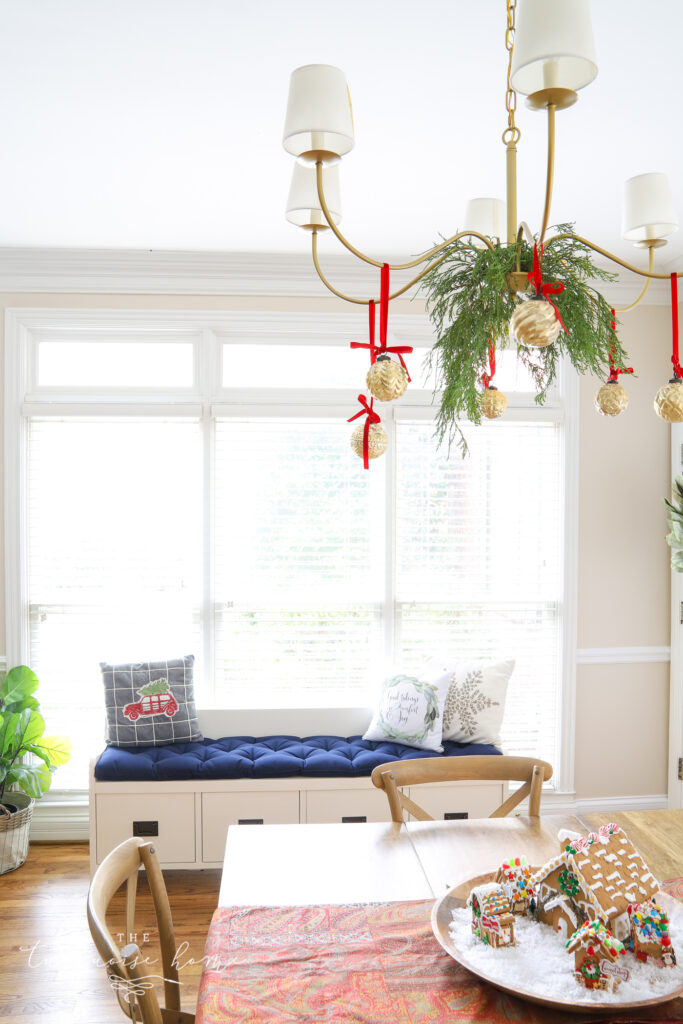 This back door in our kitchen is the door to our garage. And it's where we come in and out of the house 95% off the time. So, I needed to create a drop zone without much wall space. This storage bench is the perfect solution for storing our shoes and giving us a place to put those shoes on!
3. Create Special Christmas Moments Throughout the Room
The next thing I did to add some Christmas cheer to my kitchen is by creating little moments or zones. If I just spread Christmas decor all over the kitchen, it wouldn't make as big of an impact than if I create little zones. I try to do this in my everyday decor, so it's easy for me to do it with holiday decor as well.
The Mini Christmas Village
I made a mini Christmas village on the counter where I keep our utensil canister, knives, flour and sugar. I've had the little figurines for years, but added the ceramic trees, mini wooden houses and bottlebrush tree candle this year. I love it!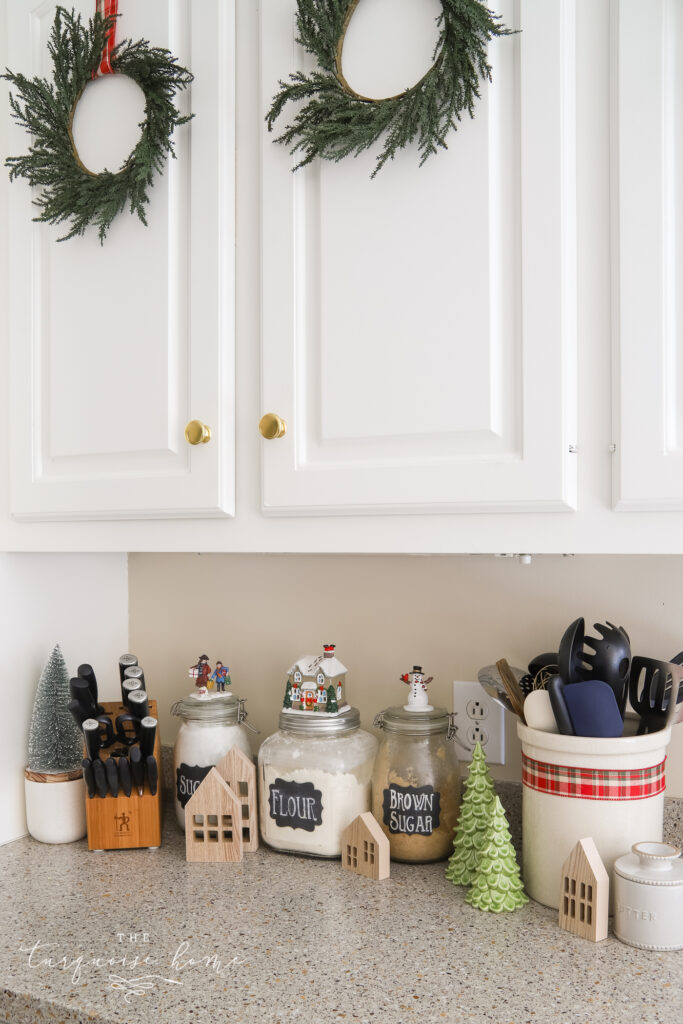 Ceramic Trees | Candle with Bottle Brush Tree Topper | Brass Cabinet Knobs | Butter Bell (similar) | Wood House (Target dollar spot) | Figurines (old from Walmart) | Similar Utensil Canister (with ribbon tied around it)
When you group a bunch of smaller items like this together it definitely makes a bigger impact!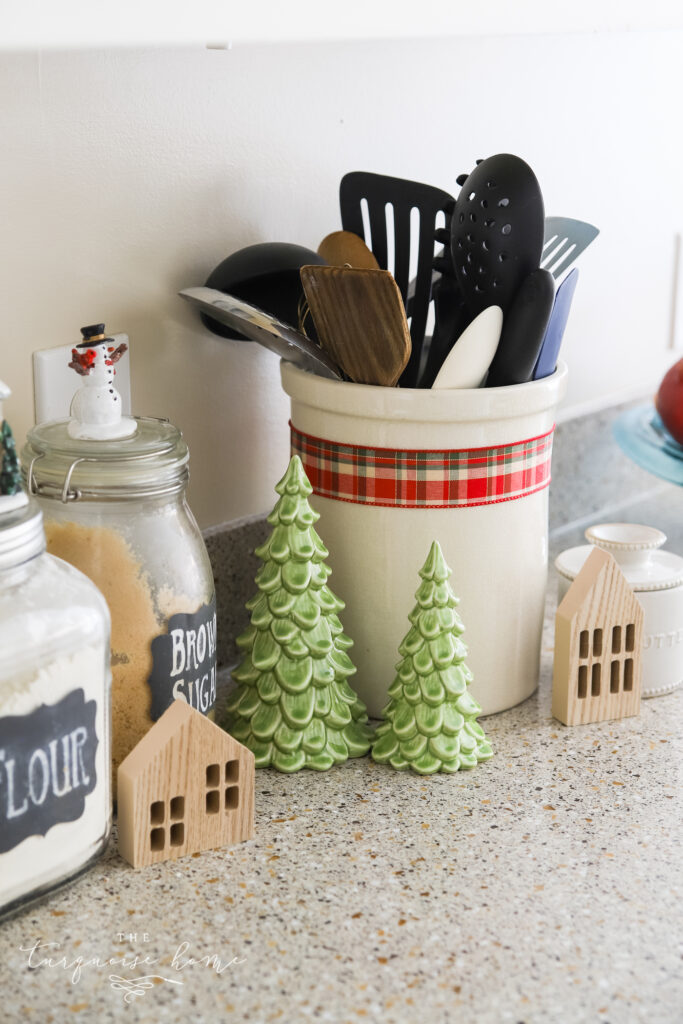 Those ceramic trees are one of my favorite finds this year! I found them in a small boutique shop, but hunted them down online so I could share them with you here. I'm very tempted to get some more! (Get the a different version of the trees here.)
Christmas Moment at the Sink & Window
Then at the window, I added some faux paper whites next to the sink and a "JOY" sign next to the lamp. I'll talk more about this corner behind the sink when I share my kitchen reveal, but I LOVE giving this space a purpose in the kitchen.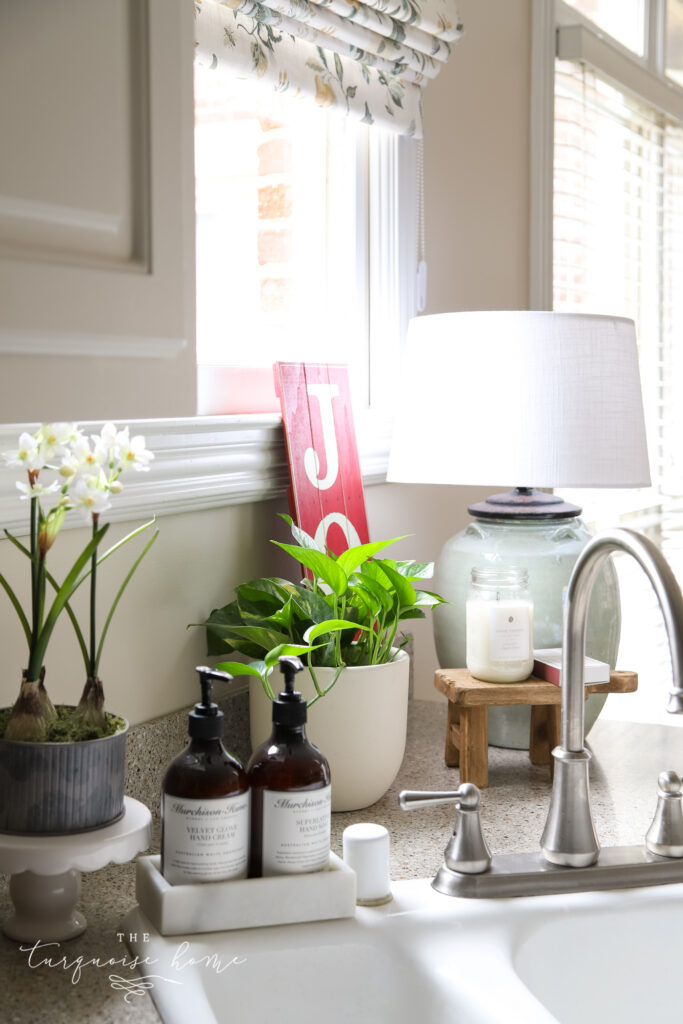 Marble Pothos Plant | Good Tidings Candle | Wood Pedestal | Lamp (similar) | Hand Cream | Hand Soap | Marbled Tray | Faux Paperwhites
The soap and hand cream set in the marble tray is one of the best luxury gifts I ever gave myself. I LOVE it! The soap is thankfully back in stock, but in case it goes back out of stock, here are some other options that would be just as cute.
Click/Tap the Images Below to Shop: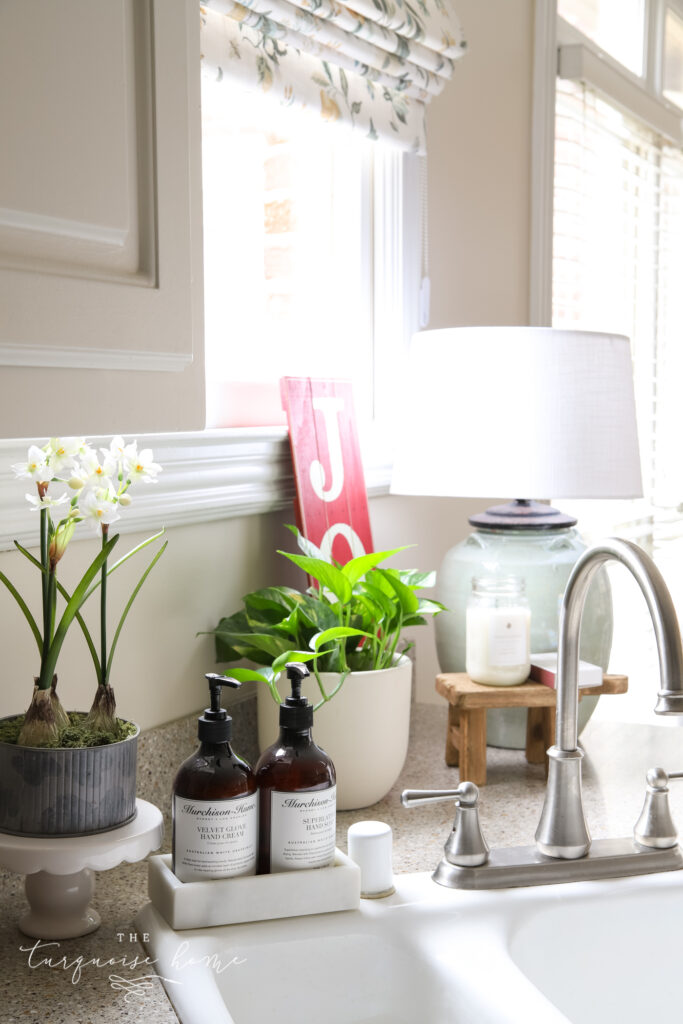 And did you catch that glimpse of my new roman shade?! It is what makes my heart go pitter patter. I'll share more in the kitchen reveal, but the first day I put it up, I just stared at it for hours. It's my fave!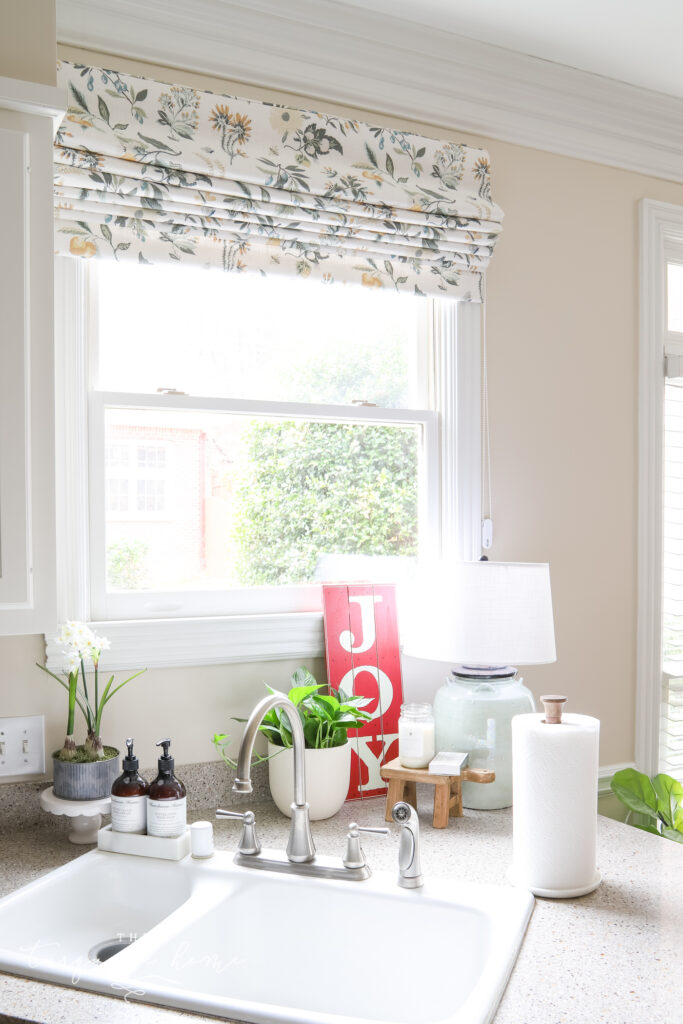 Marble Pothos Plant | Good Tidings Candle | Wood Pedestal | Lamp | Hand Cream | Hand Soap | Marbled Tray | Faux Paperwhites| Paper Towel Holder
Ornaments Hanging from the Chandelier & Gingerbread House Village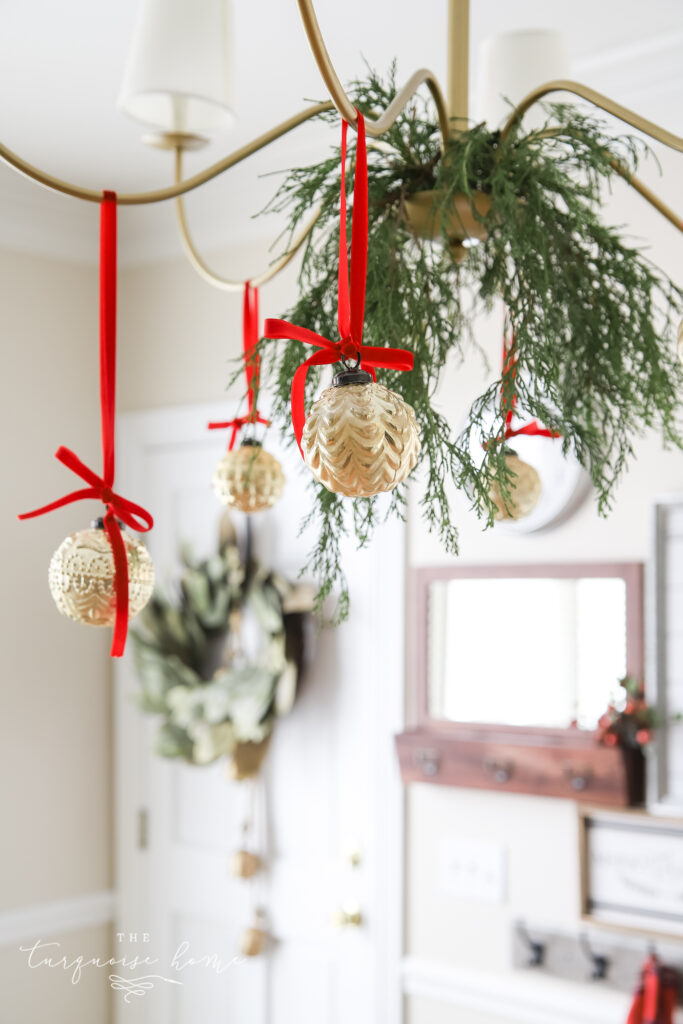 Over at the kitchen table, I added some whimsy by hanging gold ornaments with red velvet ribbon from the chandelier. I really wanted to find some red ornaments, but I think the gold ornaments with red ribbon turned out even better than what I envisioned.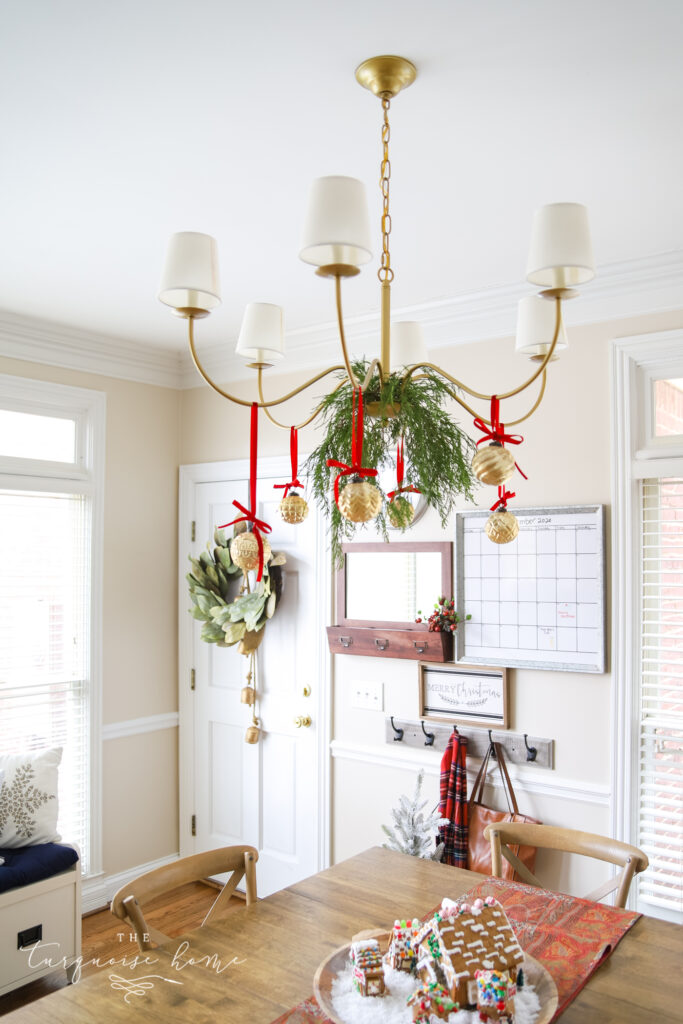 Then I cut some cedar branches from our yard and intertwined them in the middle of the chandelier. I think this is hands down my MOST favorite moment in the kitchen. 😍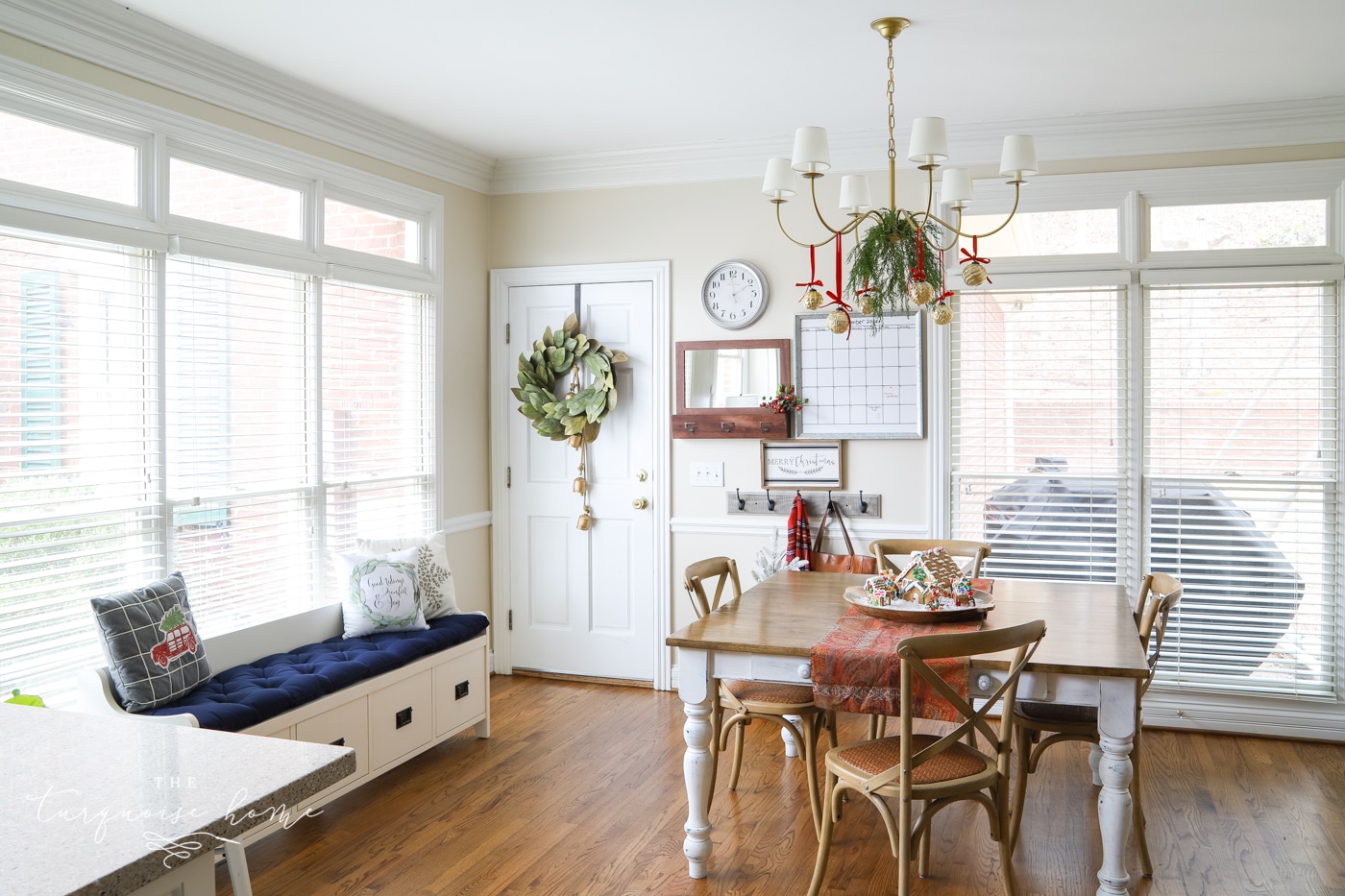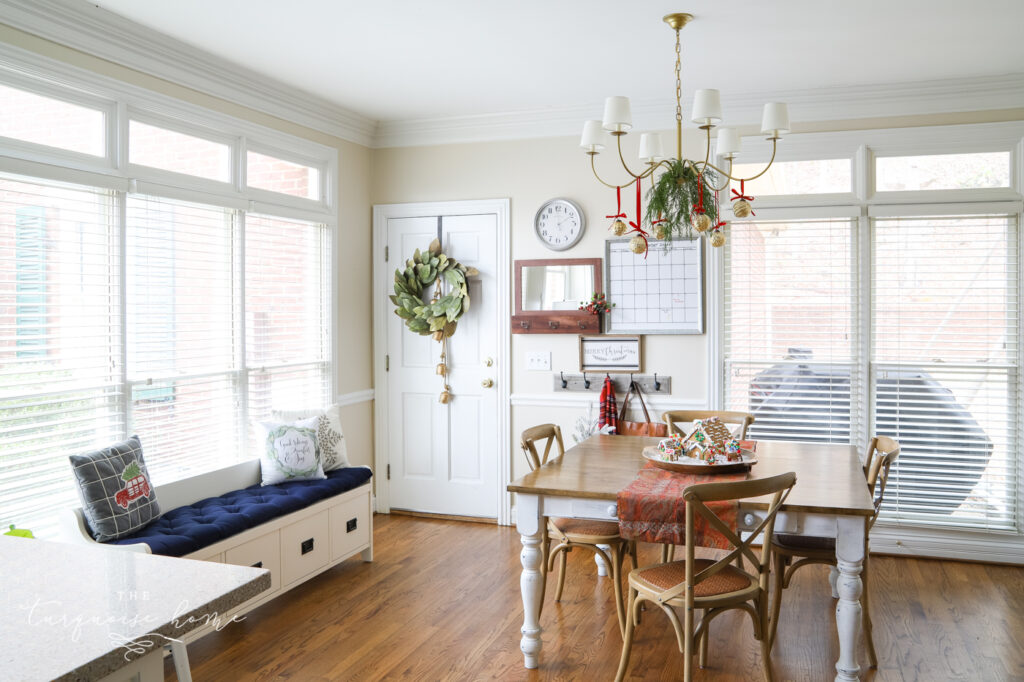 Brass Chandelier | Storage Bench | Bench Cushion | Dining Chairs | Table (old from Craigslist) | Calendar | Wall Hooks | Gold Ornaments | Red Velvet Ribbon | Magnolia Wreath | Hanging Bells
And of course, our Christmas gingerbread house village the girls and I made together is the perfect centerpiece for the kitchen table.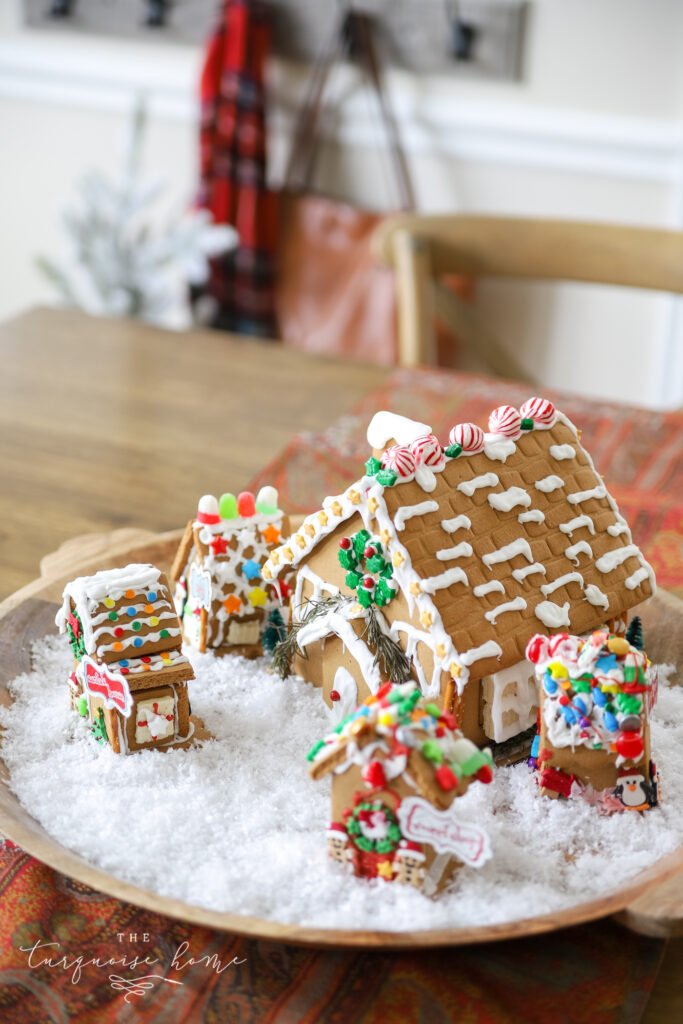 Christmas at the Kitchen Desk
I added some new plates and Christmas salt and pepper shakers above my desk in the glass front cabinets. And I definitely plan to grow my collection as the years go by.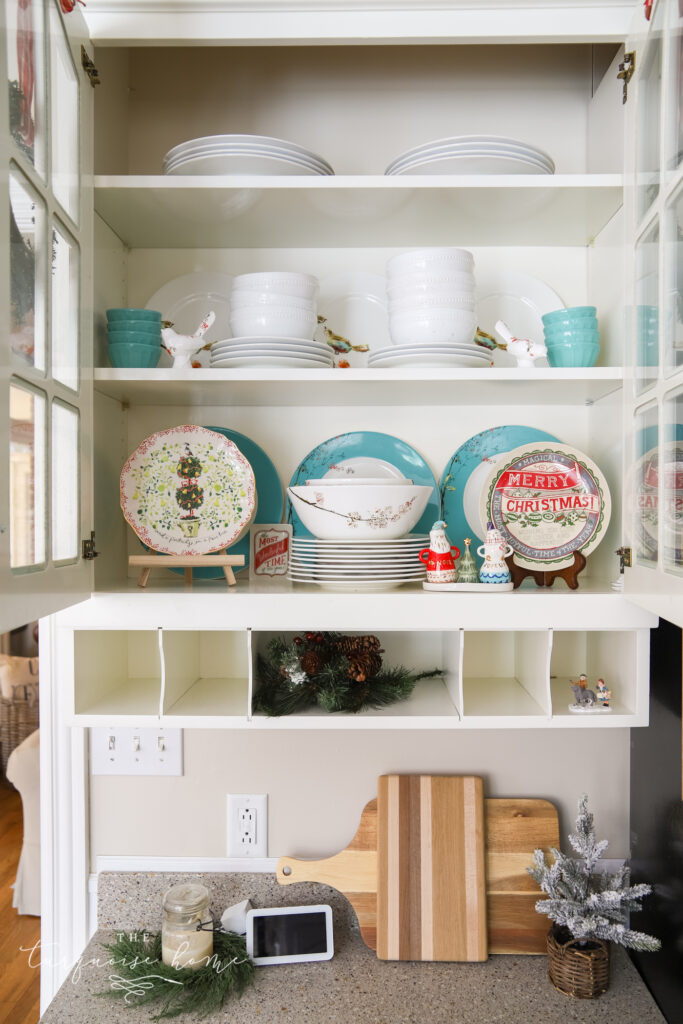 Then using command strips, I hung up a frame to the side of the fridge with a some winter skating printable art. The fun thing is that it's not Christmas-specific and can stay up through February! Learn more ways to decorate for wintertime at Christmas HERE!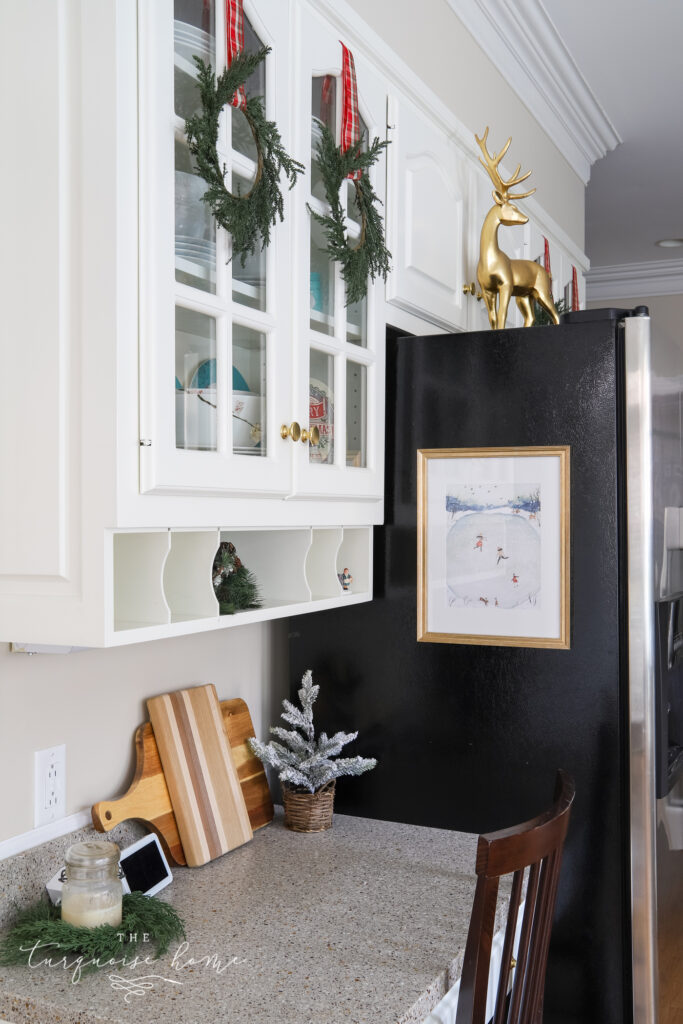 I added a few holiday touches to my desk and a beautiful gold stag to the top of my fridge.
The Christmas Coffee Bar
I already talked about changing out my mugs for the season, but I love adding the mugs and my little "Milk & Cookie" sign to this spot. My girls love to have hot chocolate out of special mugs this time of year and I love making it magical for them!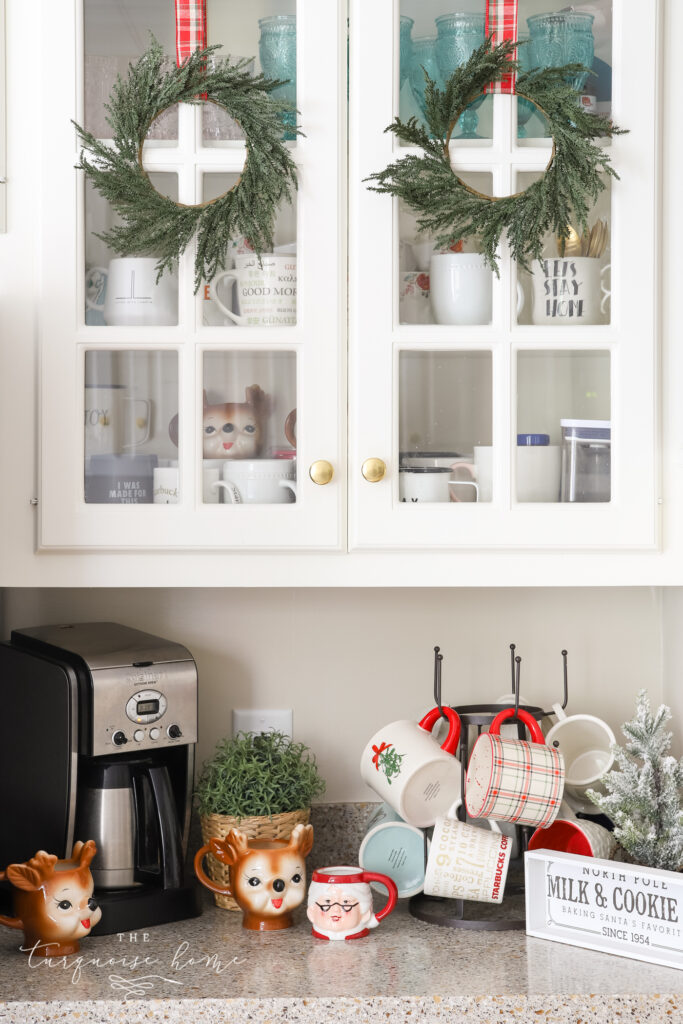 I think that's about it! Thank you so much for touring my kitchen with me. It's always a joy to share my spaces with you! And I hope my ideas for bringing Christmas decor into the kitchen inspires you in your own kitchen!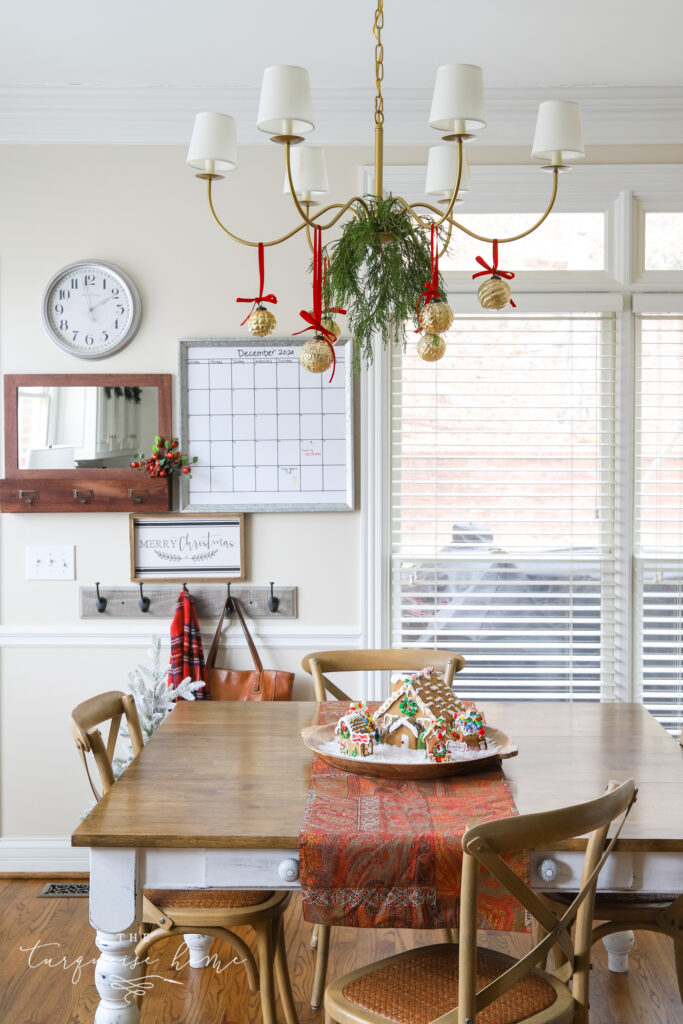 Remember these simple steps for Christmas kitchen decorating ideas:
Add Greenery
Change out Everyday Items
Add Moments or Zones
It really is simple and yet can be overwhelming in a new space. So, hopefully if you're struggling to decorate your Christmas kitchen, these ideas will help you, too! 🎄💗
MORE POSTS YOU WILL LOVE: