There are few colors as versatile as blue gray. Whether you're looking for something subtle to paint in the bedroom or want a bold pop of color in the living room, there is something for everyone on this list of blue gray paint colors.
If you want something soothing and comfortable, blue gray paint colors may just be the way to go. For those who often shy away from color but want to try something new, blue gray is a good place to start. The blue adds that pop of color, while the gray helps to mute it. This makes it not so bright and overwhelming.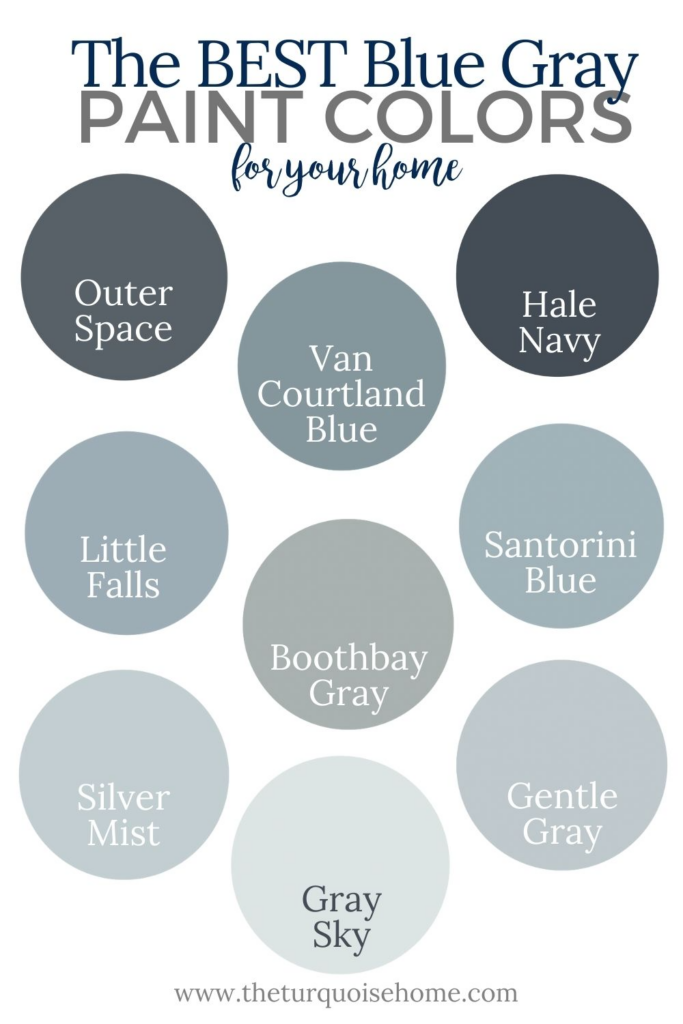 Because of the gray undertones, many of the colors below work well as a neutral. Many lean more towards blue, but there are a few gray-heavy options too. Just think of it like the beautiful denim color of your favorite blue jeans. Many of these blue grays work well with all of the other colors.
Dive in and find your perfect shade of blue gray for any room of the house!
What is a Blue Gray Color?
The bottom line is that a blue gray color is either a gray color with strong blue undertones, or a blue color with strong gray undertones. It's easy to see the undertones of a color if you look at the whole paint swatch and look at the darkest color. If it's a navy or charcoal gray, you're on the right track!
Often times you will want to steer clear of any green undertones that might pull the color into the blue/green paint color category. (Although we love those colors, too!)
Why Are Blue Gray Paint Colors Popular?
Blue is a soothing color, but can lean juvenile or pastel if not mixed with gray tones. So, a true blue gray paint color will be soothing, calming and versatile when chosen for a home.
Blue and white is a classic color combination, so white trim and blue walls are a no-fail color choice. These colors work really well in bedrooms and bathrooms. Blue gray is a great color for cabinetry and even kitchens and laundry rooms!
A boy's room looks wonderful in a blue gray paint color, too. So, you have a ton of solid choices when adding one of these beautiful colors to your home!
The Most Popular Gray Blue Colors for Your Home
At first, these paint colors may seem similar, but you will notice subtle differences when you compare them side by side.
Find your favorite blue gray paint colors listed below, and then head out to grab the swatches. Once you've narrowed it down from there, be sure to buy a tester and paint a small section of your wall before you commit.
I've shared the Light Reflectance Value (LRV) for each paint color. LRV is the amount of visible light a paint color either reflects or absorbs. When it comes to LRV, the higher the number is, the more light it reflects rather than absorbs. And I've divided the paint colors into sections of dark (LRV 0-15), medium (LRV 15-45) and light (LRV 45-100).
Dark Blue Gray Paint Colors
LRV: 0-15
I love this paint color so much! I used it first to paint my front door in my old house, followed by my living room in my current home.
It has the faintest green undertones, but the gray undertones are most prevalent. Since it has warm and cool color tones, it works as a transition color for any room.
However, due to its dark coloring, you want to make sure to use it in a bright room, so it doesn't darken the area too much. White accents and tons of bright light will have this color looking fabulous!
Outerspace by Sherwin Williams (LRV: 12)
While Hale Navy leans a little more blue, Outerspace leans a little more gray when it comes to dark blue/gray colors. Don't want to overwhelm your space? Try an accent wall with a dark blue gray color.
It's perfection paired with a camel leather chair and beautiful light wood tones in a tween boy's bedroom by Jen Sottosanti Design.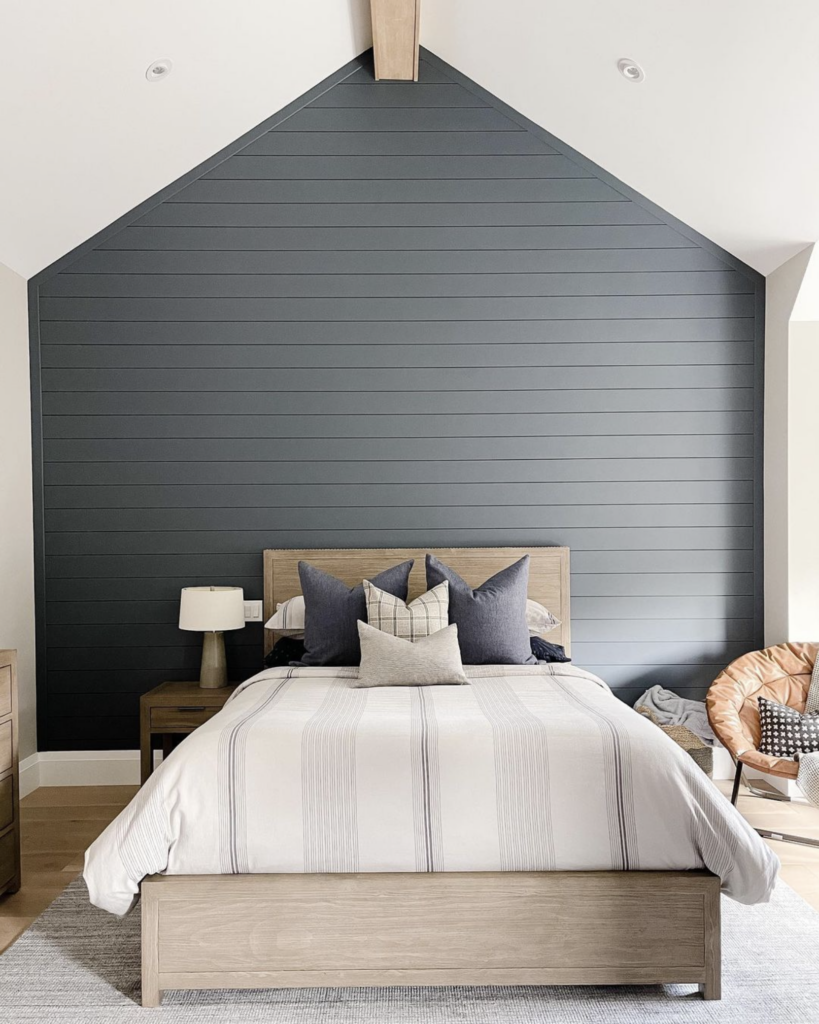 Granite Peak by Sherwin Williams (LRV: 14)
If you're looking for drama, granite peak is the right choice for you. Depending on the room and light, it can lean heavier to blue or gray. It can feel like a more colorful charcoal shade, working well as an accent wall or in powder rooms.
Medium Blue Gray Paints
LRV: 15-45
Santorini Blue by Benjamin Moore (LRV: 45)
Right on the line between medium and dark blue gray paint colors is Santorini Blue. It's named for the gorgeous blue gray green waters of the Greek isles. And it looks stunning paired with taupe traditional tones as seen below! It's a common paint color for a masculine bedroom.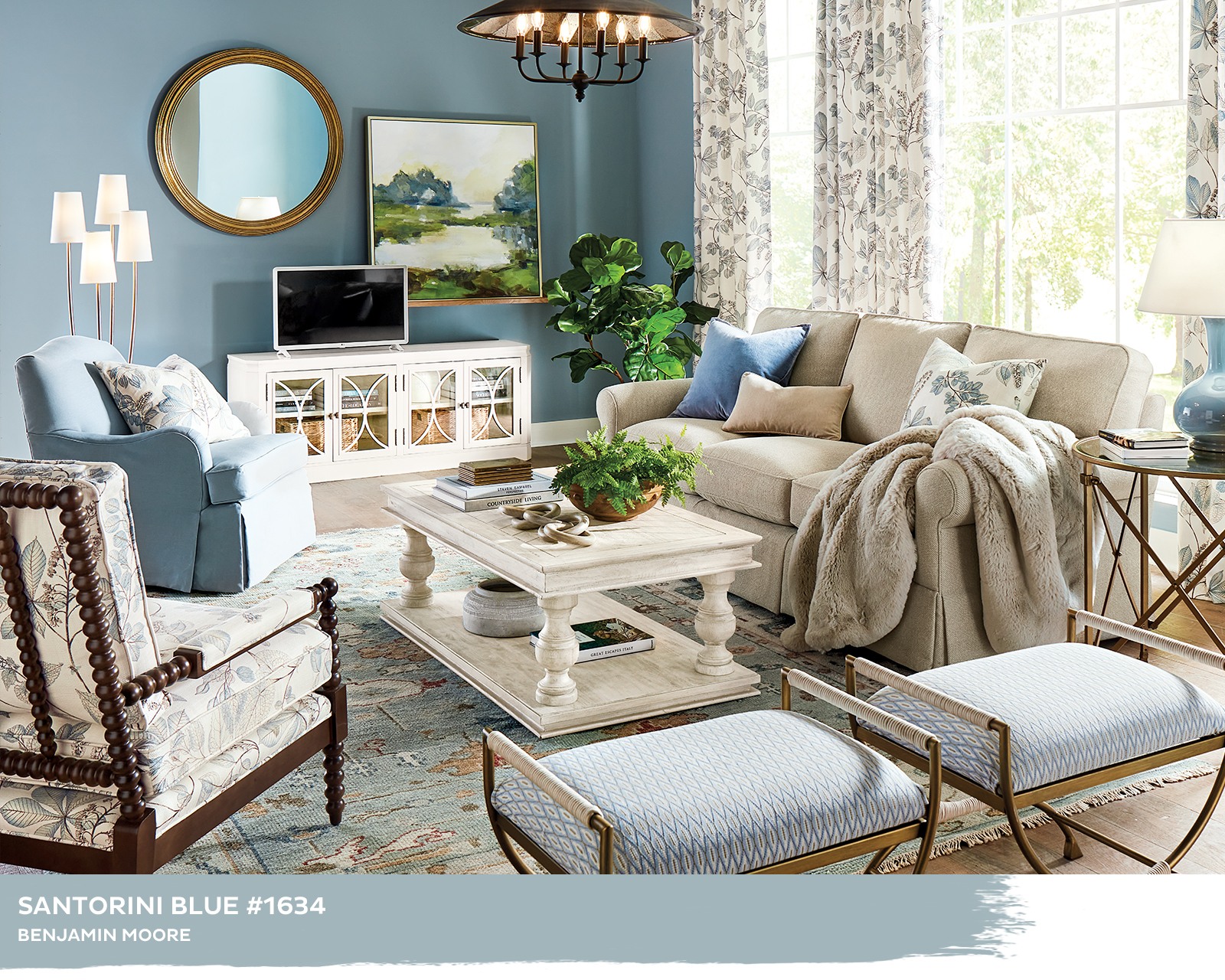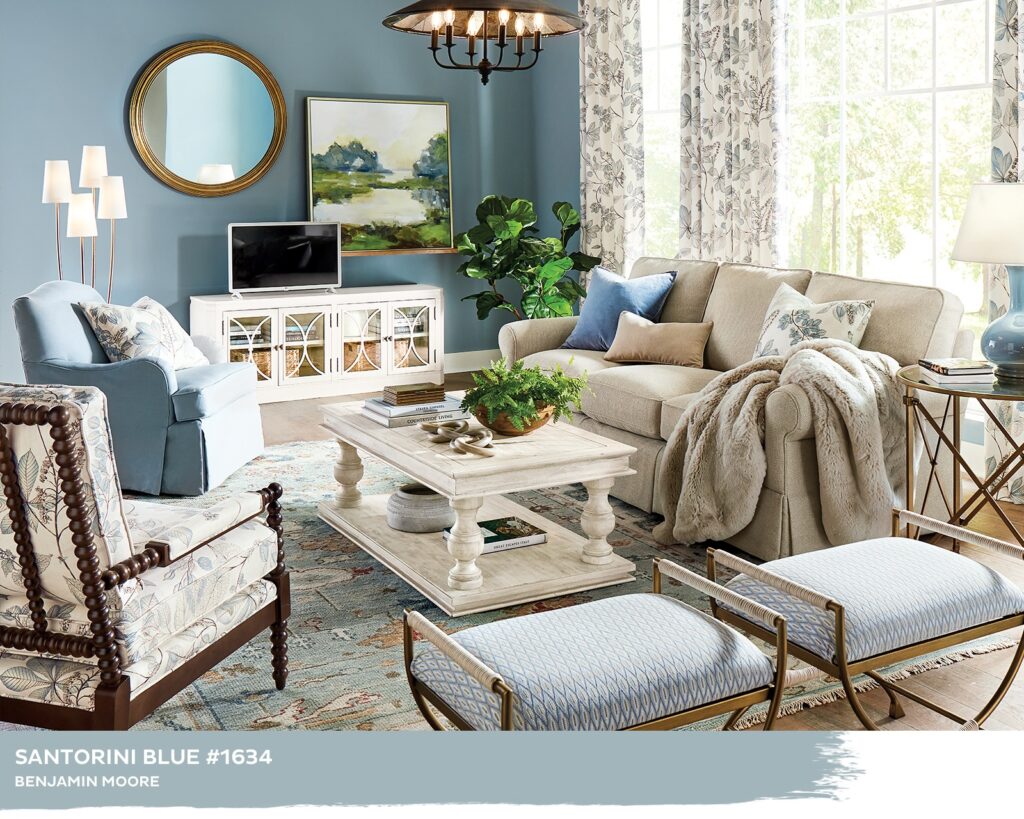 Santorini Blue by Benjamin Moore featured in Ballard Designs
Van Courtland Blue by Benjamin Moore (LRV: 30)
This medium dark blue gray paint color is a timeless color that encompasses a variety of styles. It can sometimes pull a little green if it's painted in a west facing room.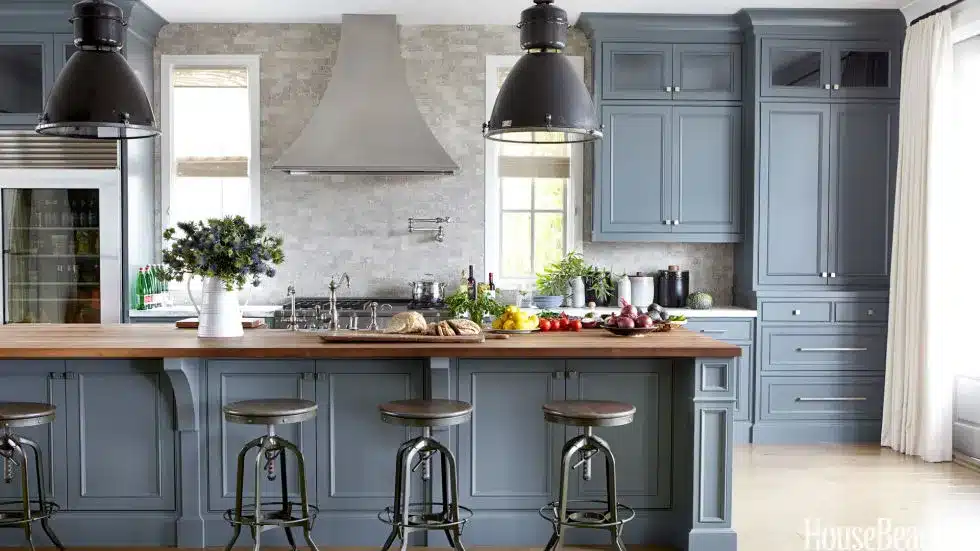 Source: House Beautiful
Storm Cloud by Sherwin Williams (LRV: 23)
You know the feeling you get when you're warm and cuddled up inside while the storm rages on outside? That's the comfort feeling this color brings to a room.
This one does tend to lean heavier on the gray, appearing very sophisticated when paired with bright white trim and cabinetry.
This is a great example from Pottery Barn that shows just how cozy this shade can be.
Morning Fog by Sherwin Williams (LRV: 42)
Morning Fog is well named, giving that cool crisp feeling of a hazy morning. Really, this is more of an overall gray color, but the blue undertones give it vibrancy. If you're more interested in the gray side of grey blue paint colors, I would recommend this color.
As you can see in this photo from Elegant Nest, you'll still get the blue grey feel, but it will style on its own as a neutral gray.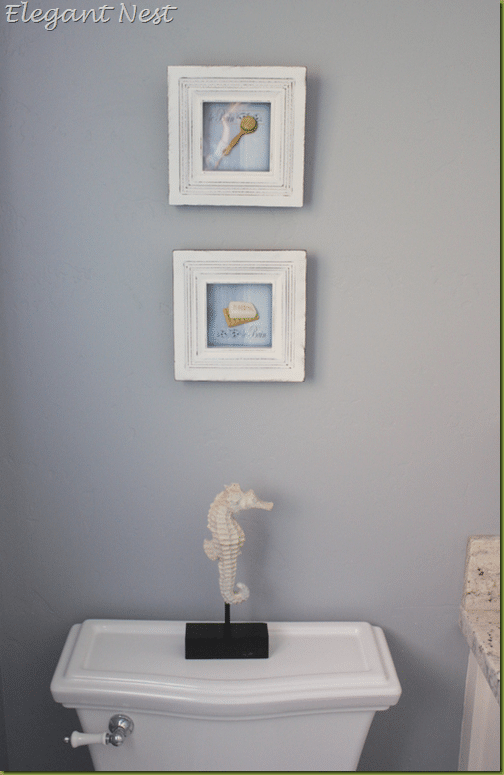 Little Falls by Benjamin Moore (LRV: 42)
This is the perfect medium to light blue color to go with the current grandmillennial style we're seeing on the rise. It's a true blue color with only gray undertones. You won't find green undertones at all! And it's a beautiful blue color for cabinetry in a bathroom or kitchen or walls in a kid's room!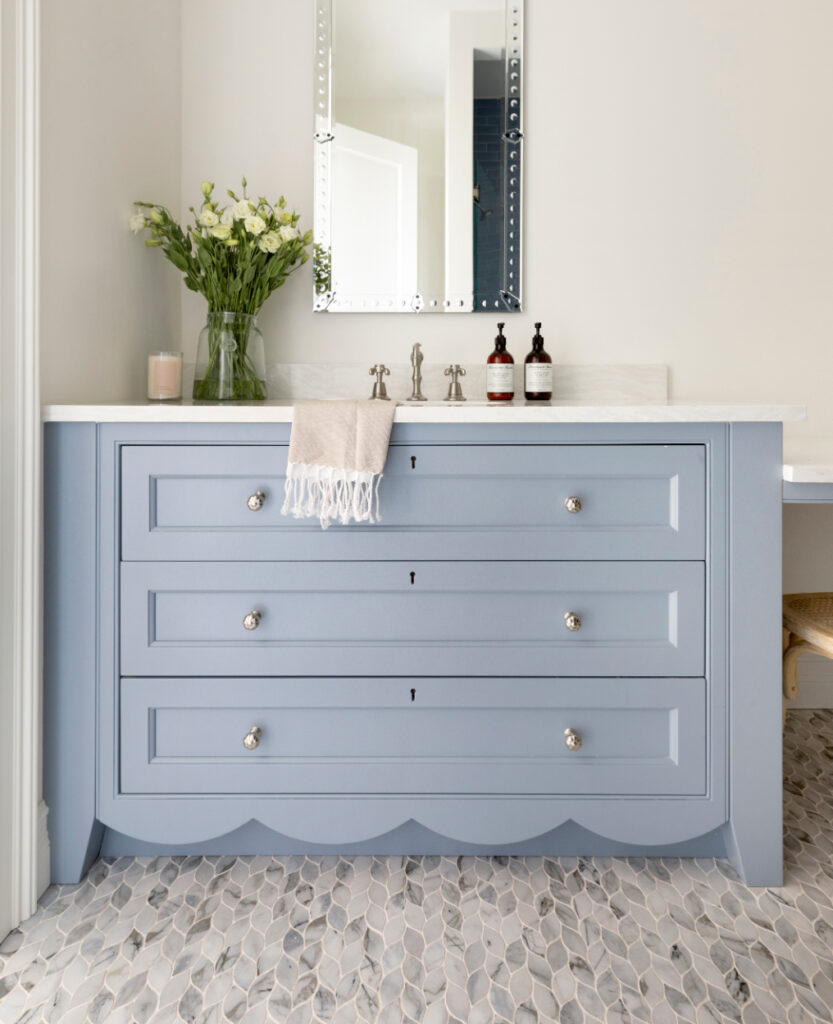 Boothbay Gray by Benjamin Moore (LRV: 43)
On the lighter side of the medium grayish blue colors is Boothbay Gray. Chances are you've seen this beautiful, historic color in the wild because it is very popular! It reads gray with a very strong blue undertone.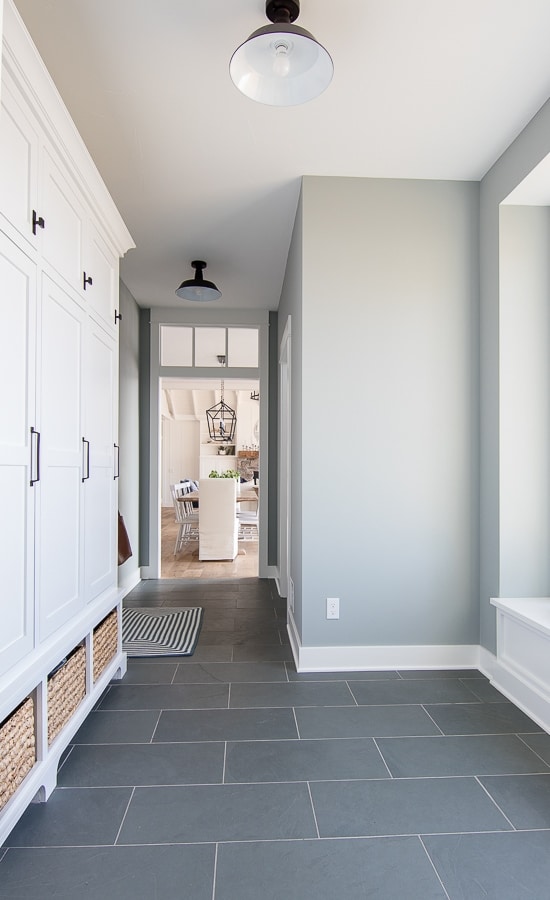 Boothbay Gray in the Lilypad Cottage Mudroom
Light Blue Gray Paint Colors
LRV 45-100
Smoke by Benjamin Moore (LRV: 56)
This color tips more towards gray, with bold blue undertones shining through. Smoke just can't be beaten – it works in every room of the house, pairing well with just about any accent color.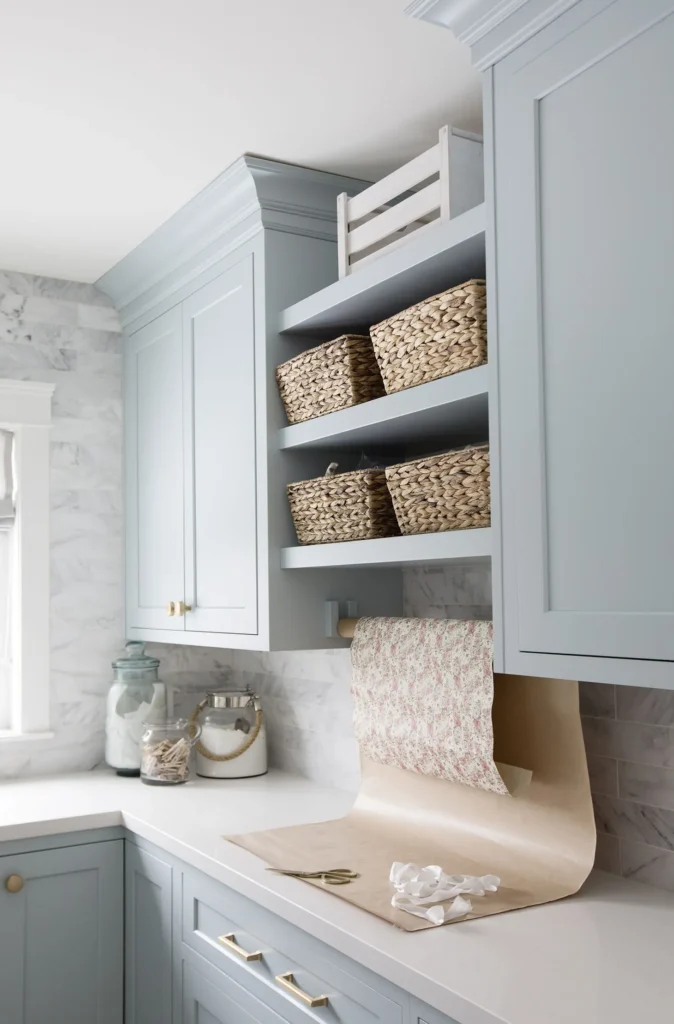 Gentle Gray by Benjamin Moore (LRV: 58)
Doesn't this feel like a hug from your favorite aunt? It's very versatile, it pairs well with most colors, carrying an aqua undertone. I find many aquas don't often feel sophisticated, but the gray side to this tone gives it that elevated feeling. Make sure to swatch this one on your wall before committing, as it can look different depending on the lighting.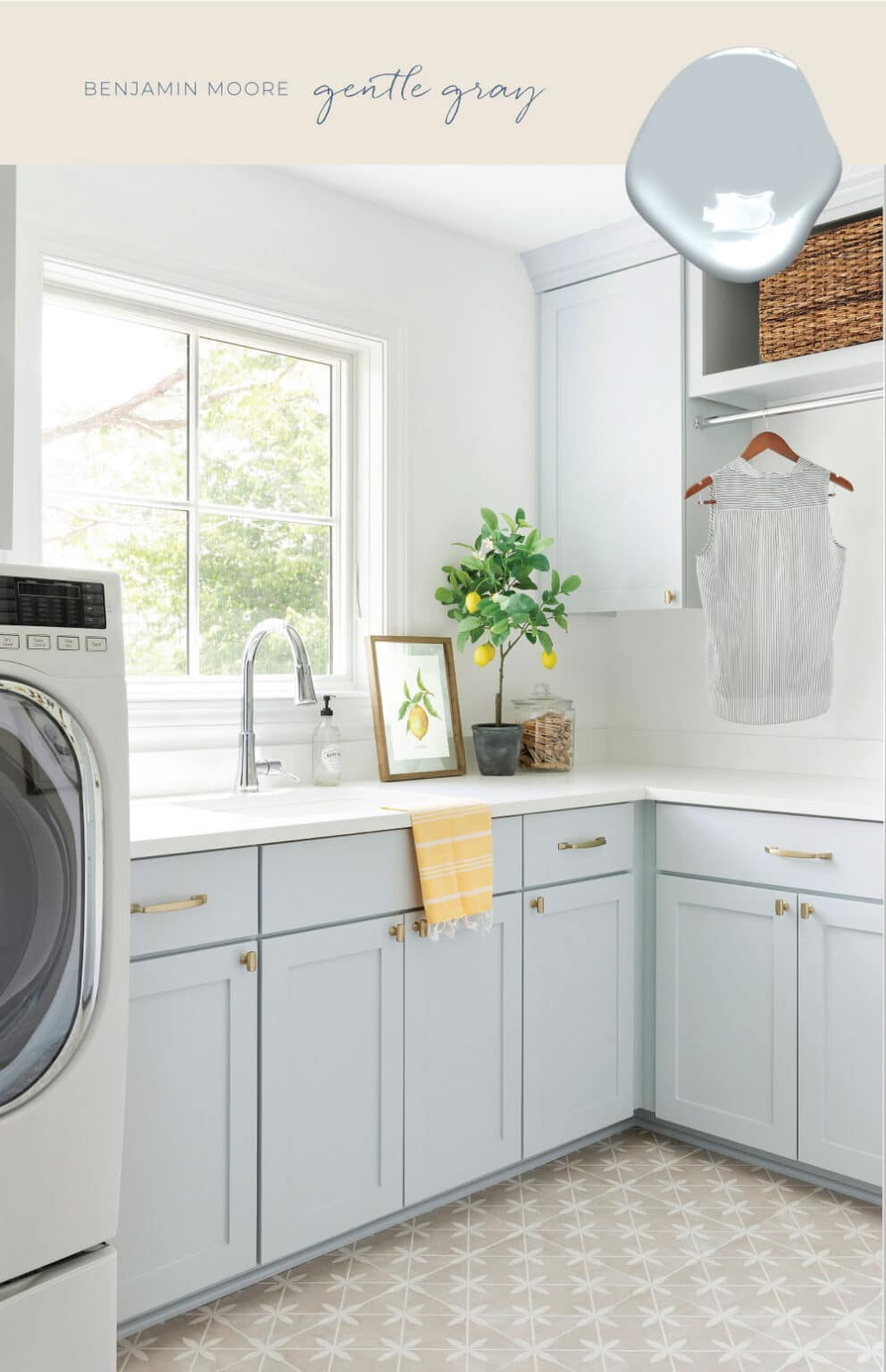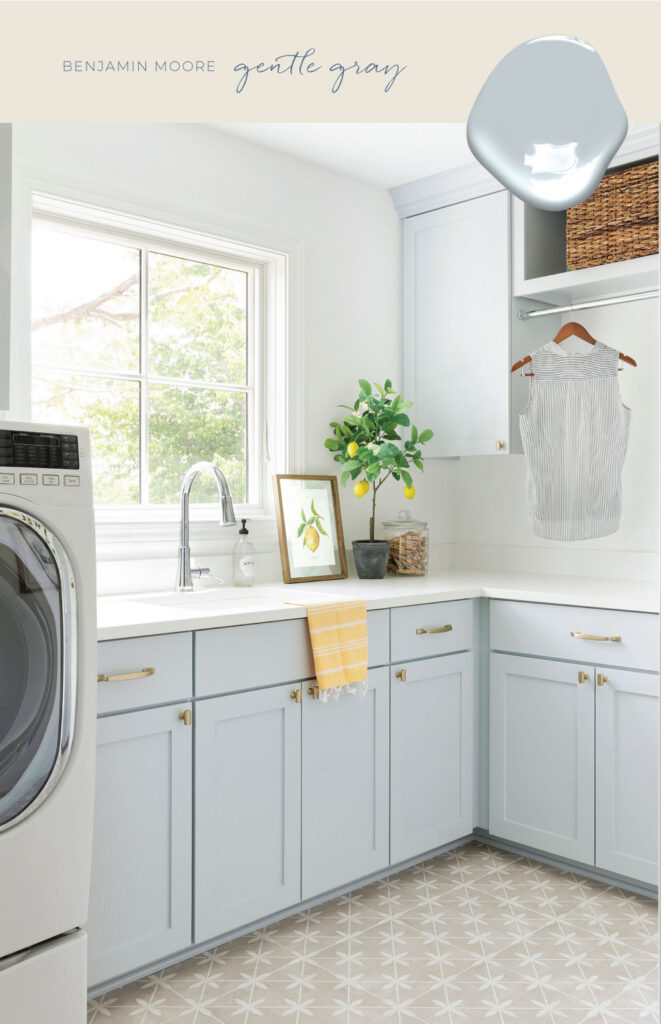 Silver Mist by Benjamin Moore (LRV: 62)
I can't describe it any better than the BM Website does, "A silvery shimmer characterizes this very pale shade of whisper-soft blue. Delicate and light, it relies on a generous amount of gray to achieve its misty quality." It's perfection!
Gray Sky by Benjamin Moore (LRV: 77)
On the verge of feeling like a pastel, Gray Sky feels icier and cooler in a room rather than warm and bright like a pastel. While light, it does not fade away in the background of a room like other lighter, neutral colors might. In fact, it holds quite a bit of saturation despite its lighter color and grey undertones.
Do you have any of these gray blue paint colors in your home? I would love to know how they turn out in real-life home examples.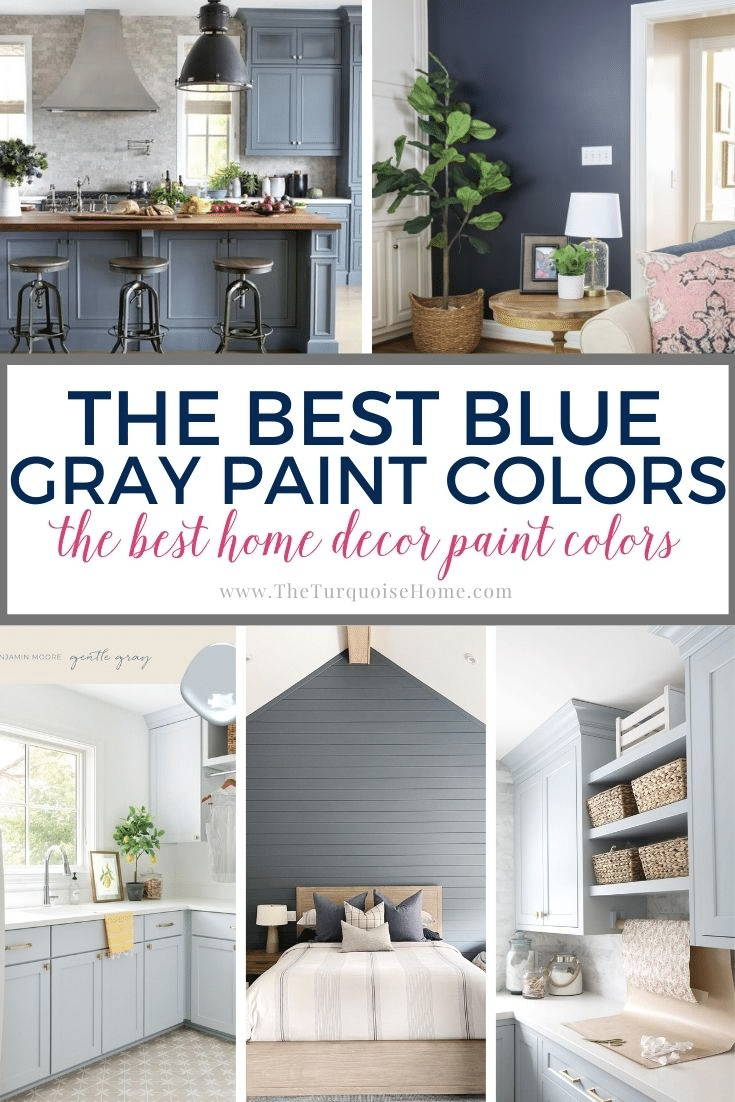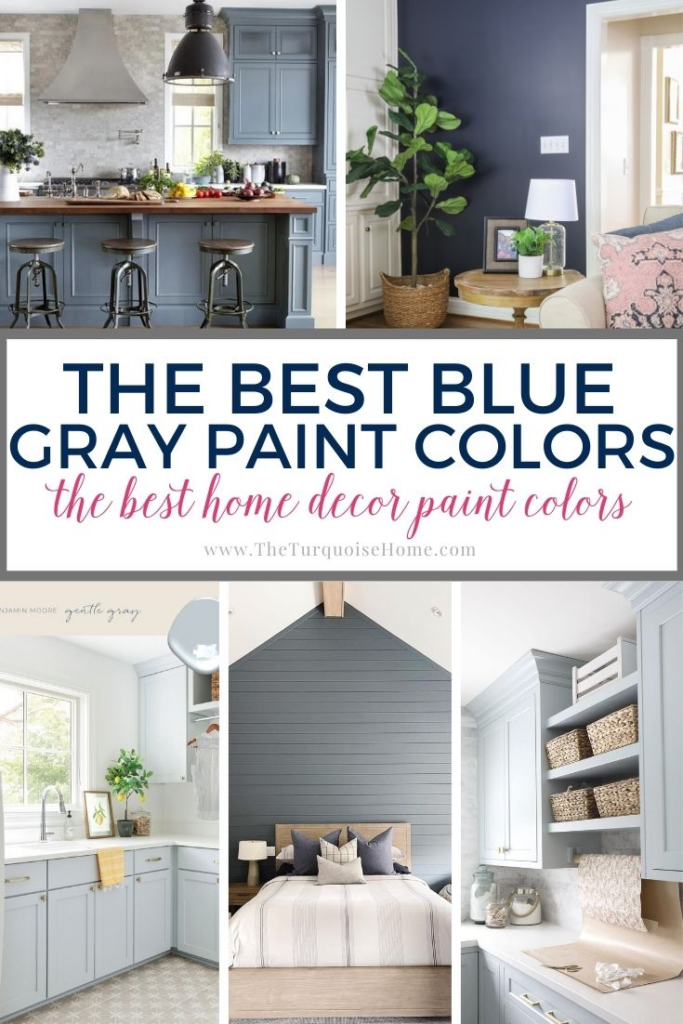 MORE POSTS YOU WILL LOVE: