A rug in the master bedroom gives a cozy vibe and a fun additional layer of decor. Whether you choose solid or a patterned rug, there are a few tips to follow when choosing a rug for under the bed.
You may remember that my only complaint about our new LVP floors was that it makes louder sounds when walking on it. The finish on it makes a shuffling sound when anything, namely feet, scoot it. Bottom line: it's very hard to not make a sound when walking on the floors.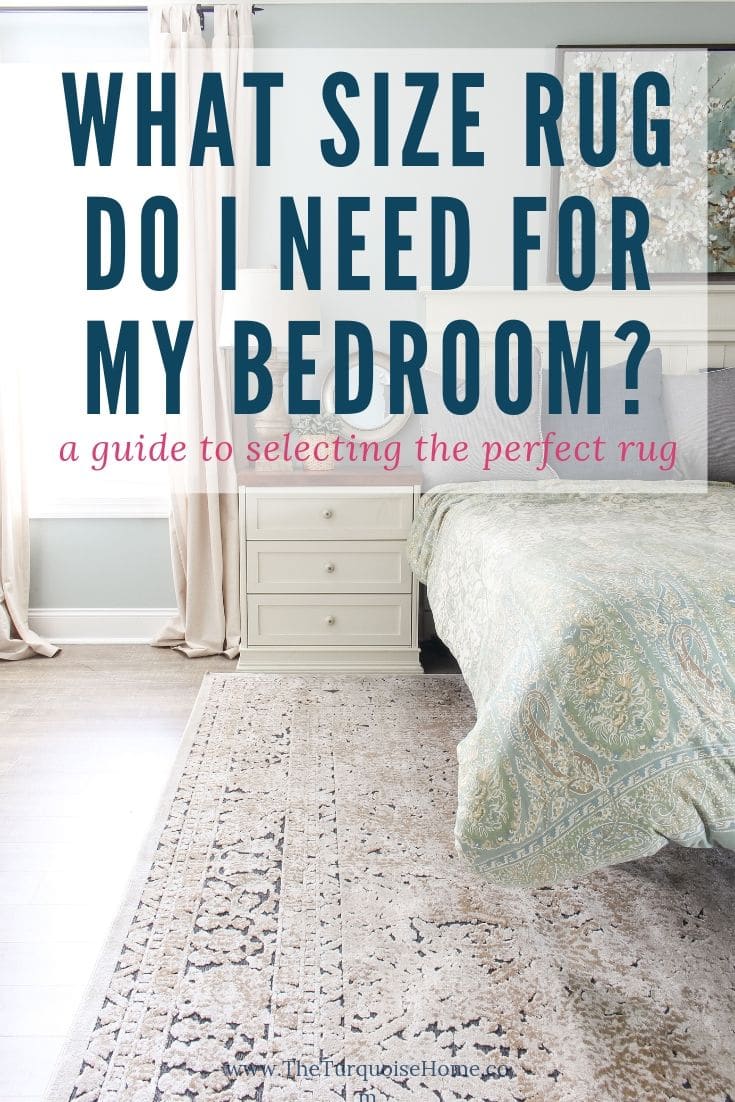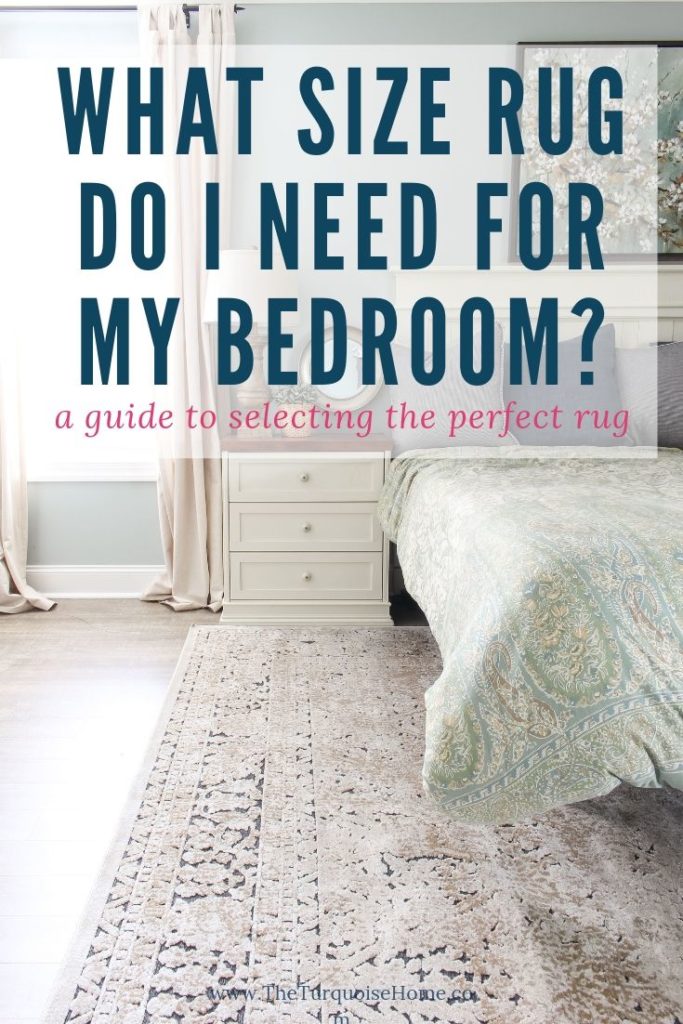 I've gotten used to the new sounds for the most part, but the one area where it remains an issue is in our master bedroom. When my husband gets up in the middle of the night I hear it. When he gets up before me, I hear it. And every morning I think to myself – "just go ahead and get a rug, already!!" 😂
Unfortunately (or fortunately for him) I'm the only light sleeper (thanks kids! 😜), so this seems to be only a problem that effects me.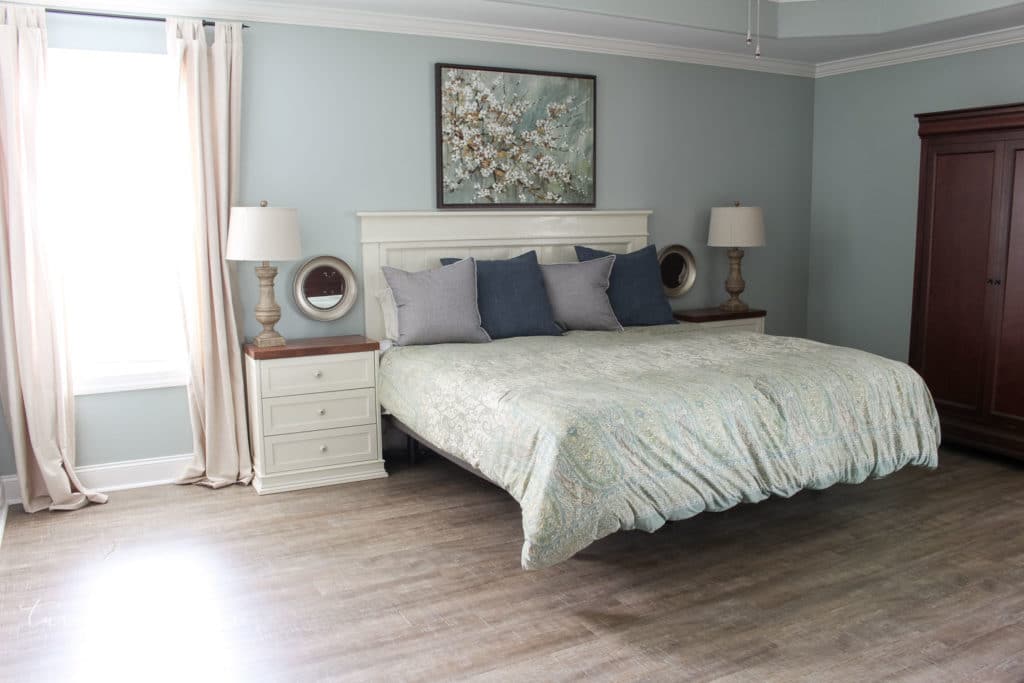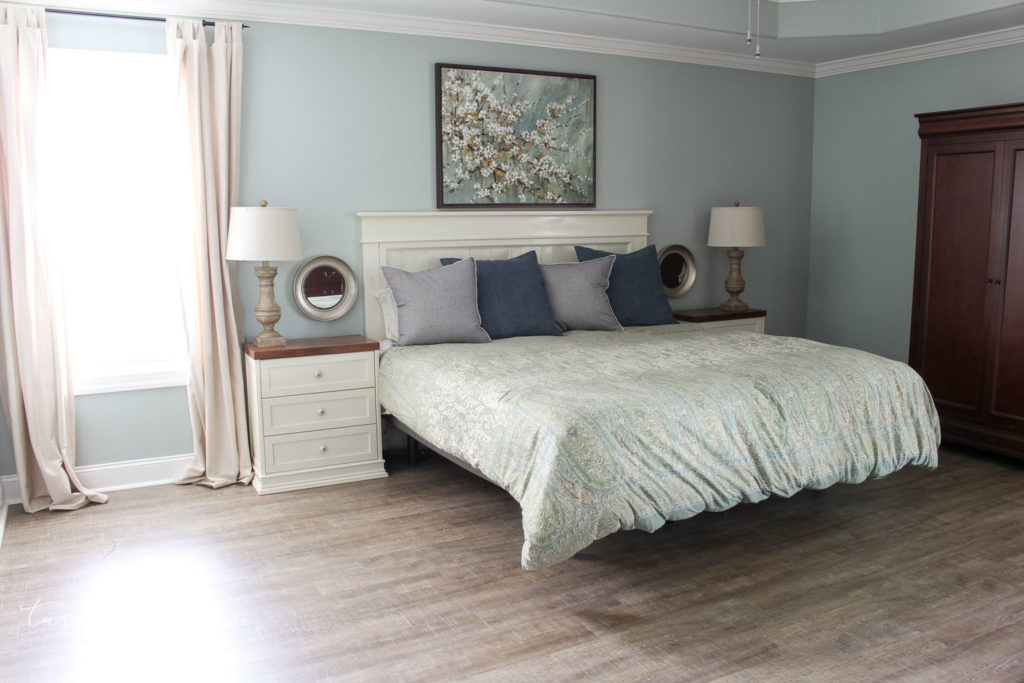 I've been mulling over a bedroom refresh for this fall because I decorated this room when we moved in 7.5 years ago. And haven't touched it since. So, I feel like it's time to give it a little makeover. I had a rug in the plans, but I had to jump ahead of plan because of the flooring. This post contains affiliate links for your convenience. See my full disclosure policy here.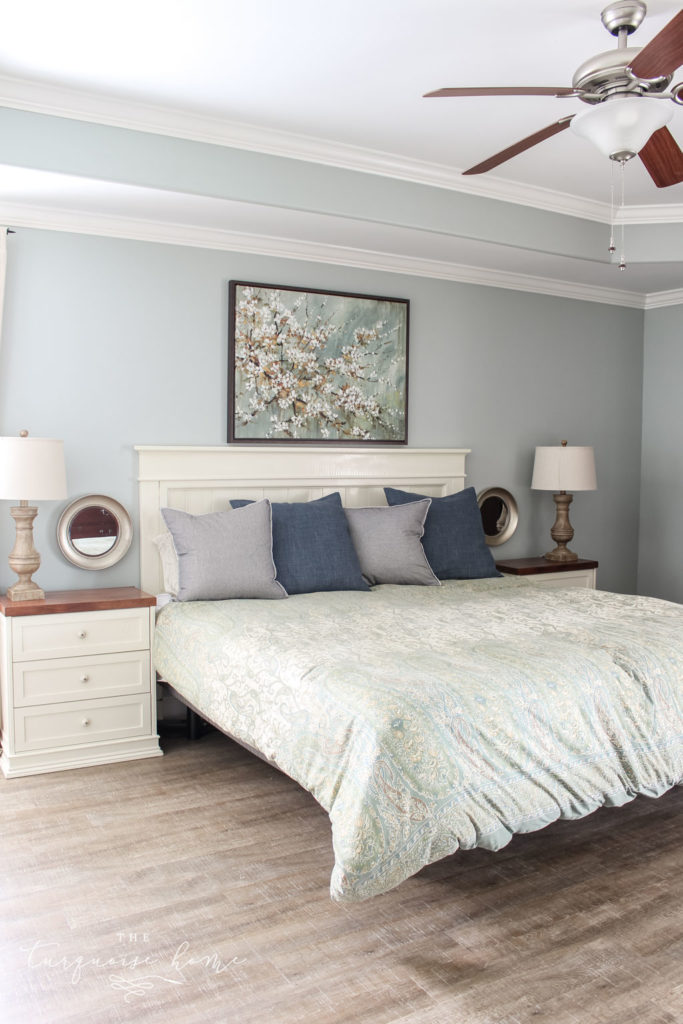 As the waking up issue got worse, I finally sat down last week on a hunt for the right new rug and landed on this "ivory" beauty. It's a lot more brown/beige than I would normally choose, but my duvet cover has browns & golds in it and I thought it would look good in the room.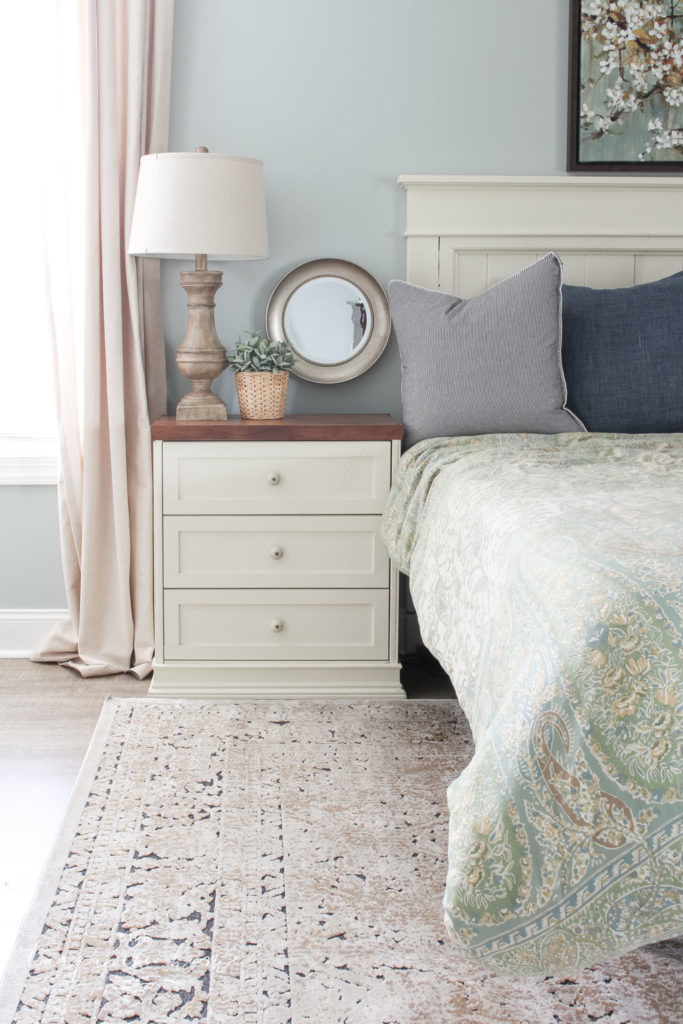 I really love it! I think it looks so beautiful in person and goes very well in the room.
I think the rug reads pretty neutral against the flooring. It might be a little bit too much pattern competition with the duvet cover, but I'm willing to let it live and just do solid pillows and keep everything else pretty neutral.
I might get a solid quilt to go on the end of the bed to help break up the patterns. But I really love the duvet cover, so I don't plan on getting rid of it. (It's super old from Pottery Barn and hasn't been sold in years. Here's a similar one, though, if you like the look!)
More Paisley Duvet Covers You Might Like:

I bought the 9×12 sized rug because I wanted to cover up as much floor space as possible. (We have a king bed … actually two twin beds, which you can read about here.) Read on for help with choosing your bedroom rug size!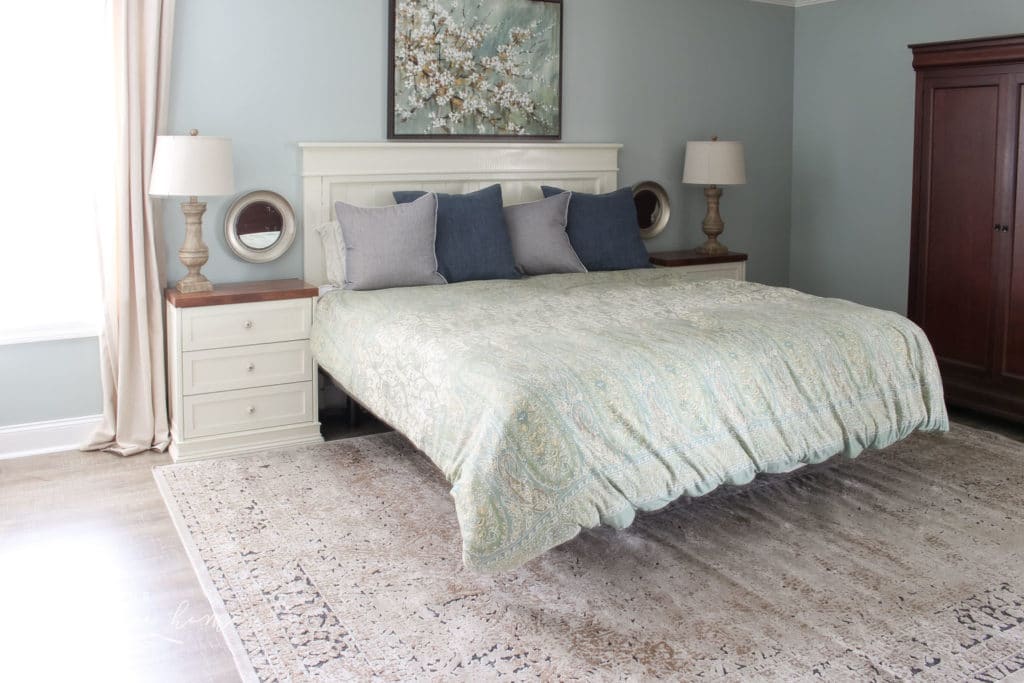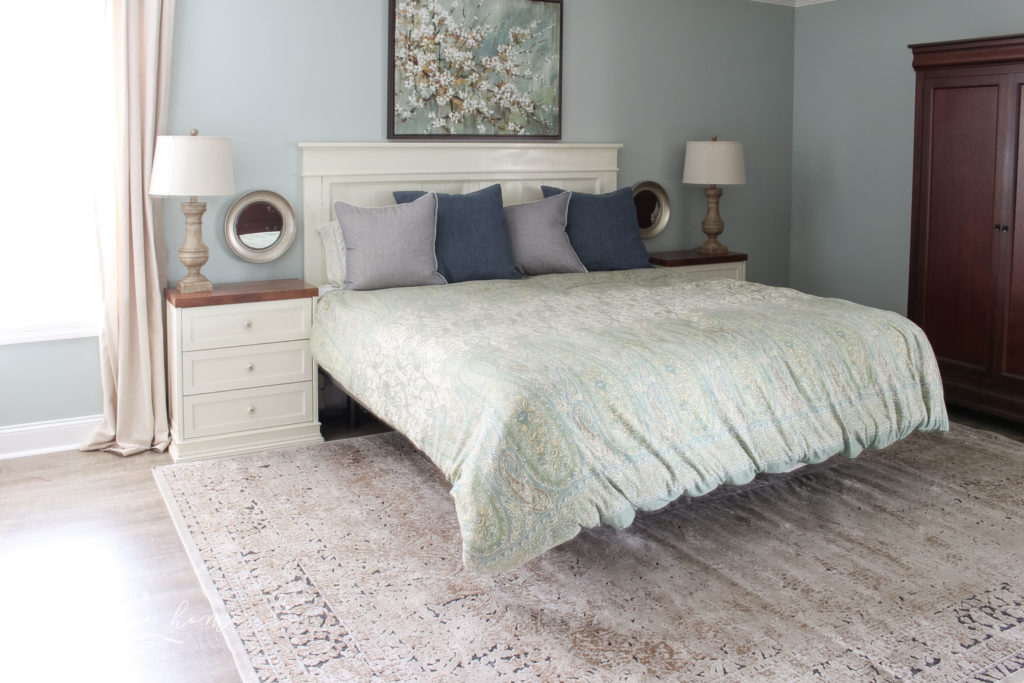 Tips for Buying a Rug for Under Your Bed


What Size Rug to Buy? Probably the most common question is "What size should the area rug be?" Choosing the right size all depends on the size of your bed and your preference for how much hardwood floor (or carpet) to cover up. In general, I try to go with as large a rug as possible while still leaving at least 18 inches between the rug and perimeter wall.
Rug Size for Queen Bed (or full size bed) – In general, for a full or queen size bed, you could choose anything from a 5×8, 6×9 or an 8×10. I would recommend an 8×10 for a queen bed if your budget allows.
Rug Size for a King Bed – Buy an 8×10 rug or 9×12 rug to go under a king sized bed. I bought a 9×12 because I wanted to cover as much of the floor as possible. But you will definitely want to go with a the larger rug if you have a bench at the end of your bed or a seating area.
How to Position the Rug Under the Bed? The ideal position is to place the longer length of the rug under the bed, running from night stand to night stand. You will want the shorter side of the rug to extend from the front of the bedside tables and extend slightly beyond the foot of the bed. The foot of the bed should sit on the rug, but not the nightstand.
Other Possible Rug Positions? You can place all of the bedroom furniture on the rug. Or place two runners along each side of the bed. Just make sure they are substantial enough and don't look like dinky bath mats!
Rug Position Next to the Wall – As a general rule, you want to keep at least 18 inches between the edge of the rug and the wall.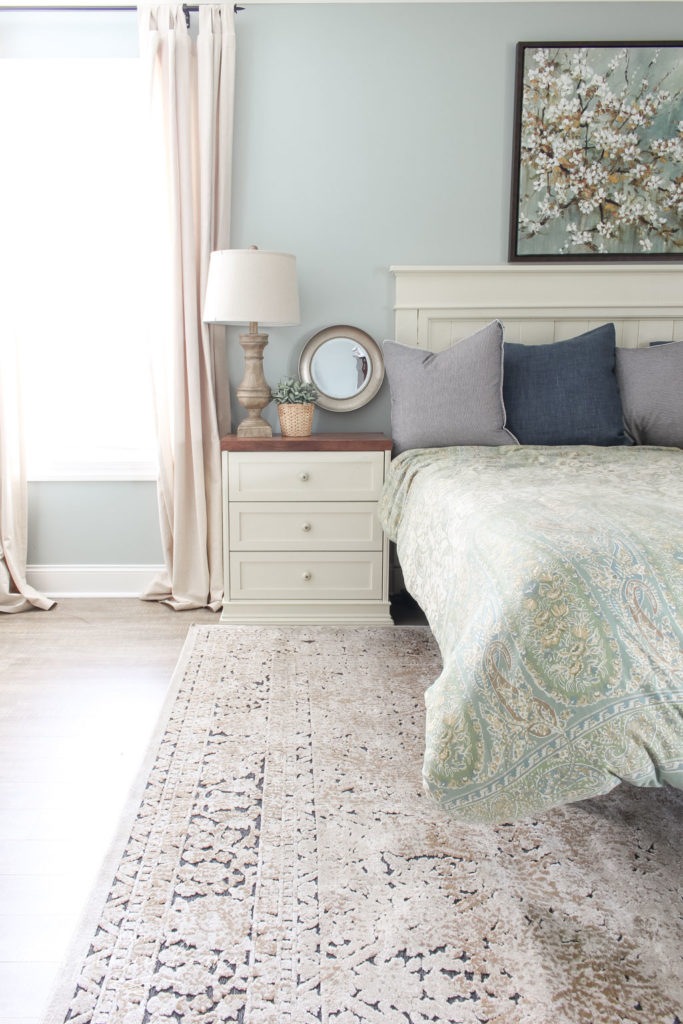 My Bedroom Sources:
Need a Vintage Blue Rug?
I have the same rug that I chose for my bedroom in my living room, only it's the blue color way. I've rounded up some of my TOP favorite budget-friendly blue vintage rugs in this post here.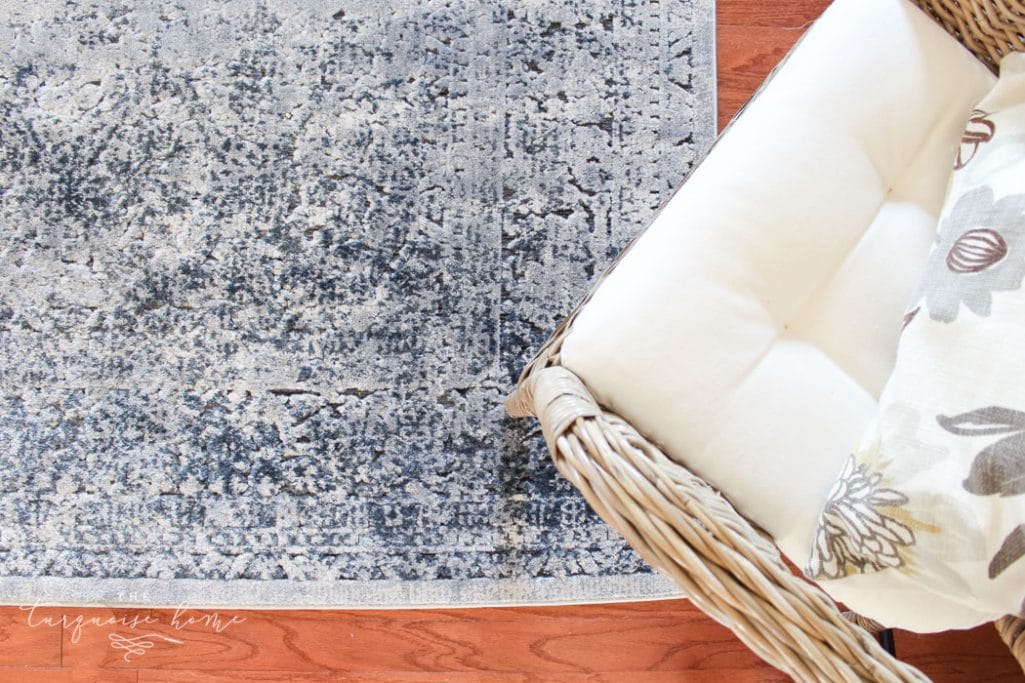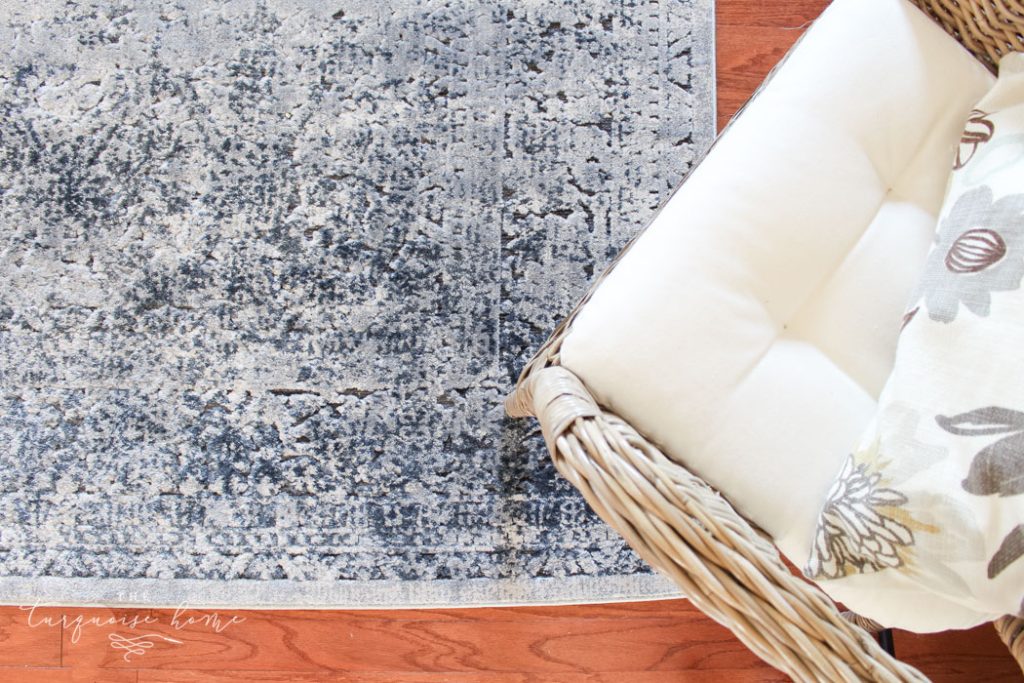 More Posts You Will Love:
Get Instant Access to my Guide to Customize Your Home on a Budget
Grab your FREE guide for 10 Ways to Customize Your Home on a Budget: simple projects to transform your home from builder beige to a home with character and charm!