The Best Blue Green Paint Colors for Your Home
Whether you are looking for a shade to transform your bathroom into a spa-like haven or a color to drift you off to sleep in your bedroom, here are some of the best blue green paint colors!
Blue and green paint colors are serene and relaxing. Mix them together and you get shades that look like beautiful sea glass on the beach. And it's no surprise that they are my favorite colors in the fan deck. (Hence the name of this blog. ☺️)
So, why not consider a blue-green shade for your home?
From seafoam to aqua to teal, blue-green paint colors look absolutely GORGEOUS and create a calming environment in any room.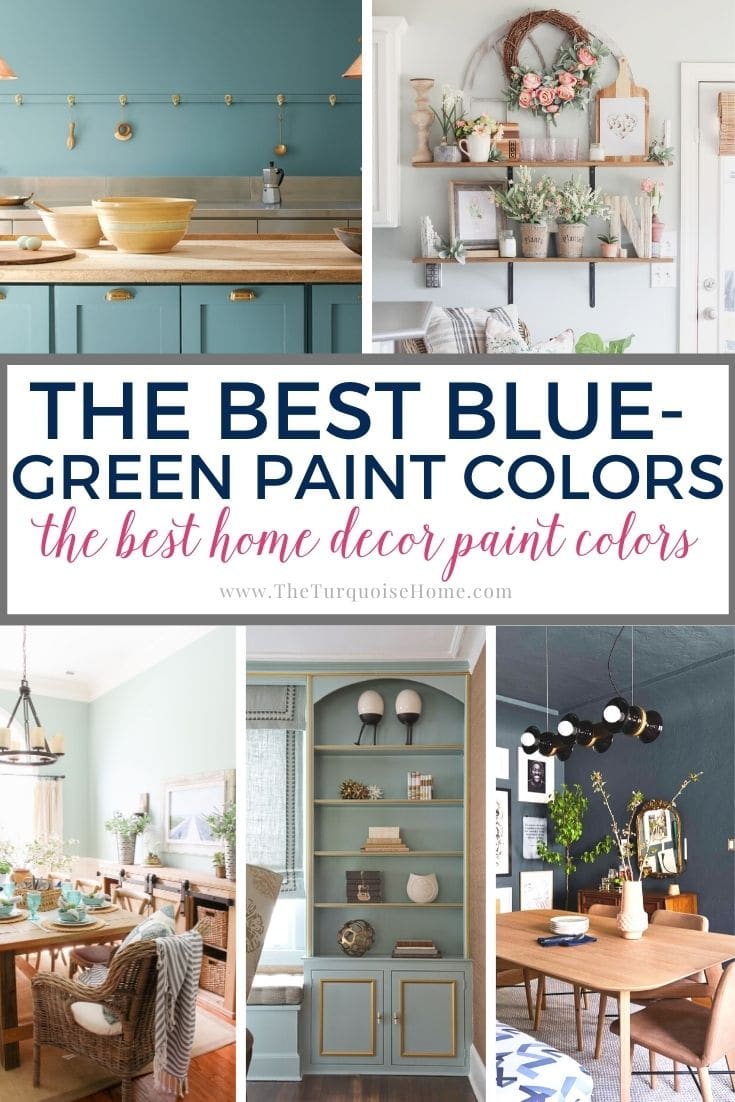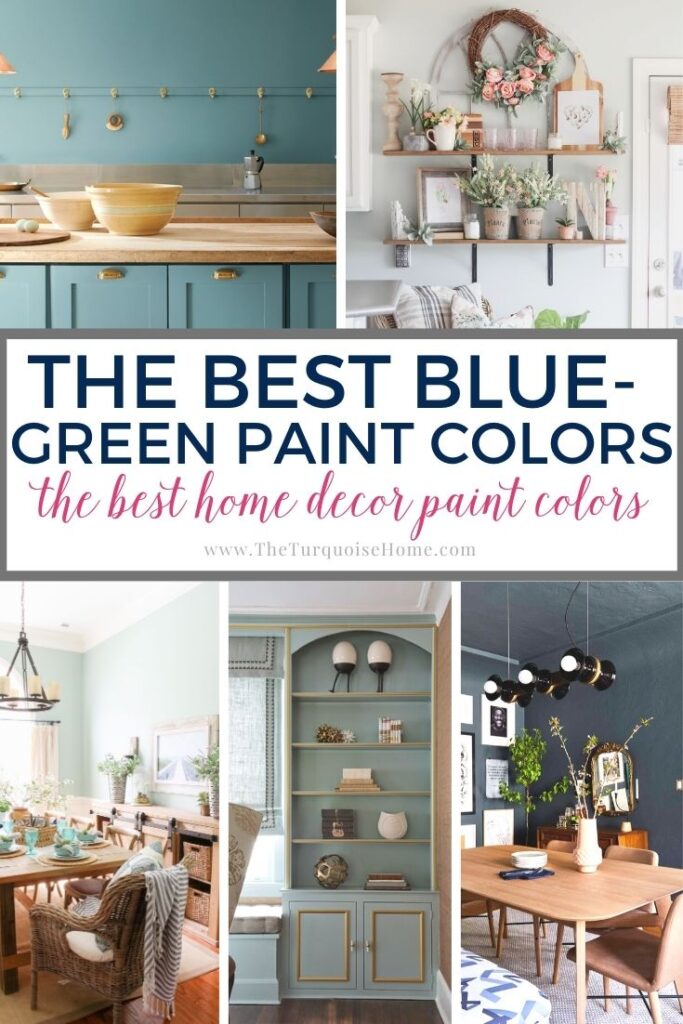 Transform your master bathroom into your own personal spa! (Mine is currently Sea Salt.) Soothe your anxiety at the end of a long day by painting your master bedroom walls a soothing shade of seafoam. Give your kitchen cabinets or front door a pop of color with a unique shade of turquoise.
A blue-green paint color just might be the key to that home design project you've been putting off.
Here are some of the best blue green paint colors for your home!
The Light Reflectance Value (LRV) Of Paint
First, a word about Light Reflectance Value, or LRV of paint. The Light Reflectance Value (LRV) of a color refers to how bright or dark it is. Pure white has an LRV of 100, whereas pure black has an LRV of 0.
So, LRV numbers closer to 100 will be brighter and lighter, and the lower the number gets, the darker the shade gets.
LRV can be a useful tool, but what's considered a light or dark color can be totally subjective. I've included a few tips below to help guide your decision on how light or dark your blue green paint color should be!
Should I Choose A Light, Medium, Or Dark Blue Green Shade?
Blue-green paint colors work really well in south-facing rooms. Since these rooms tend to get a lot of warm, golden light, the coolness of the blue and green shades help to balance this out.
Darker and north-facing rooms tend to feel chilly, especially in the afternoon. In these instances, choose a more intense blue green paint color, such as the medium and dark shades listed below. Likewise, very bright natural light can wash out lighter paint colors.
So, a good bet would be a more saturated shade.
The Best Light Blue Green Paint Colors
Dreamy, soft, and subtle, here are some beautiful light blue green paint colors for your home!
Sea Salt by Sherwin Williams
SW 6204 / LRV 63
This serene, pale blue green paint color has a cult following for a good reason. Its gray undertones keep it neutral enough to work well in any space.
With a Light Reflectance Value (LRV) of 63, it's light enough to be used with confidence in any room. Plus, it's one of my favorite paint shades! Check out my Sherwin Williams Sea Salt kitchen.
Sherwin Williams Sea Salt is a grayish green that has a hint of blue that reminds me of the fog that rolls in from the sea. It's perfect for a tranquil bathroom or a family room for relaxing small gatherings.
Note: Don't confuse this with the Benjamin Moore paint shade of the same name, which is a completely different color.
Palladian Blue by Benjamin Moore
HC-144 / LRV 61.17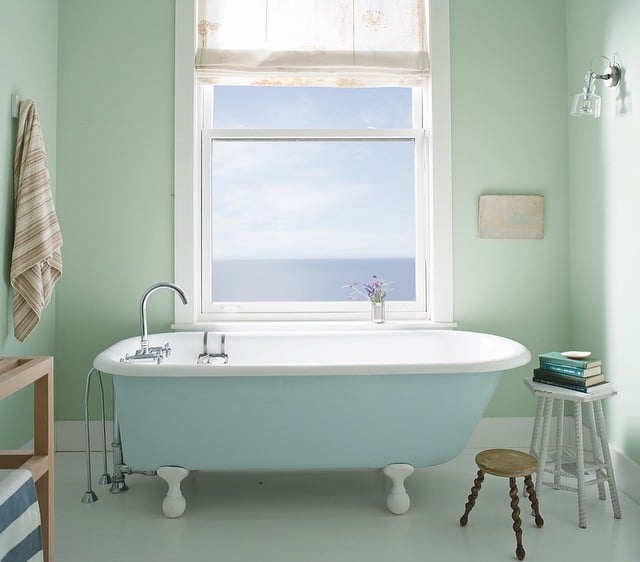 Benjamin Moore says it best: "All is calm and relaxed with this soft, airy blue that combines the blue of the sky with a touch of the mother of pearl".
While Benjamin Moore's Palladian Blue has the word "blue" in the name, there is plenty of pale green mixed in to be blue-green. It has that dreamy, seafoam washing up on the sand look.
Delicious, creamy, soft, and serene, this is a great light blue-green shade to wash your bathroom walls. Or, give your bedroom a cool, coastal vibe!
How enticing is this bathroom with a clawfoot tub from Interiors by Color in a complementary pale blue? The natural light brings out a touch of sunny yellow undertones, wrapping this tranquil space in a blanket of warmth.
When considering my kitchen in my old house I compared Palladian Blue and Sea Salt in this post.
Sherwin Williams Rainwashed
SW 6211 / LRV 60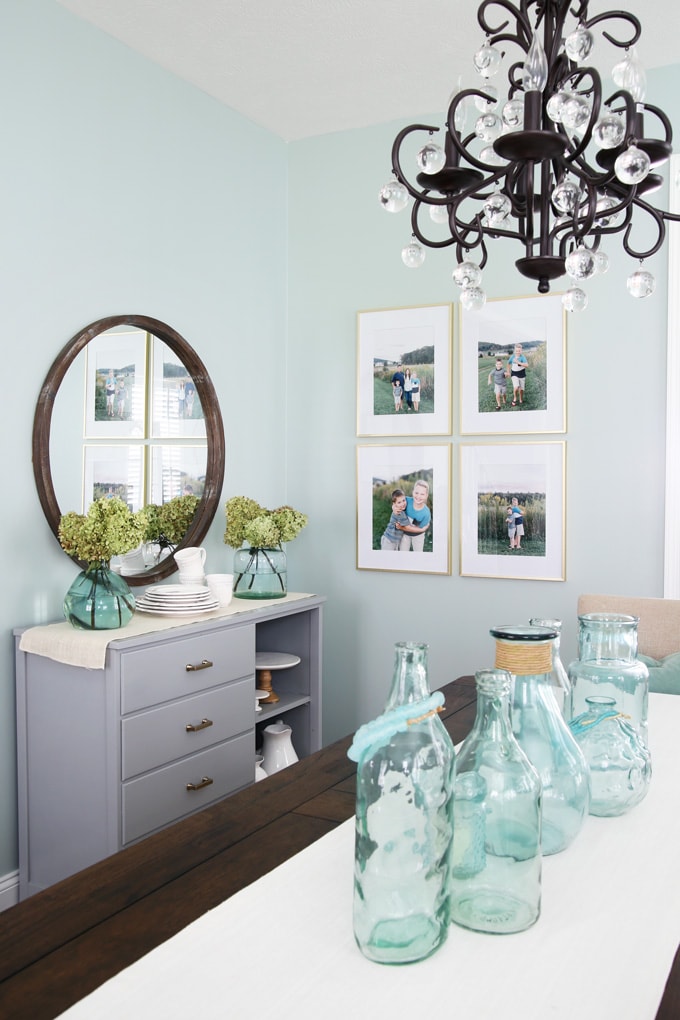 Rainwashed by Sherwin Williams is a light blue-green-gray. It has a bit more blue in its composition than the last two light blue green shades we discussed. It definitely has the look of a grayish sky after a rain or a soothing sea salt bath scrub.
With an LRV of 60, Rainwashed sits right on the edge between light and medium paint colors.
If you're looking for a beautiful blue-green shade that's soft but won't wash out, this paint color is a great pick. There's also enough gray mixed in to keep it muted.
The Best Medium Blue Green Paint Colors
If you're looking for a blue green paint color with a little more punch, but nothing too dramatic, consider a medium-toned blue green paint color.
Saturated and bold, these jewel-toned shades will recall the rich, sparkling look of sea glass.
Rhine River by Benjamin Moore
689 / LRV 47.52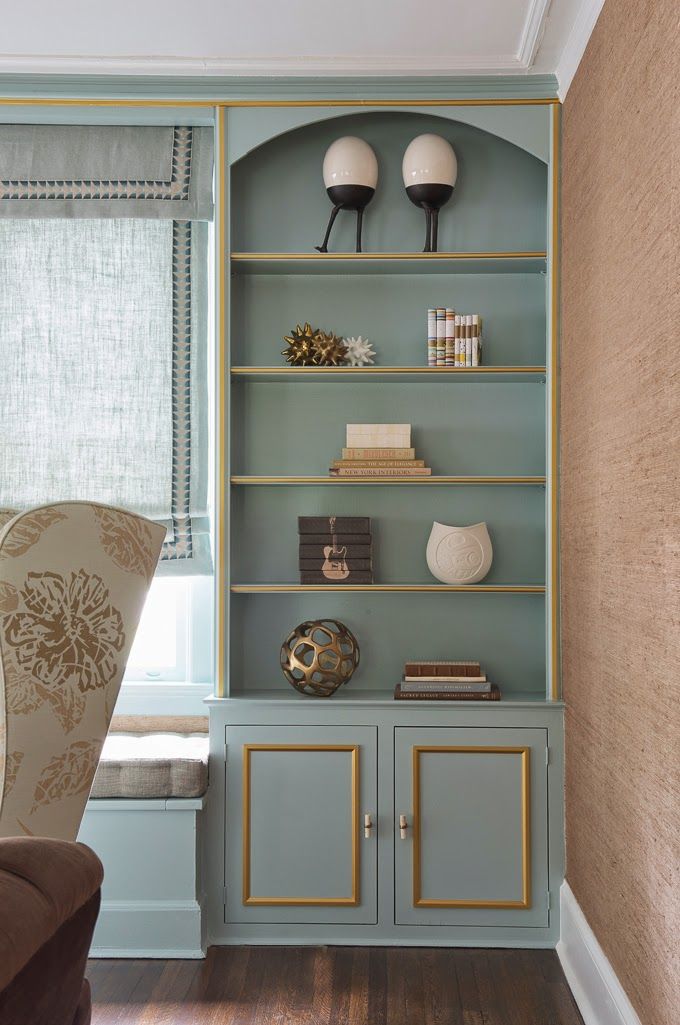 If you crave a sea foam shade with a bit more pigmentation, look no further than Rhine River by Benjamin Moore.
This highly saturated shade won't get washed out by bright light, so you'll enjoy the richness of this shade any time of day. The blue-gray-green color looks great as a backdrop for mahogany and teak furniture in a midcentury modern house.
Look at this stunning built-in bookcase with gold trim from Interiors by Color!
Aegean Teal By Benjamin Moore
2136-40 / LRV 23.96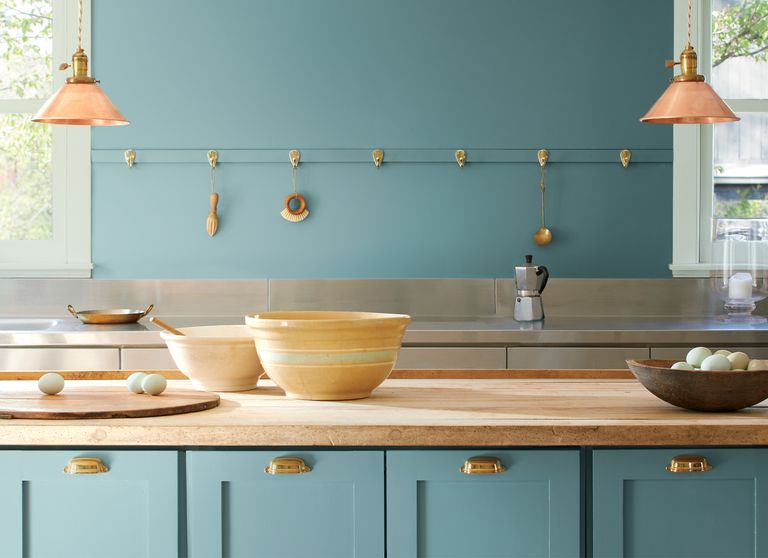 Next, I'm proud to introduce you to Benjamin Moore's Color of the Year for 2021, Aegean Teal!
Named for the famed region of ocean, coasts, and islands in the Mediterranean, Aegean Teal is a rich blend of blue-green and gray.
As Ben M. puts it, "intriguing mid tone that creates natural harmony".
Consider me sold!
This soothing shade looks sophisticated and stylish as an unexpected kitchen cabinet color. It also looks great on built-in bookcases and provides a pop of color on an accent wall.
Aegean Teal is on the brink of crossing into the territory of darker shades, but still has an element of softness to it.
The Best Dark Blue Green Paint Colors
Elegant and sophisticated with an air of mystery, these gorgeous deep shades of blue green paint colors may be what your home needs. Push the design envelope a little further with one of these picks.
Night Train by Benjamin Moore
AC-18 / LRV 21.25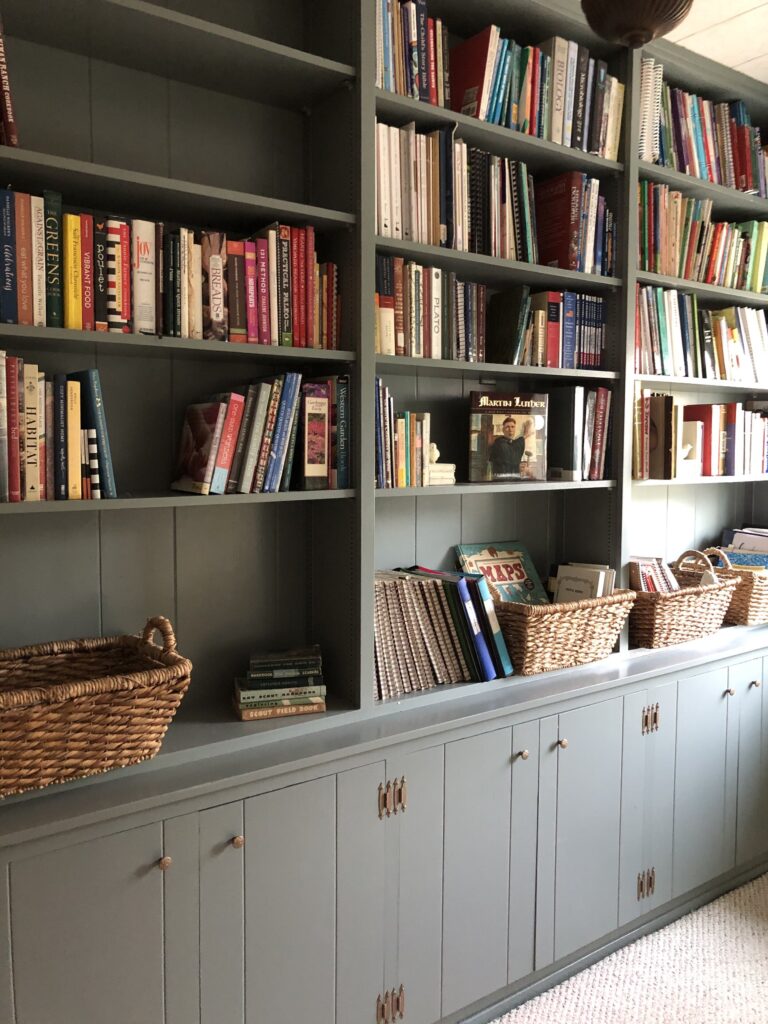 Night Train by Benjamin Moore is also known as Smoky Mountain AC-18. It definitely has a smoky element to it, due to its gray undertones. Benjamin Moore's descriptions are so poetic, that I find it hard to leave them out.
Here's what Ben Moore has to say about Night Train: "A velvety gray-blue made enticing with its smoky undertones and complex, cultivated color. A beautifully deep hue that is refined and cosmopolitan".
I couldn't agree more!
Inchyra Blue by Farrow & Ball
No. 289 / LRV Approx. 49.7
Inchyra Blue is a blue-green paint color with the depth of a Pacific Northwest Forest. This stunning shade from Farrow & Ball will be a conversation starter in your home.
Seriously, how gorgeous is Inchyra Blue behind the gallery wall in this dining room from Style By Emily Henderson? Is it teal? Is it hunter green? You won't really care what to call it once this amazing deep blue-green is up on your walls.
Honorable Mentions
Two more blue green colors have also found their way into my home and I can't leave this post without mentioning them, too! (You can never have too many, in my opinion! 😜)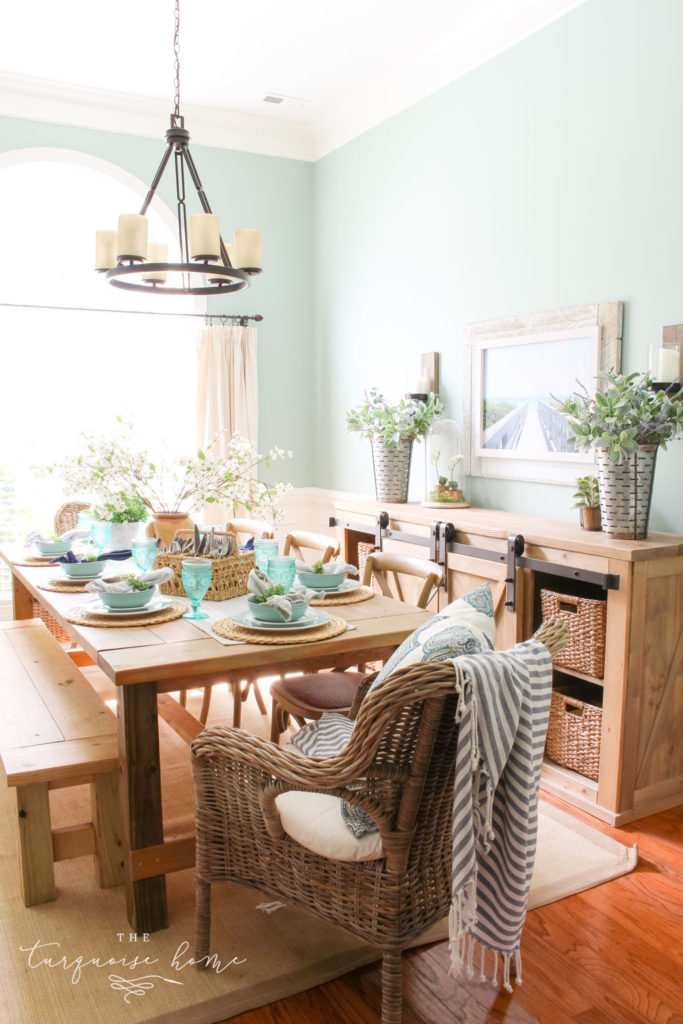 ---
Ready to book that coastal vacation now? I don't blame you! I hope you enjoyed this post about the best blue green paint colors for your home. Which one is your favorite?
This post contains affiliate links for your convenience. See my full dislosure policy.
More Paint Color Ideas for Your Home
TIPS FOR PAINTING A ROOM YOURSELF
I've gathered some of the best tools for painting a room yourself. First of all, you'll want to check out this post I wrote: Painting a Room in 5 Easy Steps. These tools are the top tools I use when painting my own rooms, which is how they get painted 95% of the time!
MORE POSTS YOU WILL LOVE: