Every home decorator knows that a good pair of curtains can instantly take a room from blah to beautiful. Window treatments add impact through the use of color, texture, pattern and decorative details.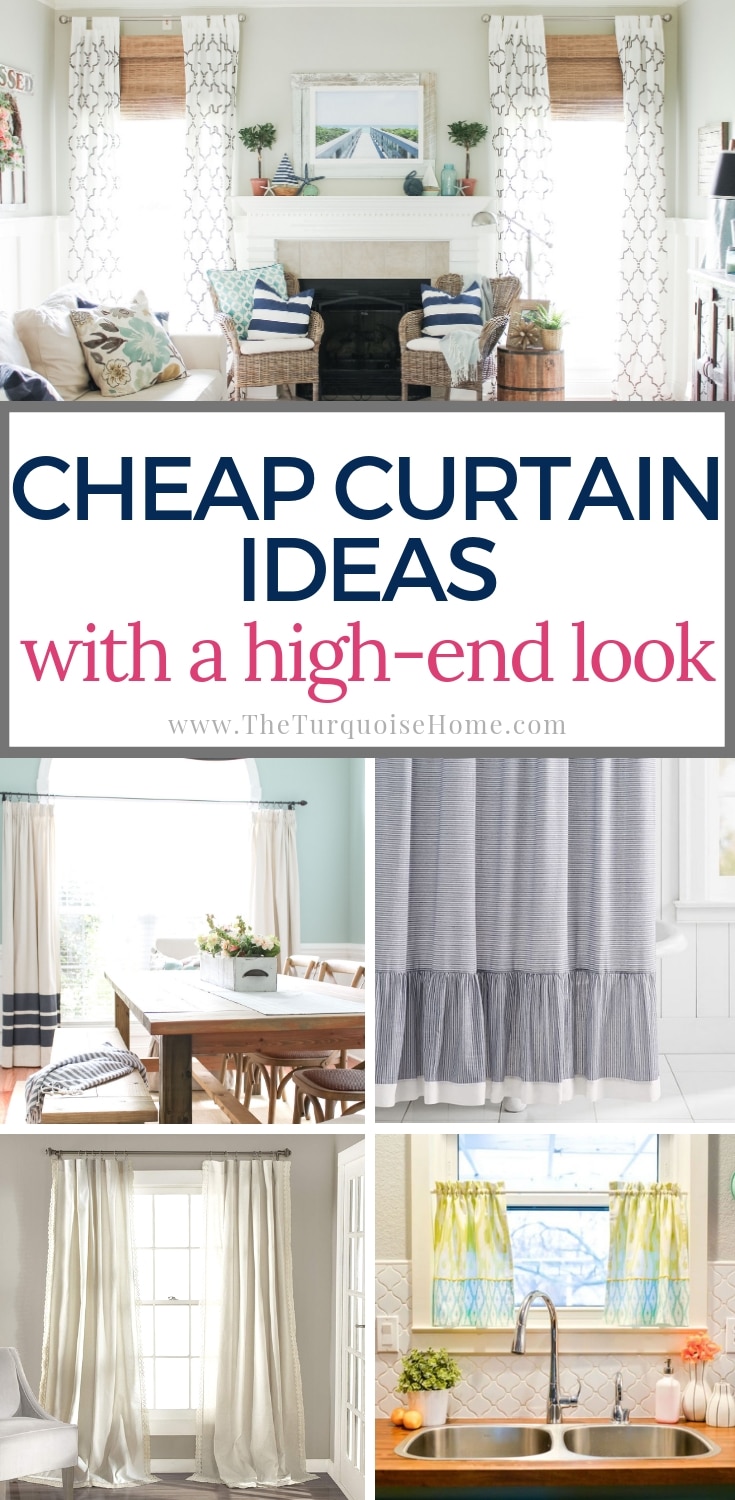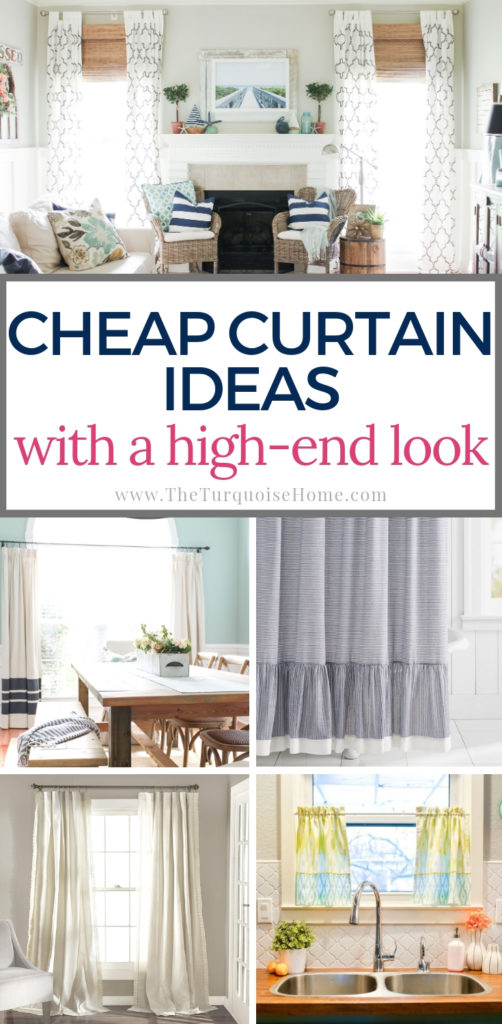 Curtains can totally transform your room, but have you noticed they can also be so dang expensive? There is a time and a place for serious investment in your home, but there's also a time and place for finding budget-friendly solutions.
To me, cheap curtains can look just as nice as high-end versions but cost a fraction of the price. Here are some of my favorite ideas to find cheap curtains that look anything but affordable!
DIY Curtains + Cheap Curtain Ideas
Drop Cloth Curtains
Did you know you could make some pretty amazing curtains out of drop cloths? As in the large canvas sheets you buy from the home improvement store to paint over? You can AND they look amazing and totally high-end. In fact, I made some in my dining room if you'd like to check them out! 🙂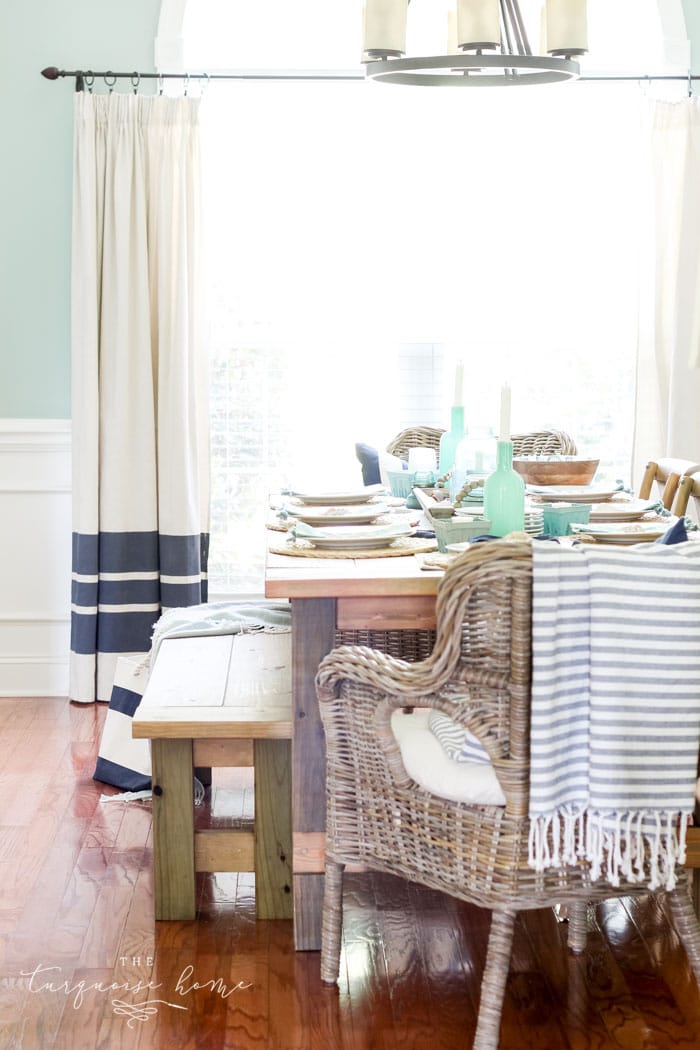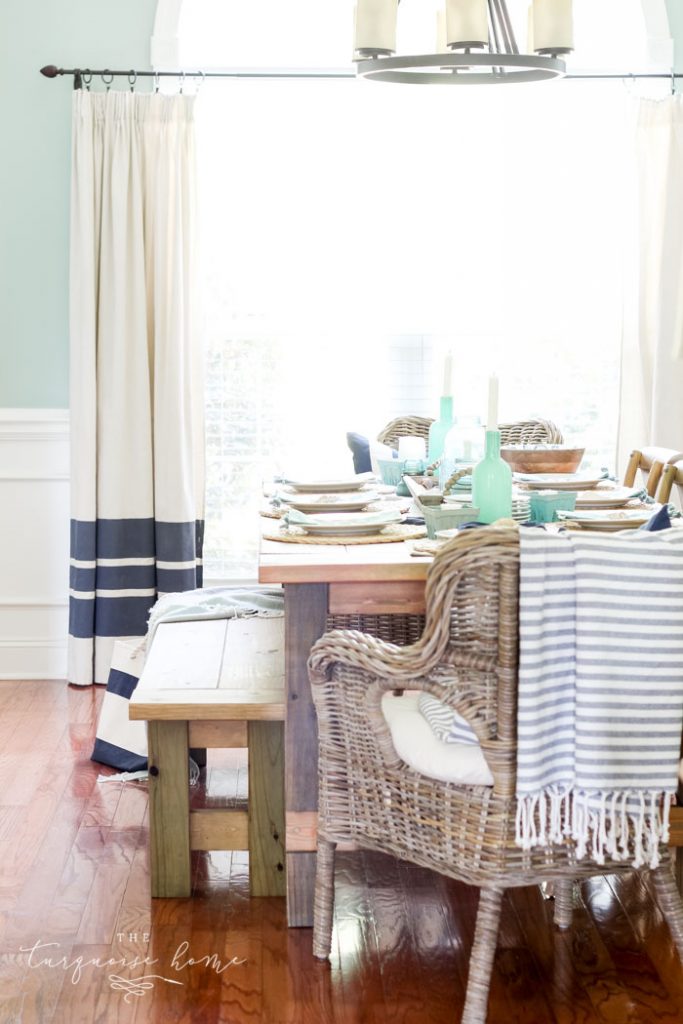 IKEA Curtains
Here's yet another category where IKEA is king! I have the IKEA Lenda Curtains in my master bedroom. I liked them so much I bought them again and I stenciled them in my living room. It's one of the top questions I get all these years later – "where are your living room curtains from?" I love how long they are and they come with hem tape, so you can easily "hem" them to the length you need—no sewing required!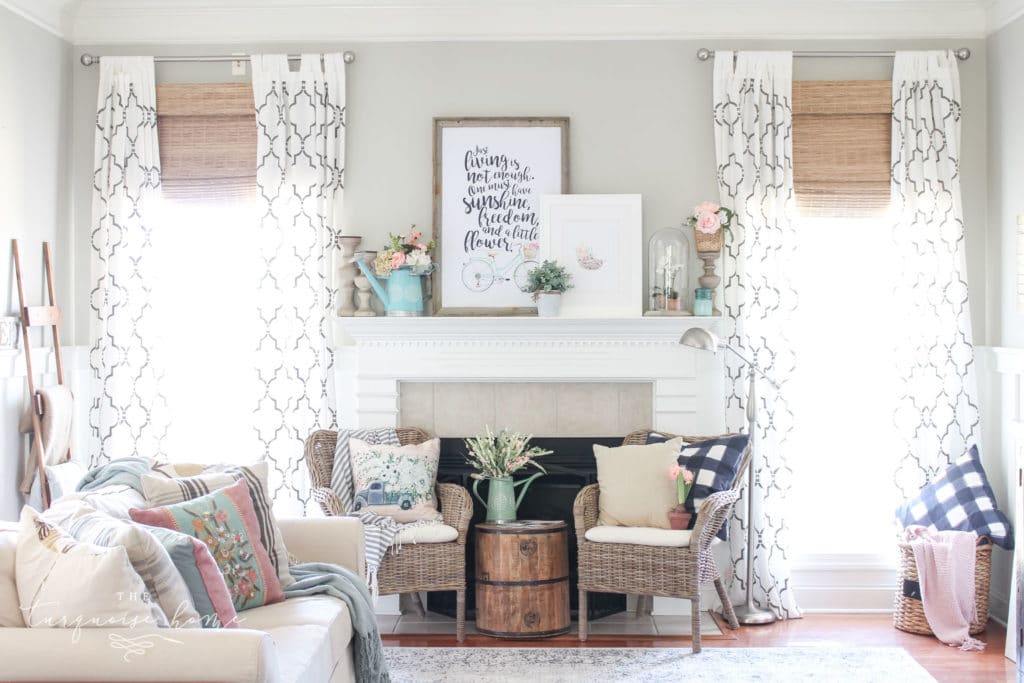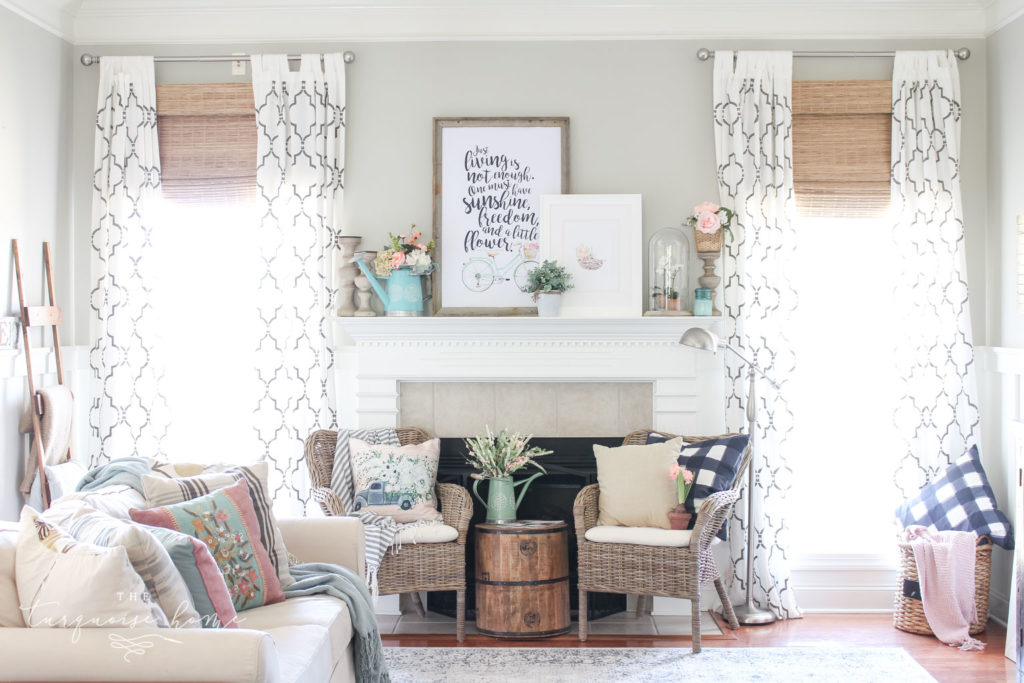 DIY Tea Towel Curtains
One of my favorite curtain hacks I've seen is to use tea towels and curtain rings with clips to make DIY new-sew cafe curtains! I think it would be so fun to have a tea towel DIY curtain in a small window in the kitchen or bathroom. These tea towels would be so great for a curtain like the ones Cory from Hey, Let's Make Stuff made here!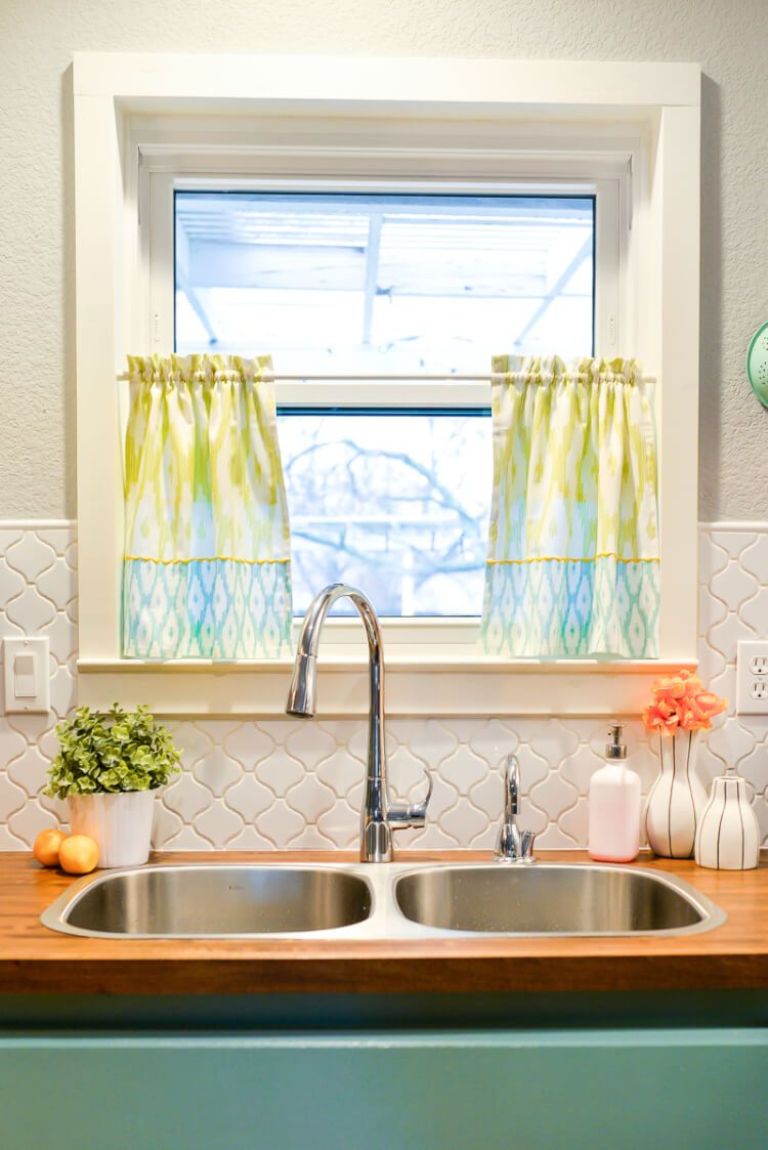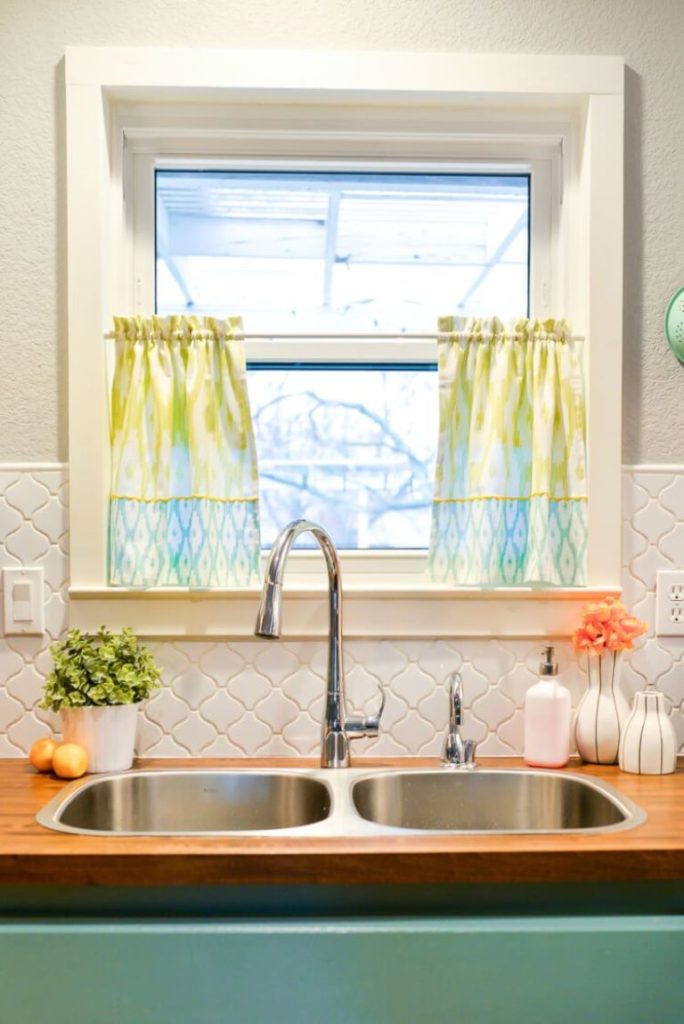 Shower Curtains Turned DIY Window Curtains
Shower curtains don't have to just be for the bathroom! If you are looking for an affordable option for draperies, use shower curtains for the windows in other rooms in your home! Run clips or you can run large ribbon through the holes where traditional shower curtain clips would run through. When you are decorating your home on a budget look at all the options for cheap curtains.
A shower curtain from Pottery Barn could be used anywhere around your home and the selection is so classic. I'd definitely recommend choosing a fabric shower curtain rather than a plastic one.
Note: Just know that a standard shower curtain size is going to be shorter than an actual curtain, so if you're looking for something that skims the floor, you might want to look further or add a plain fabric extender panel to the bottom of the shower curtain to extend it!
Here are some other fun shower curtains that would be great cheap curtains for your windows.

Buy Cheap Curtains
Of course, if you are looking for affordable options and don't want to make a DIY curtain, you can simply purchase cheap curtains! There is always a sale or a coupon for most stores, but there are also some curtains that are affordable as is. Here are some of my favorite options you can buy for cheap curtains and what I like about each one!
These Linen-style Pinch Pleat Drapes aren't as inexpensive as some window treatments, but they are SO much less expensive than their custom counterparts. They come in a wide variety of colors (40+), a larger selection of widths and heights and a steal of a deal for the type of drape you are getting. They look high end for much less!
Tassel trim with contrast stripe – super chic for cheap curtains. Tassels are all the rage in home decor right now, and this is a fairly low commitment way to give them a try. These cheap curtains cost less than $25!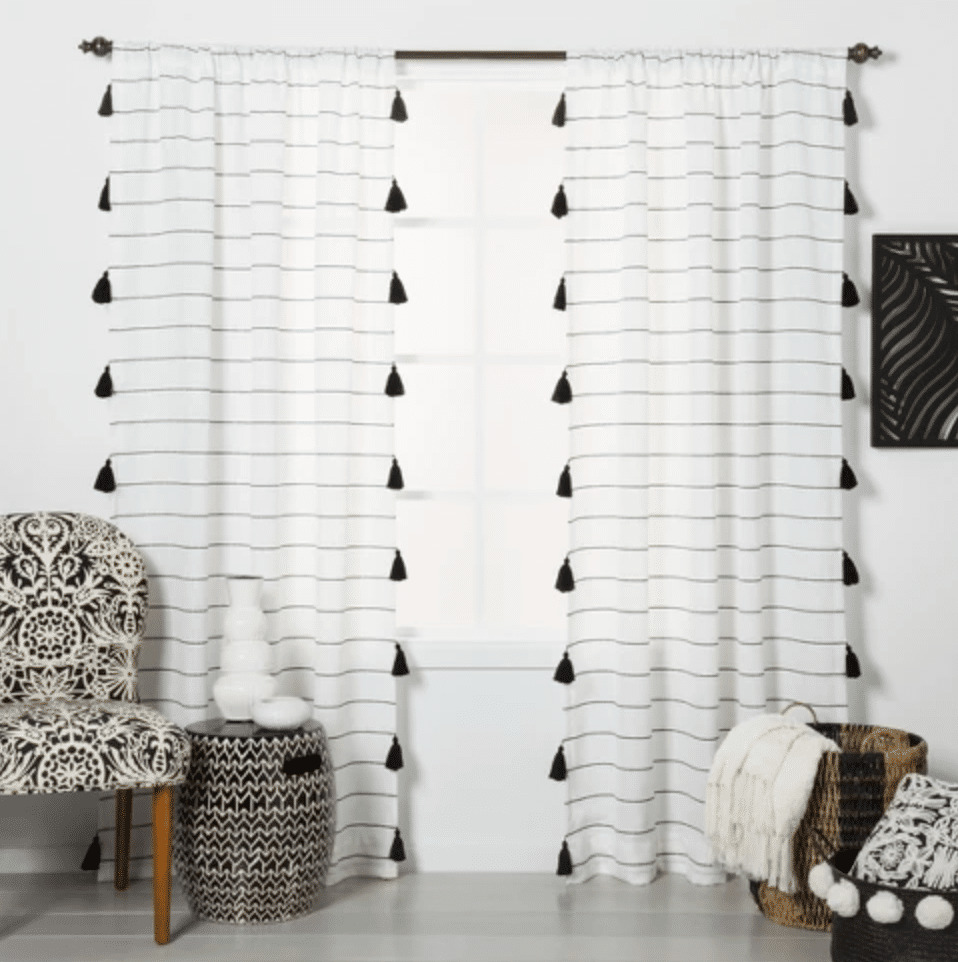 White and yellow embroidered curtains – white curtains with embroidery trim looks super high end, but is less than $30 per panel! These would be perfect for the summer months.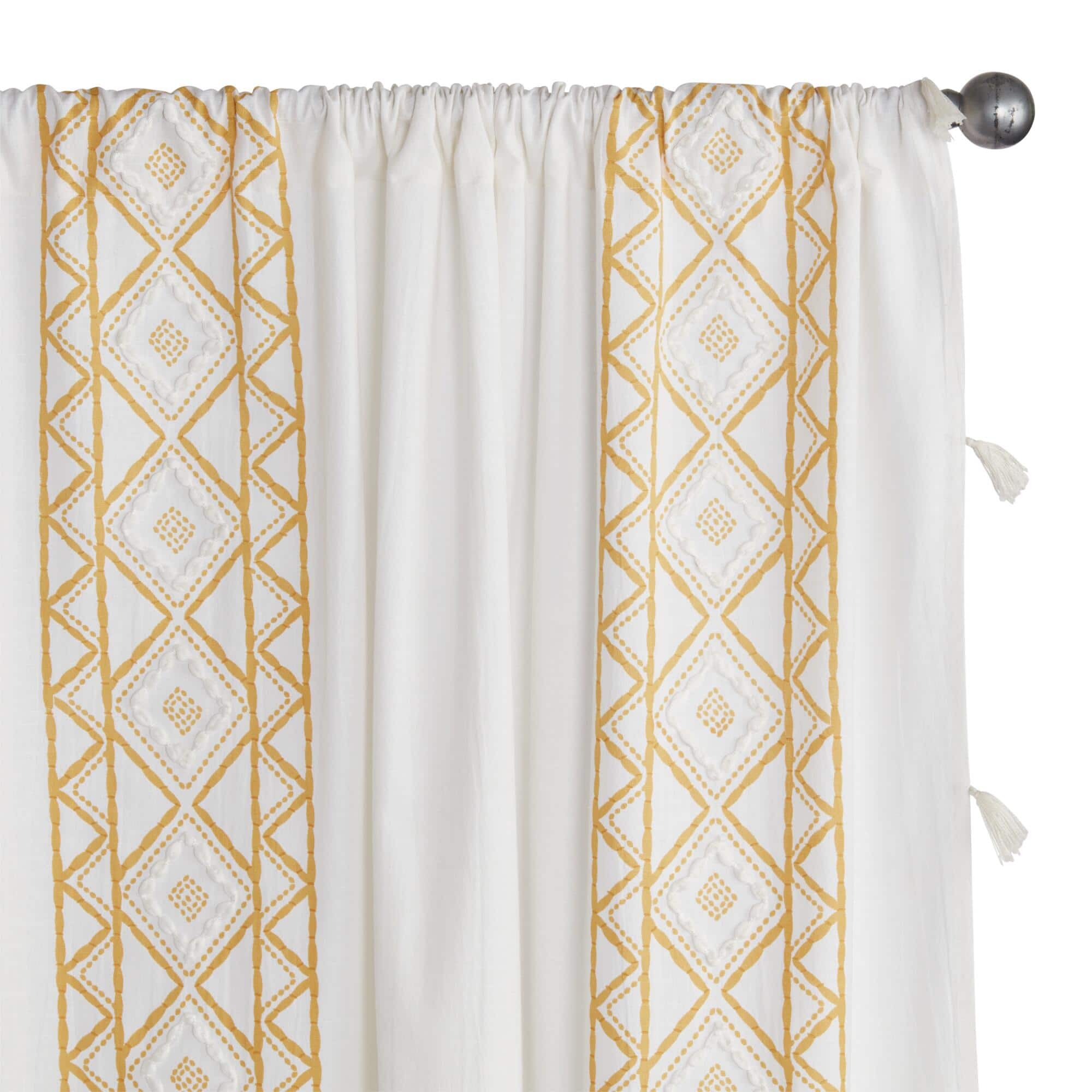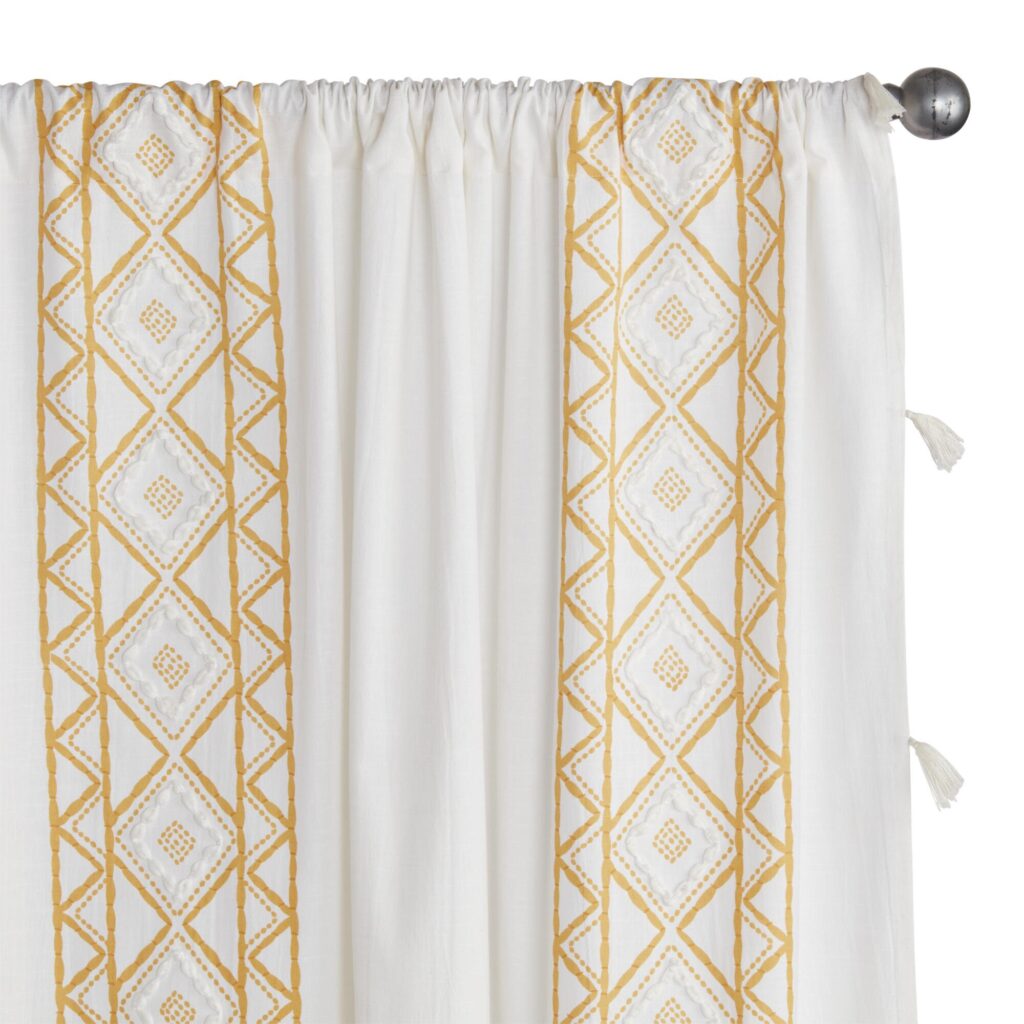 Rustic farmhouse curtain set – these are an amazing deal and I'm tempted to snatch them up! This set costs less than $50 for two panels and the reviews are stellar! (As of this writing, the pair of curtain panels for the longer 95″ length was less than $20 per panel!)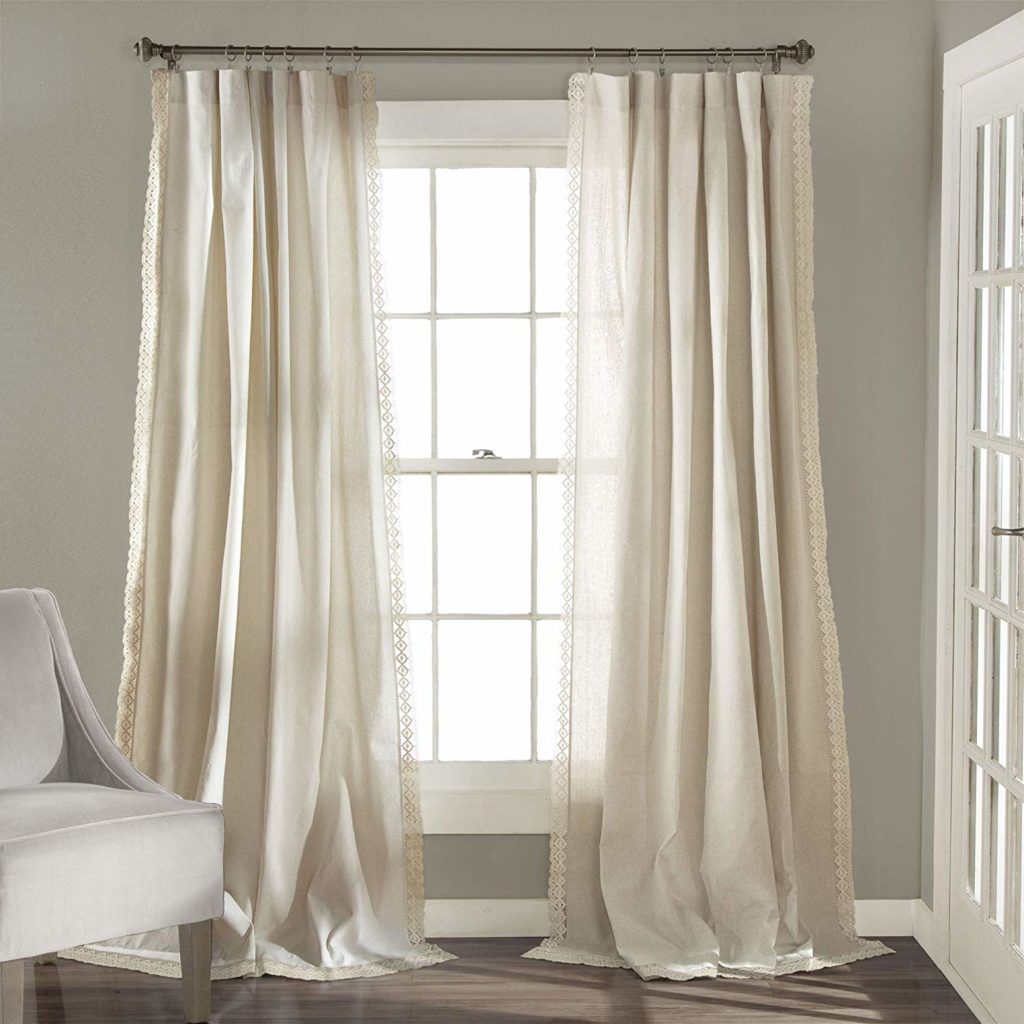 Jute striped curtain set – I love jute curtains and these striped ones are totally farmhouse ready. If you are looking for great cheap curtains, these World Market beauties cost less than $40 for pair!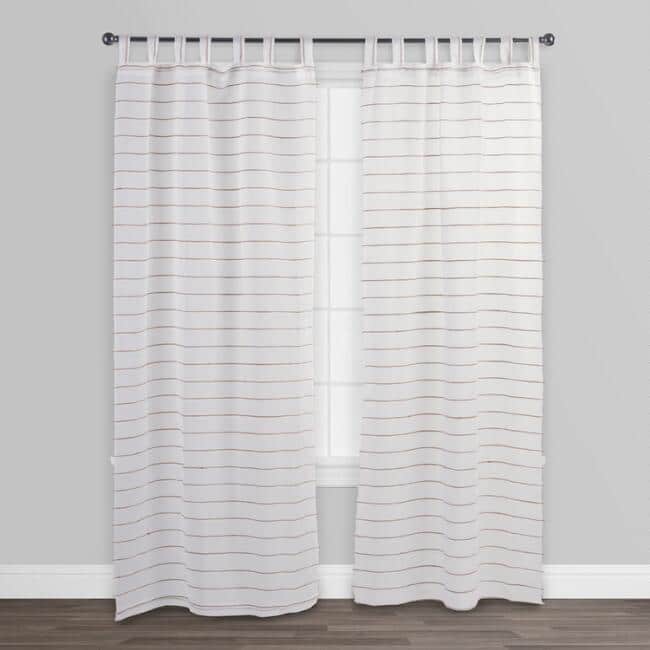 Tie up room darkening curtains – This one is another great deal for a kitchen or bathroom window. It definitely qualifies as a cheap curtain—it is less than $14! So cute for farmhouse style. This thermal curtain can tie up to fit on any window or style and it is available in multiple colors if you aren't feeling the white version.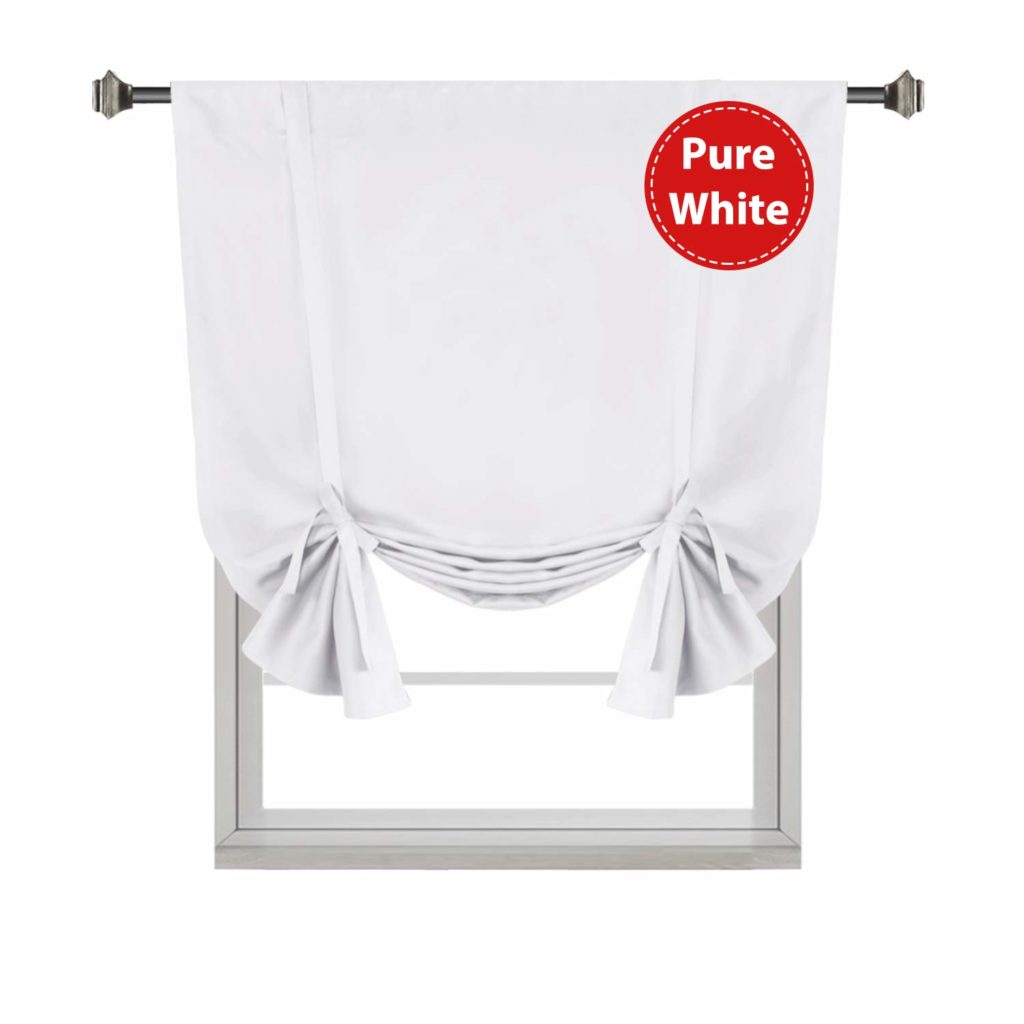 Sheer crinkle panels – these simple white crinkle sheer panels are a classic and a great cheap curtain for under $30 for the pair!
Sheer natural panel set with white trim – How cute are these? If you are a Pottery Barn fan you should snatch these up—they are currently on sale for less than $30 and make a great cheap curtain option for any room!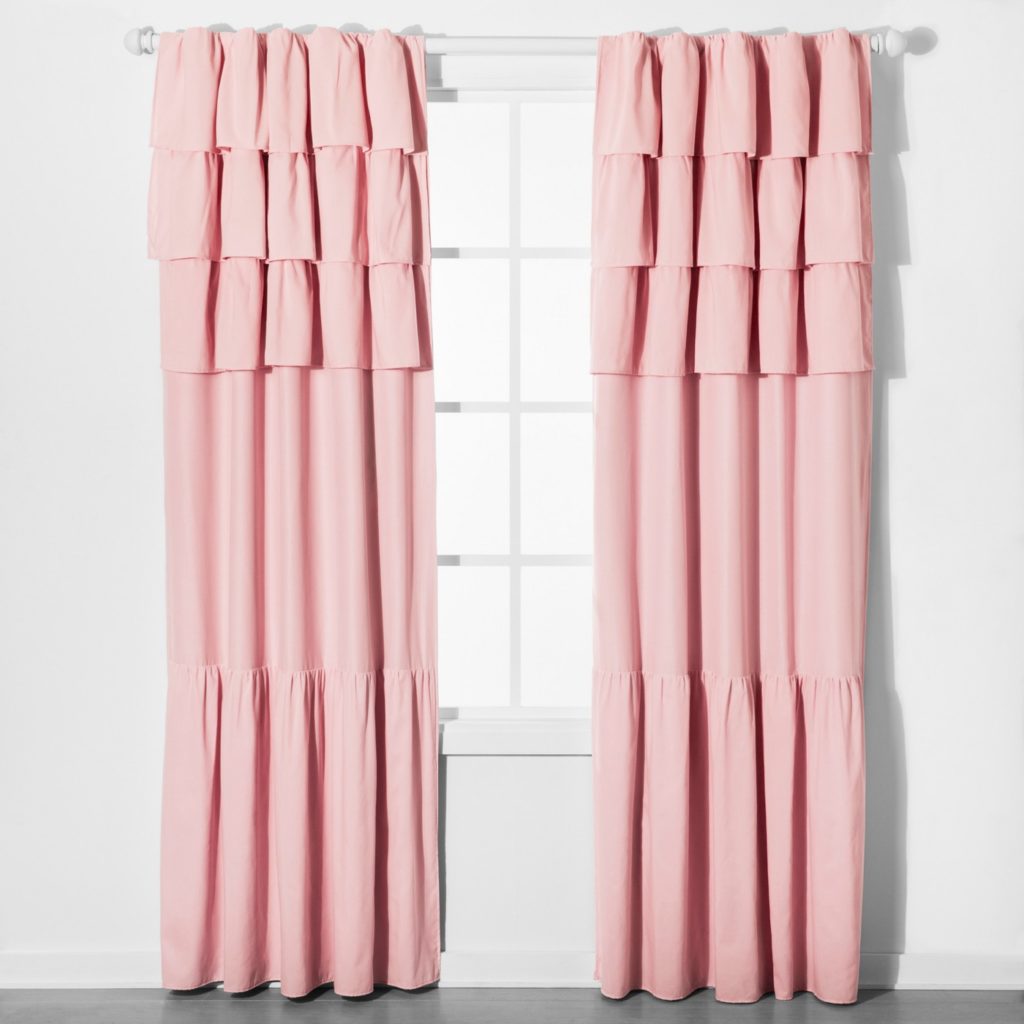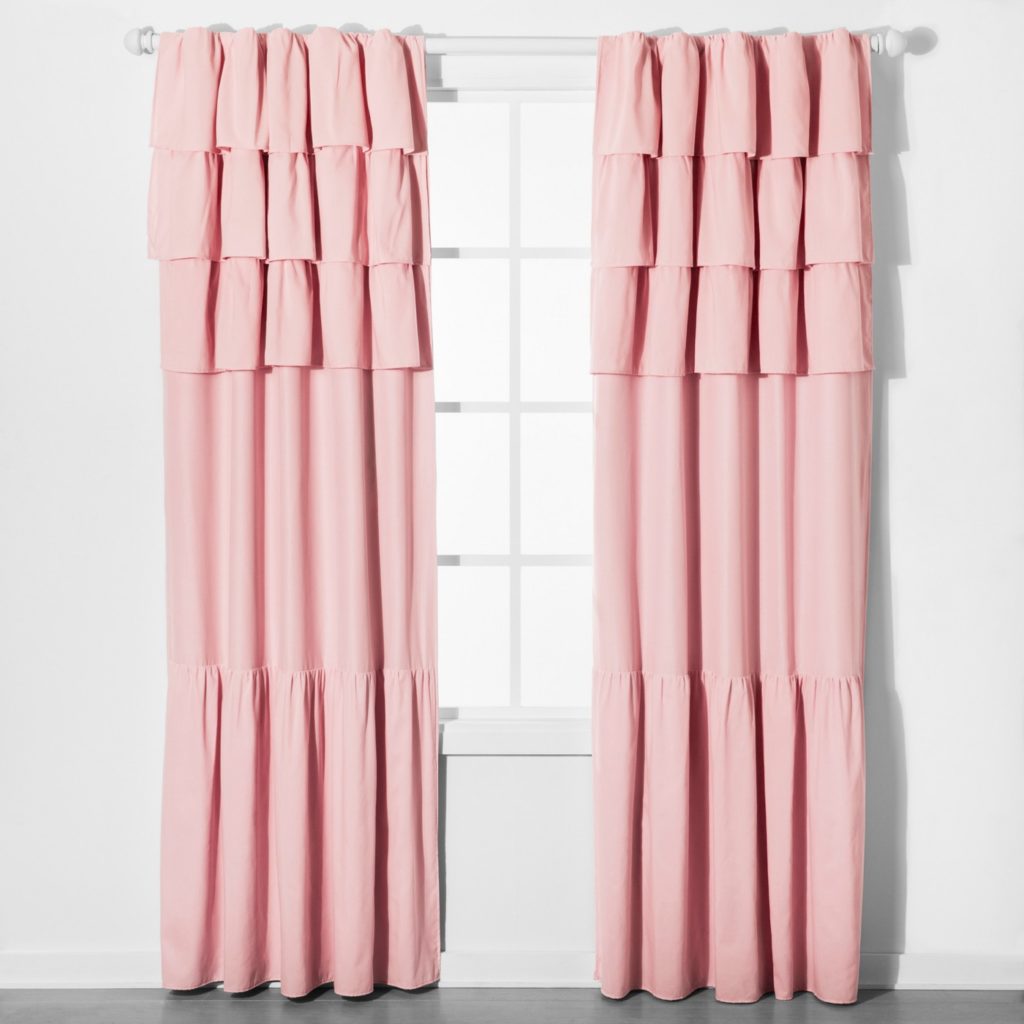 Blackout Ruffle Curtains in 3 Colors – I know good quality blackout curtains can be hard to fit in the budget, but these ruffle curtains not only are adorable for a little girl's room, but are really great quality too! I have them in my daughter's room and they block the sunlight perfectly! They have white and turquoise colors as well as the pink.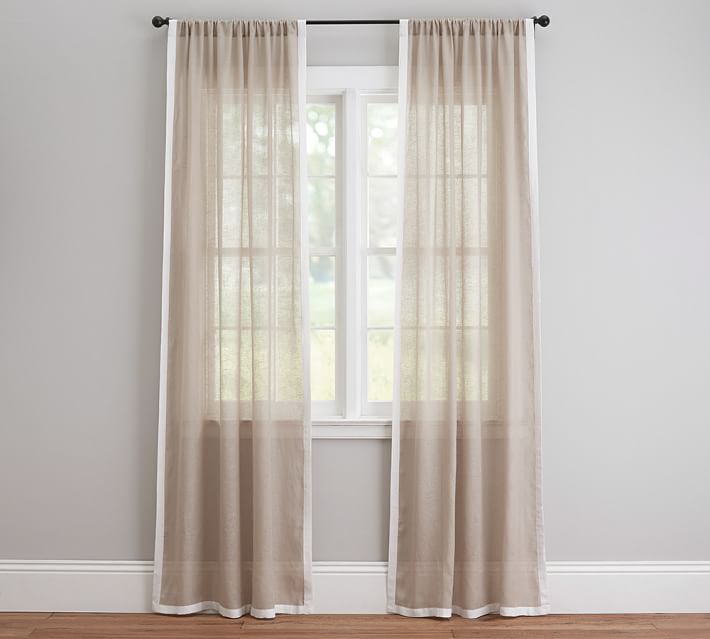 Check out all of these great cheap curtain options:

How to Hang Curtains the Right Way
As we established before, curtains can instantly transform a room. And when hung right, they can give the illusion of height in a room, visually widen a window and letting in huge amounts of light. I try not to be bossy about the right and wrong ways of decorating, but I put my foot down when it comes to hanging curtains the right way.
My rule of thumb is always to hang them …
HIGH AND WIDE.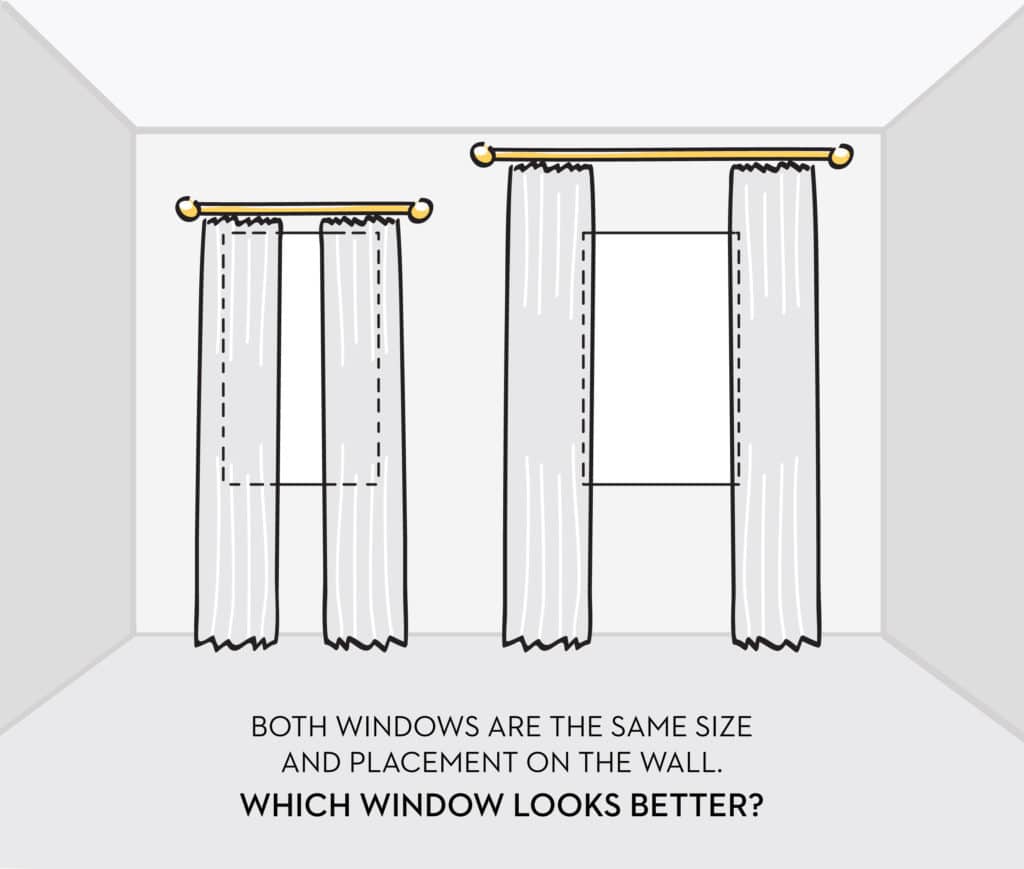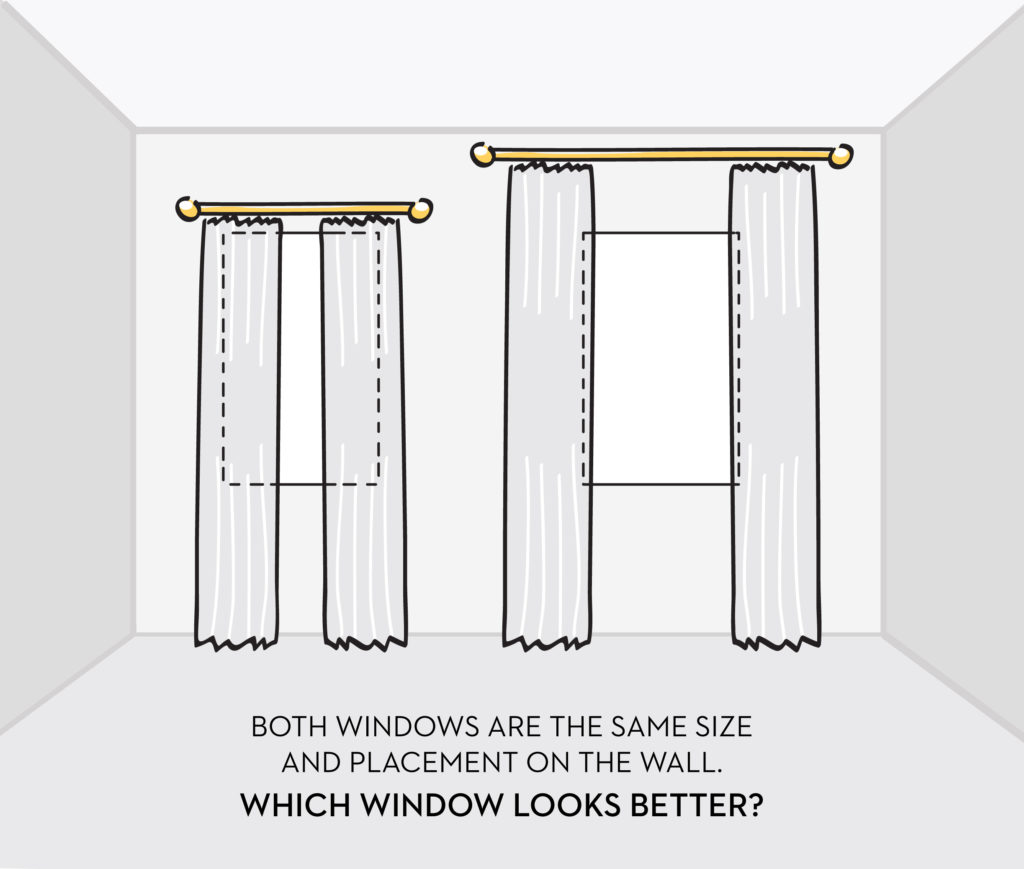 1. Hang those curtains as high as you possible can and the curtains will still skim the floor. A good rule of thumb is 4-6 inches above the window frame.
This draws the eye up to the ceiling, and tricks the brain into thinking the room is larger, instead of chopping the room off at a lower height and making the room feel smaller.
You can see how I did this in my kitchen.
I originally hung the curtains right above the trim in this first photo.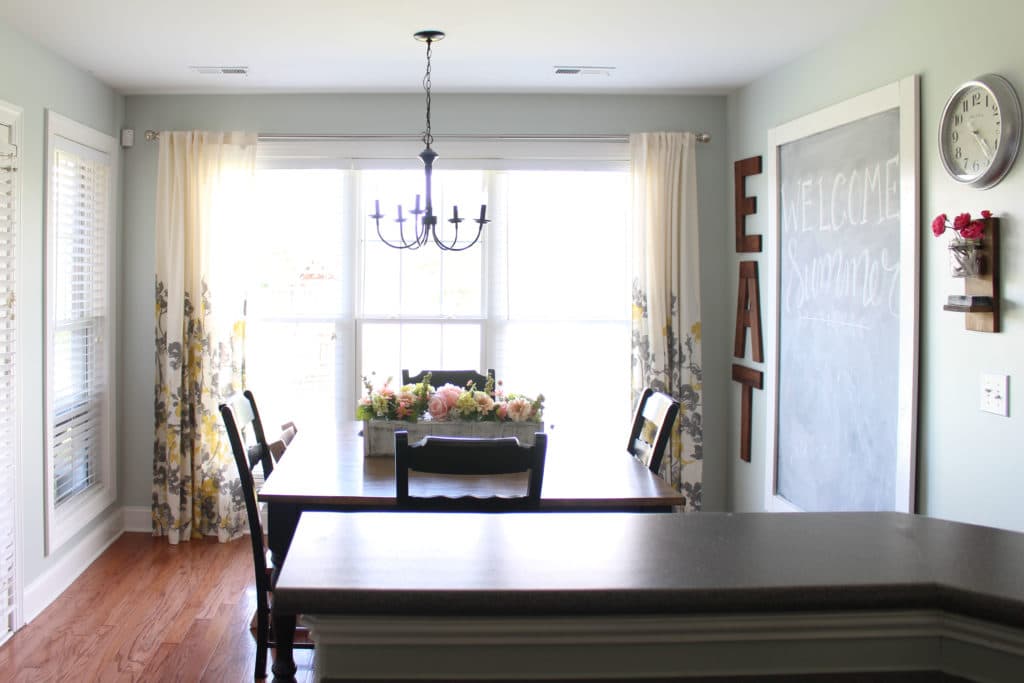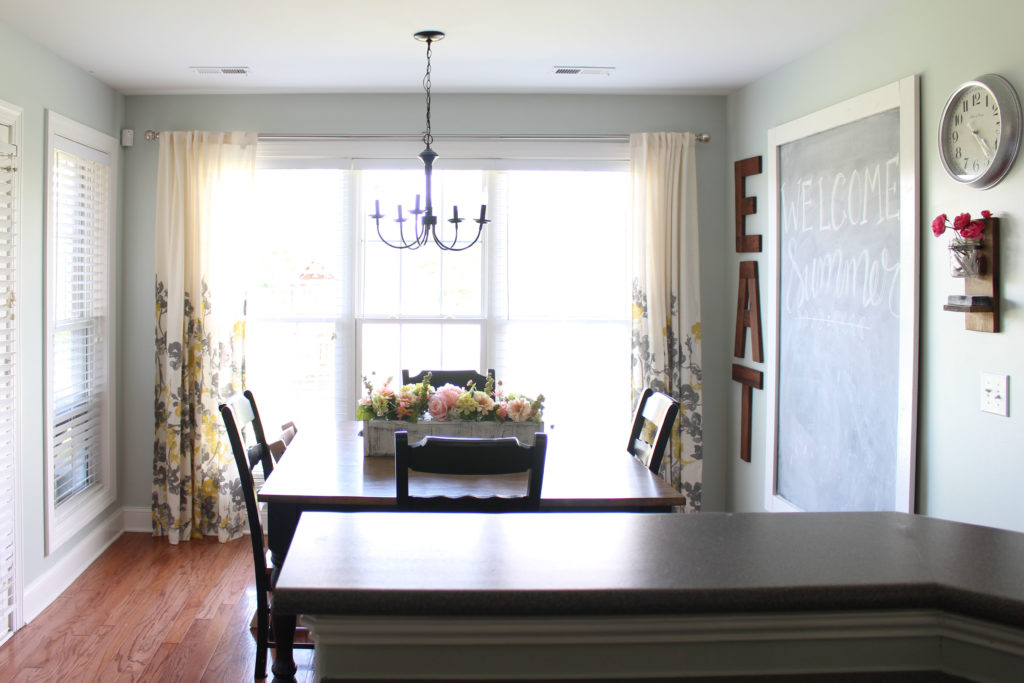 But then when I bought new curtains, I ordered them in a longer length and they go all the way up to the ceiling.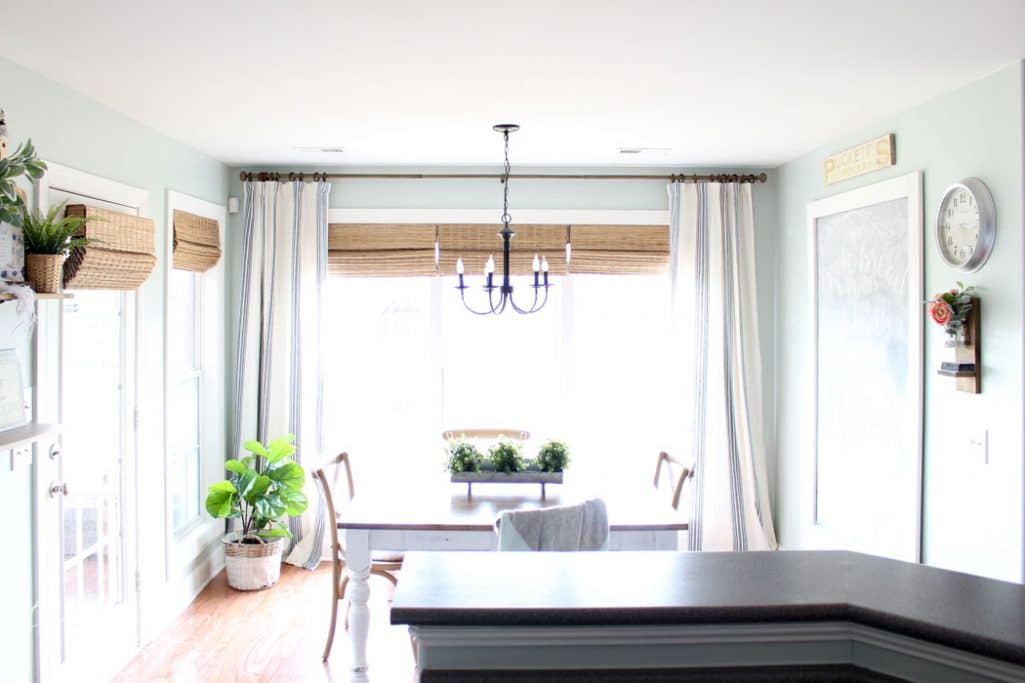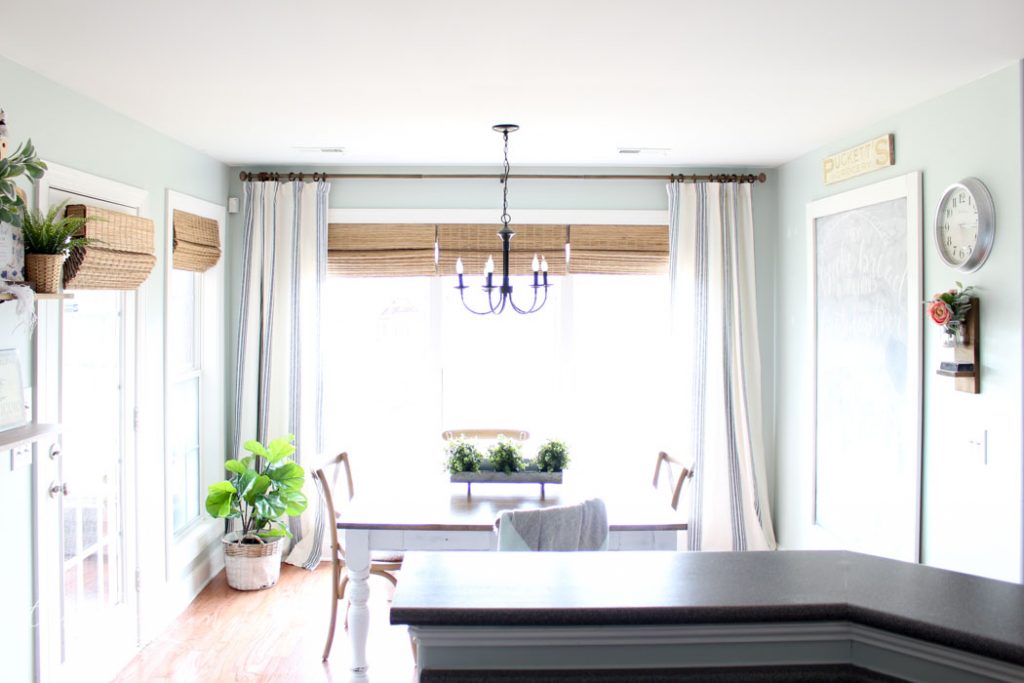 I even utilized this trick when hanging my bamboo shades. I had already hung my curtains high in the living room, but when I installed my bamboo shades, I ordered them extra long so that I could bring them up to where I hung the curtains.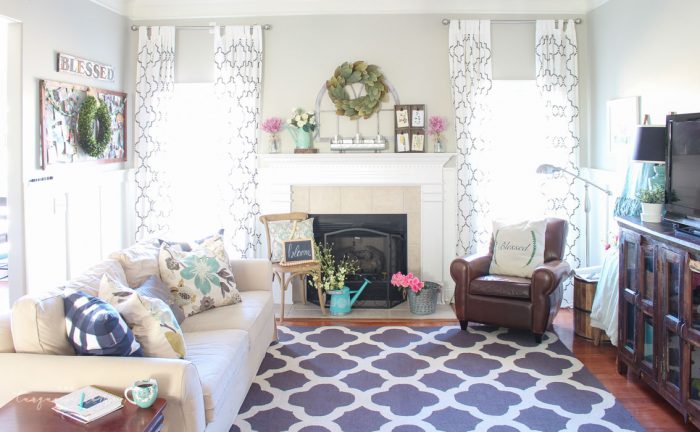 They are installed at the very top of the window making it look like I have really large windows. See how it draws the eye up and makes the most of the high ceilings in that room?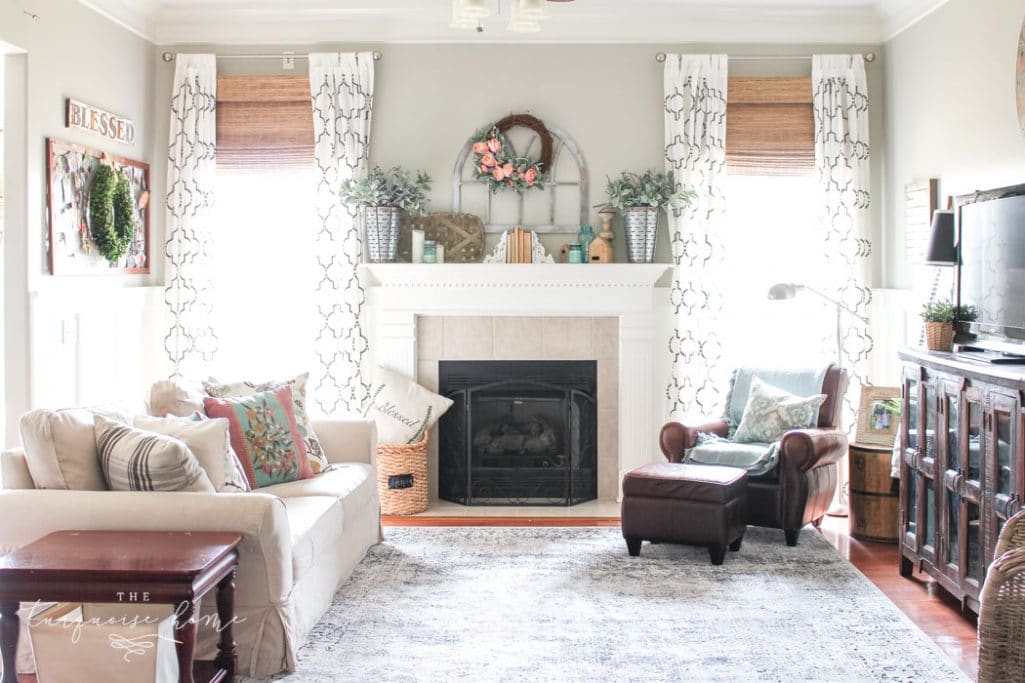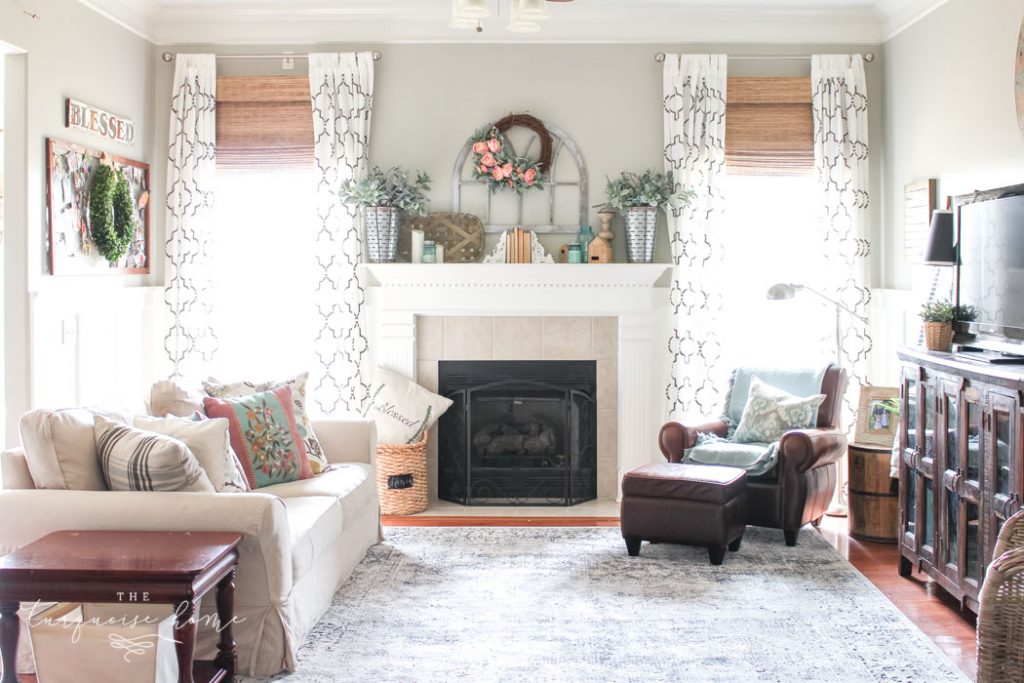 2. Hang the curtains wider than the window, giving it a grander appearance and letting the most amount of light in. A good rule of thumb is 3-6 inches past the window trim.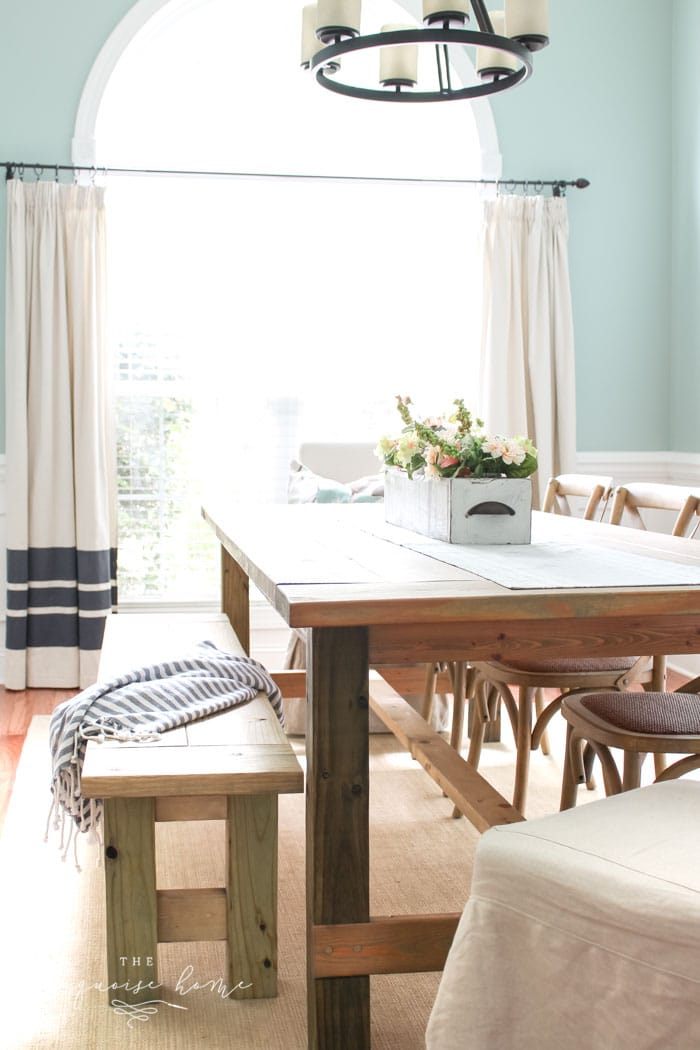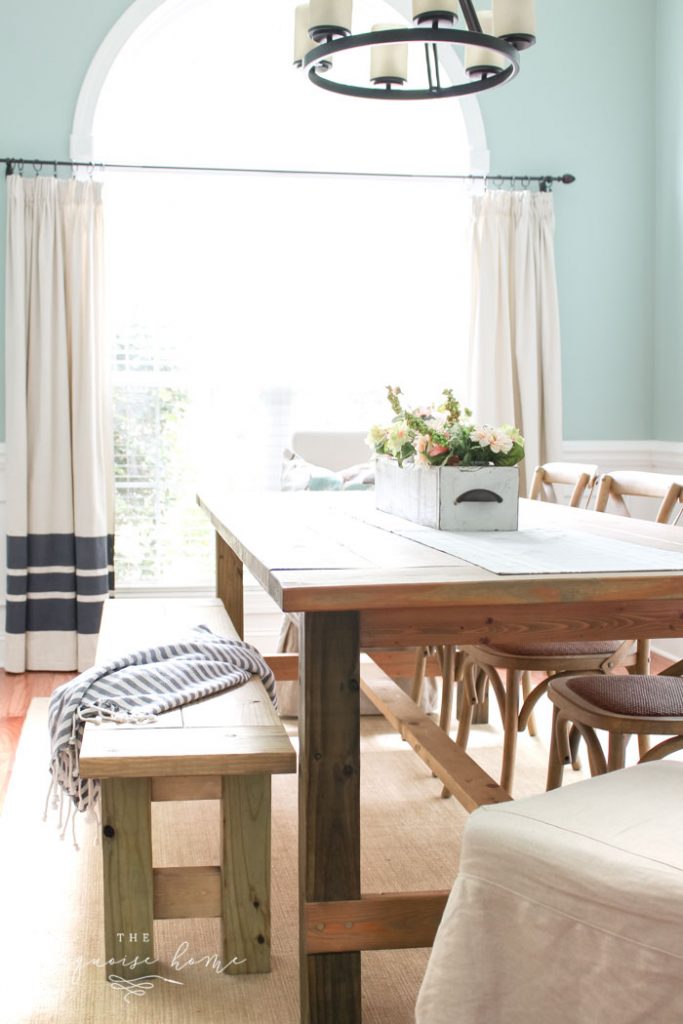 You can see how I did this in my dining room in the photo above. I extended the curtain rod outside of the window trim to the width of the curtains when they are open. These aren't functioning curtains so they stay this way all of the time, but they allow the most amount of light in at any given time!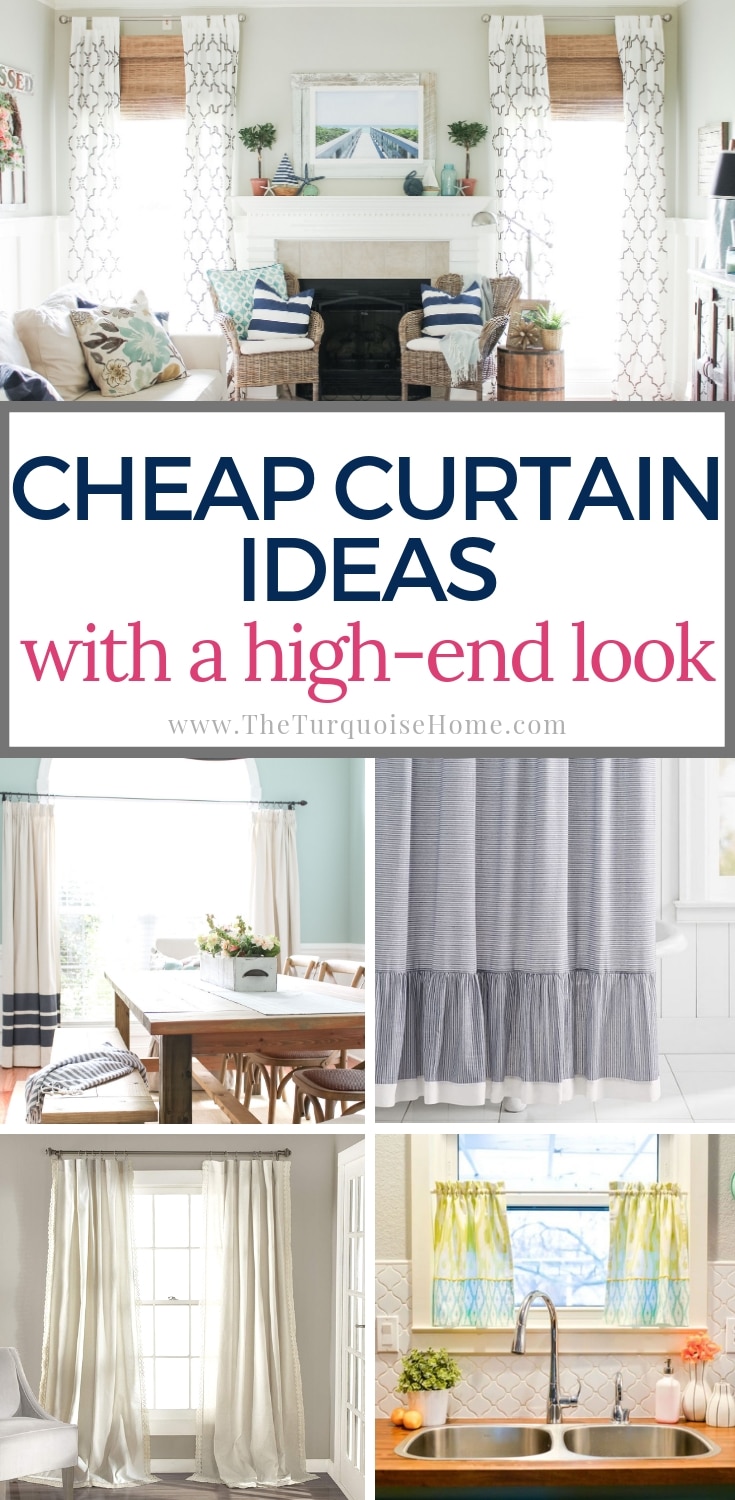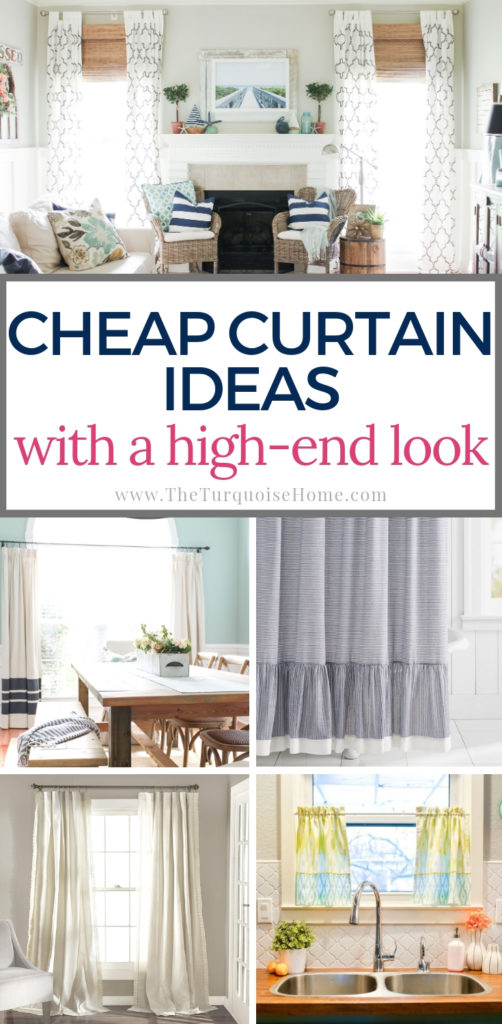 Now that you have plenty of options for cheap curtain panels and know how to hang them correctly, it's time to make a decision and get those curtains up! Which idea is your favorite??
If you have any other ideas for cheap curtain ideas, let me know in the comments!!
MORE POSTS YOU WILL LOVE: