These Christmas color palettes break the mold of the traditional red, white and green of years past. Switch it up and try these holiday colors this season for a modern, fun twist on classic Christmas.
Christmas is fast approaching, and it's time to start planning for your holiday decorating this year. I always like to plan a color scheme each year and order wrapping paper and new ribbons for the tree based on that initial decision.
And you'll always see some pops of red in my decor, but it's honestly not my favorite color. So, I like to try to think of ways to decorate without using the traditional colors. This year, I'm excited to share my favorite Christmas home trends that aren't red.
If you feel lost and don't know where to even START with planning your holiday decor, my Holiday Planner has a whole section dedicated to helping you think through and plan your decor. PLUS 3 more sections on budgeting, gift giving and entertaining! Use code FIRSTNOEL to get $7 off! CLICK HERE
Don't get me wrong; red has a time and place. It's a very classic choice for holiday colors, and been faithfully around decorating homes and offices for years. However, it isn't typically my style or go-to color in my decor (or even closet for that matter).
This year, I want a more subdued, farmhouse-friendly look that has a huge impact. Golds, silvers, pinks, blues, and even black are some of the hot Christmas color trends for this season.
Grab your favorite pair of PJs, a cup of hot chocolate and your favorite holiday music while you scroll through these beautiful Christmas color palettes. The most wonderful time of the year is about to begin! 🎉


Christmas Color Schemes That Don't Include Red
There are many reasons to choose colors other than red and green for your home decor at the holidays, but my number one reason is that they are GORGEOUS and need some love too.
These modern holiday colors will add warmth and tranquility to your space, and home will feel even more relaxing during the holidays. Check out these ideas for inspiration.
Copper and Blush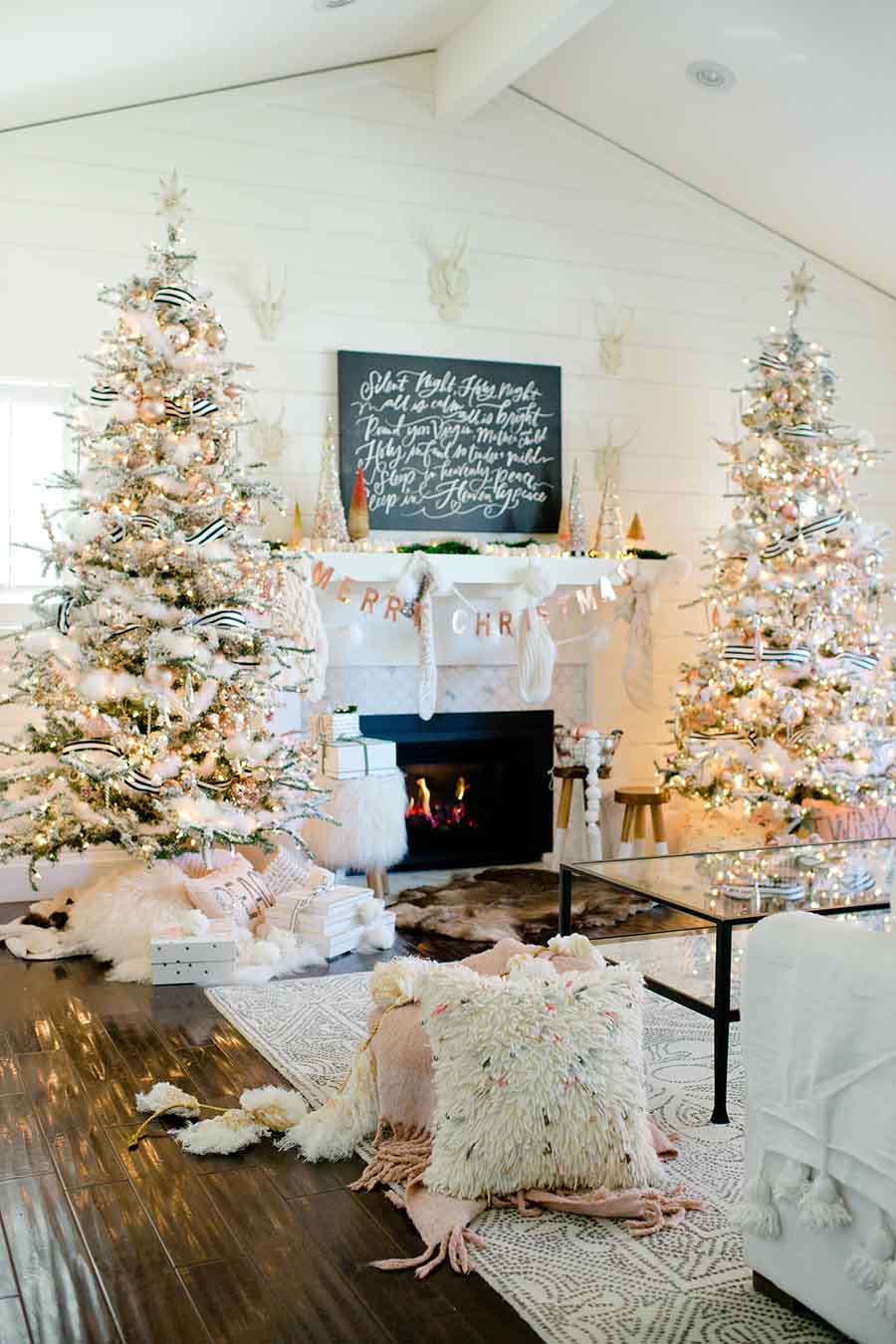 This gorgeous mix of copper, white, and blush is one of the most beautiful modern Christmas color schemes! Ashley at Modern Glam did an incredible job layering in all the different textures and elements in this stunning room.
With the vaulted ceilings and ample space, she did a fantastic job choosing two Christmas trees that are large enough to fill the space. The comfortable pillows with billowy texture add charm and reinforce the color scheme.
Blush and copper are repeated throughout the room and looks beautiful up against the shiplap background. I love the large chalkboard that serves as the focal point on the mantle too. Even the packages under the tree are well thought out with this immaculate decorating style.
Lots Of White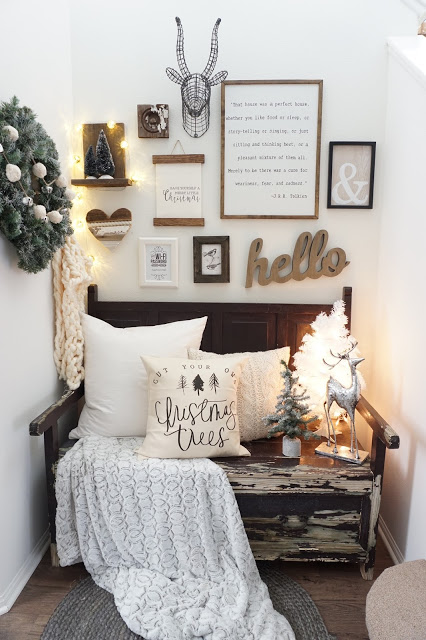 When you have a room that has white walls, you might be afraid to decorate with the color, but it's an asset. Using white decorations will make the room feel even more inviting, bright, and cheery. Karen at Mrs. Rollman did a great job incorporating a rustic feel with the green wreath, trees, and all the rustic natural elements.
It's a great idea to utilize furniture you already have, like this beautiful distressed bench. You can easily repeat this Christmas color combination throughout each room in your house for a look that screams farmhouse style. You can't help but feel invited and cozy!
Black And White With Gold Accents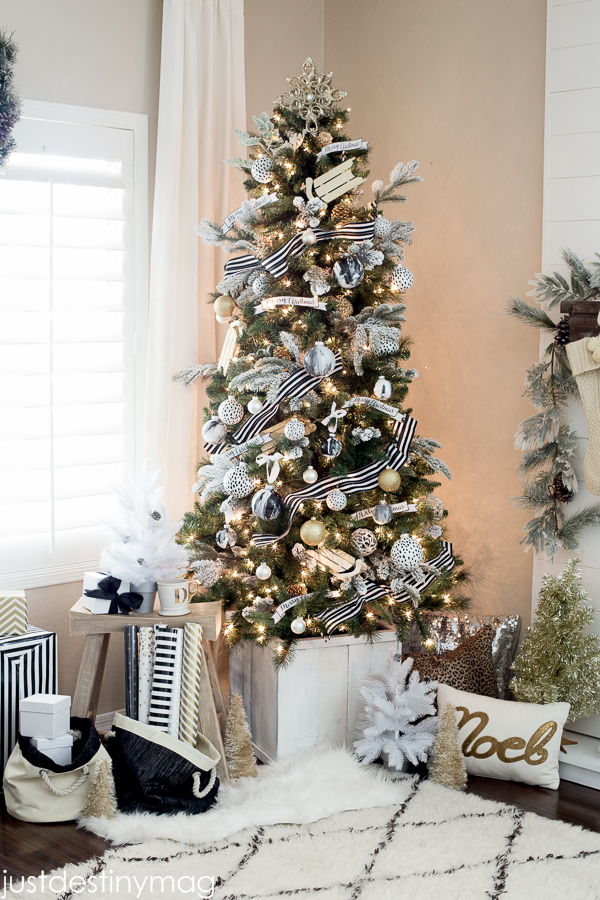 Black and white may not seem like a popular Christmas color scheme, but this classic pairing definitely works! Both colors in this Christmas color palette are neutral enough to be layered into any space.
In this room by Just Destiny, your eye is immediately drawn to the black and white ribbon on this lovely tree. Black, white, gold and silver ornaments give the tree a fresh and rich look. With the hints of gold added in, you have a luxurious, majestic feel to the room.
Everything in this room is so welcoming and classic. My favorite part of this look is all the white frosted greenery throughout the space. It adds a bit of sophistication without going overboard.
Jewel Tones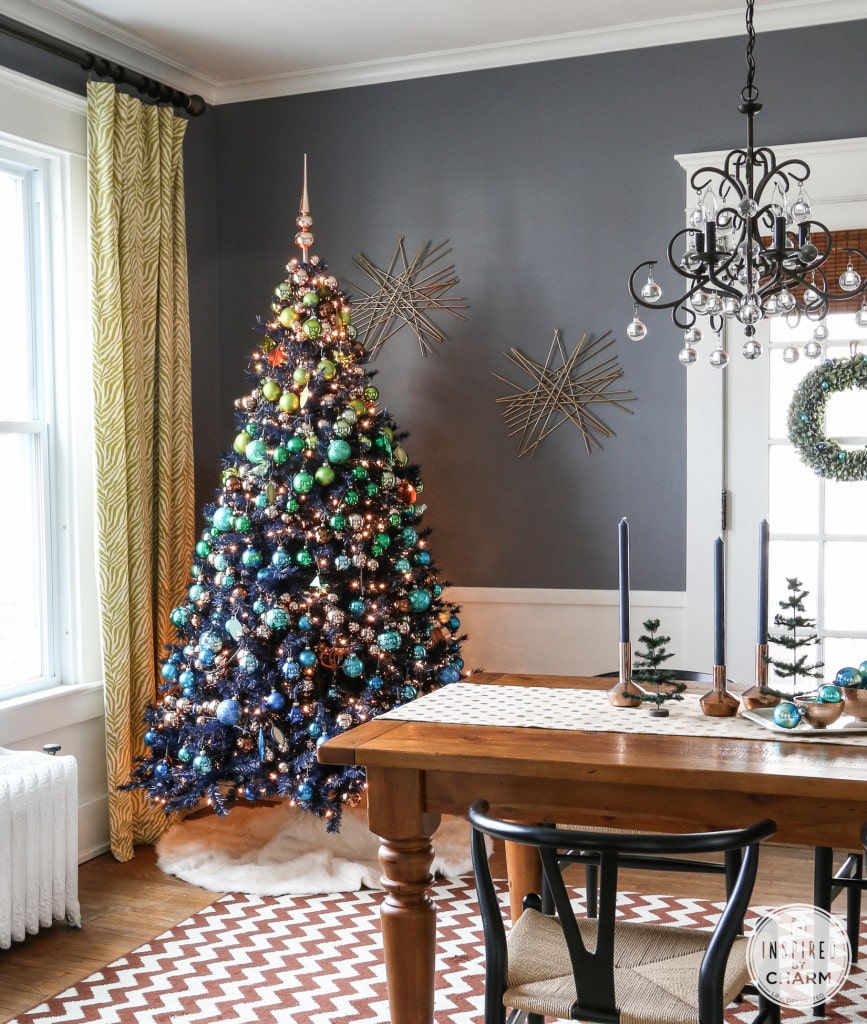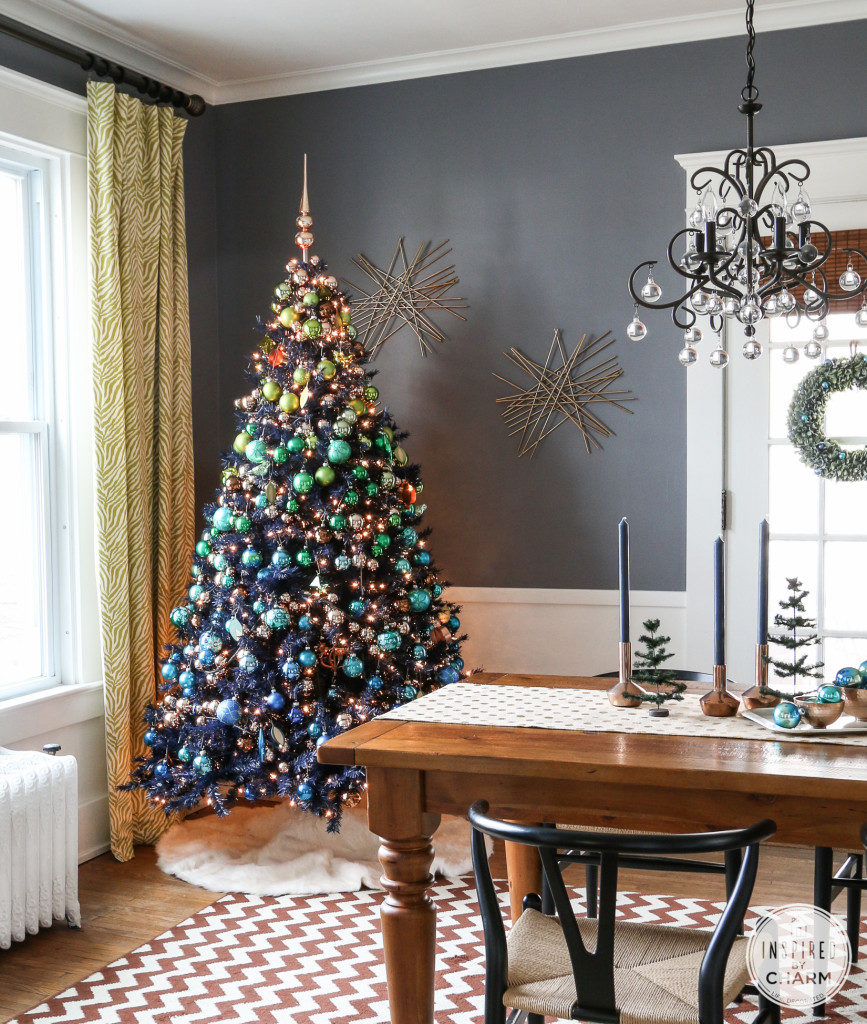 It's untraditional, and yet it's entirely festive! Use any combination of jewel tones for Christmas and it's sure to be beautiful – from magentas to bright teals and crisp lime to sunshine-y yellow. I love how Michael at Inspired by Charm create this almost monochromatic jewel-toned tree by sticking to a blue and green palette.
Greenery & Pops Of Color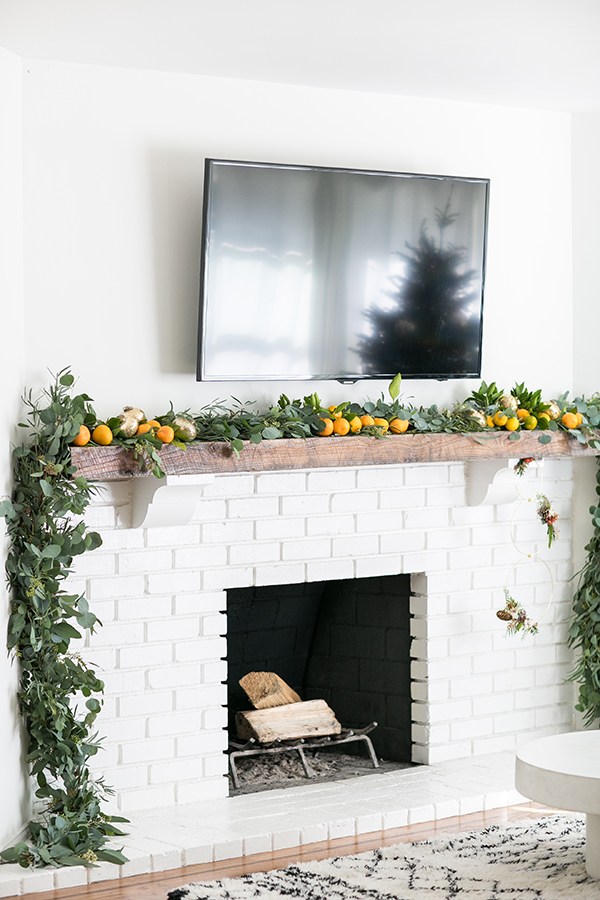 Who would've thought that bright orange would work as a holiday color? When layered with the garlands of eucalyptus, these bright oranges give the perfect contrast of colors. The attractive white fireplace is warm and inviting and serves as the perfect backdrop to this beautiful handmade garland.
As you can see in this photo, Eden at Sugar and Charm chose to skip the traditional red colors and opt for a more modern look. It's a win!
Bringing nature into your decorating is a lovely way to add so much charm to your space. It just feels more welcoming when you see anything from nature, be it pinecones, leaves, and yes—oranges.
Go Pink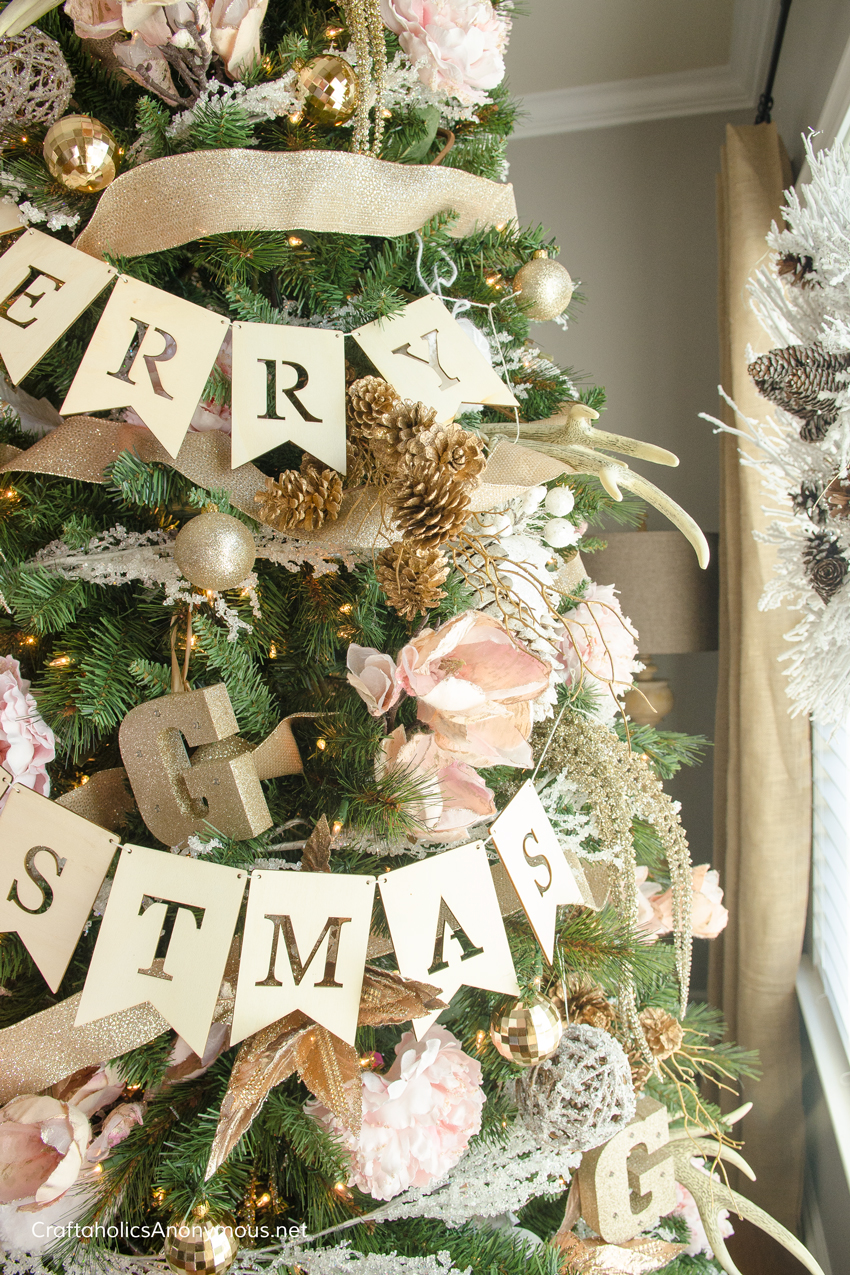 Here's another unexpected Christmas decor item that totally works: large pink flowers. These pretty elements are layered with gold ribbon, ornaments, and pine cones for a stunning feminine design.
While the colors are subtle, they make a significant impact on the overall look and style of the tree. Don't be afraid to add some variety other than simple ornaments. Different textures draw the eye, just like Linda at Craftaholics Anonymous used on this tree.
Adding white or amber colored lights give the tree an enchanting look without being overwhelming. The look is charming, and you aren't going to want to leave the room any time soon.
Try Blue and Silver Christmas Decorations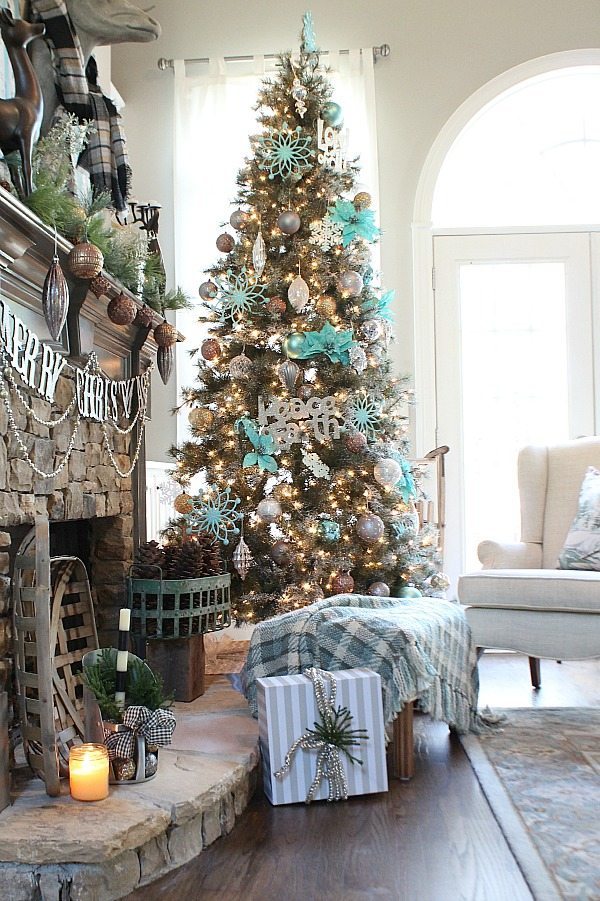 If you are looking for classic Christmas colors that aren't red and green, blue and silver Christmas decorations may be just the thing to reach for this year.
Debbie at Refresh Restyle elegantly added touches of light blue to her beautiful tree. She embraced the rustic feel of her living room and even enhanced it by adding additional items with silver to the room.
I hope the rooms above show you just how vast the Christmas color palette can be this holiday season. There is so much you can do with your decor this year—no red necessary. Try out new things and see how gorgeous it ends up being!
MORE POSTS YOU WILL LOVE: