How to Put Lights on a Christmas Tree (so it glows!)
Learn how to put lights on your Christmas tree to make it glow beautifully! Get the step-by-step instructions for Christmas tree lighting tips.
Are you wondering how to place a string of lights on a Christmas tree beautifully? These easy-to-follow tips will show you how to put lights on your artificial Christmas tree.
I will help you create your best holiday tree yet with these easy holiday decorating ideas. I've even got tips for adding lights to a real tree at the end!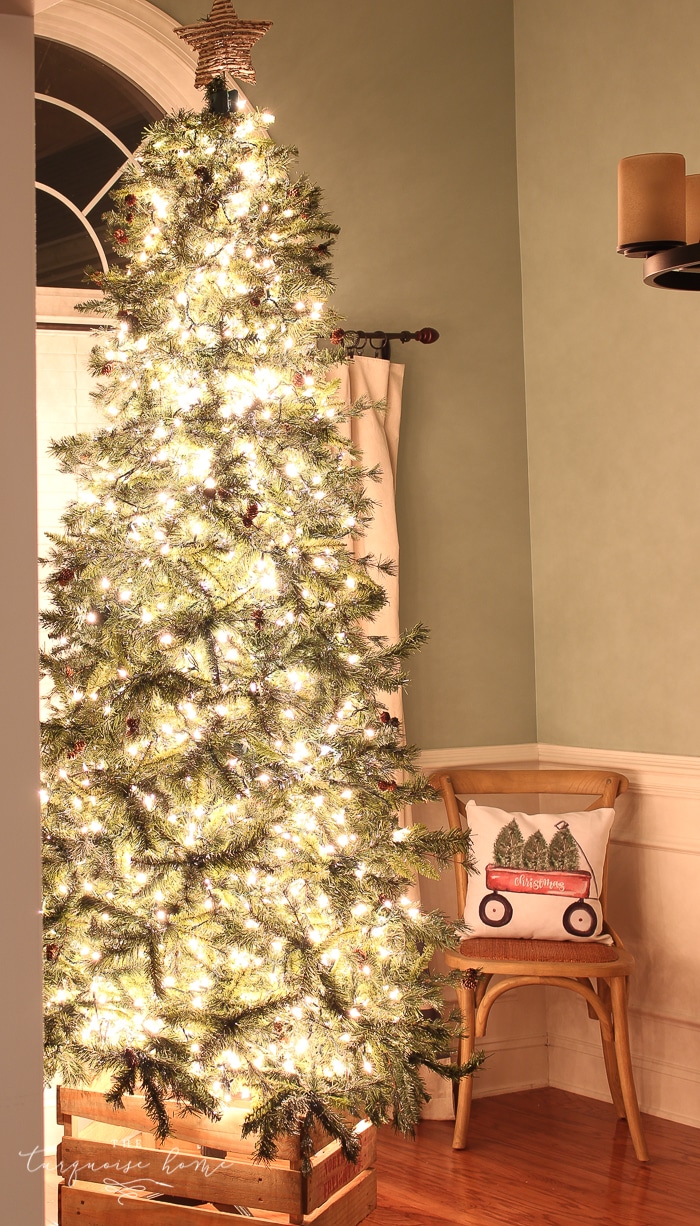 This post contains affiliate links for your convenience. See my full disclosure policy.
So many artificial trees come pre-lit, but I prefer to put my own lights on a tree. That way when you put your tree up and a light strand doesn't work, it's not that big of a deal.
You just run to the store and buy a new strand or two.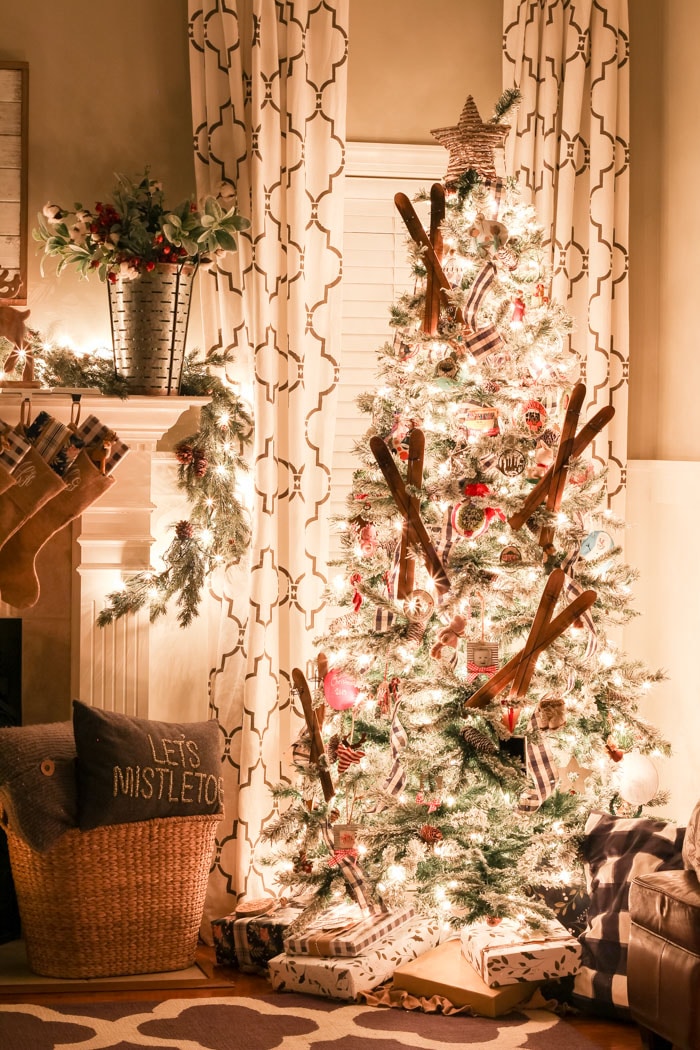 I love sharing about all things Christmas decor! I've shared all about the best artificial Christmas trees, how to decorate a bedroom for Christmas and how to decorate with Christmas ribbon. My hope is that these articles give you inspiration to create a home you love for the holidays!
✅ Do you still need to buy lights for your tree?? Grab some HERE! These lights are perfect and come with a 4.6-star rating!
Navigate this post by using the drop down Table of Contents menu below. And don't forget to pin this post for later!
The Best Way to Put Lights on a Christmas Tree
Let's take a minute to learn how I get my Christmas tree to glow without looking like it's a big old ball of lights. I wasn't going to share it because I feel like everyone knows this already. But I am always learning new, simple tricks from people, so I'm sure there's someone out there who will benefit from this.
When I was growing up, I remember taking a strand of lights and walking it around the tree in a circle. I would simply rest the lights on each layer of tree branches and call it a day!
But as I got older, I realized there was a better way! It involved wrapping each individual branch with lights! Duh!
Not only did I get the glow I was hoping for, it made the lights disappear into the branches of the tree. Win/win!
1. Buy More Lights Than You Think You'll Need
This way of hanging Christmas lights is really simple, but it makes you use way more lights than you think you'll need. So, just get extra twinkle lights, OK? Keep the receipts and return any extra lights you don't need.
The rule of thumb is 100 lights per 1 foot, so if you have a 9 foot tree like me, you'll need 900 lights.
2. Check to See if the Lights Work
Before putting lights on the tree, make sure they work. And leave them on while you put them on the tree so you can see how it's going!
3. Weave the Lights up and Down Each Branch, Starting from the Bottom of the Tree
Weave the lights up and down each side of the branch from trunk to tip. You'll start by running the lights to the middle of the tree, then along each branch. Once you've done one branch, move on to the next branch, until you reach the top of the tree!
Start at the bottom of the tree! Think of it as building your tree light foundation a little at a time. Put the first section of your tree in and work one branch at a time. This will help keep all of the string lights easy to manage.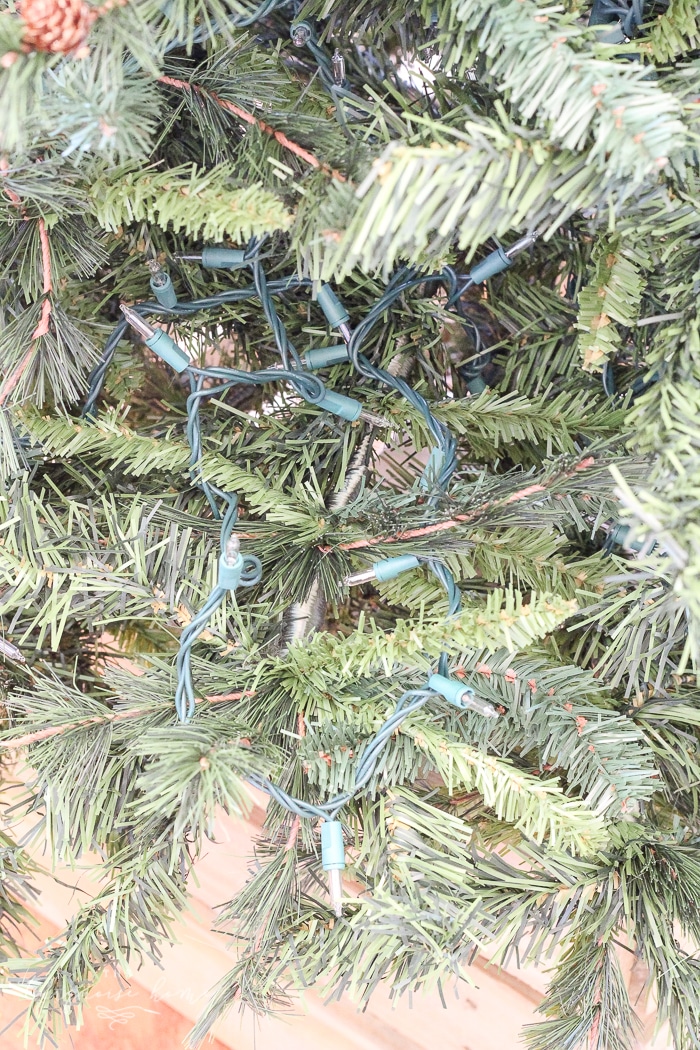 It's kind of hard to make out in that picture, so I drew a little line with arrows showing how I do it…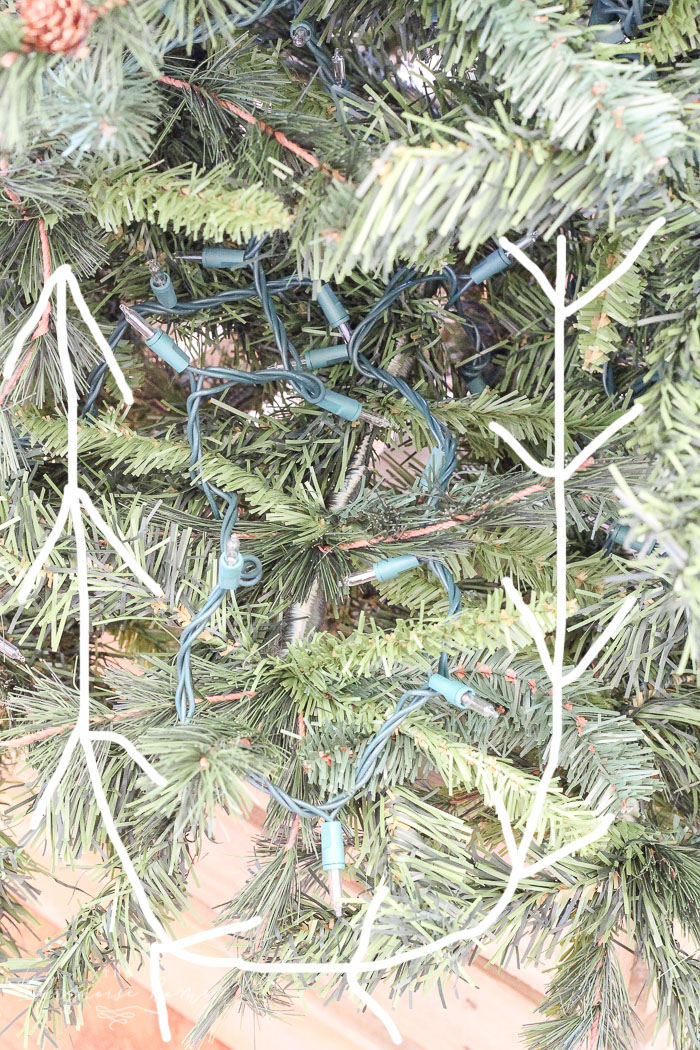 You go up one side and down the other, until you reach the top of the tree.
Yes, it may seem like overkill, but when your tree literally sparkles and glows from the lights, you will love it!
4. Step Back Frequently
Take a step back to assess your branches at frequent intervals. This will help you see how the tree is coming along and makes sure you don't have any empty spots!
5. Use an Extension Cord or Power Strip
Don't string 18 – 50 light strands together. It's just too much.
I will string maybe 3-4 strands together and then run them down the back of the tree to my extension cord or power strip. I've tried to put too many strands together and it'll blow the fuse on one of them and cause all kinds of headaches.
In recent years I've discovered the magic of smart plugs for my Christmas trees! Even if you have a pre-lit tree, this time is gold. No more crawling behind the tree to turn off the Christmas tree lights at the outlet every night.
These smart plugs (or smart power strips) connect to a free app on your smart phone. You can program the plugs to turn on at a certain time each day and turn off again. I absolutely love waking up in the morning and walking into the living room with the glowing lights already on. It ups the holiday magic, for sure!
Final Thoughts
And now you have a beautifully glowing Christmas tree! It's so simple, and yet I know people who don't know this, so I hope it helps!
When the lights are done this way, they aren't nearly as noticeable, either! Especially if you are used to just wrapping the tree like a mummy. Then all you see are the lights and not the pretty branches! This way the tree literally glows from the inside.
Isn't it so pretty?
I hope this helps your tree to glow beautifully this holiday season!
Frequently Asked Questions
How many strands of lights do I need for lighting Christmas tree?
The rule of thumb is 100 lights per every foot of tree. So if you have a 9 foot tree like me, you'll need 900 light bulbs.
Do you start stringing Christmas tree lights from the top or bottom?
Always start stringing your lights at the bottom!
Do Christmas lights go on the tree first or last?
Definitely put lights on the tree first, before any ribbons or ornaments. I share more about the order of decorating a tree in my how to decorate a Christmas tree post.
Really Tree vs. Artificial Tree
You can use the same method to string lights on a real tree. You just don't have the defined branches on a real tree. So, a simple way to get the full light effect is to push the strand toward the trunk of the tree, then weave it back out to the tips of the branches. You may want to use gloves to protect your hands!
What are the Best Christmas Lights
Use green wire lights with 50 to 100 bulbs per string. These will be comfortable to handle and will blend in with your green branches. Mini lights will help your tree achieve the glow effect we're going for!
Incandescent Lights vs. LED Lights
Incandescent bulbs give the traditional warm white glow while LED bulbs are brighter and a little more harsh. But LED pose fewer safety risks since they don't get hot like an incandescent bulb. Tip: turn off Christmas lights while you're away from the house so there's less risk.
Browse our favorite gifts for everyone!
Need to buy a gift for someone special? I've gathered my favorite gift ideas for men, women, teens, kids, babies, moms, dads, teachers, friends and anyone else on your list!
More Posts You Will Love: