Simple tips for adding summer decor to your home without redecorating your whole house! I love sharing my budget-friendly, simple, doable tips for injecting some fun into your "summer home"
I love, love, love summer and all that it entails. Trips to the beach and the lake, wearing out our welcome at the neighborhood pool. Pretty much spending as much time outside near cool(ish) bodies of water trying to get relief from the hot southern sun. That's where you'll find me in the summer time.
Did you know that the ocean is the inspiration for my blog name and signature colors? Some might think I was inspired by a turquoise stone, but no, it's the beautiful ocean. When we were on vacation a couple of years ago, I was mesmerized by the gorgeous blue waters. And I kept thinking – these are my blog colors! Ha!
I would walk up the beach access every morning and as I got closer to the water, I was met with this view…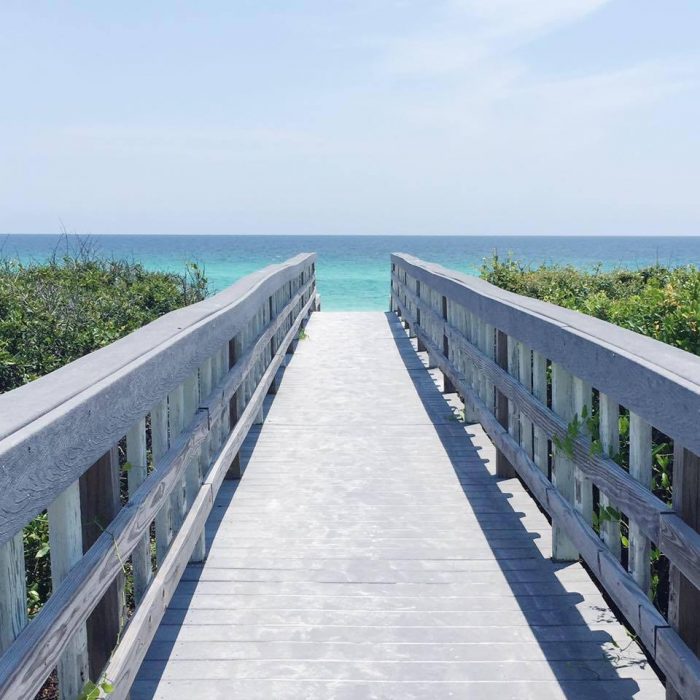 Breathtaking!
Side note: I ended up turning this photo into a beautiful piece of art. You can purchase the photo here to make your own!
And as I sat in my chair (for 2.5 seconds before I had to chase a kid), I would look out at this view …
Yep! Those are my most favorite colors and that's why I incorporate blues and greens throughout my home. Adding them throughout the house, whether it's summer or not, brings me so much joy! So my home reminds me of the coast all year round.
But even if you're not headed on vacation to the beach or a vacation home or adding coastal colors year 'round, you can bring summer into your home right now.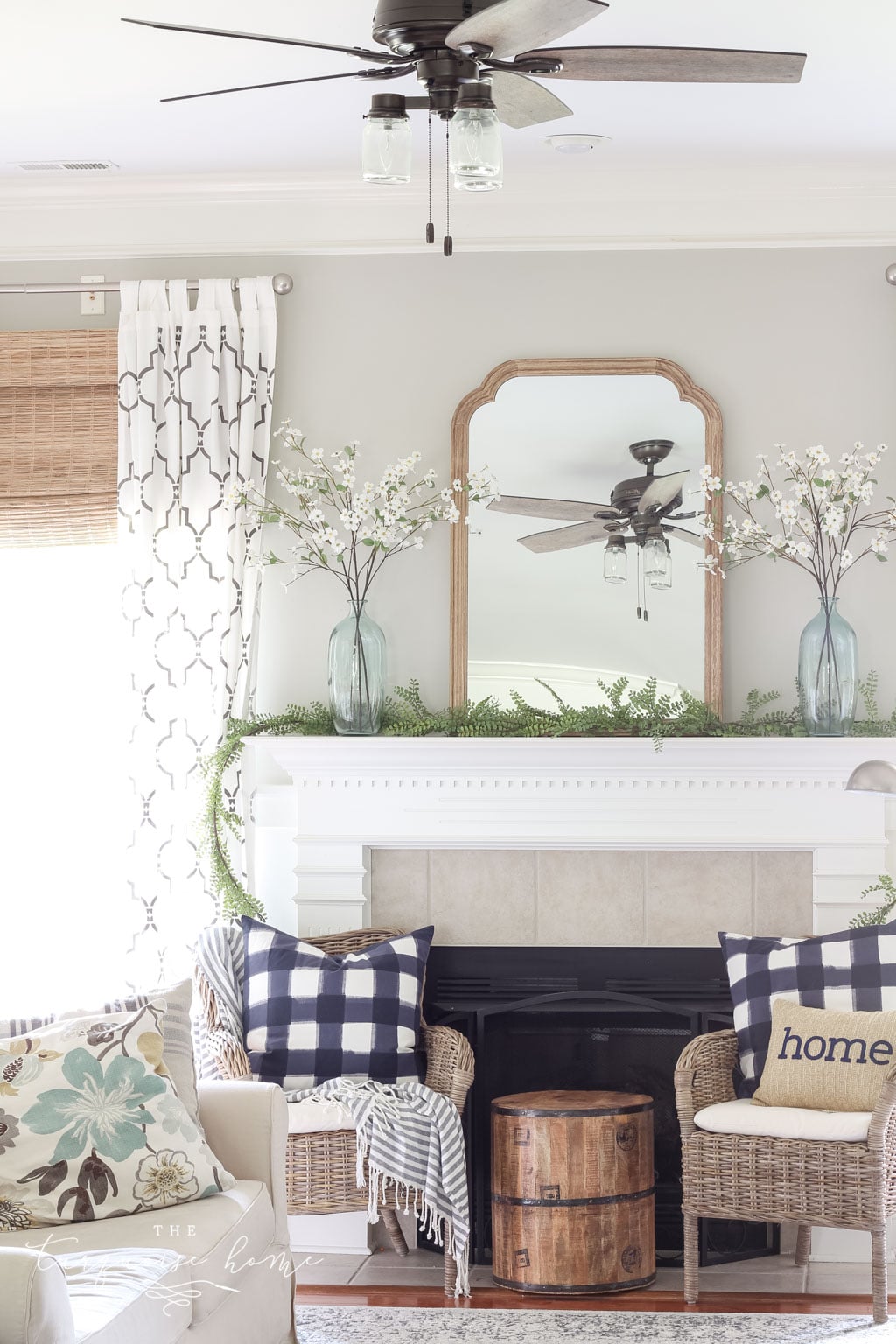 FREE BONUS!
5 Secrets Every Home
Decorator Knows
… to transform your home into your dream home!
And you don't have to overhaul your house to do that. Yes, you'll want to change out any heavy draperies for sheers or change out dark throw pillows for pretty florals, but you don't have to change it all.
5 Ways to add Summer Decor to your Home
Over the years I have learned how to not completely redecorate every season, and instead just add and subtract a little here and there with each season. While I do have a closet in my home dedicated to my decor stash, I don't want to be a decor hoarder and just have piles of unused decorations laying around waiting 9 months until they can come out and play again.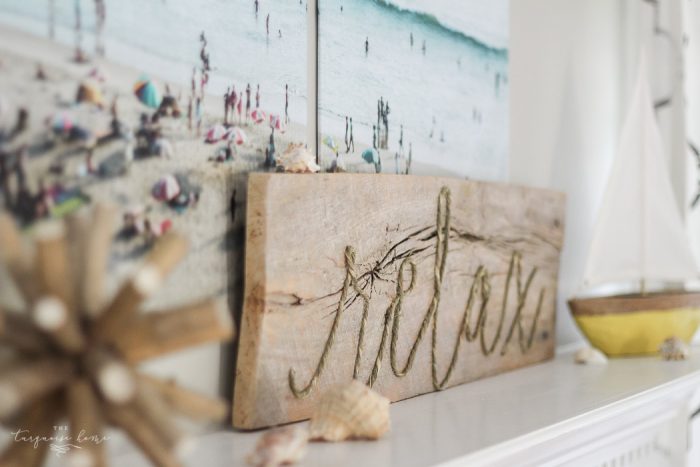 DIY Weathered Rope Sign tutorial
With the exception of my mantel, I just like to add little touches of changes to my home and keep most of it the same throughout the year.
I am always game for a little craft to celebrate the new season, usually in the form of a wooden sign. My fave!! I'm a sucker for decorating with typography. It's my go-to budget-friendly decorating fix. Well, that and clearance throw pillows.
Affiliate links are used in this post for your convenience. See my full disclosure policy.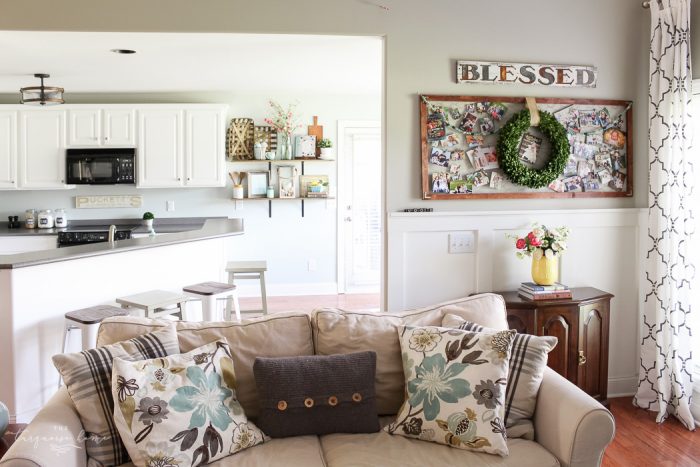 DIY farmhouse shelves tutorial // DIY throw pillows tutorial
1. Bright colors.
Summer is the perfect time to add a pop of color to your decor. You may love color already, then do it up! Or if you love the neutral look, inject a vibrant boost into the room that steals the show.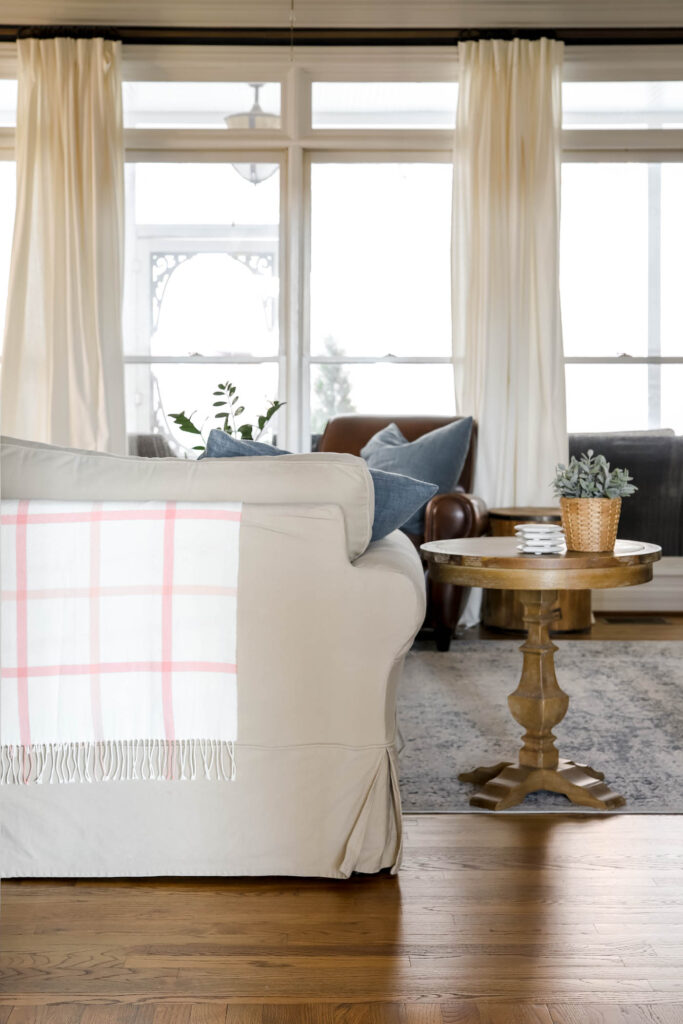 I personally love turquoise (obvs) and pink and a few touches of yellow or pink. I smile every time I walk into the color-filled rooms and am reminded to relax and enjoy this season with my family.
2. Add White.
Lots and lots of light and bright just screams summer to me. It's like bringing in the bright sandy beaches or the white sea shells along the shoreline into your home.
Play up the items in your home that you already have that are white and maybe even paint some furniture white, like I did with my kitchen cabinets!
3. Fresh greenery and flowers.
This is the perfect time to bring the outdoors in, because so much of our time in the summer is spent outdoors. Our home has some beautiful hydrangea bushes that have gorgeous white flowers in the beginning of summer and I love to clip them and bring them inside for decorations. There's just something about fresh blooms that make your home feel bright and cheery!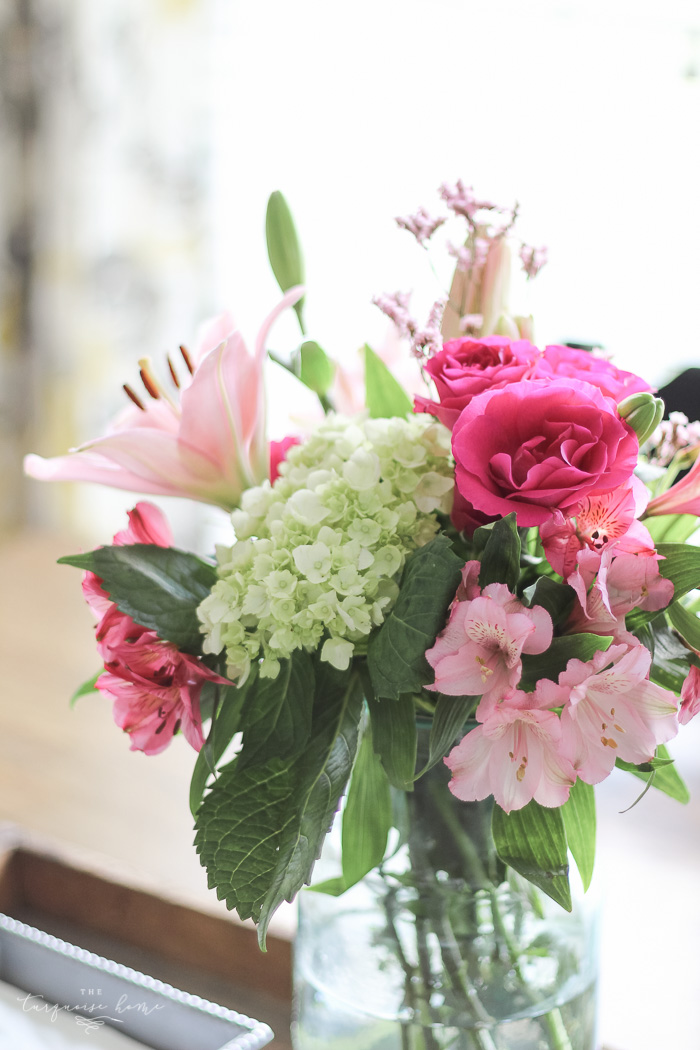 I also like to stop at my Fresh Market any chance I can because their arrangements are gorgeous, last forever and are easy on my wallet. My green thumb is starting to blossom, so I'm excited to add more and more real greenery into our home.
4. Fill a vase with decor.
Glass vases are beautiful in any decor or season, but I especially love glass in summer. So, fill a vase with shells from a recent vacation or matchbooks from your favorite summer eateries. This is a great way to decorate with little things to remind you of a special memory!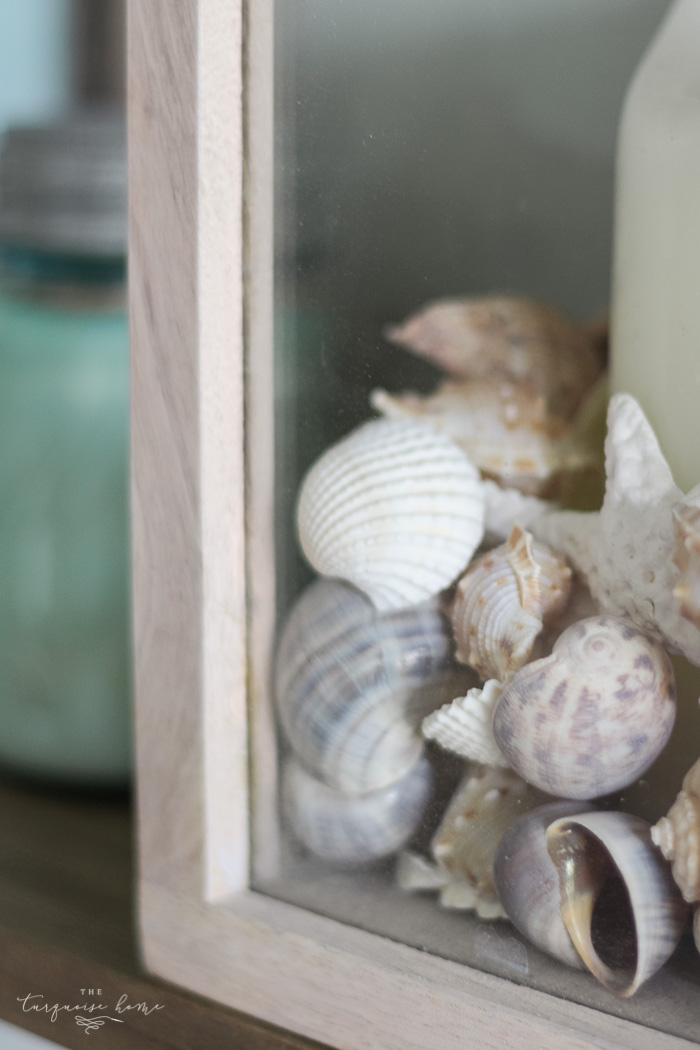 5. Outdoor Art
Bring the outdoors in with beautiful art depicting the great outdoors. Maybe it's an abstract painting of the ocean, or a beautiful outdoor walking trail. All of it is a way to bring summer into your home.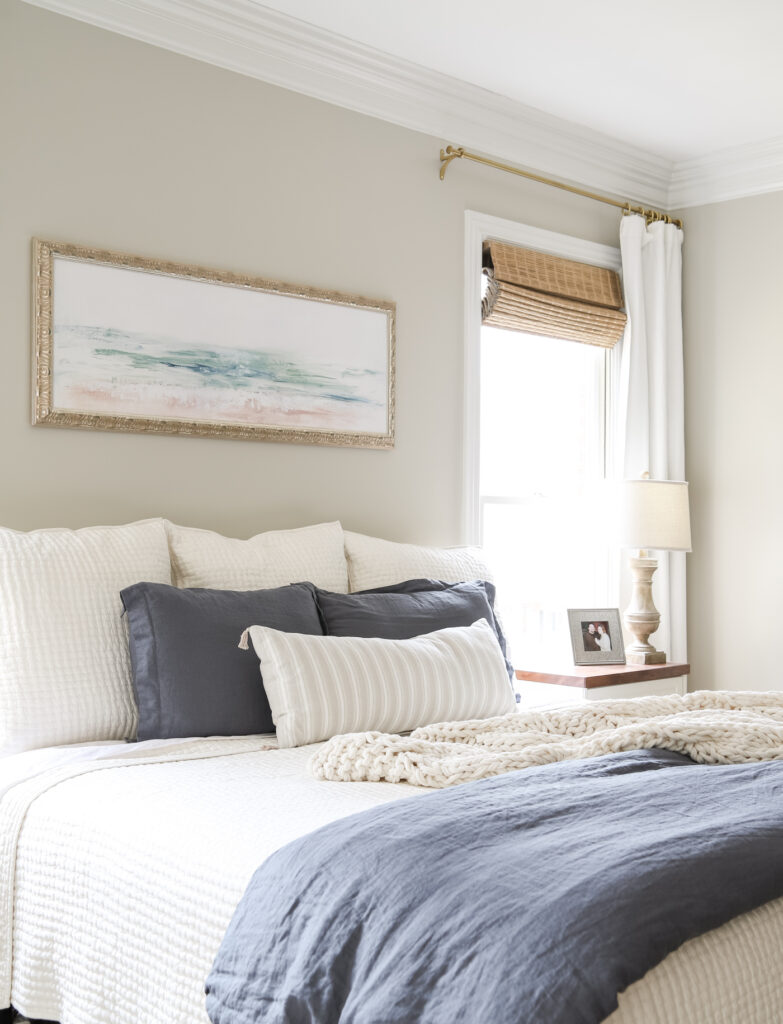 Another thing I love is citrus art in the summer. I made some free lemon tree printable art a few years ago. And I have some beautiful citrus watercolor prints in the frames in my kitchen that I love every spring and summer!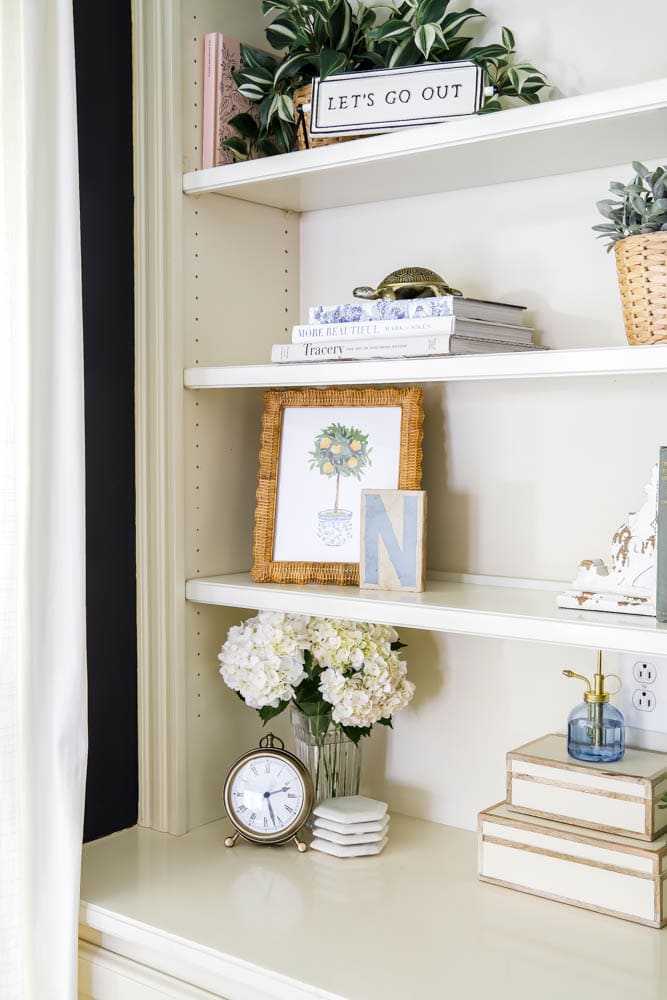 Tap the Images below to shop my Home:

Those are my favorite ways to celebrate summer. I hope you are inspired to add a few summer touches to your home as well!
More Posts You Will Love:
SaveSave