Simple tips for adding summer decor to your home without redecorating your whole house! I love sharing my budget-friendly, simple, doable tips for injecting some fun into your "summer home"
I love, love, love summer and all that it entails. Trips to the beach and the lake, wearing out our welcome at the neighborhood pool. Pretty much spending as much time outside near cool(ish) bodies of water trying to get relief from the hot southern sun. That's where you'll find me in the summer time.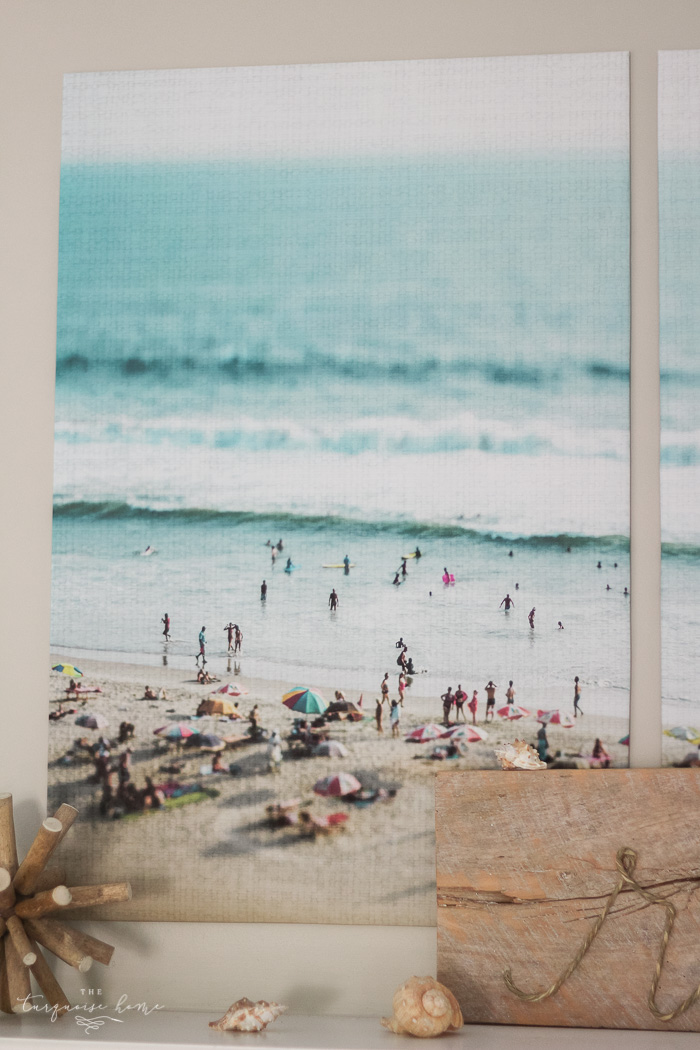 Did you know that the ocean is the inspiration for my blog name and signature colors? Some might think I was inspired by a turquoise stone, but no, it's the beautiful ocean. When we were on vacation a couple of weeks ago, I was mesmerized by the gorgeous blue waters. And I kept thinking – these are my blog colors! Ha!
I would walk up the beach access every morning and as I got closer to the water, I was met with this view…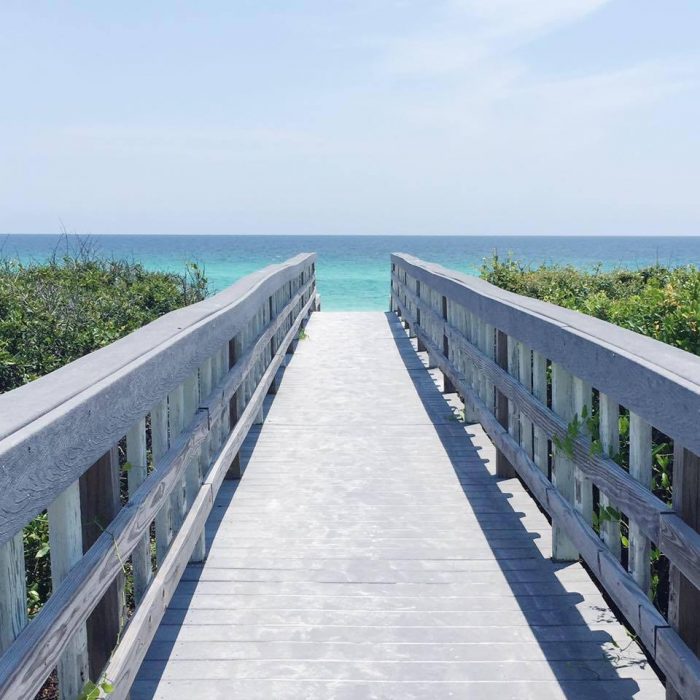 Breathtaking!
And as I sat in my chair (for 2.5 seconds before I had to chase a kid), I would look out at this view …
Yep! Those are my most favorite colors and that's why I incorporate them into my home. Adding them throughout the house, whether it's summer or not, brings me so much joy! So my home tends to have a coastal vibe year round.
But even if you're not headed on vacation to the beach or a vacation home or adding coastal colors year 'round, you can bring summer into your home right now. And you don't have to overhaul your house to do that. Yes, you'll want to change out any heavy draperies for sheers or change out dark throw pillows for pretty florals, but you don't have to change it all.

Over the years I have learned how to not completely redecorate every season, and instead just add and subtract a little here and there with each season. While I do have a closet in my home dedicated to my decor stash, I don't want to be a decor hoarder and just have piles of unused decorations laying around waiting 9 months until they can come out and play again.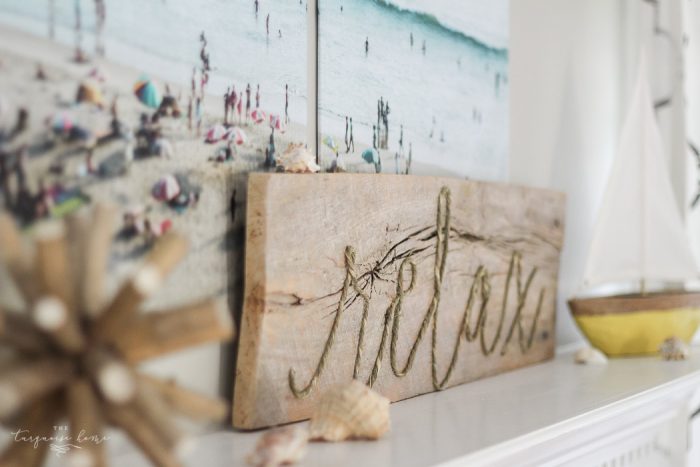 DIY Weathered Rope Sign tutorial
With the exception of my mantel, I just like to add little touches of changes to my home and keep most of it the same throughout the year.
I am always game for a little craft to celebrate the new season, usually in the form of a wooden sign. My fave!! I'm a sucker for decorating with typography. It's my go-to budget-friendly decorating fix. Well, that and clearance throw pillows. Affiliate links are used in this post for your convenience. See my full disclosure policy here. 
5 Ways to add Summer Decor to your Home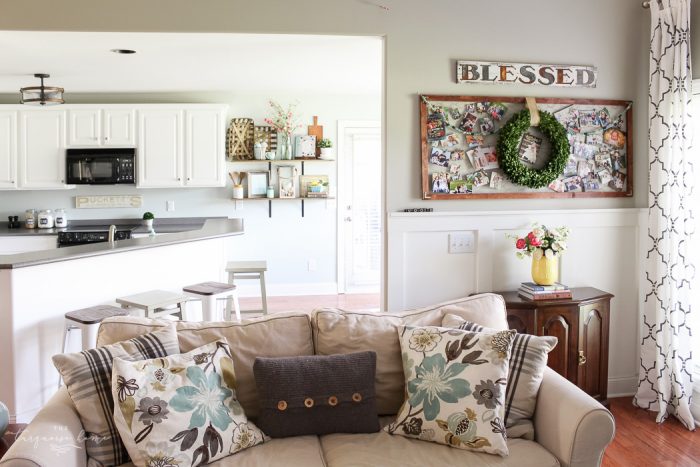 DIY farmhouse shelves tutorial // DIY throw pillows tutorial
1. Bright colors. Summer is the perfect time to add a pop of color to your decor. You may love color already, then do it up! Or if you love the neutral look, inject a vibrant boost into the room that steals the show. I personally love turquoise (obvs) and pink and a few touches of yellow. I smile every time I walk into the color-filled rooms and am reminded to relax and enjoy this season with my family.
2. White. Lots and lots of light and bright just screams summer to me. Think of the bright sandy beaches or the white sea shells along the shoreline. Play up the items in your home that you already have that are white and maybe pull out the paint and change some furniture to white, like I did with my kitchen cabinets!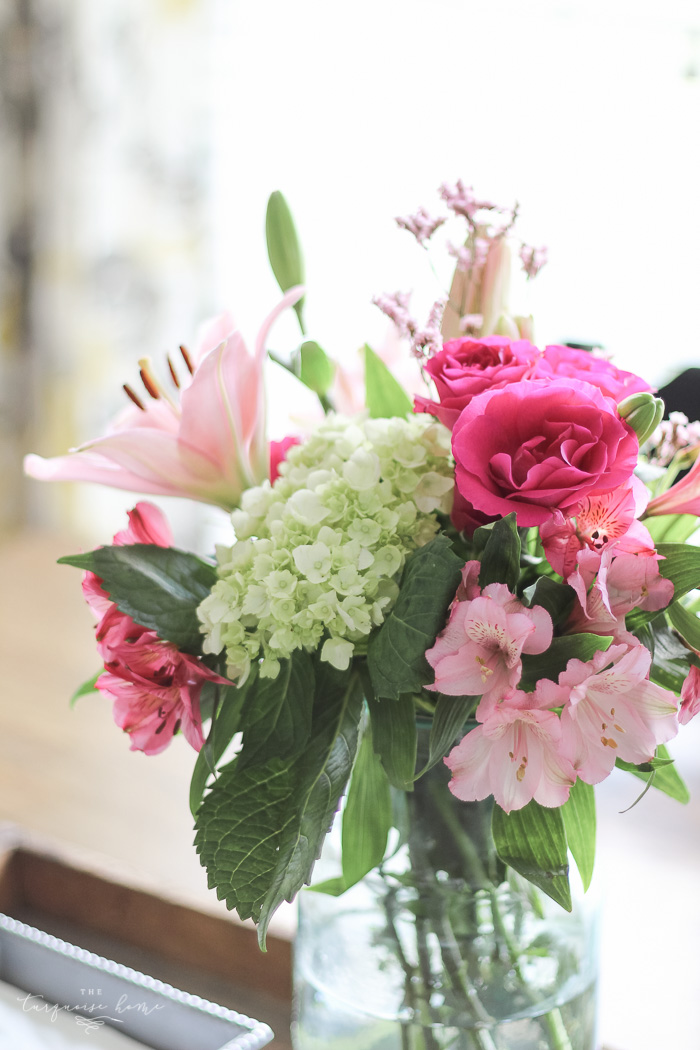 3. Fresh greenery and flowers. This is the perfect time to bring the outdoors in, because so much of our time in the summer is spent outdoors. I planted some double-knockout rose bushes last fall, so I've been enjoying bringing those clippings indoors. There's just something about fresh blooms that make your home feel bright and cheery!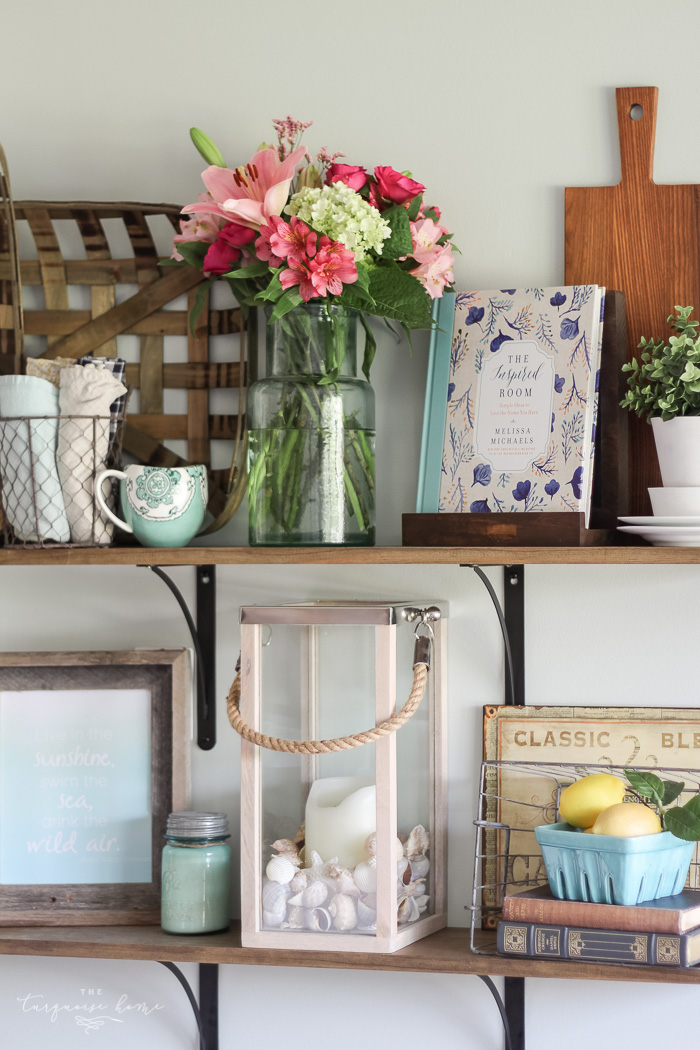 I also stop at my Fresh Market any chance I can because their arrangements are gorgeous, last forever and are easy on my wallet. My green thumb is non-existent, so the other greenery you see in my home is faux, but I'd like to change that soon!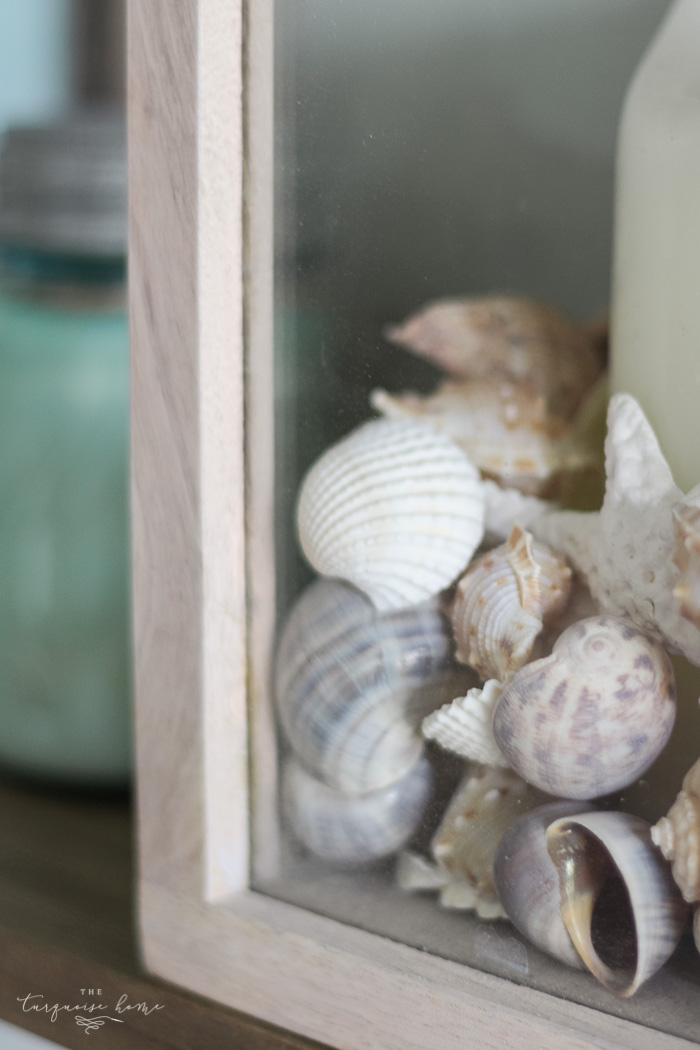 4. Fill a vase. Glass vases are beautiful in any decor or season, but I especially love glass in summer. So, fill a vase with shells from a recent vacation or matchbooks from your favorite summer eateries. It's a great way to decorate with little things to remind you of a special memory!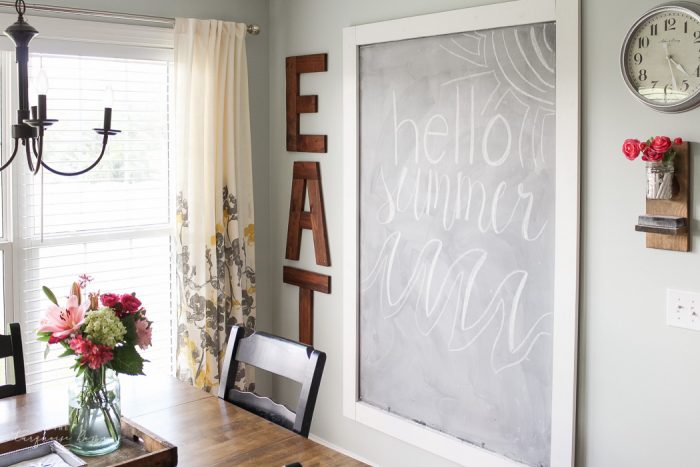 "EAT" sign tutorial // giant chalkboard tutorial // chalk & eraser holder tutorial
5. Typography. I luuurve a good stencil typography project. Maybe it's because I studied journalism in college, or because I've always just loved words, but using typography to celebrate the season is a must in my home. I print out fun summer printables, like this one I used from A Burst of Beautiful on my farmhouse shelves in my kitchen.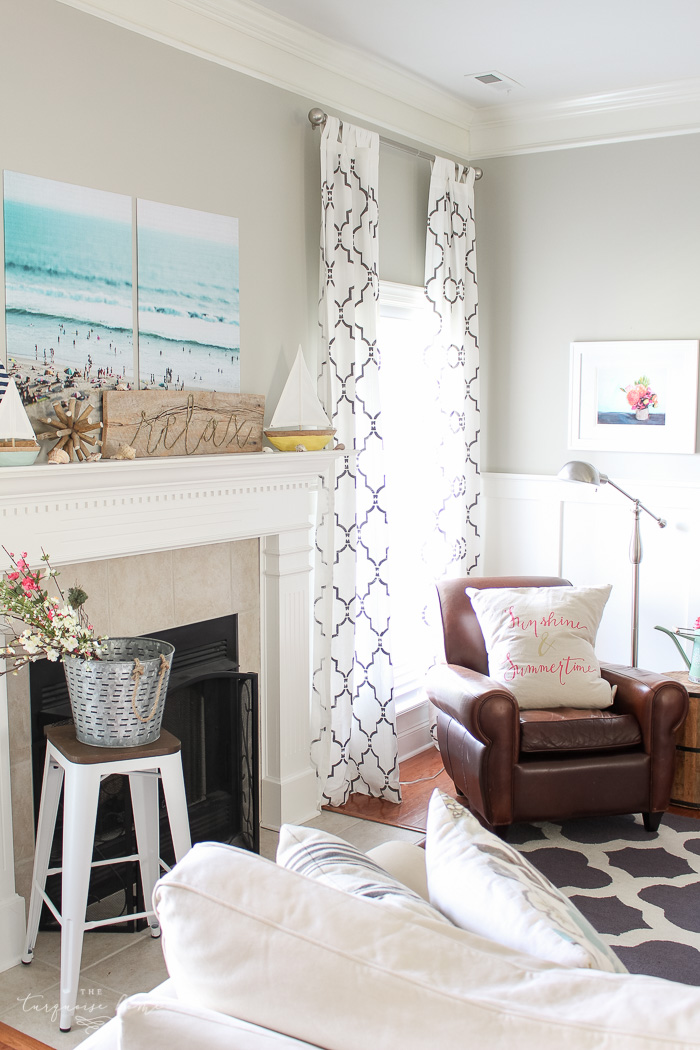 I write fun messages on my kitchen chalkboard. And I love to create signs with seasonal sayings or words, like my "relax" rope sign this year or my "sunshine & summertime" pillow I made last year. They just make me smile!
Those are my favorite ways to celebrate summer. I have a bunch more photos that I'd love to share with you if you have time. I took a bunch of pics!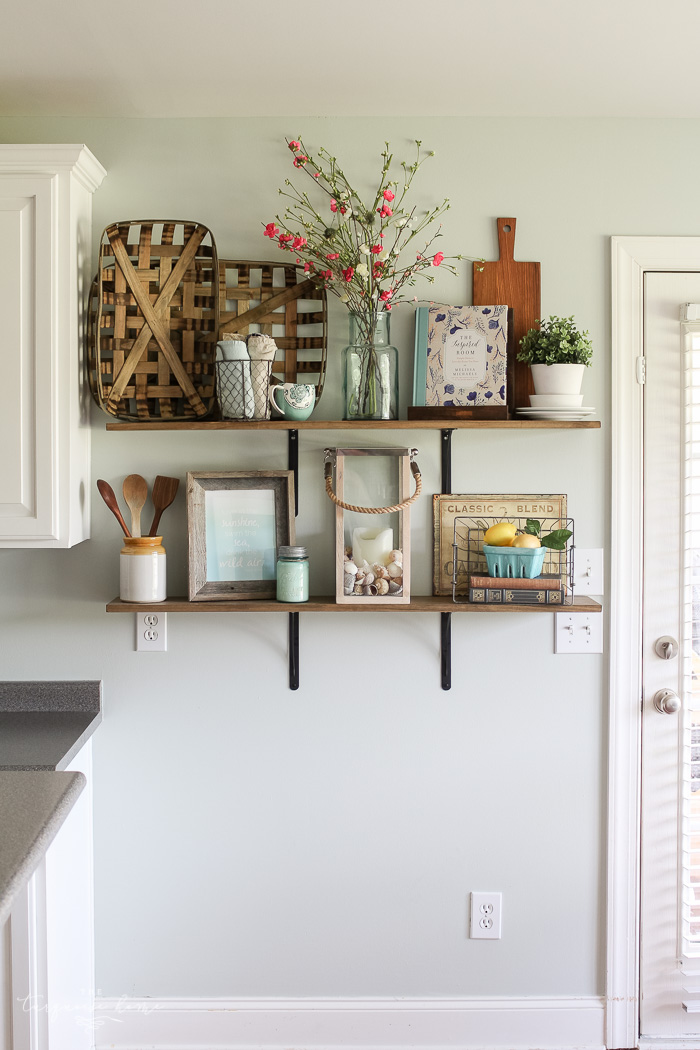 I traded out a few items on my new DIY farmhouse shelves for summer. I brought in a few pops of aqua and yellow.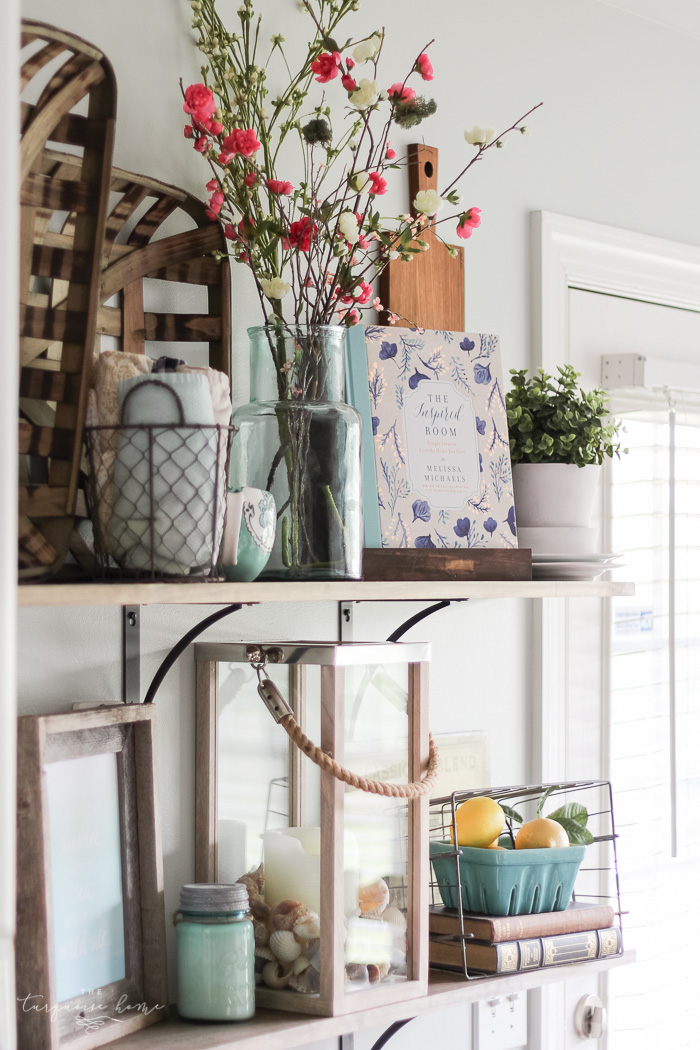 Shop This Post: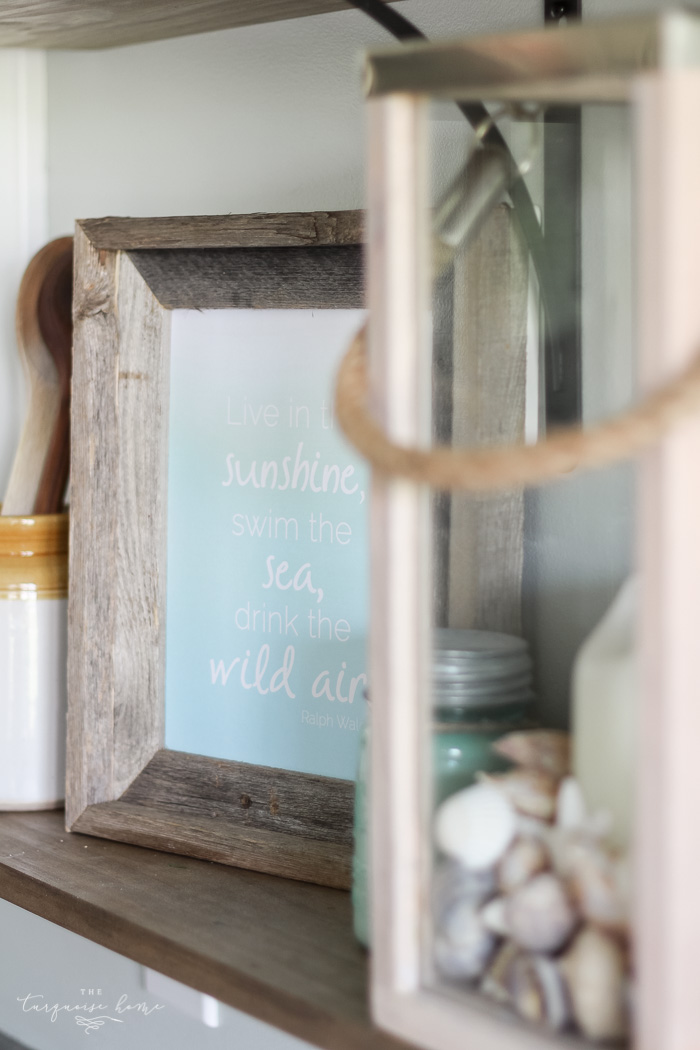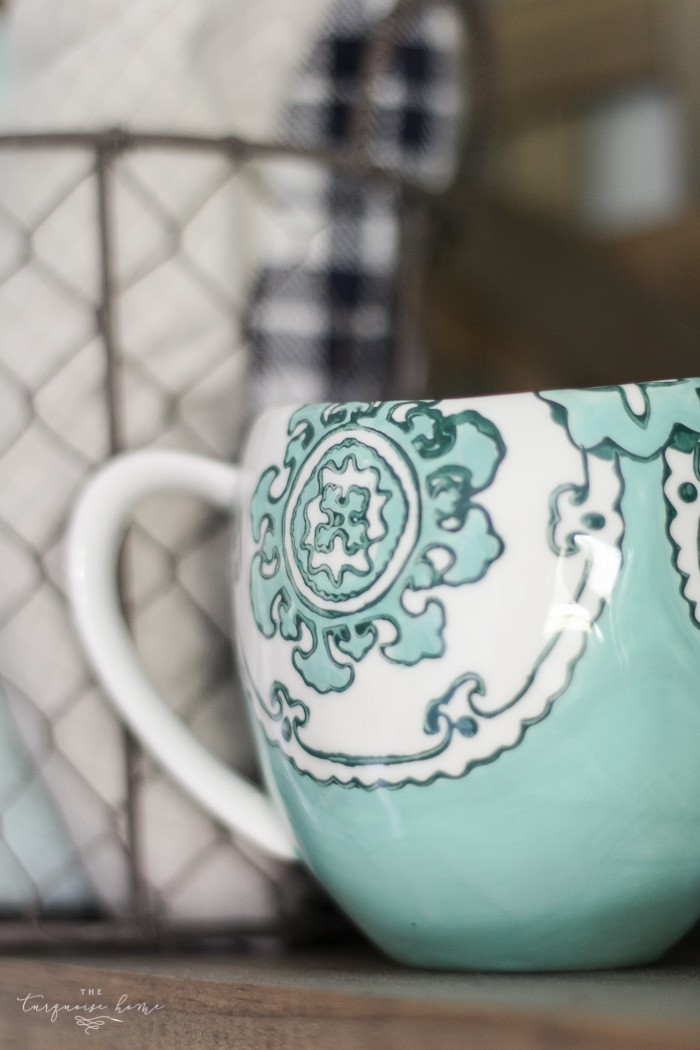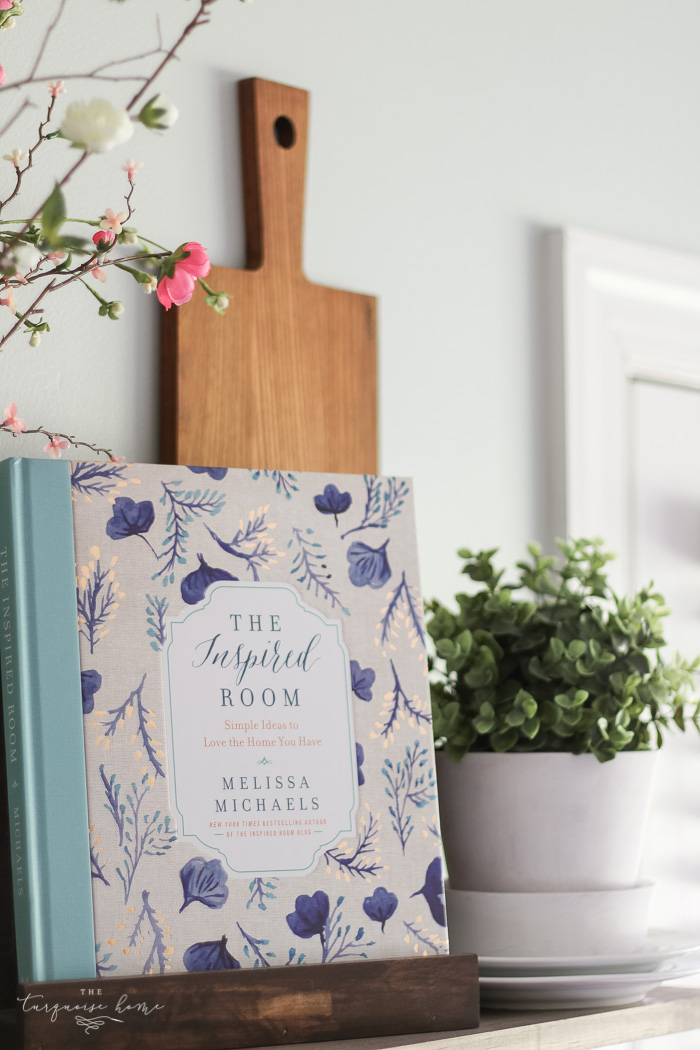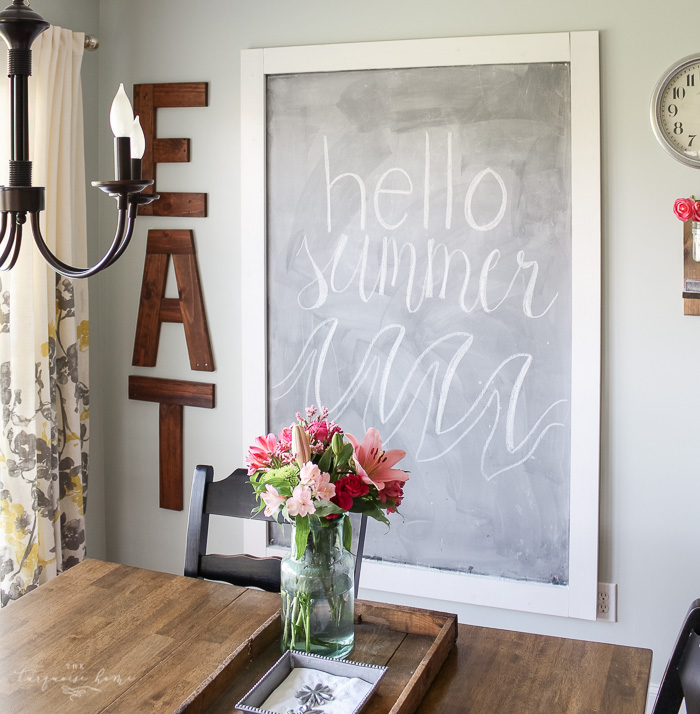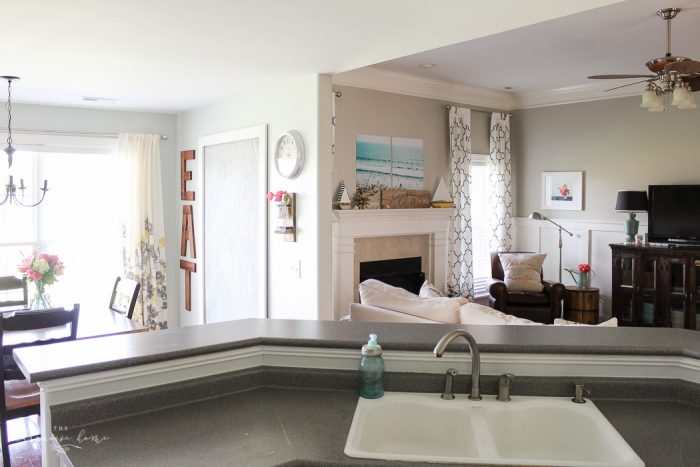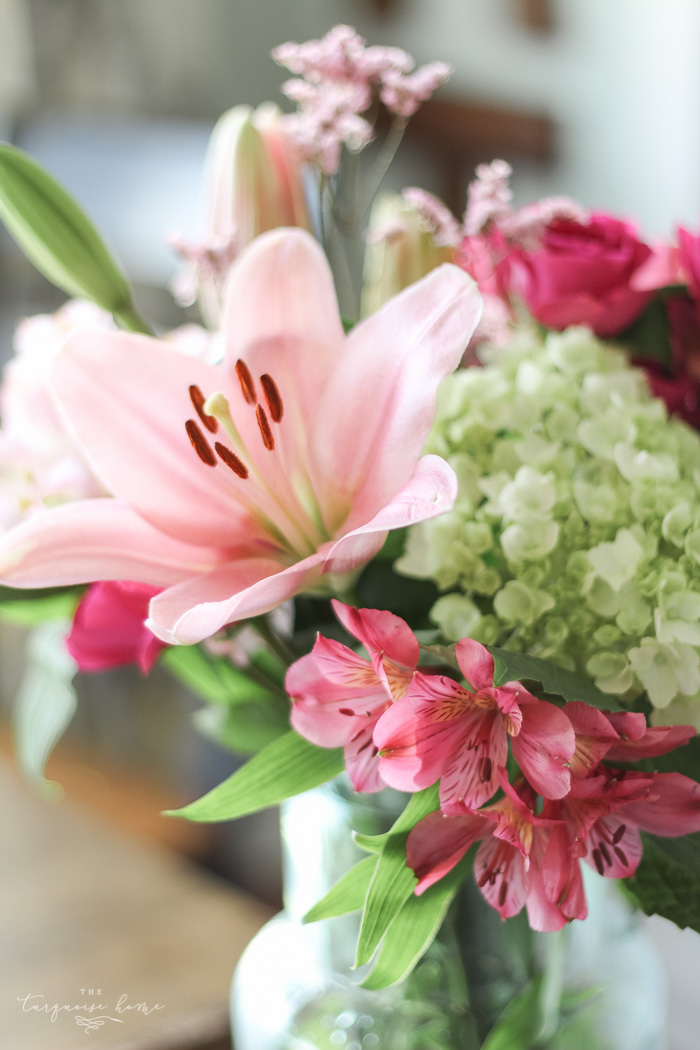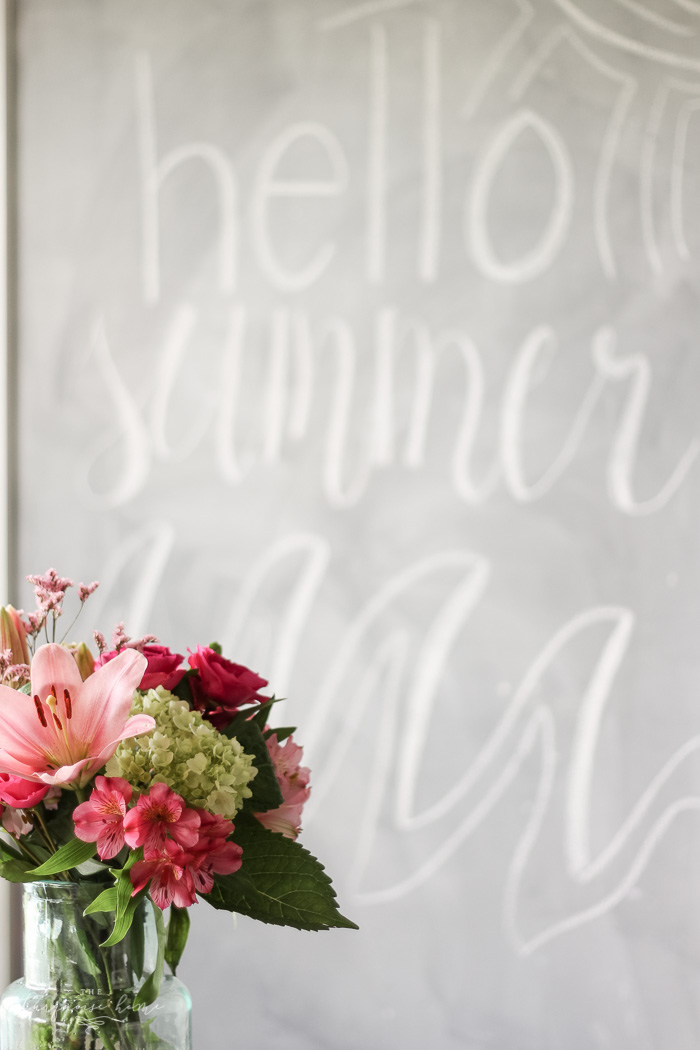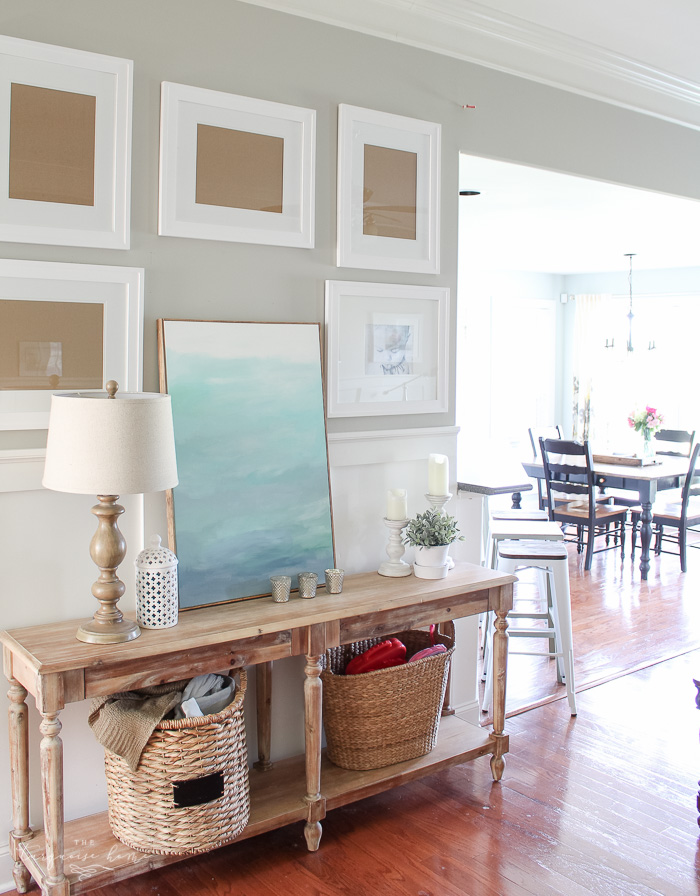 Here's a little real life for your viewing pleasure. I've had these empty frames hung for months, maybe almost a year? And I still haven't ordered the pictures for them! Oh, and that's our messy blanket basket and toy basket. I've been on the hunt for perfectly matching, new baskets for as long as we've had this table. No luck at all!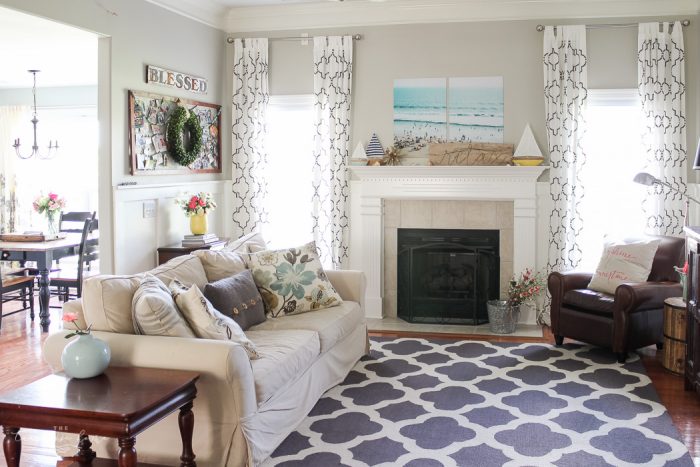 My Summer Mantel – see more details here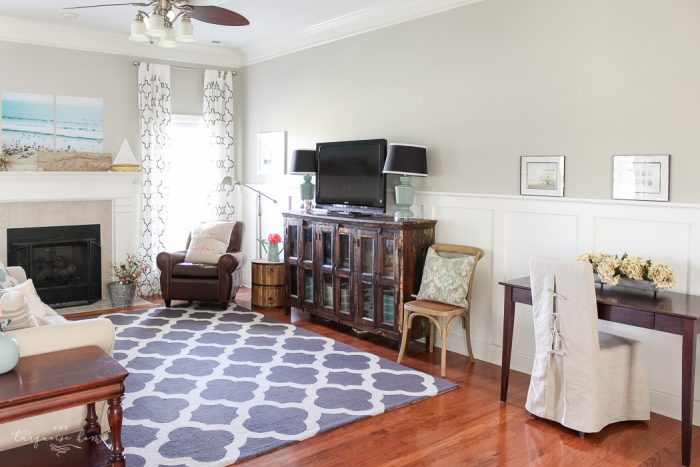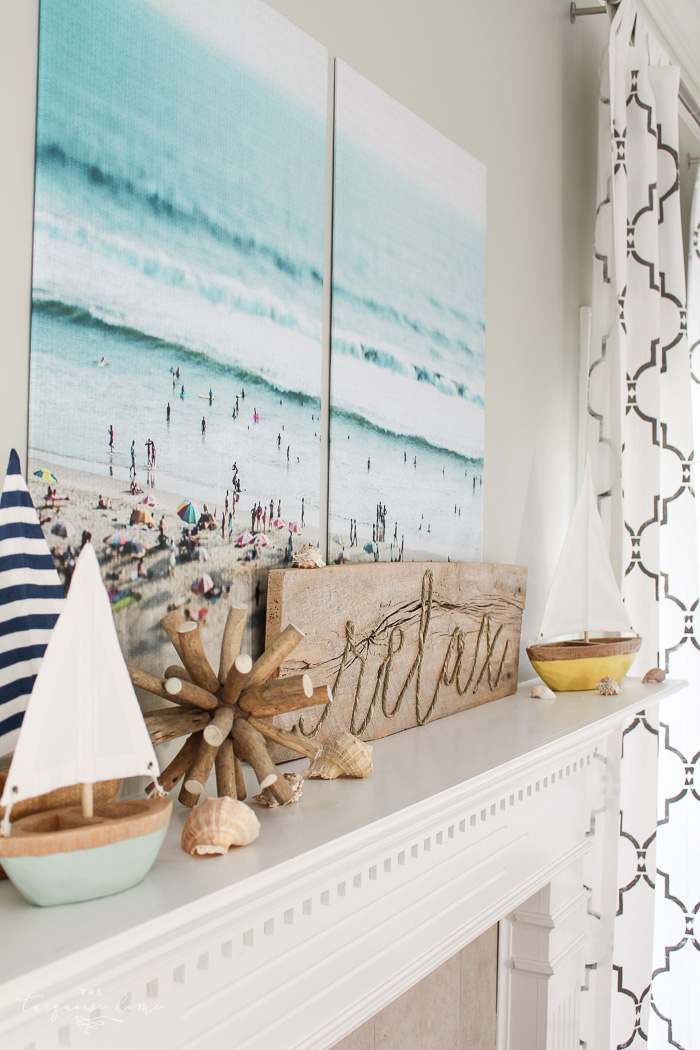 Thank you so much for stopping by my "summer home." I like to dream a little that I'm on vacation all summer long. At home. All of the coastal bright colors help me live in my fantasy world.
Thanks again and enjoy your summer!
Shop This Post:


SaveSave