The Best Summer Decorating Ideas
I'm sharing the best summer decorating ideas to spruce your home up for those hot months each year! Everything from art to blankets, wreaths to table decor, I've got you covered!
The weather is hot and the days are long and that means it's time to sprinkle some pretty summer decor around the house! I'll be honest that I don't change a ton from spring decor to summer decor.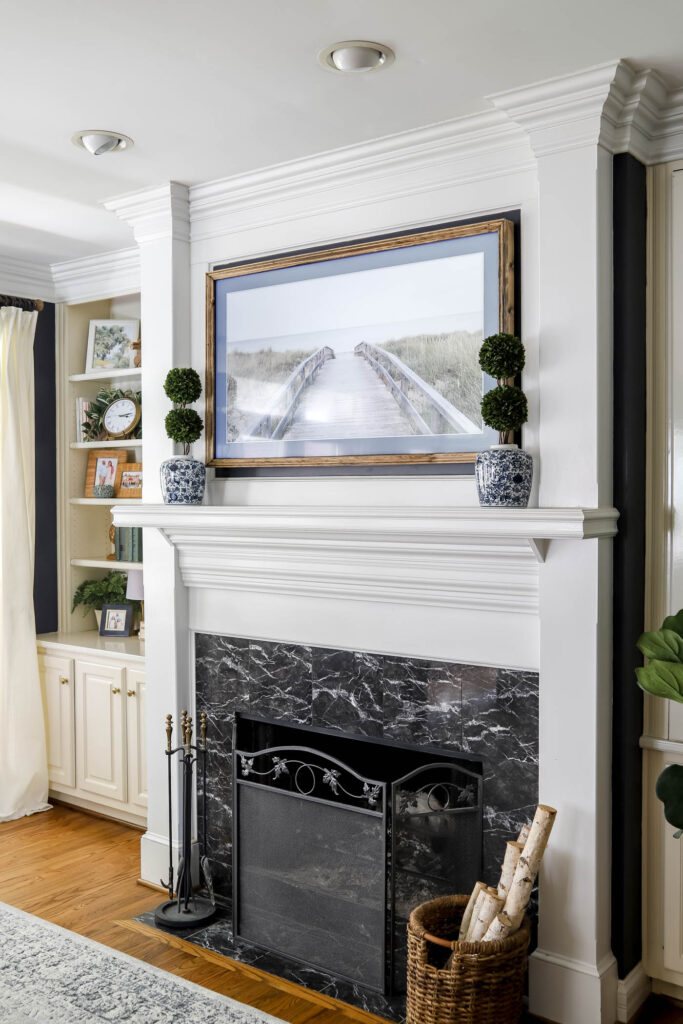 And in some instances I take decor away in the summer. My kids are home and so naturally the house is a little more lived in that the rest of the year. So, too much clutter AND decor can feel like too much. So, feel free to pare down in the summer, too!
It's been a minute since I shared some of my summer home decor and while I don't go all out on my fireplace mantel like I used to, I still like to add pretty touches here and there. Let's take a look!
This post contains affiliate links for your convenience. See my full disclosure policy.
The Best Summer Decorating Ideas
1. Decorate the Mantel
Whether the TV hangs above the mantel or not, you can add summer touches to your mantel space. If you have a Frame TV like me, then it's fun to change out the art for something more summery.
Add a matching set of boxwood topiaries or some pretty faux stems in a vase. This year I bought some blue and white ginger jars and added some double boxwood topiaries for spring, but they work year round, too.
Side note: I knew I wanted blue and white vases with boxwood topiaries and I couldn't find exactly what I wanted, so I created it! I cut the boxwood topiaries out of the containers they came in and put floral foam in the ginger jars to keep them straight. 😉 But since then I've found some great ones already made here.
If you don't have a TV over your mantel, you can get a big focal piece and add in other summer decor items, like I did when I shared how to decorate a mantel for summer.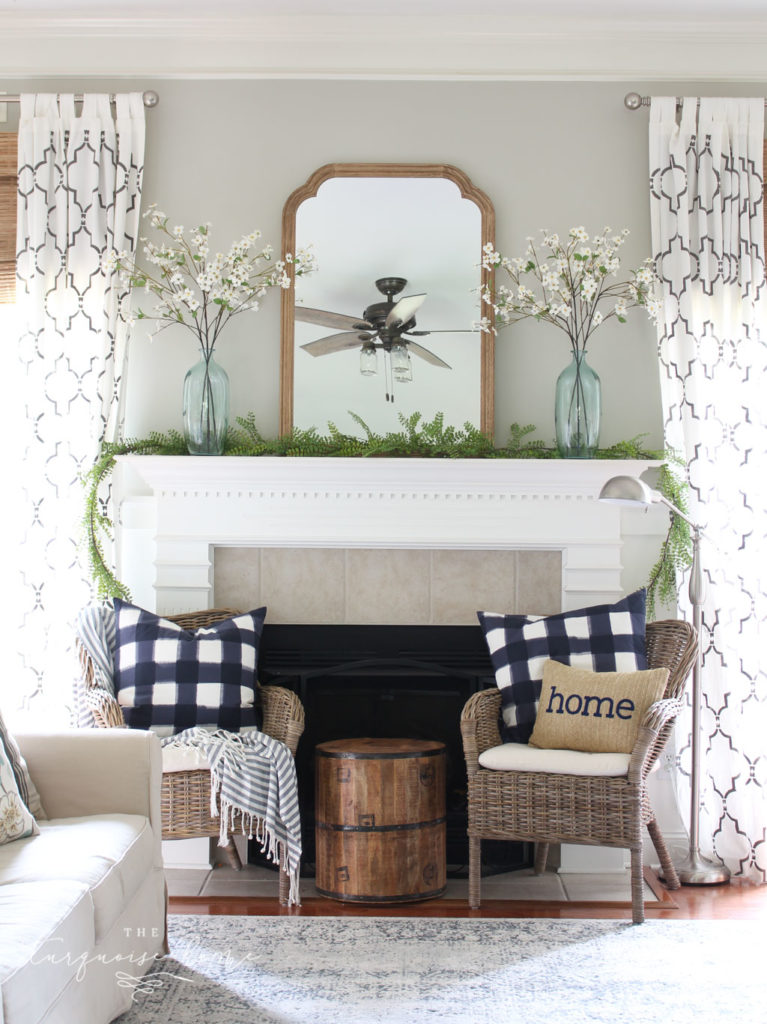 Sources: Navy & White Buffalo Check Pillows | Blue Vases (similar) | Faux Dogwood Blooms | Wicker Chairs (IKEA – no longer sold) | Vintage Style Blue Rug | Wood Framed Mirror | Wall Color: Revere Pewter
2. Ramp up the Blue and White
If nothing else, you can always just add lots of blue and white to your decor. It's the time to embrace any coastal design you love and it all screams summer! It could be a throw blanket, a picture frame, ceramic jar, art or any type of blue and white decor, and you've got a summer-inspired look!
I found these beautiful blue and white bone picture frames for my built-in bookshelves and love how they add even more blue and white to my display in the living room!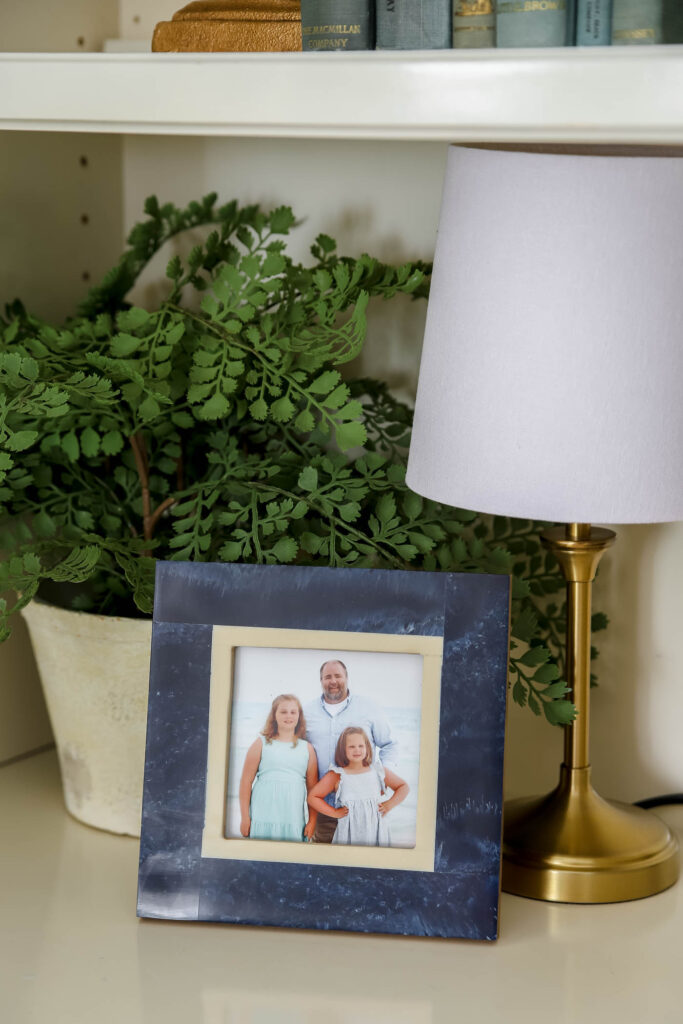 I gathered up a bunch of blue and white decor that would be perfect to add to your summer decor capsule!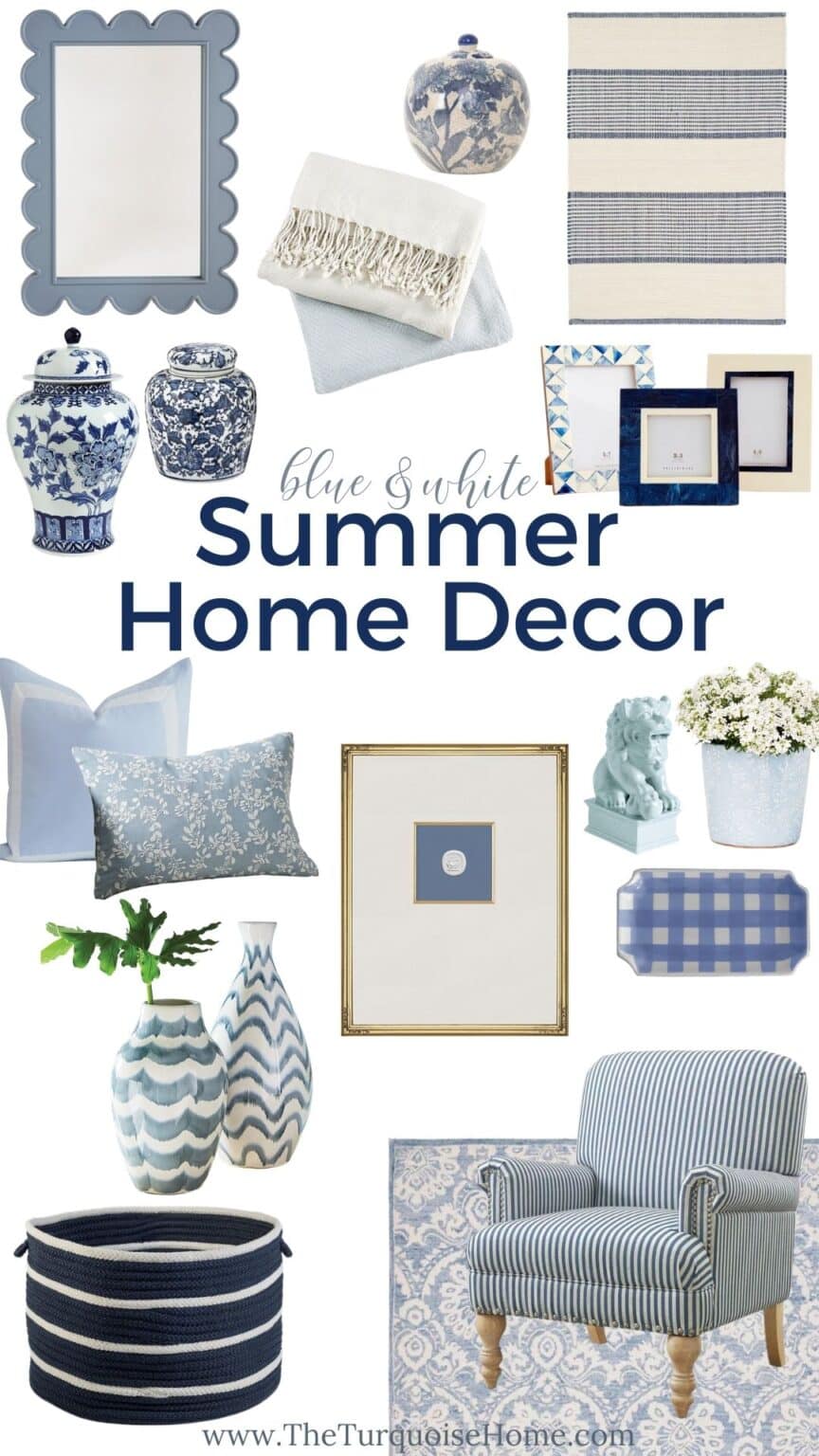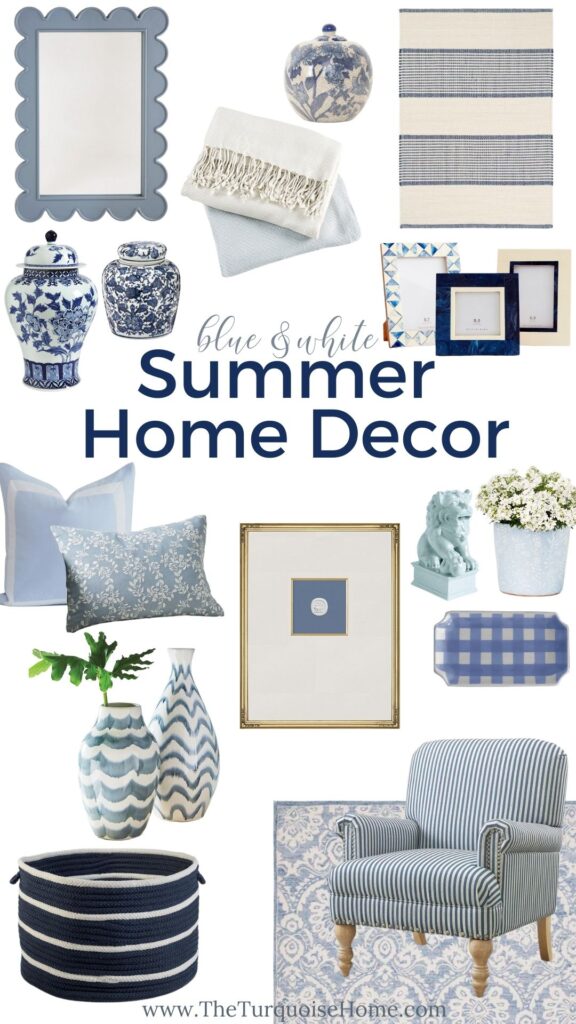 Sources: Blue Scallop Mirror | Small Ginger Jar | Blue & White Throw Blankets | Striped Rug | Large Ginger Jar | Small Cache Pot | Bone Picture Frames | White Trimmed Blue Pillow | Floral Embroidered Pillow Cover | Intaglio Art | Foo Dog Decor | Floral Planter | Gingham Tray | Wavy Vases | Handmade Tufted Rug | Striped Chair
3. Change out the Front Door Wreath
Obviously a great place to add a pop of color and pretty is to the front door. I have a simple wreath I made years ago for the spring and I keep it up until fall! It makes the front porch look so much more cheery, which I love. (I need to make a summer wreath, I guess!)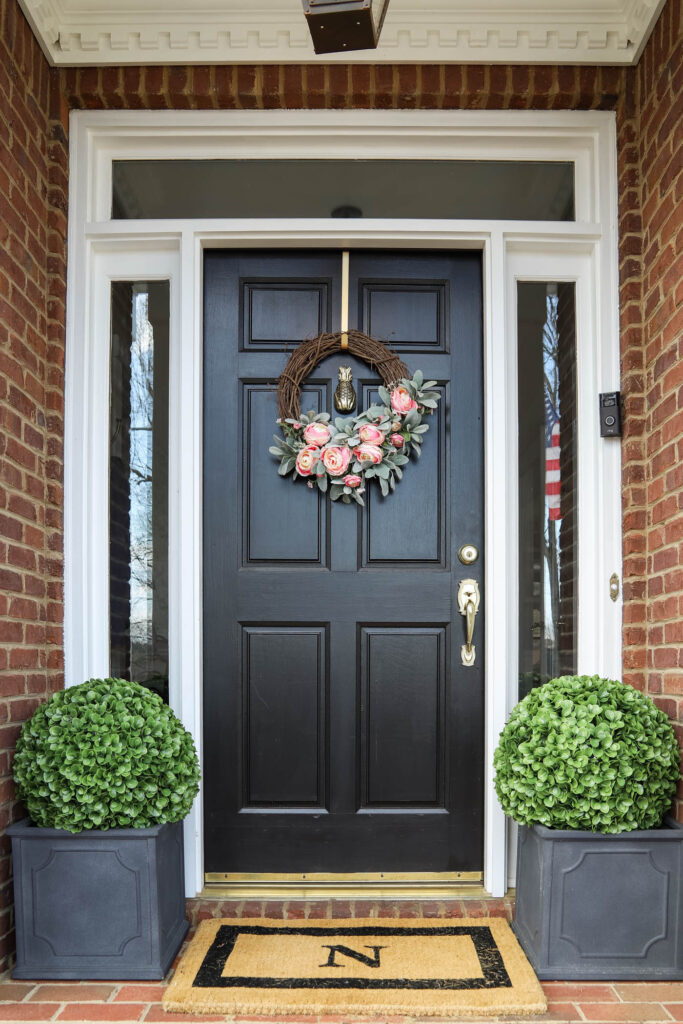 FRONT DOOR SOURCES: Monogram Doormat | Faux Topiaries | Planters | Brass Pineapple Door Knocker | DIY Peony Wreath | Black Paint Color: Onyx (BM) | White Trim: Simply White (BM)
I also change out my faux greenery topiaries that flank my front door. In the fall and winter I have cypress topiaries and in the spring and summer I use brighter green jasper topiaries.
You might also like:
How to Add Curb Appeal to Your Home
4. Add More Natural Materials
Rattan, wicker and seagrass are wonderful summer materials! I already use a lot of it in my home throughout the year, but summer gives me a reason to use even more!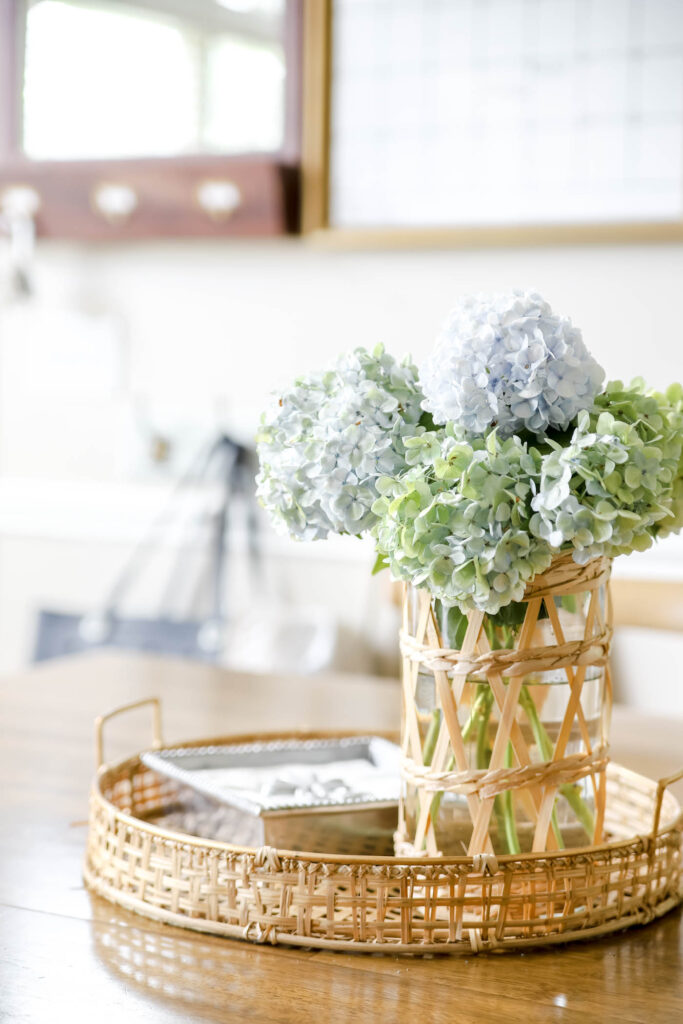 Sources: Rattan Round Tray | Rattan Lantern (doubles as a vase!)
More Woven Texture Sources:

5. Bring in Fresh Flowers
Summer is the BEST time to take advantage of fresh flowers, usually just outside your door! I have some wonderful hydrangea bushes that I love clipping from to bring the outdoors in.
6. Change Out Your Art
I've always been a proponent of changing out art seasonally. It's an easy way to decorate for the summer season and can be done on any budget! Everything from free printable art to changing out art canvases. It's a fun way to celebrate warmer months – AND it's one of the most inexpensive summer decorating ideas!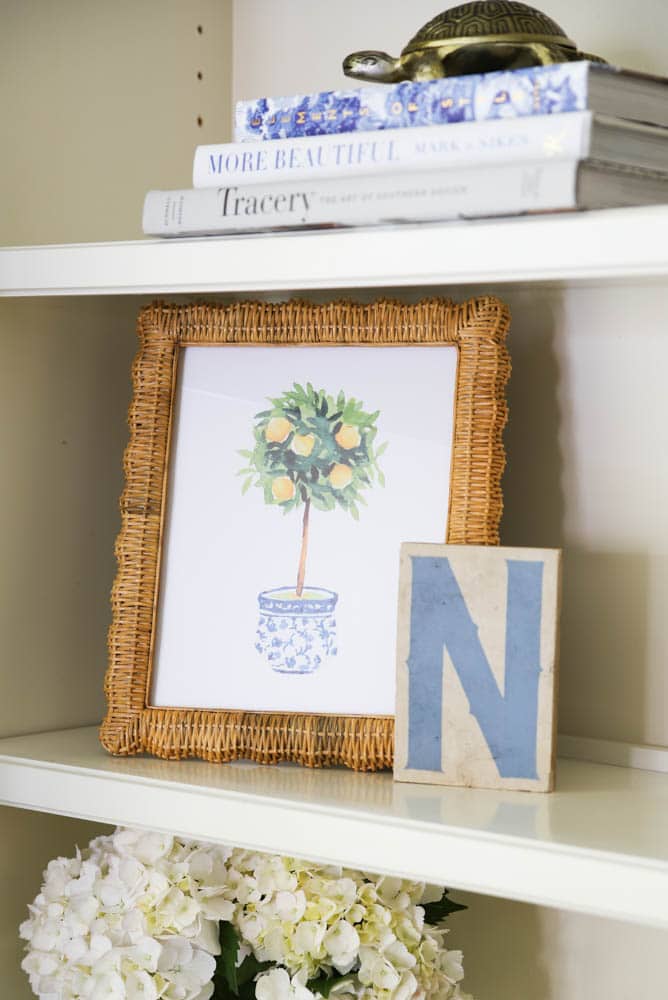 And of course I changed the art on my Frame TV hanging above my mantel. It's always fun picking out a new digital art piece to display each season.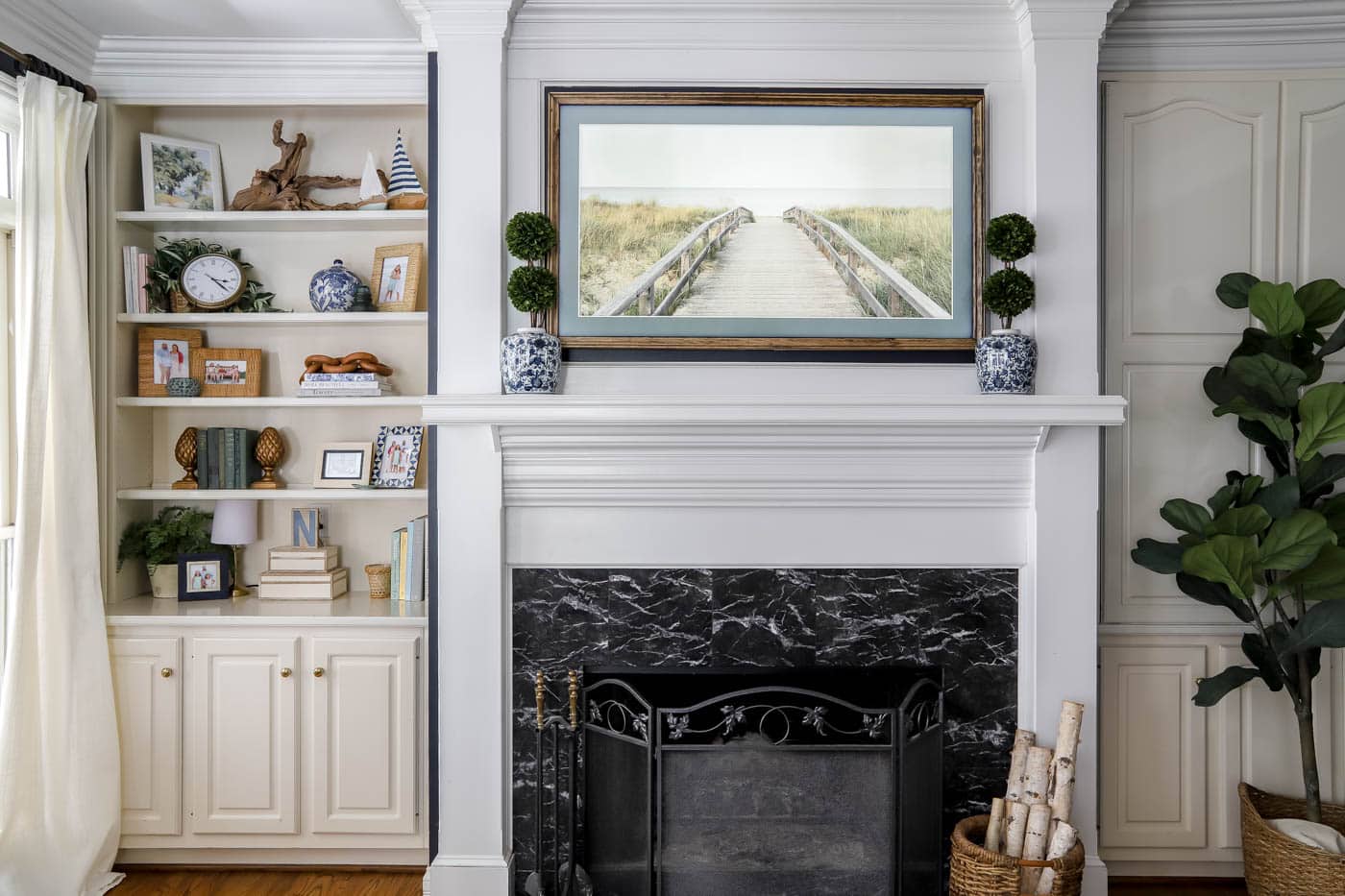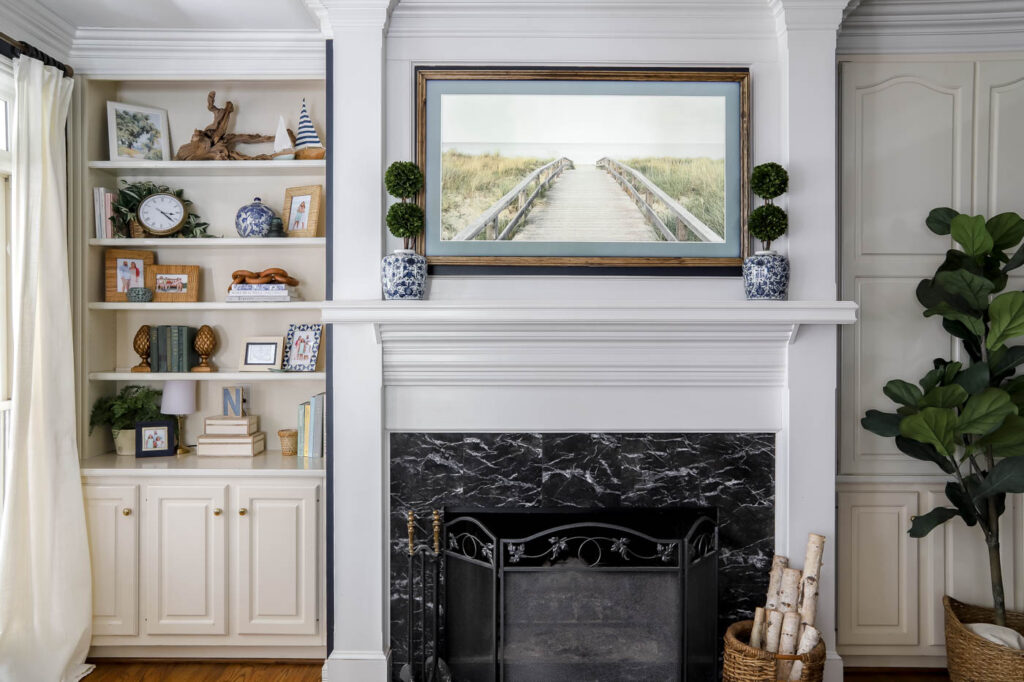 Favorite Summer Frame TV Art: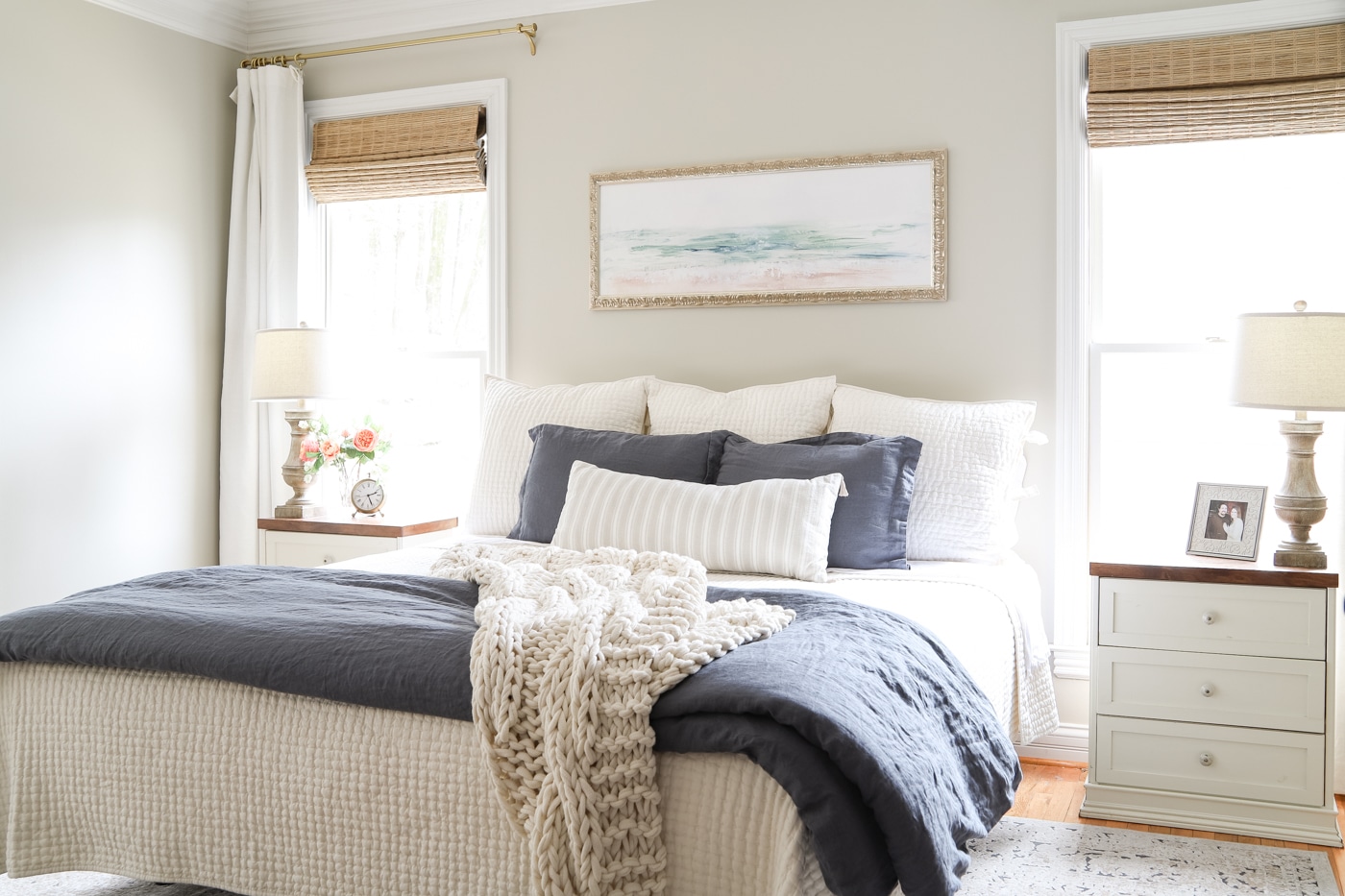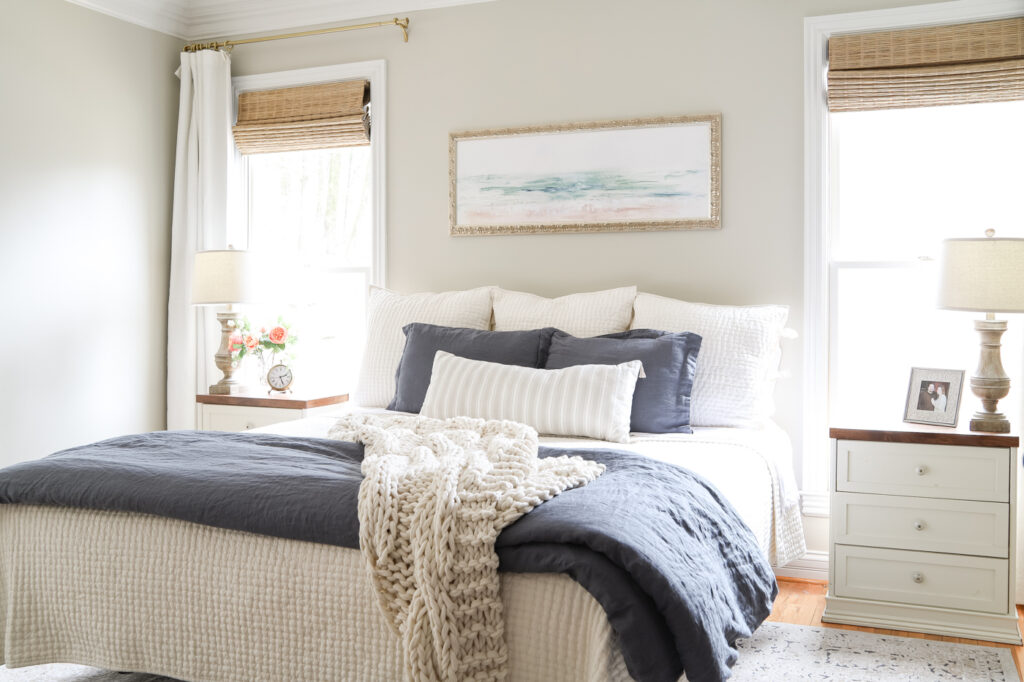 In the warmer months, I also hang this coastal abstract art above our bed. It's so pretty!
7. Create a Beautiful Summer Table
Decorate your dining room table with beautiful white blooms, blue plates and lots of natural textures! It's a sure fire way to make it feel like summer inside without the heat!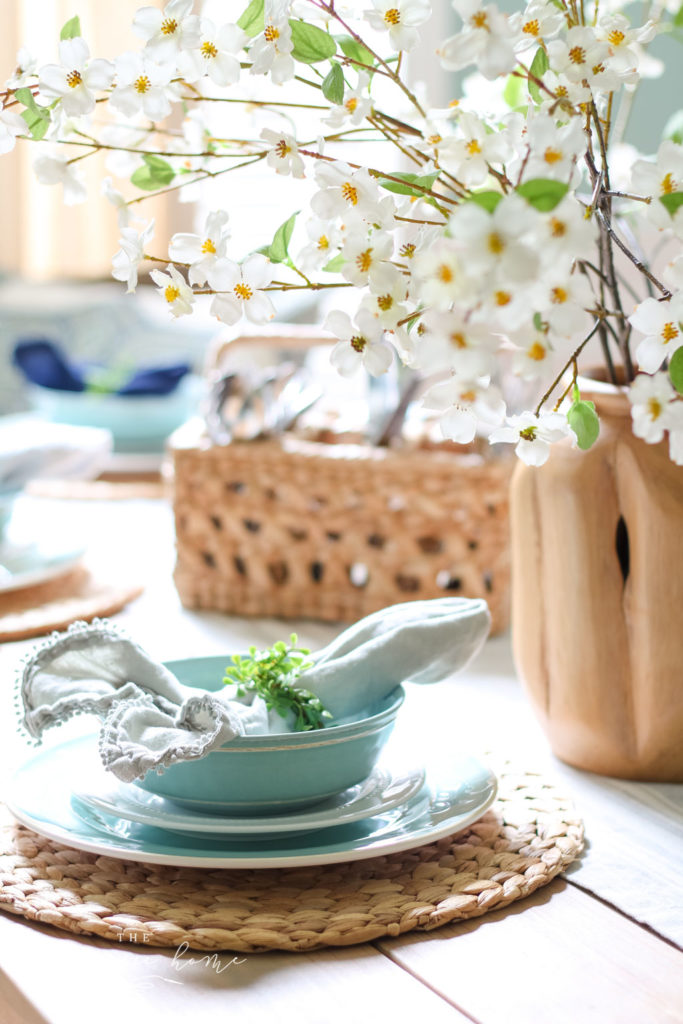 ---
Those are my best summer decorating ideas! I hope you find it inspiring and find a few fun ways to add some color and beauty to your home this season.
MORE POSTS YOU WILL LOVE: