Console Table Styling Basics
Hey y'all!
A couple of nights ago I shared a picture of my in-progress new console table. You remember when I shared my new DIY art with you a few weeks ago, right?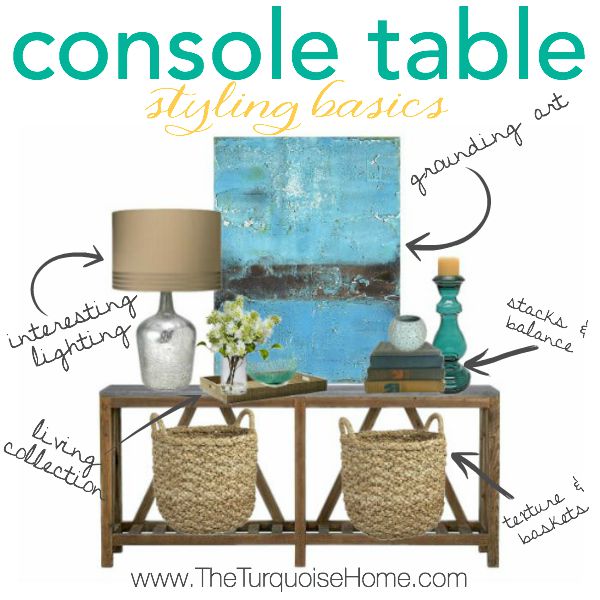 Well, I'm ready to tackle the rest of the table just in time to add some fall touches. A beachy art piece goes with all things fall, right? 🙂 Well, I'm going to attempt to style it and add in a few neutral fall touches, I think.
Here's the picture I shared and posed this question on Facebook: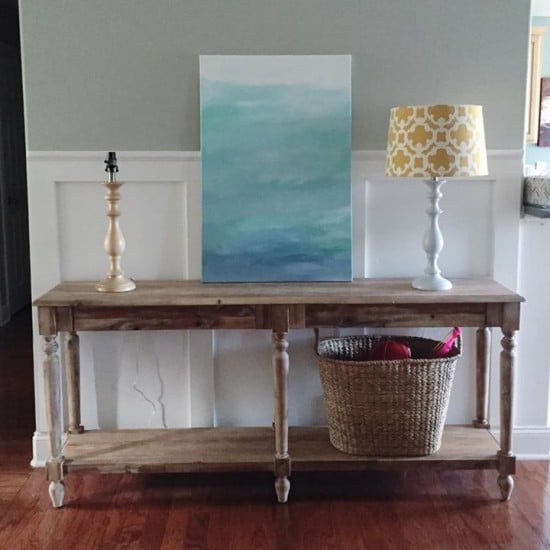 I need y'all's opinion!
Ok, so I showed you my DIY art canvas and new console table recently. I'm struggling with how to decorate the rest of the table.
I plan to get another basket underneath. Either one matching this one, or two new ones. With a baby who will get into whatever I put down there, baskets of toys is the obvious solution.
But what about on either side of the art?
These are two matching lamps that I got on clearance from Target, but I've painted one of them. And then I have this lamp shade also from Target.
Should I …
1. Paint the other lamp? Or paint them both a new color entirely?
2. But new lamps. (I would go with some a little chunkier if I bought new.)
3. Should I get another lamp shade like this? Or buy new lampshades altogether??
Read all of the comments and conversation on Facebook HERE.
Asymmetrical vs. Symmetrical
I got some amazing feedback (thanks y'all!) and have been playing around with some things I already have. The biggest question for me was do I go asymmetrical or symmetrical?
Do I do the two lamps on either side and two baskets down below? Or do I create something a little more organic and just have one lamp and go from there?
If I choose asymmetrical, do I leave the art in the middle or do I place it slightly off center?
I think I've mostly decided which direction I'm going in. I see a trip to HomeGoods in my not too distant future. And in my searching and thinking, I found that there are some standard elements to incorporate into an asymmetrical console table styling to make it look amazing.
Elements for a Beautiful & Balanced Asymmetrical Style
You'll need …
Interesting lighting – and I find that if it overlaps the art behind it, that looks good
Height to Balance – something opposite of the lamp that has substantial height to balance
Grounding art or mirror – either leaning or hung
Something Stacked – it could be books or vintage suitcases or some decorative boxes
Something Round – this could be anything from the lamp base, to a trinket, or a vase
Rectangular Tray – to collect some fun accessories like candles, figurines or an interesting bowl
Plant or Flowers – something to breathe life
Textured baskets or some colorful stools underneath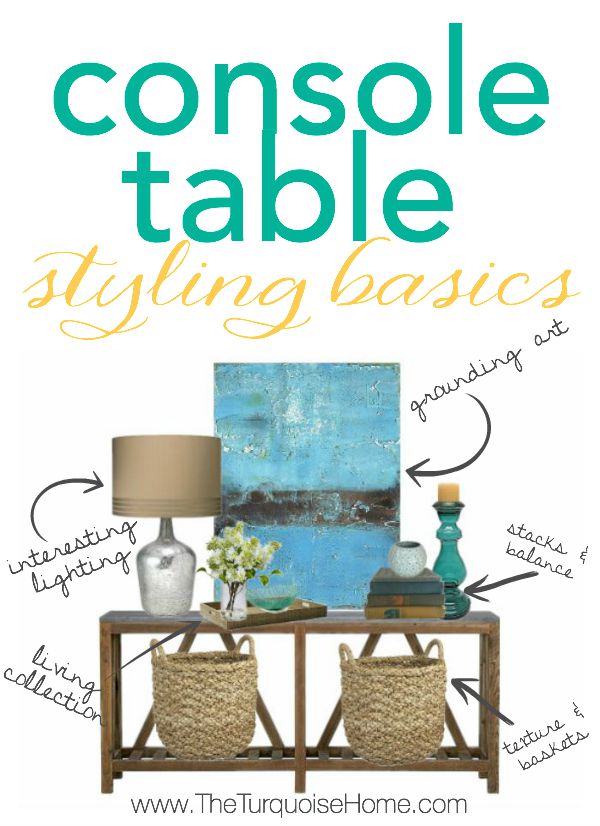 lamp / art / flower arrangement / bowl / tray / books / candle holder / basket / table
See if you can find the essential elements in these beautiful vignettes…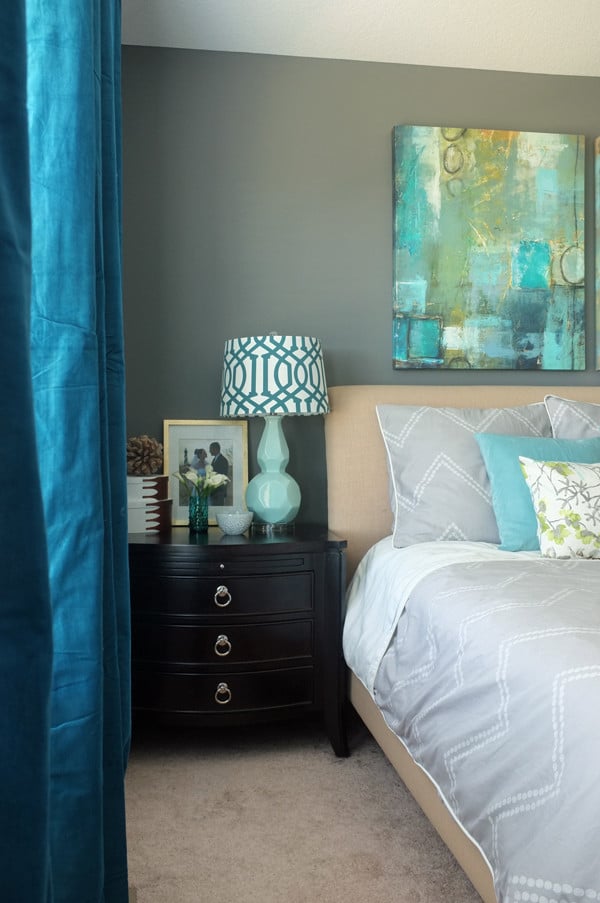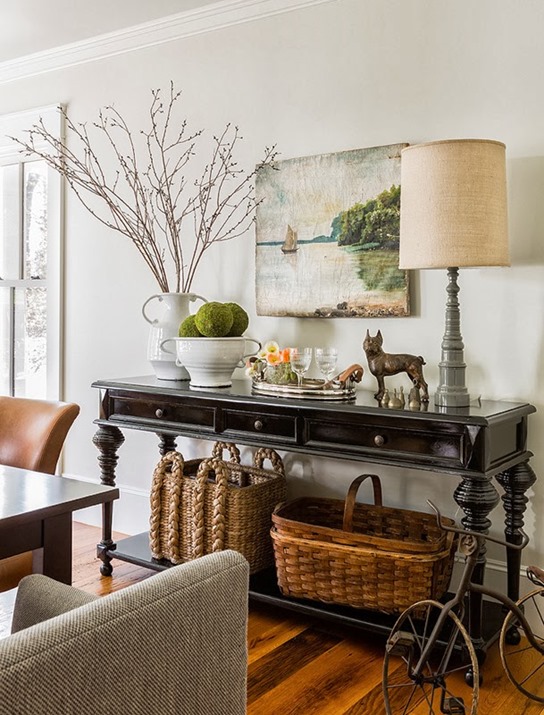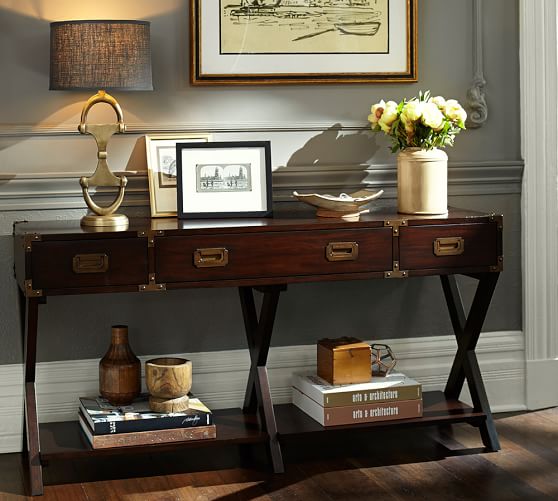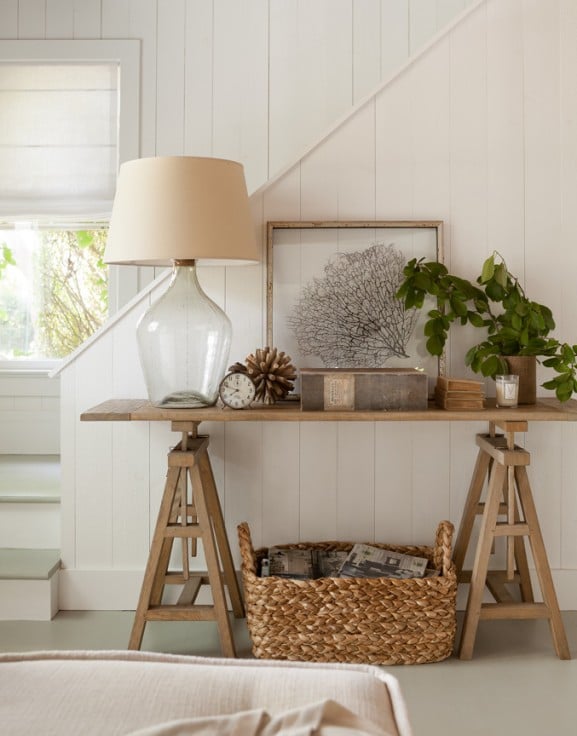 I hope this helps you (and me!) the next time you're trying to figure out how to style your table tops.
What else would you add to the must-haves?
If you need to learn how to decorate a console table behind a sofa, click here!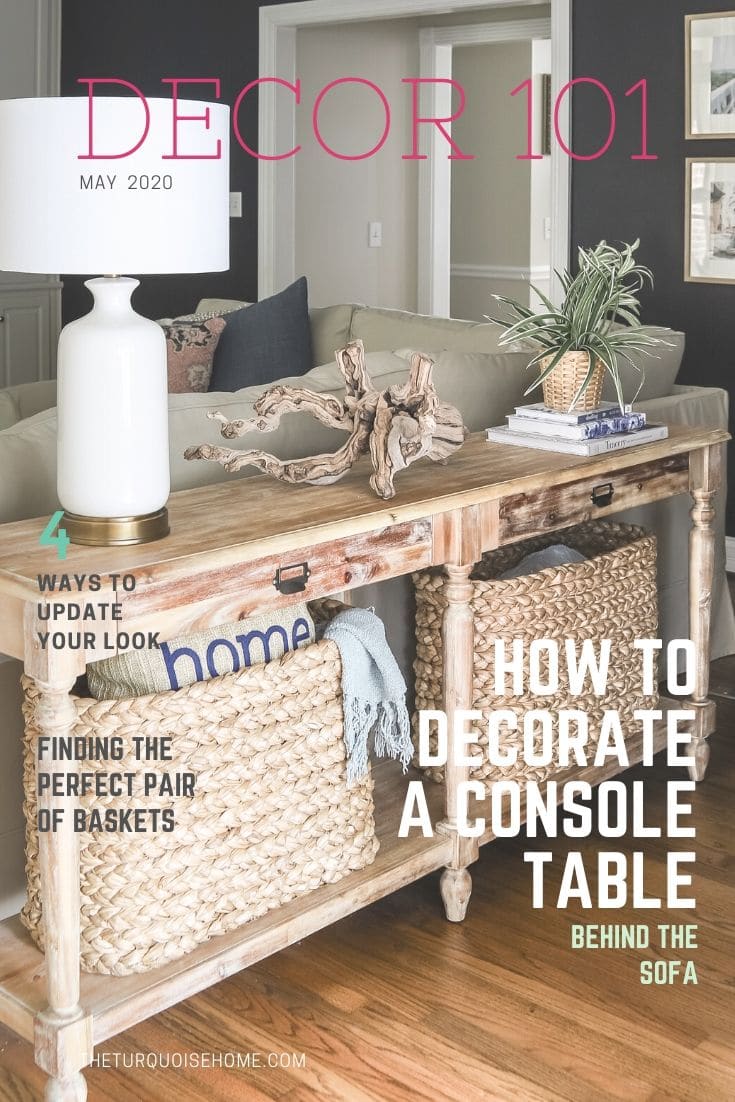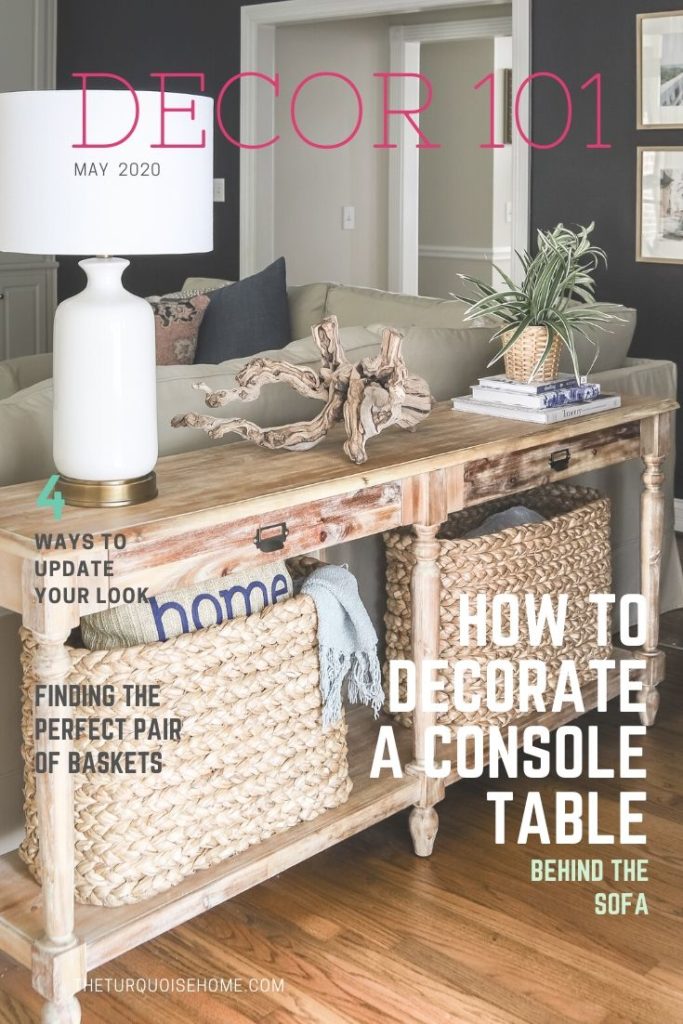 MORE POSTS YOU WILL LOVE: