It's starting to look a lot like fall around here. The temperature is even cooperating and it makes me so excited! At Miss A's soccer game last night it was downright chilly. Woohoo! Time to break out the boots and the sweaters, folks.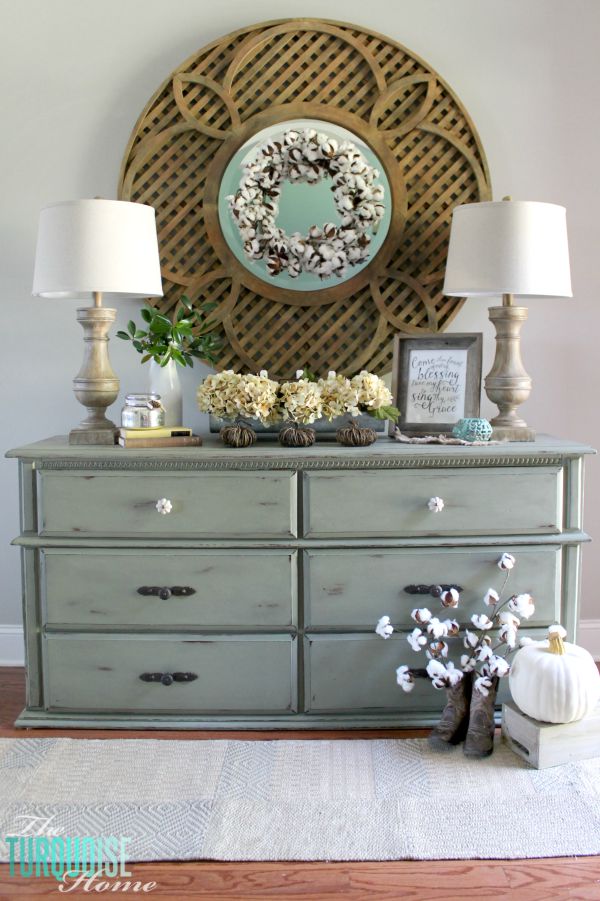 Side note: soccer for 4-year-olds? Both exciting and tantrum-inducing at the same time. We've run the gamut of emotions in one game. And it might not just be the kids! 🙂 This is our first step into organized sports and it is quite the new adventure.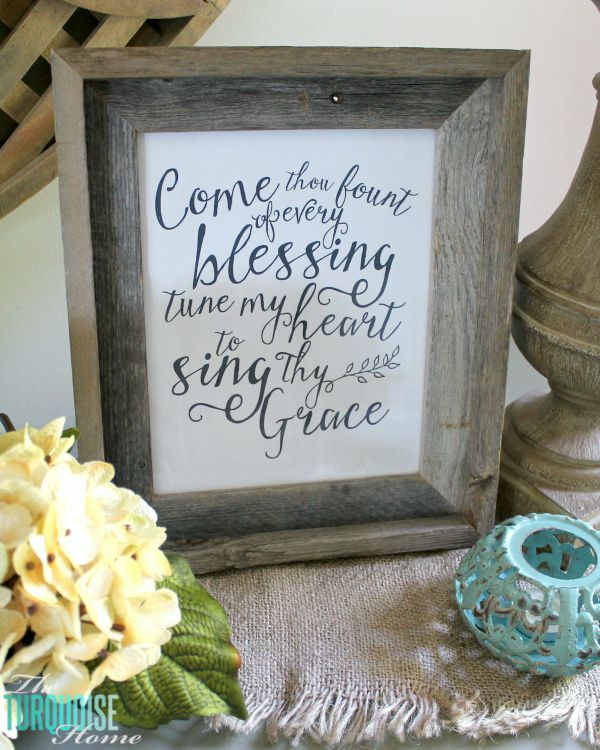 OK, back to the pretty stuff.
I'm celebrating the new season today with a neutral fall vignette in my entry way. You know how I love color, right? Especially a certain blueish-green hue.
And I like to compliment it with bright pinks and yellows in the spring and summer, and then reds and oranges in the fall. But I challenged myself this time to stick with a more neutral palate, just to see if I could do it.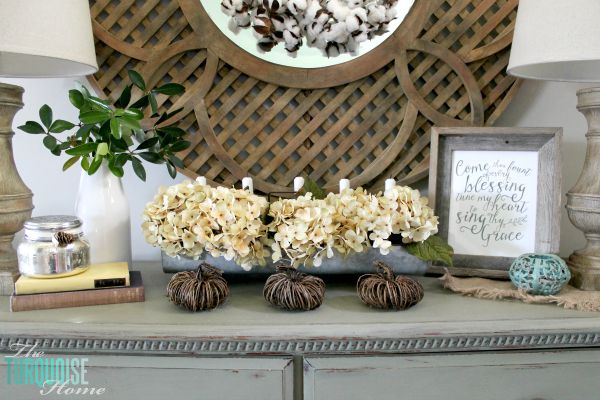 And I really love it! Sure, there's a little touch of yellow, turquoise and green, but they are subdued colors and not too bright. I tried to bring it a lot of texture with the burlap square, grapevine pumpkins, flowers, leaves and cotton bolls.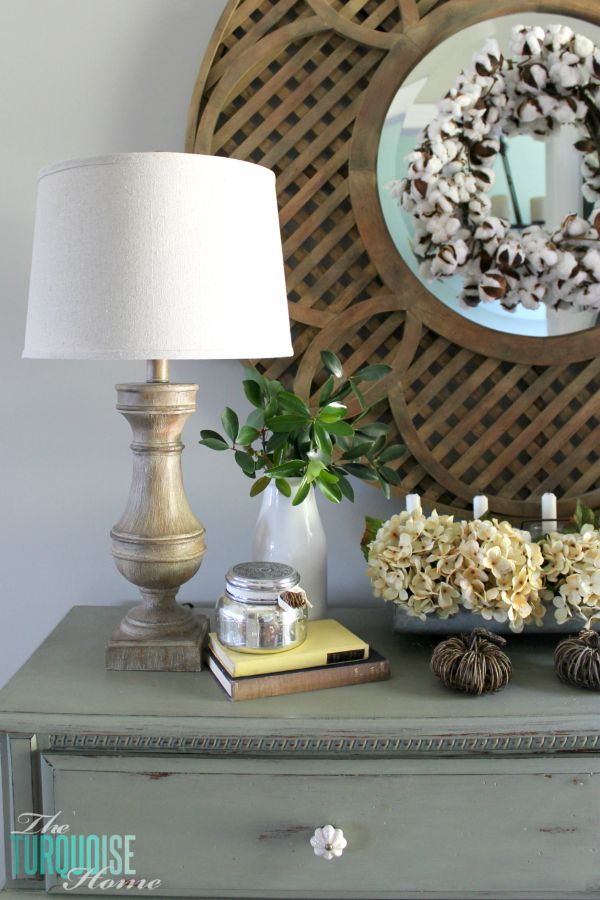 By the way, those leaves are from my bush right outside my front door. Easy, simple and free. Gotta love it!
What do you think?
Personally, I can't help but smile when I walk by. I truly love it!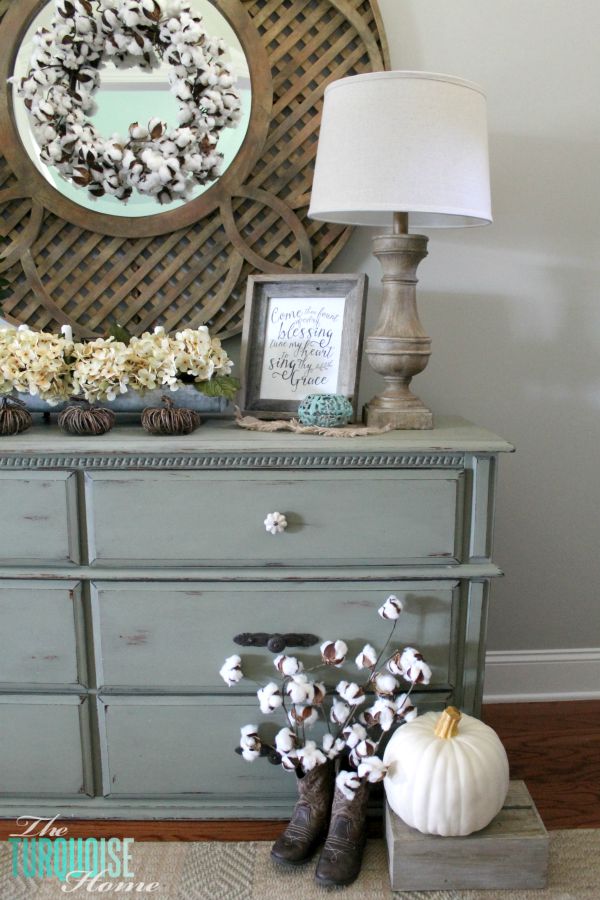 And I'm going to continue to try to do neutral this fall. Let's see if I can accomplish something I love on the mantel. So far I've got a good start, but it needs some work. Hopefully I'll be sharing that soon!
I have a free printable for the "Come Thou Fount" lyrics that I used in this vignette. I just love those words!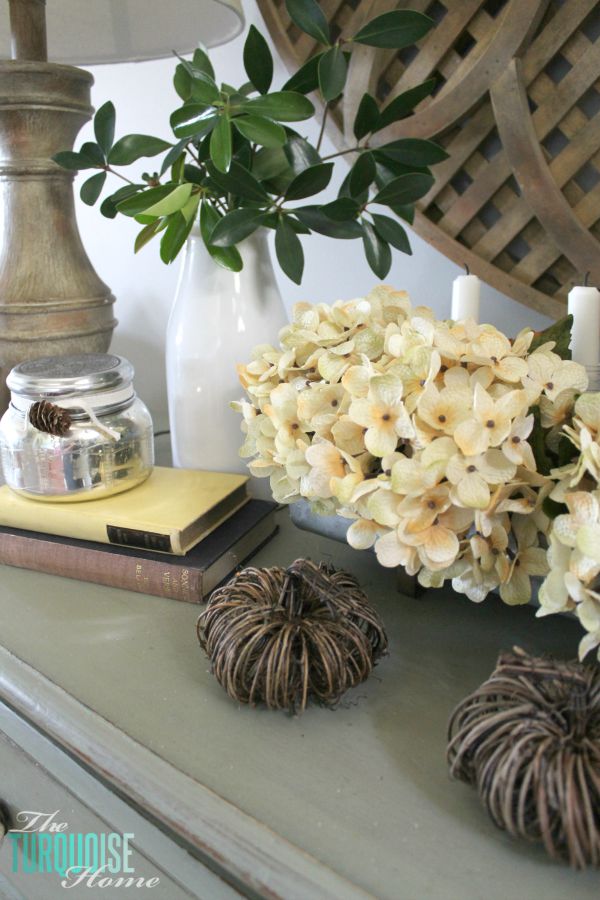 Have you started decorating for fall at your house?
Does it even feel like fall there?
Have a wonderful sweater-weather day!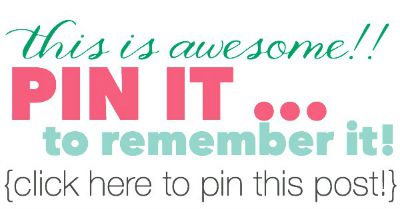 Sources:
Come Thou Fount free printable
Cotton Boll Wreath
Mercury Glass Candle
Mirror – Similar options
Lamps – HomeGoods (similar)
White vase – Target (no longer available, but this is similar)
Galvanized container – Hobby Lobby (similar)
Grapevine pumpkins – Hobby Lobby
Faux Hydrangeas – Hobby Lobby
Turquoise Tea Light Candle Holder – Hobby Lobby
Rustic Frame – Hobby Lobby
More Posts You Will Love: