My Favorite Distressed Blue Vintage Rugs
The distressed vintage rug look is popular right now, but I believe, in my humble non-professional designer opinion, that they have a classic look and will be a timeless piece for years to come! I've rounded up some of my favorite distressed blue vintage rugs at the end of the post. Bonus: they are all super affordable – like a 9×12 under $300 affordable. That what I'm talking about!!
Well, I've gone and done something I tell people not to do. But I promise there was a good reason, so let me explain! Although in the end, I think it'll be another example of what NOT to do. 😬 (Kind of like, how I should take my own advice… 😜)
I've had dreams of changing up some spaces in our home for a few years now. You can see my 2018 Home Goals right here. I think I've been talking about adding bamboo blinds in the kitchen and living room for 3 years and they just arrived last week, but I digress. Sometimes change takes me a loooong time.
Sometime I'm tripped up by the budget (find where to get affordable rugs), or I'm having a good old case of analysis paralysis. You know, when it's nearly impossible to make a decor decision because you just don't want to make the wrong one! It happens to everyone!! And I'm a Enneagram 1, which means I never want to make a mistake, so it's a double whammy.
Find out what size rug to buy for each space in your home.
As I tell people all the time, when it comes to starting a room makeover, the best thing is to make a vision board of all the elements you want to have in the space. Well, in this case I didn't do that. Whomp. Whomp. And lo and behold, I am not sure I made the right decision. (I need your help below!!)
I made a vision board for my eat-in kitchen makeover, and I'm just humming along with that project! But this room, I just jumped in without writing down my plan…
It's always a real possibility that you will purchase something you wish you hadn't when you don't take the time to walk through the important steps of making over a space. This post contains affiliate links for your convenience.
I broke my own rule this time because I knew I wanted a new rug for my living room. I had done my research and narrowed it down to this one that I (thought) I loved. And when it went on major sale, I snatched it up! I bought the nuLOOM Traditional Vintage Abstract Blue Rug in a 9′ x 12′.
Only now I think it might be too light for the space…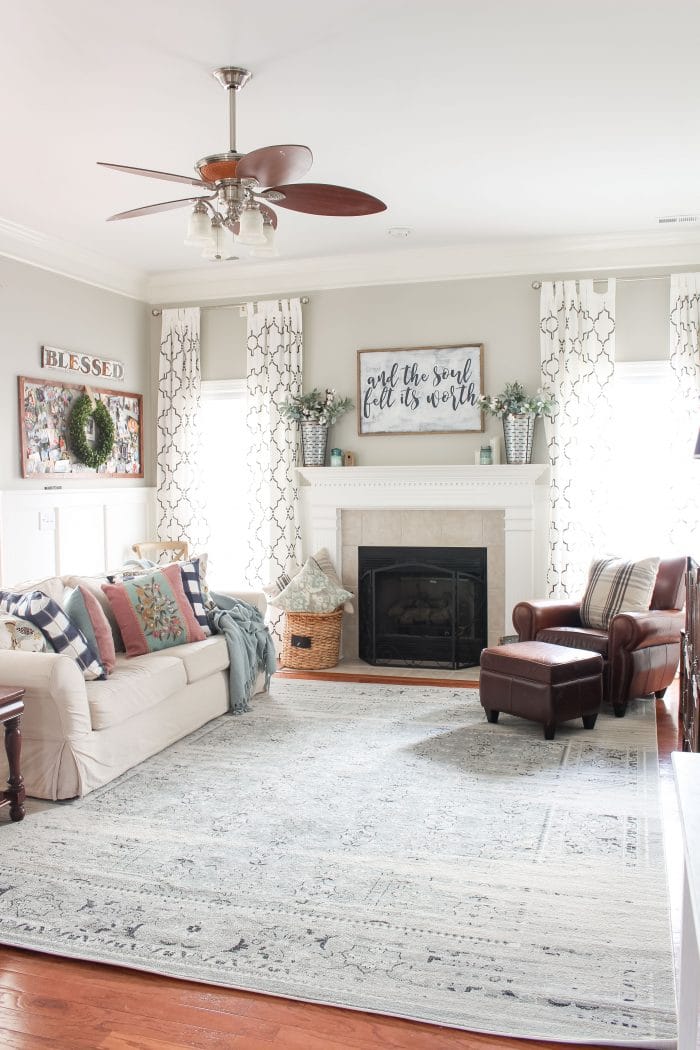 What do you think? I will add that I plan to add a few elements to the room that will warm it up…
I plan to build a wood coffee table, so the space won't feel so vast and it will break up the couch/rug monotony.
I plan to add a wood beam-like mantel.
And a new ceiling fan. Obviously.
I really struggle with huge change like this and don't like the idea of having to return an online rug purchase. But I wonder if a similar rug with darker colors would be better?
Here's what the living room looked like before …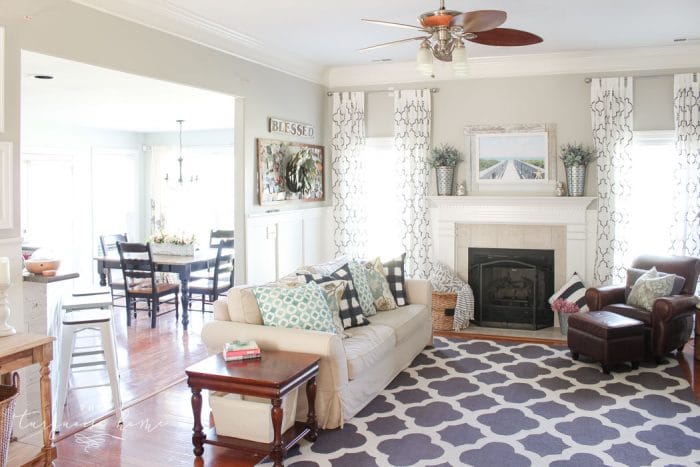 And here's a side-by-side view to help…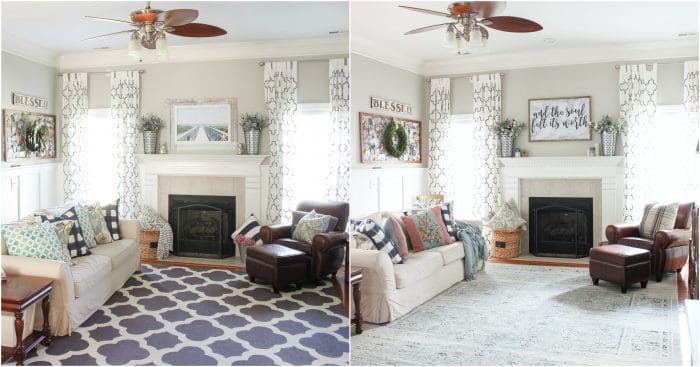 What do you think? Do I need to keep the old rug, keep the new rug, or get a different rug altogether?
In the end, I may just try a third option and see if it works better. But let this be a lesson! Making a WRITTEN down plan beforehand and seeing how all of the elements will play along is worth far more value than saving some money on a rug. If I send this back, I'll have to spend $50 in return shipping. So, it's not a super expensive lesson, but one I hope to not repeat again soon.
Grab the Designer in a Binder to help you NOT do what I just did. LOL
See my updated living room with the new rug I chose here!
Top Distressed Blue Vintage Rugs
I've rounded up a few more blue vintage rug options. I noted the one that I bought and you can see there are other options for darker rugs I could try.

I'm so appreciative of your feedback! Seriously. I've already changed up a few things in the kitchen because of your comments a couple of weeks ago and I think that is going to turn out perfect!

SaveSave