Girls' Bathroom Makeover Progress
I had hoped to have a fully painted girls' bathroom today to share with you, but my DIY projects never happen as quickly as I would like or plan, so I'm sharing the messy middle with you instead.
I got to thinking that sometimes I feel "less than" because I can't seem to crank out home makeovers and DIY projects as fast as others. That comparison trap will get you, ya know?! But while driving home from my workout this morning I decided to just share the messy middle of my project and my slow pace because I hope it encourages you if your DIY projects and makeovers take a bit longer than you'd like, too.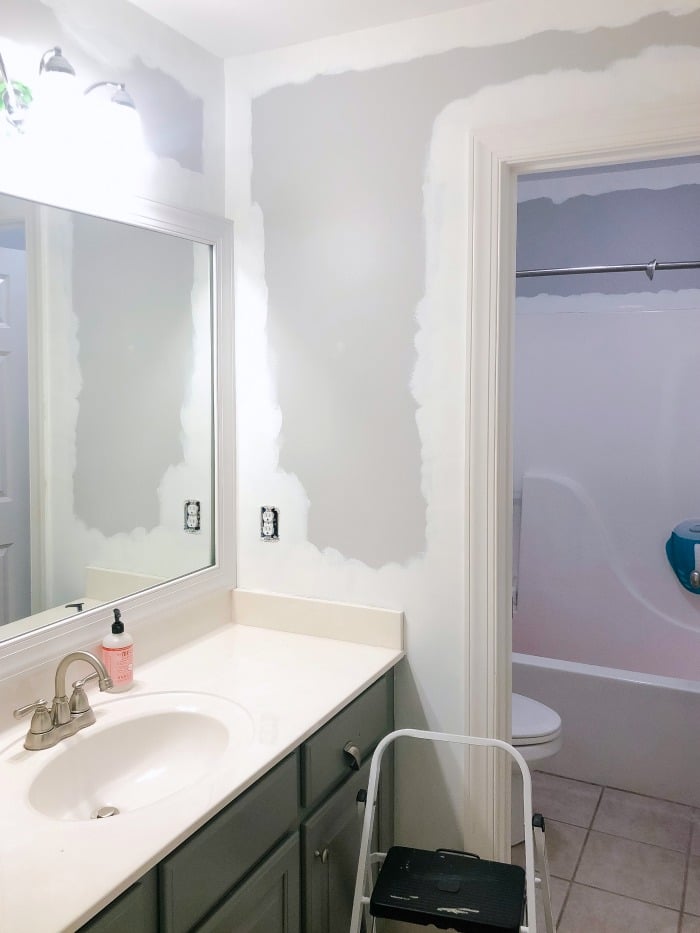 Today I'm sharing about how I got a little derailed in my painting.
As you can see from the above picture, I have only trimmed out the bathroom with my Simply White paint from Benjamin Moore. (The color is from Benjamin Moore, but I get it color matched at Lowe's because it's easier.)
One of the reasons it's taken me so long to paint is that I almost decided to go with a different color. I know I wanted a blank slate on the walls because I have a patterned "tile", a bright and colorful art canvas and pink floor tiles. So there WILL be a lot of color in the room. See my whole Girls' Bathroom mood board here. (I HIGHLY recommend making a mood board or vision board whenever you start a makeover because it helps in moments like these when you start to waver.)
Note: listening to audio books while painting is the ONLY way to go! I use Audible audio books and my AirPods and it makes time go by so much faster!
But since I created my mood board I've decided to … do board and batten on the wall opposite the mirror (behind the door) with hooks for the girls to hang their towels. This bathroom is teeny, tiny and the only hanging towel storage is above the toilet, which they can't reach.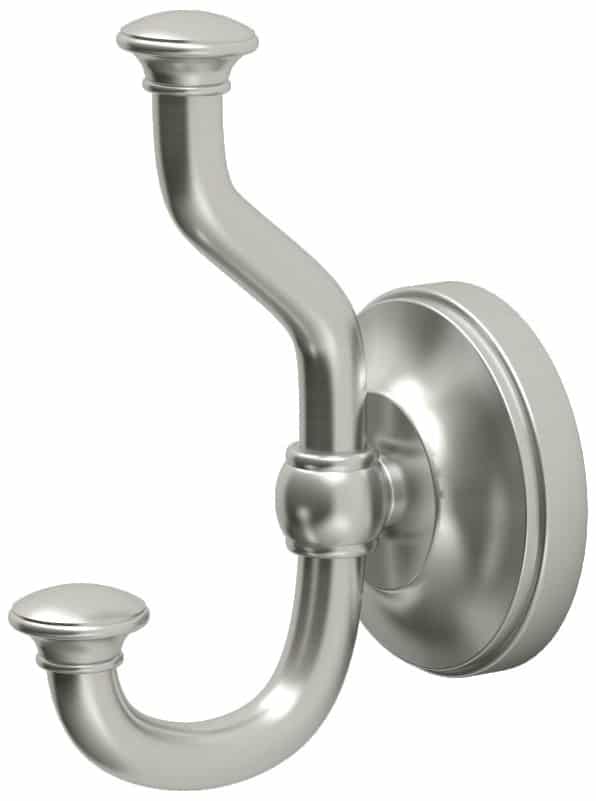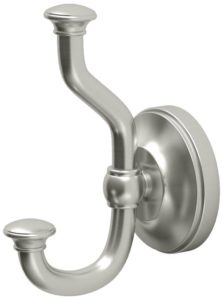 I already bought these hooks for the bathroom and I can't wait to hang them on the board and batten!
I'm always looking for ways to make my home more functional, so this seems to be the best way to keep towels off my floors. Ha! Fingers crossed they will actually hang them up. 🤞🏻
I DIY'd the board and batten in my living room years ago, but this project will be so much smaller and easier. Yay!
OK, so back to the paint colors. I was really thinking about going with a pale turquoise instead of the white – big surprise. Ha!
But, then!!! I had the idea to make the board and batten a light turquoise instead of the whole wall. Something like this …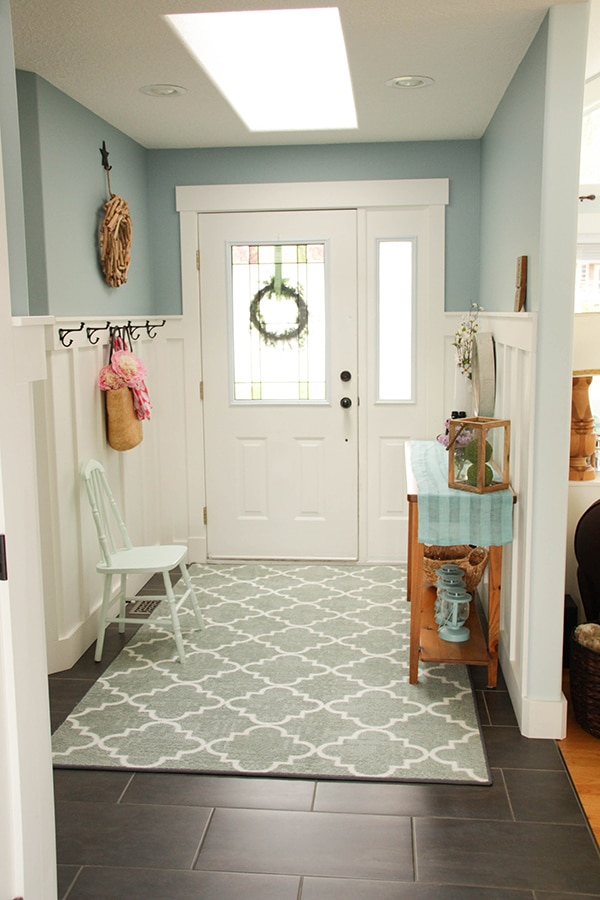 Board and Batten from The Happy Housie via Home Depot
Except the colors will be flipped and it'll be in the bathroom. Details. Details. 😉
Who knows if it will look good or not, but I can always paint the molding white if I hate it. But I think I will love it! And I may love it so much that I'll take it around the rest of the bathroom. We'll see! 😊
As I was searching for the right turquoise color in my collected paint swatches it dawned on me that I have a whole house color palette (see the post here) that I've shared on here before that makes these decisions for me!!! Hello!!! How could I forget?
My accent color in the dining room works perfectly and will make the whole house feel cohesive because the colors are just a repeat from the dining room, only flip flopped!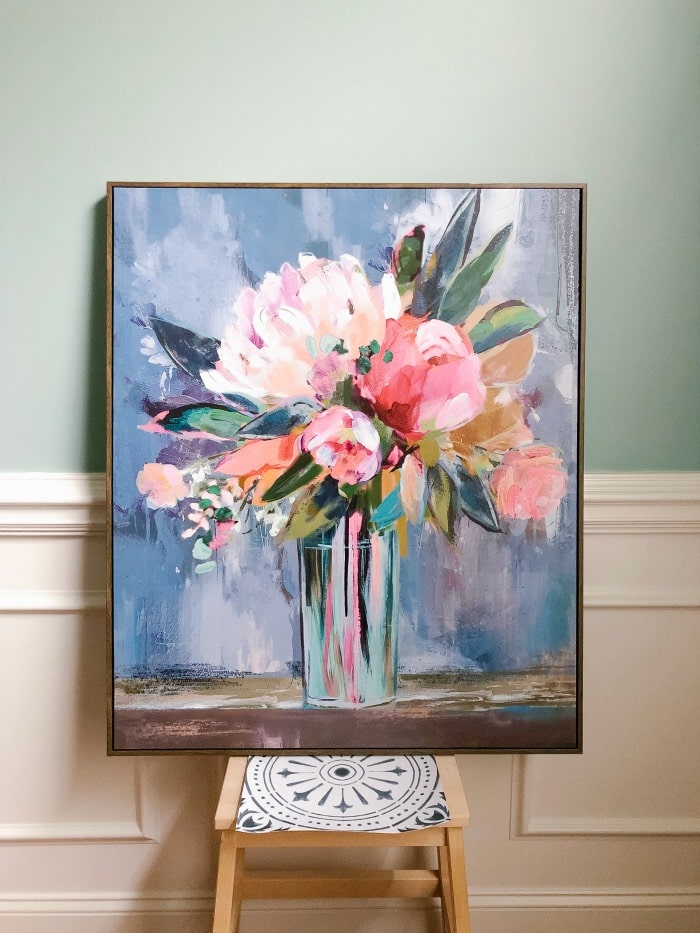 Canvas Art // Peel & Stick Vinyl Tile (going on the floors) // Wall Color: Wythe Blue
So, thankfully I could just prop my new art up against the dining room wall and see how the white and Wythe Blue (Benjamin Moore) would work together and I think it works beautifully!
Girls' Bathroom Refresh Mood Board (see the details HERE)
I popped some Wythe Blue in my mood board, too, to see it all together and I think it works great! I might have to change out the shower curtain and go with something more neutral, but we'll see how it works together when I get it all in the room. That would be an easy fix!
Alright, back to painting! I was waiting to go buy my boards for my board and batten until it stopped raining, but I think Noah's coming by with the ark soon, so I'm just going to have to go in the rain. Ahh, well. Hopefully February showers will bring May flowers this year. 😜
Happy day!
Laura
MORE POSTS YOU WILL LOVE: