The Best Grout Refresh with Grout Paint
Give your bathroom or laundry room a grout refresh! Make your grout joints look like new with this easy-to-use grout paint. No more grungy, stained grout lines! Yay!
The title of this post could also be: "How to make grout gray again" or "how to make grout beige again." Just know that if you want dark grout, you can have that too! Whatever color your grout may be, the good news is that there's a way to take it back to where it all started! Yay.


And boy does it make a difference!
I've had a bottle of grout paint for years. I was supposed to be using it in our laundry room, because … gross! It's so discolored and stained in there.
But that's kind of how my DIY projects go. I'll buy a tool or supply to finish a project and instead of doing said project, I'll keep it tucked away somewhere until one day I'll get a wild hair and just go for it. Happens allll the time. (Please tell me I'm not alone. Ha!)
So when it came time to put the peel & stick vinyl floor tiles on in the bathroom, I realized that I would never be happy with them unless I did something about the discolored and stained grout. It wasn't too bad in the room with the sink, but around the toilet there were terrible stains that were there when we bought the house.
This is how they looked before the white grout paint.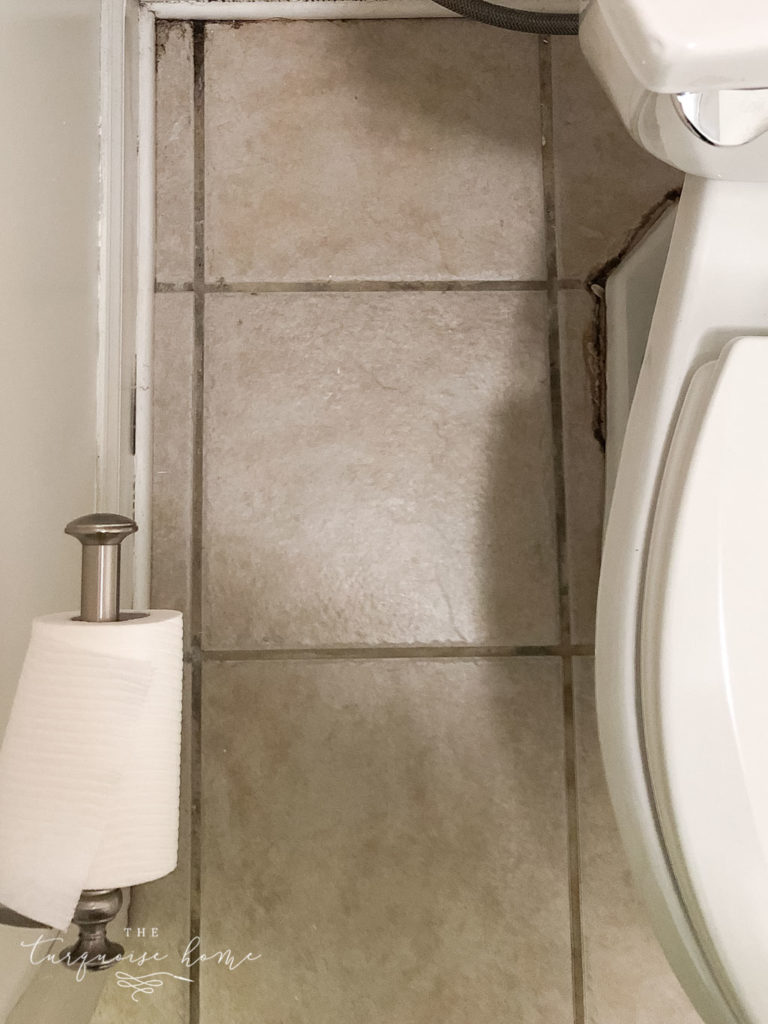 So gross. And trust me, I've scrubbed them clean and they just won't budge.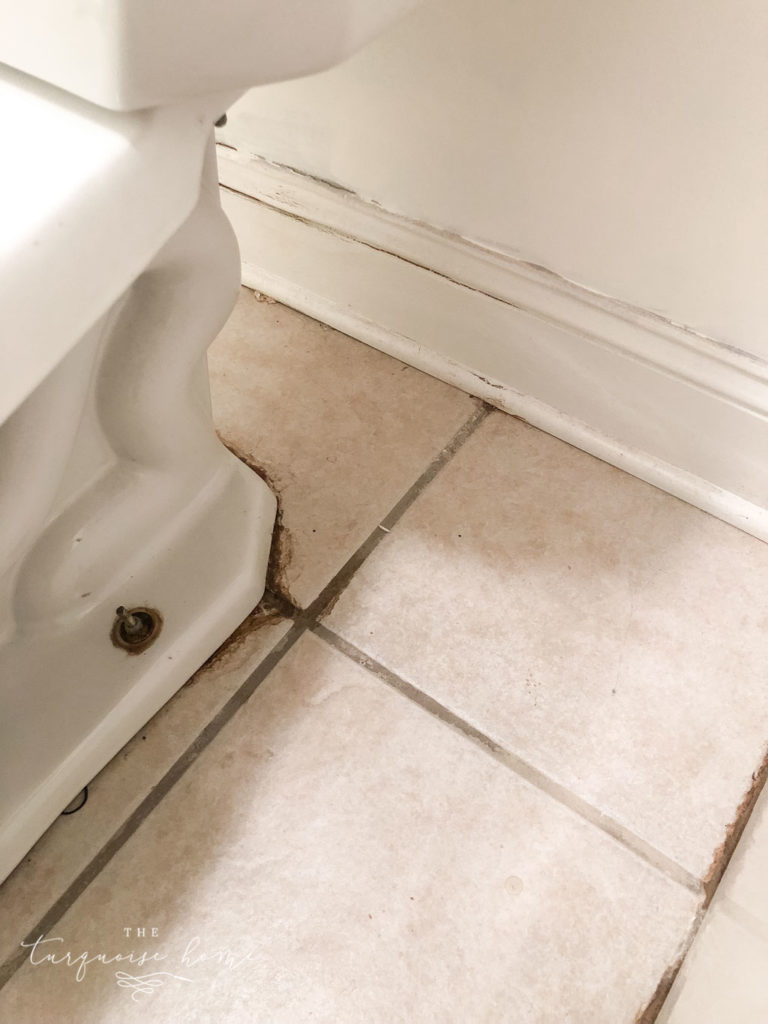 I can't believe I'm showing you this angle, but it was very bad!
It was a pretty painless process, except for my old lady knees having to be on the tile while I painted. Other than achy knees, it was an easy and quick process.
This post contains affiliate links for your convenience. See my full disclosure policy.
Supplies You'll Need to Paint Your Grout
1. Polyblend Grout Renew – in the color of your choice. I used Snow White. (You can also find it here.)
2. Small craft paint brush or toothbrush. The instructions called for a toothbrush to apply the grout paint, but I decided a craft brush would be more precise.
3. Rag or tissue – for wiping paint off the tile
4. Krud Kutter or other degreasing cleaner
Steps to Make your Grout White Again
Step 1. Clean Your Grout.
You definitely want to scrub your grout clean before applying the grout renew. I used krud kutter and just let it sit on the grout for a while, then wiped it up with a rag. If your grout is super dirty, you may want to use an old tooth brush to scrub it while cleaning it.
Let it dry completely before applying the grout paint.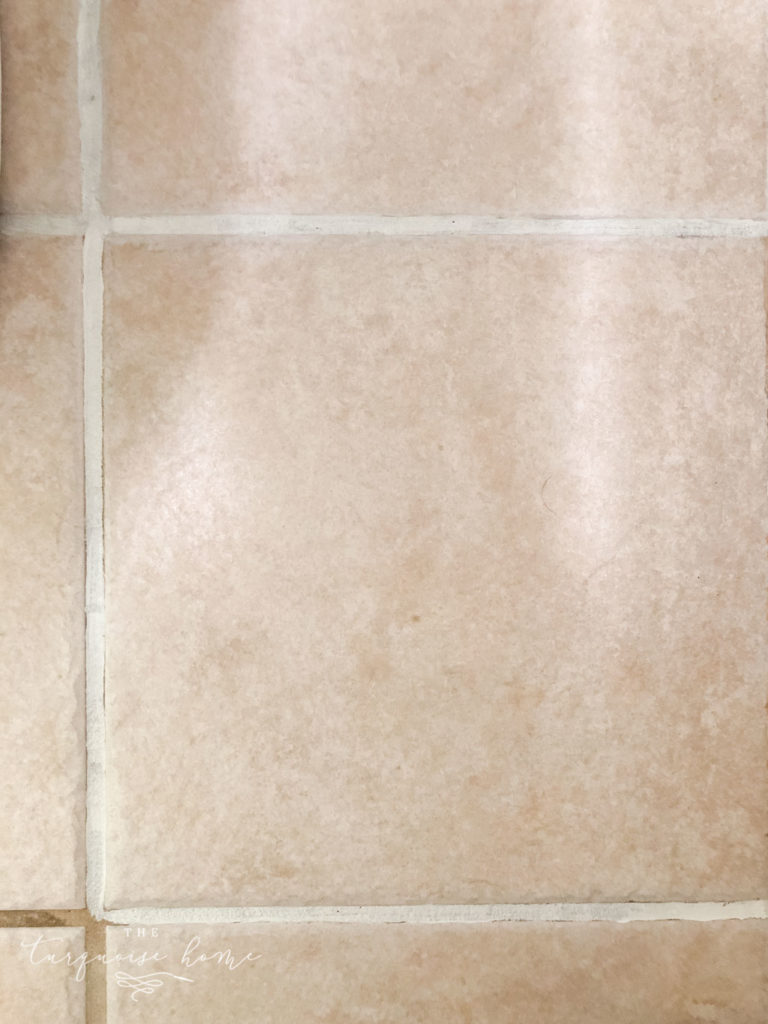 Step 2. Apply the Grout Paint
Apply the paint or grout stain with a small craft brush or tooth brush. I chose the craft brush route because I wanted to be precise and not spend as much time cleaning paint off the tiles. (Although my new vinyl tile stickers will go right over them, so it probably didn't really matter. I'm just OCD like that.)
Basically you need a stiff bristle brush to apply the paint precisely.
I chose the "Snow White" color because it wasn't a stark bright white, but still looks white next to my tiles.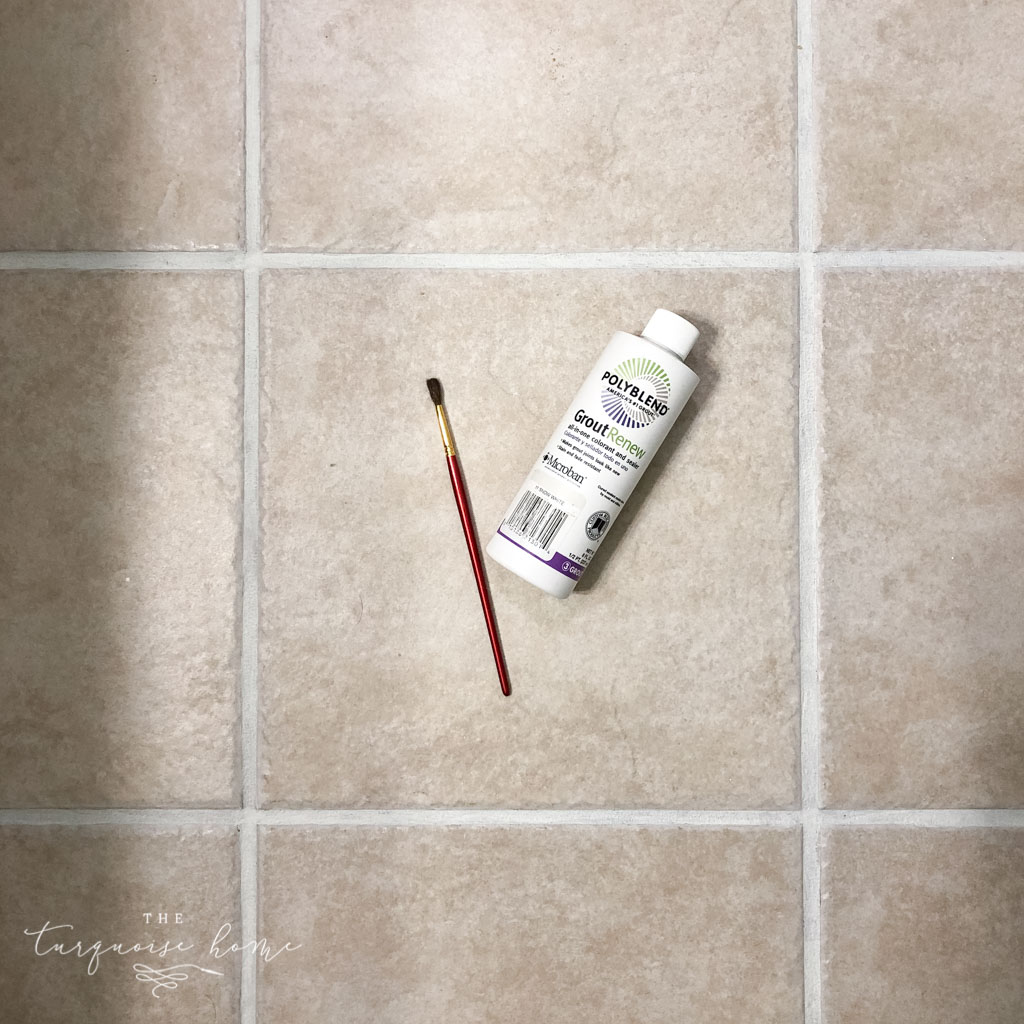 Step 3. Wipe Any Excess Paint off the Tiles.
I used a piece of toilet paper to wipe the paint off the tile pretty quickly. I worked in small sections on the bathroom floor and wiped the tiles off before moving on to the next section. Small sections = one tile at a time.
Step 4. Let it dry.
The bottle says to let it dry for 24 hours before using the room and 72 hours before you get it wet. So I kept the door closed and locked for a few days and we just used the master bedroom for a little bit. I could easily unlock it if people needed it, but it kept us from using it unnecessarily for a bit.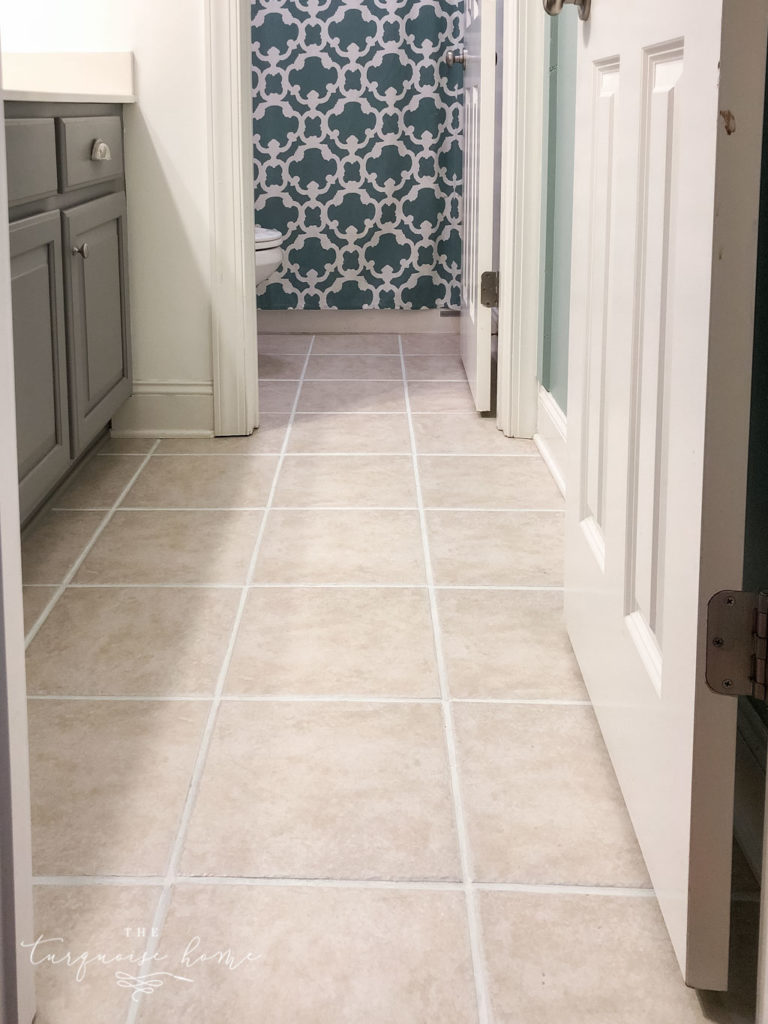 Super easy, quick process! It took me a couple hours to do my small bathroom. So, if you have a larger area it would obviously take longer. But it's something you could work on a little bit each day and come back to it.
This is how it looked before and after. What a transformation, right? I'm going to tackle my laundry room next, because y'all. It's SOO bad!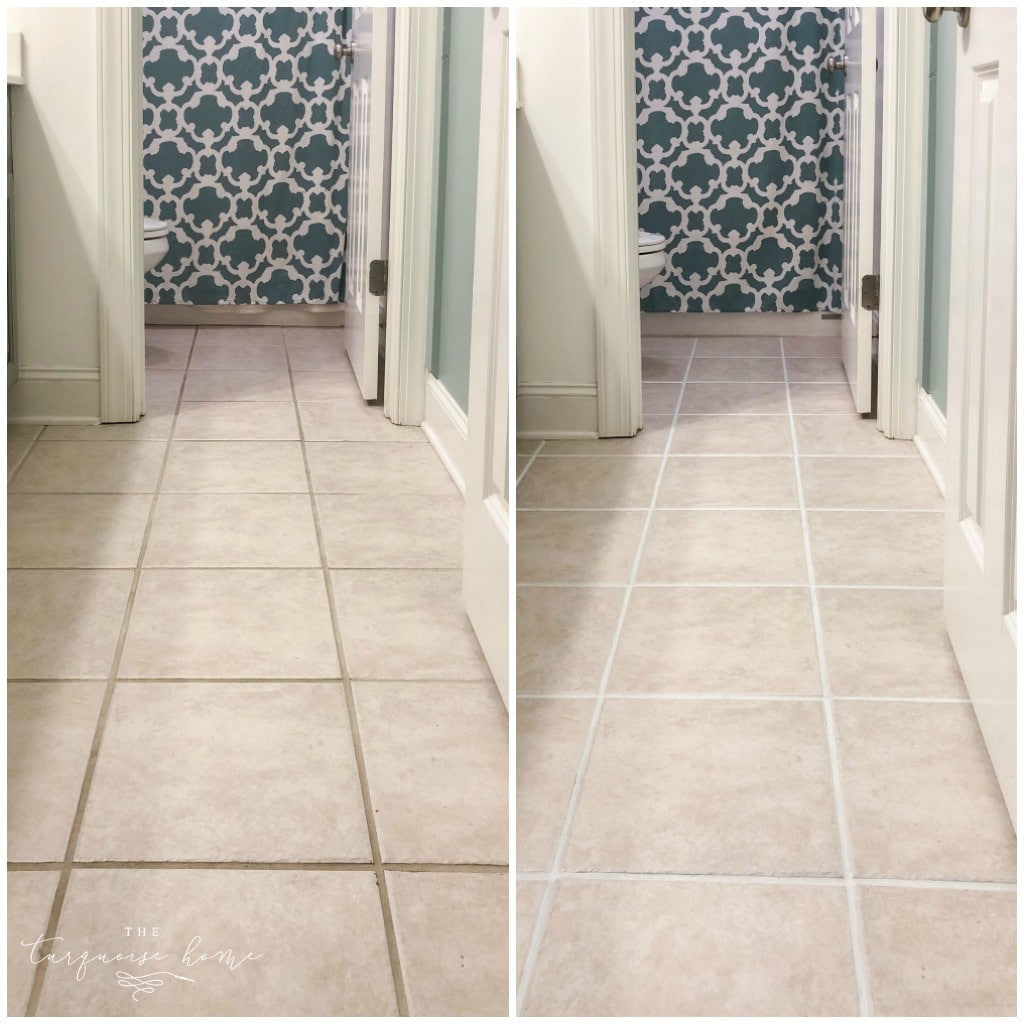 Now it's time for me to lay the peel & stick vinyl tile in the bathroom and I'm so excited to see that transformation! Click here to see my whole vision board for the girls' bathroom refresh.
It's coming along and I just have a couple things left before I'm done!


MORE POSTS YOU WILL LOVE: