DIY Photo Transfer To Wood (Step-by-Step Tutorial)
Learn how you can easily transfer a photo onto a piece of wood using my step by step photo transfer to wood tutorial. This craft is perfect for making a gift or decorating your home!
I recently discovered a new way to use a photos and free printable in our home! Transferring a photo to wood is such a cool way to make any kind of photo decor. I love that you can personalize any type of gift with this simple and inexpensive Mod Podge transfer method.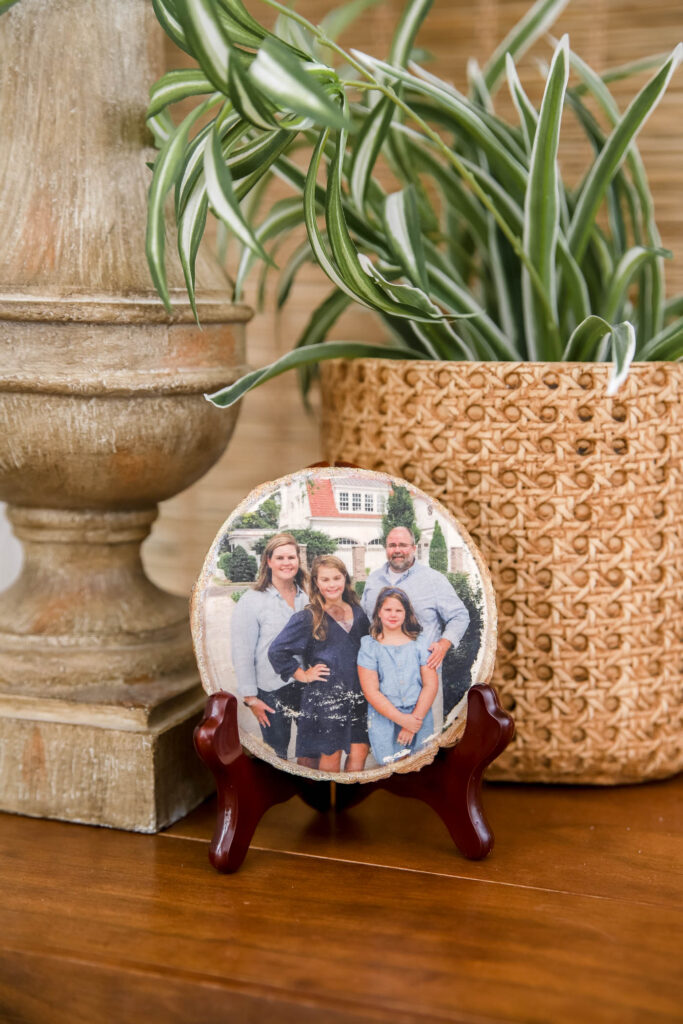 This post contains affiliate links for your convenience. See my full disclosure policy.
It's literally 6 quick steps. The hardest part is waiting for it to dry, so just plan ahead a little bit and you have yourself a gorgeous piece of new decor! Or use it to make gifts for friends and family!
Update: I've since used new method to speed up the process, so you don't have to wait quite as long. I recently made one of these in less then 20 minutes! I'll share the process below!
If you've never used Mod Podge before, it's basically a watery glue that dries clear. You can get it in matte or gloss finishes. I always like a matte finish for these projects.
There are numerous options and creative ideas for how to use these photo ideas. So, any sentimental photos that you have would make a great gift idea transferred onto wood! I share my favorite ways to display these wood pieces at the end of the post.
Supplies You'll Need for a Photo Transfer to Wood Craft
Piece of Wood – These small round wood slices would make great Christmas ornaments or gift tags! I chose this wooden plaque for one of my projects.
Scissors
Laser Printed Photo or Image
Foam Brush or Small Craft Brush
Wash Cloth or Paper Towel
Hair dryer, optional
Drill and drill bit, optional
Steps to Transfer a Photo to Wood
1. Gather Your Supplies
Order or purchase your wood pieces. I like these wood slices with rough edges, but you can use any type of wood block, plague or round for this project.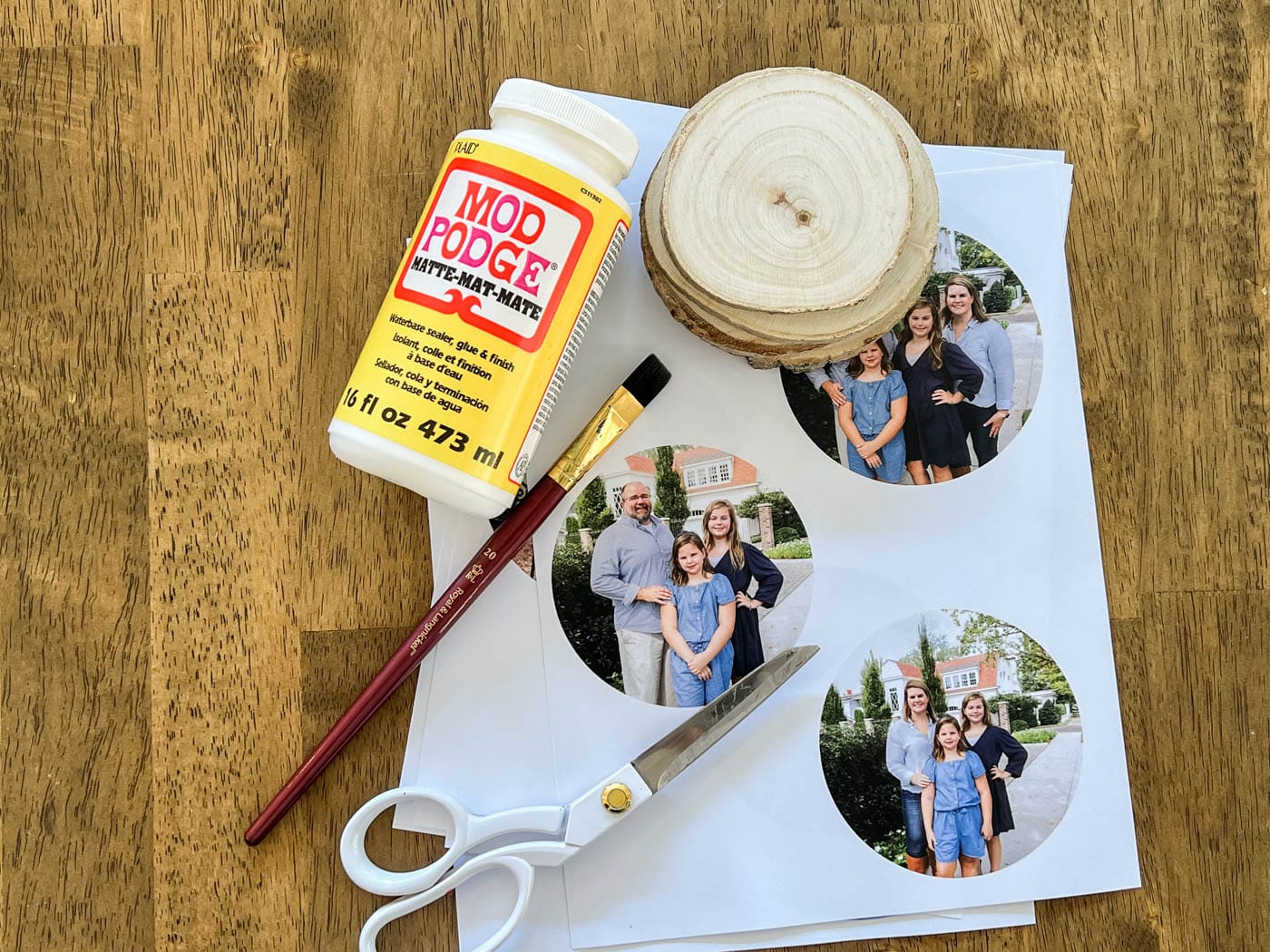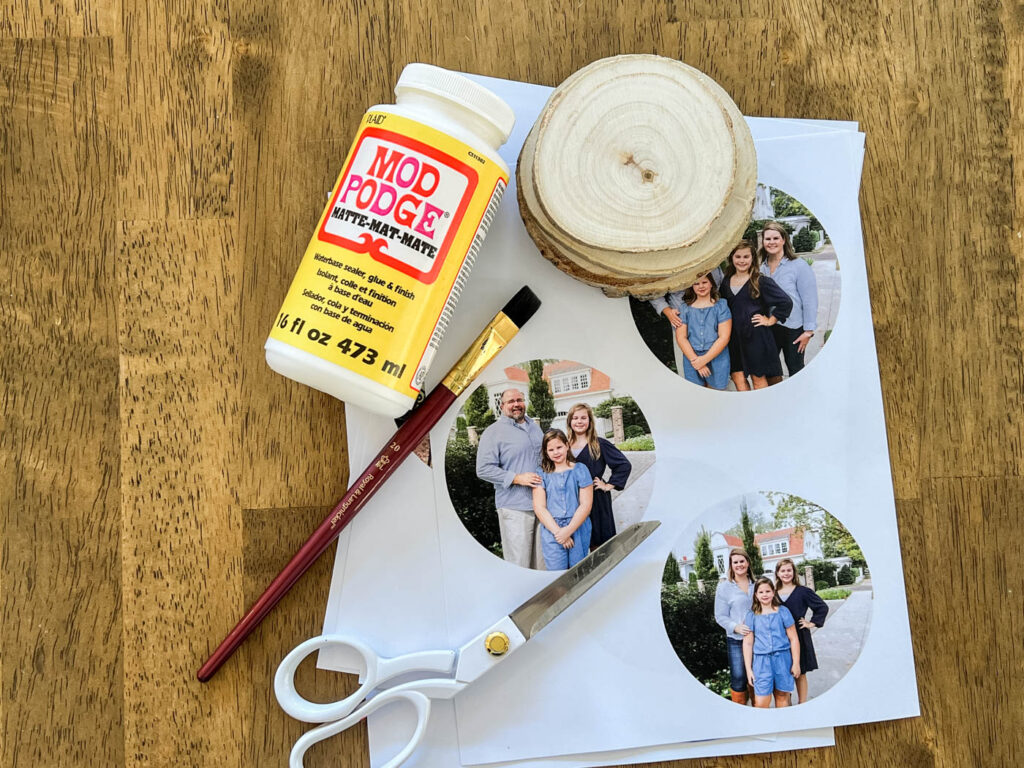 Also grab your Mod Podge, paint brush and cloth or sponge. You will obviously need your photo, too, which we cover in the next step.
2. Print out Your Image or Photo
You want to make sure of a few things before you print out your photo/image:
Mirror the image if the direction matters. Art with words will need to be mirrored, but many times it doesn't matter if you're using a photo. If you need a good photo editing program, I really like Canva or PicMonkey for a very user-friendly way to crop and edit images.
Resize the image on a page, if you need to. I create 4-inch photo circles in Canva because my wood slices are about 4 inches in diameter.
Print your photo or image with a laser printer. I only have an ink jet printer, so I sent my photos to Staples to be printed.
Use regular printer paper. You want the paper to be thin (~22lb. paper) so that it's easy to rub off once it has adhered to the wood.
Cut out the photos with the scissors.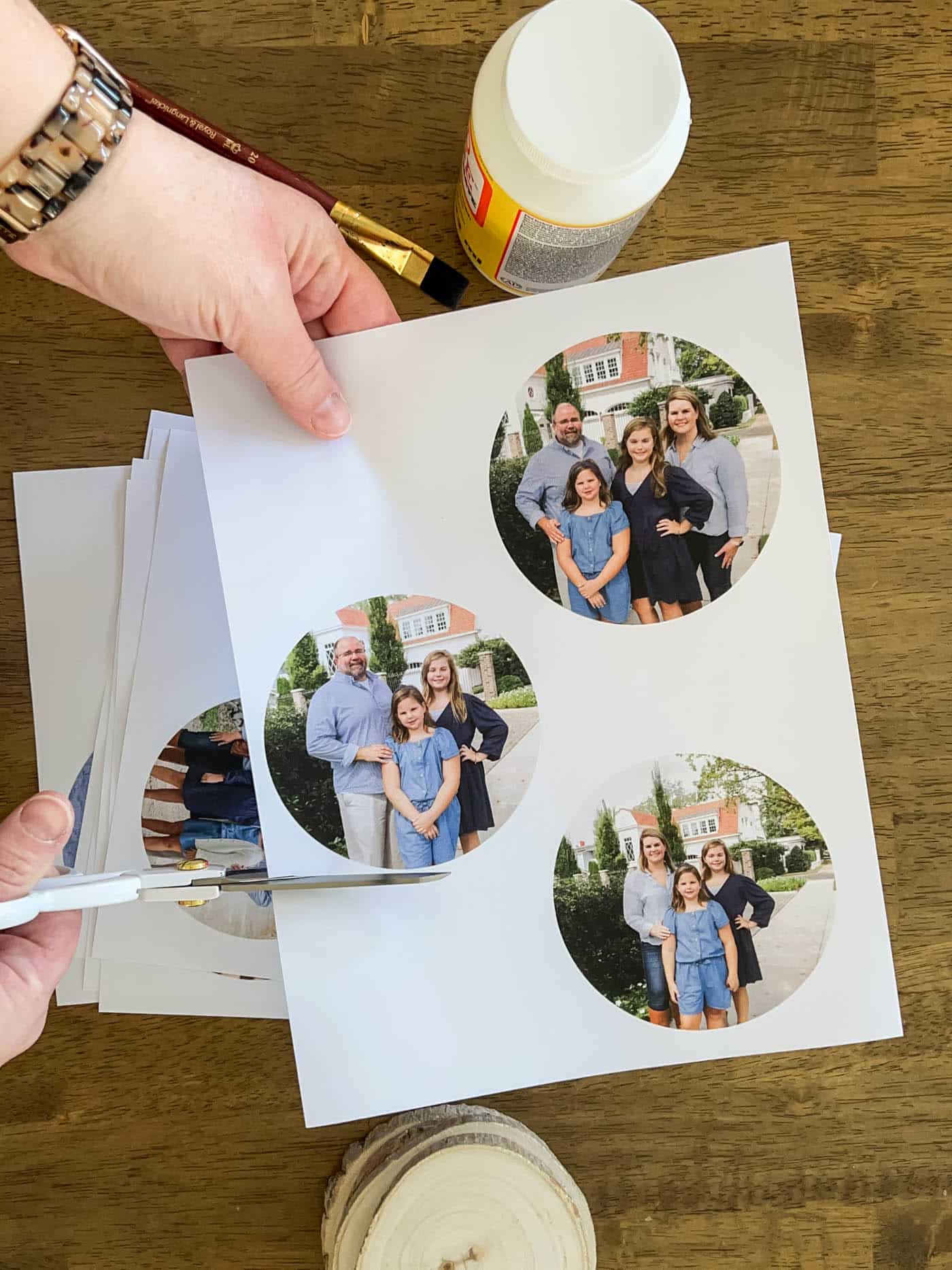 3. Adhere your Photo to the Wood with Mod Podge.
Paint a medium layer of Mod Podge on the wood until it's completely covered. Not too light and not too thick.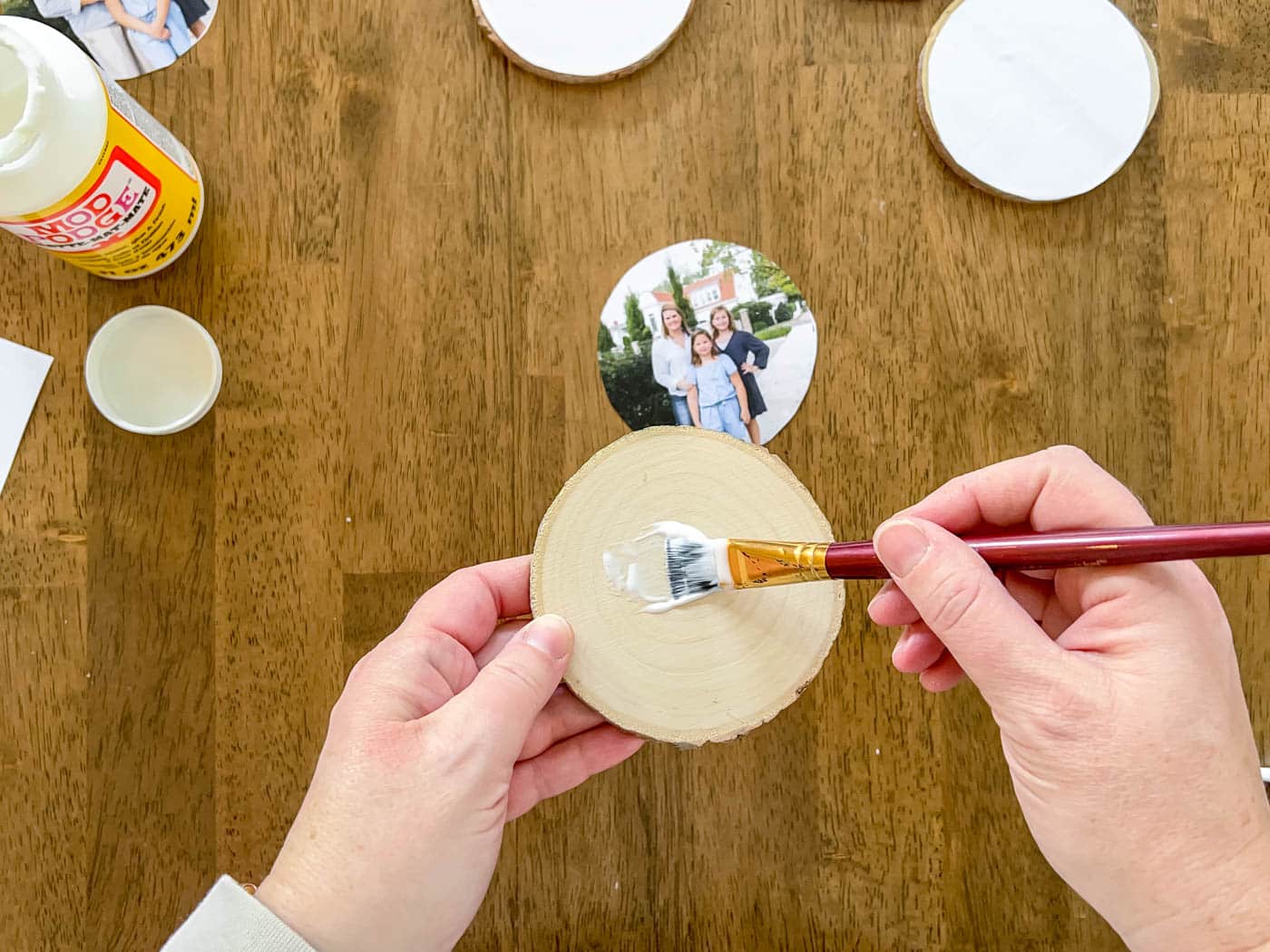 Then place the photo, face down on the wood slice.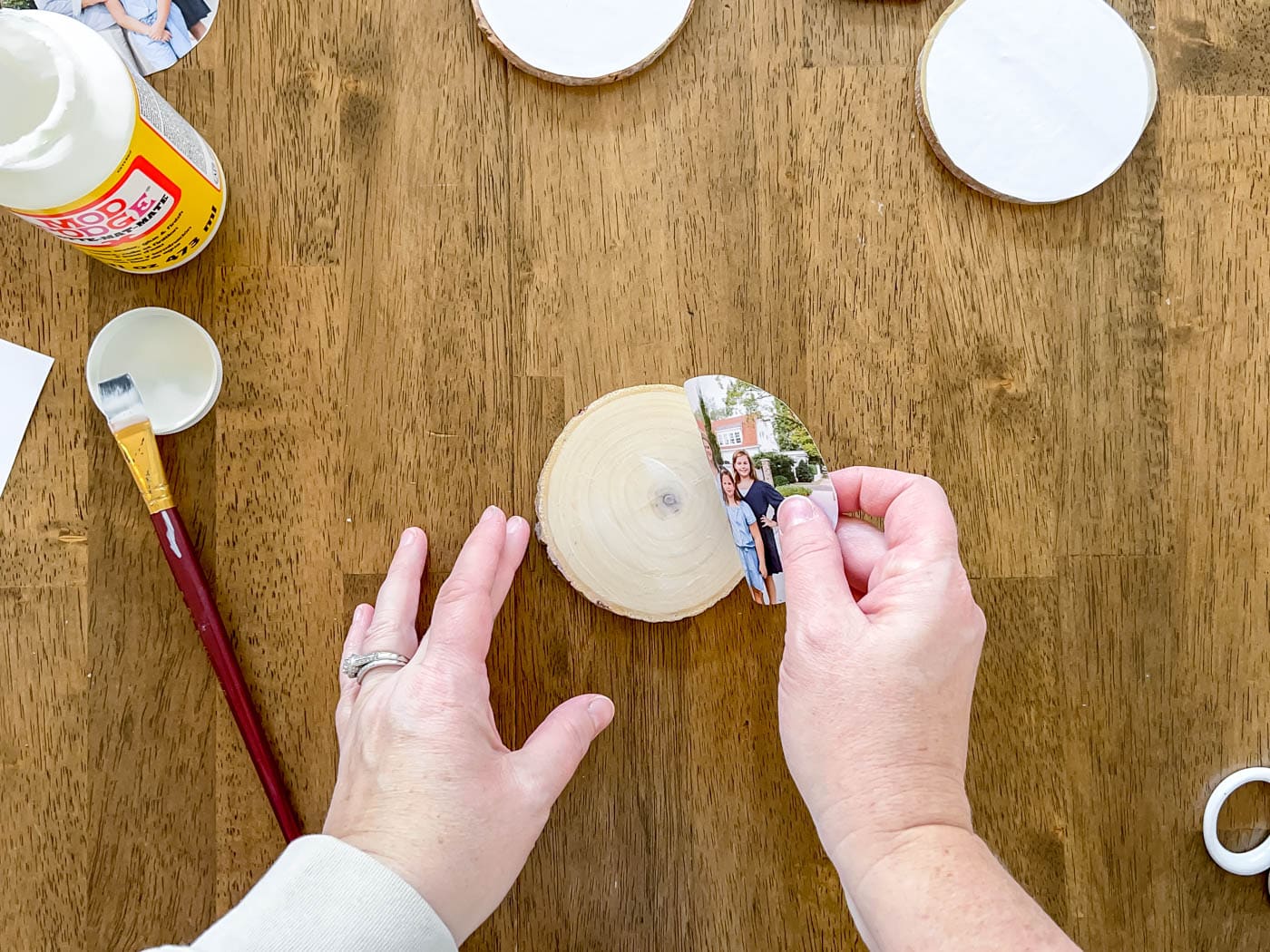 Press out any air bubbles with your fingers or a credit card. If there are any air bubbles, then the photo won't adhere to the wood there.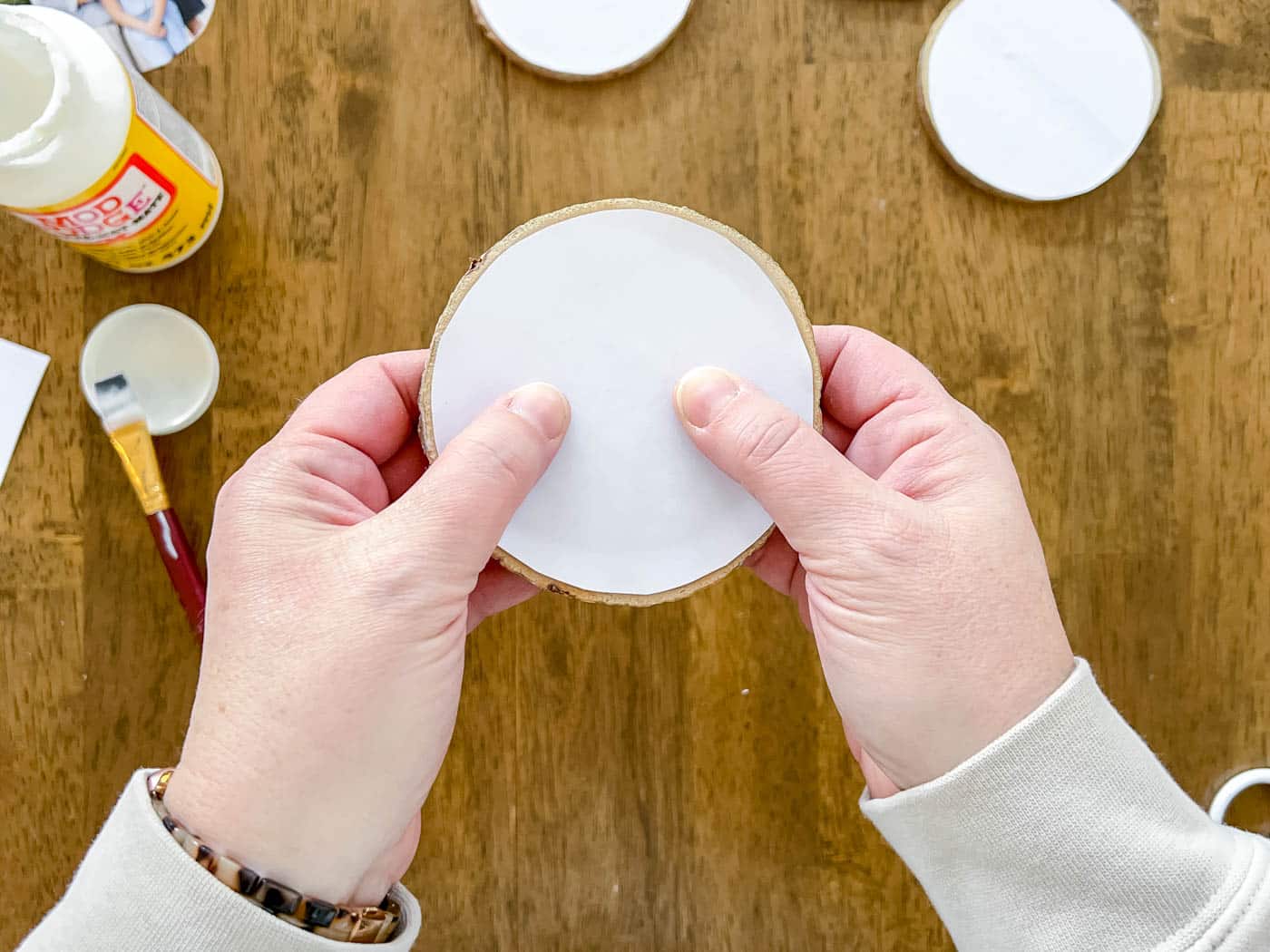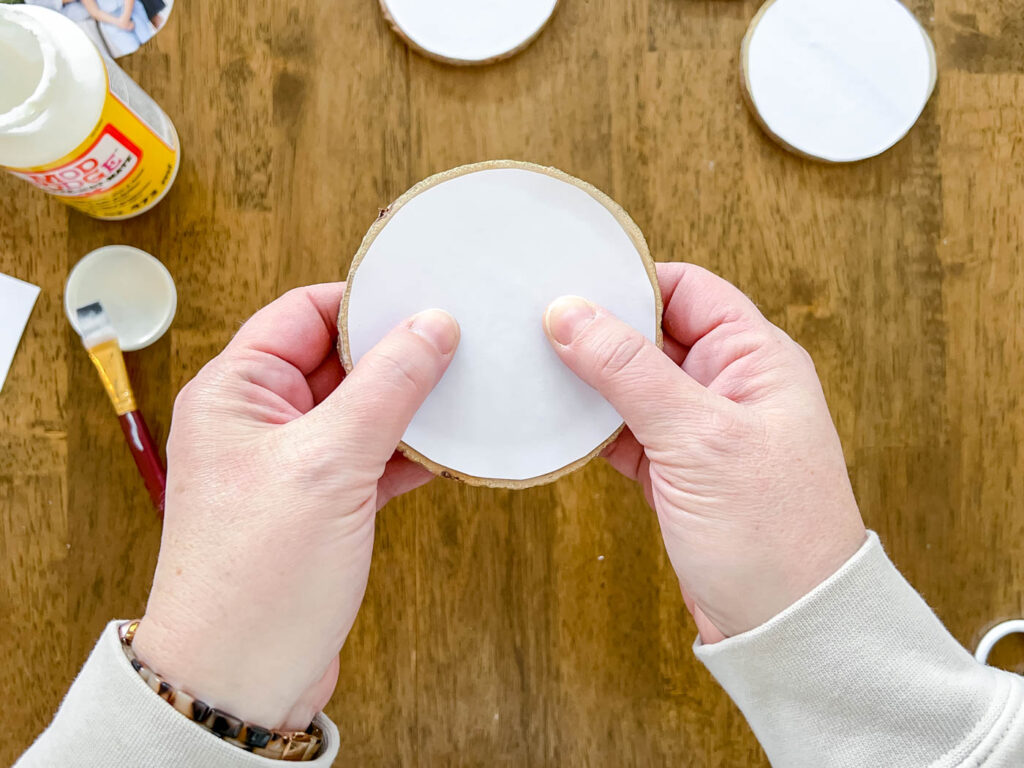 4. Allow the Mod Podge to Dry
I've seen tutorials that recommend letting the Mod Podge dry anywhere from 24 hours to 72 hours. I let mine dry for about 48 hours and it was perfect. So, use your best judgment, but I believe the longer you can leave it to dry, the better the final project will turn out.
Quick Tip: Use a Hair Dryer
You can use a hair dryer to speed up the waiting process. I dried my wood slice for about 2-3 minutes on medium heat until the photo was adhered really well. I then let it cool off before continuing to the next step.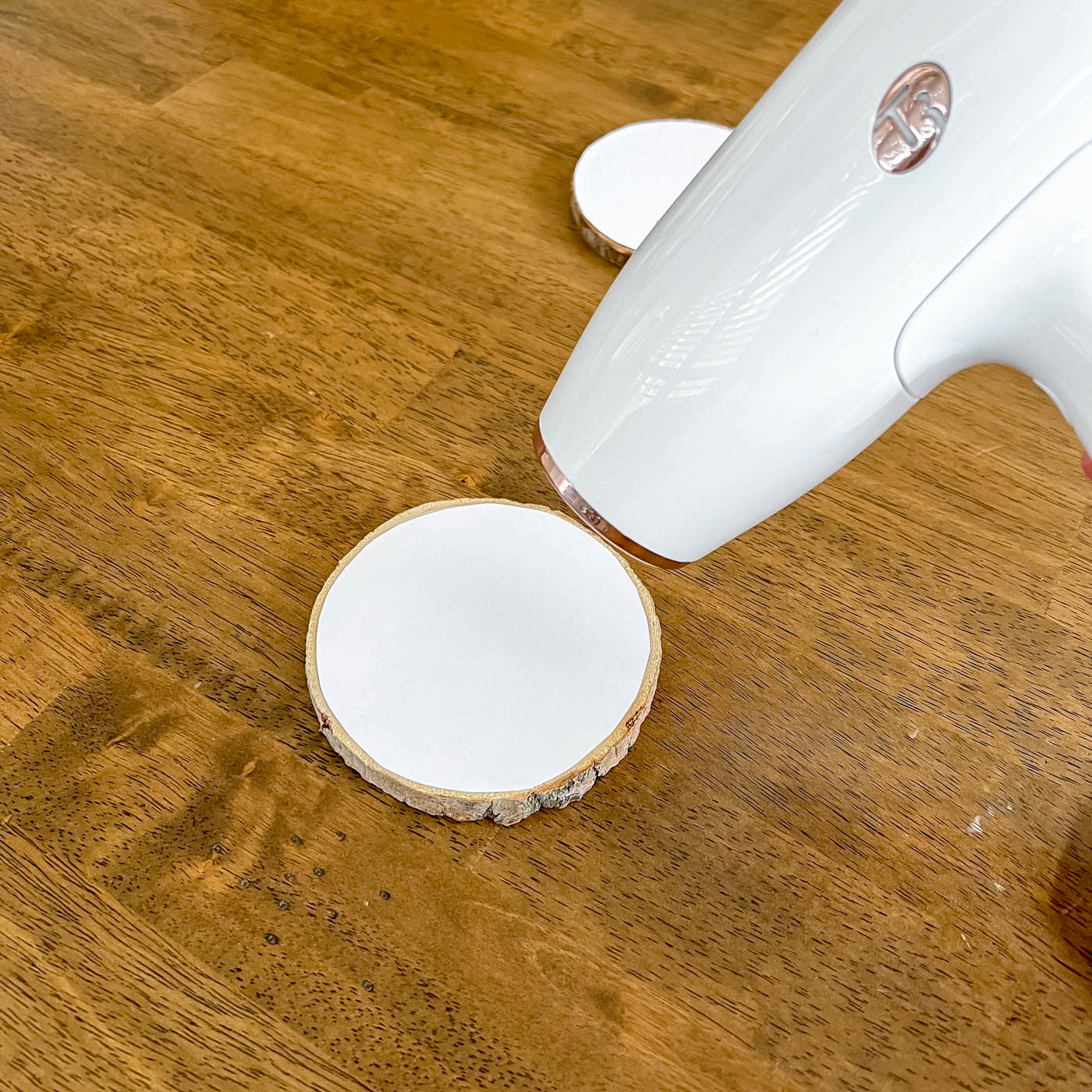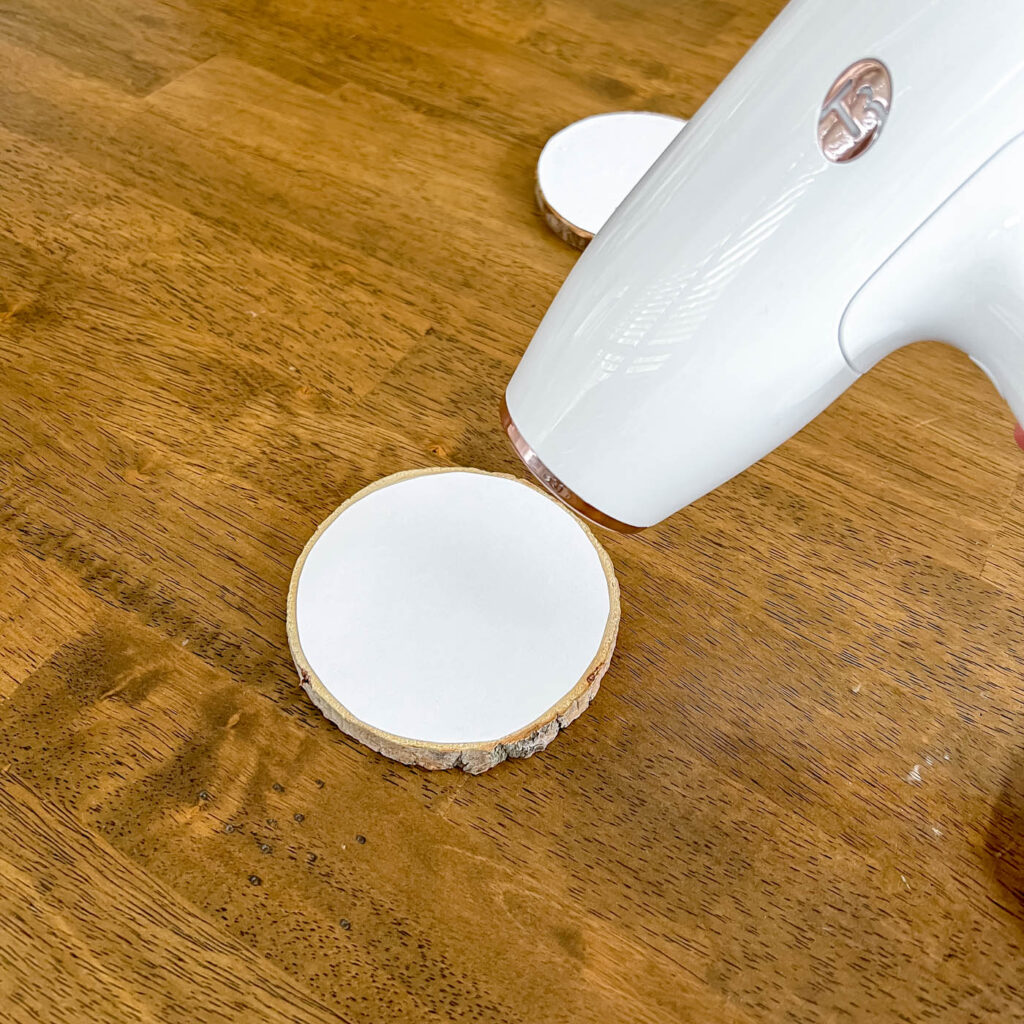 5. Rub Away the Paper Backing with a Damp Cloth
Once the Mod Podge is completely dry and cool, it's time to remove the paper backing.
Wet a wash cloth or paper towel and wring out the excess water. It shouldn't be dripping with water, but definitely wet enough to wet the paper.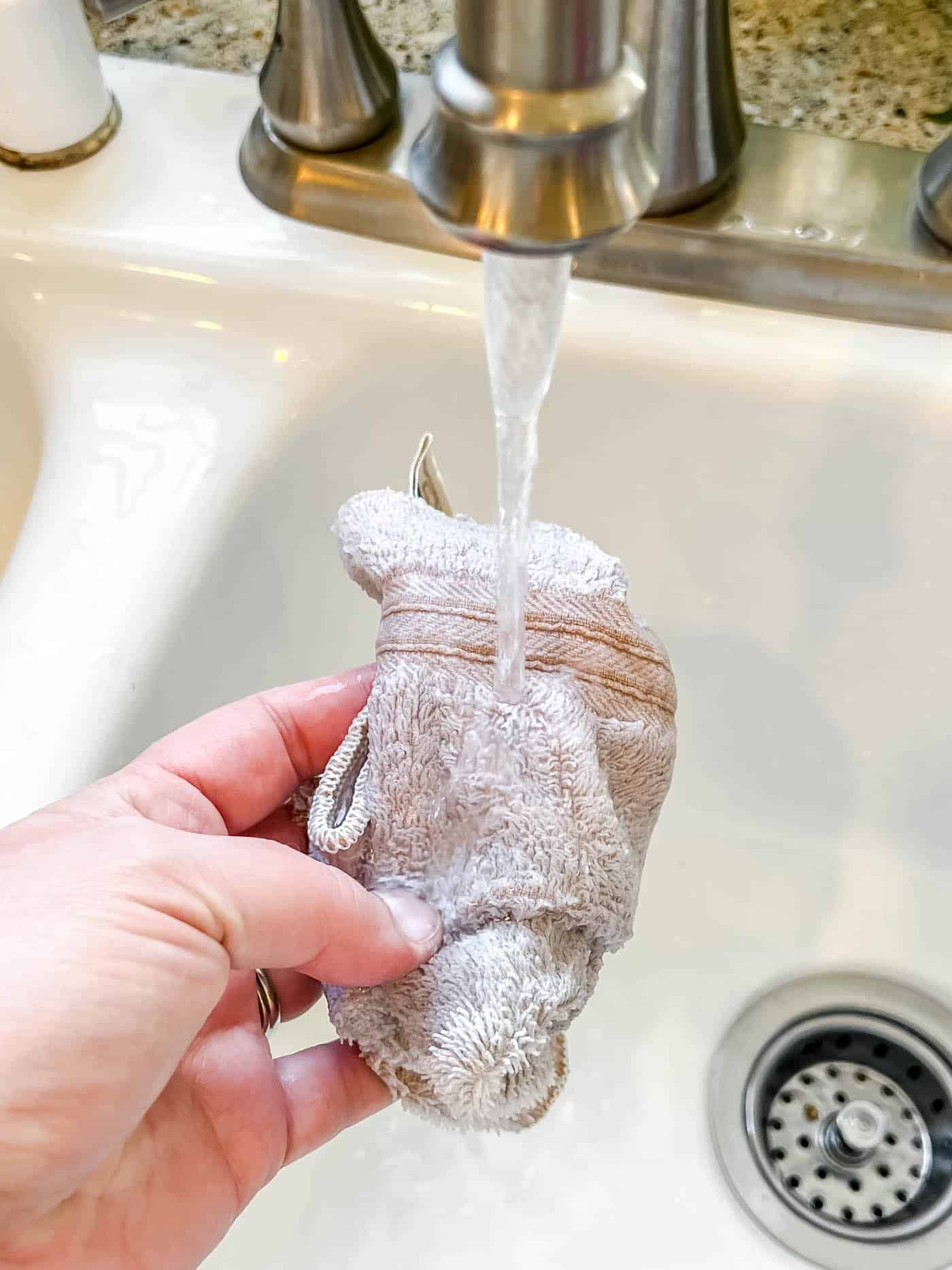 Then start gently removing the paper a little bit at a time by rubbing gently. It's easy to rub too much and remove the image completely, so take your time and go slow.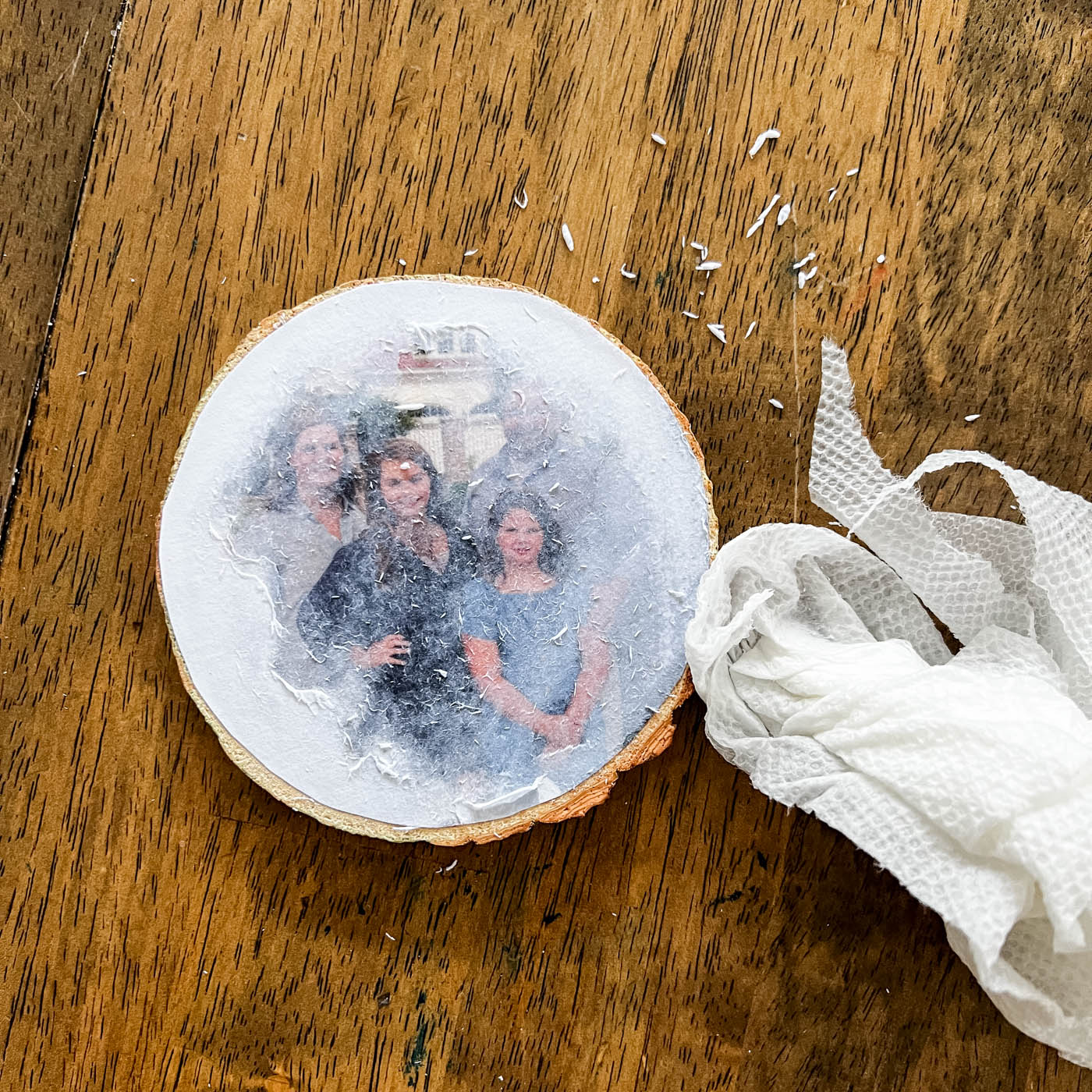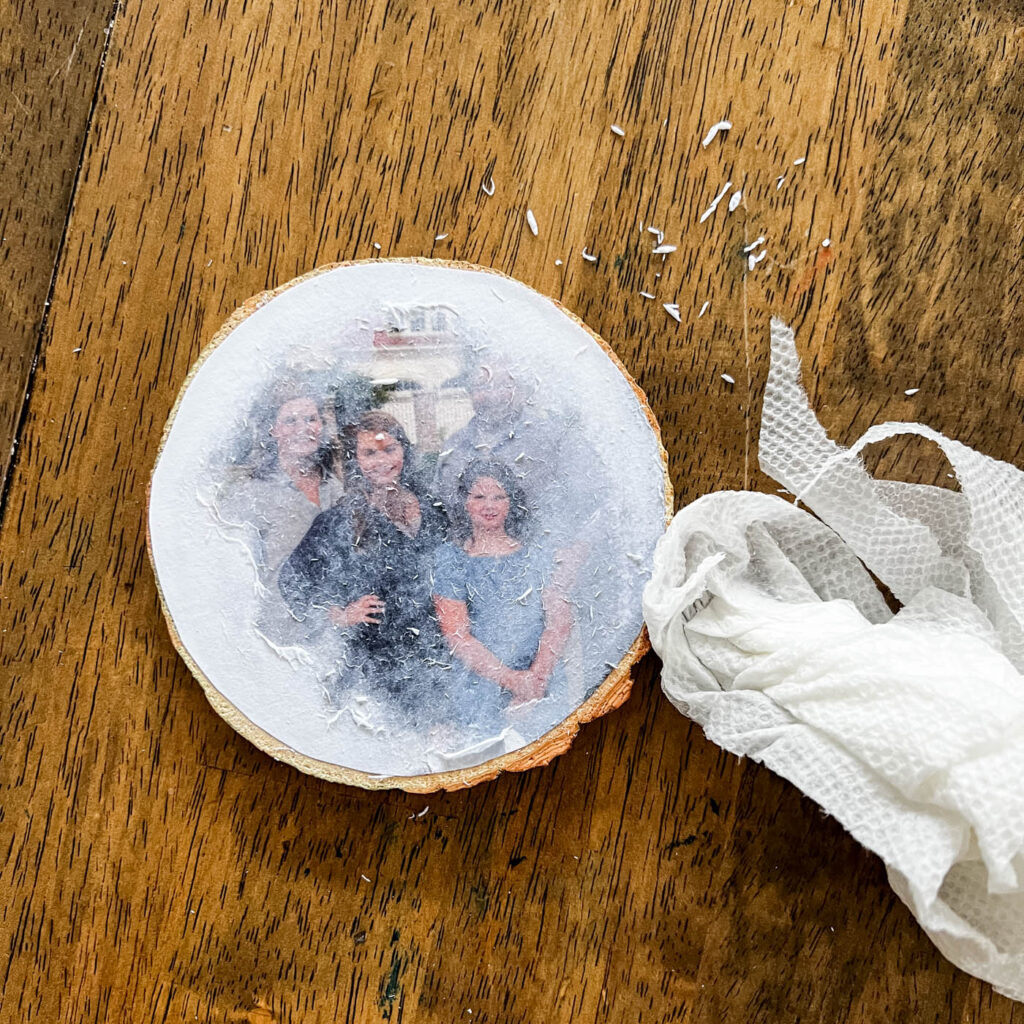 You will have to make a few passes at this step because once it dries, you'll realize there are still paper fibers on the wood. Keep going over it gently until all of the paper is gone.
I could rub my fingers over it and could tell if there was still paper left or not.
If you start to scratch the image, be more careful. Or you can always go to the rustic look. 😉
6. Use the Mod Podge as a Sealer
If you want your piece to be extra protected from any dust or water damage, paint a thin layer of Mod Podge of the top. This will keep is sealed and nice and pretty for years to come!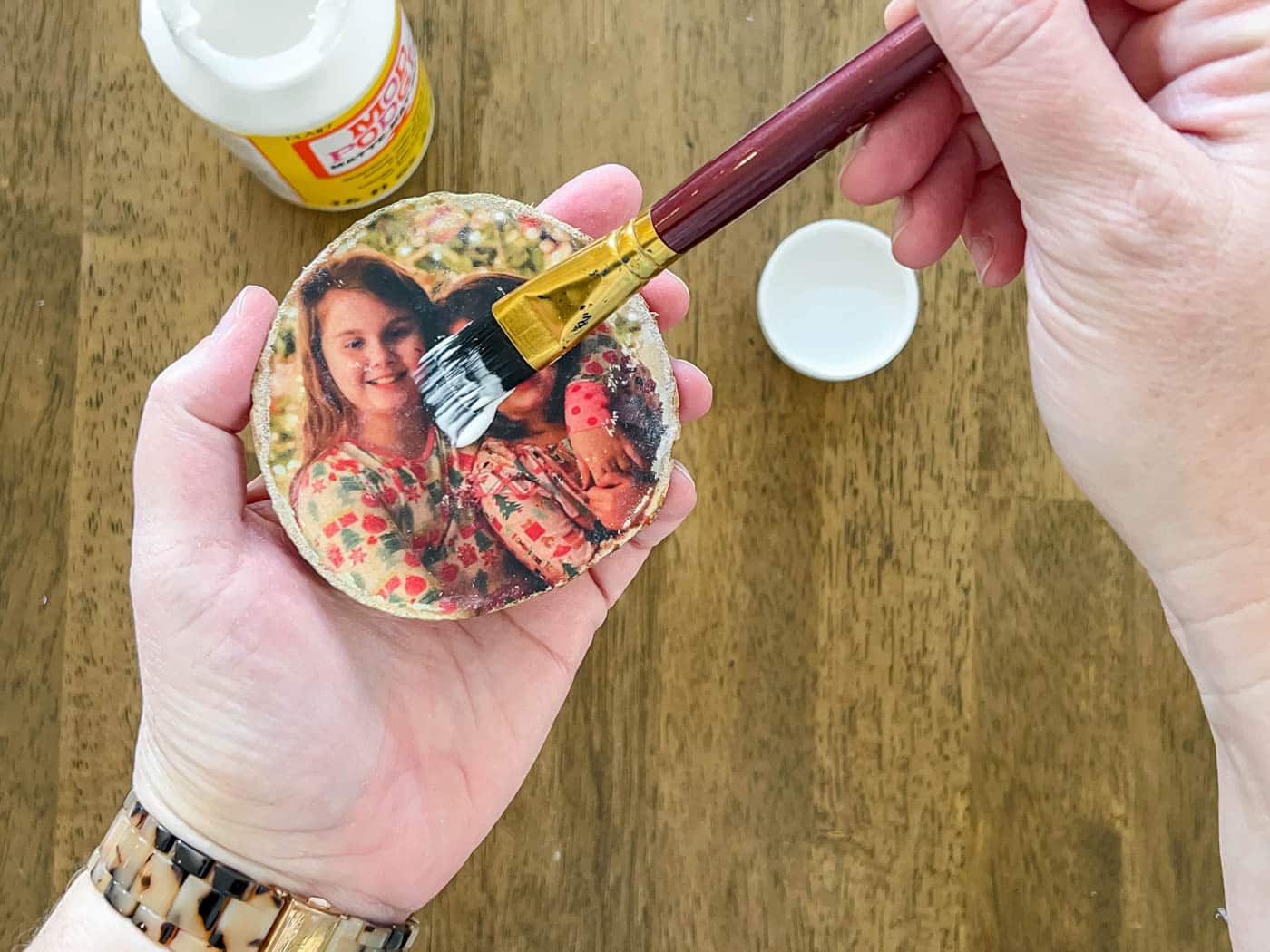 I think the final product turned out beautifully and I love that it was such an easy project (even kids can help make them)!
And now I have a million ideas for how I'm going to use this method to create pretty things for my home! I'm going to use some more photos of my family as gift ideas, so I can't wait to share those with you soon!
Ideas for Displaying a Photo Transfer to Wood Craft
1. Make a Decorative Plaque
For this example I used my fall wreath printable, because it was already a mirrored image. But you can use anything you'd like. If you need to reverse an image, I've always used PicMonkey. But if you don't use PicMonkey, I would just do a Google search for "how to mirror an image".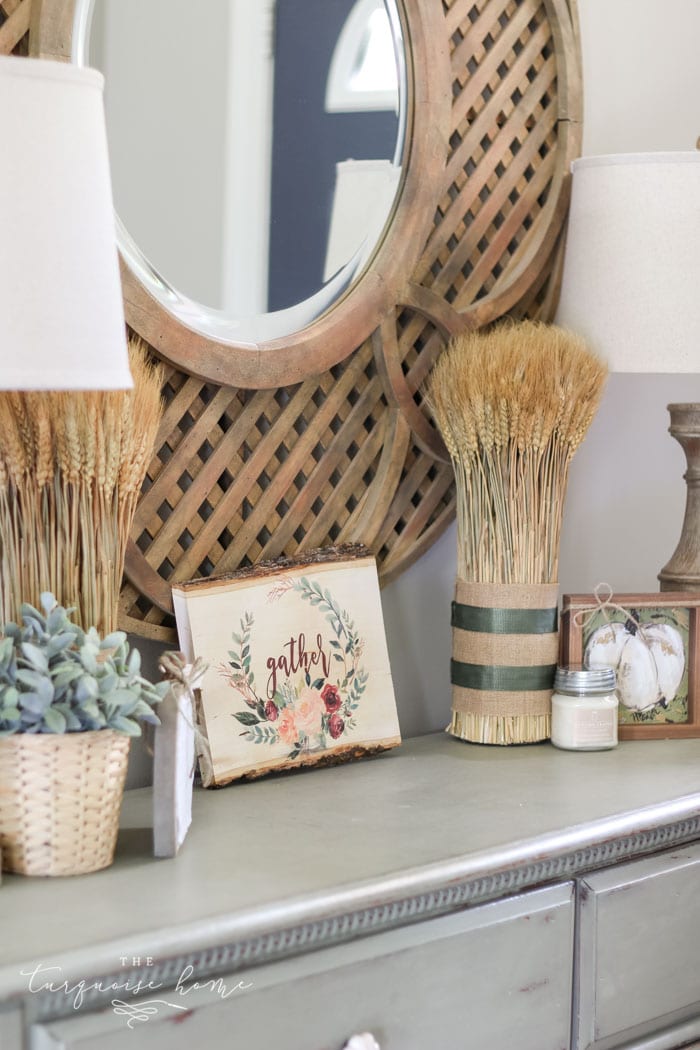 I love making beautiful home decor with things that are free or that I already have around the house. This is why I LOVE decorating with free printables. Cheap & easy – and all you need is a good color printer.
Grab the free Fall Printables
You'll have access to the printable I used in my example, plus two more! I've even mirrored them for you already.
Note: When you get to the printables, just look for the files that have "mirrored" in the name.)
** If you are already a VIP e-mail subscriber, you can find these printables in the free printable library. The access to it is included at the end of every e-mail I send.
2. Place a Photo on Wood Slice in a Stand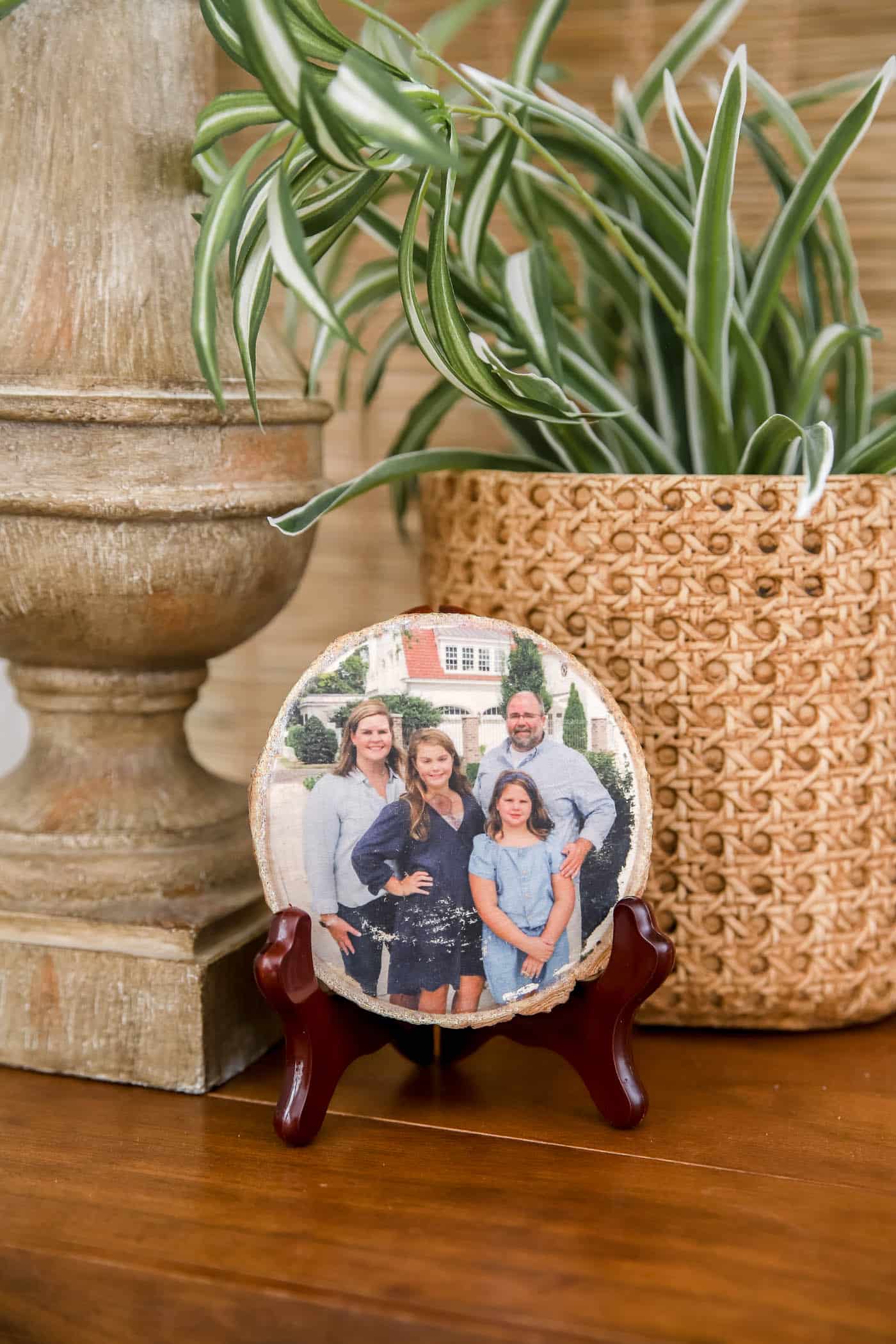 3. Hang a Christmas Ornament
If you want to make yours into an ornament, simply drill a hole into the top of the wood slice. Then string some ribbon through the hole and hang it on the tree! It's a great gift for grandparents or parents!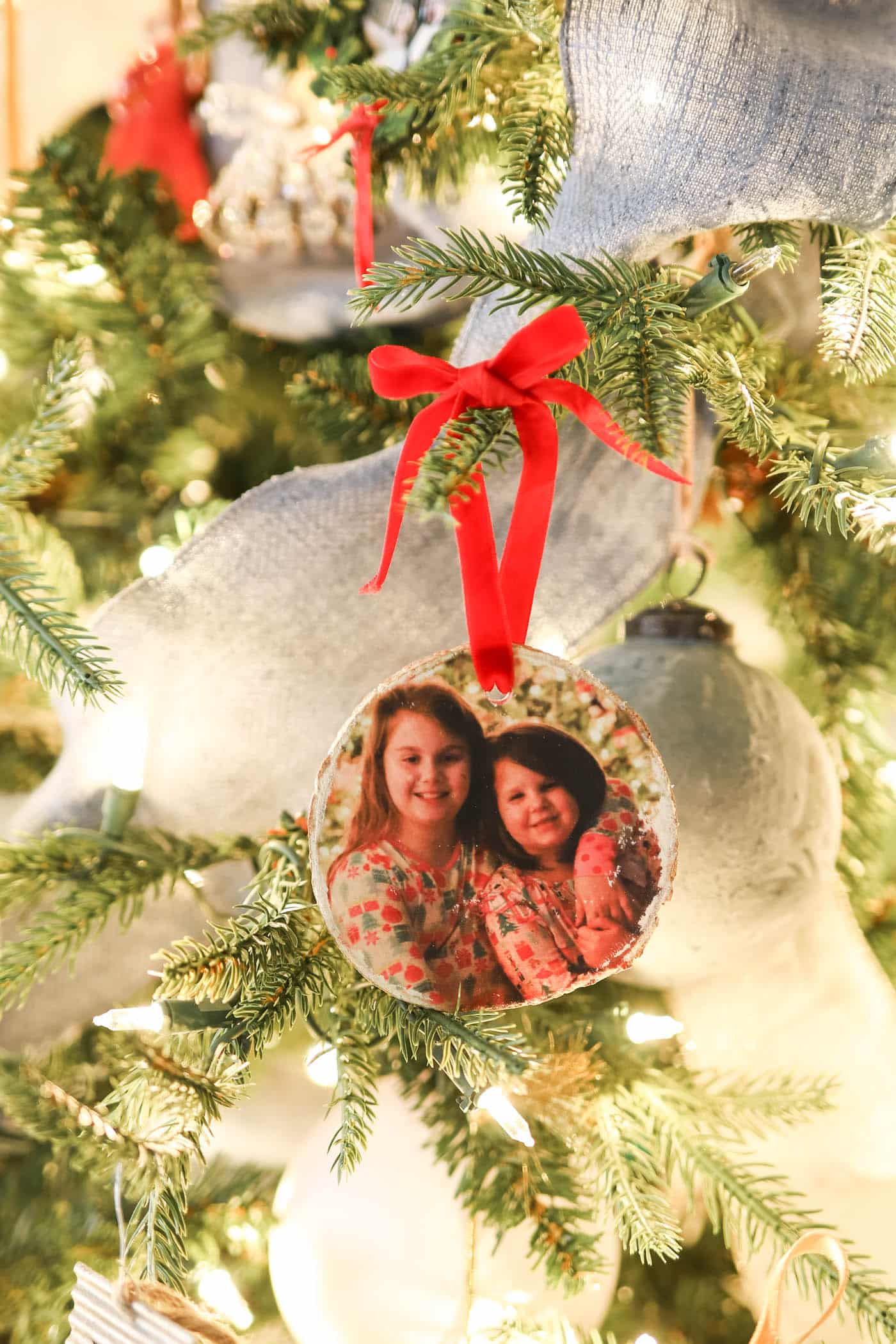 4. Decorate with a Gift Tag
Find a picture of the gift recipient and make a personalize gift tag for them! This would be such a fun way to know whose gift is which… just look for their face!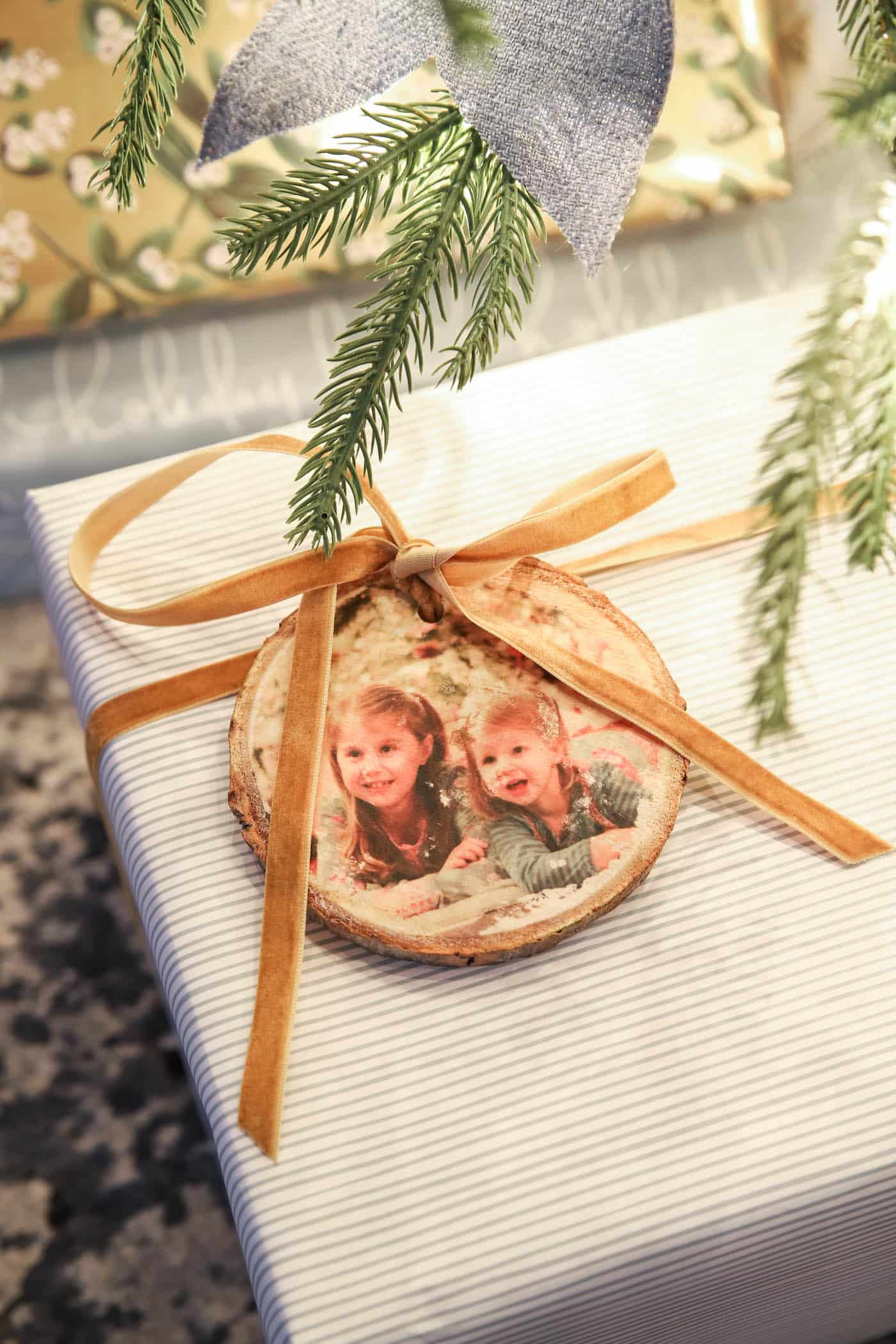 I hope you will try this craft project. I'd love to see how creative you are, so be sure to tag me on Instagram if you try it!
More Craft Posts You Will Love: