How to Decorate the Dining Room for Christmas
Whether you are preparing a festive Christmas dinner for family and friends this season or just love decorating every room of your home, you'll want to give your dining room a little extra attention.
There are so many fun and creative ways to decorate a home for Christmas. I love to add little bits of the season all over my home. So, the dining room gets a little dose of Christmas magic, too!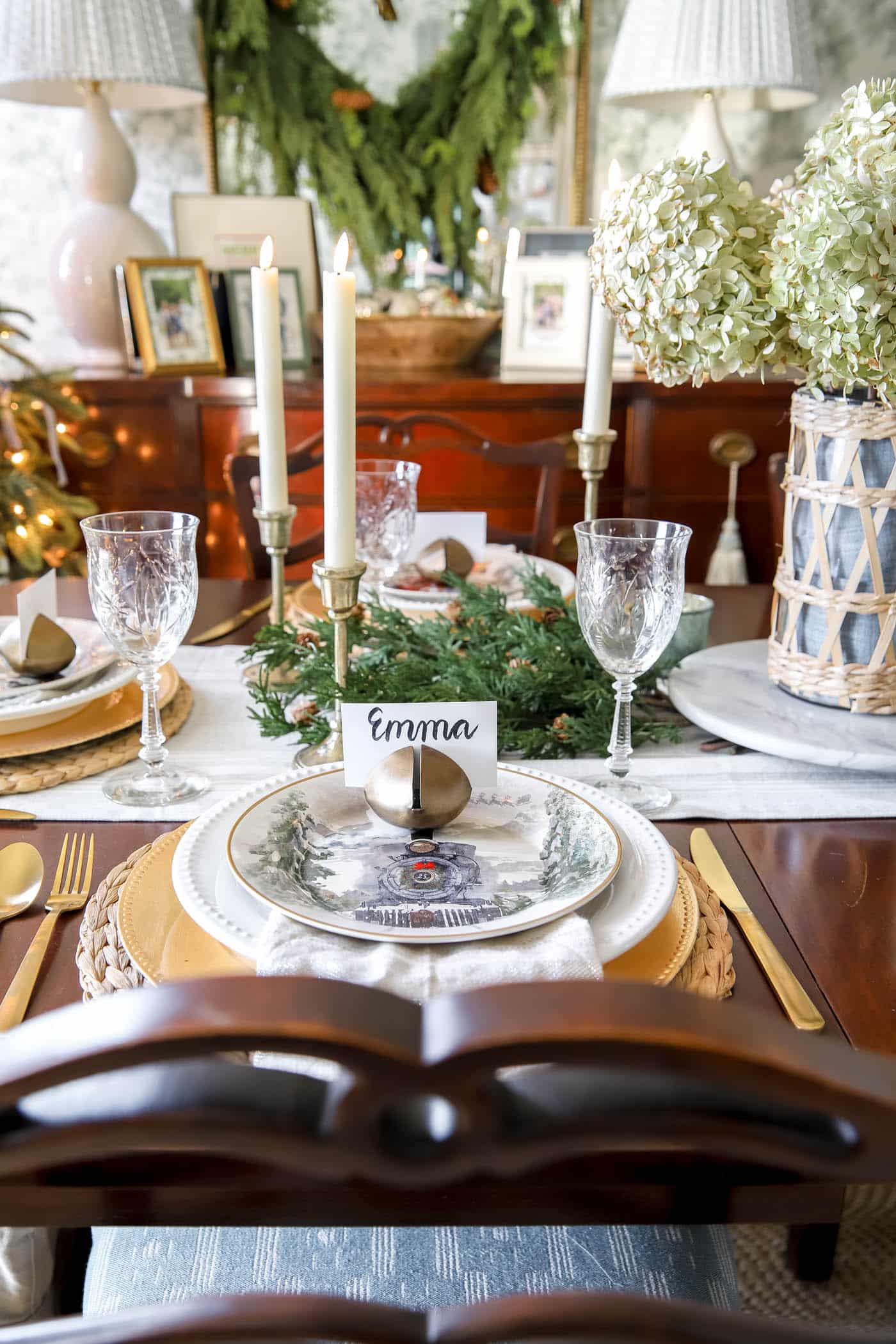 The dining room is the place to host special meals, so make room for the holiday season with these dining room decor ideas.
This post contains affiliate links for your convenience. See my full disclosure policy.
My Dining Room Christmas Decorating Plans
While we're here, I thought I'd share my Christmas decor ideas for the dining room as well! You may remember the Christmas dining room from before the makeover when the walls were still a dark charcoal.
But now that I've redecorated it with the new blue and green traditional decor, I couldn't wait to see it all dressed up for Christmas! This was my plan to help me envision the space before I started. See how I make design boards.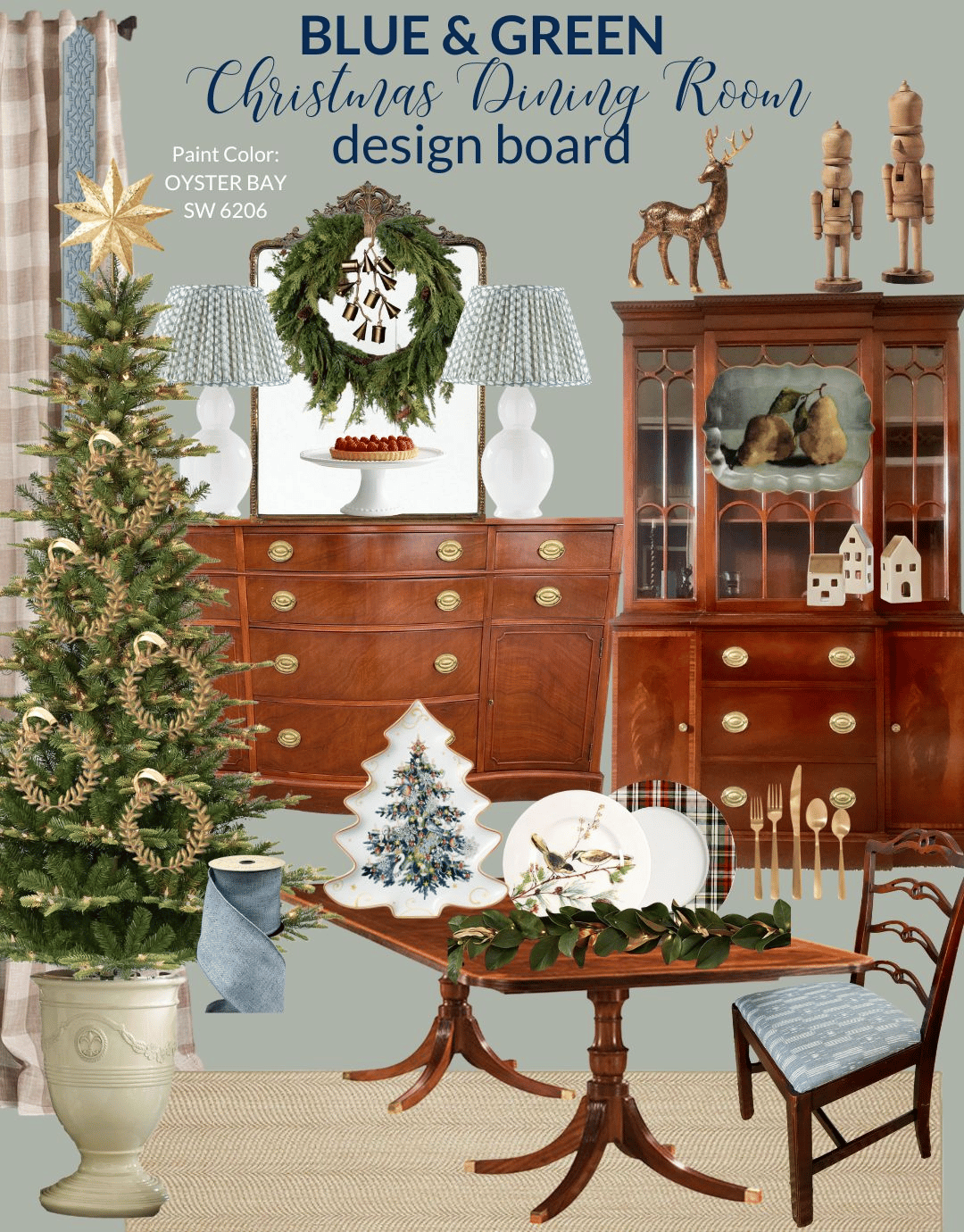 SOURCES: Buffalo Check Curtains | 7.5 Foot Christmas Tree | Urn Tree Stand | Laurel Wreath Ornaments | Blue Ribbon | Double Gourd Lamp Base | Pleated Lamp Shade | Brass Framed Mirror | Greenery Wreath | Hanging Bells | Cake Stand | Christmas Tree Platter | Plaid Dishes | Gold Flatware | Nutcrackers | Ceramic Houses for Tea Lights | Sisal Rug
I'm using a lot of what I already have, but I could NOT pass up the beautiful urn tree stand I discovered last month. It goes perfectly in my dining room!
I even snapped a picture of the new urn tree stand with my phone, so I could share on Instagram the other day.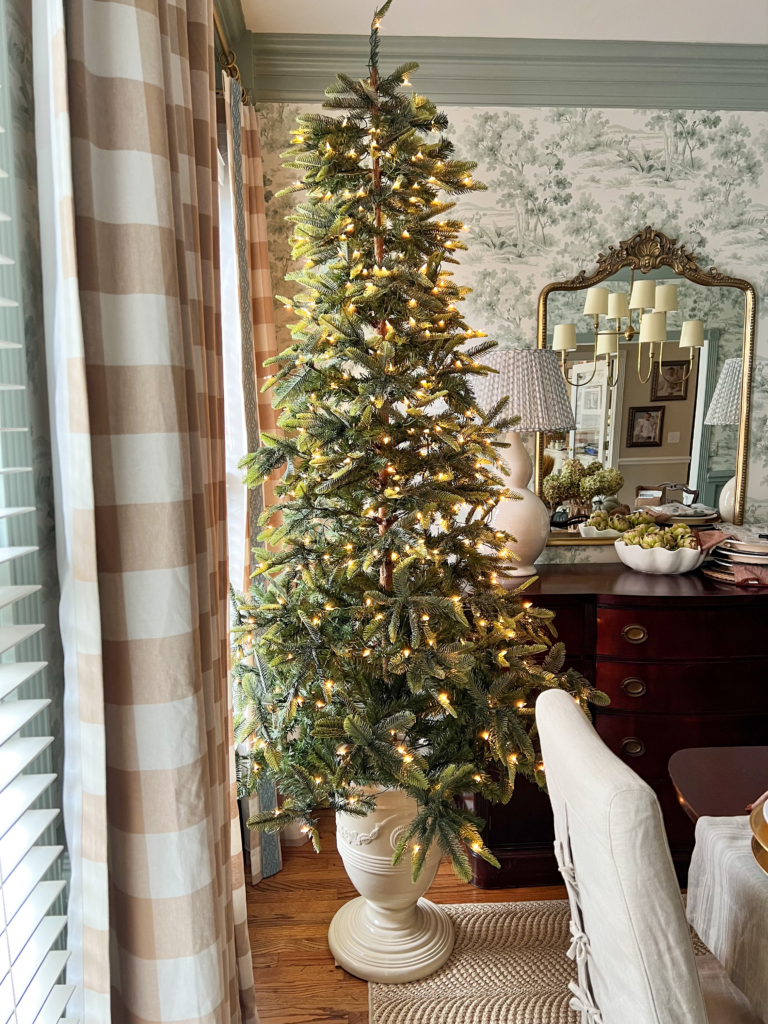 If you haven't been following along for a while, I inherited my great-grandmother's antique dining room furniture. Both my parents and grandparents had their wedding receptions on this dining table. It's so special to me, especially at the holidays!
I am excited to share how the room turned out this Christmas!
I love to share fun ways to decorate a home for the holidays. I've showed how to add garland to a staircase, or how to decorate the kitchen for Christmas. This year, I added a new post all about Christmas card holders. I hope these posts inspire you to create a home you love!
Use the drop down Table of Contents menu below to easily navigate this post. And don't forget to pin this for later!
Dining Room Decorating for Christmas Ideas
I'll say it over and over again: when you've fully decorated a space, you don't need much holiday decor to make it feel festive. I'm not trying to re-decorate when it's Christmas, just add a few touches of holiday fun!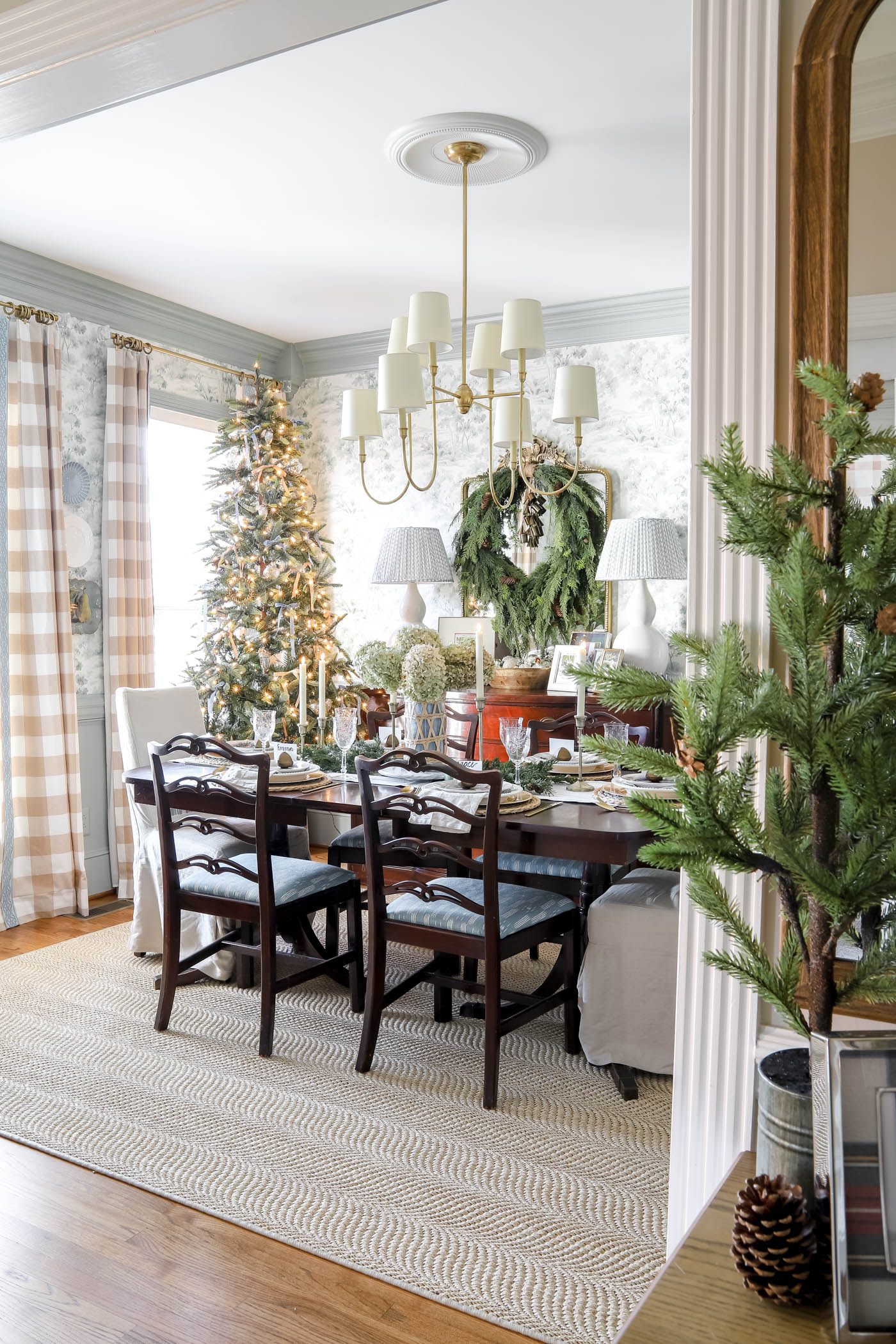 SOURCES: Brass Chandelier | Buffalo Check Curtains | Toile Wallpaper | 7.5 Foot Christmas Tree | Urn Tree Stand | Laurel Wreath Ornaments | Blue Ribbon | Double Gourd Lamp Base | Pleated Lamp Shade | Brass Framed Mirror | Greenery Wreath | Hanging Bells | Santa Plates | White Beaded Dinner Plates | Gold Beaded Chargers | Gold Flatware | Battery-Operated Candles | Jingle Bell Place Card Holders | Ceramic Houses for Tea Lights | Sisal Rug
Simply Decorate a Tree
I bought only a couple new items this year, including the beautiful urn tree base. I know not every house has a tree in the dining room. But since this room is on the front of our home, it calls for a tree!
I wasn't sure if I would fully decorate the tree or not this year. But I think it really shines with a few select ornaments and bows.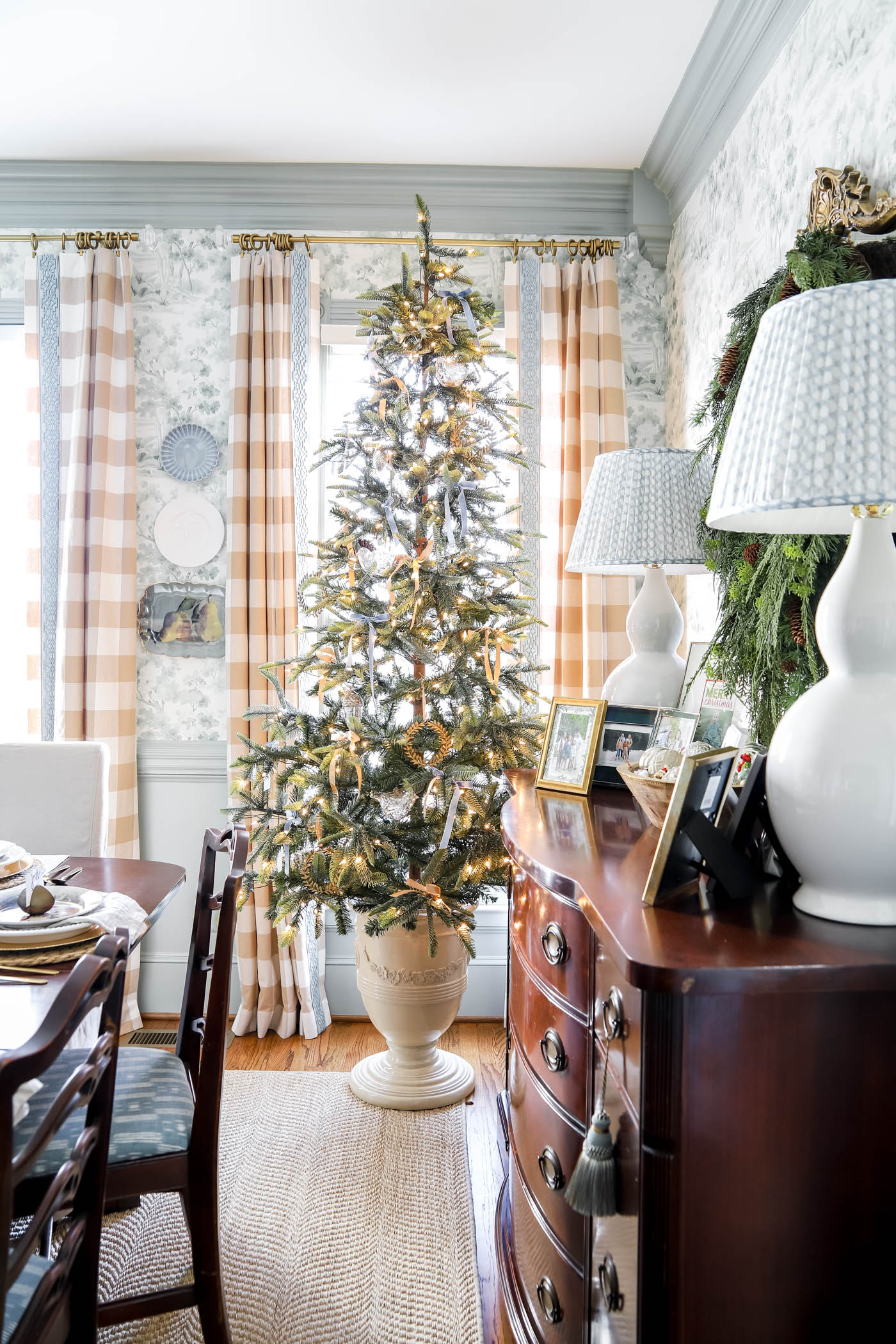 A Collection of Christmas Cards
I've started a new tradition of putting our Christmas cards into frames each year. So, I went back and found as many of our old Christmas cards that I could. And then made a gallery of them on the dining room buffet. It's a favorite little spot!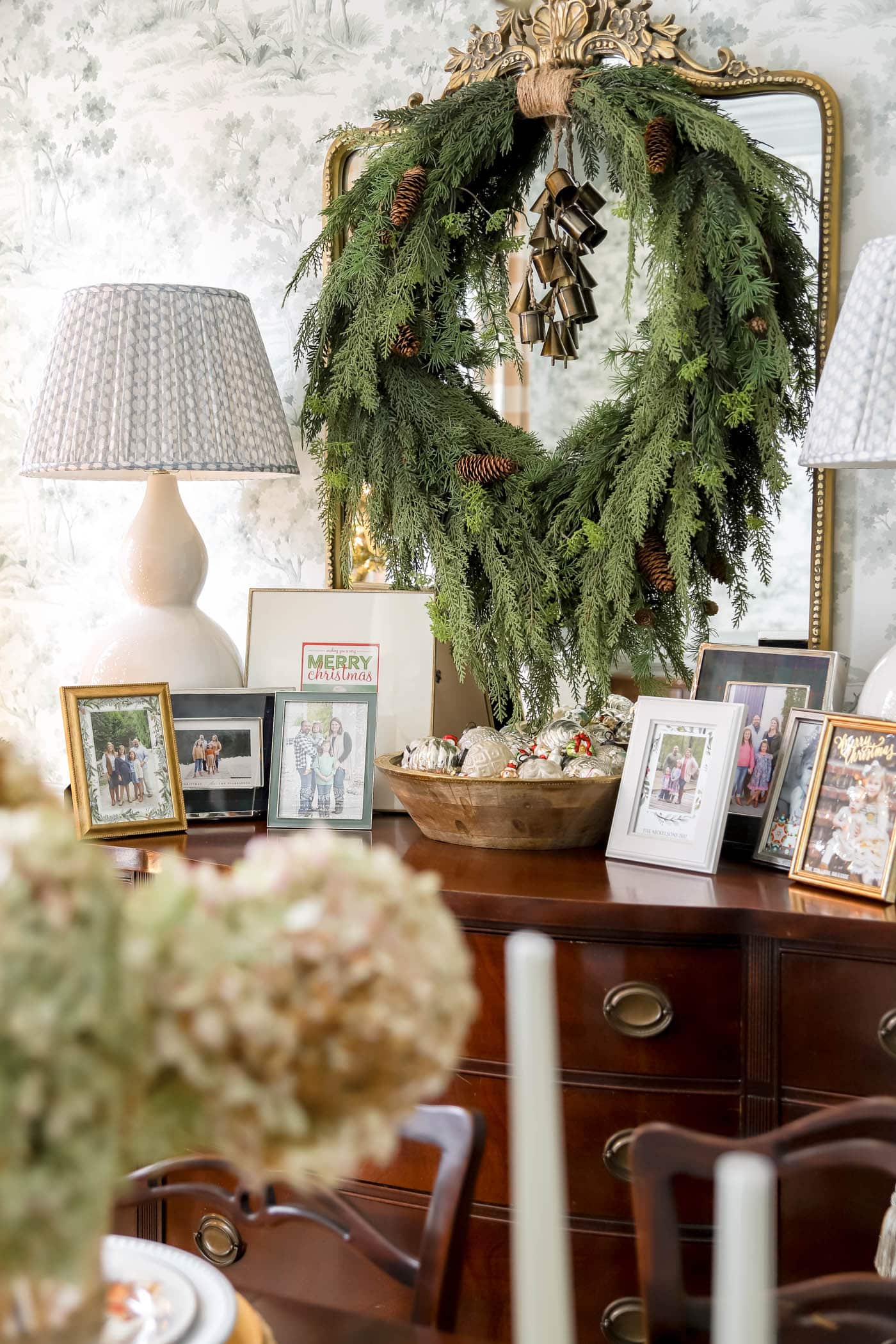 And of course a bowl full of ornaments is a fun way to fill the space. You can always remove the ornaments and serve food in it when it's time to host a gathering!
Display a Nativity Scene
No room is off limits for a nativity scene at Christmas. It's the Reason for the Season, after all! I've had a really inexpensive nativity set for years that I display in my living room. But I wanted something special for this corner.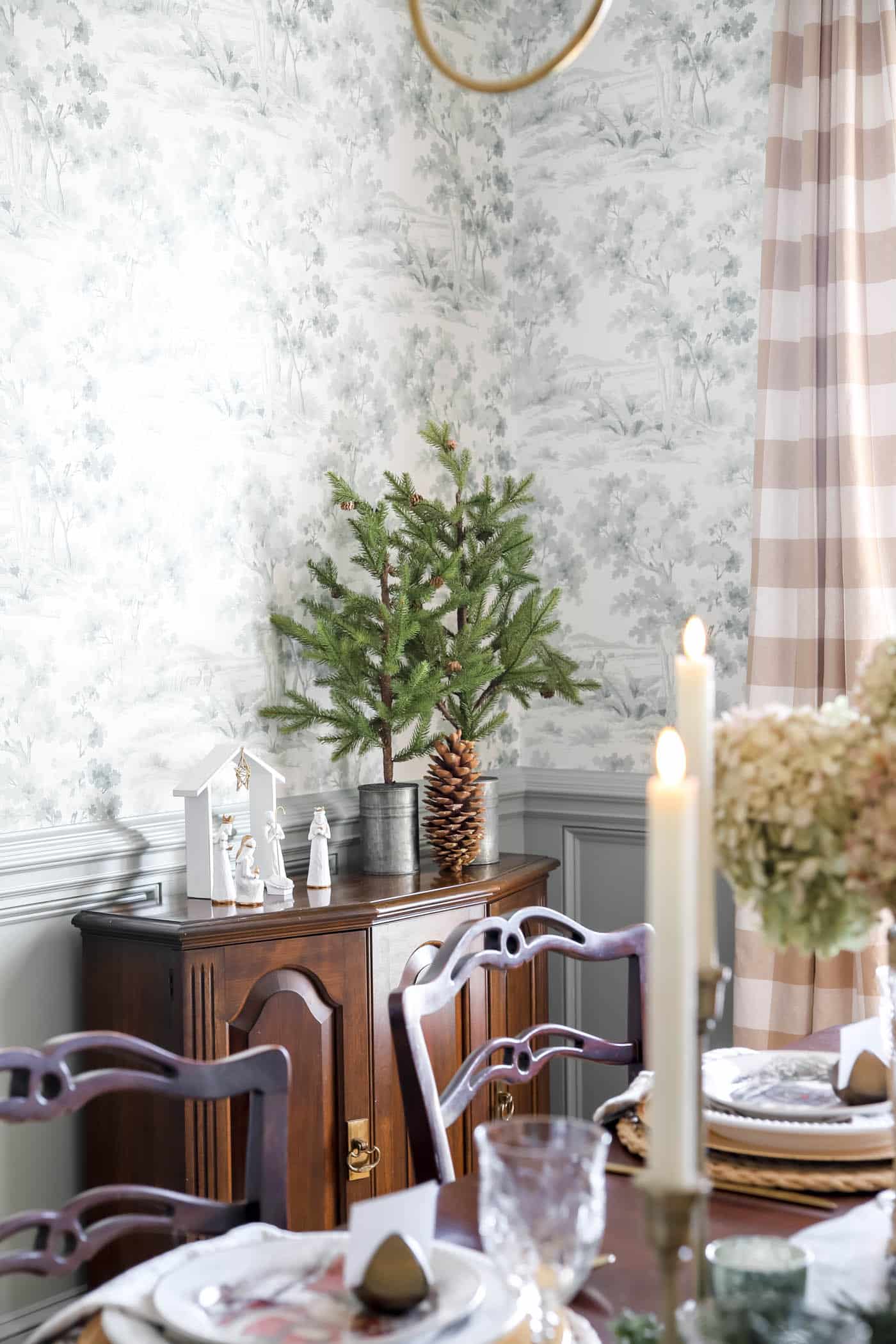 So, I found a sweet white and gold nativity scene that was super inexpensive. It's the perfect little addition for this side table.
Add a Bow to the China Cabinet
Isn't this big bow so fun? I draped some of my real touch pine garland over the top of the china cabinet. Then I added a sweet bow to cover where the garland meets in the middle. Sweet, simple and festive!
The garland is sold out, but be sure to set your alarms for October next year and grab some for yourself! It's one of my favorite items to decorate with.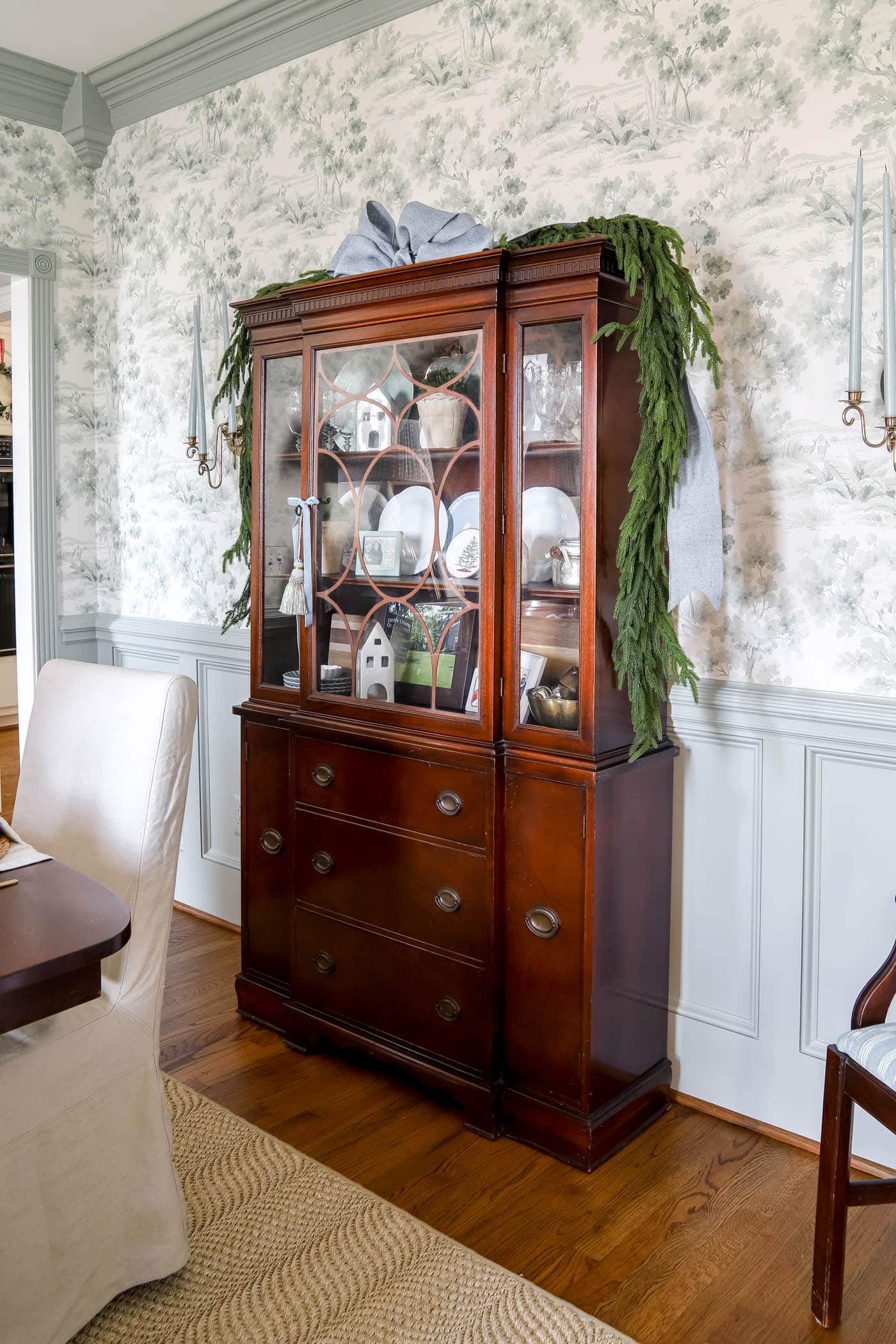 Bell Place Card Holders
Isn't this jingle bell place card holder the cutest? And I'd say you could keep it out at least through the winter, if not longer! It comes with plenty of cards to fill out yourself.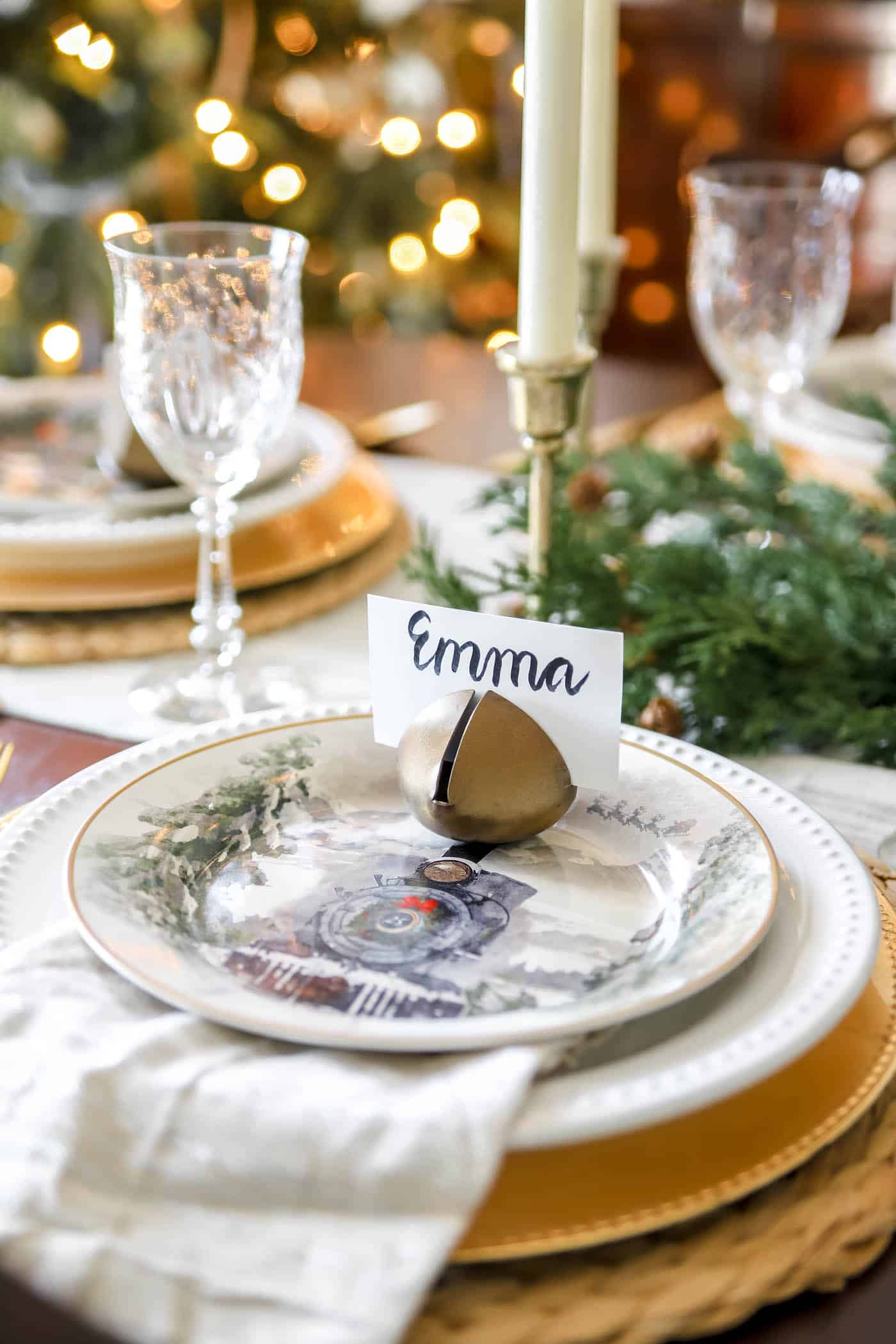 Holiday Salad Plates
A great way to add some seasonal decor to the dining room is with special salad plates. If you have a simple white dinner plate, then simply change out the salad plates and call it good!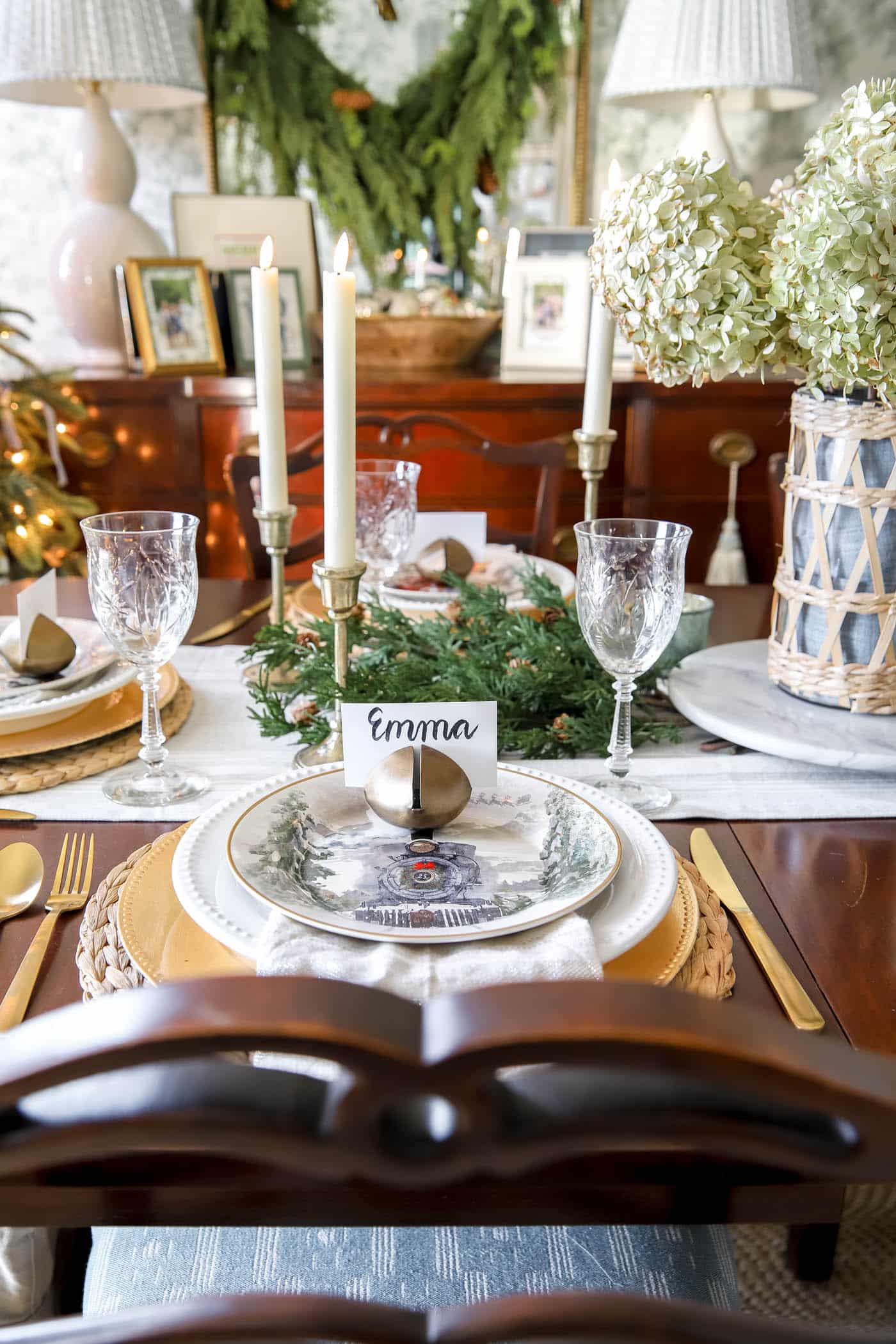 I wondered if the nostalgic Christmas salad plates I bought last year would work again this year in the blue and green dining room. I don't have any other red in the room. But when I pulled them out, I realized they have plenty of blue and green in them. They work perfectly, I think!
And a little bit of red in any room is perfect for the holidays.
Simple Tablescape
I don't like to make elaborate tablescapes on the dining room table, because they aren't practical for eating and having conversation. Or if you want something fancy, make sure it's easy to move it when it's time to eat.
I used some dried limelight hydrangeas in a vase for my Christmas table centerpiece. It's not especially holiday related, but it's a beautiful focal point for the center of the table. I added some blue ribbon to the inside of the vase to add some color.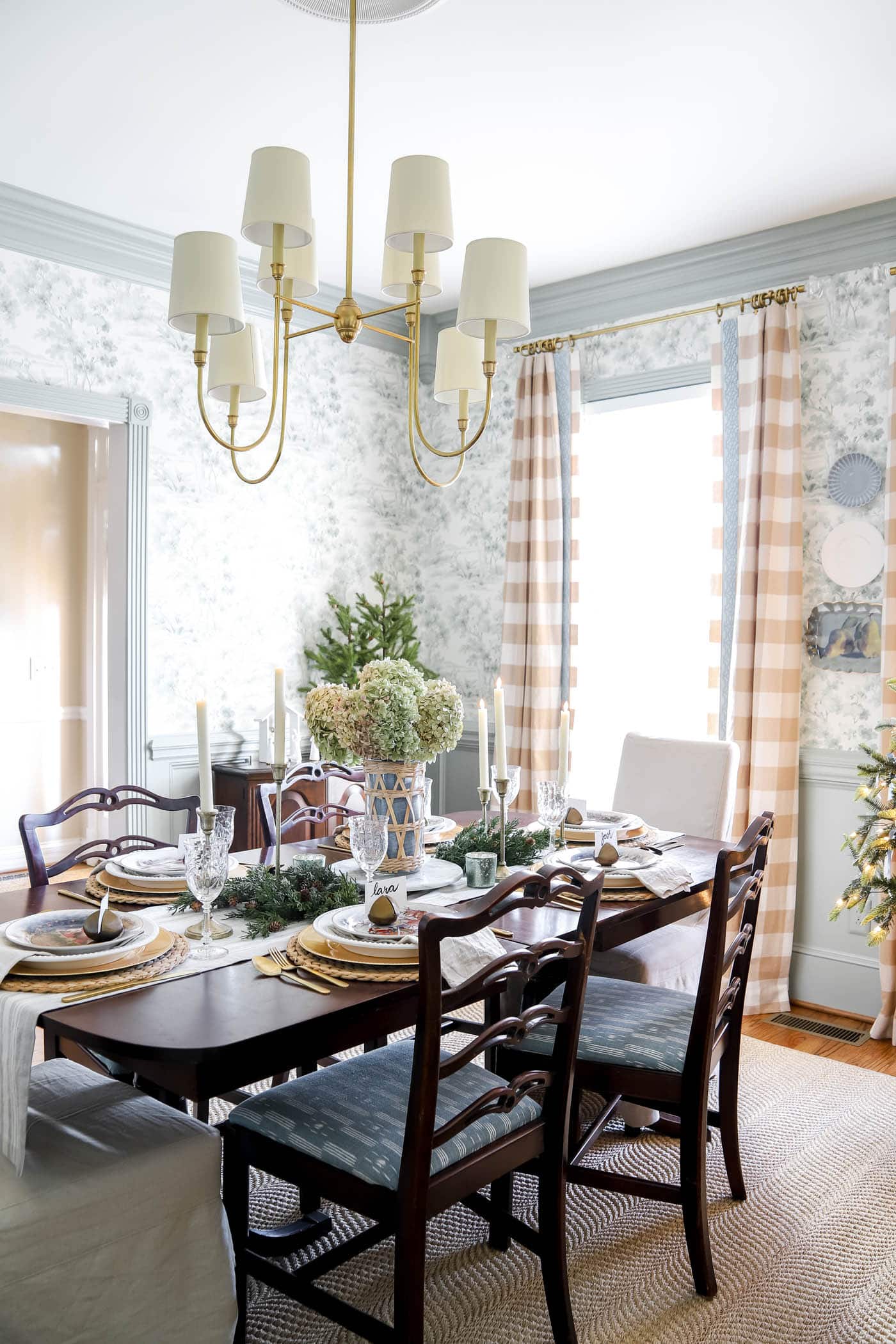 Then I added a few faux evergreen branches, and these realistic battery operated taper candles down the middle of the table. I love that they look so real, yet they don't have the possibility of setting a fire. The candles add a festive glow without any risk!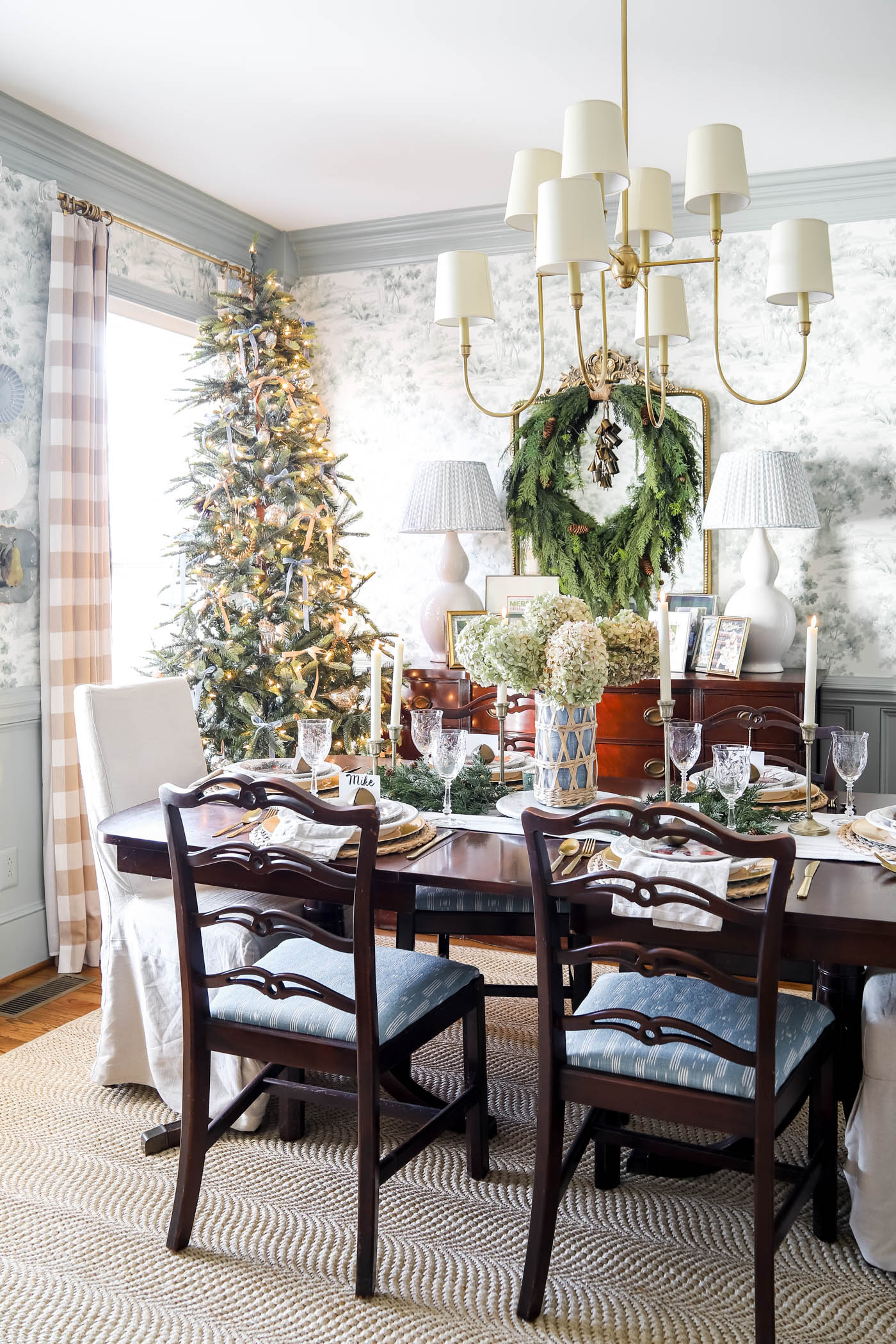 Final Thoughts
I hope you enjoyed my ideas for decorating the dining room for Christmas!
I love that I didn't need to add a ton of decor in this space to make it feel special for the holidays. My family is excited to host Christmas Day with my in-laws here. It's always special to eat at my great-grandmother's table and use her crystal glasses.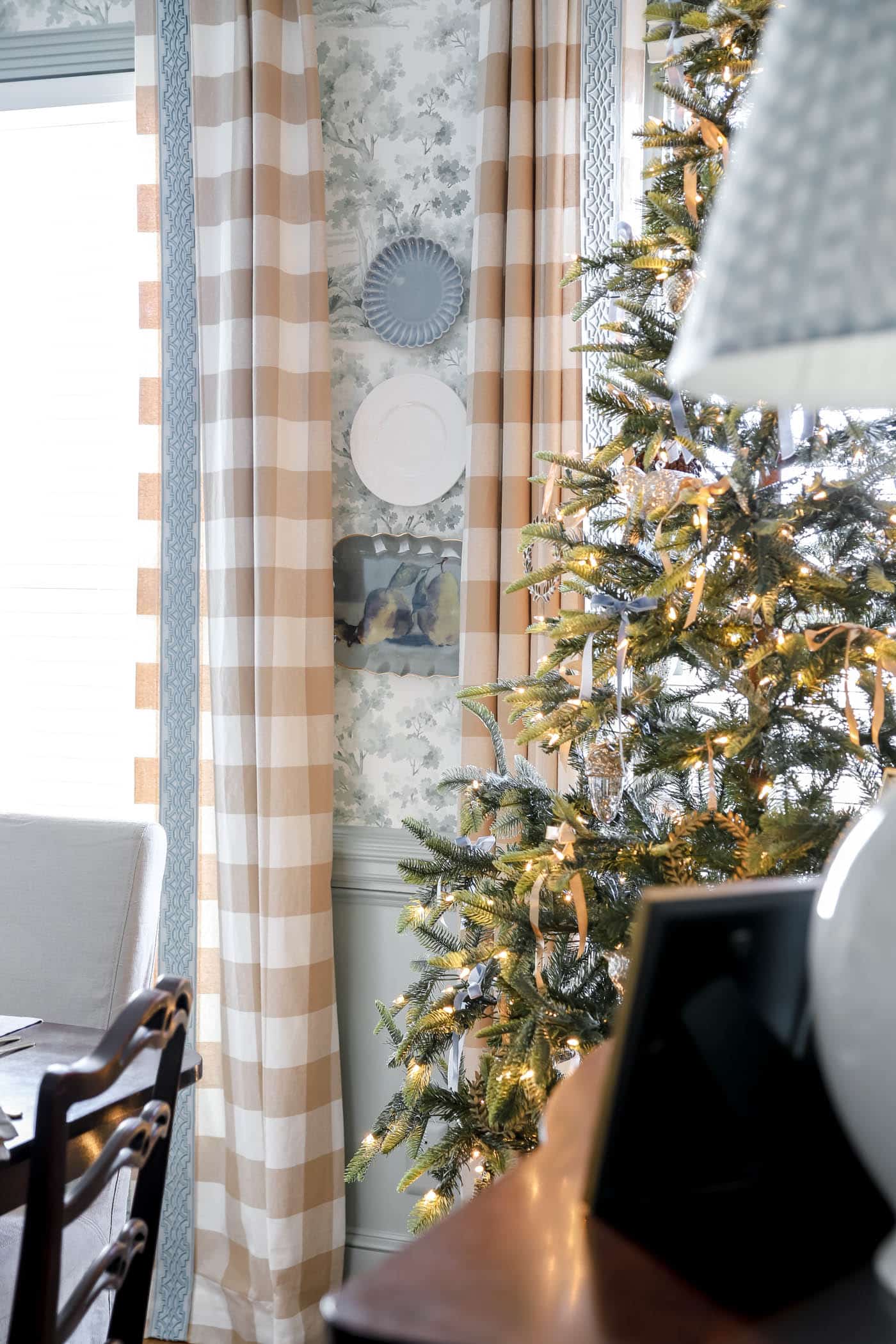 Have a Merry Christmas!
More Posts You Will Love: