Create a look that would garner a Joanna Gaines stamp of approval with these gorgeous, modern farmhouse bar stools. From modern industrial to rustic chic to traditional farmhouse, we've got you covered!
I know I'm in the middle of refreshing our girls' bathroom, but I have a serious case of "squirrel" whenever it comes to decorating. Once I get the vision for a space, I'm ready to make a new vision for a new space before I've started the makeover process on the current space.
The kitchen is obviously the center of most homes and where families gather more than anywhere else. Food is such an integral part of a family's story and the kitchen is the hub of that story.
The seating space – usually a bar height or counter height space with chairs – has a special place in the kitchen, because guests can enjoy a drink while the host is cooking in the kitchen. Kids can eat breakfast at the bar or help stir something to help mom with making dinner.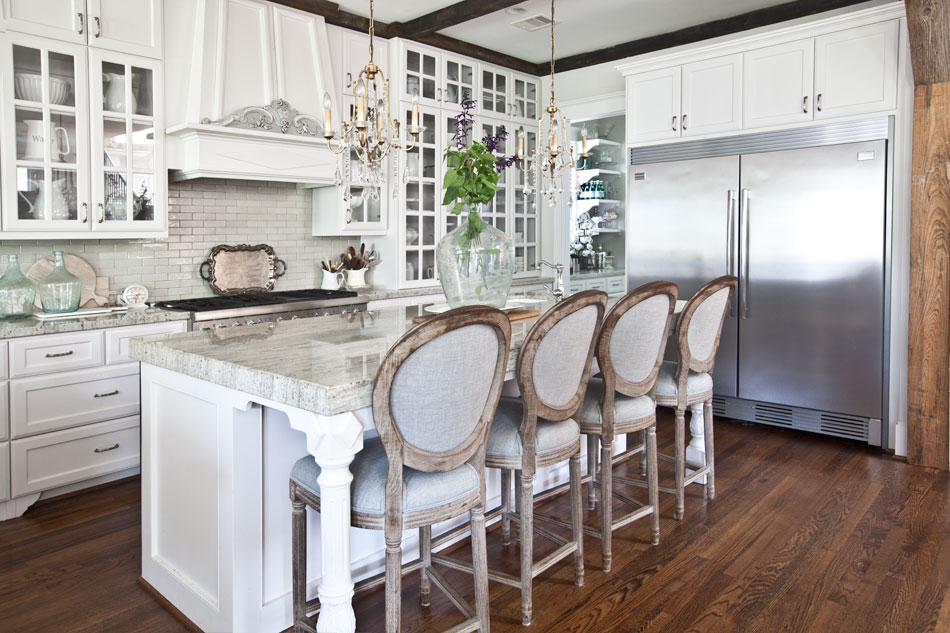 Gorgeous Kitchen with Farmhouse Bar Stools from Cedarhill Farmhouse
I can recall so many hours spent at my mom's counter sitting on the chairs as she cooked and we chatted for hours or I would help her cook from the other side of the counter while sitting there.
So, one essential part of the kitchen experience is the bar stools. It's more than just a chair, it's a central part of the home and a huge part of the family history. So, it's important to get this thing right. #nopressure #ha
I'm kind of kidding about getting it right, but it is something you want to give thought to before you go out and invest in some bar stools.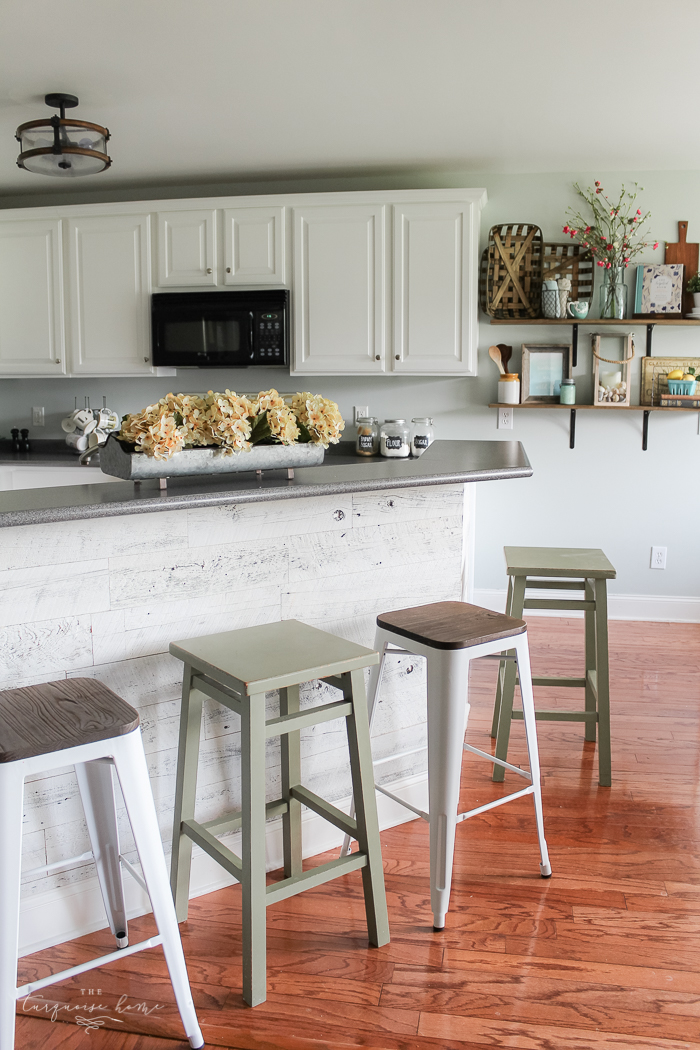 Currently my bar in my kitchen has four mismatched barstools. I painted some hand-me-down barstools in Chateau Gray Annie Sloan Chalk Paint several years ago. And I snagged these metal bar stools years ago to complement them. But I've always wanted to buy a matching set of four.
Although since my girls use them as TV trays to eat on while they watch TV from the kitchen, maybe I should wait to replace them until they are a little older. 😜
So while I've been daydreaming about the next projects in my home, I thought I'd share some of my favorites. My assistant is about to finish the house-building process and has been bar stool shopping, so she chimed in with her favorites as well!
Things to Consider Before Buying Bar Stools
1. The Right Height.
You will want to make sure the bar stools will be the right height for your counter. There are three sizes of bar stools: counter height, bar height or extra tall.

Choose the one that best fits your height requirements based on the height of your counter.
2. The Right Width.
You don't want to cram bar stools in so tight that people are sitting on top of each other, or don't have room to get in and out of them. If you're using a stool with smaller seats, then you will be able to fit more into the space. But if you use larger seats with arm rests, you'll have to have fewer seats. Obviously, right? 😉
A good rule of thumb is to get a bar stool that is between 17″ and 21″ and allow for 6″ between each stool.
3. The Right Type.
Now it's the fun part! Deciding between backless and a seat with a back or with arms or no arms, padding/fabric or metal or wood. The options are endless. I prefer the metal or wood chairs right now because I have small children and they are easier to keep clean. But once my kids are grown, I think I'll splurge for some fabric chairs because I love the look of them!
If you have a larger space, it would be fun to go for chairs with arms. They just seem more comfortable to me. But if you have a small space, it's probably best to still with arm-less chairs. In my mind the same rules apply for getting chairs with backs or not.
If you have a small space, like me where there is a tight walkway behind my bar stools, then I think backless is the way to go. But if you have plenty of space, I love a pretty back on a bar stool.
And then to swivel or not to swivel? And lift or not to lift?
All good things to think about when choosing your bar stools!
So to recap…
Small spaces: backless, armless and swivel.
Large spaces: arms, backs and swivel or not swivel based on your preferences.
16 Best Farmhouse Bar Stools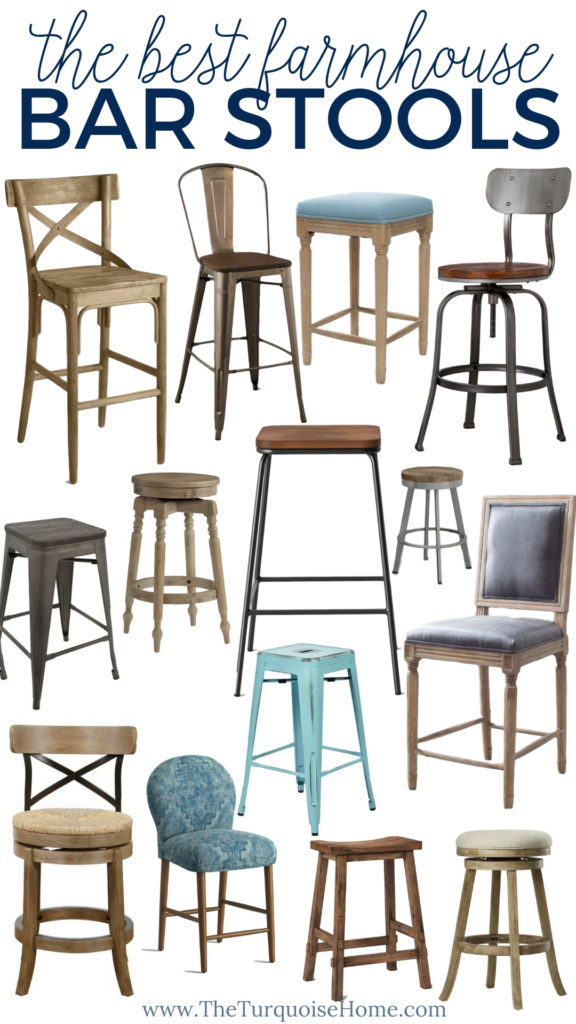 Backless Metal Farmhouse Bar Stools


Rustic Industrial Low-Back Bar Stool // Pop of Blue Set of 4 Bar Stools // Pop of Blue Set of 4 Bar Stools // Swivel Wood & Metal Bar Stool // Wood & Metal Square Counter Bar Stools
Backless Wooden Farmhouse Bar Stools


Wood Swivel Bar Stool // Wooden Saddle-Style Bar Stool // Adjustable Height Bar Stool // Upholstered & Wood Swivel Bar Stool
High-Back Bar Stools


X-back Bar Stool // Metal High-Back Bar Stool // Metal Adjustable High-Back Bar Stool // Cottage-Style Bar Stool
Upholstered Bar Stools


Rounded Back Bar Stool // Simple Upholstered Backless Bar Stool // Square-back Upholstered Bar Stool
I hope this helps you find the right bar stools for your home! Let me know which one's your favorite!
MORE POSTS YOU WILL LOVE: