While hunting for the perfect sophisticated, yet feminine curtains for my office makeover, I found so many great options! I knew I wanted something pretty that would coordinate with my blush and brass design scheme, but I didn't want them to look like they belonged in a baby nursery, either.
Although if you're creating a sophisticated baby girls nursery, I think any of these curtains would be fabulous options there, as well.
I'll share which ones I chose (in case you forgot from my mood board I shared a few weeks ago), but I'll share some of the other ones I loved as well at the end of this post!
If you don't remember my mood board design for my office, here it is! The whole design started with the rug under my desk, which I ordered as soon as we moved in because I didn't want my rolling chair to scratch our beautiful hardwood floors.
This post contains affiliate links for your convenience. See my full disclosure policy here.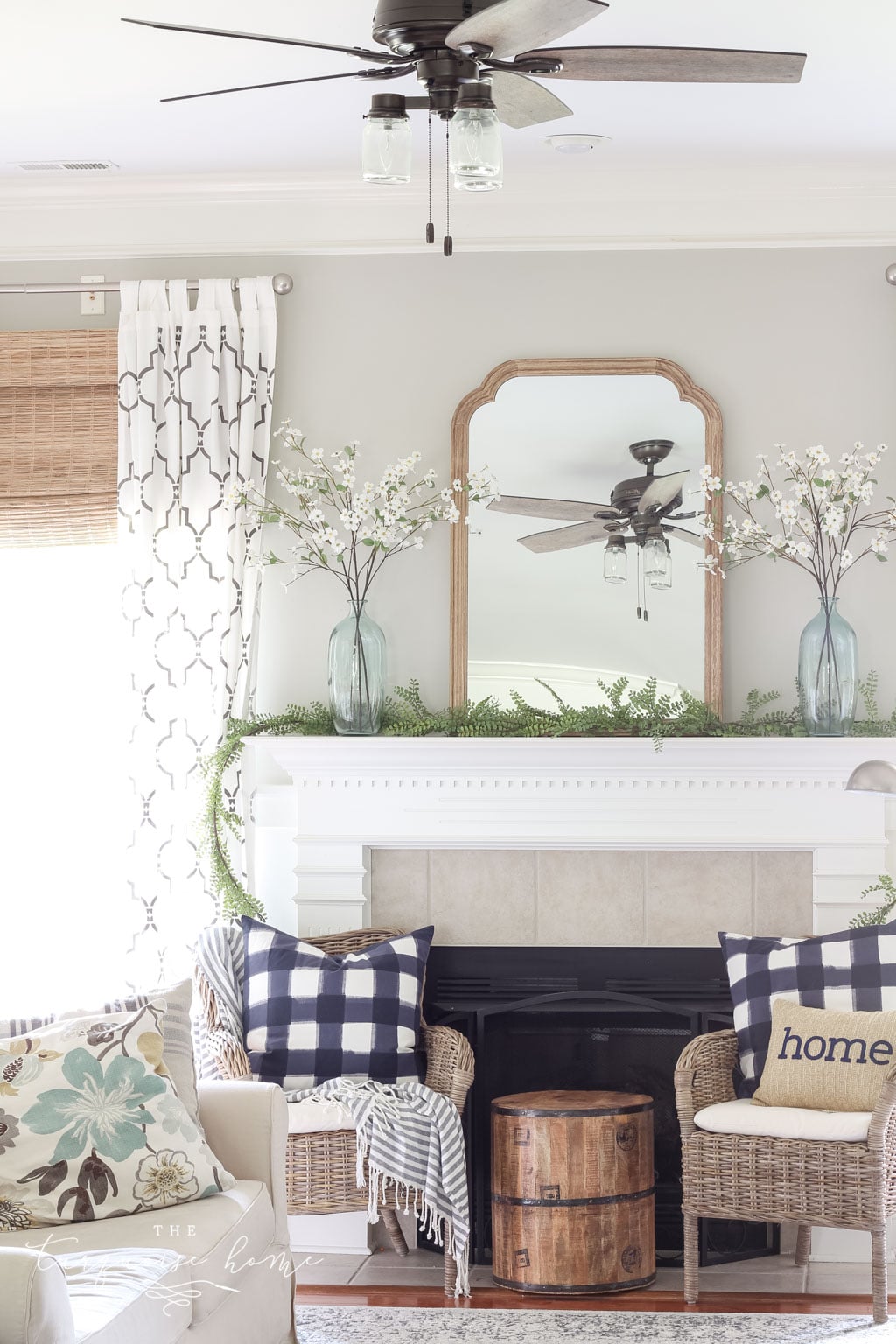 FREE BONUS!
5 Secrets Every Home
Decorator Knows
… to transform your home into your dream home!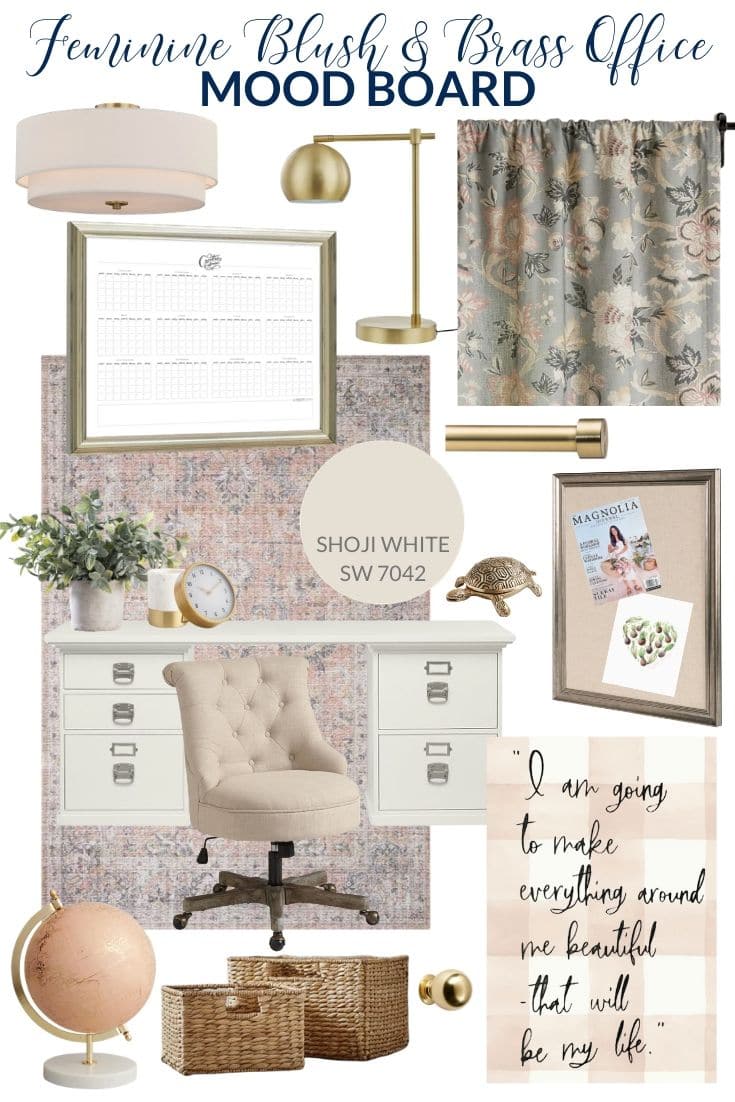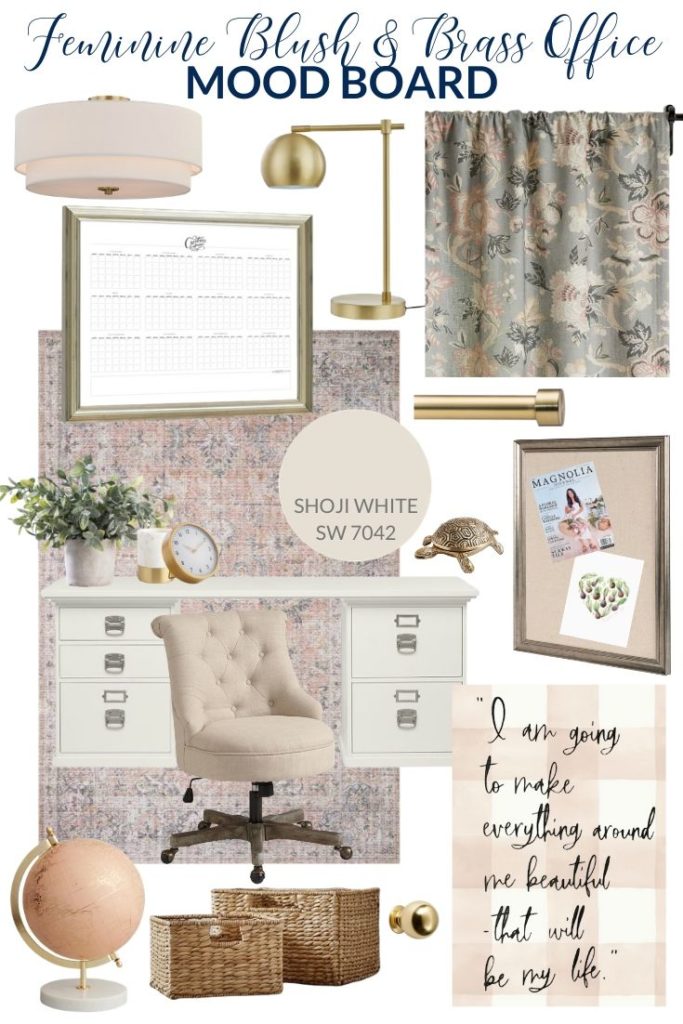 Flush Mount Ceiling Light | Dry Erase Wall Hanging Calendar | Brass Task Lamp | Floral Curtains | Brass Curtain Rod | Blush Rug | Faux Sage Greenery | Marble and Brass Pencil Cup | Brass Clock | Brass Turtle Trinket Box | Desk | Rolling Desk Chair | Bulletin Board | Buffalo Check Wallpaper | Elsie de Wolfe Quote Wall Decor | Blush and Brass Globe | Storage Baskets | Brass Knobs
I knew I wanted a feminine color palette, but I wanted it to be subtle as well since the office is one of the first rooms you see when you walk in the front door.
I also knew I wanted to have neutral walls (Shoji White) and pretty, floral curtains that coordinated with my new rug. I was so happy when I found these gray and blush floral curtains. I hoped they would work as well in person as they looked online in my mood board – and sure enough, they were a perfect pair!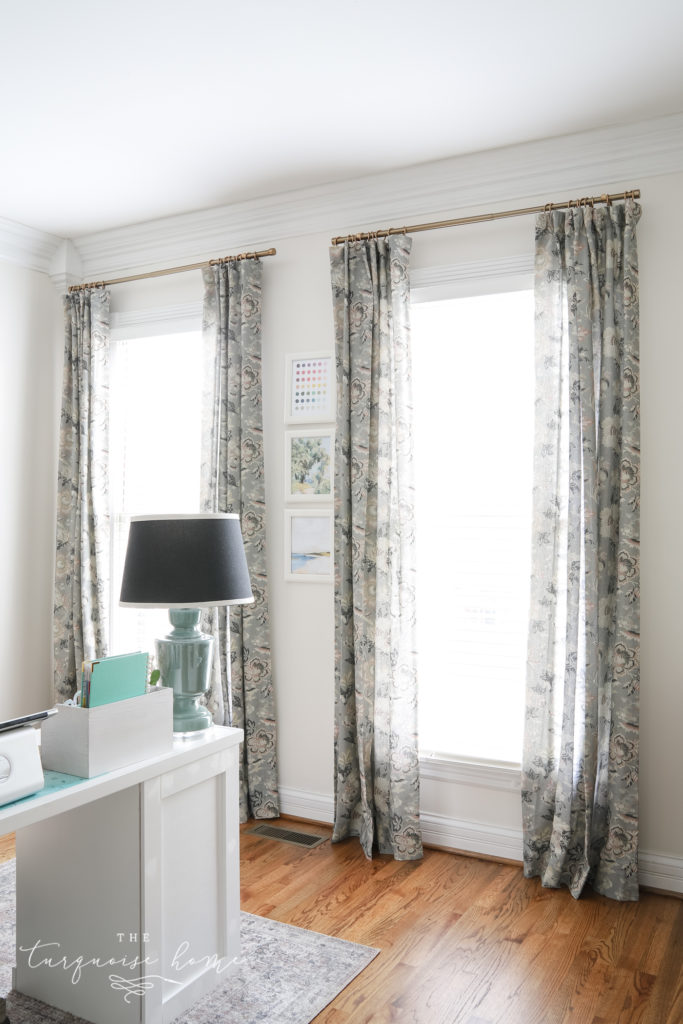 I love them even more than I thought I would! And it's hard to tell how well they coordinate with the rug in these photos, but in person, they are perfection!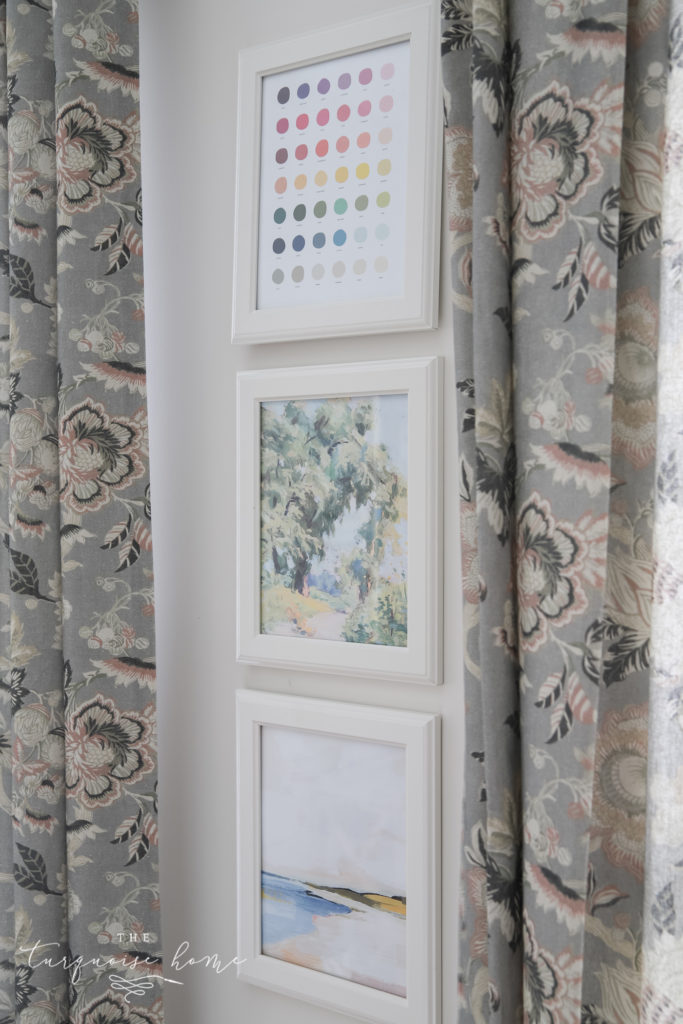 Dots Print | Wild Oak Print | Cove Print
And I used some frames I had on hand to decorate the space between the two sets of curtains. These are old IKEA frames with some new printable art from Juniper Print Shop.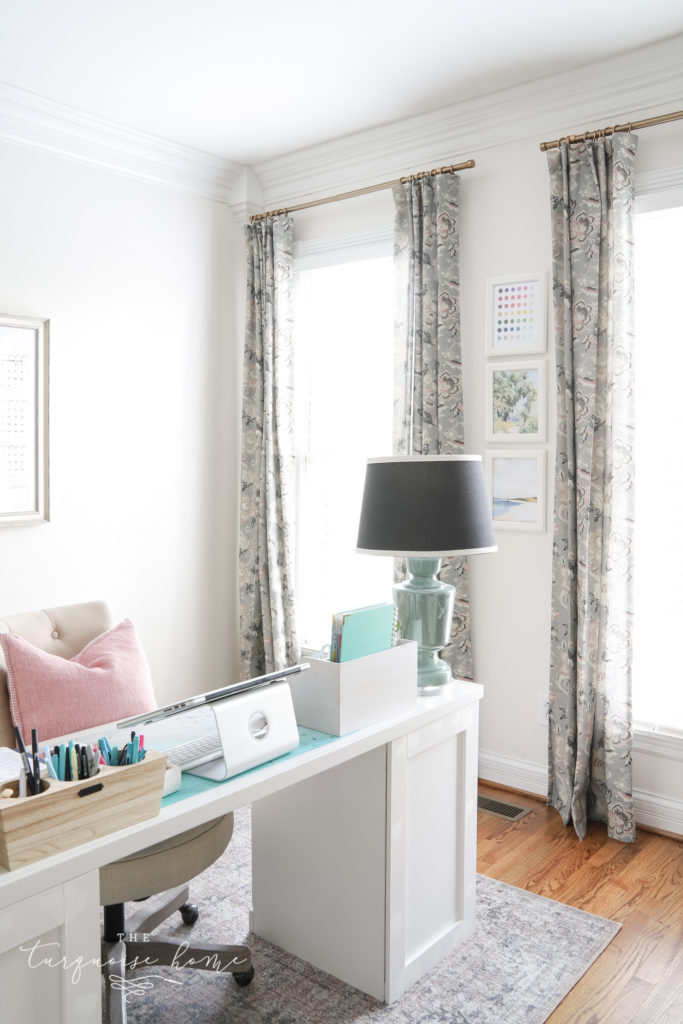 The curtains rods I bought are from Amazon, but I've bought similar ones from Target and like the Target ones better. I love the drapery hooks these curtains came with, as you can see in the detailed photo below. I bought the curtain rings (no longer sold) separately to hang them on the rod.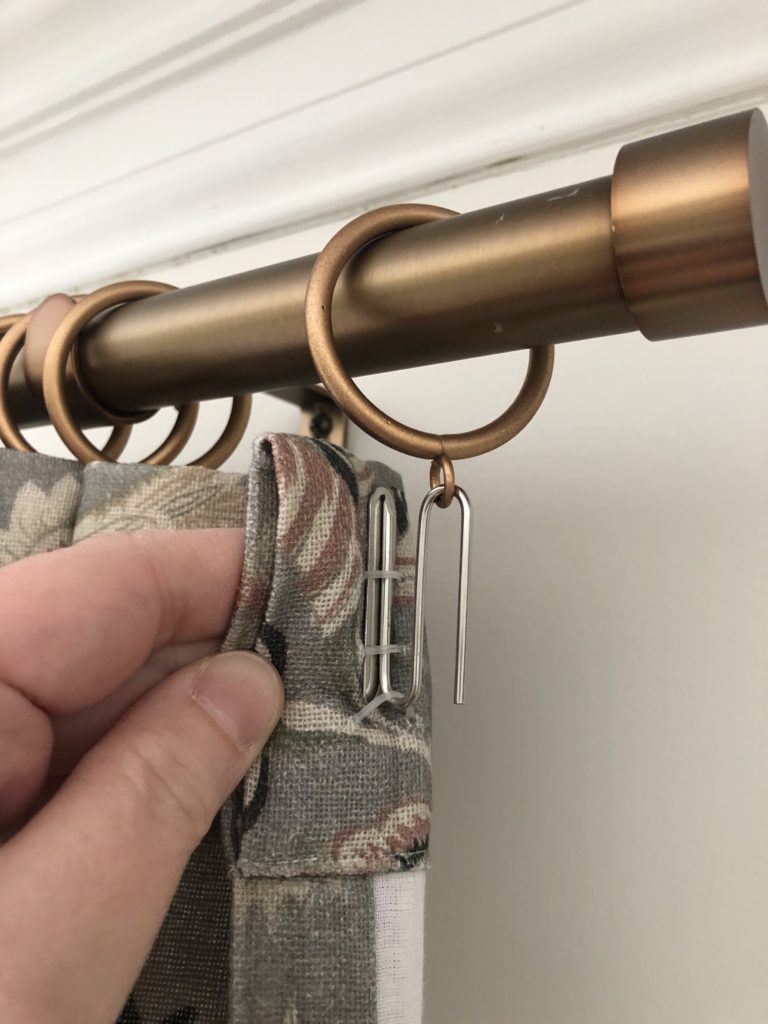 I much prefer hanging curtains from curtain rings as opposed to putting the rod through the tops of the curtain. It allows them to be pulled back further on the curtain rod and it just hangs nicer in my opinion. It's just my personal preference.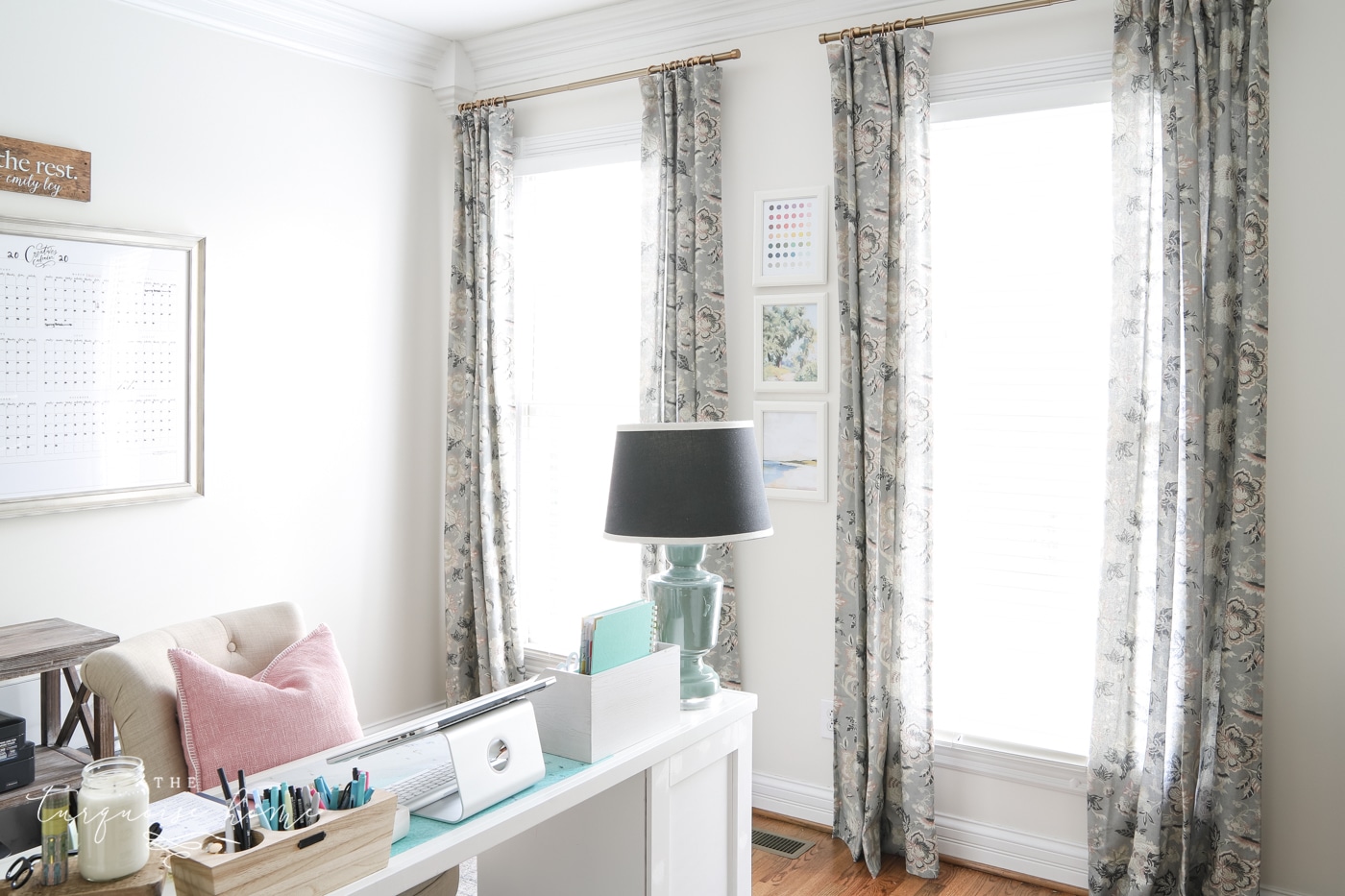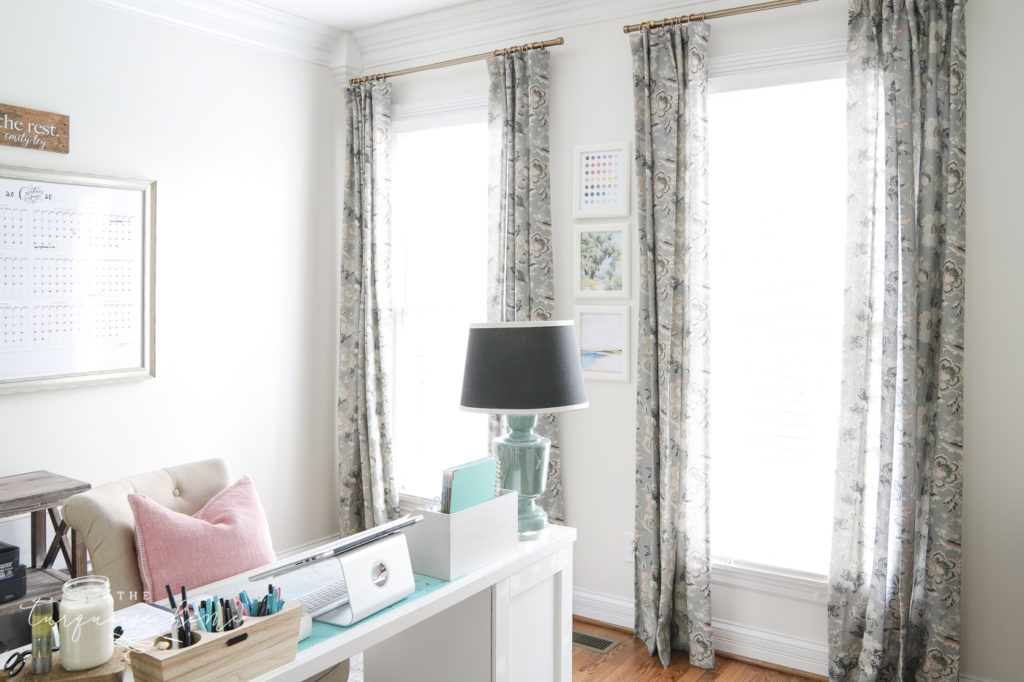 I'm so happy with how they turned out!
It's a far cry from where the room started just a few months ago: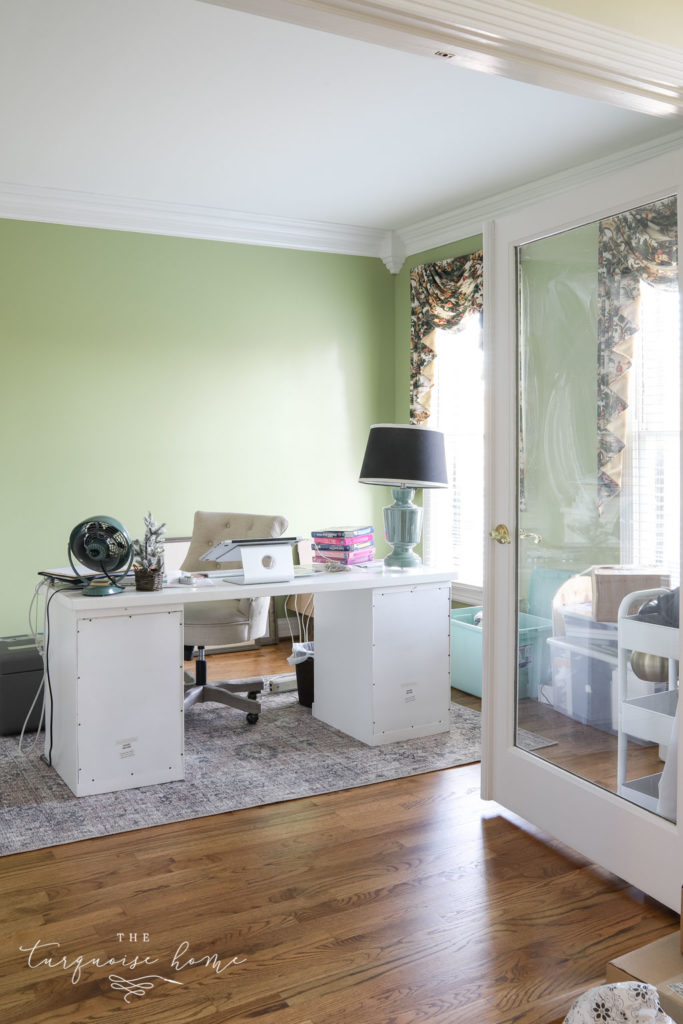 And if you're paying close attention, you'll notice that I've put the panels on the backs of the desk, but need one final coat of paint on them before they are done. The office is ever so slowly inching toward being done!! Yay! (Just waiting on one thing and it'll be reveal time.)
More Floral Curtains for a Feminine Space (or Baby Girl Nursery)
I love to add texture into any space with curtains. Sometimes I like a solid linen curtain or a plush velvet curtain. But other times I love to add texture AND pattern with some pretty floral curtains.
These are some of my favorites I found when searching for just the right curtains for my office! A couple aren't floral, but I liked them enough to share here!

The Way to Hang Curtains and Make Your Room Look Larger
I always take any opportunity I can to share about where to hang curtains so that your room looks the best.
As you can see in the diagram above, the rule "high and wide" when hanging curtains makes your room and window look larger.
A good rule of thumb is to hang your curtains 4-6″ above the window frame and 3-6″ beyond the sides of the window.
And pay attention to the length of the curtains before you hang them. If you're going to be opening and closing your curtains often, leave 1/4-1/2 inches between the bottom of the drapes and the floor. If you are leaving them in place and want to create an upscale vibe, leave 6-8 inched puddled on the floor.
I shared more information at the end of this: Where to Buy Cheap Curtains post (click here).
MORE POSTS YOU WILL LOVE:
Get Instant Access to my Guide to Customize Your Home on a Budget
Grab your FREE guide for 10 Ways to Customize Your Home on a Budget: simple projects to transform your home from builder beige to a home with character and charm!