When it comes to a trendy, yet timeless paint color, reach no further than blue! These are the best blue paint colors out there (and believe me, I looked through a lot!). Whether you are searching for a light or dark shade, these blue hues are sure to please.
When you want to decorate your home, these are the best blue paint colors you can use. From blue-grey to light blue, all of these are stunning!
This post contains affiliate links for your convenience. See my full disclosure here.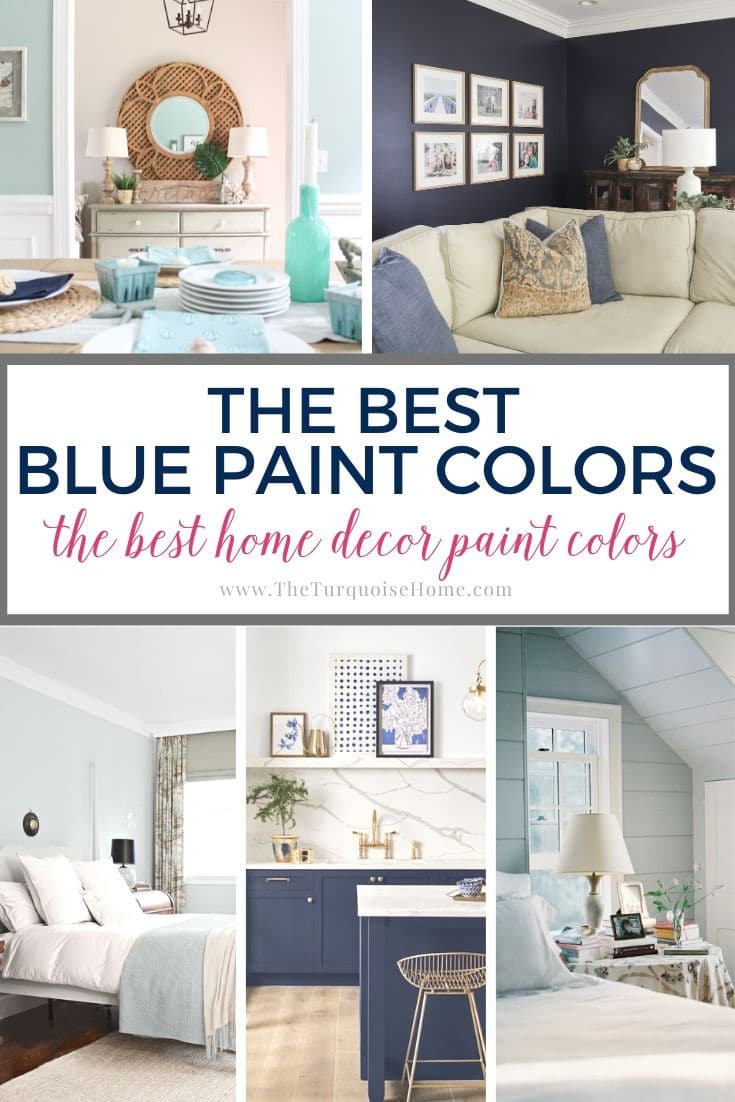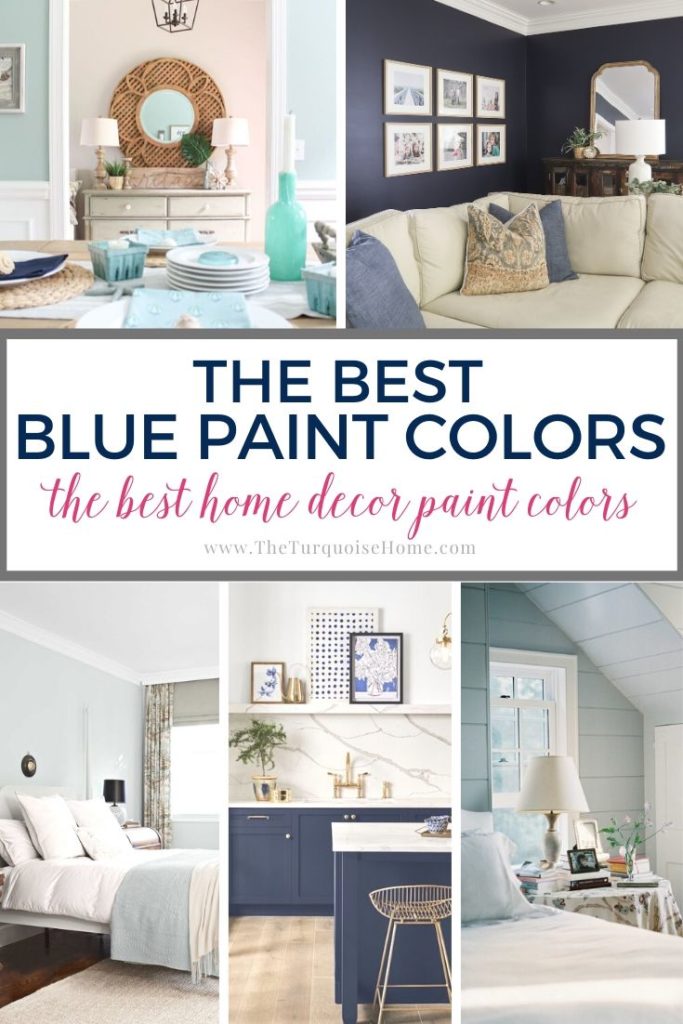 Have you ever noticed that choosing a blue paint color is notoriously tough? There are so many subtle shifts and nuances that can change simply due to the colors around it!
Don't let that scare you off though. There's a reason that blue continues to be an on-trend paint color right now! It can either brighten a room or dominate it.
NOTE: If you're painting the room yourself, these tools will help tremendously. And this post will give you my best tips for painting a room in 5 easy steps.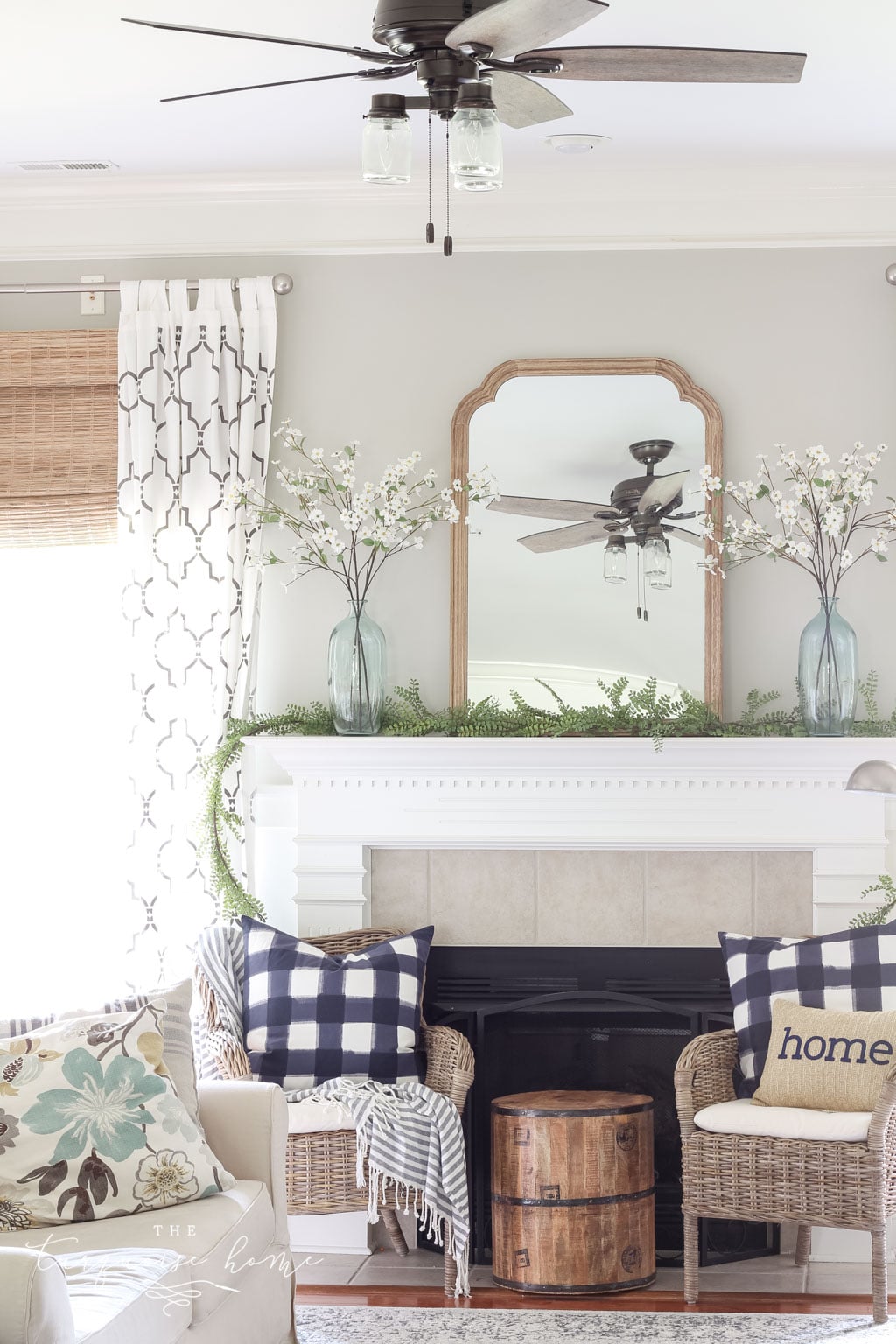 FREE BONUS!
5 Secrets Every Home
Decorator Knows
… to transform your home into your dream home!
Best Blue Paint Colors
Blue is called a "cool" color as it's very calming and refreshing. It exudes images of frothy ocean waves or evening skies. Some shades will boldly draw your attention and while others fade into the background.
When you are picking out a blue paint color for your home, always bring home about 2-3 sample colors. Things such as sunlight and furniture can all affect how the paint appears in your room.
You might be asking…well, what are the best blue paint colors? I have a few (dozen) favorites and I'm thrilled to share what I consider the best of the best with you. From muted blue-gray to dark navy, these are the colors you can count on.
Best Blue-Gray Paint Colors
Blue-Grays are the perfect neutral shade. They fade into the background and allow you to be liberal with your wall decor and furniture. It's a versatile color and picks up various shades from items around the room. It's a smart choice because just like these gray paint colors, it is able to fit in any room.
If you want to use blue-gray, these are the best ones you can use.
Agreeable Gray By Sherwin Williams
This living room from Green With Decor shows how the undertones of Agreeable Gray are blue-gray in certain lighting. If you want a neutral shade that's practically guaranteed to please, give this one a try.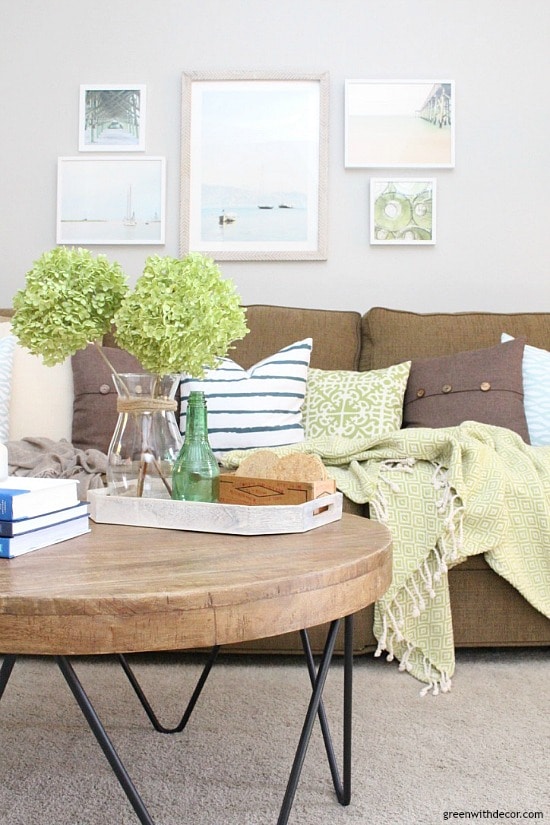 Silver Sage by Restoration Hardware
Don't let the name fool you! This paint color appears with a beautiful undertone of light blue. I have a discontinued paint color in our master bedroom called Palmetto Gray by Porter Paint. The closest match to it is this Silver Sage.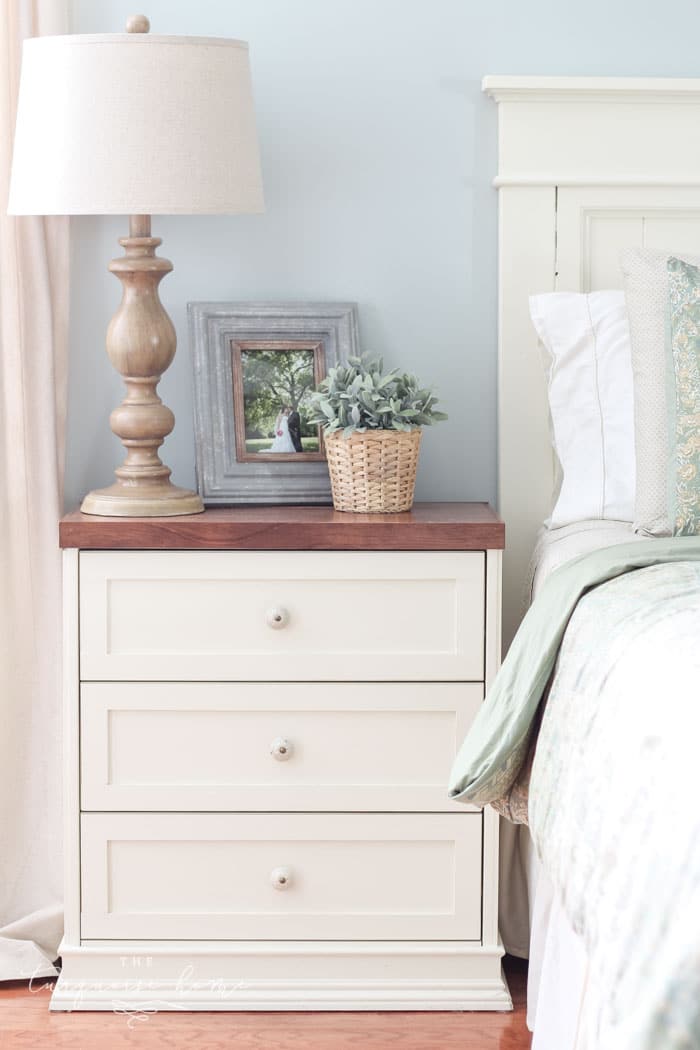 Manor Gray by Farrow and Ball
This incredible playroom bookshelf was painted in a gorgeous blue-gray paint to make the shelves pop. This shade would probably work best where you get at least some natural light, but swatch it on the wall and see.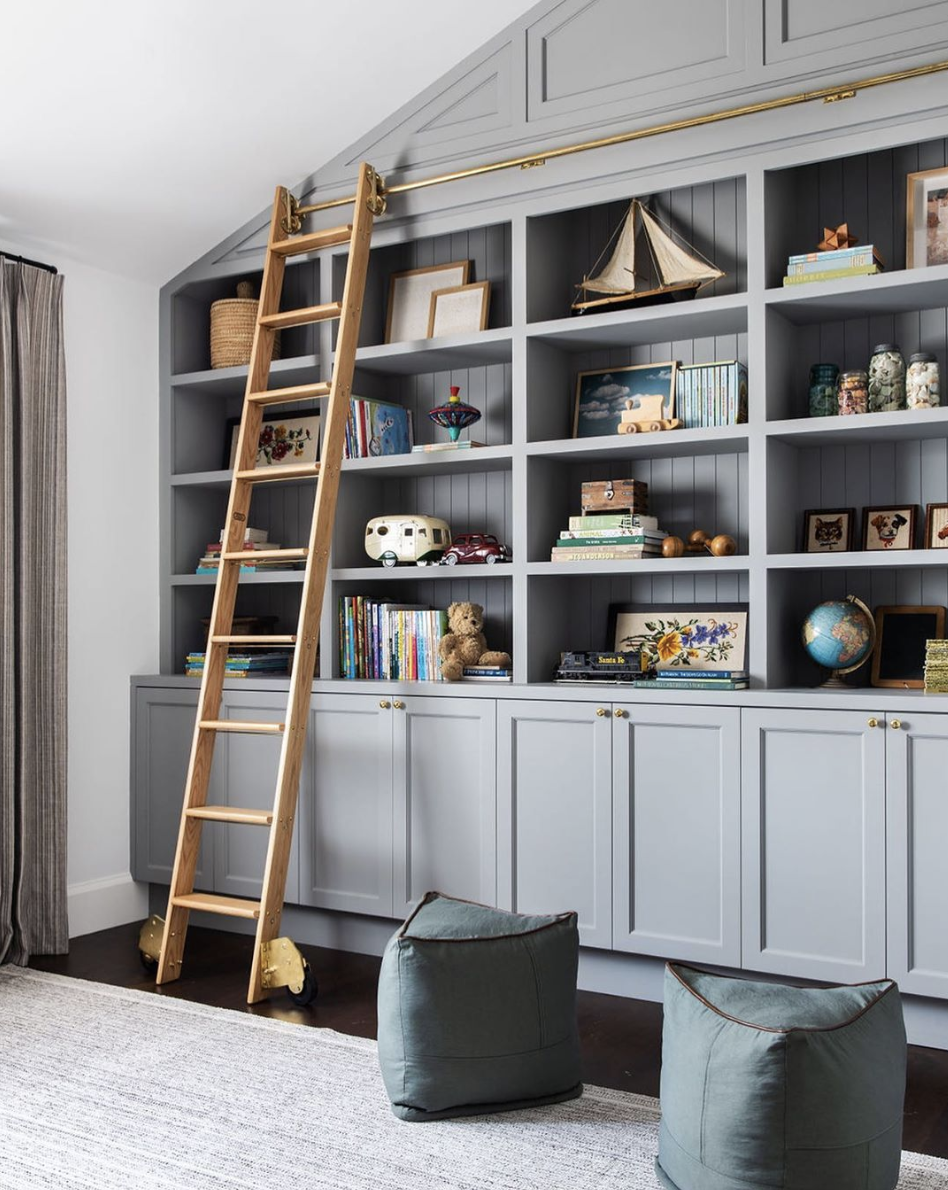 Other Blue Gray Paint Colors to Try:
Blue-Green Paint Colors
If you want something that evokes more emotions and brightens a room, then a blue-green paint is perfect! These shades will take you from the beach to a calm and cool spring day. They fit in every room in your home, everything from nurseries to dining rooms.
Here are my favorite blue-green paints!
Wythe Blue by Benjamin Moore
Wythe Blue is a calm blue-green that can fill a room or be used as an accent paint to draw the eye. I like it so much that I used it in our last home's dining room and bathroom. It's so versatile and pretty!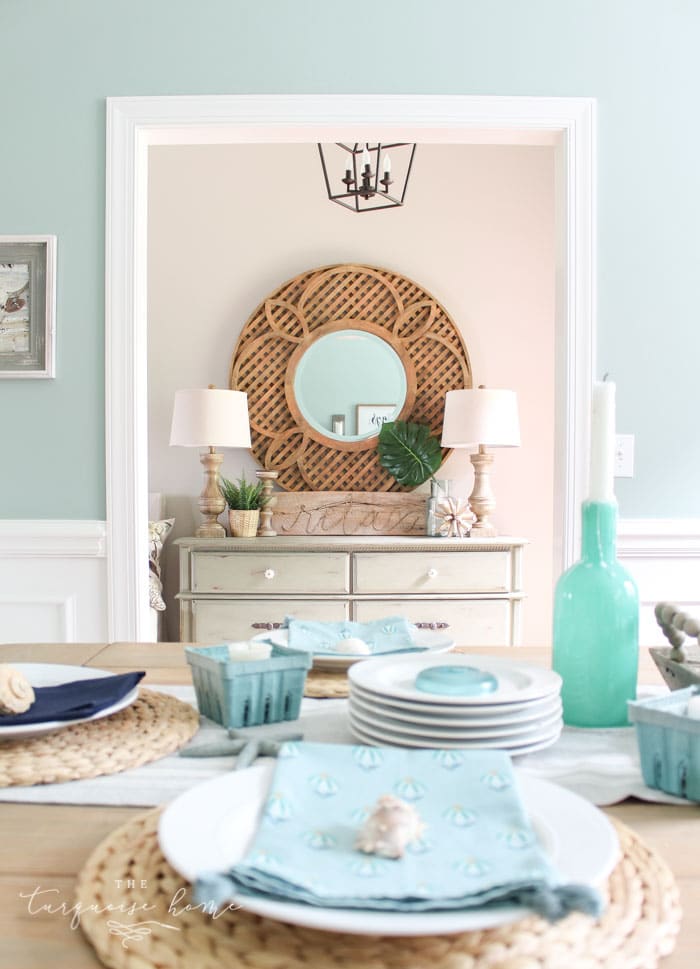 Palladian Blue by Benjamin Moore
This calming blue green paint color has been a favorite color since I saw this office makeover from Bower Power Blog years ago. It's super soothing and somehow makes every space look fresh!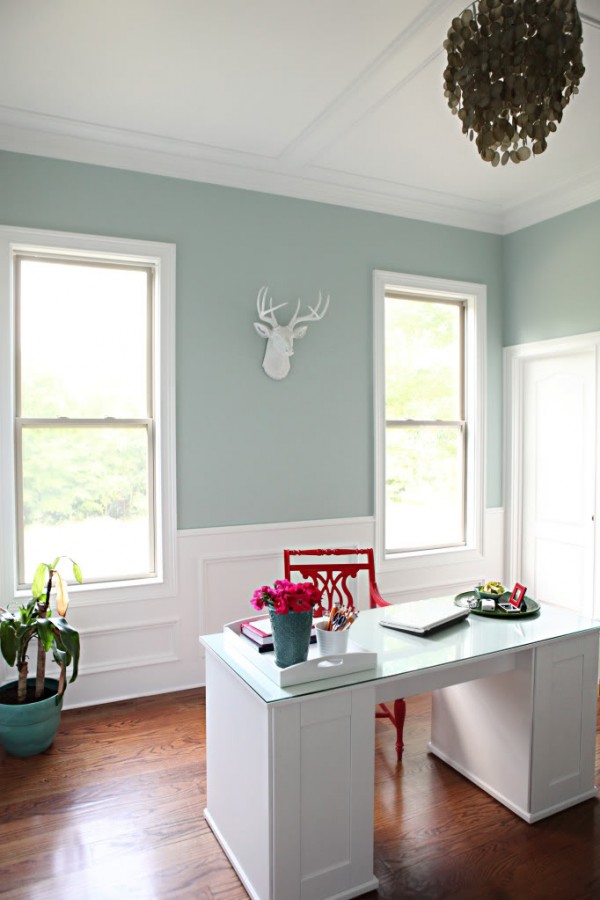 Wickham Gray by Benjamin Moore
This gorgeous shade has me swooning! Like all paint, how this one looks on your wall will vary depending on the amount and type of light you have in your room. This is one I may have to swatch on my own wall soon.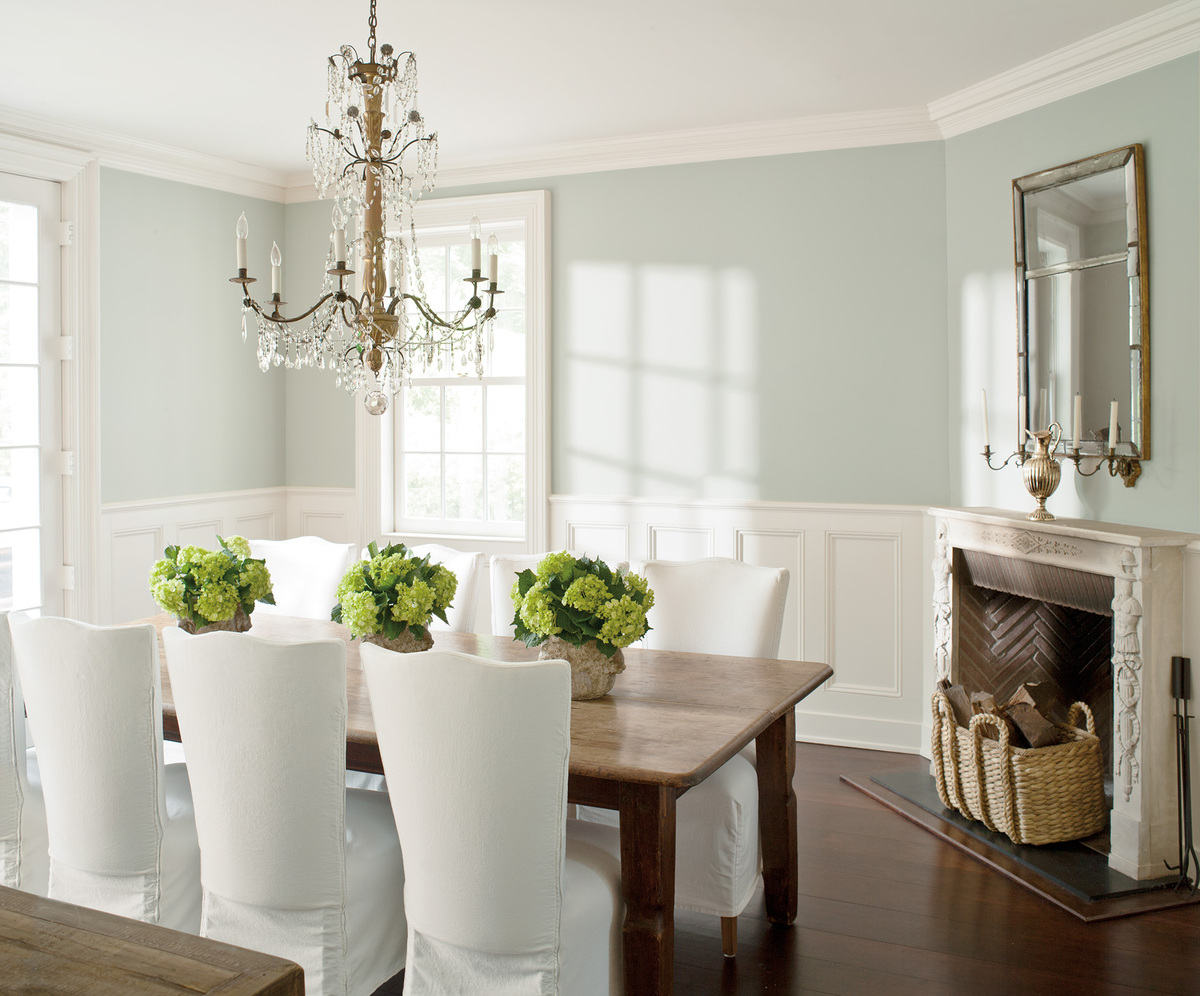 Other Blue-Green Paint Colors to Consider
Dark Blue Paint Colors
I have to say, dark blue paints can add a very dramatic flair. I advise you to use them as accent colors since they tend to overtake everything else in the room.
There can still be a lot of versatility when you decorate a room that has dark blue paint colors. You can use dramatic bright whites to accent the blues or you can be bold and use vivid oranges as a complementary color.
When you look for dark blue paint color, these are my favorites.
Hale Navy by Benjamin Moore
I love how this navy blue paint color makes my front door stand out so dramatically. I chose to use muted colors in the entryway and the door attracts all the attention.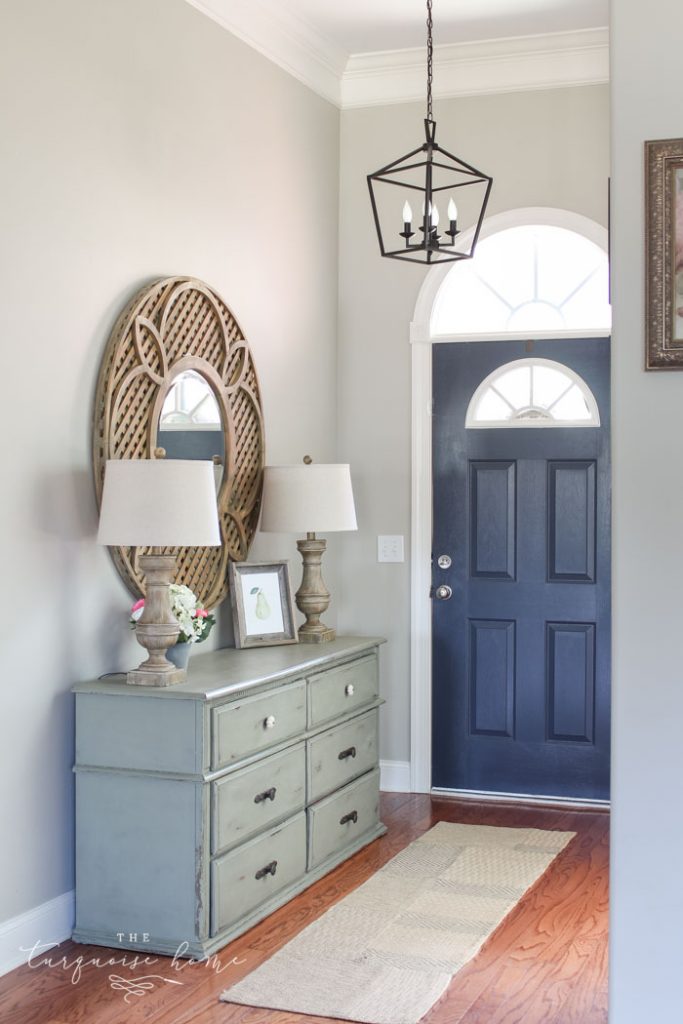 I loved the color so much in my last house that I used it again in my living room in my new house. I love it! It works well in here because there's a large wall of windows, a wall of white built-ins and two large doorways. So, there is not a lot of wall space and a ton of natural light!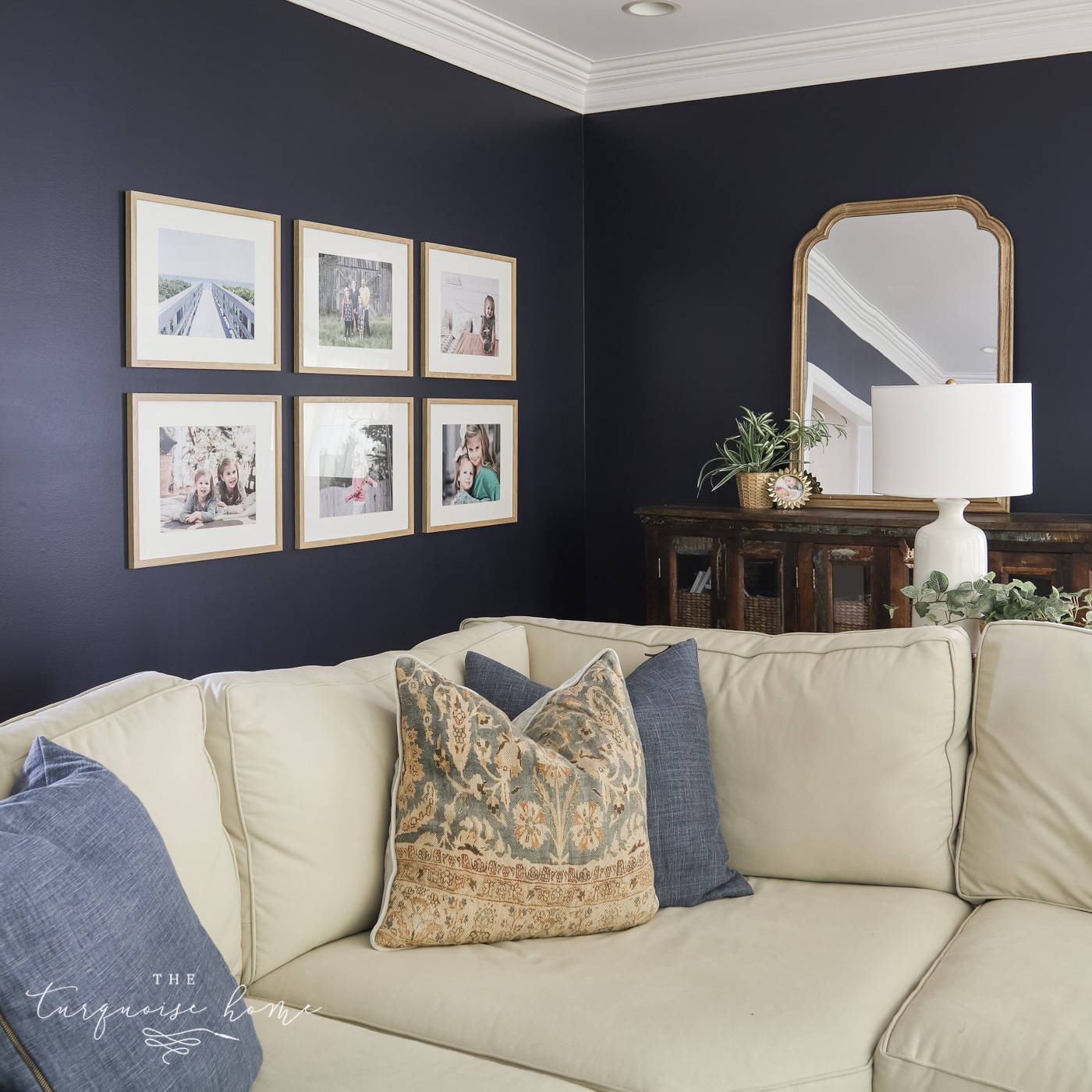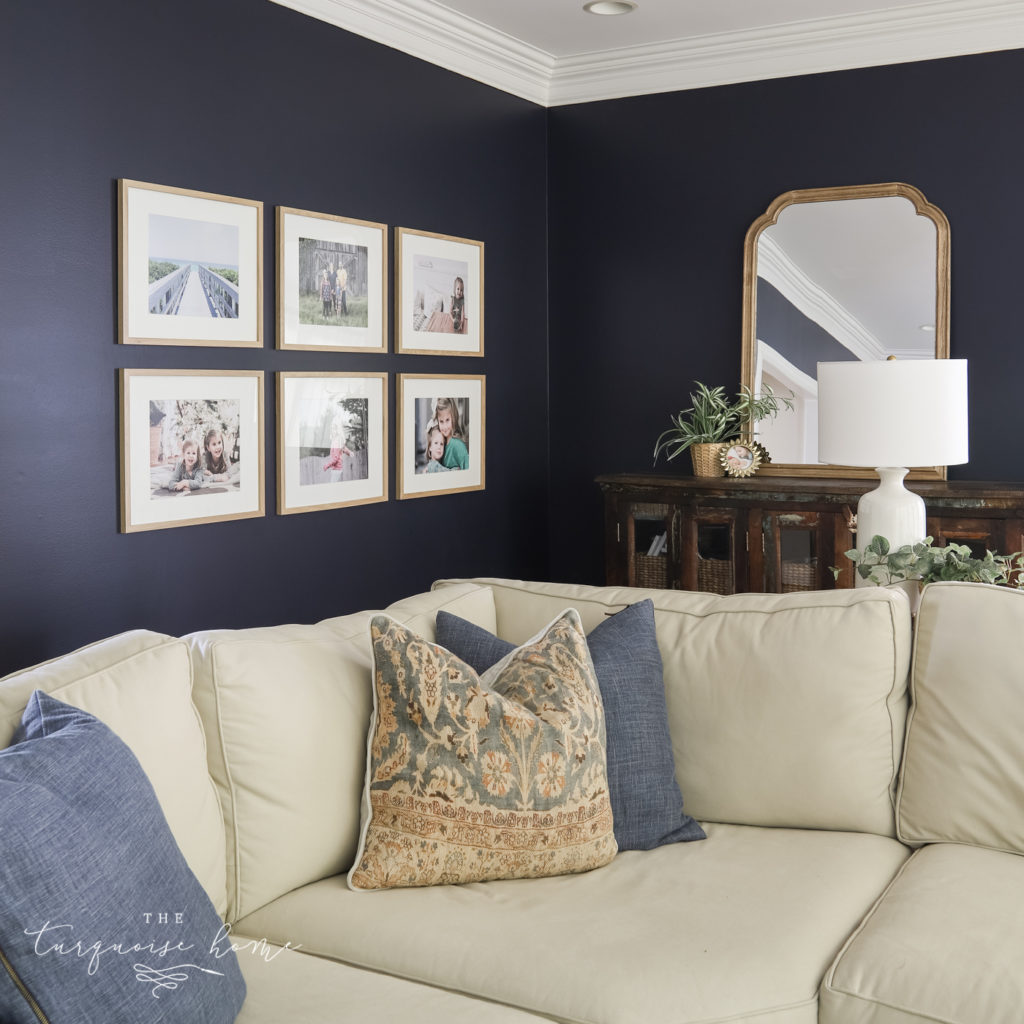 Naval by Sherwin Williams
This is the 2020 paint color of the year. As you can see, this blue is so dark that it almost reminds you of the sky at midnight. Gold and white are the best accent colors. Since this shade is so dramatic, it's best to allow it to have the center stage, like in these cabinets.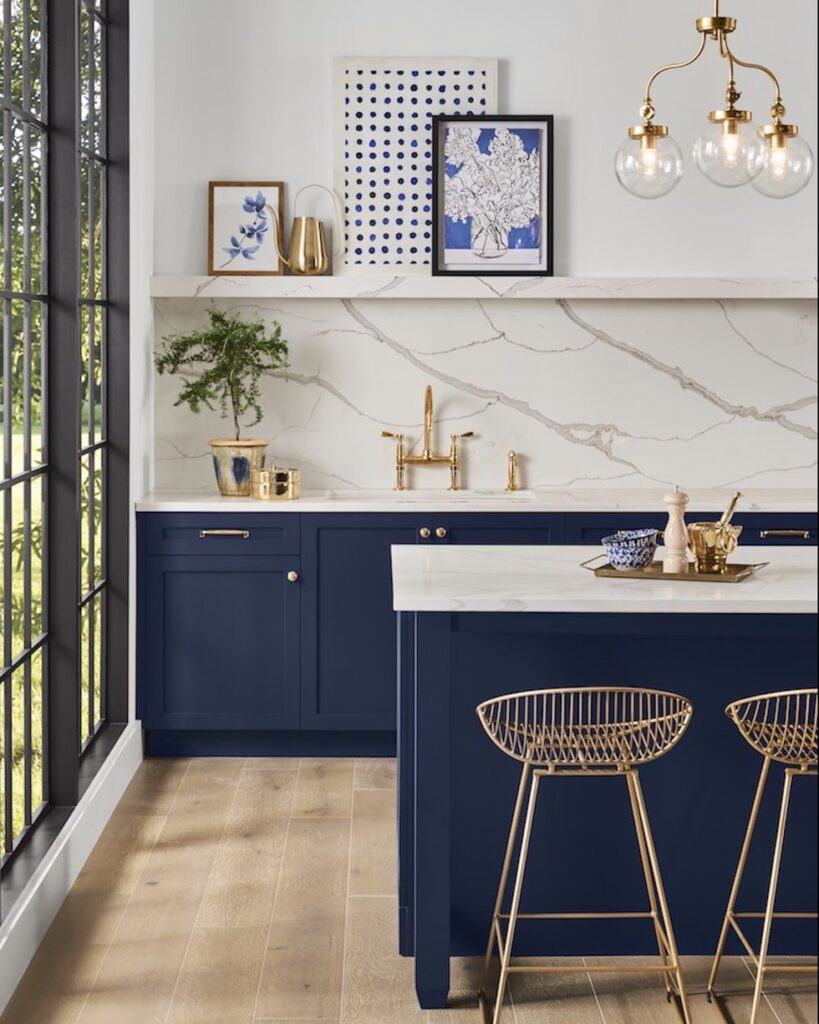 Hague Blue by Farrow and Ball
This dark shade is an earthy-tone that pairs perfectly with leafy greens and natural woods. It looks even darker when there isn't much light on it. Of all the dark blues in our list, this one has the least amount of lightness.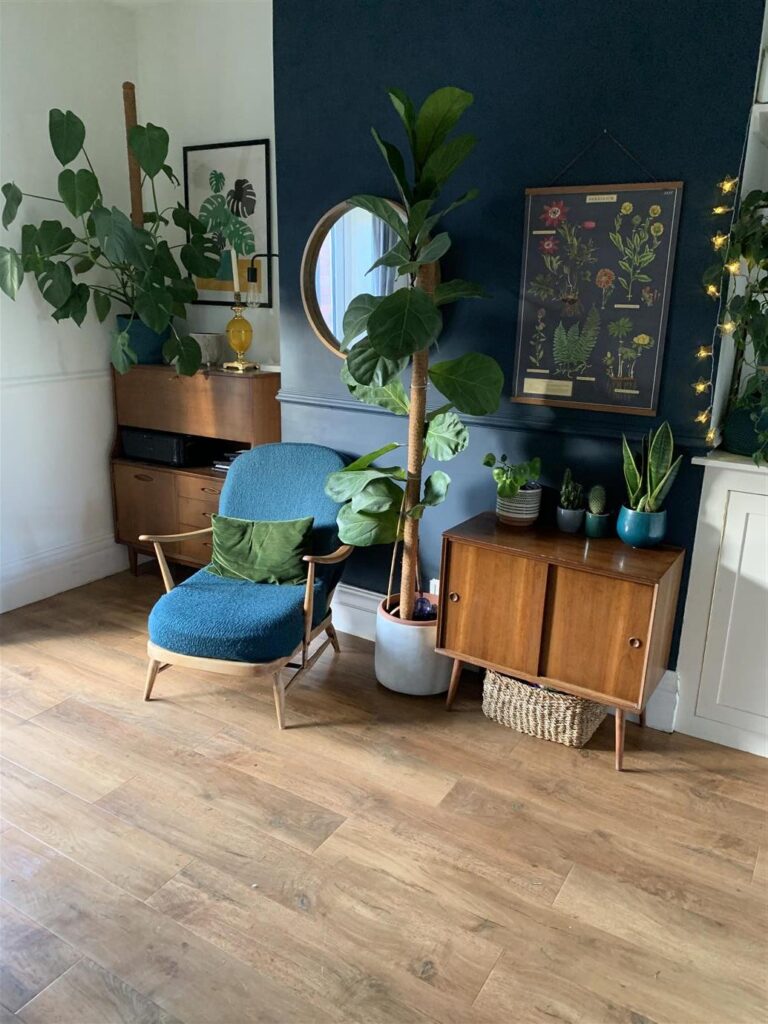 More Dark Blue Paint Colors to Consider:
Light Blue Paint Colors
On the opposite end of the spectrum, let's look at some light shades of blue paint. These are airy and have lots of whites in them. They are perfect in both bathrooms and bedrooms because this light shade has a very calming effect.
Sea Salt by Sherwin Williams
As the name implies, this color resembles the pale blue of the ocean (and a hint of gray green). Some people get it confused with Palladian Blue. I compared Sea Salt to Palladian blue – there are quite a few differences that affect how you decorate with them.
This bathroom has Sea Salt paint. The bright orange rug perfectly compliments that muted shade.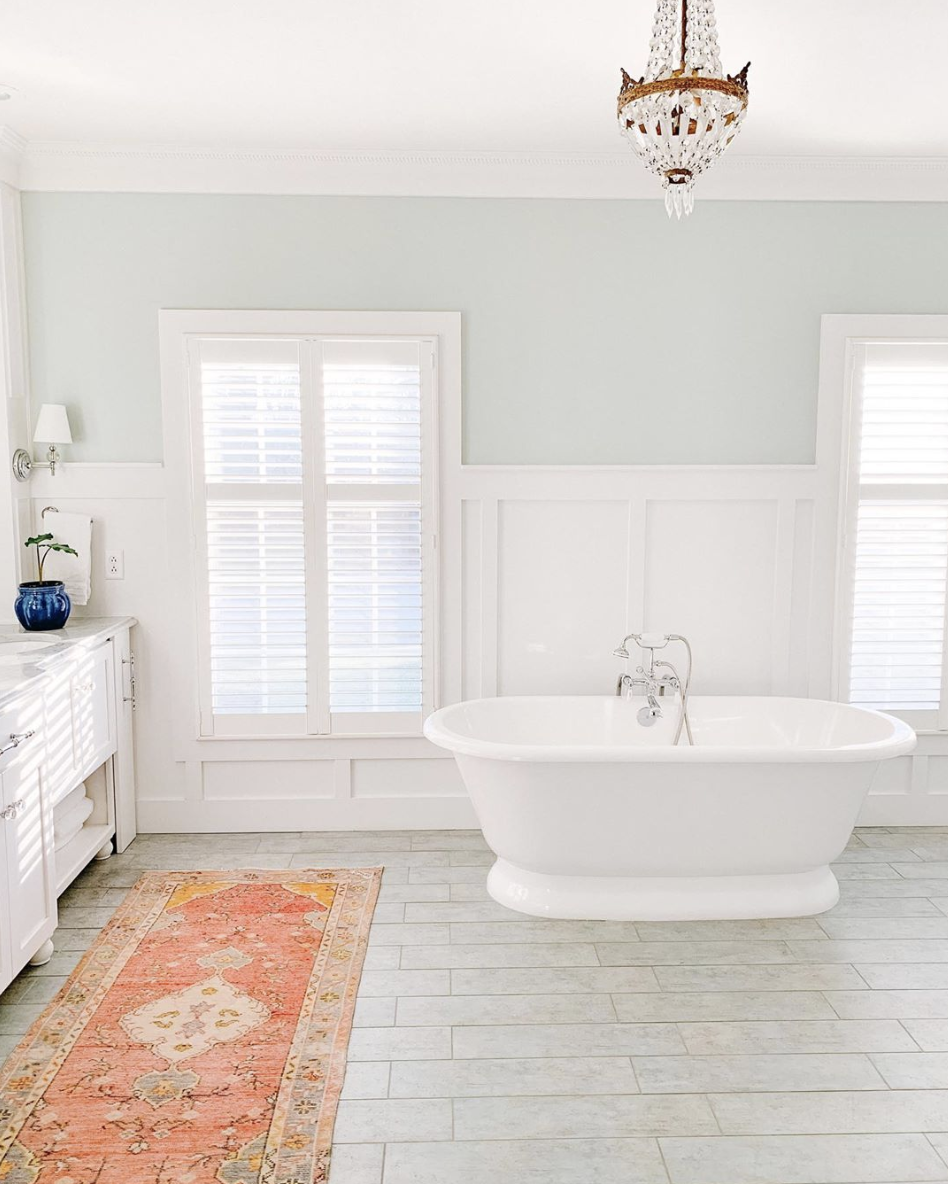 I loved Sea Salt as a blue wall paint color, so much that I used it in my kitchen in our old house, as seen below. I plan to use it in my new house as well!
Lookout Point by Benjamin Moore
Lookout Point is a tad brighter than Seal Salt. It's the perfect blue for people that are wanting some color on their walls without committing to something too bright or obtrusive. This bedroom draws on the sky-blue shades and feels like a dream garden. The florals are the ideal touch.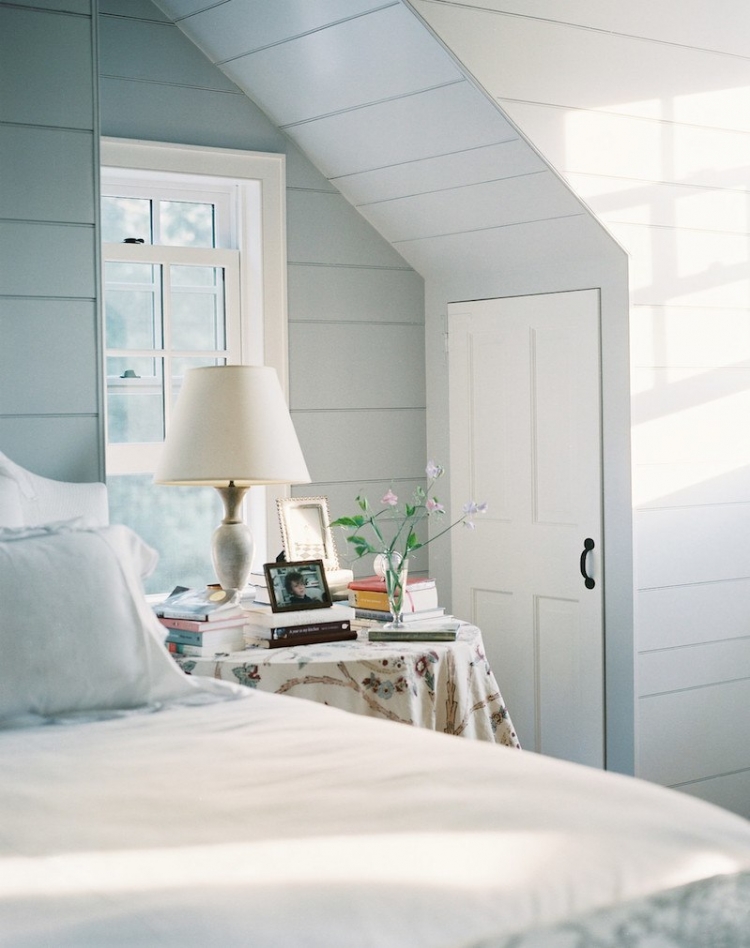 Ice Cap by Benjamin Moore
Ice Cap is a light blue shade with a touch of gray in it, which makes it a great blue paint for a bedroom. There is barely any warmth to it and it closely mirrors the shade of the sky when it's about to snow. When you decorate with it, you will want to use some warm colors in the fabrics and decor. Like in this bedroom below, you can see where the shades of earthy brown tones and warm red oak.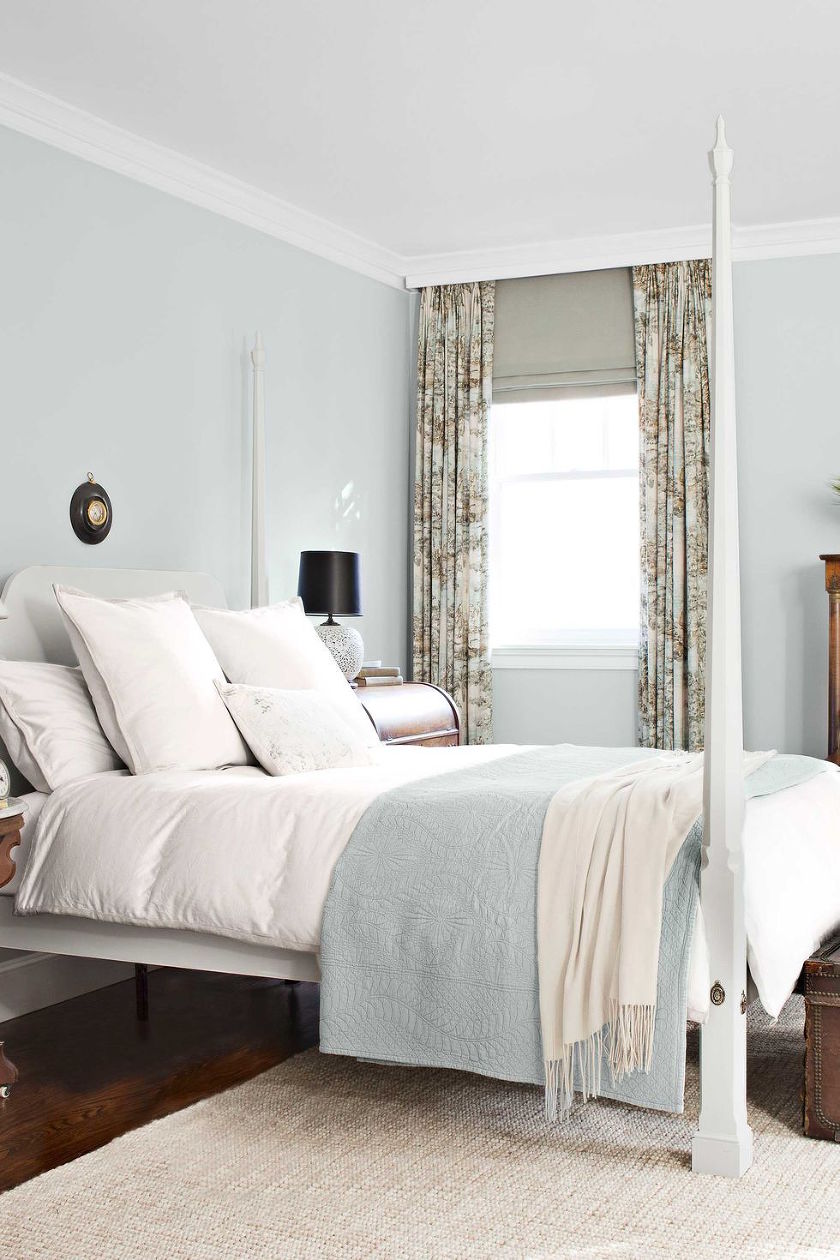 More Light Blue Paint Colors to Try:
Best Blue Paint Colors
No matter which shade of blue you choose, I always recommend that you test out the color first. You can do this by painting it on a poster board and hanging it up in a variety of places in the room. Do this at different times of day too since the angle of the natural light can change.
Another tip: Always make sure the paint color you buy will fit into your home's color palette. If you don't have one, you should create one, stat! Here's how to create a whole house color palette.
More of the Best Home Decor Paint Colors:
TIPS FOR PAINTING A ROOM YOURSELF
I've gathered some of the best tools for painting a room yourself. First of all, you'll want to check out this post I wrote: Painting a Room in 5 Easy Steps. These tools are the top tools I use when painting my own rooms, which is how they get painted 95% of the time!
MORE POSTS YOU WILL LOVE:
Get Instant Access to my Guide to Customize Your Home on a Budget
Grab your FREE guide for 10 Ways to Customize Your Home on a Budget: simple projects to transform your home from builder beige to a home with character and charm!