How to turn an outdated, lime green space into a beautiful, feminine home office with blush and brass accents. We also gave this room some much-needed privacy!
When I first shared the design board for my feminine blush & brass office makeover back in February, I had no idea that a global crisis was about to hit. I had no idea that my easy little decorative makeover was going to take 7 months instead of 1! 🤪
But I can't complain too much, because it finally came together and I love it so much! I'm also so grateful we even have this large dedicated office. It was one of my must-haves when we were house shopping and I'm so grateful to have one in 2020. 😉
This post contains affiliate links for your convenience. See my full disclosure policy.
Let's take a look back at the vision for this space…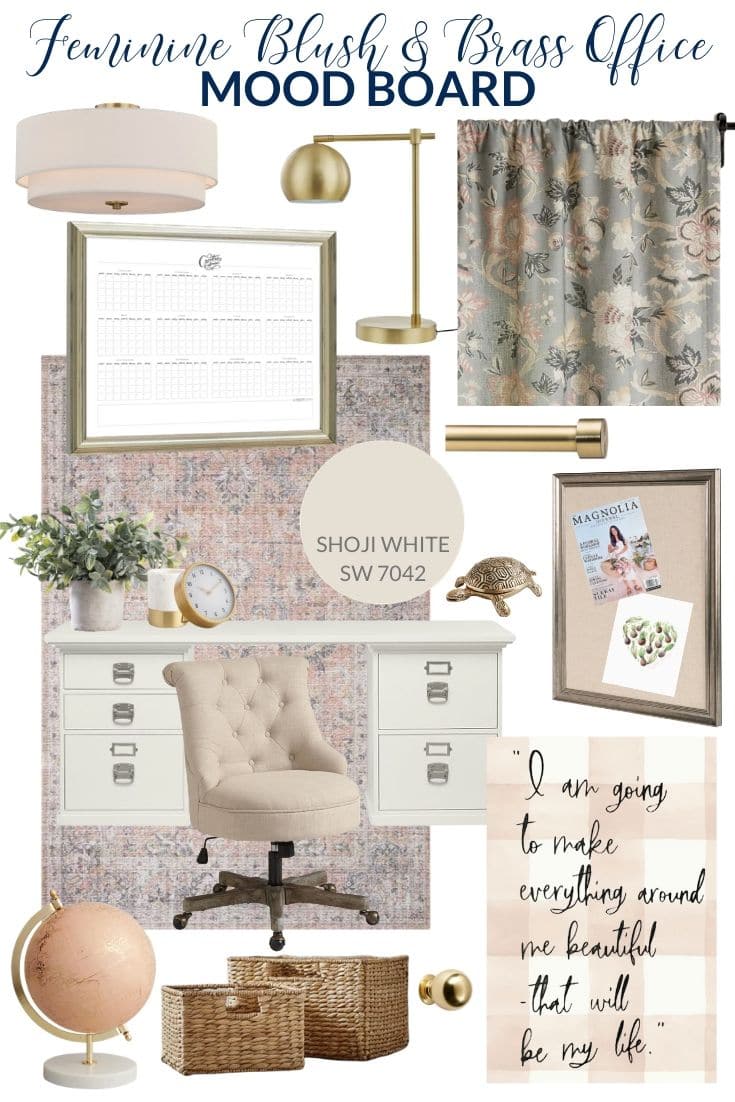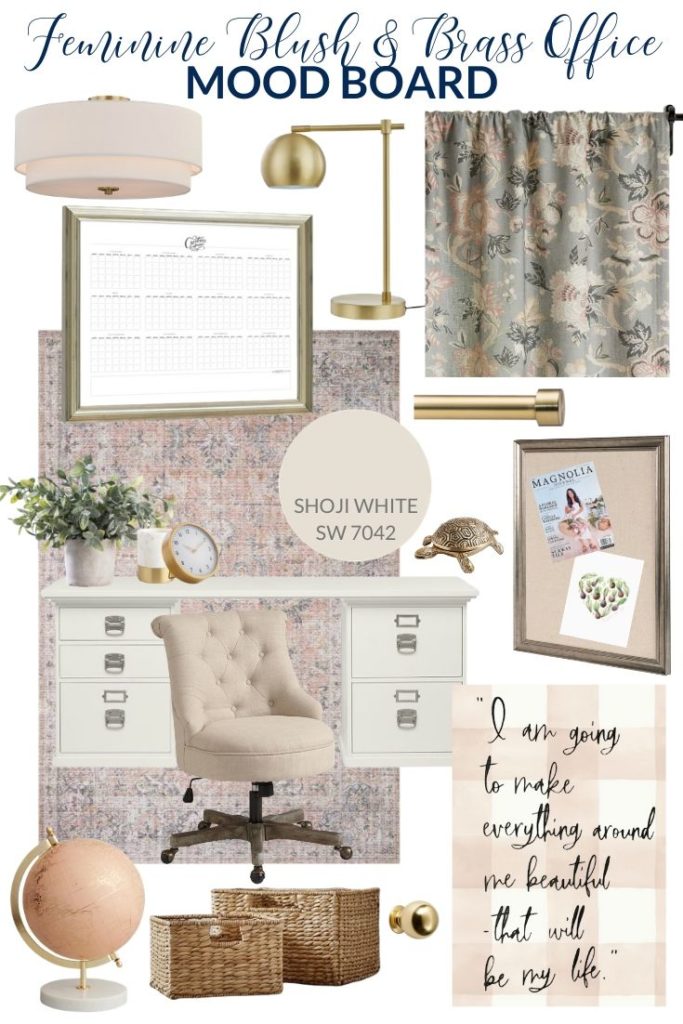 Flush Mount Ceiling Light | Dry Erase Wall Hanging Calendar | Brass Task Lamp | Floral Curtains | Brass Curtain Rod | Blush Rug | Faux Sage Greenery | Marble and Brass Pencil Cup | Brass Clock | Brass Turtle Trinket Box | Desk | Rolling Desk Chair | Bulletin Board | Buffalo Check Wallpaper | Elsie de Wolfe Quote Wall Decor | Blush and Brass Globe | Storage Baskets | Brass Knobs
And this is the to-do list I had for my office:
Finish organizing the space – DONE!
Paint the walls Shoji White (Sherwin Williams) – DONE! see my favorite white paints colors here.
Add an overhead light. We decided to wait on this one for now, but eventually we plan to add an overhead light.
Add blinds to the french doors. – DONE!
Make panels for the back of the desk. – DONE!
Style the bookshelves. – DONE! (but will always be tweaking them ☺️)
Order or DIY art for behind the desk and other wall. I just hung up an Emily Ley quote I made with vinyl a few years ago. And I hung some printable art between the windows. I'll add more art along the way, I'm sure!
Hang calendar and art behind the desk. – DONE! (The Lindsay Letters calendar is so good and I love my pin board for hanging up my inspiration pieces.)
Either replace the knobs in the built-ins with matte brass knobs or use rub and buff to cut down in some of the shiny-ness. – I didn't do this and plan to just live with the shiny brass for now. I may replace the knobs with these that I bought for my kitchen, but for now it's fine!
And I added a really fun plaid treatment to the back wall for a little extra pattern! I'll be sharing a tutorial in a future post.
Before we look at how it looks now, let's take a moment to reflect on how it looked before! The lime green and old chinoiserie window treatments had to go.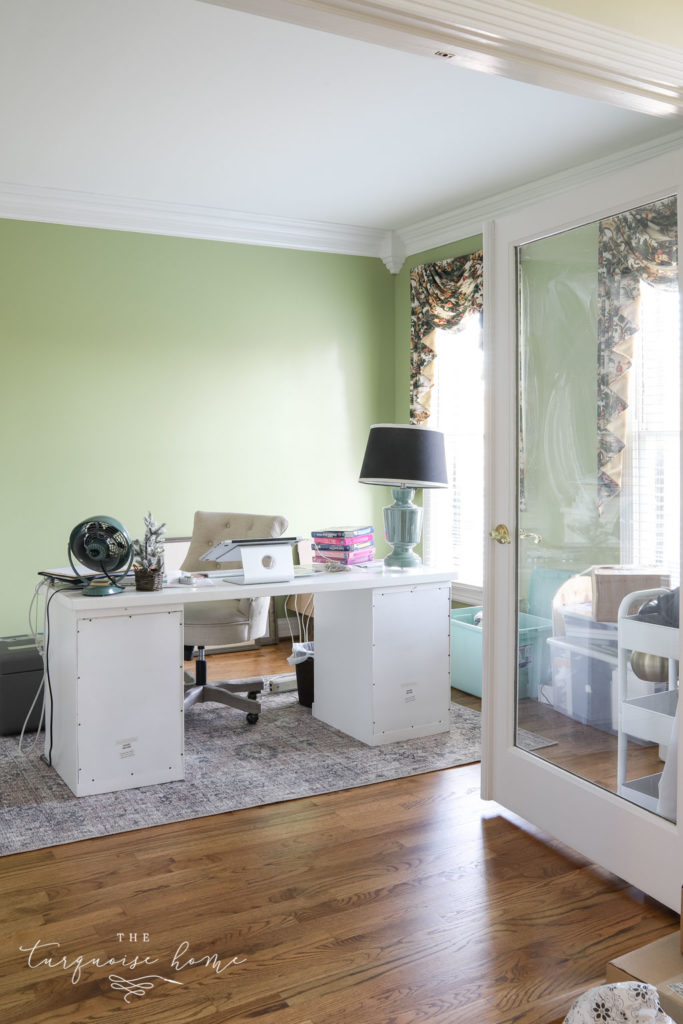 And how it looks now!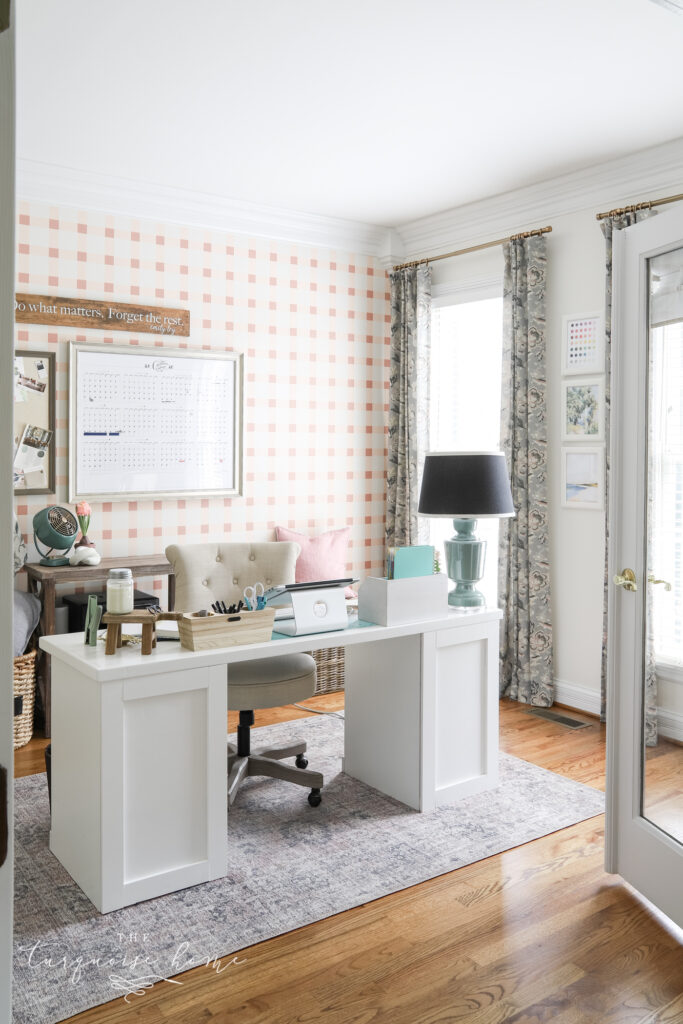 I'm so happy to call this room done! Let me walk you through some of my favorite things in the room!
Click/Tap the images below to shop my Home Office:

Privacy Blinds for French Doors
One of the reasons that I had to wait so long to share this reveal is that I was waiting for the bamboo shades I had to have came back in stock. They are real jute, so the rainy winter season did a number on the crops and I had to wait a few months to get them in. But they are so worth it!
While it's hard to get a perfect shot at this angle, let me just tell you that having a way to close off my french doors is essential during these times. They have been crucial on the days when I needed a couple hours to work without my girls coming by and making faces at me through the glass.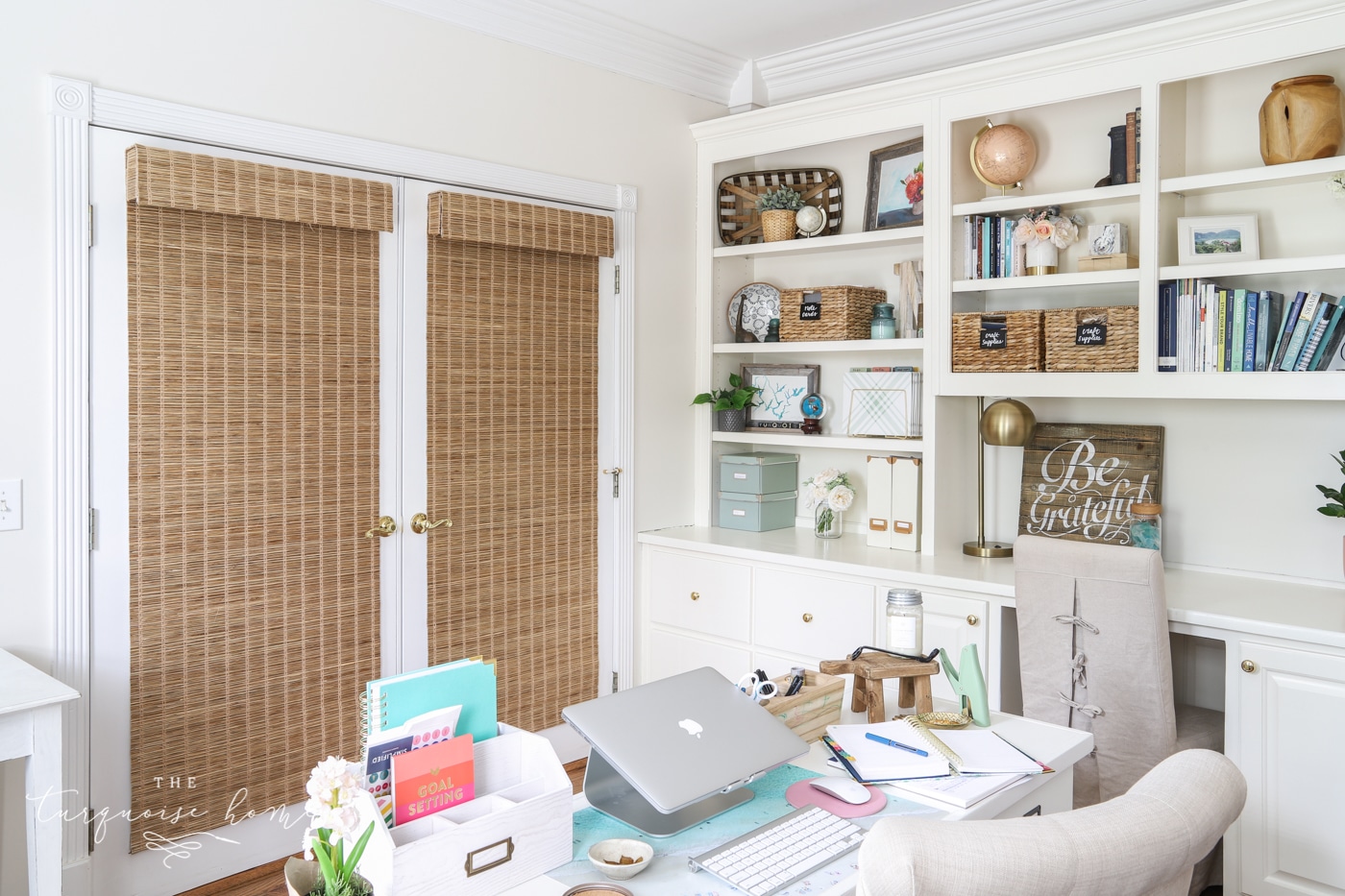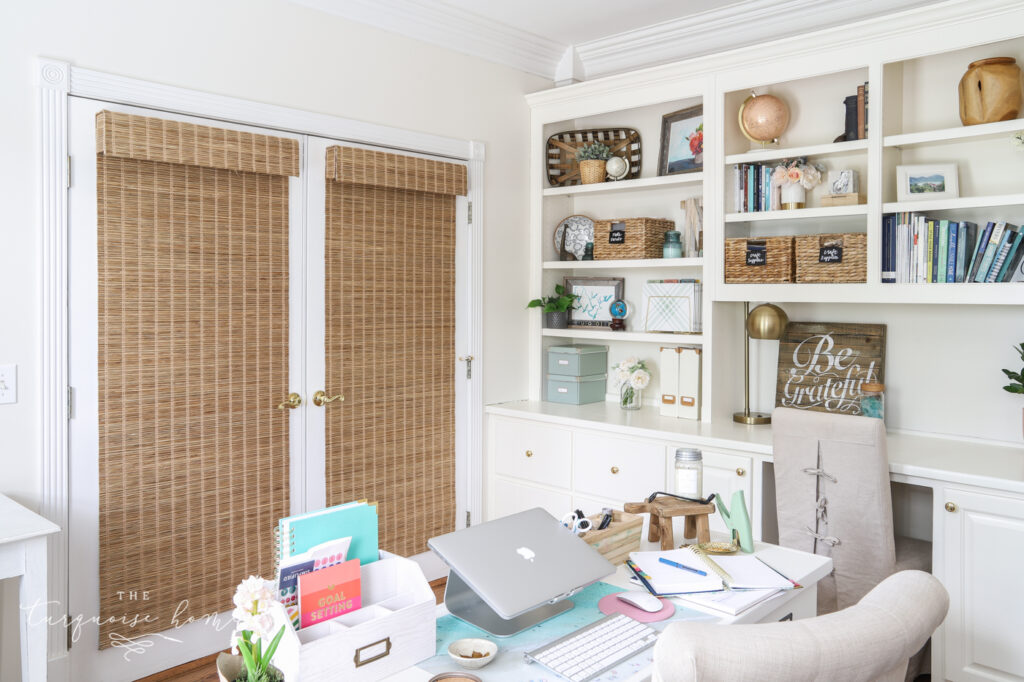 And now I can close them when I need to work and raise them when I'm finished! It's really a great option if you're working with glass doors and need some privacy part of the time. (I love that the light can still come in to the foyer when they are up. I would hate to replace them with solid doors, so this is the perfect solution.)
And I imagine with so many people working from home these days, I'm not the only one in this situation! Here's how they look closed from the outside…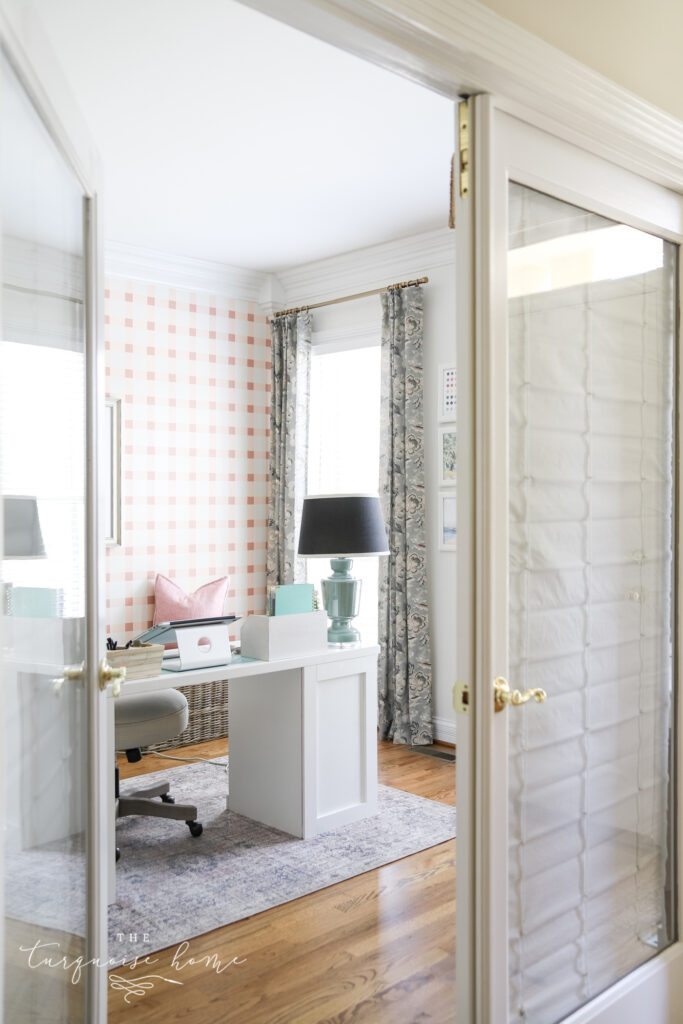 The bamboo shades are my favorites from SelectBlinds.com and come in a number of colors and privacy styles. The exact blinds I have are the Designer Series Woven Wood Shades in Jute Wheat (back in stock at the end of October, 2020). You can always get some free samples to see which color works best in your home!
I LOVE the cordless option, which means there's no choking hazards for kids and no unruly cords hanging around. Just a simple round circle on the back side that you pull up and down to lower the shades.
Use my code TURQHOME to get an additional 5% off their already great sales! You can read more about how to pick the right style bamboo shades in this post!
When I got the blinds in the summer, I could have shared the office reveal then. But I felt like it needed something more.
The DIY Plaid Painted Wall
I took a risk this past week when I painted a plaid accent wall on the back wall! 😳 I'm kinda obsessed!
I originally included a gingham wallpaper in my original design board and kept coming back to it. Even though the curtains and the rug bring in some pattern and texture, I felt like the room needed something more.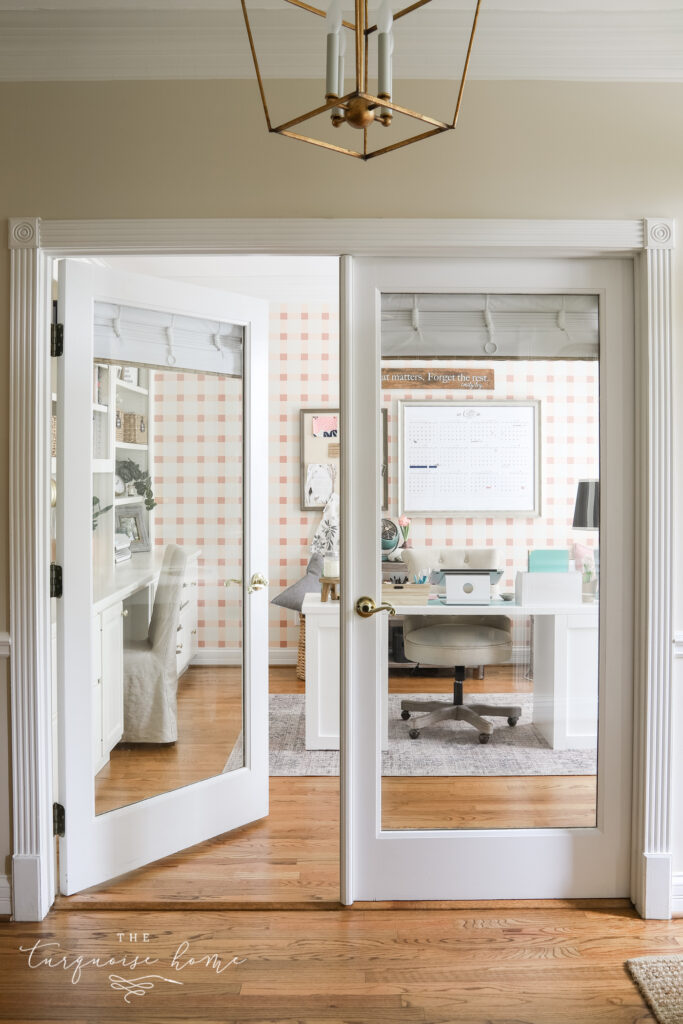 As I debated how to add a plaid pattern to the room, I knew as soon as I saw this plaid painted pantry from Yellow Brick Home that it was exactly what I wanted to do to my wall behind my desk!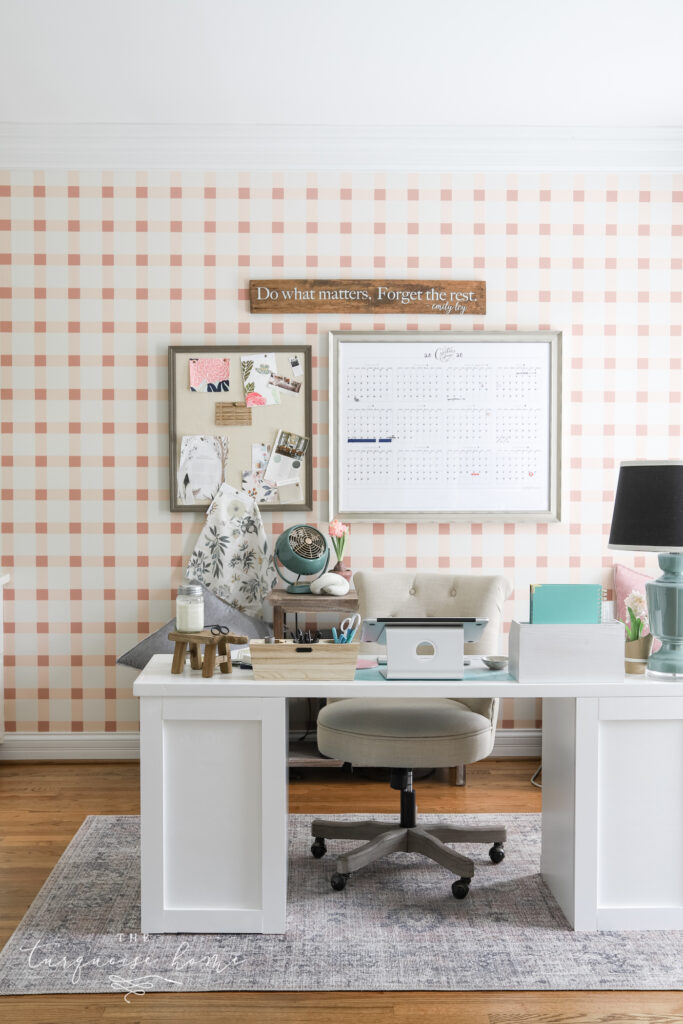 When I went to pick out the pink paint colors, I didn't take any fabric from the curtains with me, I just kind of eye-balled the colors and went for it. Not what I recommend, but I'm just being honest. 🤪
I'm in LOVE with the lighter pink color (Raleigh Peach from Benjamin Moore), but I'm not 100% on the darker pink color (Wythe Rose from Benjamin Moore).
I may still go back and re-paint those darker squares, but I'm going to live with it for a little while longer and see how I feel in a few weeks. Sometimes I think I don't like something, but it's actually just because it's different. Yay for change!
Virtual School Corner
I also didn't know what I wanted to do with this little corner of my office. It seems silly to add more storage since I have so much storage in the built-ins. But I might one day add a piece of furniture and small TV over it.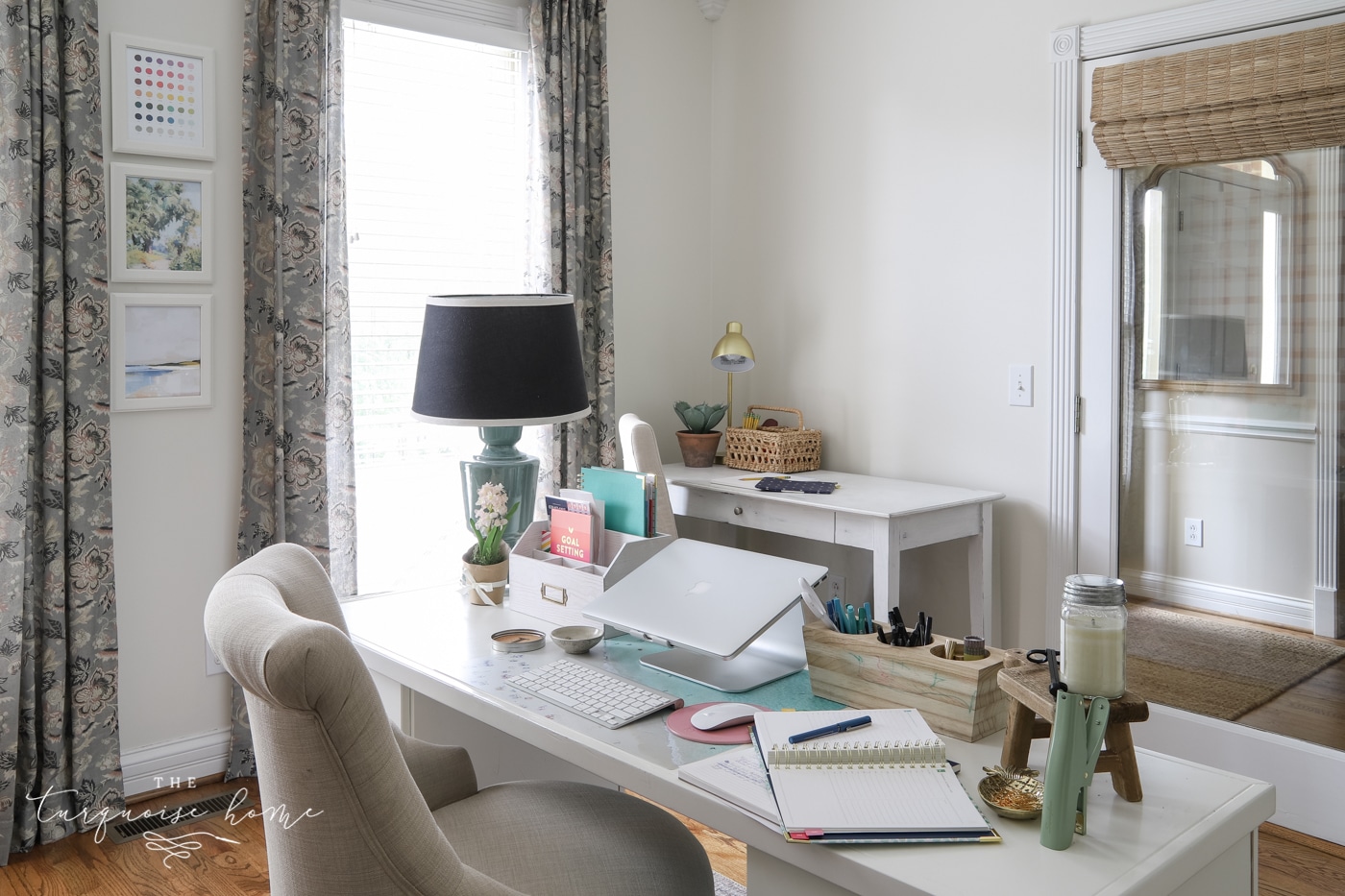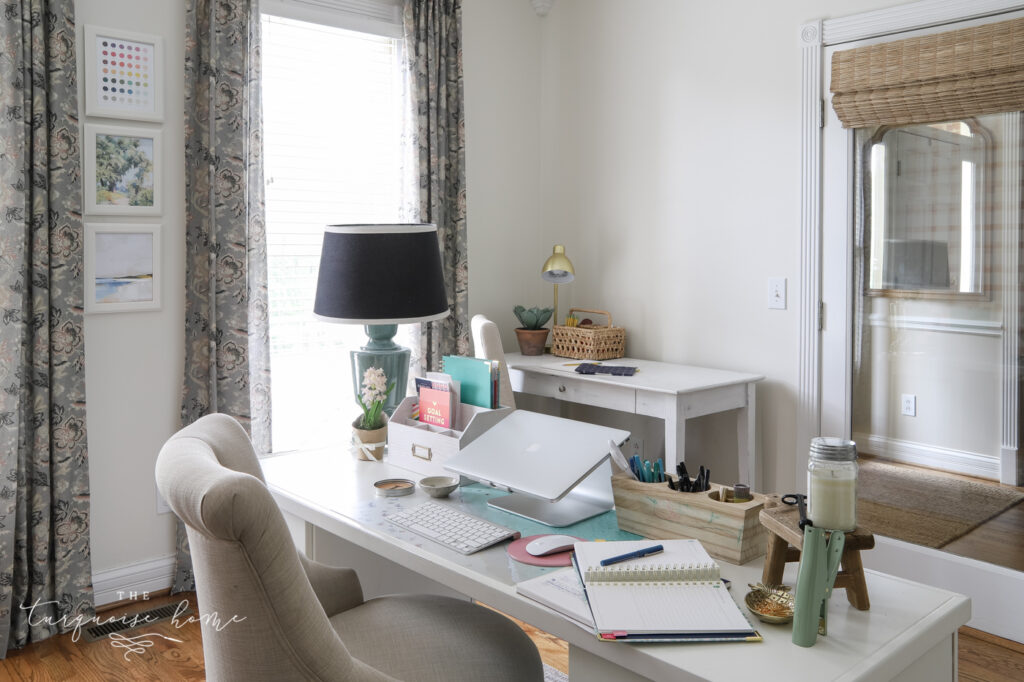 For now, though, this corner is being used as my older daughter's desk for virtual school. (Using the desk I bought myself in college and then chalk painted white.) I can see it being a fixture for the foreseeable future, so I'm probably going to find some pretty art to go above her desk or a pretty multiplication table, like this one.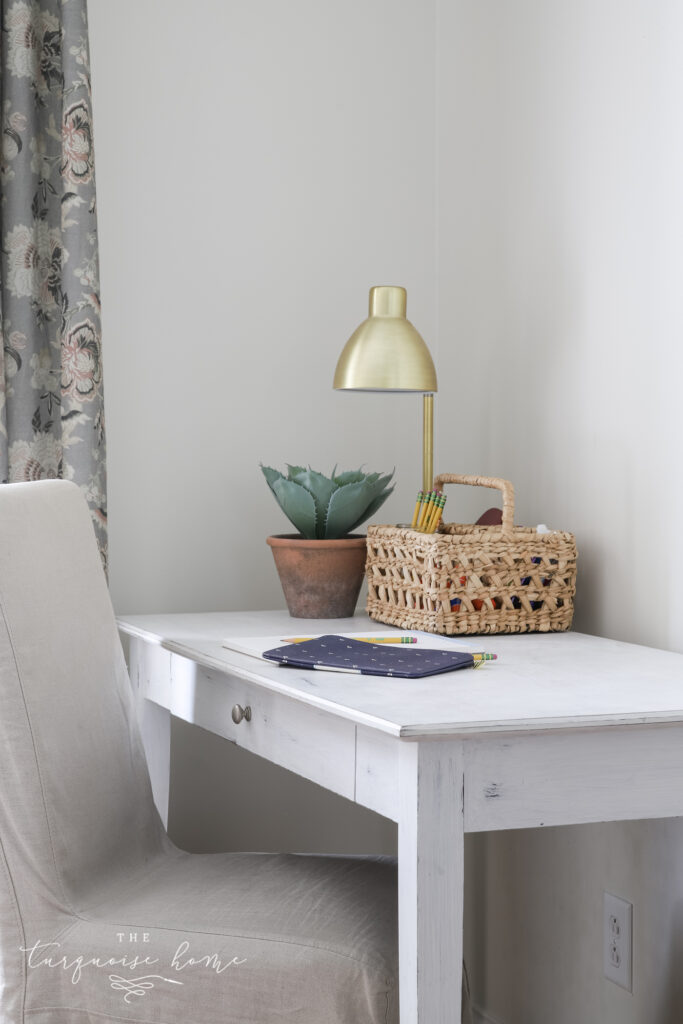 She loves that she has a space where she can learn and study in private, away from her little sister. I'm so grateful we've had this space for the past few months.
The floral pink and gray curtains are one of my favorite things in the room! I did a post all about them and how I hung them here. I also shared more about the printable wall art in that post, too.
Adding Back Panels to the Desk
When we moved in, I knew I wanted the desk to float in the middle of the floor on a rug. (Isn't this the perfect pink and gray rug for this space? It was the first thing I bought for this space and I couldn't love it more!)
But when I plopped the desk down in the middle of the room, I realized it didn't have a finished back. No problem!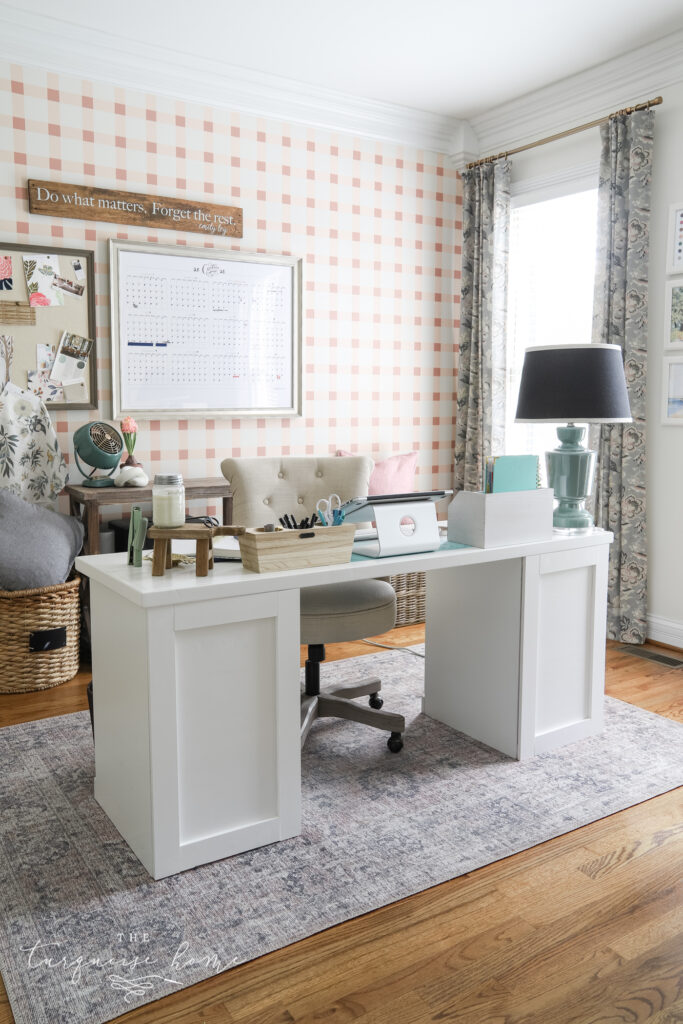 I grabbed a sheet of plywood and some 1 x 3 boards and created my own back desk panels. I painted them in my favorite white paint, Simply White by Benjamin Moore, which seems to match most every white color. They aren't perfect, but they work fine and make the desk look finished.
I attached them with my brad nailer. Easy peasy!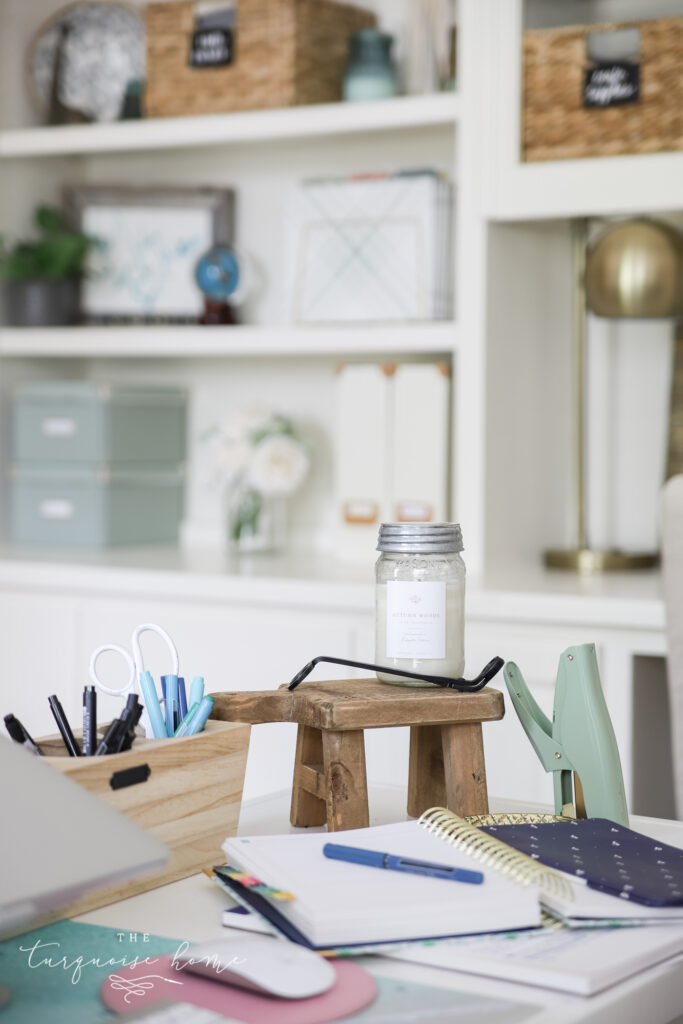 Click/Tap the images below to shop My Desktop Favorites:

I had so much fun organizing and styling the shelves in this office. I've always dreamed of having built-ins in an office, so these were a huge selling point for this house!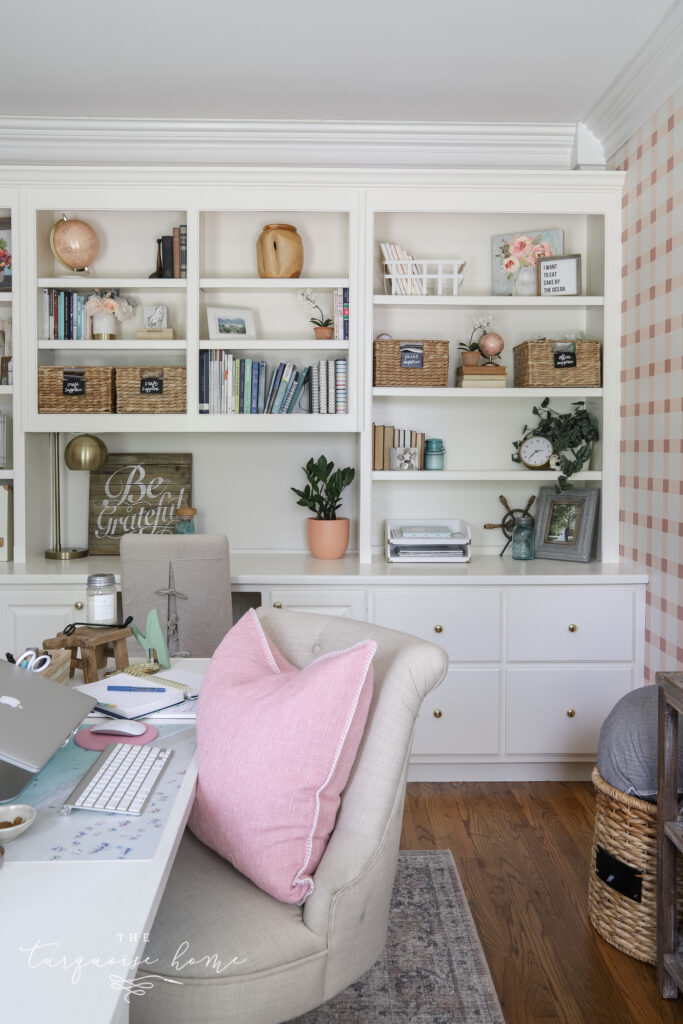 I need them to be both functional and pretty. So, I have some books on the shelves and then hide some office supplies and craft supplies in hyacinth baskets or closed box storage and magazine holders.
This post all about how to style shelves will walk you through the design rules I used to decorate each shelf. I know shelf decor can be overwhelming, but I hope it helps you if you need to style shelves, too!
Click/Tap the images below to shop my Shelf Decor:

I'm so happy with how the room turned out and more grateful than ever for this private space to work while everyone has been home for months now! It's a happy place for me (as long as I keep it clean 😜) and one that my girls and I use all of the time.
What do you think? Let me know your favorite part or if I missed anything and you have questions!
MORE POSTS YOU WILL LOVE:
Get Instant Access to my Guide to Customize Your Home on a Budget
Grab your FREE guide for 10 Ways to Customize Your Home on a Budget: simple projects to transform your home from builder beige to a home with character and charm!