This summer has been a wild one since it started less than a month ago! Between an anniversary trip to Savannah, our kitchen floor flooding (thanks to a busted fridge filter), VBS, swim lessons and swim team – it's all helped us sleep very well at night. 😂😴
And so with the lively swirl of our calendar, I'm keeping the decor simple this summer. I mentioned that in my living room tour last week and am continuing the simplicity into the kitchen this year.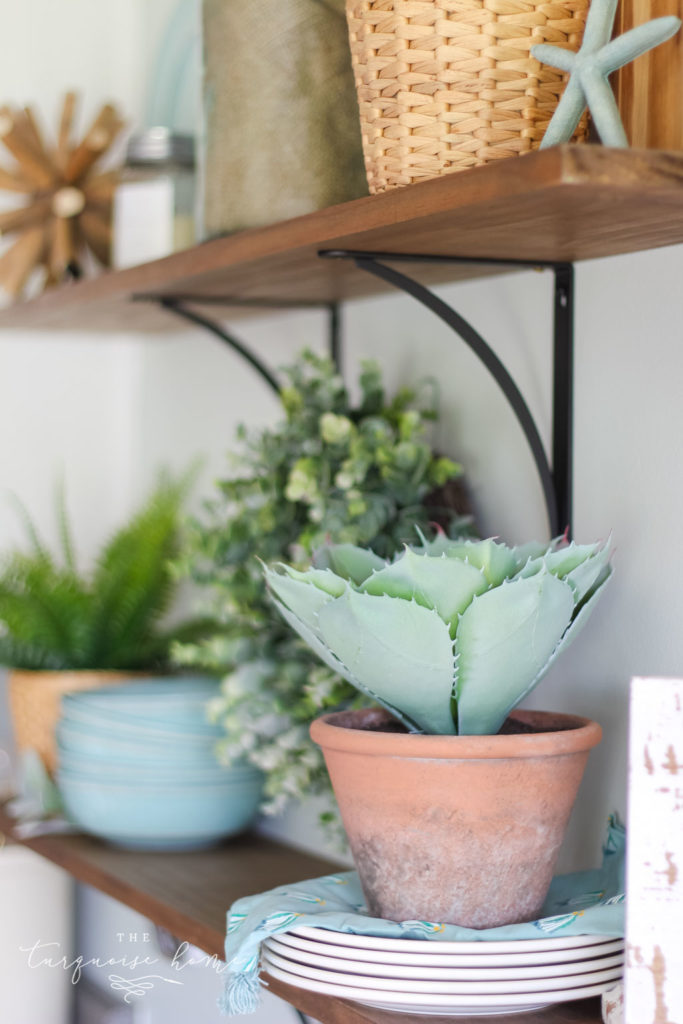 I don't want to feel like my home is overrun with stuff when our lives are quite full – you know what I mean?

If you want to go back and tour my summer living room, feel free to also leave me recs on a new sofa as I believe ours bit the dust last night. (The expenses this summer just keep on coming… 😂 I actually love our sofa, but I may be brave and do a sectional in the same style.)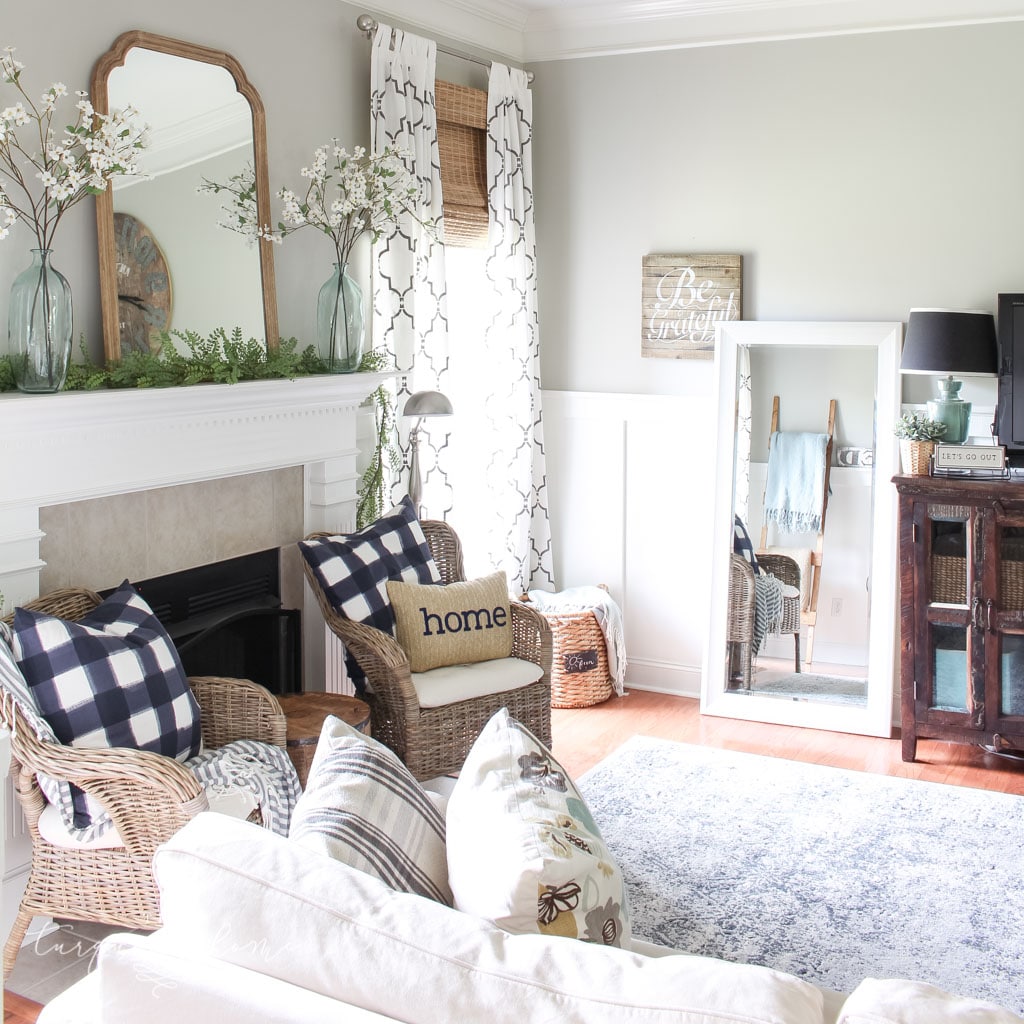 I cleared off all of the decor from my spring kitchen shelves and started from scratch. I wanted a less, not more vibe. And I was inspired by this yummy peach scented candle from my favorite candle shop (click here to grab one of our own). The candle smells just like summer and your mama's fresh peach cobbler. Yum!!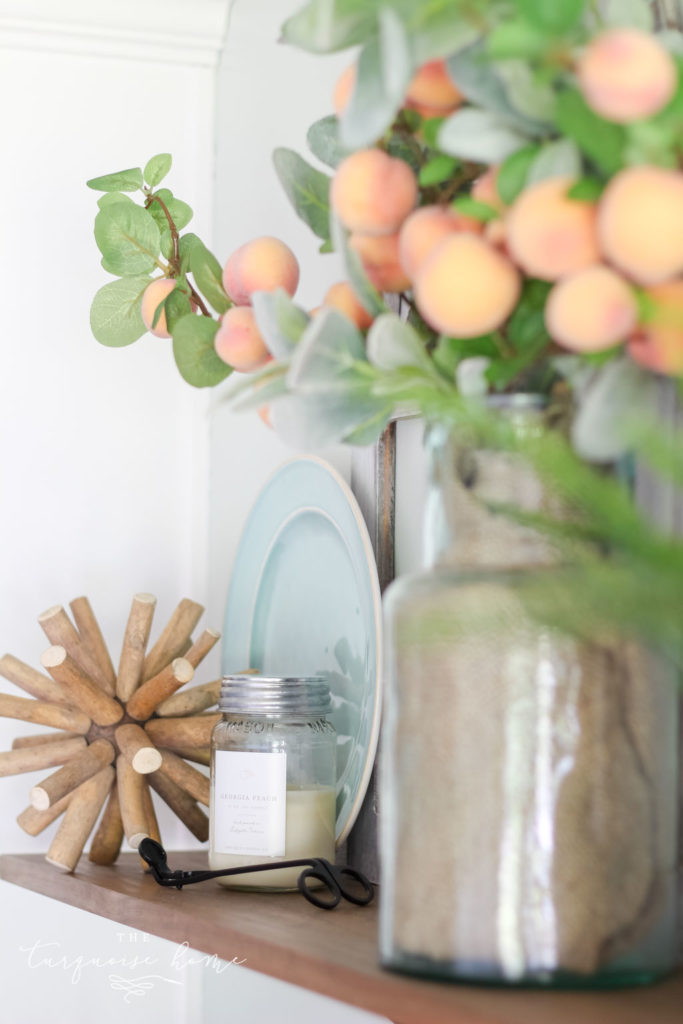 Anyway, I remembered that I had some beautiful faux peach stems from my faux-tanicals collection and I brought them out for a fun floral centerpiece with some lamb's ear – a farmhouse-vibe staple.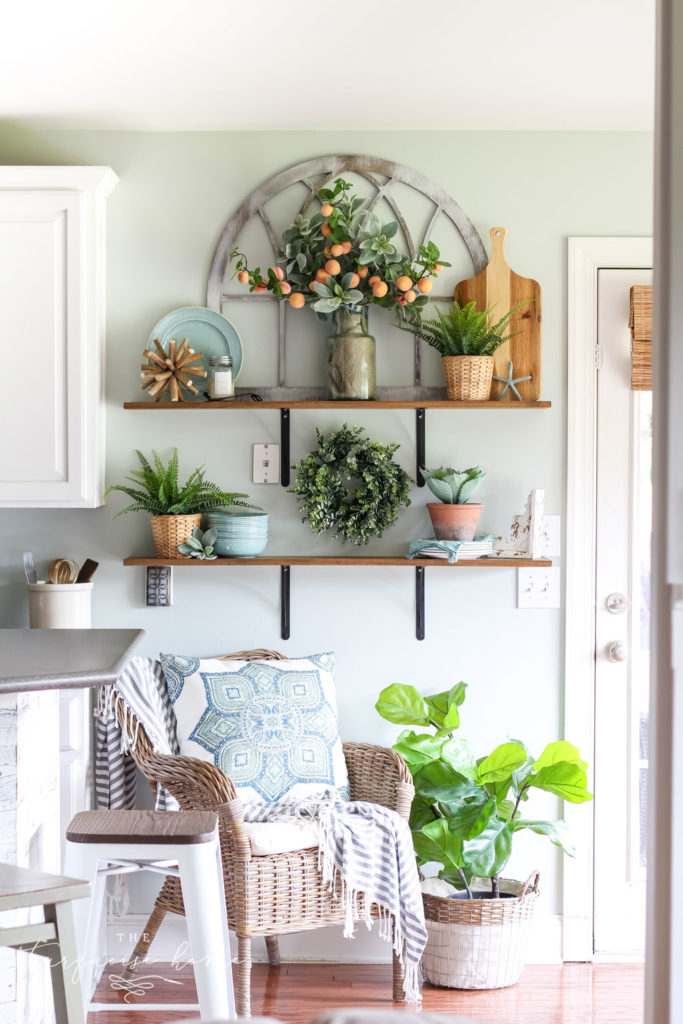 I bought the peach stems last year at the Southern Living store here in Huntsville, Alabama. I'm bummed that I can't find them online, because I know you'd want some too. That are the cutest faux fruit and perfect for the summer vibe!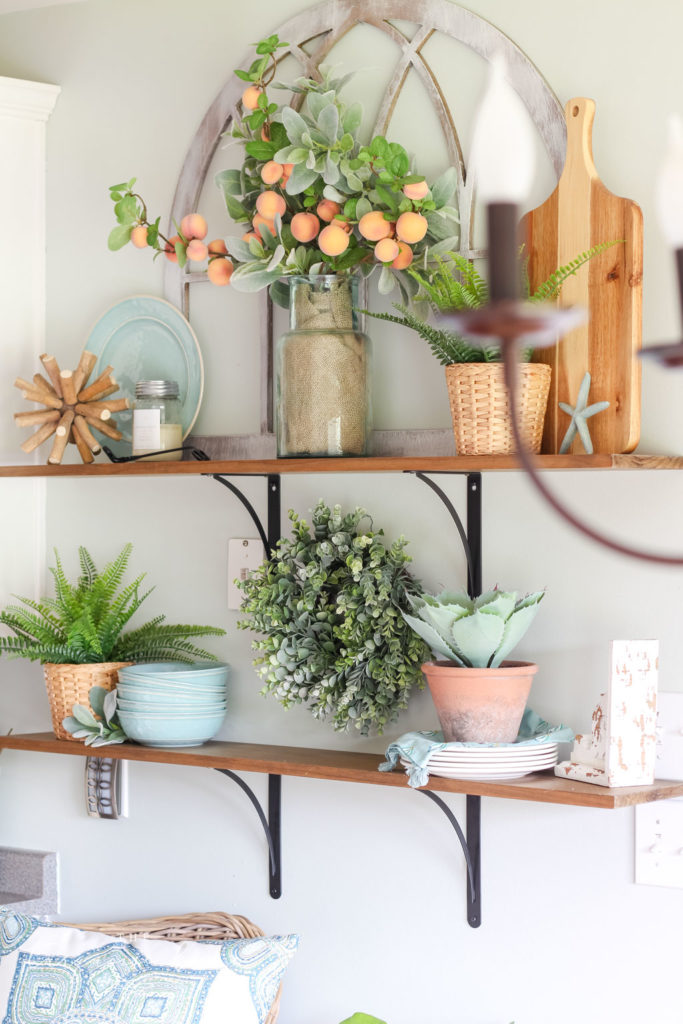 I added some plates and bowls from my new turquoise dinnerware collection I bought. It's melamine and something my girls can easily use and not break. But it's also gorgeous and looks like pottery or something more expensive than it is! I got the whole set of 8 dishes, salad plates and bowls on sale – and as of this writing they are still on sale. I love the pretty turquoise colors and they are perfect for a hosting a summer cookout!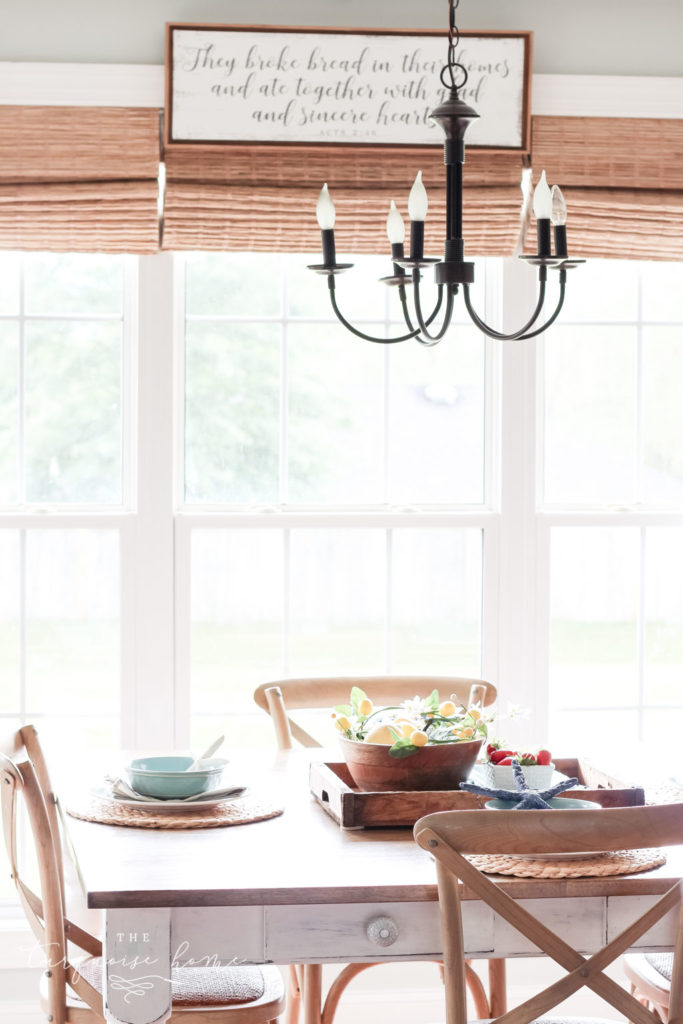 For our eat-in kitchen table, I added a few summer items, like these faux lemons in a mango wood bowl, and some faux strawberries in a ceramic basket. You'll sense a theme here with all of the faux stuff, but I keep these fruits and use them every year in some capacity.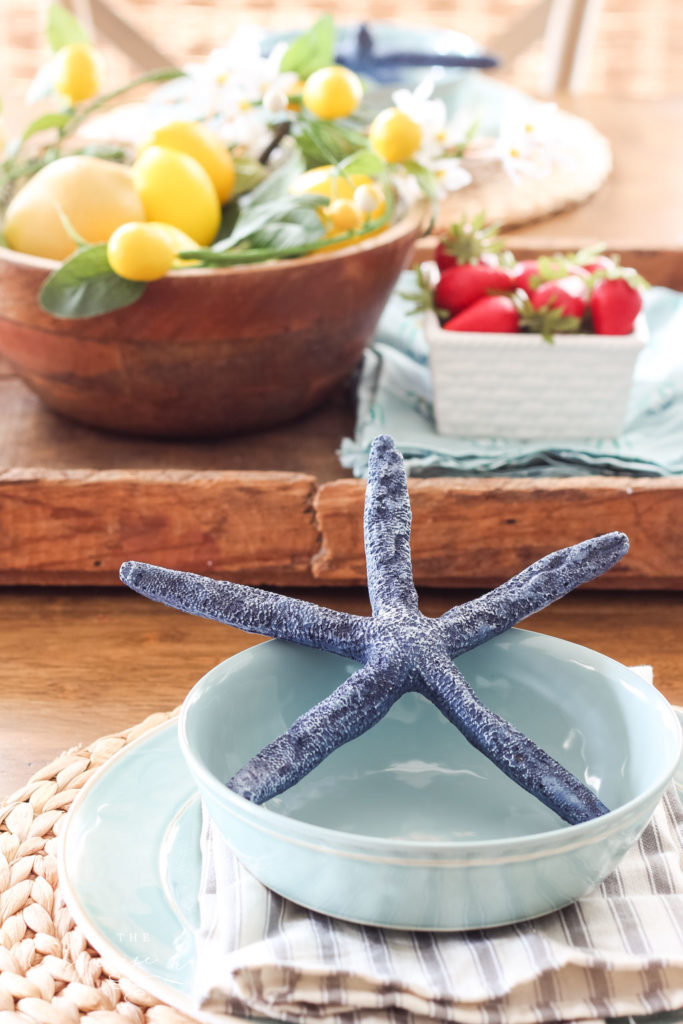 My resin starfish were from Michael's last year, but I've since found some online other places and I've linked below in the sources section.
Again, these turquoise melamine plates and bowls are my latest favorite thing! Love them!!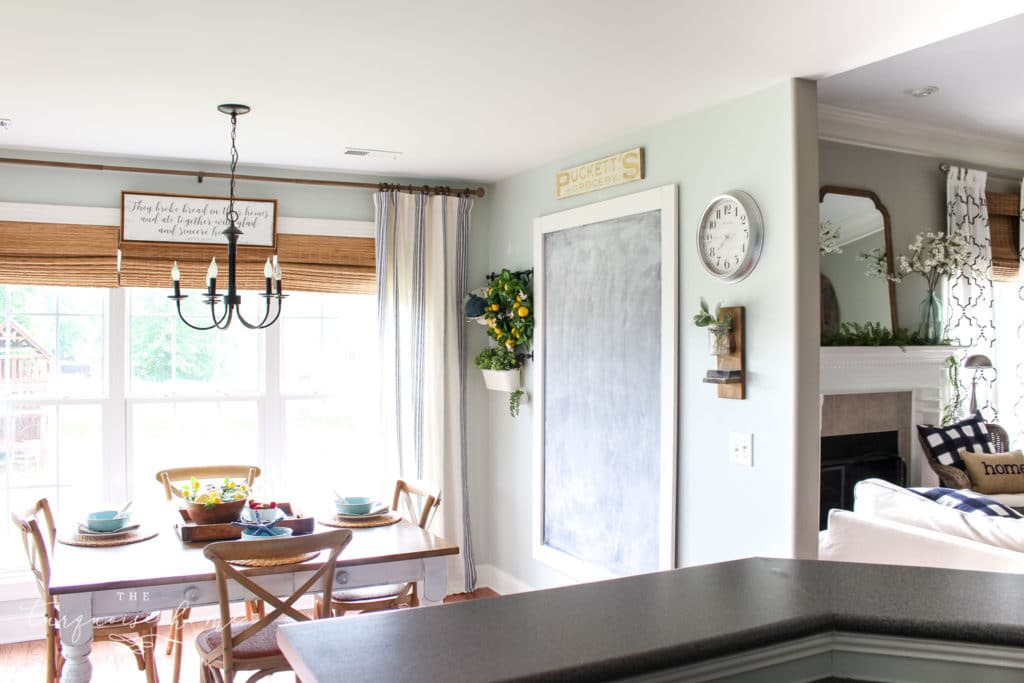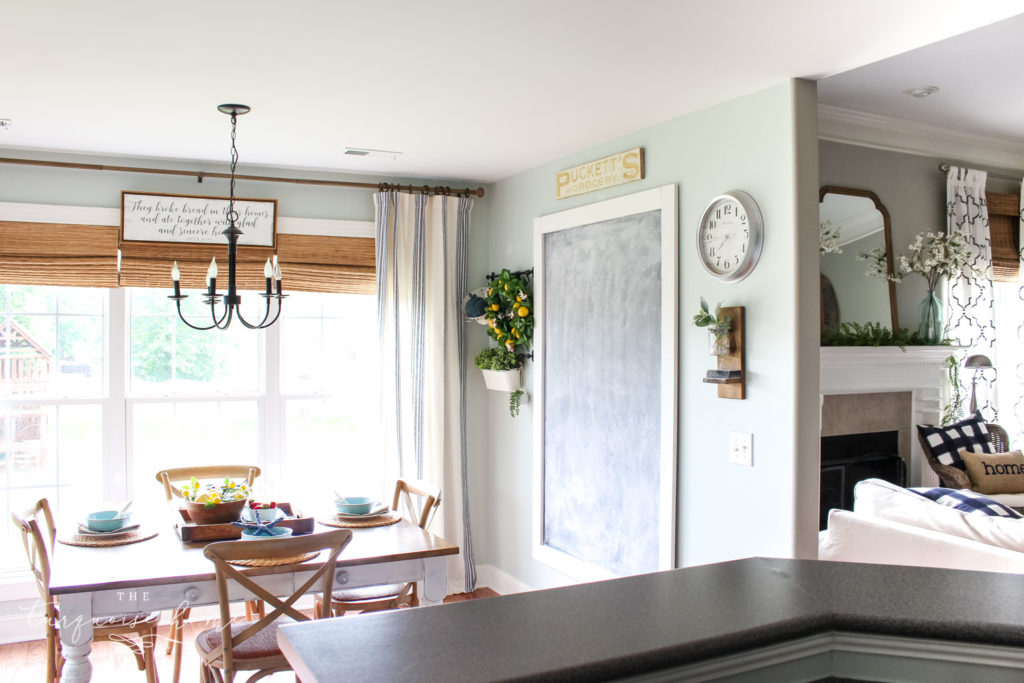 My lemon wreath found it's usual home in the hanging Fintorp system next to my DIY giant chalkboard. I didn't take the time to add any cute chalk art to my chalkboard, but again, we're going for simple this year.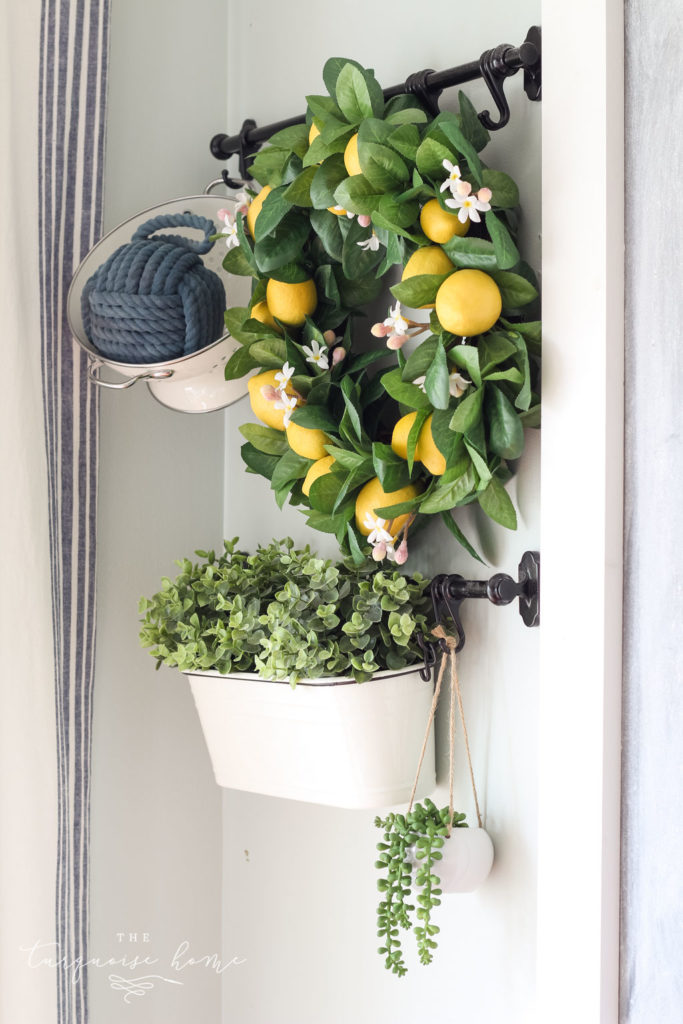 I hope you enjoyed this little tour of my kitchen and shelves and a little peek into my living room, which you can find in it's entirety here in this post.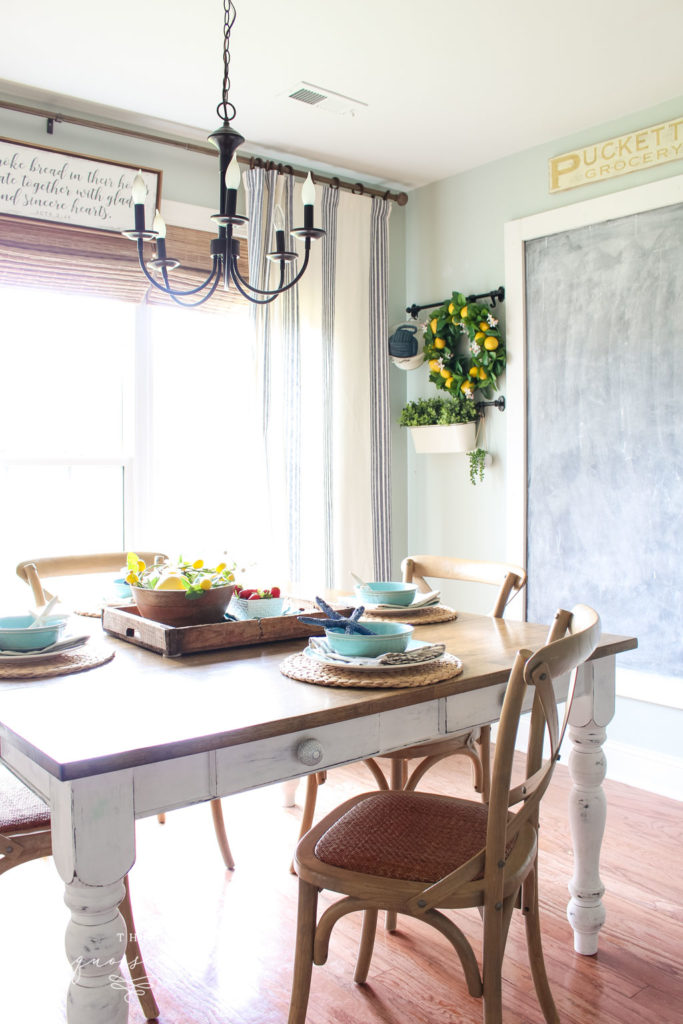 Do you embrace simplicity at home when you're life feels out of whack or extra busy? (I find I also fill lots of boxes for donations during this time, too. I just don't have patience for clutter right now.) Let me know in the comments!
Decor Source:
Sources on the kitchen shelves:
Sources in the eat-in kitchen area: