This adorable boxwood and bicycle spring wreath is super cute for decorating your front door this spring!
Spring is right around the corner, which means it's time for a new spring wreath on the front door! I love having a seasonal wreath gracing my door, because I'm sure it brings joy to my UPS man makes me smile when I drive up to the house. 😜
Last year's spring wreath was one of my favorites ever (and is currently hanging on the open shelves in our kitchen), so I was a little uninspired to try to top it this year. I love that wreath and just want it to be my official spring wreath forever.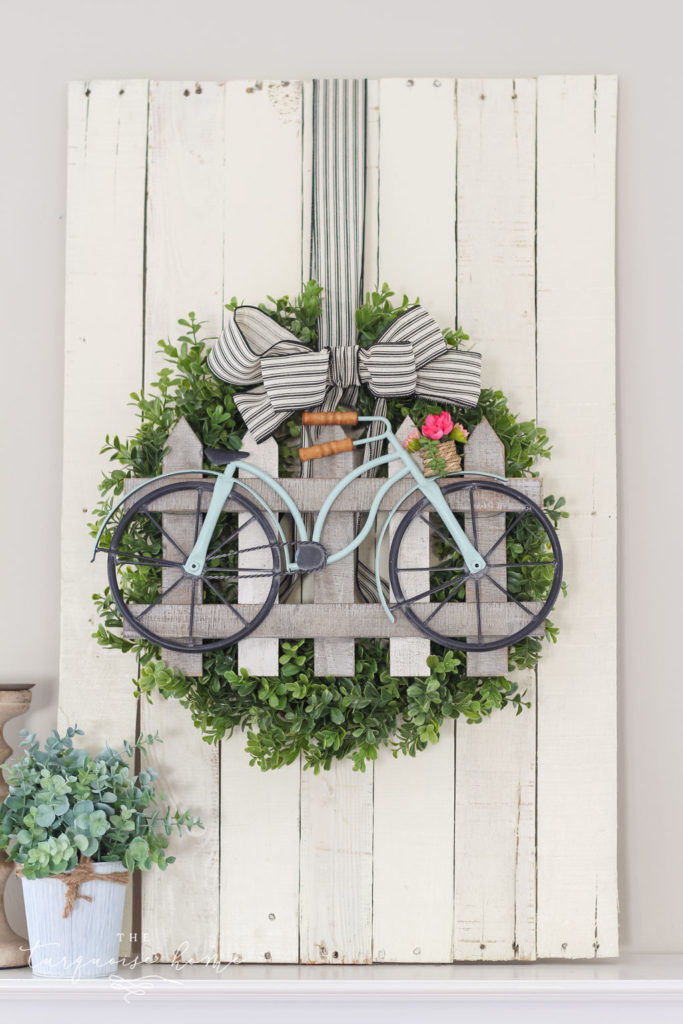 But, I think I love this new one just as much! And since the old wreath was in the kitchen, my front door was bare. So, I was a little motivated to create a new one.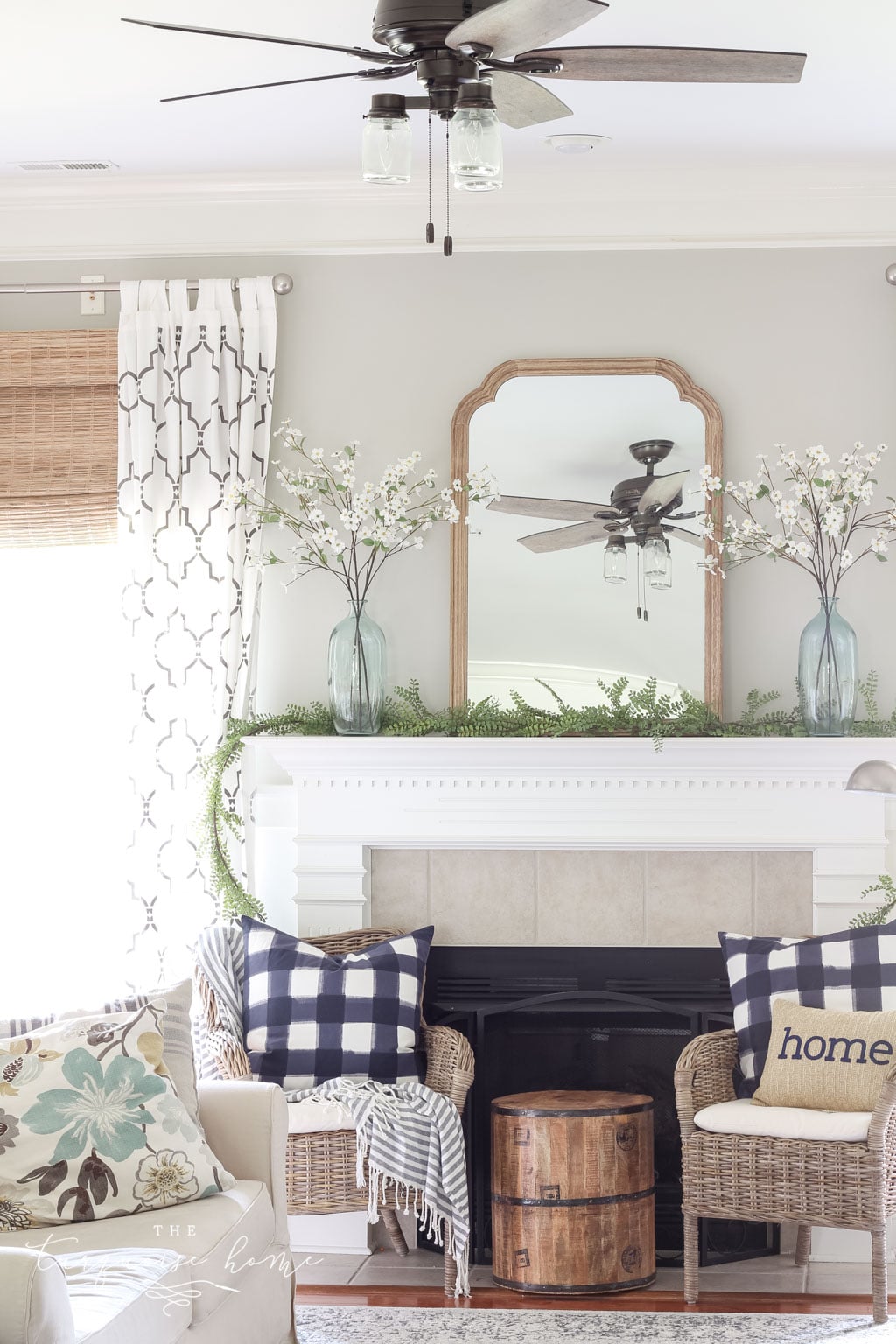 FREE BONUS!
5 Secrets Every Home
Decorator Knows
… to transform your home into your dream home!
So, my original idea for my new wreath included some kind of bike. I spotted this one online (here's another one, too), but I didn't have time to have it shipped in time to post this today, so I headed to the store to see if I could find it or something similar.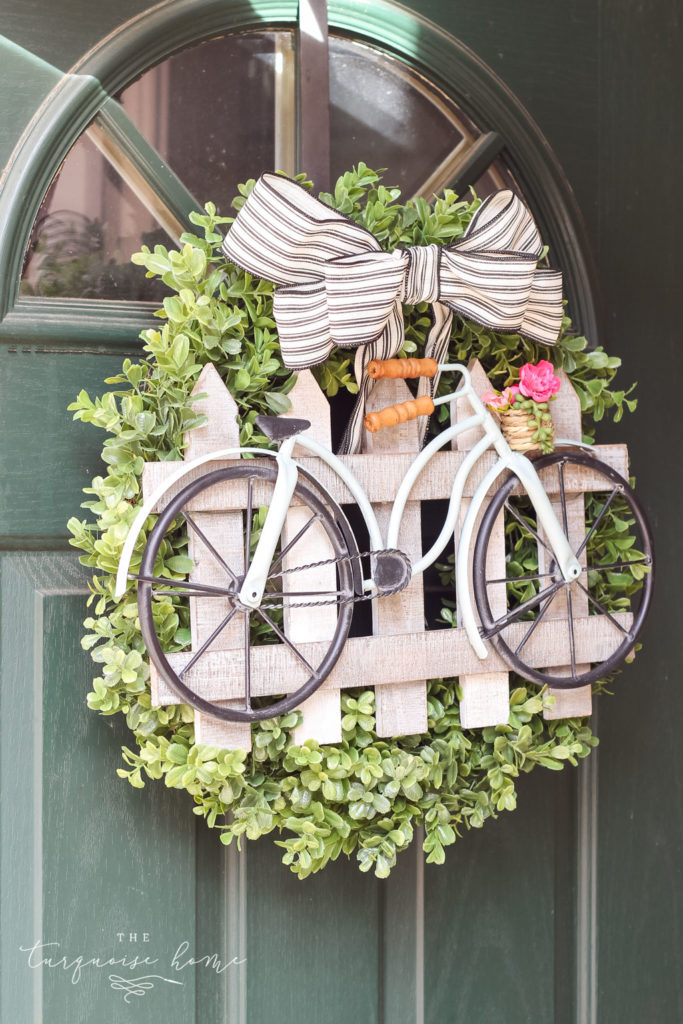 And right when I was about to give up on my bicycle idea, I spotted this adorable fence and bike situation (no longer available) that was the PERFECT size for a wreath. The only problem was that it wasn't colorful enough for me, but no biggie. Paint is my BFF.
I just love the real wood handle bars. They are adorable!
And I also thought it would look so adorable with a basket and flowers on the front of it. When I couldn't find a mini basket in the store, I decided I'd just figure out something at home (having no idea how I'd pull it off).
You'll have to read through the instructions below to see how I made one! 😉 My middle name should be "where there's a will, there's a way," because I live by that idea.
I'm so glad I was challenged to make this wreath because I stinkin' love it! And it's really easy to replicate, so if you like it too, you're in luck!
Supplies needed for a Boxwood & Bicycle Spring Wreath
1. Boxwood Wreath – I chose a faux boxwood wreath, because I knew it was going outside and I didn't want it to fall apart. But you could also use a real boxwood wreath.
2. Fence & Bicycle (no longer available) – These went out of stock at Hobby Lobby, but I found some here and here.
3. Paint of your choice – if you want to paint some of the bicycle. I used my favorite blue/green color: Wythe Blue by Benjamin Moore. (Handy from my recent board and batten project.)
4. Small craft paint brush
5. Small rope – for the basket on the bike
6. Small faux floral stems
7. Hot Glue Gun & glue sticks
8. Floral Wire & Floral Wire Cutters
9. Ribbon – I used this black and white ticking ribbon.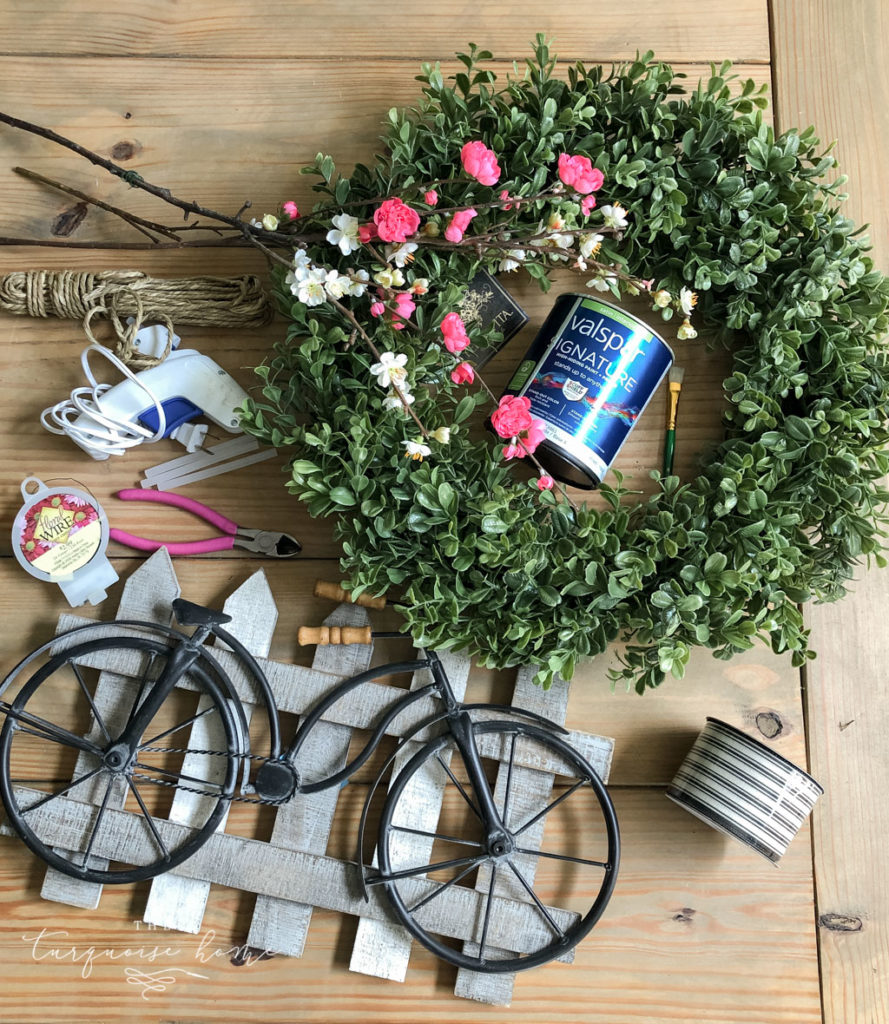 How to Create a Boxwood & Bicycle Spring Wreath
1. Paint your Bike. If you want to paint your bike, then do that first. I painted parts that would be black, like the bike frame, but not the wheels, the seat or the handles.
I also slipped some paper between the parts of the bike I was painting and the fence behind it to keep the fence from getting paint on it.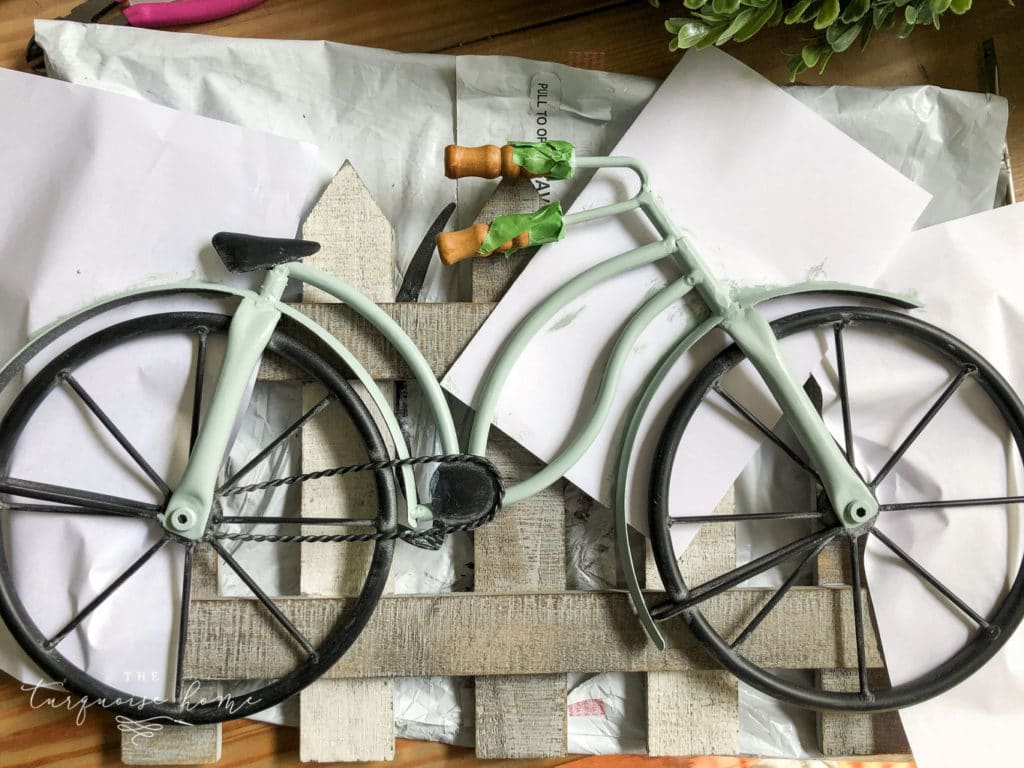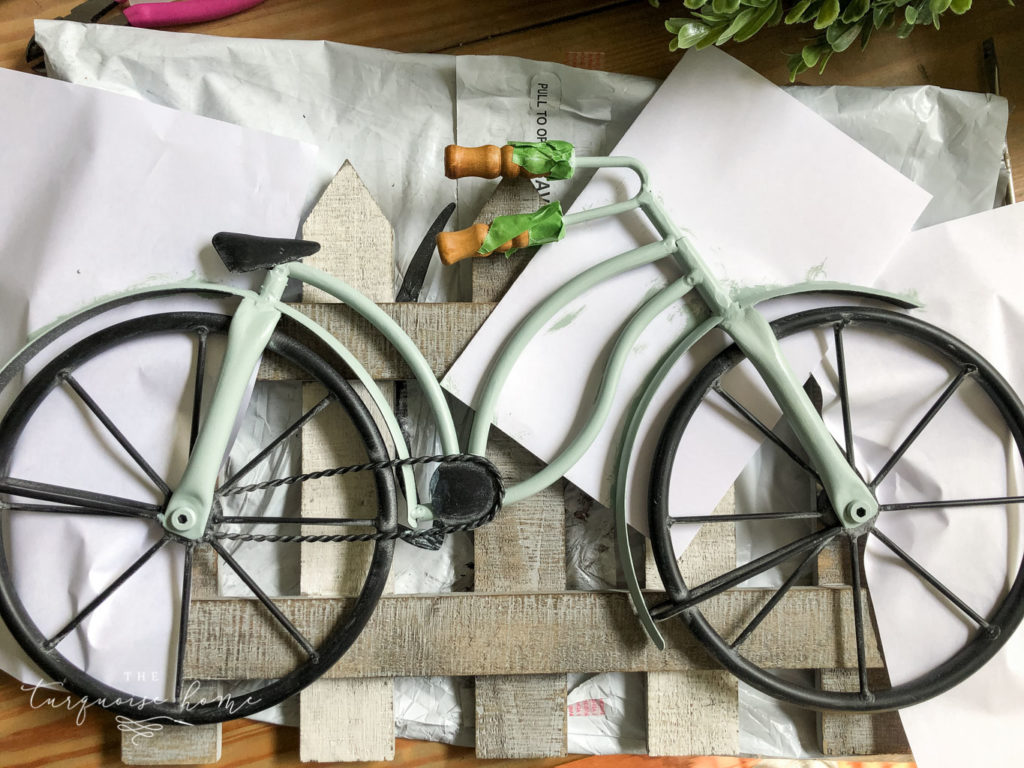 The paint color I used was (my fave) Wythe Blue by Benjamin Moore. But that's because it's my favorite blue/green color and it was handy from my recent board and batten project. Any craft paint you have on hand will do.
2. Make your Basket. I couldn't find a suitably-sized basket for the front of the bike, so I got the bright idea to make my own with thin rope and hot glue. I remember seeing people cover boxes with rope or make large rope baskets, so I knew it could be done on a smaller scale as well.


Started with a small circle and hot glue each layer until you have a little bit of a base. Then I started gluing each layer up and up until it was the right size. I would hold it up to the bike to make sure I was making the right sized basket.
3. Add Flowers to the Basket. I have tons of faux flowers on hand, so I grabbed some smaller scaled blooms and hot glued them inside the basket.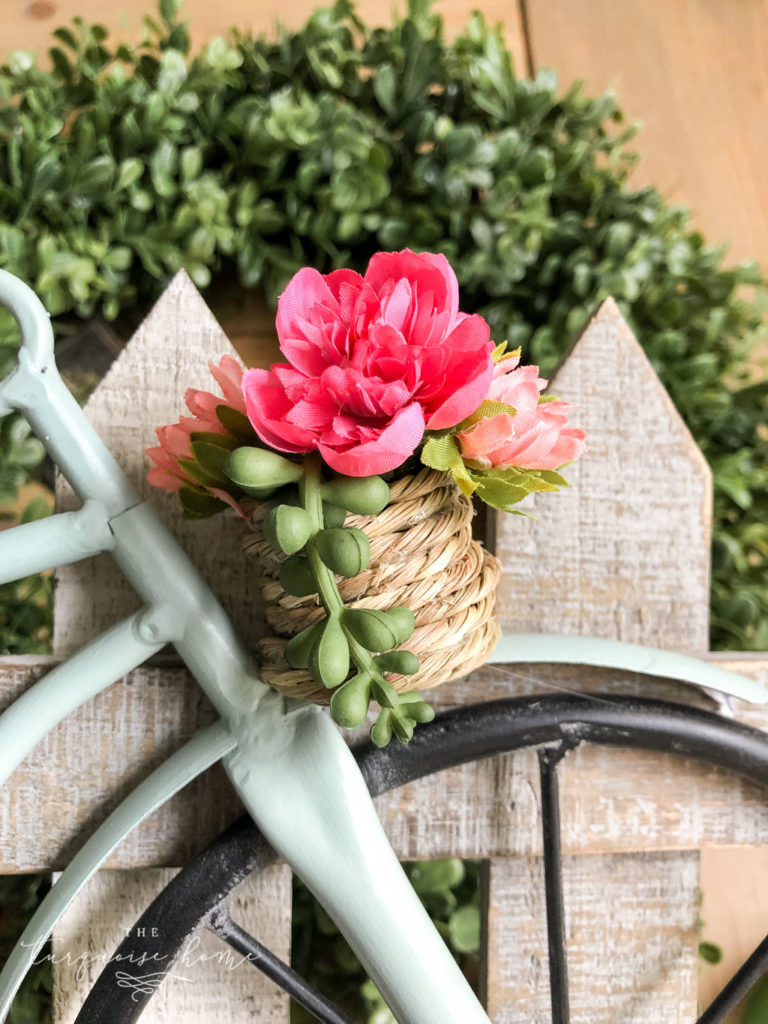 4. Attach the basket to the bike with hot glue.
5. Use floral wire to attach the bike/fence to the wreath.
6. Make a bow with ribbon or buy one and attach it to the wreath.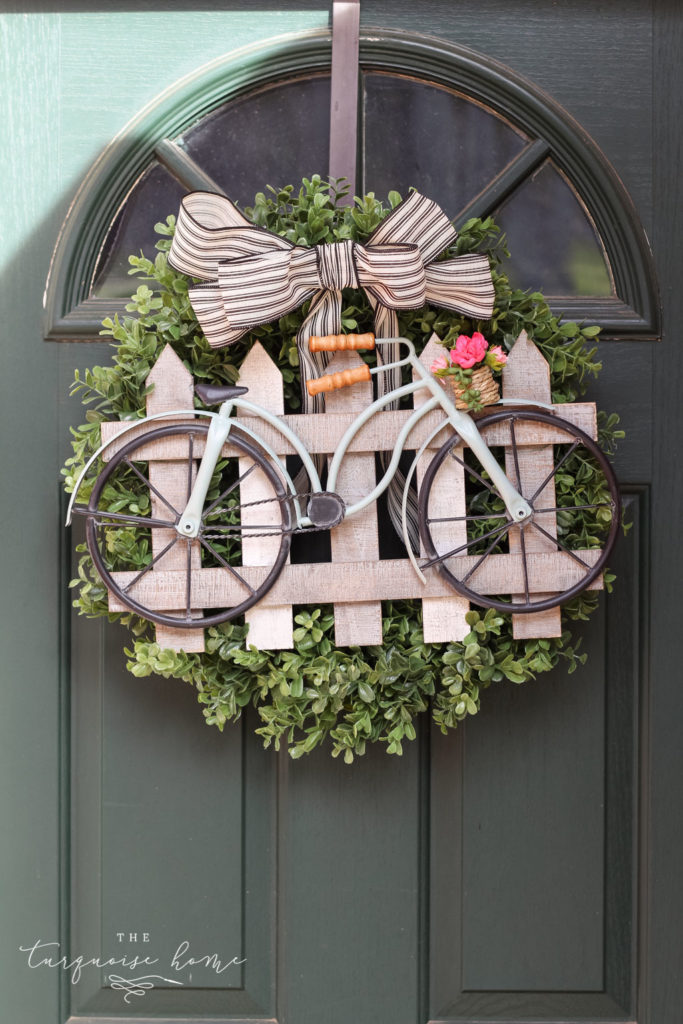 You're done! It only took me about an hour to make it all and I really love how it turned out!
My husband said, "wow, that's a heavy duty wreath" when he saw it. 😂 OK, so maybe it's a little extra, but I love it in all of its extra-ness!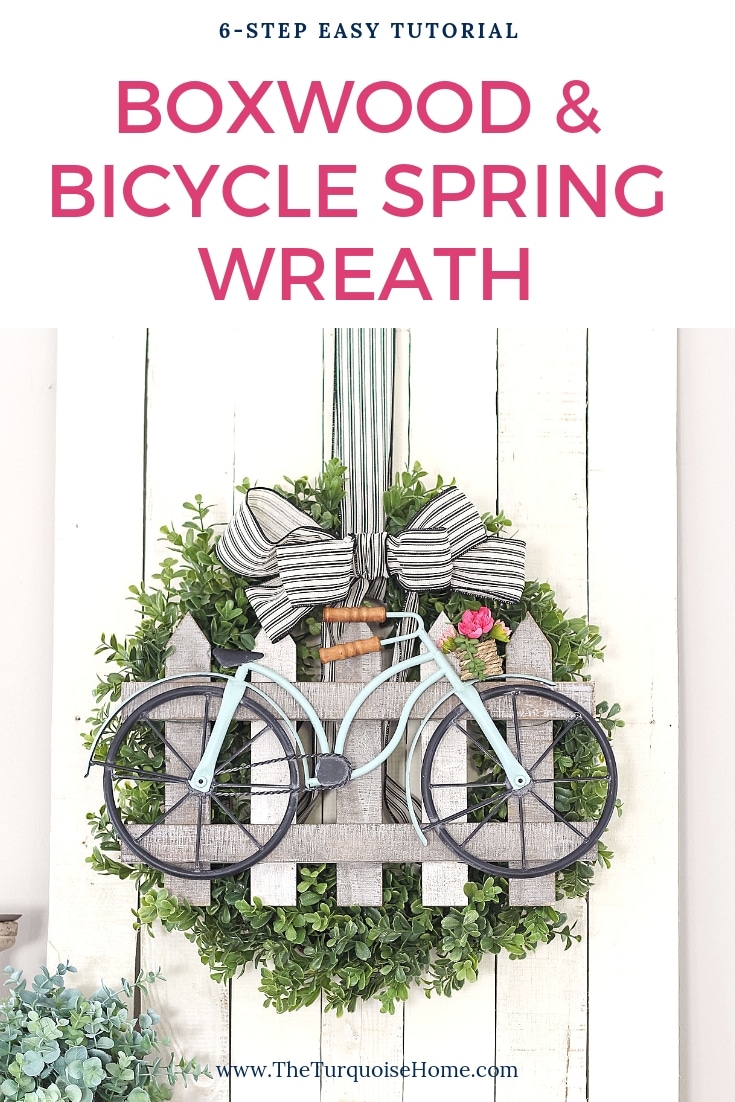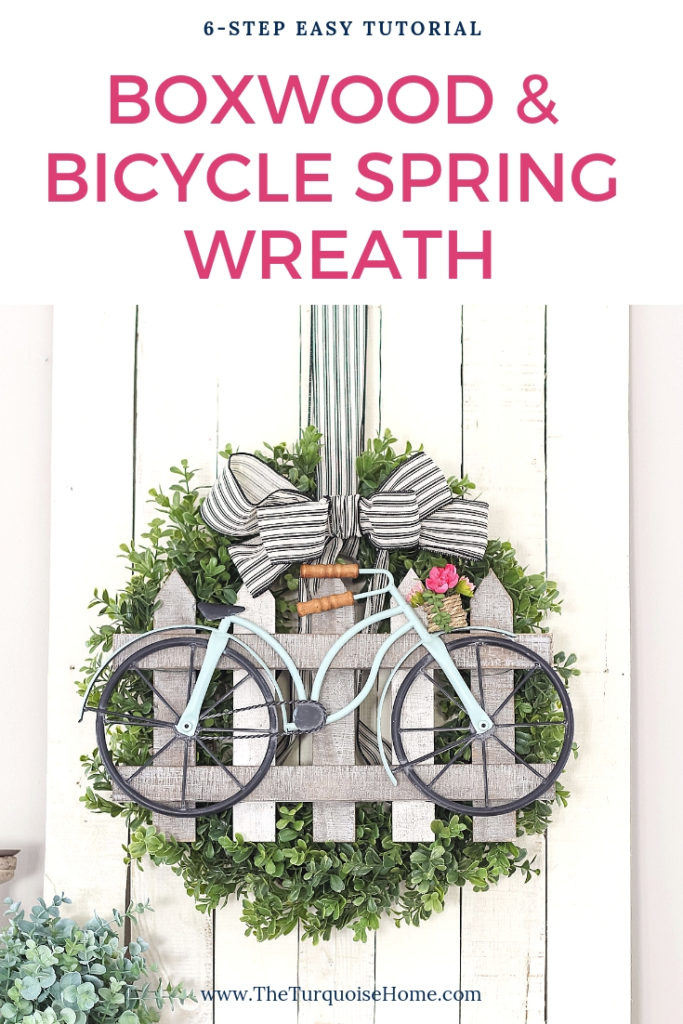 MORE WREATHS YOU WILL LOVE: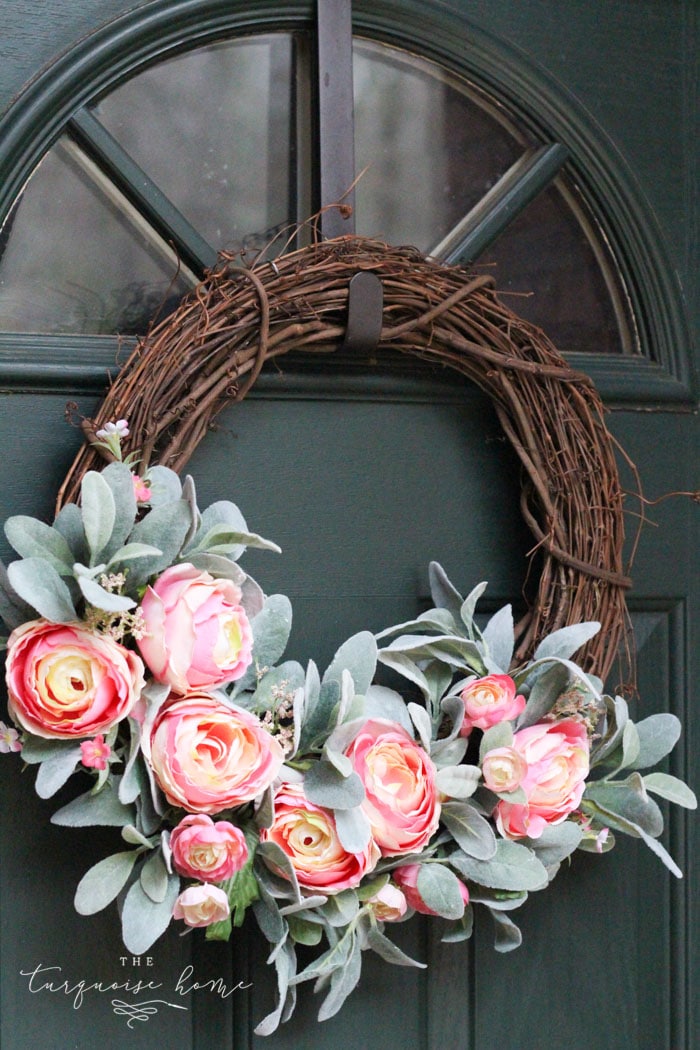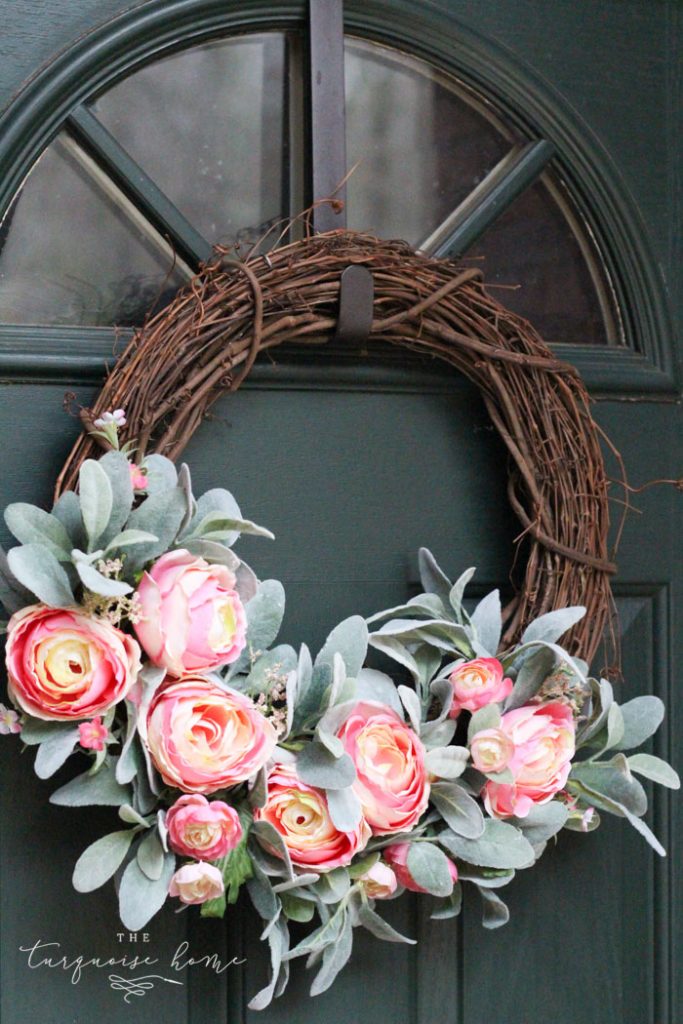 DIY Lamb's Ear and Peony Wreath